How to perform a brand audit: a 6-step guide
What are people saying about your company on social media? What are its strengths and drawbacks, and who is the target audience? Social media analytics can answer these and other questions. We'll look at how to conduct a brand audit and how to gain valuable data with its help.
A solid brand audit consists of multiple steps, including detailed query creation, examining strengths and weaknesses, audience, sources, and so on. We have put together a complete guide that explains how to perform such research step by step and obtain the most valuable data.
1. Create the correct query and remove irrelevant words.
This stage is one of the most challenging and time-consuming. According to YouScan analysts, it takes up to 70% of the entire audit time, as the query determines the data quality.
Popular brands typically receive a massive amount of mentions, but not all of them are relevant. So getting rid of the irrelevant data is important. The good news is that you can filter mentions as you write your query.
The YouScan's technology allows you to see a preview of the mentions that will be monitored. At this point, you can also estimate the approximate number of posts that will be used for analysis.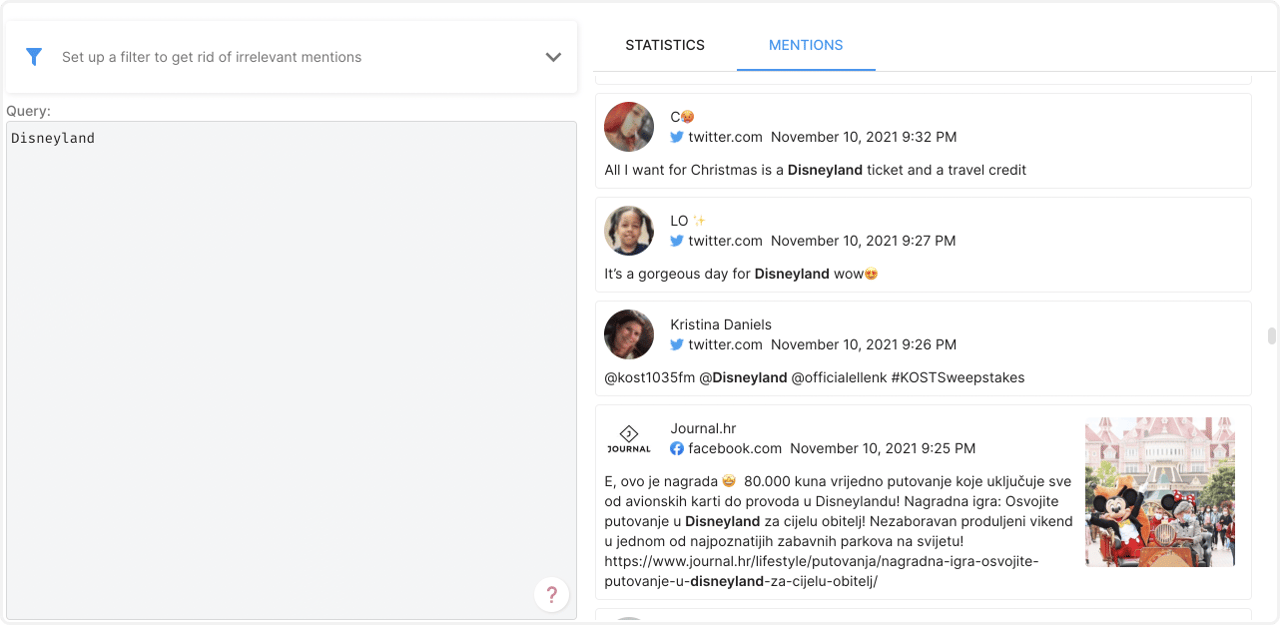 After reviewing them, you can broaden or narrow the query, apply filters, as well as add negative keywords that will exclude irrelevant mentions. You can also limit the languages not to analyze too much data.

After collecting the mentions stream, you can easily remove posts that you don't need to analyze. How to do it? YouScan groups all mentions into auto categories. There are a lot of them, but excluding posts from the "comments not matching query" category, which includes irrelevant mentions, as well as all posts from the "Promo" section, which typically contains advertising posts, would be enough. Such mentions do not reflect the audience's true feelings about a product or service.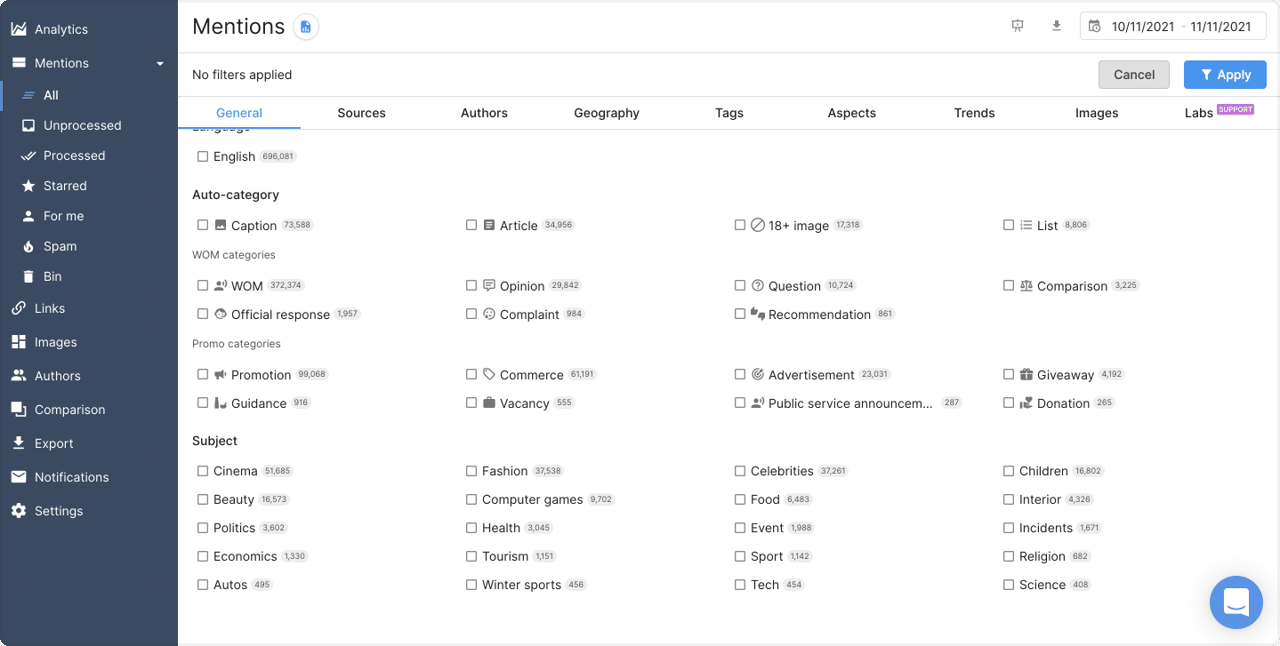 The system can also merge duplicate mentions and find those posts, the text of which is repeated by 70-80%.

You can also find irrelevant mentions by filtering by author. Lots of mentions of Disneyland come from the Disneyland Paris Help account. They do not contain any useful information from customers, so they can also be discarded.
2. Proceed with data categorization
After the data has been collected and cleaned, you can start the analysis. First, divide all the mentions into subtopics.
Using the Aspects feature is the simplest and quickest way to do that. The system will automatically highlight the most discussed topics, and all you have to do is tag them.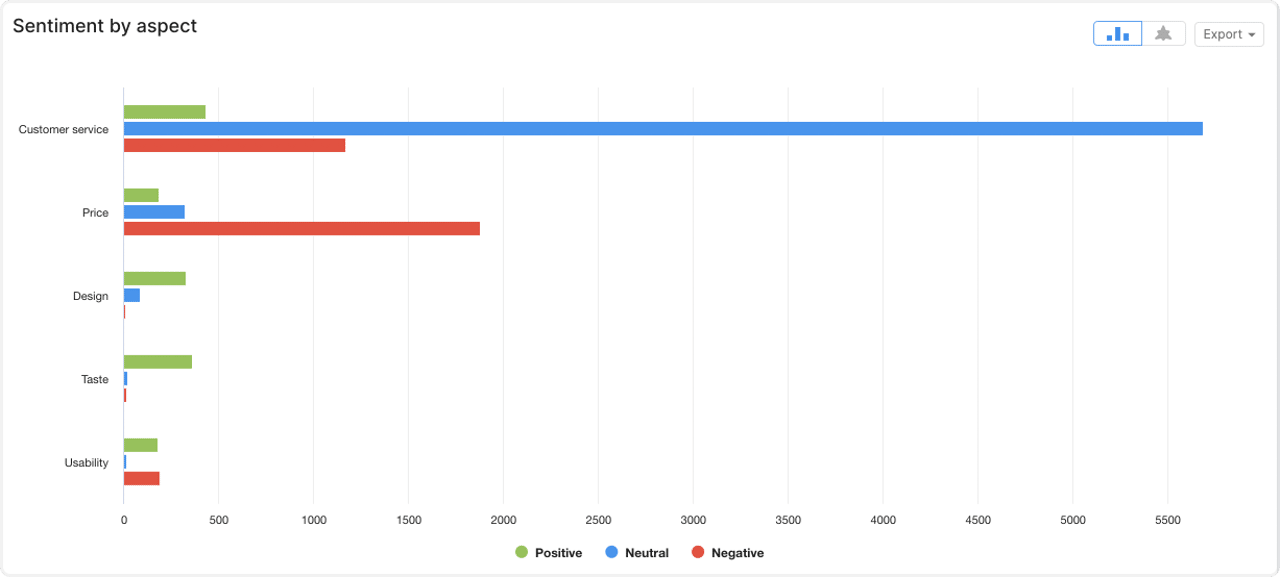 As we can see, customer service and price are the most discussed topics related to Disneyland. You can also create tags based on these aspects to analyze them from different angles.
3. The next step: source analysis
At this point, you can determine where the majority of the brand's audience is concentrated on social media. To do so, go to the Sources tab and look at which platforms your brand is mentioned the most. In the case of Disneyland, these are Twitter, YouTube, and Instagram.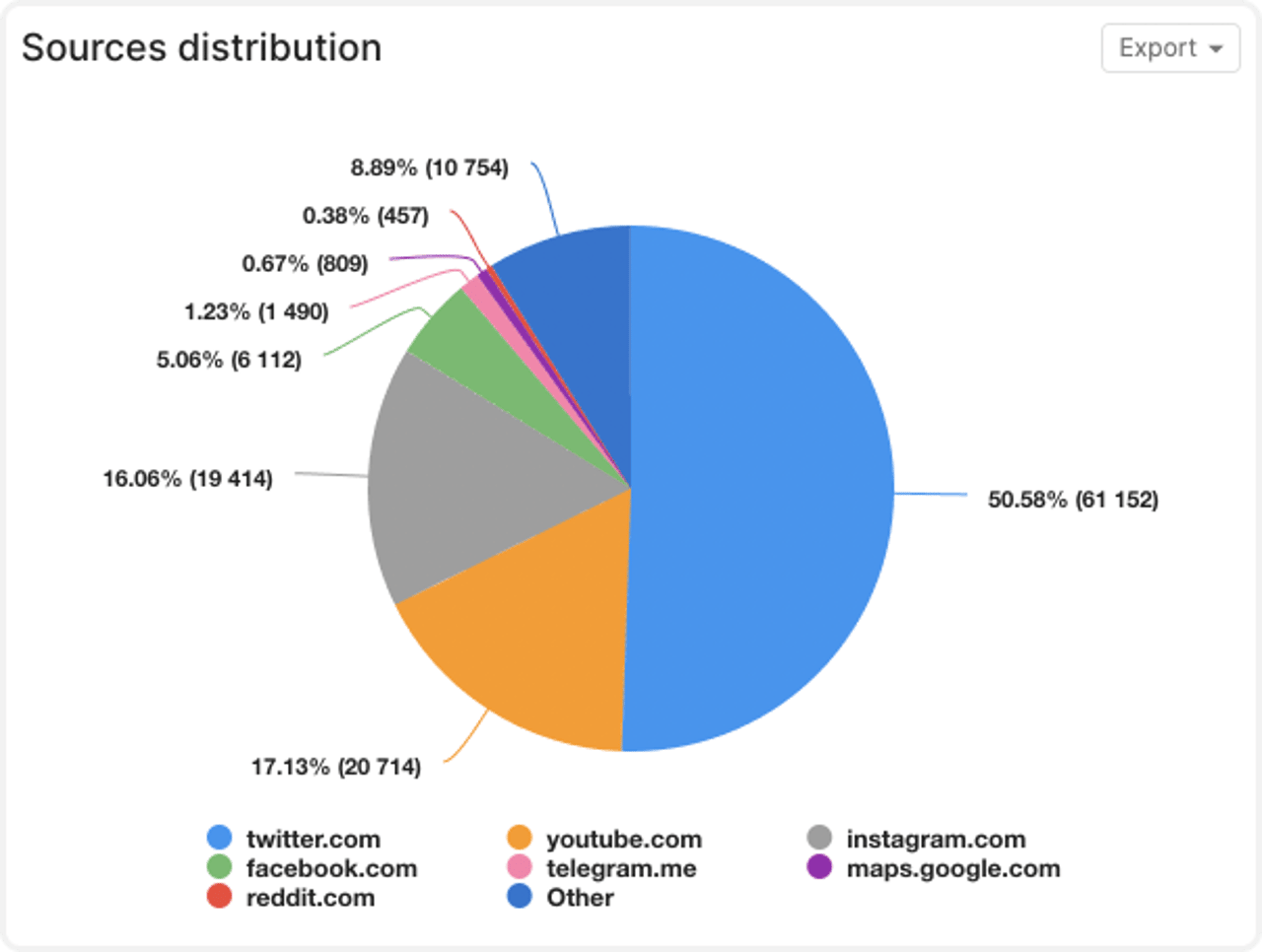 You can use the tags mentioned in the previous paragraph to analyze information from each source.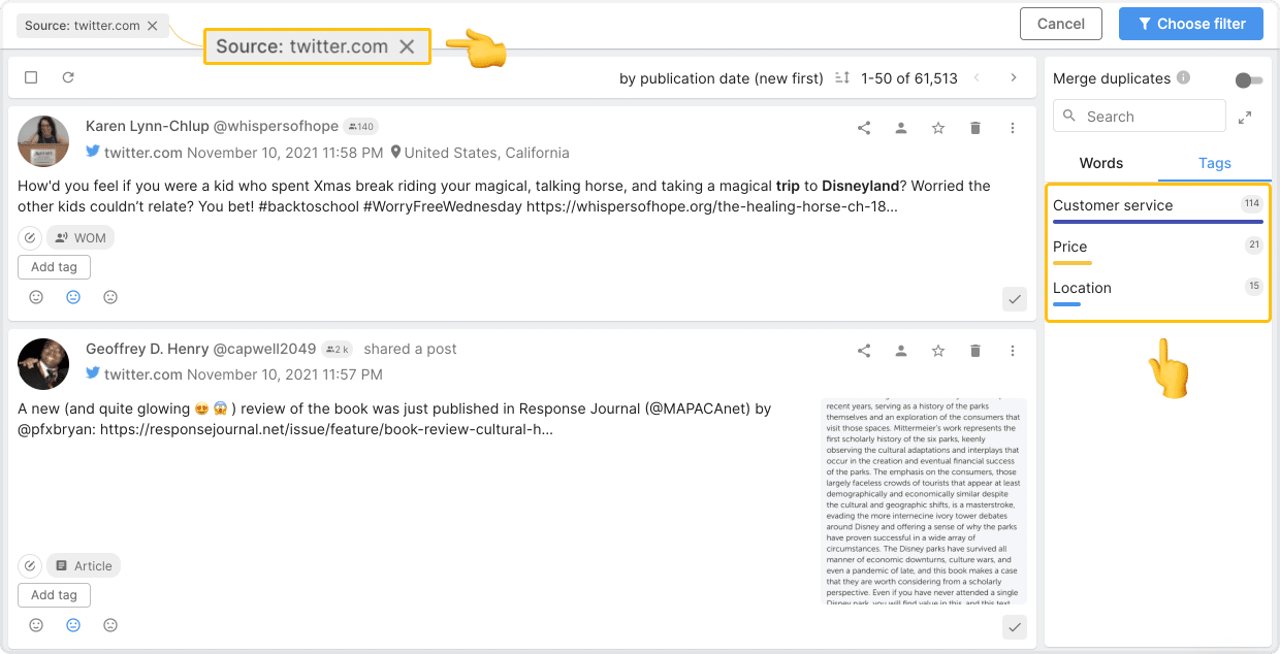 On Twitter, for example, people frequently discuss customer service, whereas, on YouTube, the most popular topics are prices and location.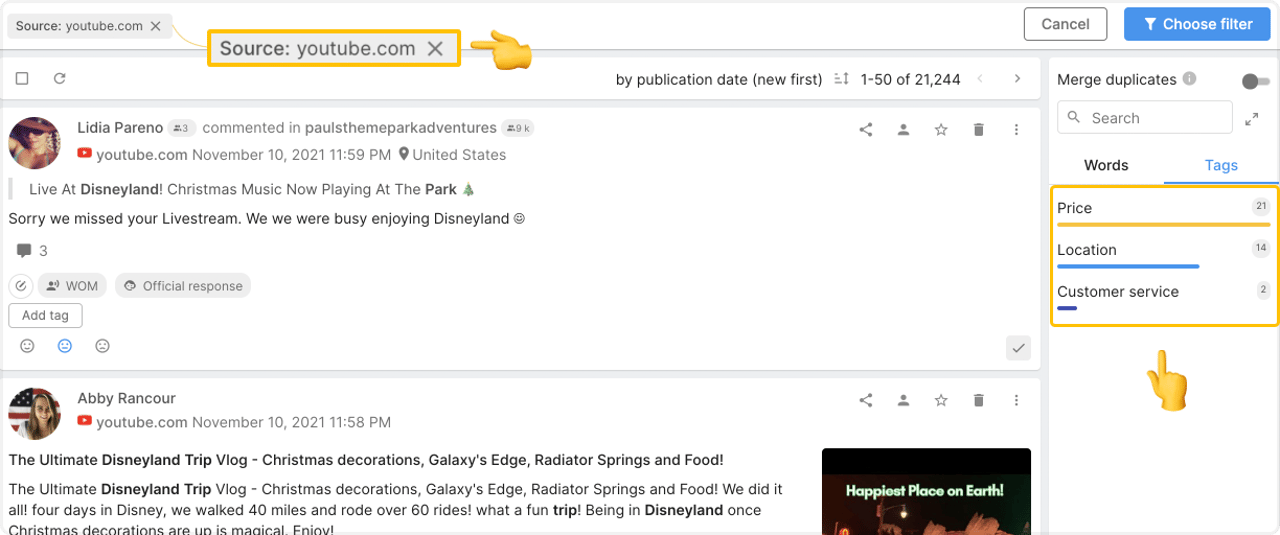 This helps to determine what content is most prevalent in specific social networks and decide which platforms are worth expanding your presence in. Based on this information, it is simple to devise a content strategy for each source.
It's also critical to look at sentiment by source. For example, people share a lot of negative feedback on Reddit, but this source receives fewer mentions than Twitter or YouTube.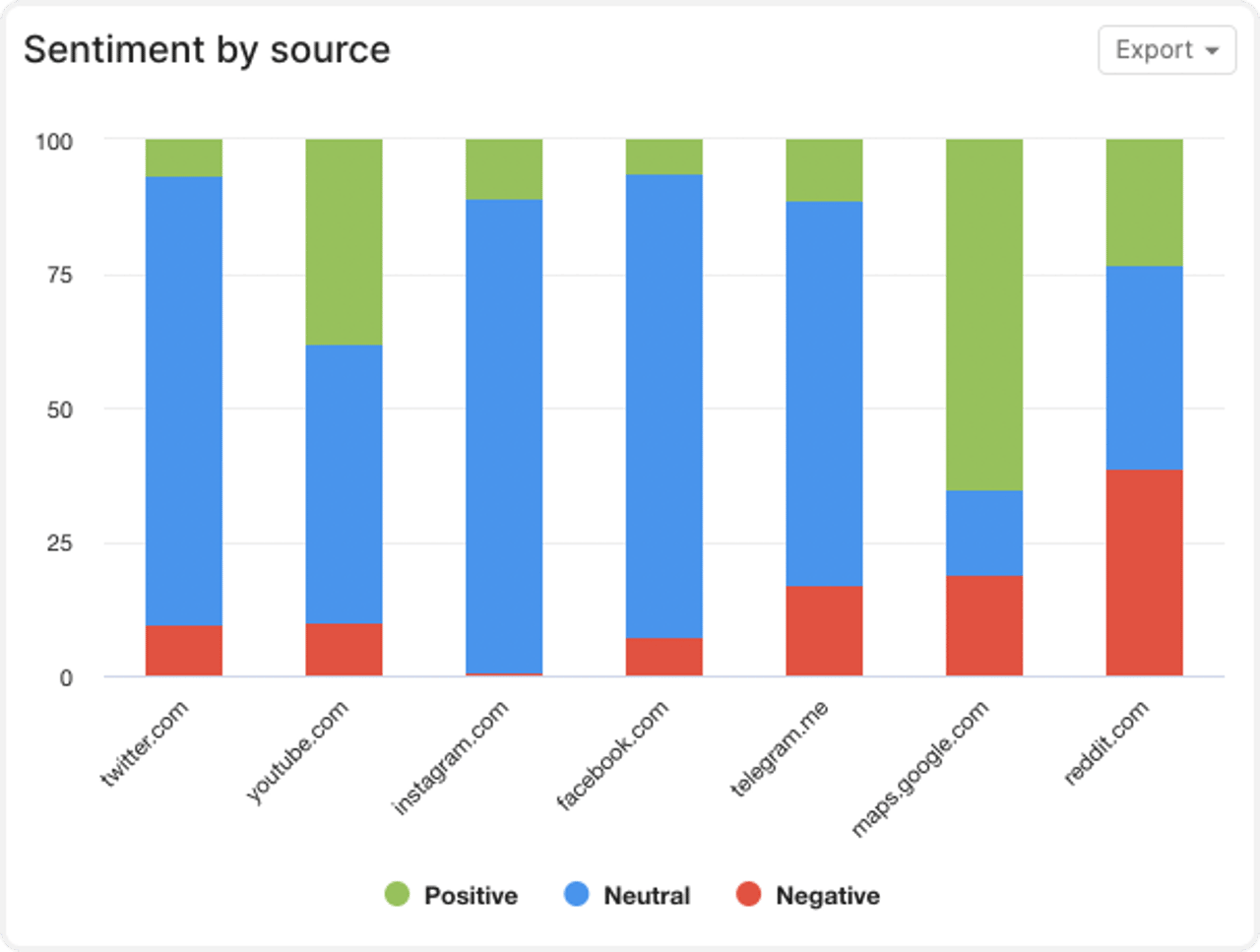 4. Analyze sentiment in details
Knowing how people feel about various aspects of your brand is important, but you must dig deeper to get the full picture. For example, if the price tag receives negative sentiment, you can tap on it to see all the mentions with this tag and get more information. What are the most expensive aspects of Disneyland, according to visitors: tickets, food, or perhaps the Disneyland hotels?

5. Discover your brand's strengths and weaknesses
At first, this point may appear to overlap with the prior one, but it does not. It is not always easy to pinpoint particular strengths and weaknesses solely on what is frequently discussed on the internet. The most discussed characteristic is not necessarily the deciding factor at the moment of purchase.
When it comes to a coffee machine brand, for example, the flavor of the drink that it prepares may be the most discussed topic. When it comes to purchasing, though, everything from cup size to reliability might impact the final decision.
Examine consumer feedback in detail to uncover what they truly like and dislike about the product. To do so, add "+" and "-" to product features to create custom tags. This will help you understand why the product is being praised and criticized. The result might look as on the graph below.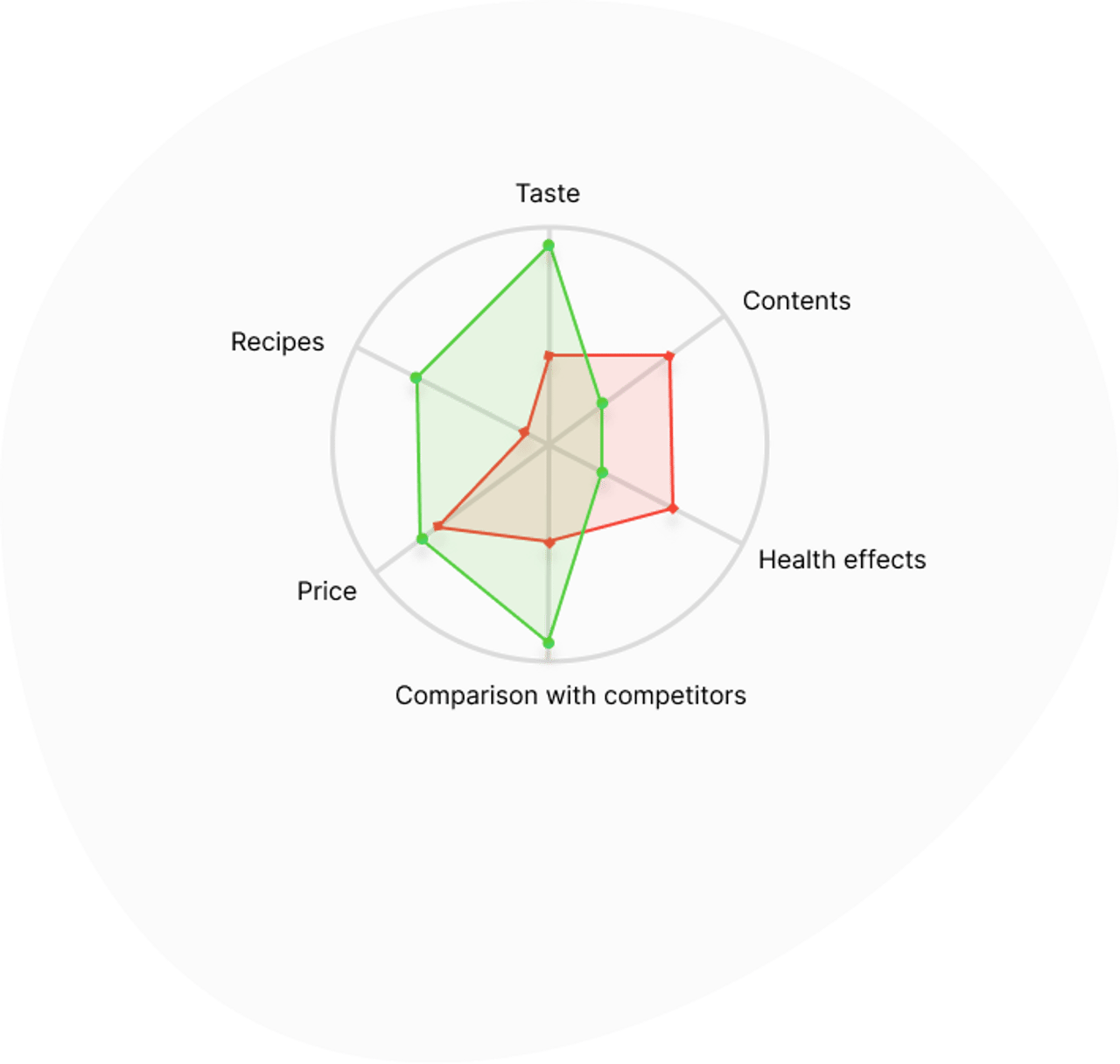 Read our post on social media research for additional details on how to get unique social media data.
6. Wrap up with target audience analysis
Most brands know demographic data on their target audience, but monitoring social media allows you to enrich it.
Men and women discuss Disneyland almost equally, although men participate in conversations a little more actively.
The biggest benefit of social media analysis, however, is that you can specify what men write about, what women write about, and what is most frequently mentioned in communities. Talking about Disneyland, men are more concerned with the price, while women are more interested in the location.


You can use demographic analytics to determine which social networks are most popular for each group, which topics are most popular among a certain audience, and which age groups are the most active.
Based on this data, you can prepare recommendations, such as lowering a product price, changing the taste, or excluding unhealthy ingredients. You can also research what a specific audience prefers and what messaging should be applied to engaging it.
Do you want to try your hand at conducting a brand audit? Request YouScan's free demo to find consumer insights.