Competitor analysis: explore your rivals to overcome them
To beat a rival, you need to study him thoroughly. This military wisdom also holds true for marketing wars and is why competitor analysis is so critical. It allows you to analyze your opponents' strong and weak points compared to yours, identify threats to your brand and find the best ways to improve your position in the market.
As your brand fights for consumers' hearts, in competitor analysis, it is critical to understand how people perceive you and your rivals. What pleases and disappoints them, excites and causes anger, what would they like to improve, and what do they lack? 
Social media listening is one of the best ways to analyze competitive products and get comprehensive answers to these questions. In many cases, this is the only way to get honest data. Most customers will never report their dissatisfaction with the product or service directly to the brand but will share it on social networks.
This post will show you how a social media monitoring tool can be used to conduct a competitive analysis. For the study, we've picked some of the most popular pizza chains in the US and Canada – Pizza Hut, Domino's Pizza, Little Caesars Pizza, and Papa John's Pizza – to analyze their strengths and weaknesses in the eyes of consumers. 
Visibility and sentiment
To begin, we decided to analyze competition on the whole and find out what share of social media discussions falls on each selected brand as this reflects the brand's visibility. As the graph shows, Pizza Hut was the most talked about in the previous month, while Papa John's was the least discussed.
At the same time, Pizza Hut received the highest share of negative comments, while Little Caesars Pizza was the least criticized. 

We wondered what could have caused such a high volume of negative mentions about Pizza Hut and discovered a surge in discussions in early June caused by the brand's reading program for kids, which offered LGBT-themed books.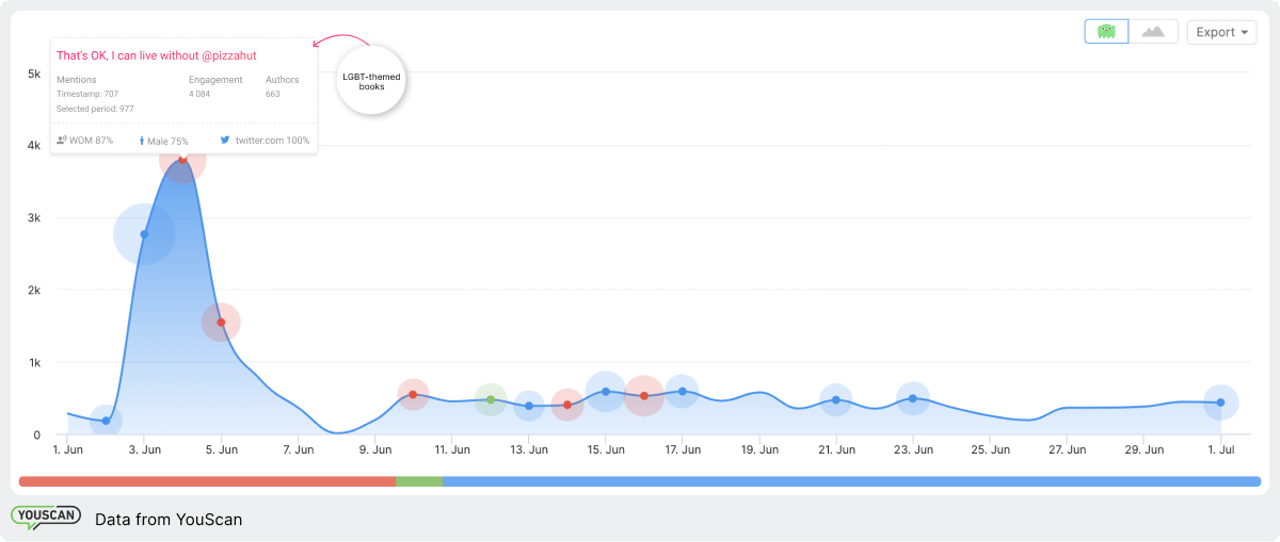 The initiative plunged Pizza Hut into a serious reputational scandal. It became a red flag for other brands, warning of the highly adverse public reaction to promoting such topics, especially when it comes to children.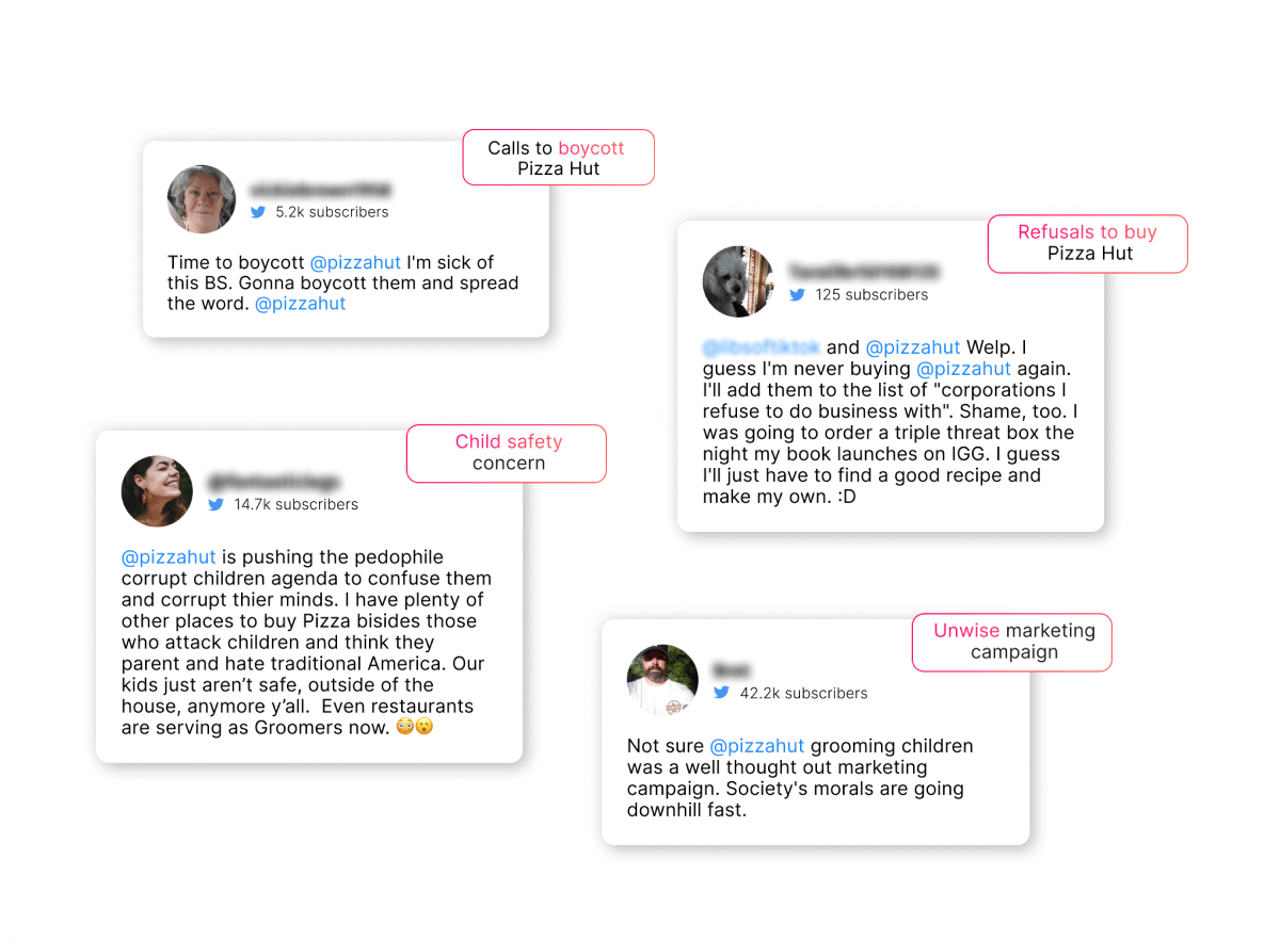 Monitoring rivals' campaigns is integral to marketing competitive analysis, as it enables you to avoid their mistakes.
Going into details
Now we'll show you how to do a competitive analysis in more detail. To get a comprehensive picture of customer satisfaction with the selected brands, we analyzed and compared key aspects such as Quality, Taste, Customer service, Price, Cleanliness, and Health effects. We spotted some common trends and differences.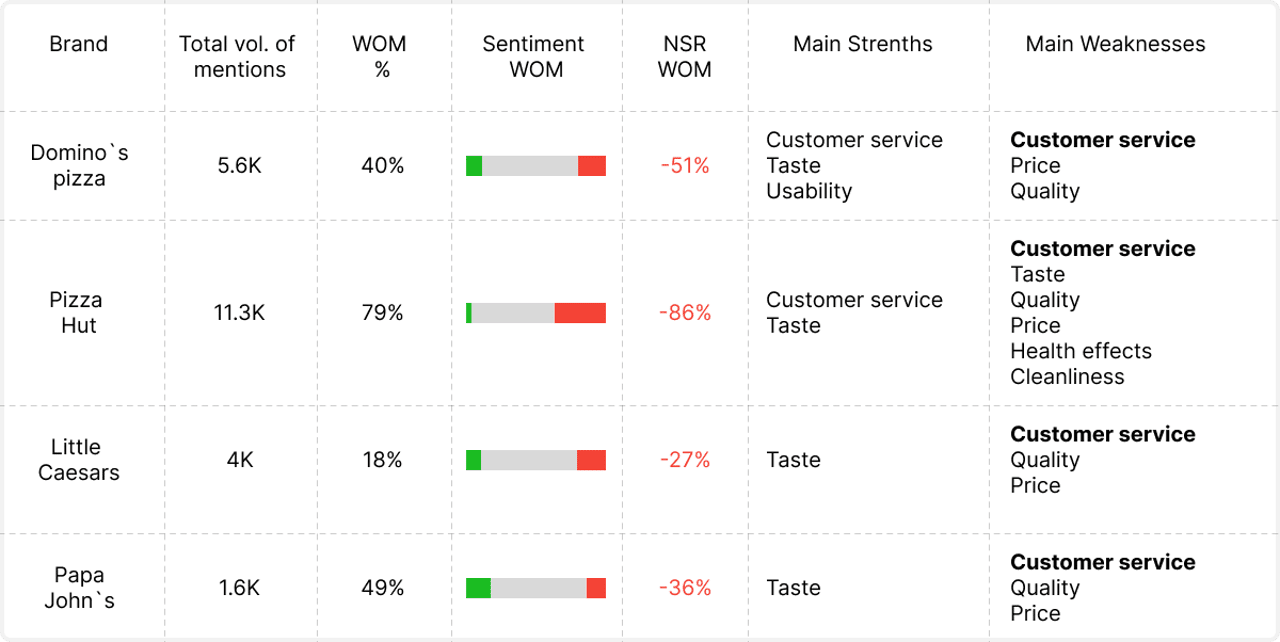 As we found out, customer service is the major sin of all pizza chains. The volume of negative mentions on this issue is many times greater than that on other issues. This signals to brands what to focus on first in order to improve customer loyalty.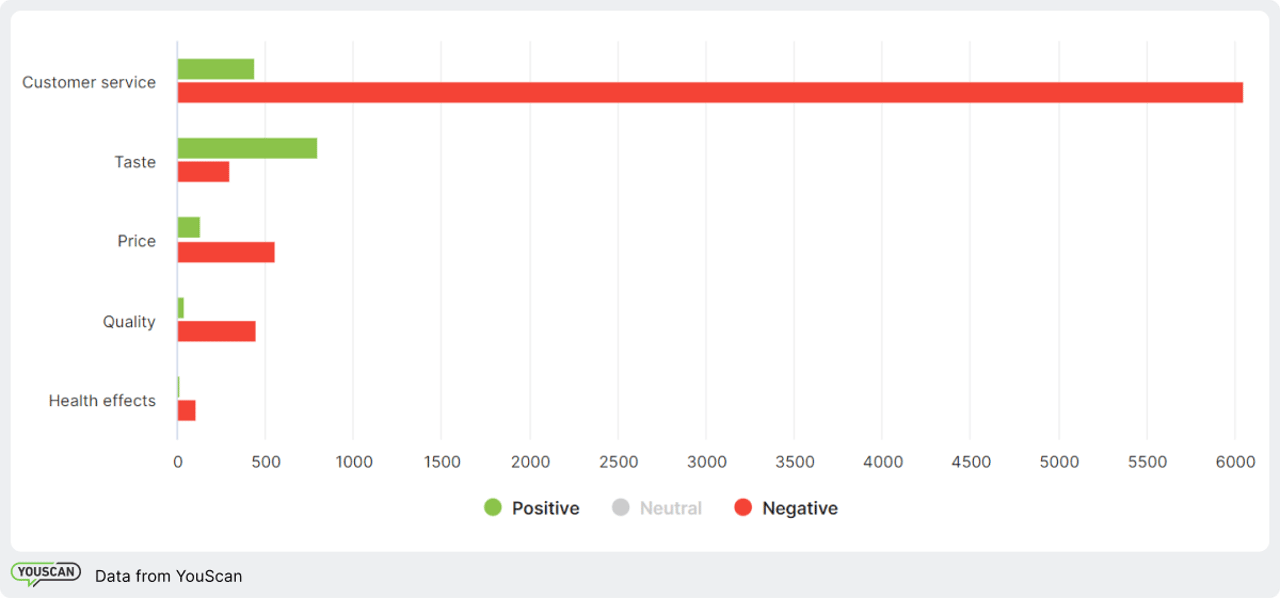 In addition, in a competitor analysis strategy, rivals' weaknesses indicate where you can easily outperform them. In the context of general discontent, excellent service can become a noticeable competitive advantage. This should be taken into account by both existing pizza brands and anyone who is going to launch a new one.
The competition overview showed that, among other common shortcomings, consumers mentioned price and quality. However, the share of mentions on these aspects is relatively small. For Pizza Hut, which received the most complaints, we also uncovered disadvantages as poor taste, questionable restaurant cleanliness, and harmful health effects.
As for positive reviews, the taste of pizza has proven to be the main strength of all brands.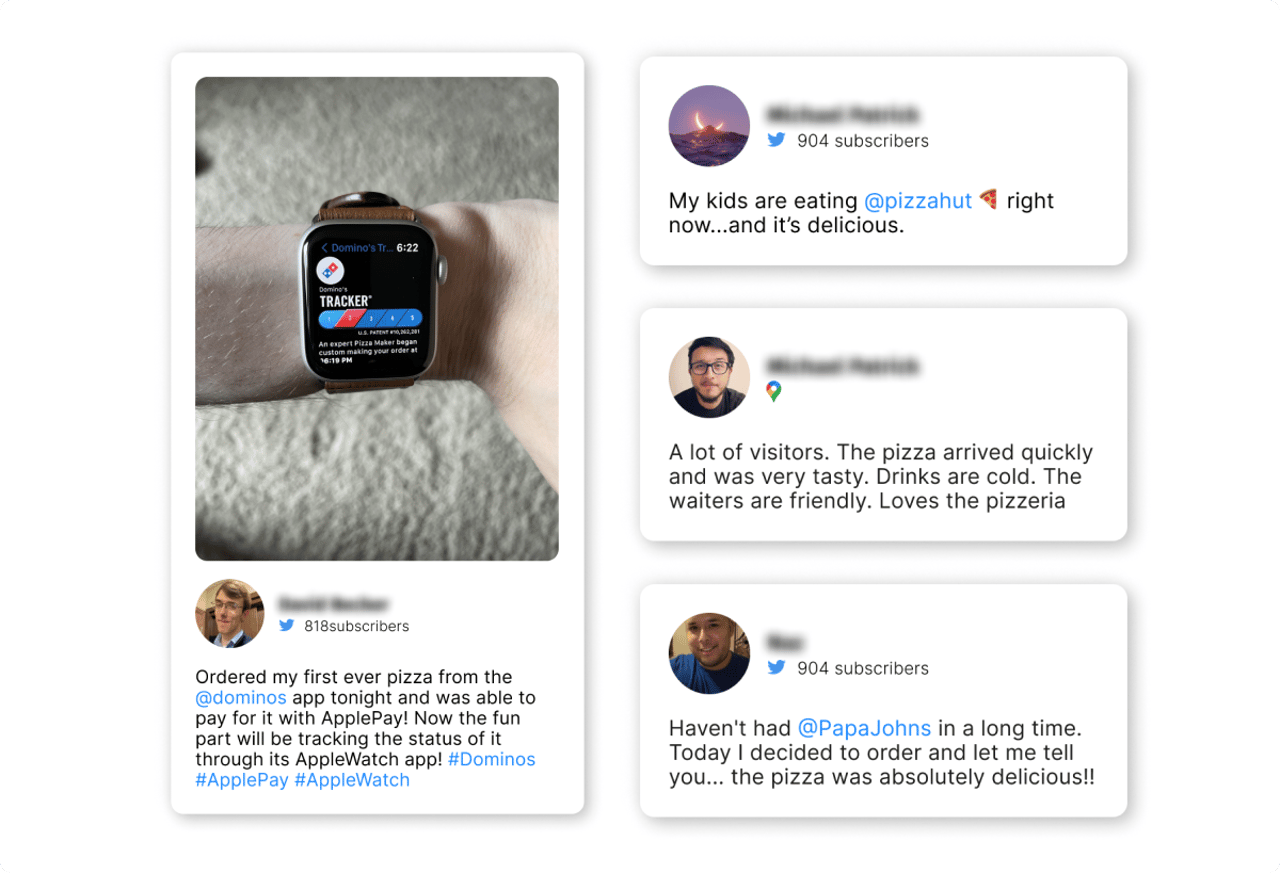 We also noticed that customers praised Domino's mobile application, which they find very convenient. Positive mentions of this feature highlight the brand in the competitor market. Significantly, app improvements could be one way that brands deal with the negative perception of customer service we have mentioned above.
Among other interesting findings, we discovered that Domino's collaboration with Netflix had a significant positive impact on the perception of their brand. The "The Stranger Things" series logo appeared on boxes, and the design was changed to a retro style.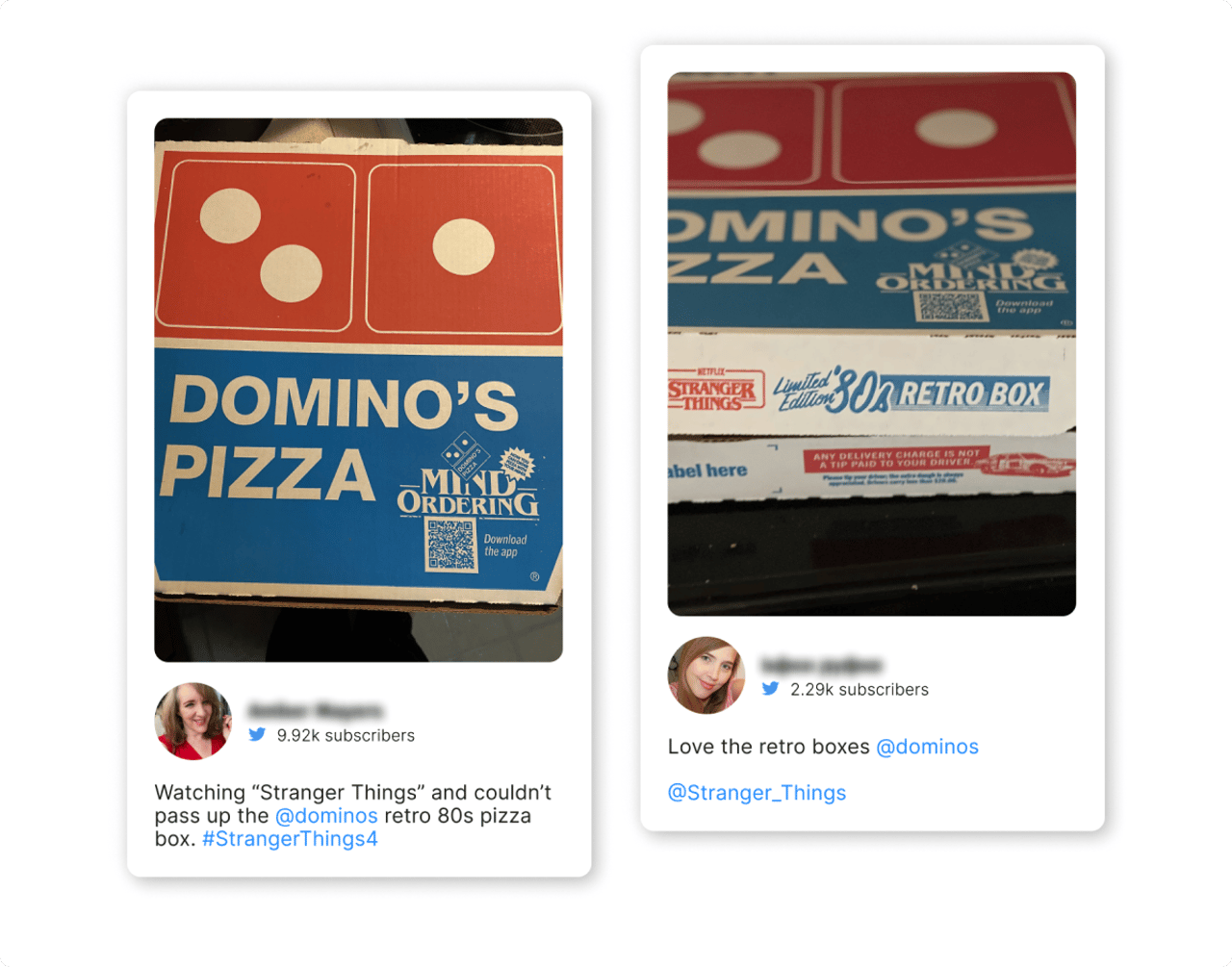 Analyzing consumption situations with YouScan, we saw that people often took pictures of the boxes before eating. Packaging can also be a great marketing tool!
Conclusion
Competitor analysis allows you to evaluate rivals comprehensively, discover their weaknesses, and open up new growth opportunities. Among other things, it makes it possible to analyze the competitors' successful and failed campaigns, and to take any valuable insights into account for your own promotion. Social listening can be extremely helpful for competitive analysis in marketing as it can provide honest data that is difficult to obtain in any other way.