Sentiment analysis on social media
Sentiment analysis is one of the essential elements of brand tracking. It helps us to understand changing customer attitudes toward your brand, measure loyalty, and adjust your product or service to consumers' expectations. But how do we measure customer sentiment and use this data for business growth?
What is sentiment analysis? 
Sentiment analysis is a process of detecting positive, negative, and neutral brand mentions on social media. It allows businesses to measure customer loyalty over time, identify spikes in negative mentions, and respond quickly to critical feedback. Companies often use sentiment analysis of their brand mentions for reputation management and brand health tracking. 
How does sentiment analysis work?
Sentiment analysis is based on machine learning algorithms that interpret the meaning of  text similar to the way humans do. The AI model reads texts and interprets their meaning. However, the quality of content sentiment analysis can differ depending on the technical capabilities of the tool you use. 
How accurate is sentiment analysis? 
According to research published by the Institute for Public Relations, no methods or tools can provide you with 100% sentiment detection accuracy. On average, tech platforms can only be 50% accurate since they struggle to measure all the nuances of a text and interpret the information in the right way. However, 50% is not the maximum result you can get. 
For instance, the sentiment accuracy of YouScan, a social media listening platform, is 95%. The secret as to why it is able to give such high accuracy lies in the way in which the platform analyses text. The main thing is that YouScan determines sentiment in relation to the object, and it is this that has made it one of the best tools in the industry. 
For instance, if social media users mention that Coca-Cola works perfectly for cleaning, YouScan will mark this post as negative because this is not the right way to use the product.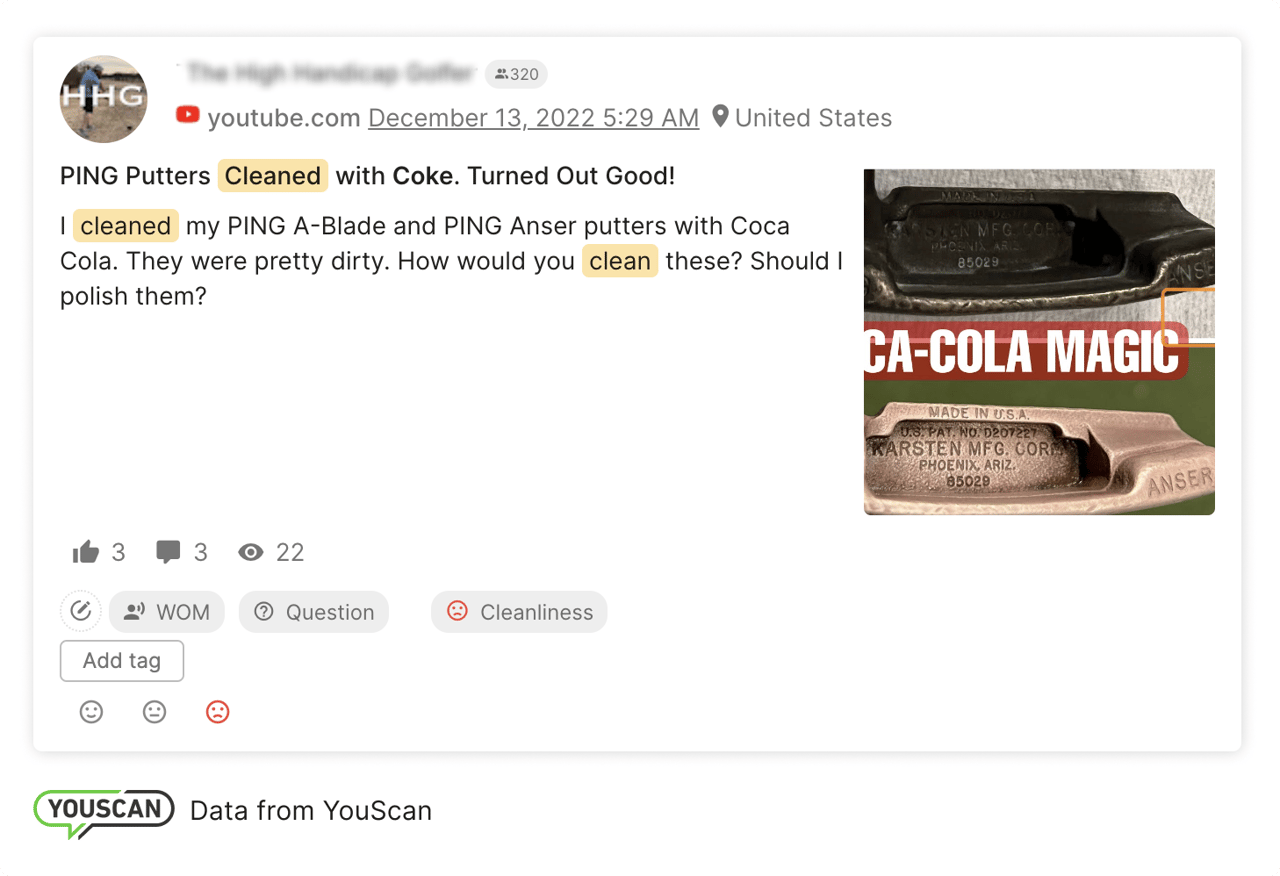 The same goes for comparison. If customers say that, for example, Pepsi is tastier than Coca-Cola, this post will be marked as positive for Pepsi and as negative for Coca-Cola.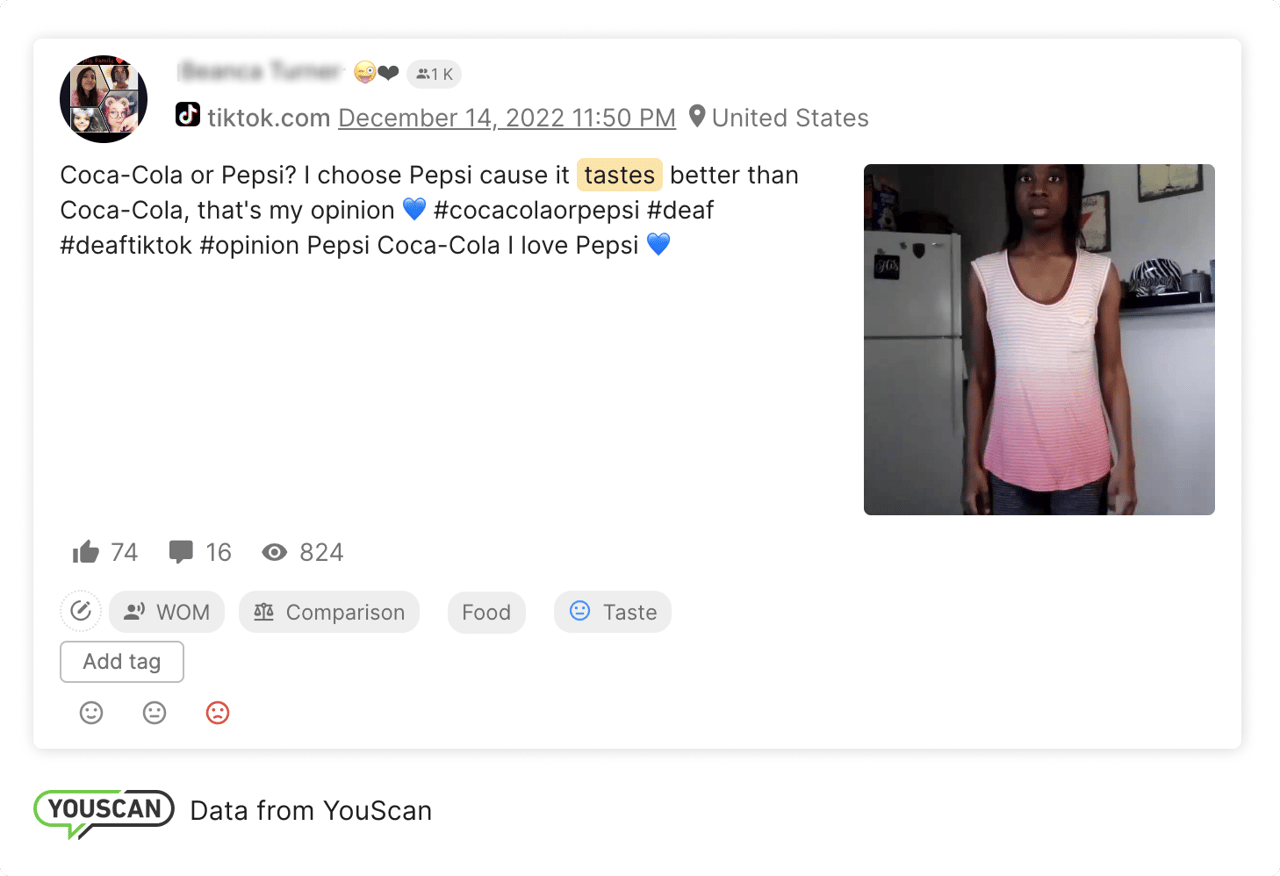 YouScan's AI-powered aspect analysis feature was developed in-house, and our team improves it continuously. We train our ML models using customer feedback loops. Thanks to it, the platform can improve not only sentiment detection quality in general but also the quality of sentiment detection in a certain topic.  
Moreover, if consumers talk about some positive features of the brand, YouScan will not only mark this post as positive but also identify what positive and negative aspects were mentioned.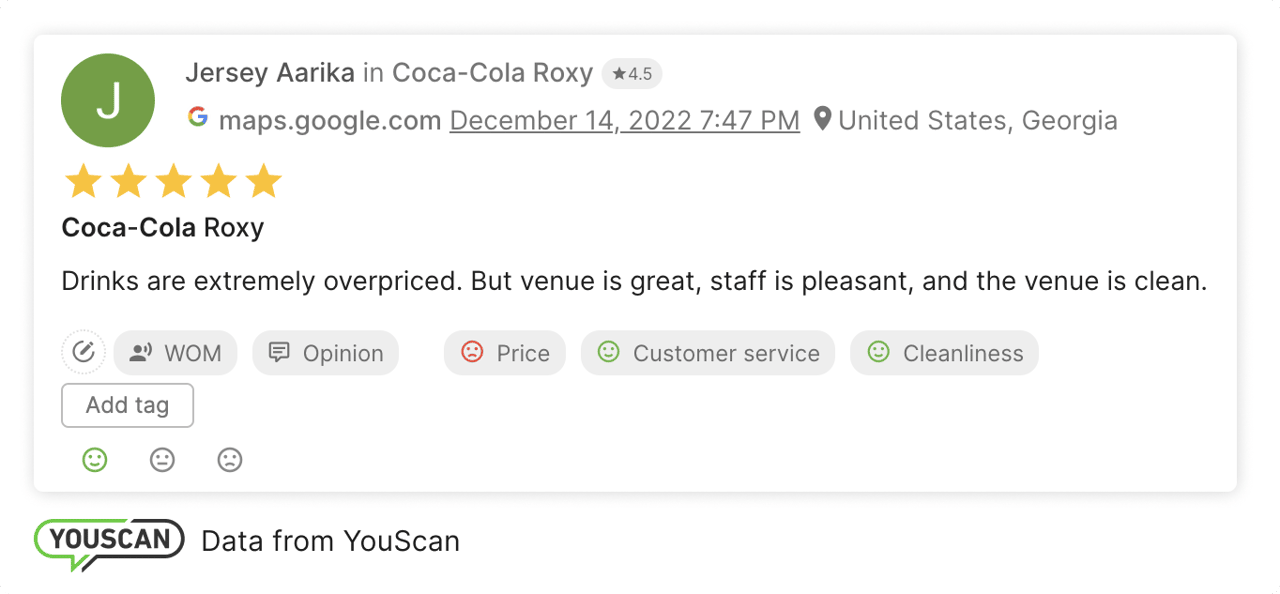 Aspect-based sentiment analysis
Aspect-based sentiment analysis is a unique feature of YouScan that allows a brand to see the strengths and weaknesses of the products and services they promote. And what is more important, with social media monitoring tools, brands are able to use aspect sentiment analysis over time. For instance, last year, the audience for KFC mentioned the quality and price of this fast food chain among its disadvantages. However, the brand managed to reduce the amount of negative feedback relating to this topic. Now the main problem of the brand is customer service.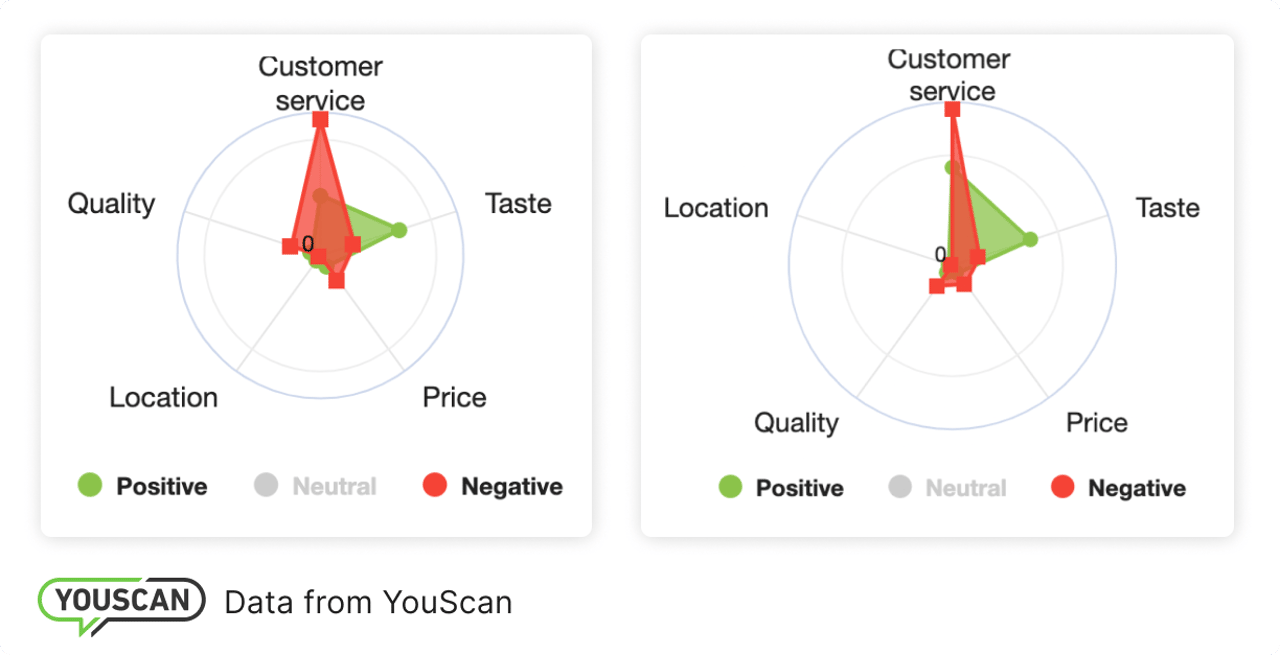 Sentiment analysis based on data sources
Customer sentiment analysis also helps us to understand what platforms are among the primary sources of positive and negative mentions. For instance, recent research by YouScan on social media trends showed that Twitter's sentiment generally used to be negative. But is this statement true for your brand? 
Our research showed that every case is unique. For instance, Reebok wasn't mentioned that often on Twitter. However, customers who used to buy the brand's products on Amazon criticize or praise them on this platform more so than they do on social media.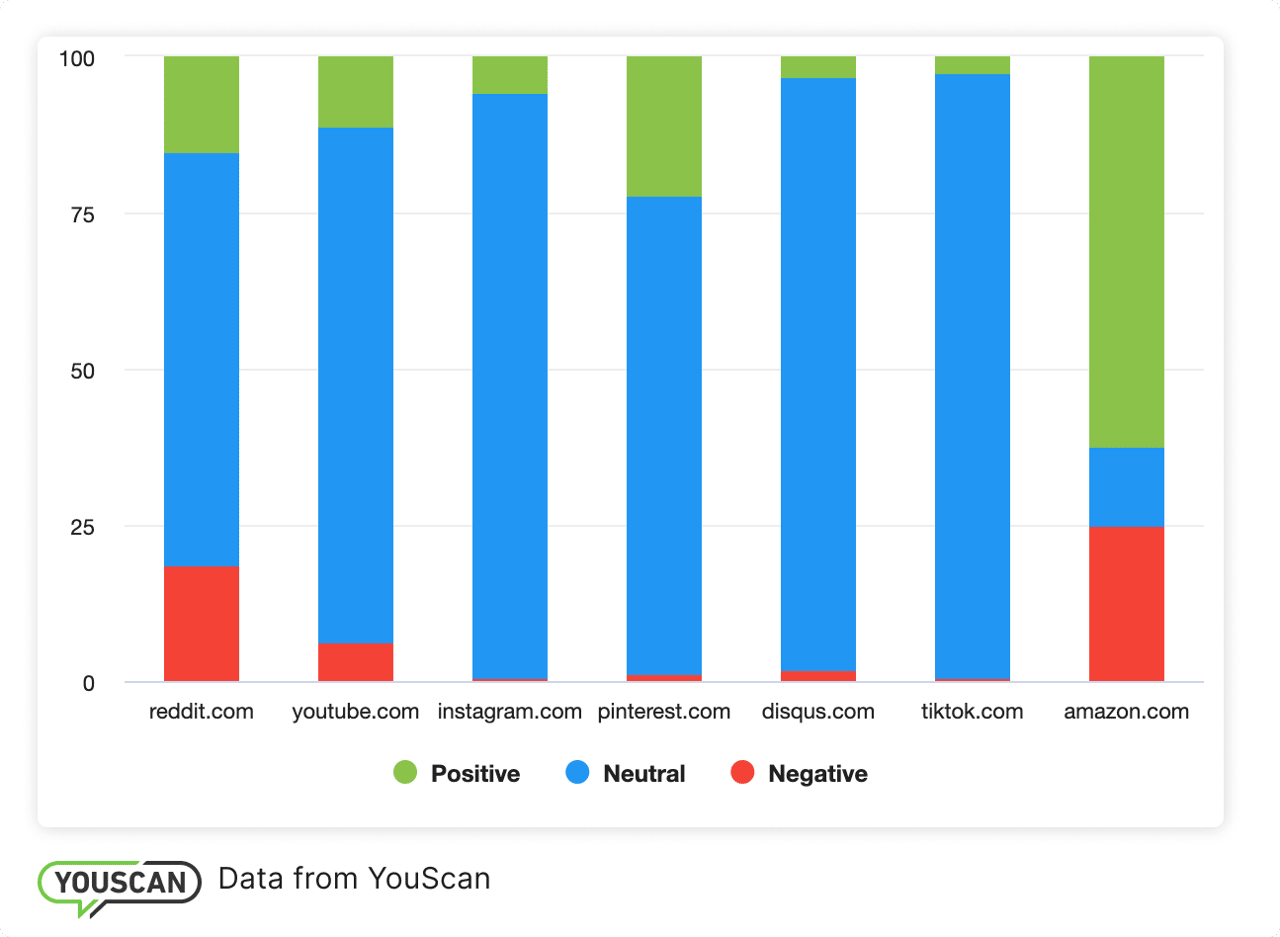 With brand sentiment analysis, you can take a deeper look at this data and precisely monitor aspect-based sentiment on every platform. 
In the case of Reebok, Amazon users mostly praise the brand for its design and usability. By usability, customers mean comfortable clothes and shoes for everyday usage and workouts.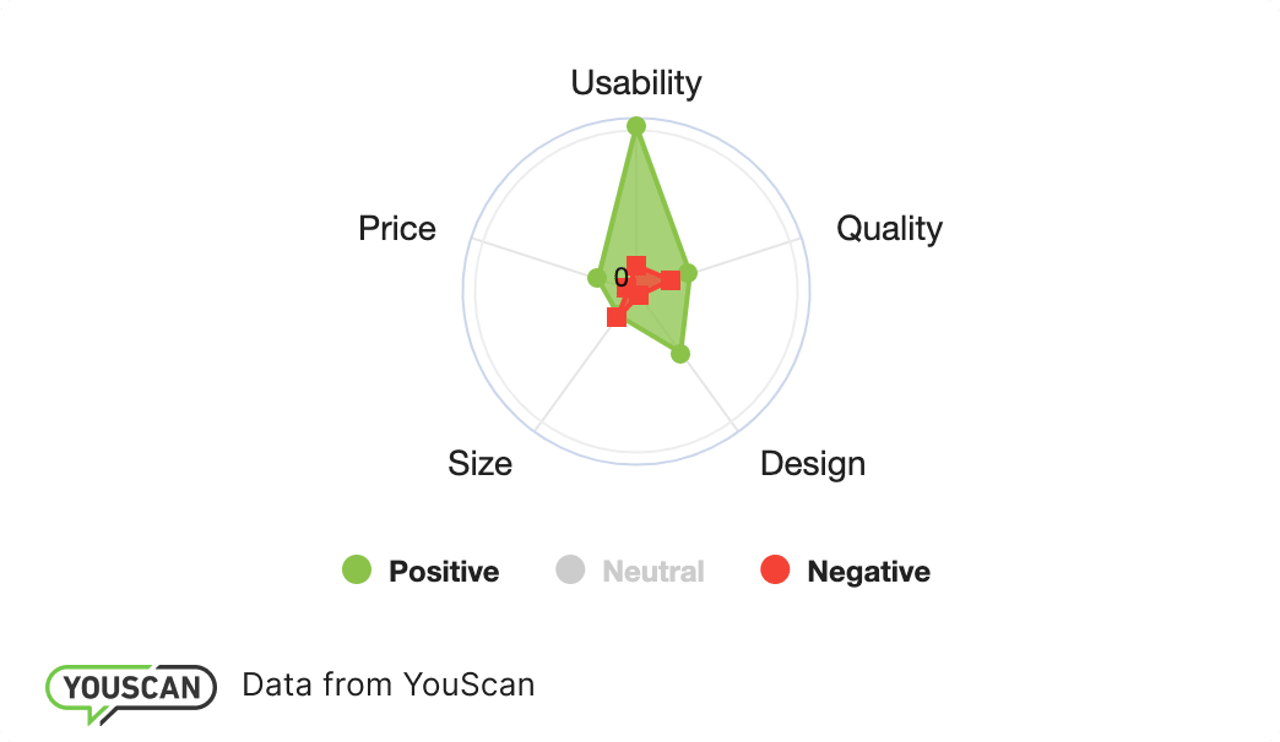 Analyze the audience with certain sentiments toward your brand
Another exciting data segment that you can analyze with YouScan is Audience Insights. This feature allows you to monitor customers' demographic, occupations and interests. In addition, you can use this data while doing sentiment tracking. 
To show how it works, we analyzed the occupation of customers who have left positive and negative reviews for Reebok on Amazon. It turned out that coaches usually leave positive feedback, while artists are mostly dissatisfied with the sports brand's products.

With this data, it's possible to conclude that the brand's products fit better for workouts than for sports photo sessions. 
Why is brand sentiment analysis important?
One of the main tasks that can be covered by brand sentiment analysis is brand management and crisis management. Marketers and PR specialists can track positive and negative mentions, improve their products and reply to customers' complaints, thereby improving relationships with them. 
And what is more important, precise measuring of sentiment helps to identify negative trends that can damage a brand's reputation as they emerge, allowing the brand to try to mitigate this before any damage is actually done.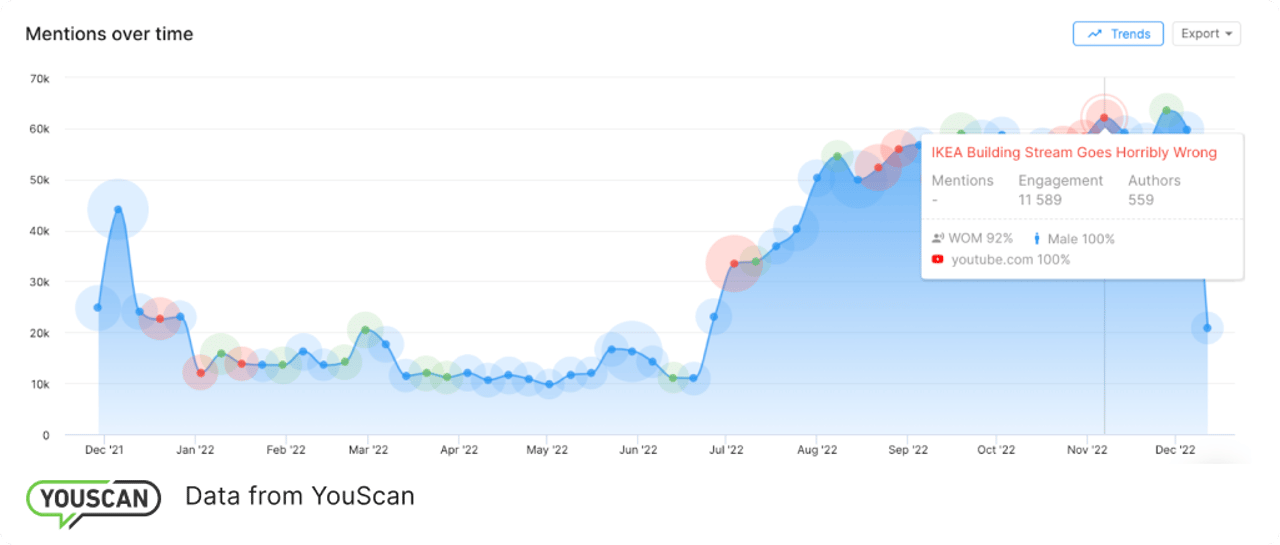 Social media monitoring platforms like YouScan can notify you and your team about critical events via Slack or another messenger.  
Here is a list of  other functions that you can perform with data sentiment analysis: 
Identification of pain points and the strong aspects of your brand

Monitoring different discussions around your brand

Quick reaction to any negative spikes in mentions 

Investigation of preferences and complaints in relation to different user segments 
Do you want to learn more about how accurate sentiment analysis can help your brand grow? Request YouScan's free demo and get more information on how to use social media intelligence capabilities to make your brand better.