Introducing Insights Copilot: an ultimate AI tool for social listening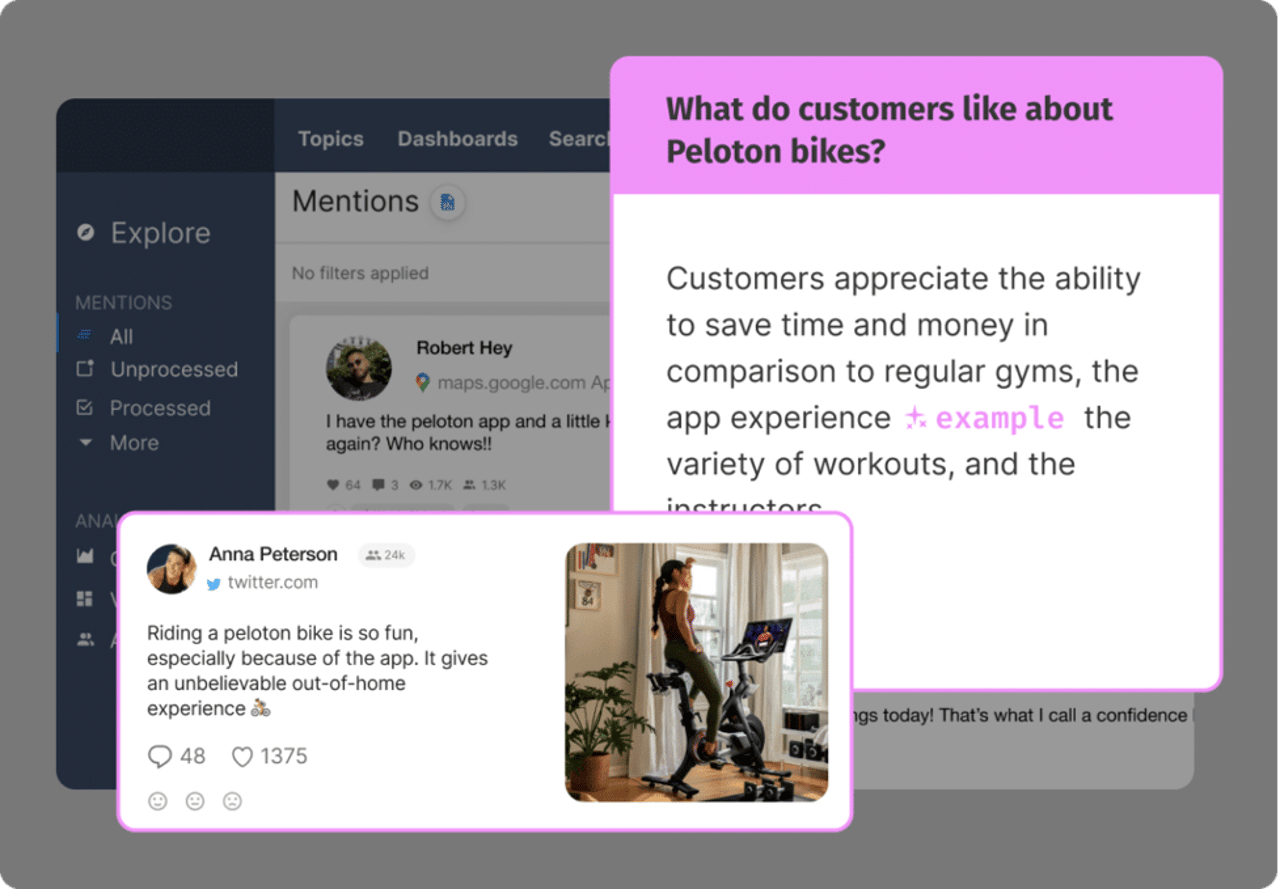 The year 2023 will change social media listening as you know it, and this is not an exaggeration. YouScan is at the forefront of the change: today, we launch the Insights Copilot, our new revolutionary technology based on ChatGPT.
As a marketer, consumer research expert, CX or PR pro, you know the immense value that unfiltered consumer opinions on social media represent. Most likely, you also know that it's not always easy to cut through the noise and get to actual consumer insights, even with cutting-edge social listening tools like YouScan.  
Our platform has always been on a forefront of AI-enabled research tech, with YouScan's industry-leading image analysis ("Visual Insights"), aspects sentiment analysis, and Audience Insights, to name just a few capabilities.
The introduction of ChatGPT by OpenAI late last year, however, opened new frontiers for automated text analysis and summarization, text generation, and ability to quickly extract meaningful insights from the data.
Now, these advanced capabilities are available in YouScan, in a sleek interface built with most common use-cases in mind: Insights Copilot, an intelligent social media listening assistant. 
We put massive effort into developing this breakthrough technology in the recent months and thoroughly testing it. We made sure Insights Copilot works for real and is not just a PR stunt aimed to ride the hype train of ChatGPT.
We hope it will transform your social listening experience for better.

What does it look like?
Insights Copilot is at your fingertips, right in the mentions stream within the YouScan platform.
The assistant has a natural language interface: you can enter any question about the social data, or use our pre-defined question suggestions.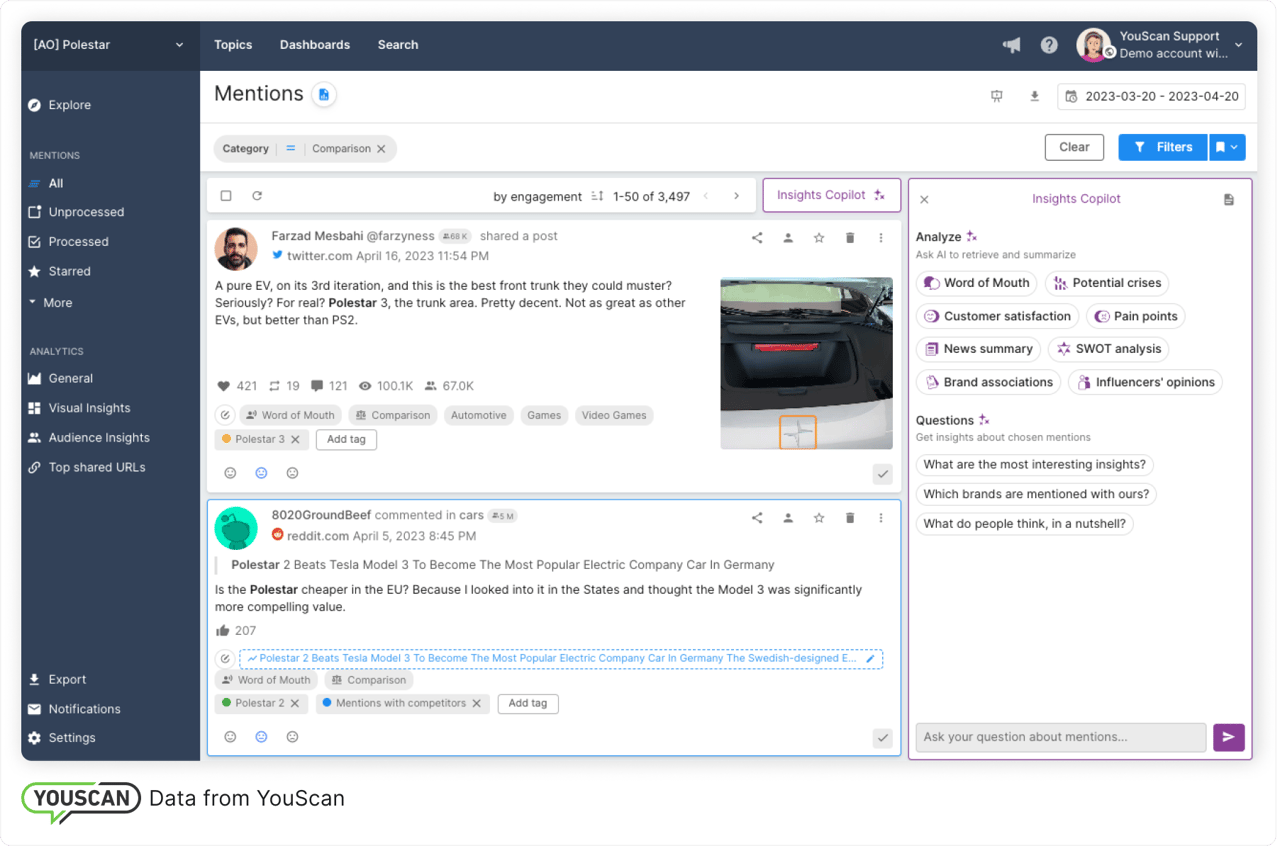 For example, click on 'Pain points' to get a swift summary of all the issues customers are experiencing with your product.
Or, use 'SWOT analysis' to quickly produce the report on the Strength, Weaknesses, Opportunities and Threats to your brand, based on analysis of opinions shared by the customers on social media.
With the free text questions option, though, you're truly unlimited in what you can ask the Insights Copilot.
Normally, it takes Insights Copilot less than a minute to analyze a vast amount of mentions and provide an answer to your question - something that may take hours even for experienced human analysts!

What are the possibilities?
Let's look at the few examples to give you a taste of what's possible with Insights Copilot.
First, imagine you're a marketer or researcher who needs to understand how your brand is differentiated from competitors in the minds of consumers. The brand, in this example, is Polestar - an emerging EV manufacturer and Tesla's competitor.
Without the need to dive deep into the data, read a multitude of mentions of Polestar cars, and analyze charts and graphs in the YouScan platform, you can get instant insights about your brand's positioning.
Just ask the Insight Copilot the right question, for example: "What differentiates Polestar?"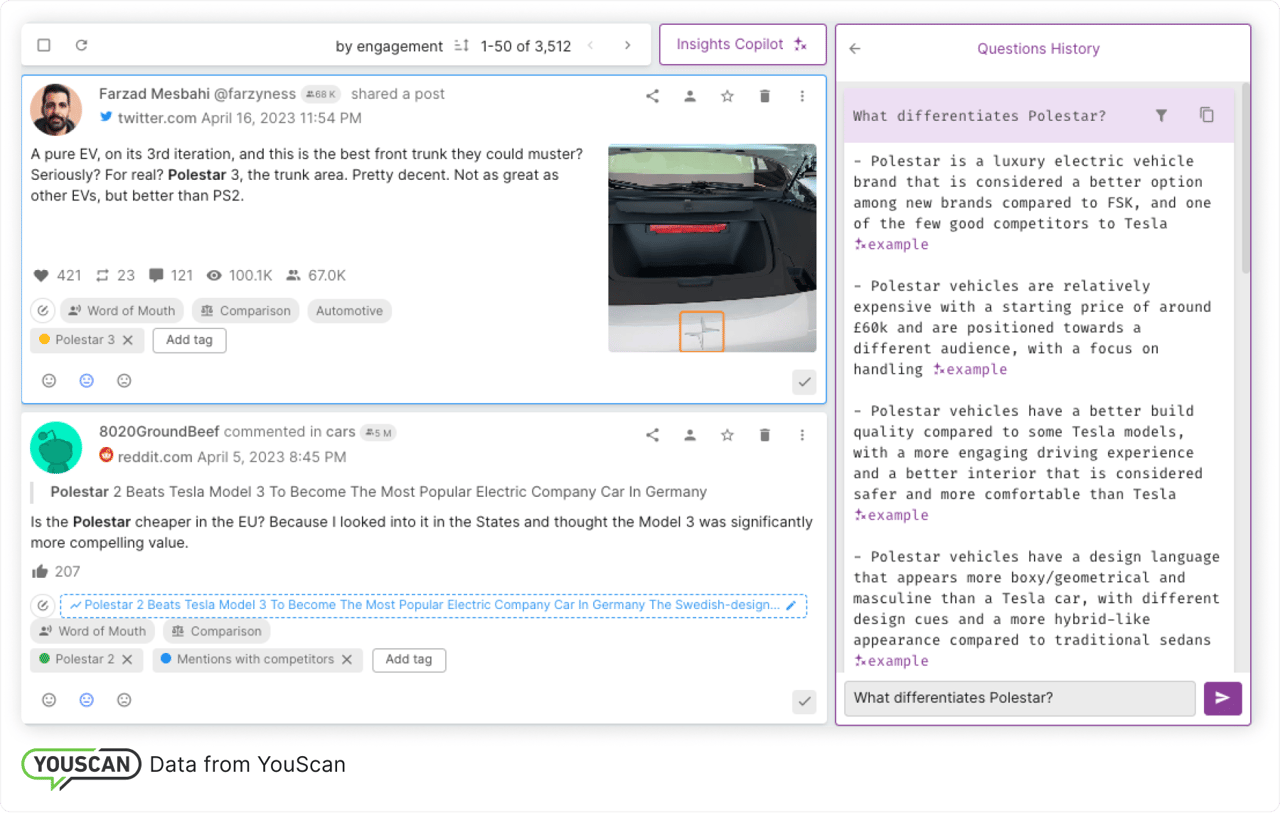 The results may affirm your existing hypothesis, or completely surprise you!
Moreover, you can click on the "Example" to see the actual underlying mentions data, so you can double check the insights provided by the Copilot and truly trust them. There's also an option to copy all the insights to use them in your reports and presentations.
With this information instantly available to you, thanks to Insights Copilot, you can start creating better marketing strategies, hone your marketing communications, and improve your products and services to outcompete your rivals and deliver outstanding customer experience to your clients.
For another example, let's assume you're a PR expert of a fashion brand, interested in learning more about the newest discourse trends and the most debated topics related to environmental pollution.
For this, you can create a topic in YouScan that tracks social media discussions about the pollution, and ask the Insights Copilot: "What are the most interesting insights?"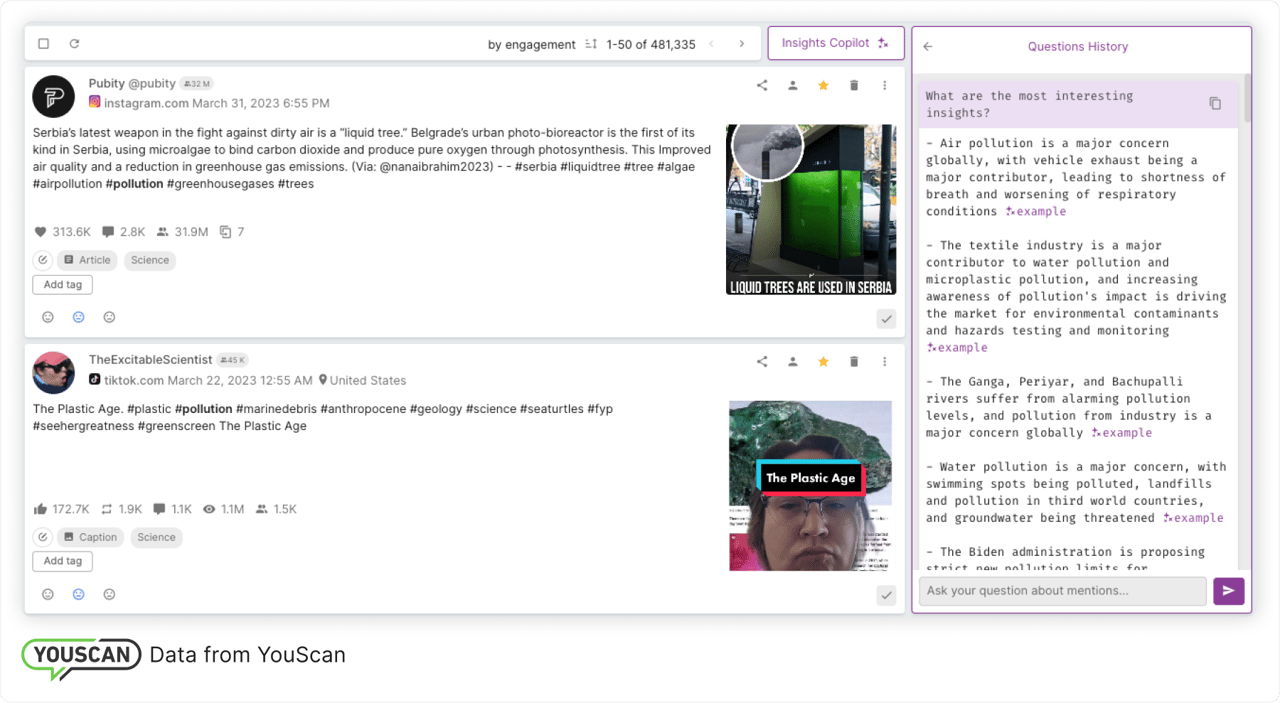 The results will quickly point you to the impact of environmental concerns on the fashion industry, such as the rising demand for sustainable and eco-friendly clothing options.
With Insights Copilot, you can identify changing consumer preferences and concerns quickly, and adjust your brand messaging and product offerings accordingly. This can help you not only stay relevant but also establish your brand as socially responsible and environmentally conscious, which can be a significant competitive advantage in today's market.
You can ask Insights Сopilot anything, for example:
"What are the unmet needs of my customers?"

"Does the price of our product increase or decrease its perceived value?"

"What are the most common issues customers experience?"
As it's often the case with conversational AI tools, experiment with your prompts to get the best results!

Are there any limitations?
This is the first release of Insights Copilot, available broadly to all of our users. As a first release, it comes with a few limitations you should be aware of.
During the first iteration, we tested Insights Copilot mainly in English. But it should also work for all languages supported by GPT (more than 90 popular languages at the moment of writing).
YouScan users can ask questions in any of these 90 languages; Insights Copilot will also analyze social media mentions written in any supported language. However, at launch, Insight Copilot can only provide answers in English.
Insights Copilot works really great for analyzing text mentions on social media. For image analysis and audience analysis, though, we recommend using YouScan's AI capabilities dedicated to Visual Insights and Audience Insights.
To streamline the performance of the Insights Copilot, it works with a sampled set of mentions. It also can't maintain a conversation context yet: each question you ask the Copilot is considered independent.
Last but not least - keep in mind that not a single AI system is perfect (yet), and Insights Copilot is no exception. You should cross-check its insights with other data, before using them for truly high-stakes decisions.

Who can use it?
Insights Copilot is immediately available for all users of the YouScan platform! Each account has 50 free questions per month available (this number may change in the future), shared among all the users of your account.
Unlimited questions are available with the Insights Copilot add-on that you can purchase by contacting our Customer Success team.

What's next?
We invite you to try Insights Copilot and are looking for your feedback on this new and exciting AI tool! Our goal is to improve the Insights Copilot iteratively and make it even faster and smarter.
We hope it will make your work with YouScan platform even more enjoyable and efficient, and help you get useful insights for your business faster.
If you're not a YouScan customer yet, you can register for the free product demo and see Insights Copilot and other YouScan's advanced capabilities in action.
Let us show you how our AI-powered social listening platform can help grow your business, improve your customers' experience and manage your brand reputation.