Competitive Analysis with Social Media Intelligence
The global fashion industry's estimated value is three trillion dollars, with tens of thousands of companies that are located all over the world. And the impact of social media on this business is continually increasing, so standing out among so many market players is not an easy goal, but one that can be achieved with the assistance of data. Social listening can help you conduct competitor analysis that is nuanced, insightful, and practical.
For our research, we have chosen three major fast-fashion retailers: H&M, Zara, and Mango, as well as two smaller mass-market brands in a slightly higher price point category, such as COS and Arket. The latter two happen to belong to the H&M Group. We have collected mentions from just one month, but when it comes to large-scale detailed competitor analysis, it is worth it to cover a more extended period of time to get a better idea of what happens and what kind of changes occur.
Get an overview of your competitors
Online visibility is an important aspect to monitor. It turns out that, on average, Zara has the highest number of mentions compared to other studied brands: its share of conversation is 53%, to be exact. H&M is slightly ahead of Mango, with 19% compared to 13%. Not surprisingly, COS and Arket have the lowest numbers: 11% and 2%, respectively.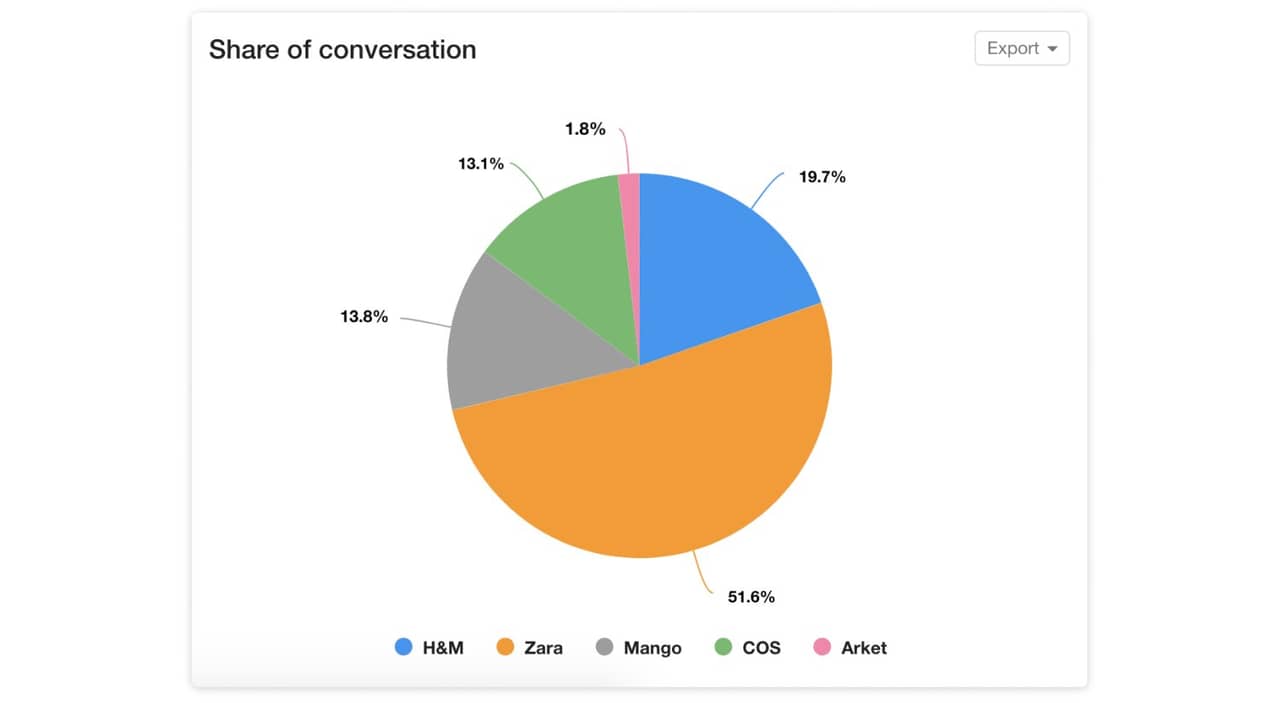 When it comes to customer feedback, quality matters as much as quantity, so the sentiment is an important area to monitor and pay a lot of attention to. Our software has detected that customers write negative posts about COS and Zara more often than they do about H&M, Mango, and Arket. At the same time, COS has the most significant share of positive posts compared to everyone else.
We will dive deeper into both negative and positive posts and explore areas that come up in them the most later in the article.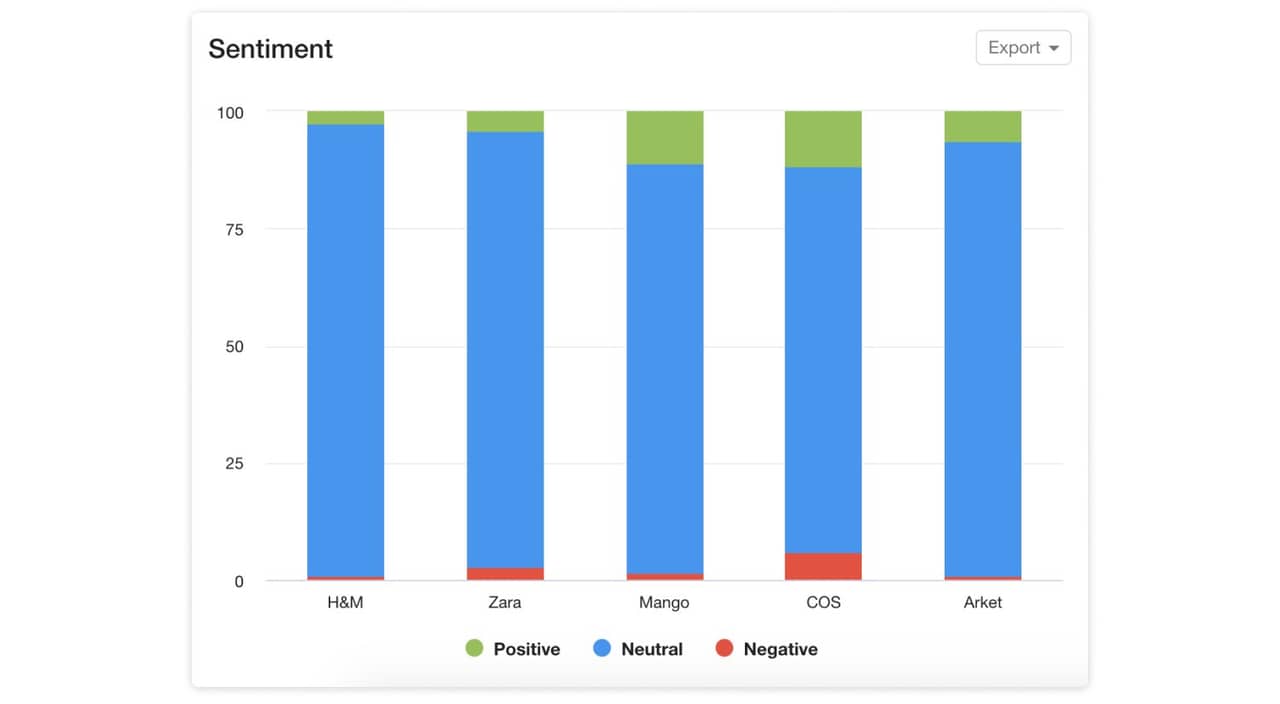 Discover what causes traction online
This graph demonstrates the overall number of posts about the brands we have decided to monitor and how they compare next to each other. Interestingly, Zara is not only the most popular online, but it also has the most stable graph.
As you can see below, all brands have experienced noticeable growth during the first few October days, which seems to have already stopped by now.Each significant change happens for a reason, and it is essential to discover it both in the case of your company and your competitors.
On top of that, there were two intense spikes during the monitored month. One of them features H&M. It took place after the company had announced that it would end its "indirect" (as stated in the official press-release) relationship with a Chinese cotton supplier that has been accused of using forced labor in the Xinjiang Uyghur Autonomous Region.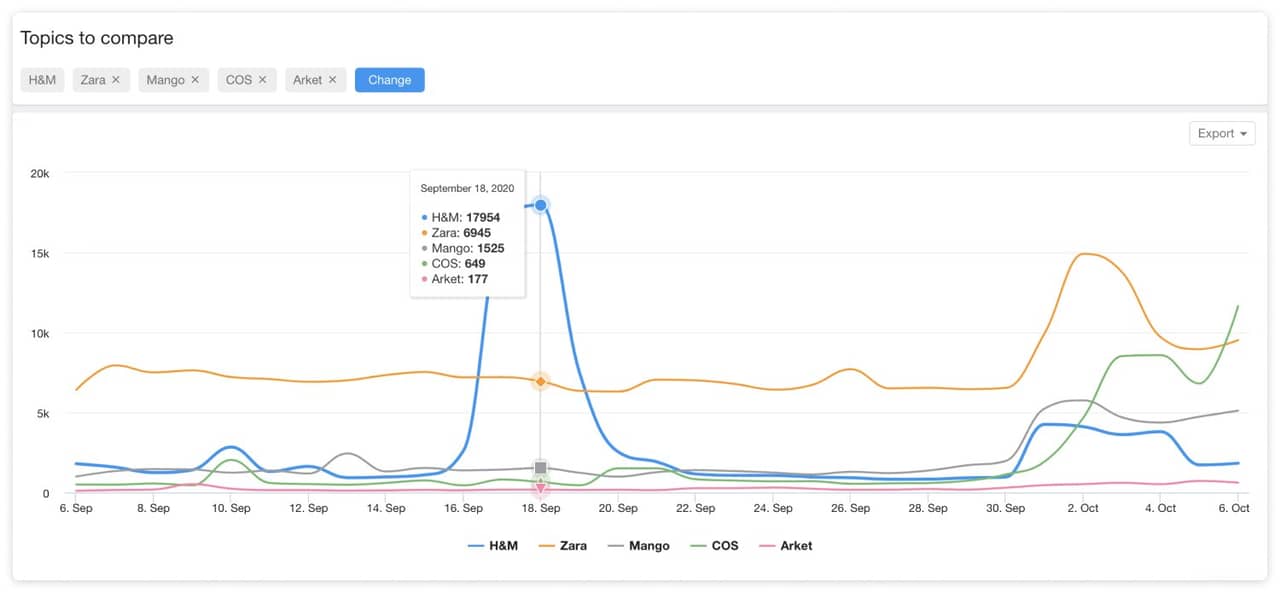 People were quick to comment on the news and were very supportive of this decision. The tweet below is a perfect example of the reaction that the brand got after the announcement. For instance, this British Twitter user, with 3,000 followers, shared his opinion and received over 11,000 likes and 3,000 reposts.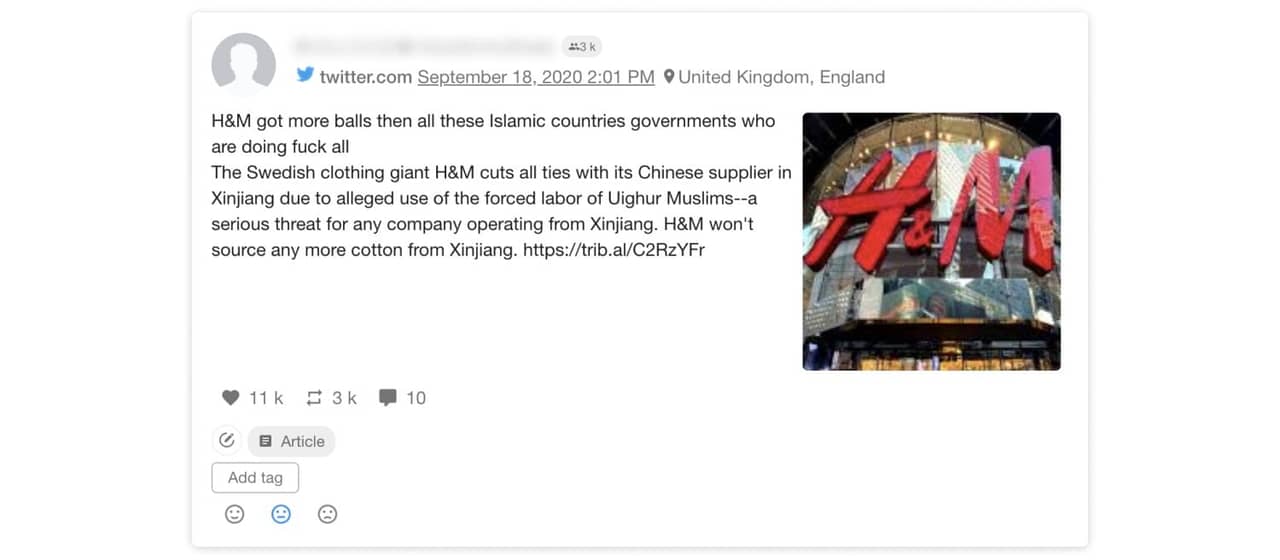 Another spike happened with Zara, but had nothing to do with the brand. Instead, there was a scandal that involved an American strategic communication consultant Zara Rahim. Such a situation can occur when the brand's name is not unique, but it is possible to fix it by updating the search query or creating special rules in the software.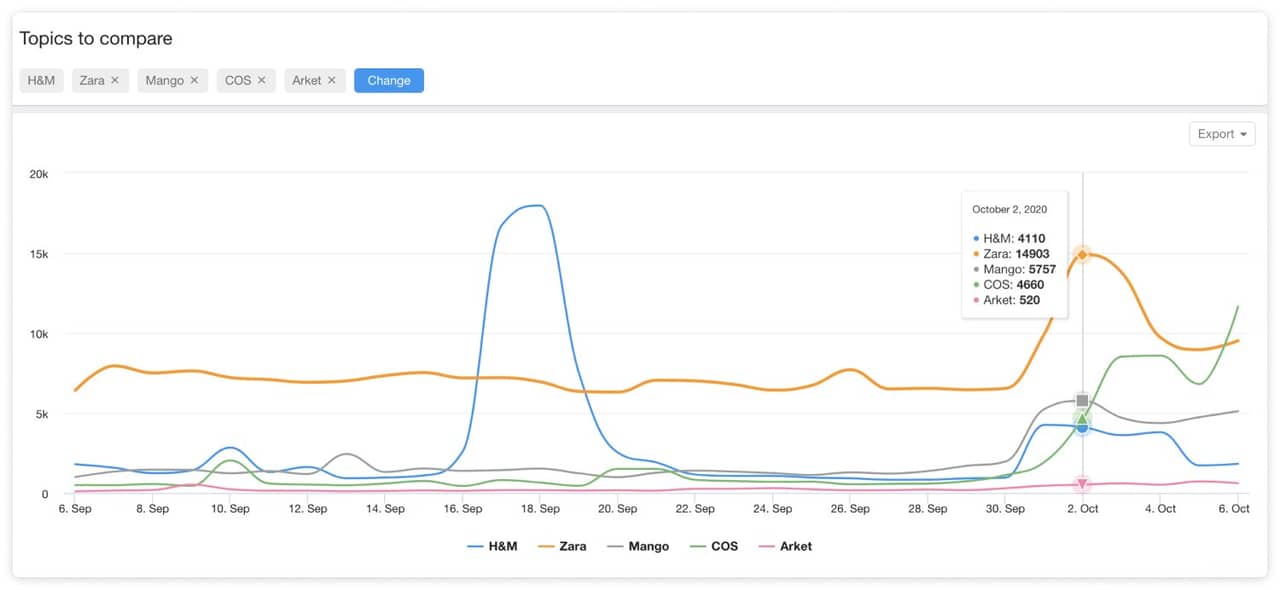 We chose the second option and created several rules to enable the automatic deletion of all mentions that featured different variations of Zara Rahim`s name. This tool is a great way to make the analysis more precise and relevant.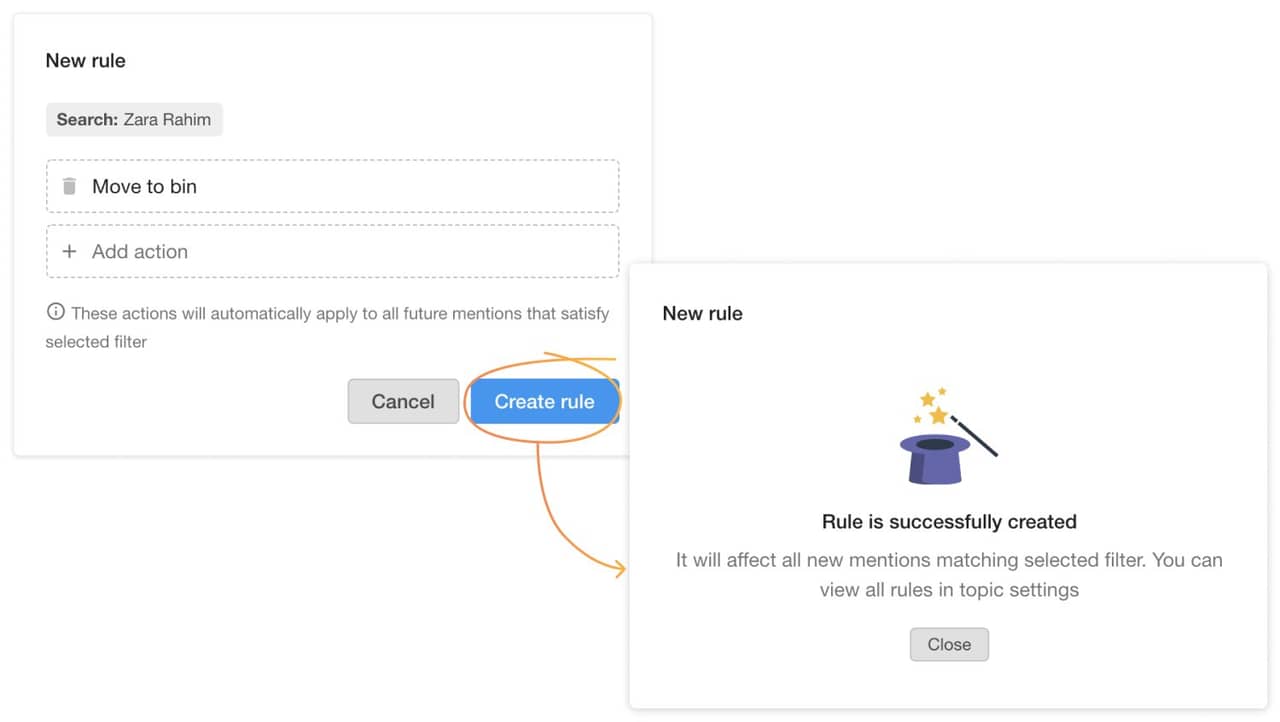 Collect and compare customer feedback
User-generated content is a source of valuable information from your customers that is being updated all the time. However, dealing with it manually is a chaotic and unreliable approach. Doing it for several brands to conduct competitor analysis seems to be an impossible mission nowadays. Social media intelligence software can help you organize this complex process efficiently without missing something or exhausting you and your colleagues.
AI is capable of sorting out mentions into categories based on the aspects that those posts touch upon. For example, in the Zara case, the top 5 aspects at the moment of data collection were design, price, assortment, customer service, and quality. As you can see below, the design is mentioned with a positive sentiment the most, whereas customer service and price are two areas that people who shop in Zara are the least satisfied with.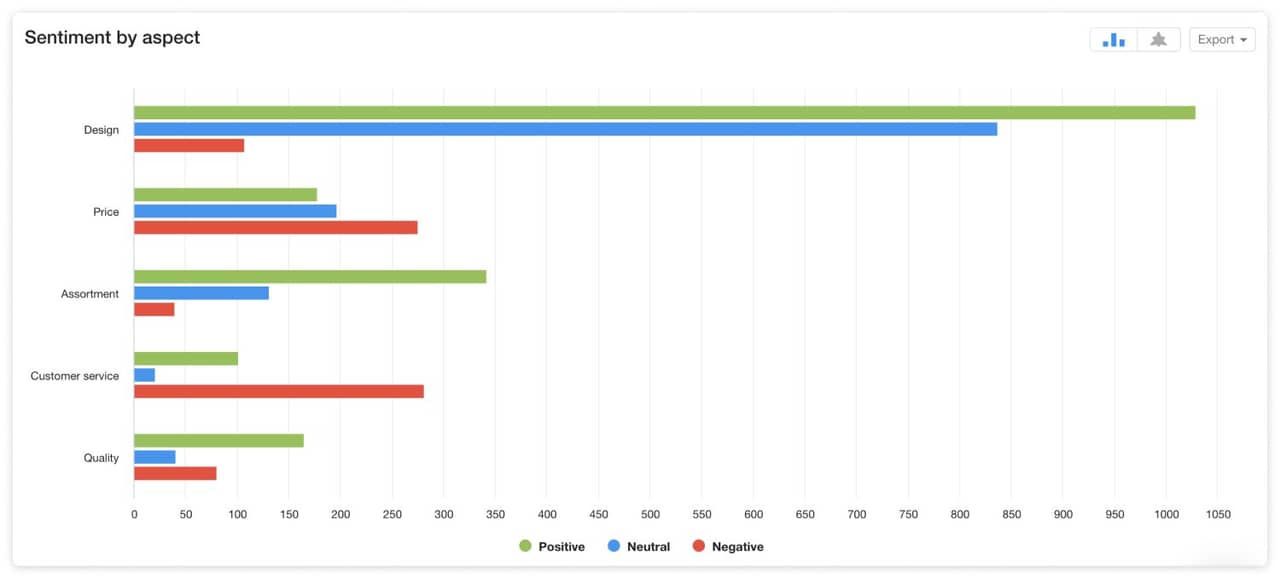 We dove a bit deeper into the actual mentions and discovered several examples of complaints, such as those you see below. At first, a customer ordered clothes from Zara and did not receive the parcel, later both the brand and the delivery company refused to solve the issue. As a result, this person shared their experience online.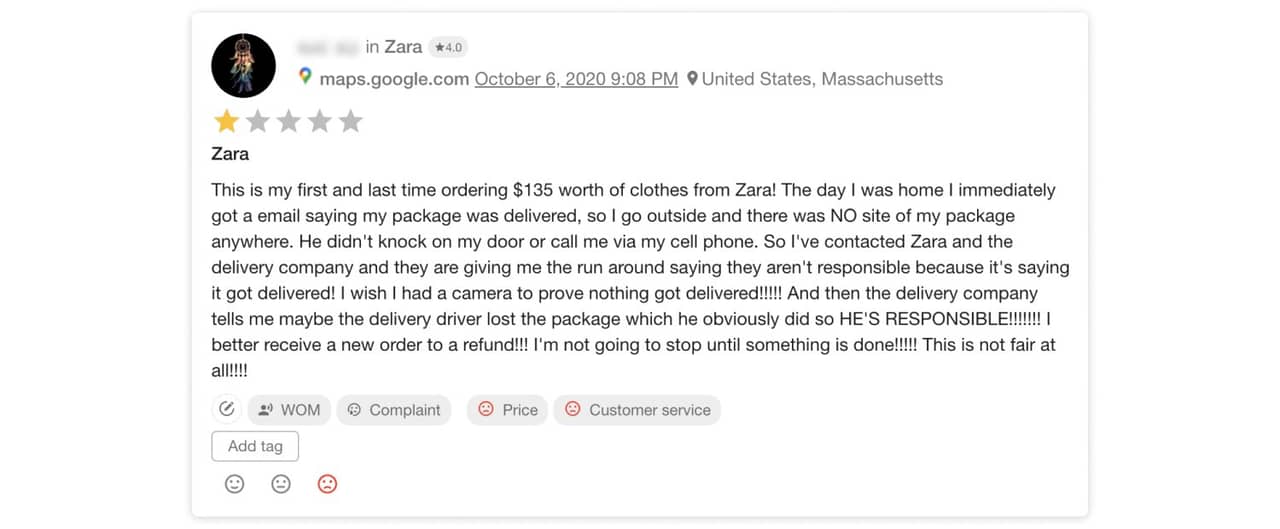 Retailers deal with such cases all the time, but why not improve the process? Also, simply responding and letting someone know that you care about them and make an effort to find a solution can do wonders for your relationship and image.
When it comes to fashion products, prices also happen to attract a lot of attention. Despite the sustainability trend, customers keep on expecting lowers prices and being critical of fast-fashion brands that raise them. It might be a good idea to consider this conundrum and create content around it. For example, explaining the reasoning behind specific numbers or showcasing what they help you do (pay decent wages, and so on).
This is a similar graph but with the analysis of H&M mentions. The most talked about aspects are identical, but the dynamic is slightly different. A lot of valuable insights are available here.
While it is essential to solve issues and improve those areas of your business that have previously disappointed many people, so is promoting satisfied customers. It is a great way to encourage them to share their positive opinions about your brand and boost social media platforms' activity.
Have a look at what your competitors do in this regard and consider engaging with both positive and negative user-generated content that you receive more actively.
All in all, conducting such research for your brand and its competitors and then analyzing the results is a great way to understand your strengths and weaknesses. When repeated over time, this type of analysis can demonstrate whether your efforts to change something are paying off or not and how other brands are doing.
Discover and compare real-life use cases
One of the many advantages of working with software is that it can present data in a variety of useful ways. For example, our latest logo detection and comparison feature collects posts with chosen logos and particular settings or objects, participants, activities and compares the results.
Let`s say, a new swimwear collection by Zara comes out, and the teams behind it want to know how often people share photos in those pieces, as well as how well it is doing compared to other brands. Or maybe there is a new target audience that H&M would like to attract, and they know that their competitors have already done it. This is also possible thanks to the software and various elements that brands can implement into the comparison graphs, like the one shown below.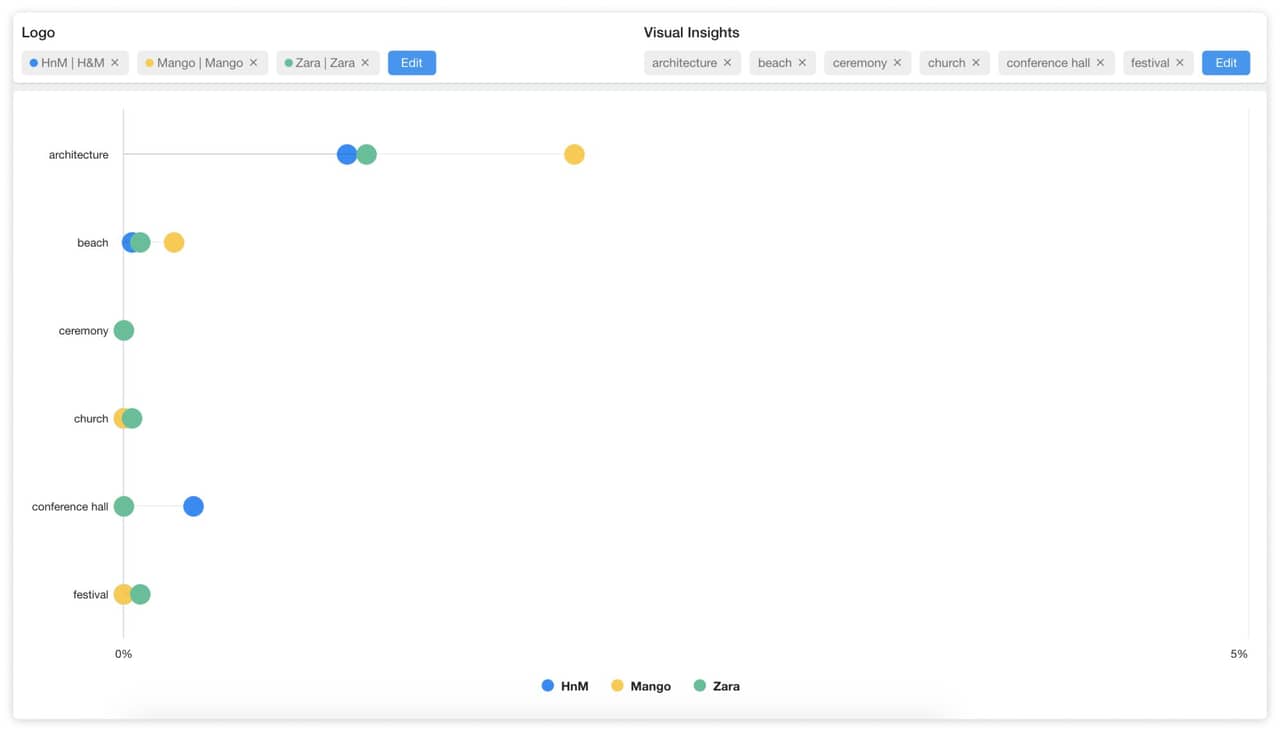 All in all, you can explore and analyze the strengths and weaknesses of your brand and your competitors in a new way. It is a potential source of valuable insights that can lead to changes in your marketing strategy and better results.
Find and evaluate influencers
Building a fashion business without content creators seems to be unheard of in our current climate. According to some reports, up to 73% of marketing teams have invested even more money in influencer marketing during the pandemic. The question is: how much did they know about them and their results before signing deals?
Social media intelligence can be instrumental when it comes to getting more data about your activities, finding new influencers that are right just for you, evaluating their work, comparing them and those who collaborate with your competitors. Our clients' experience has proven that implementing software at the beginning of this long journey can lead to impressive results, such as a 100% response rate from influencers and a drastic increase in sales.

While researching Mango, we had a look at the authors who mentioned the brand and got the highest engagement level. One of them was Emelie, a London-based blogger with 1.2 million followers on Instagram. She included a Mango sweater as one of her most recent favorite pieces. The post received over 55,000 thousand likes. Naturally, she would be a perfect fit for cooperation. Working with people who already buy and love your brand is the path to success.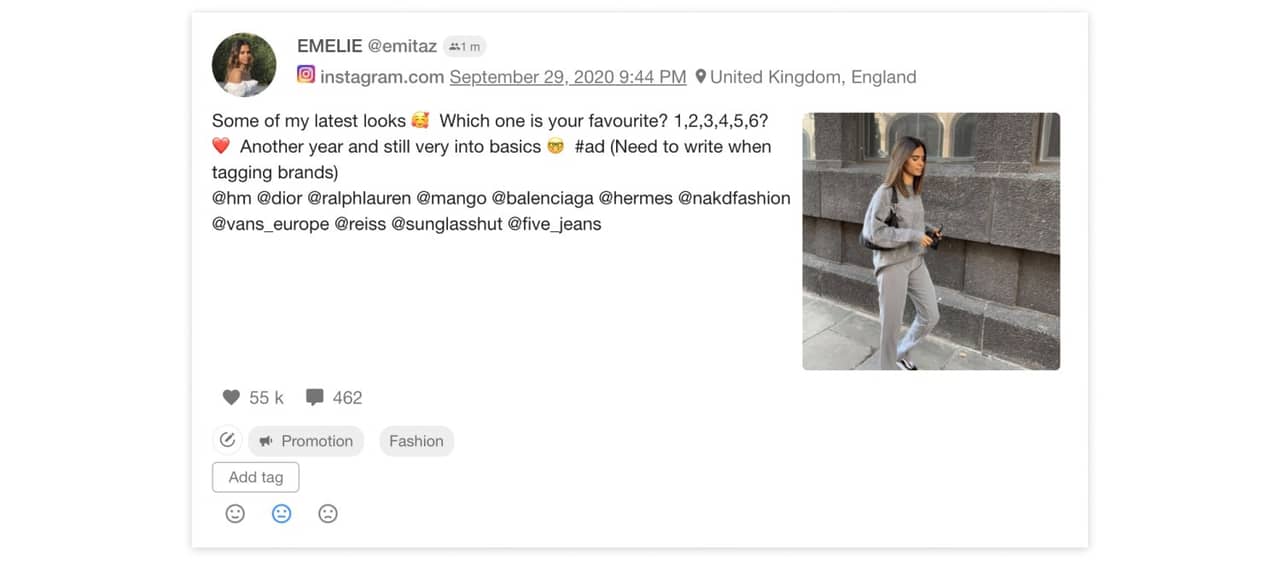 And another similar example with a post featuring Zara that got over 33,000 likes by a blogger with 413,000 thousand followers on Instagram.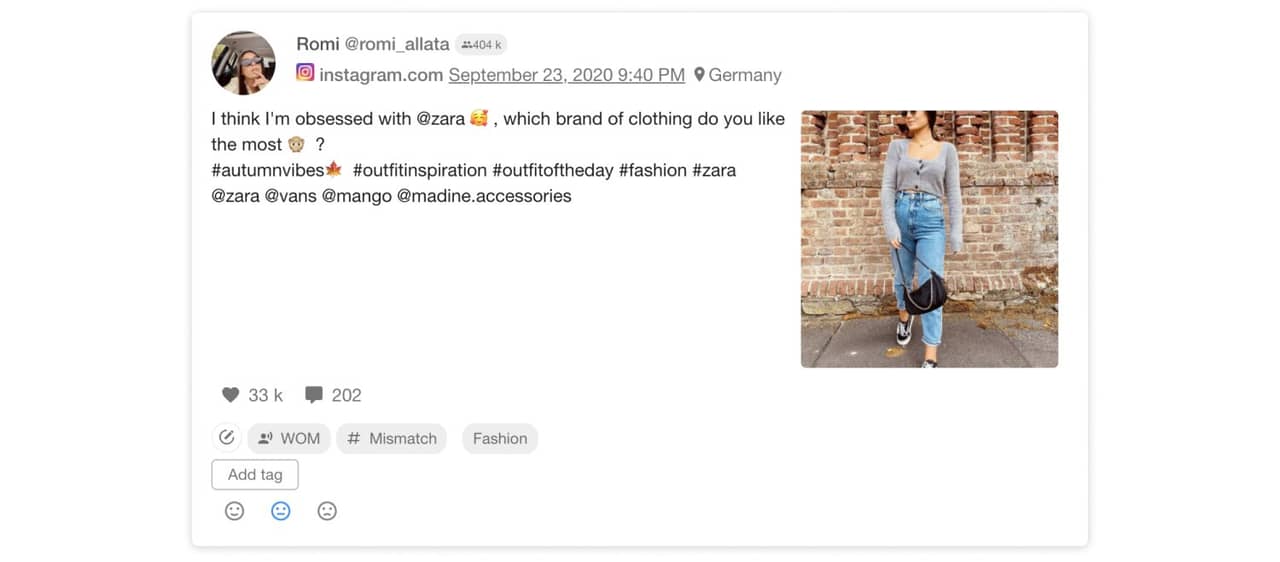 The truth is that you can monitor and explore a wide range of things when it comes to competitor analysis and influencer marketing. One of the discoveries that we have made during our sample research is that Arket and COS are much more prevalent among male content creators than Zara or H&M, which do have collections for men but tend to appear in the content less.
Again, there is a lot of work to do here. What about your brand and your competitors? Do you know what your situation is in these terms?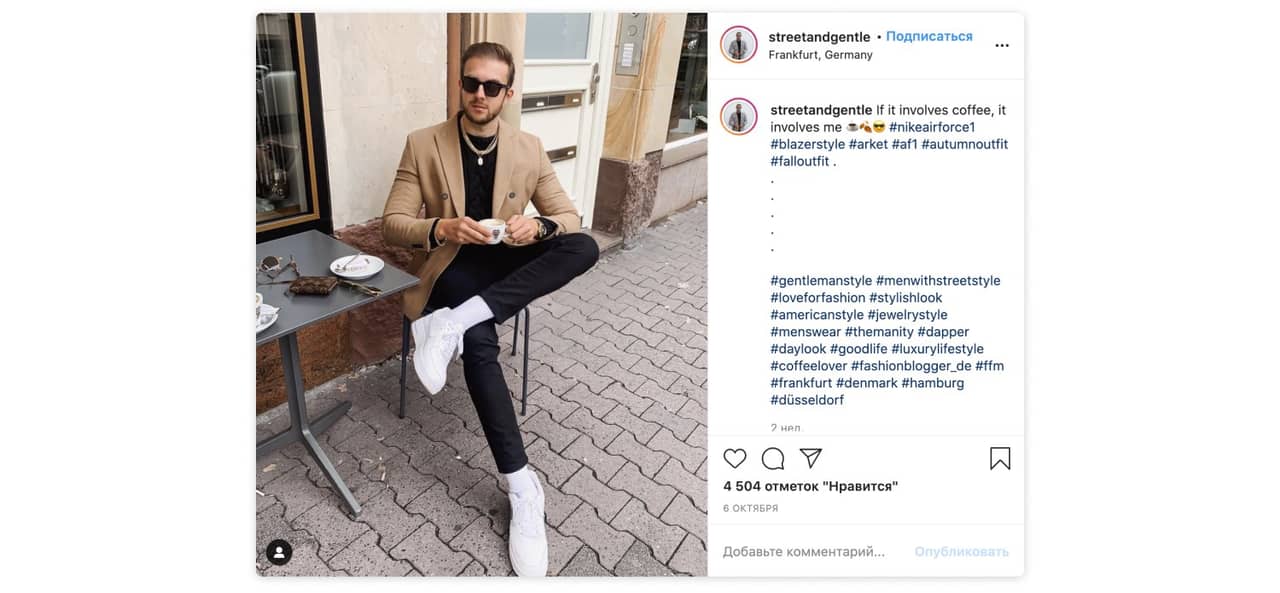 Ensure omnichannel social presence
Knowing where your customers prefer to share their opinions is vital because it allows you to focus on those platforms and be proactive there. You might think that you need to have more content on Snapchat, whereas you need to take part in more discussions on Twitter. Rely on data to make more informed decisions that could then lead to better results.
For example, we had a hypothesis that Instagram would be the most popular social media platform for conversations about all monitored fashion brands. It was for some of them, and it was not for others. In H&M's case, Twitter turned out to be the number one choice, whereas Instagram and YouTube occupied the second and third places, respectively.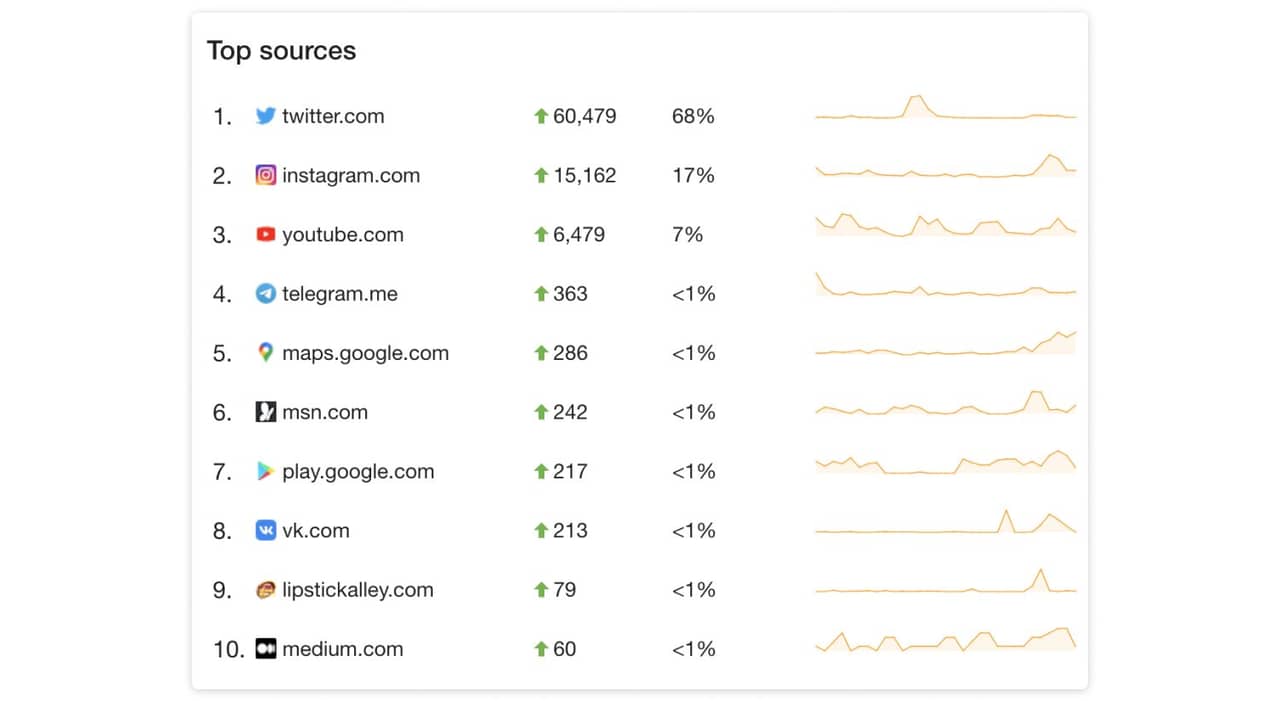 However, the majority of Zara and Mango mentions were found on Instagram: 76% and 66%. Twitter and YouTube occupied the second and third places in both cases. However, Twitter turned out to be the platform where most COS-related posts occurred. Interestingly enough, Arket was mentioned more often on Instagram and YouTube than Twitter.
Monitor more platforms
Instagram, YouTube, and Twitter are a must for your social media monitoring and competitor analysis activities, but it does not mean that you should stop your efforts there.
In some cases, we have discovered that brands that do not monitor TikTok can miss out on up to 40% of mentions posted online. So, almost half of all posts that feature their products. This does not have to be the case for you anymore because of our latest update.
To prove the point and show the potential value, we have researched Zara mentions found on TikTok and sorted them out by engagement. The top video was about fall must-haves. At the moment of writing this article, it had 1.3 million views. In comparison, the same type of content created by the same author and Primark had 116 thousand pictures, and another video about must-haves from H&M — only 18 thousand views.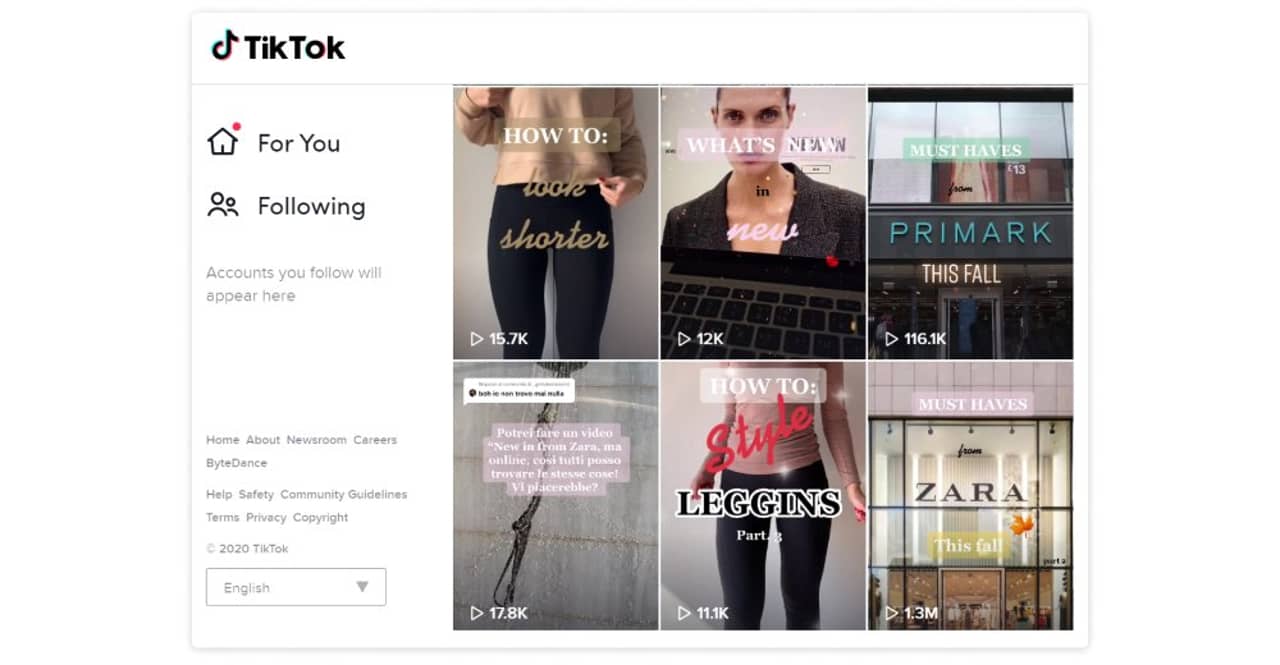 And even though there are a lot of questions, doubts, and concerns about TikTok, one thing is for sure — its popularity and impact keep on growing. In short, the earlier you start monitoring your brand and your competitors there, the better.
Competitive analysis for fashion retail in a nutshell
According to a McKinsey report that was conducted just 2 years ago, more than 70% of fashion businesses did not have the tools for digital analytics that they needed. Knowing the amount of information that is only available online, it is safe to claim that they miss out on a lot of valuable data. The situation must have improved by now as there is a major trend towards digitalization, but the change could not be dramatic in such a short timeframe.
Thus, if you implement social listening, you will already have a much better understanding of the market and a much higher chance of success than most brands. Conduct competitor analysis with the help of social media intelligence software, find out what customers think about your brand and its biggest rivals on various platforms, discover impactful insights, and implement new ideas based on this data.
Would you like to conduct competitive analysis with the help of social media intelligence? Request our free demo.