Competitor research: top mass-market beauty brands
Dozens of cosmetics brands offer their beauty products, but not all of them can capture customer attention. Which brand has won this competition, and why do social media users love it?
What is competitor research? 
Competitor research is a process that identifies other market players and tries to understand their strong and weak sides. By conducting research into your competitors, you can learn more about the specificity of your market, improve your strategy and find growth opportunities.
How to conduct competitor research?
High-quality competitive market research consists of several steps: 
Identifying your competitors;

Analysis of their presence on social media and in the news;

Understanding of the strengths and weaknesses of every product or service. 
Making research based on social media data, you get several benefits: 
1. Using a special filter, you can carry out a competitor search and discover what your product is being compared to while users discuss it online. 
2. You can collect and process data from all around the world without large investments. 
3. You can analyze customers' spontaneous discussions and honest opinions. 
Competitive market research for beauty brands
From among countless cosmetics brands, we compared 6 to reveal what customers love about them and what characteristics need to be improved. For our research, we chose NYX, Revlon, E.L.F, Rimmel, Clinique and Eveline. 
A quick analysis showed that by the number of mentions, NYX has no equals. In comparison, the nearest competitor – E.L.F. – has twice less as many mentions.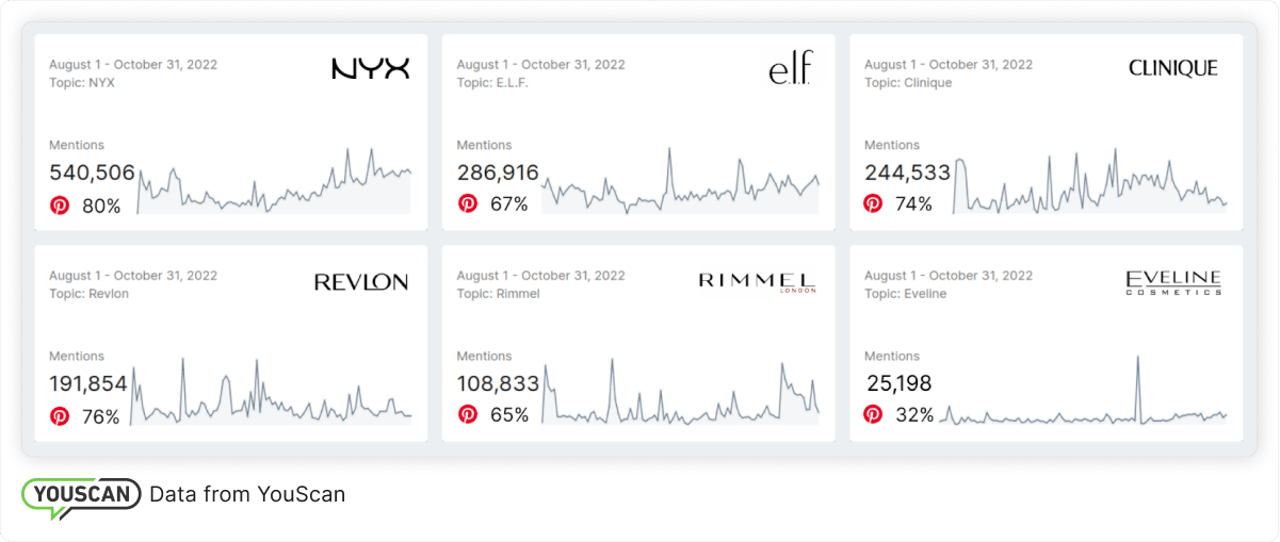 However, a significant part of the mentions contain adverts or paid partnerships. In fact, the brand got almost the same number of WOM (World Of Mouth) mentions as its nearest competitor E.L.F.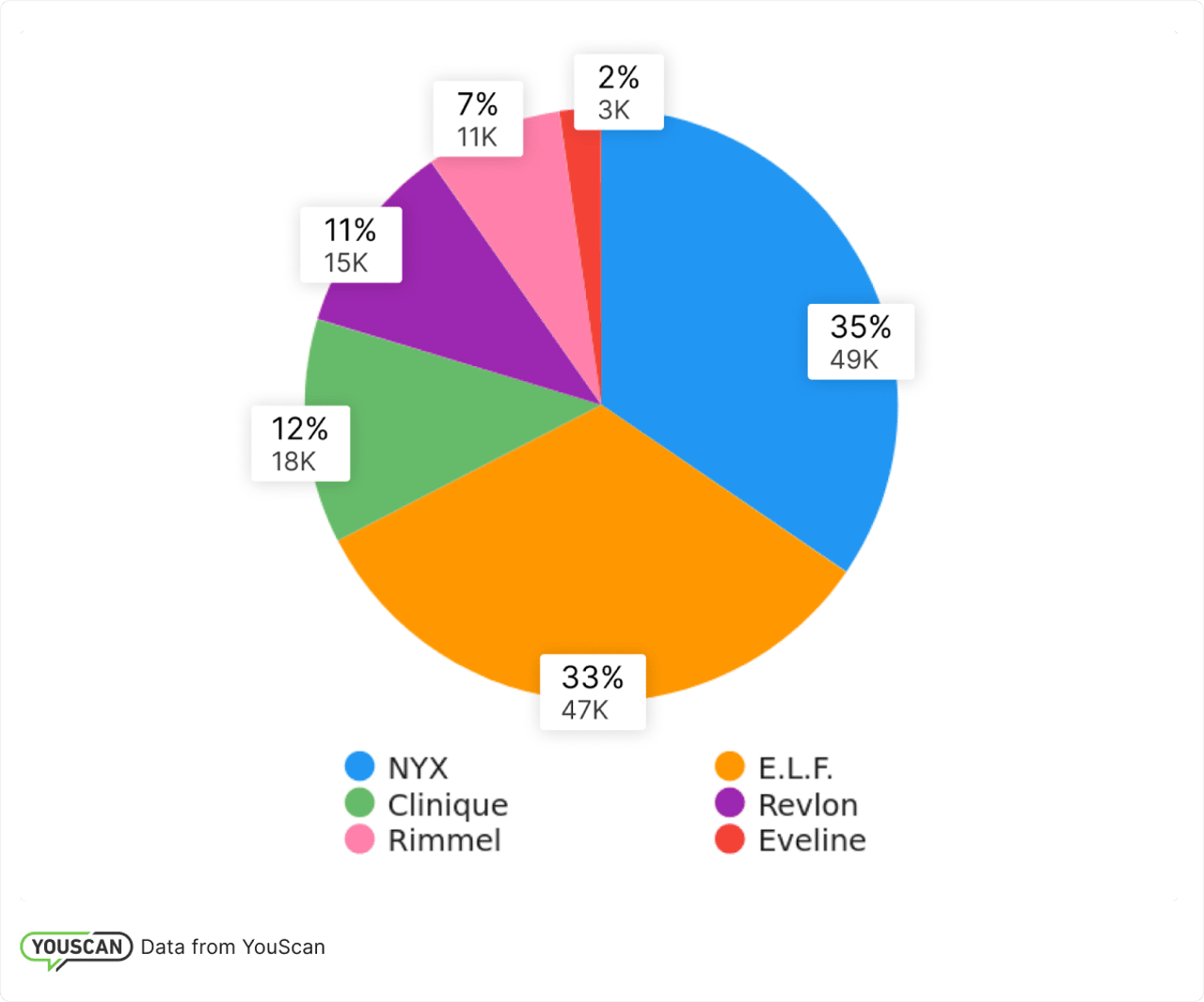 What is more, if a brand is frequently discussed on social media, it doesn't necessarily mean that customers really like it. Customers can share complaints and dissatisfaction, or just say that a certain product is good but its quality didn't impress them.  
Top sources of mentions 
Although Instagram used to be the main platform for beauty brands, it seems this trend is a thing of the past. Now the leading platform for beauty lovers is Pinterest, which in fact many marketers don't even monitor. 
But what is even more interesting is that neither Instagram nor Pinterest bring brands really any higher user engagement. Our research shows that for getting the biggest number of likes, reposts, and comments, it is best to focus on TikTok.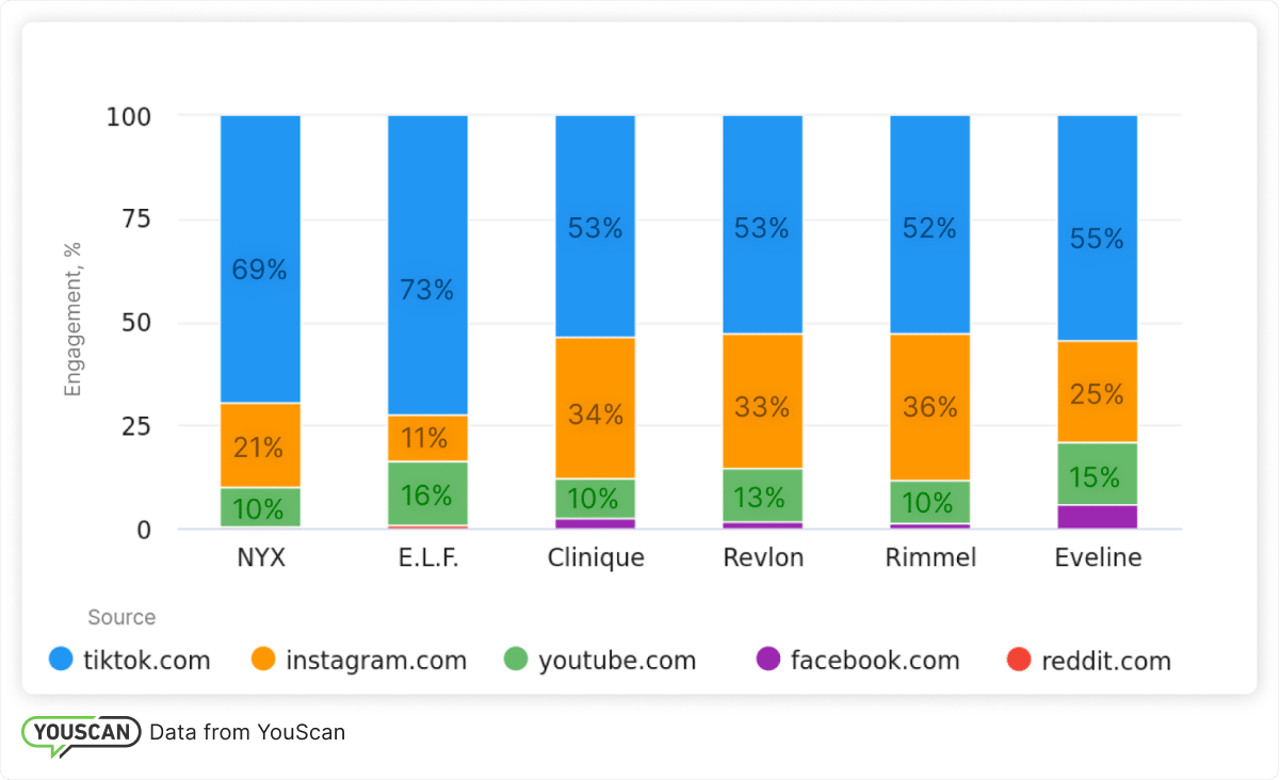 For brands like E.L.F., TikTok brings more than 70% of its total engagement, despite the fact that it's not even officially represented on the social network. 
Competitive analysis research of strong and weak sides 
Every brand has its most and least discussed products. Talking about NYX, users often mention lipsticks, lip liners, eyeliners and eye pencils. The same goes for Revlon and Clinique. The last brand has over 30,000+ mentions of its Black Honey Set for lips. At the same time, Rimmel is famous for its mascaras, while E.L.F. is frequently discussed because of its eyeshadows and various face products.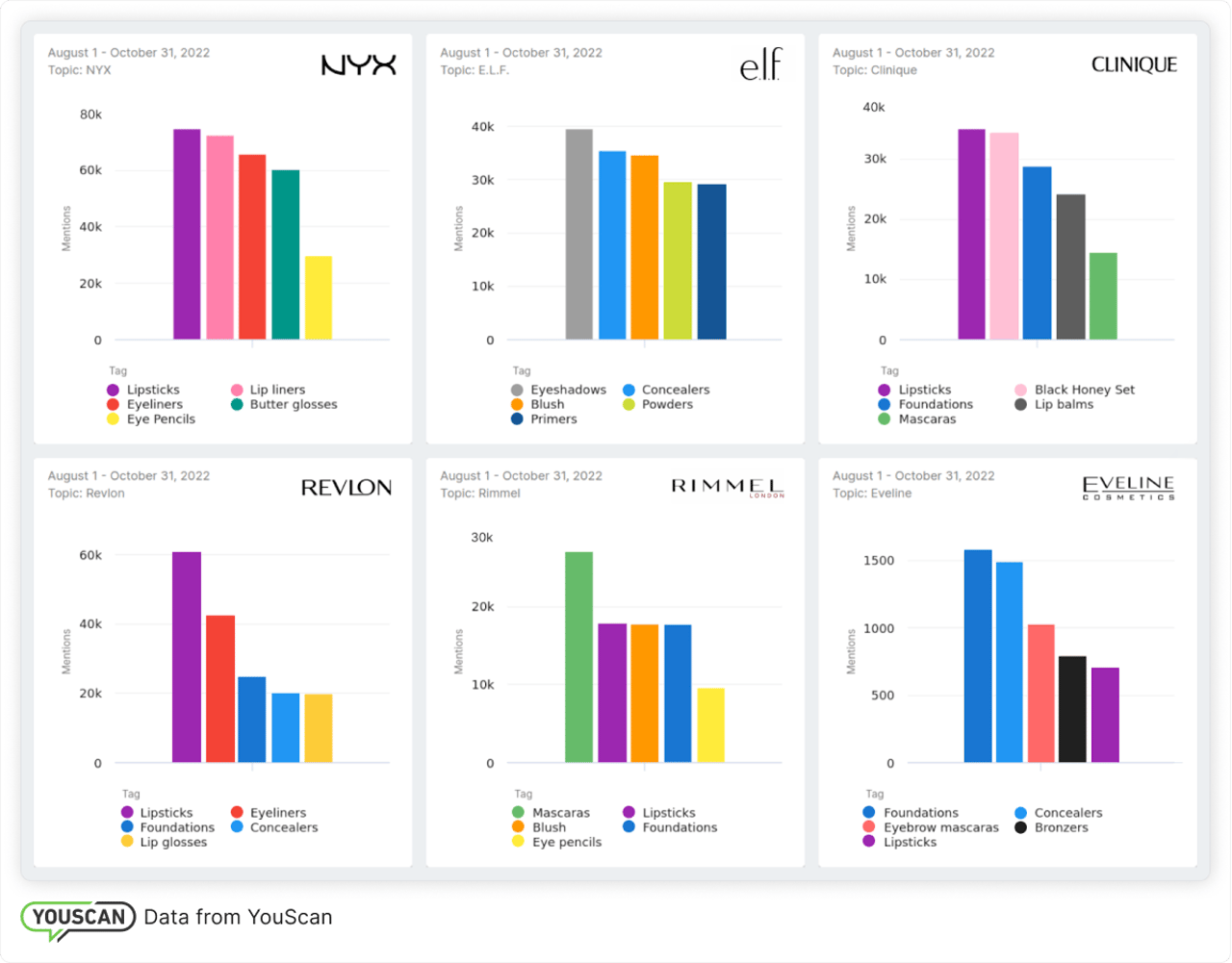 If we look at the number of positive mentions, we see that NYX is an outsider in this respect, whilst more than 50% of feedback about Rimmel is positive. 
That said, we should take into account that people are more likely to leave negative reviews rather than praise goods online. Put simply, the more reviews – the more chances to get negative feedback. Considering this fact, consumers of beauty products are usually satisfied with the quality.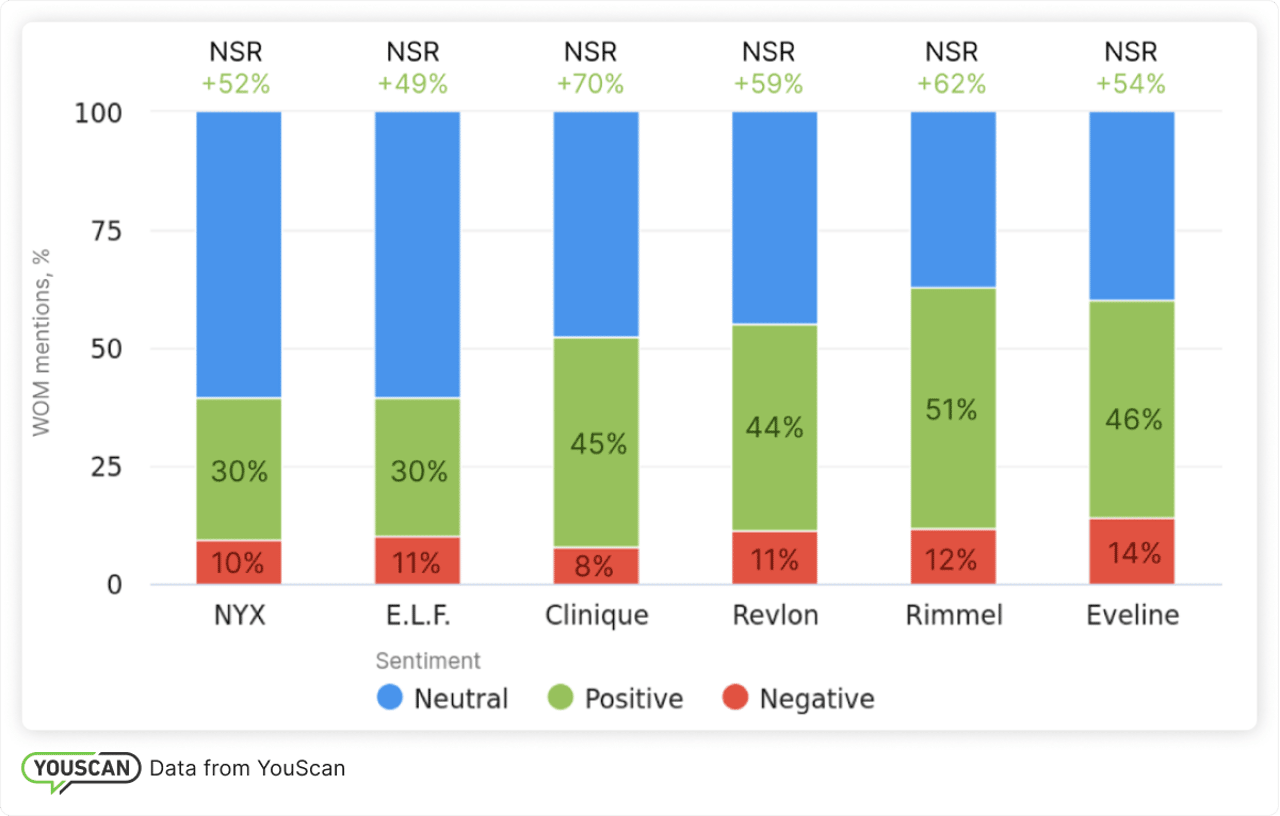 However, unlike many other fields, the beauty industry generally has a relatively high number of positive mentions. To compare, you can check our previous research:  Competitor analysis: which supermarket chain is ahead of the rest in Europe?
With YouScan, we've analyzed the main aspects that users discuss for each brand. Our competitor's product research shows the variety of shades and functionality of products that clients liked the most about all beauty brands. 
However, only Eveline, E.L.F., and Rimmel were praised for their prices. But it seems that cost has a negative impact on quality. Customers complained that some of E.L.F.'s cosmetics can cause acne, while Evelin's products are not always good for sensitive skin. 
According to social media mentions, Rimmel's main disadvantage is the quality of their mascaras. This remark also applies to Revlon, even though its prices aren't cheap.  
In contrast, Clinique often receives complaints about the cost of its cosmetics, but users adore the brand's lipsticks and foundations for their consistency.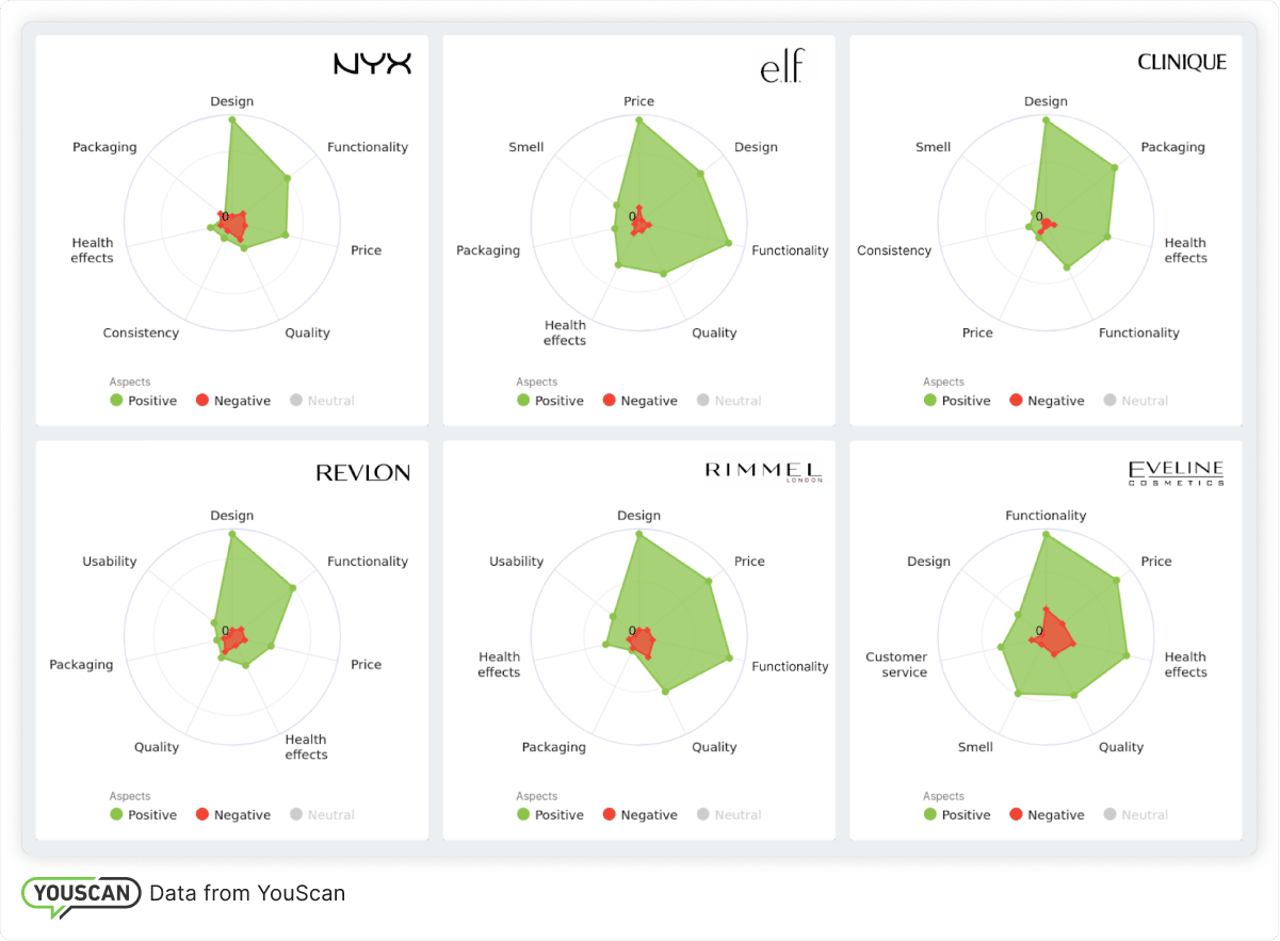 For NYX, the most frequently mentioned brand, customers love their shade selection and wide range of lipstick colours. However, online orders are the main weakness of the brand with the condition of delivered goods often being unacceptable.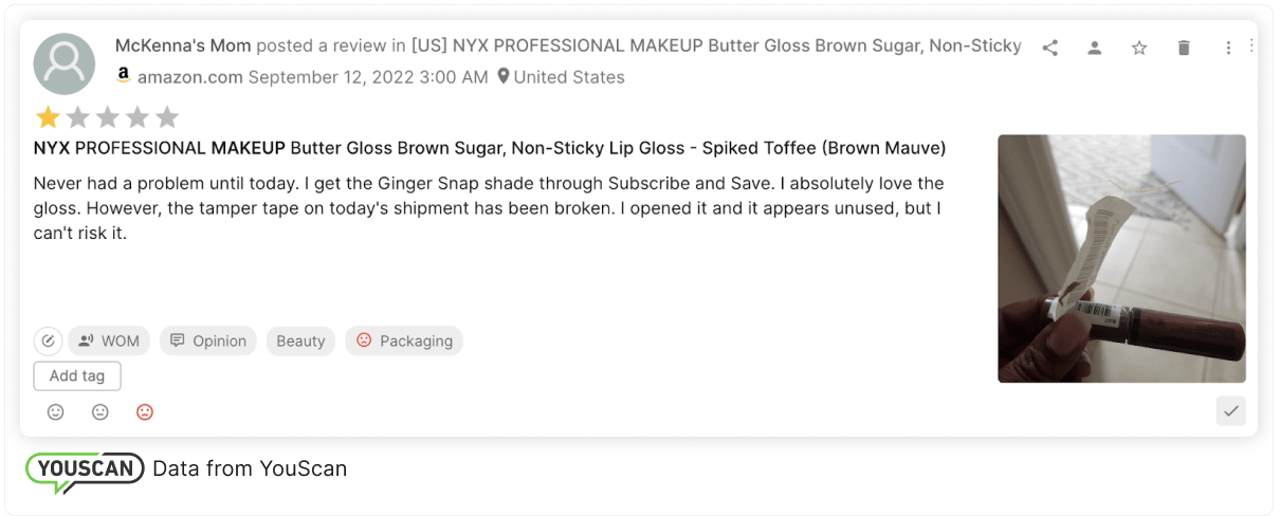 Collaborations with influencers
While the most significant trend in influencer marketing is for collaborations with micro-bloggers due to the high possible engagement of their followers, it seems that beauty brands haven't actually followed this strategy as much as they could have. 
Our research has revealed the biggest number of engagements brands have got because of videos created by macro influencers. 
The most popular post about NYX, with 1.4M engagements and 32M views, was dedicated to its white Jumbo pencil.

A post about E.L.F.'s primer generated 1.1M engagements and 8M views.

A video where Clinique's foundation was mentioned has received 1.1M likes, comments, shares, and 6M views.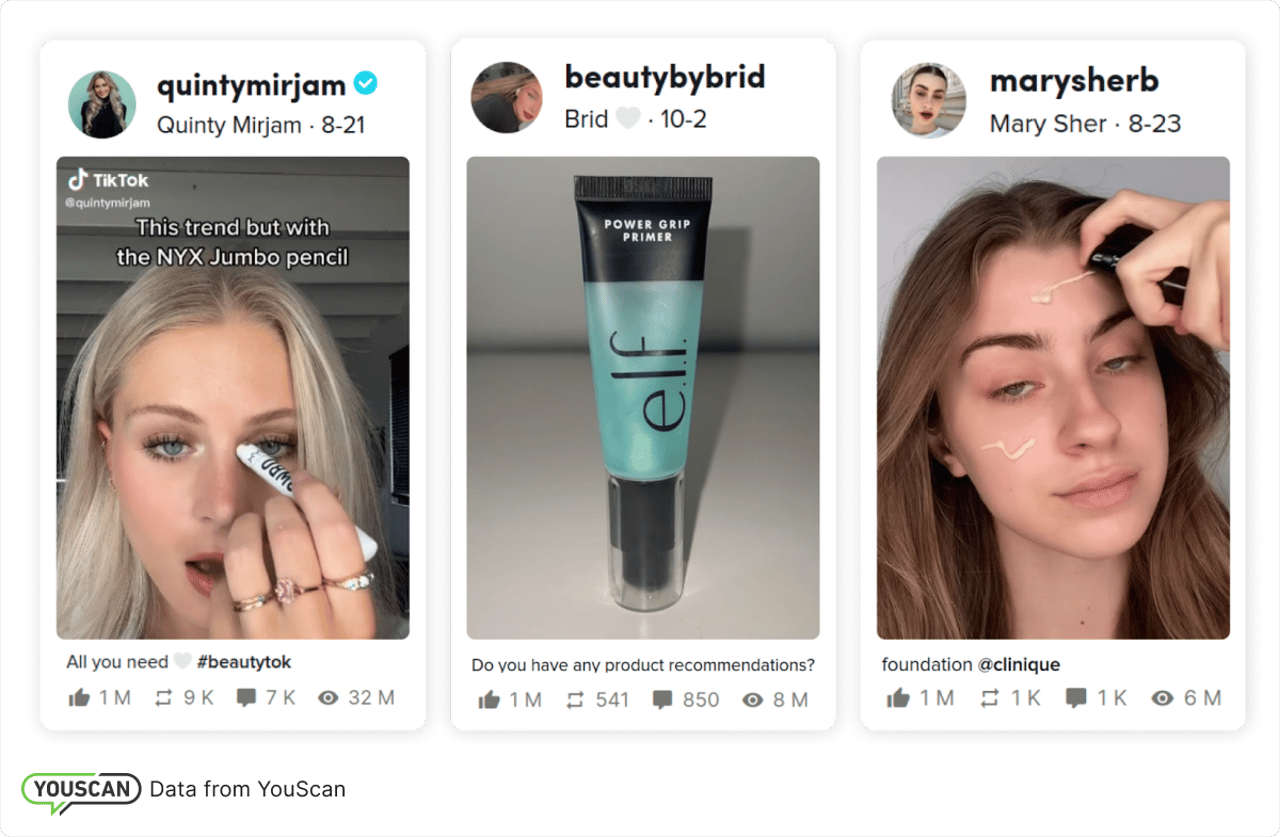 The most popular video about Revlon's lipstick got 313K engagements and 2M views.

A video about Rimmel's lipsticks has brought the brand 130K engagements and 808K views.

Eveline's most popular post was relatively low by the number of engagements compared to other brands. However, it still has received 81K engagements and 962K views.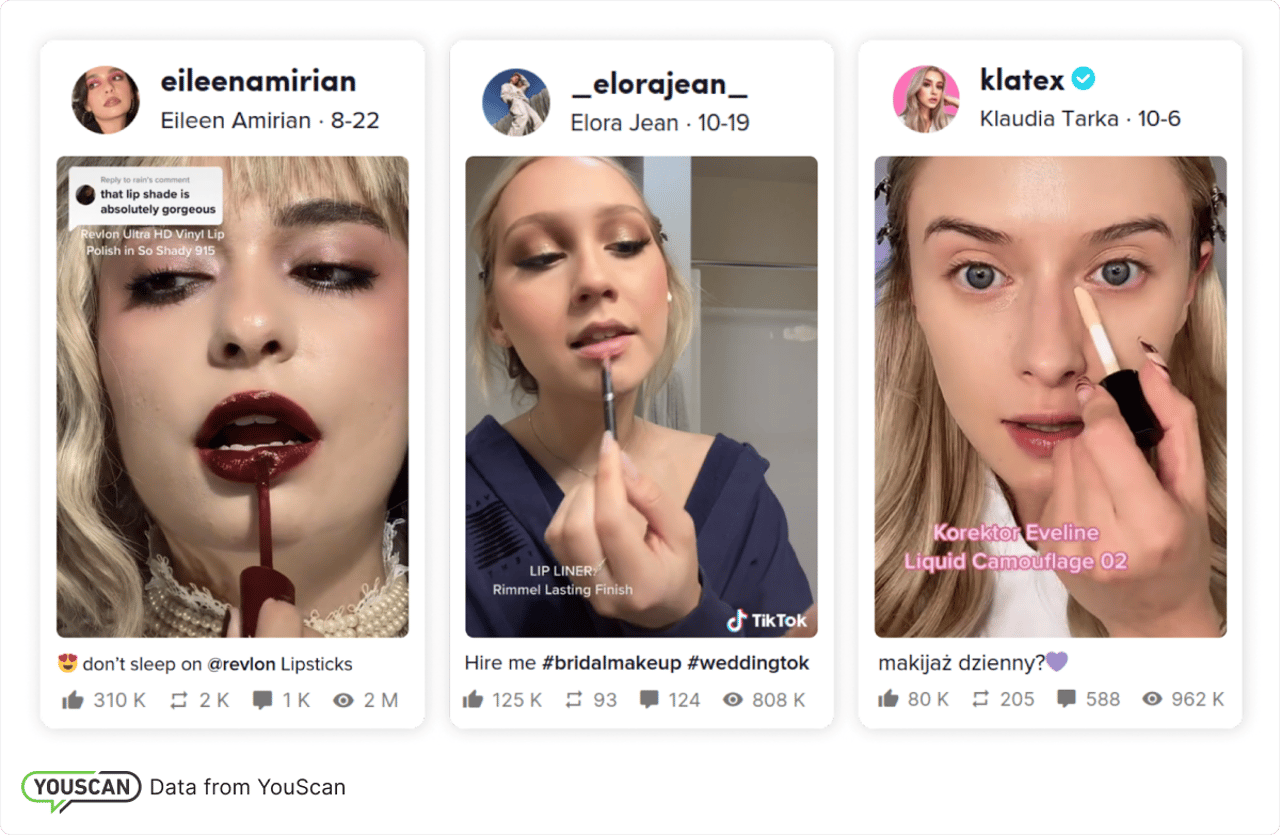 These results show that despite the trends, brands aren't planning to stop to collaborate with influencers whilst they have millions of subscribers.
Another interesting fact about the selected brands we revealed using YouScan's Visual Insights. One of the most popular types of art makeup was related to Halloween. The most popular brand whose products social media audiences used for their artwork was NYX, with Revlon coming second.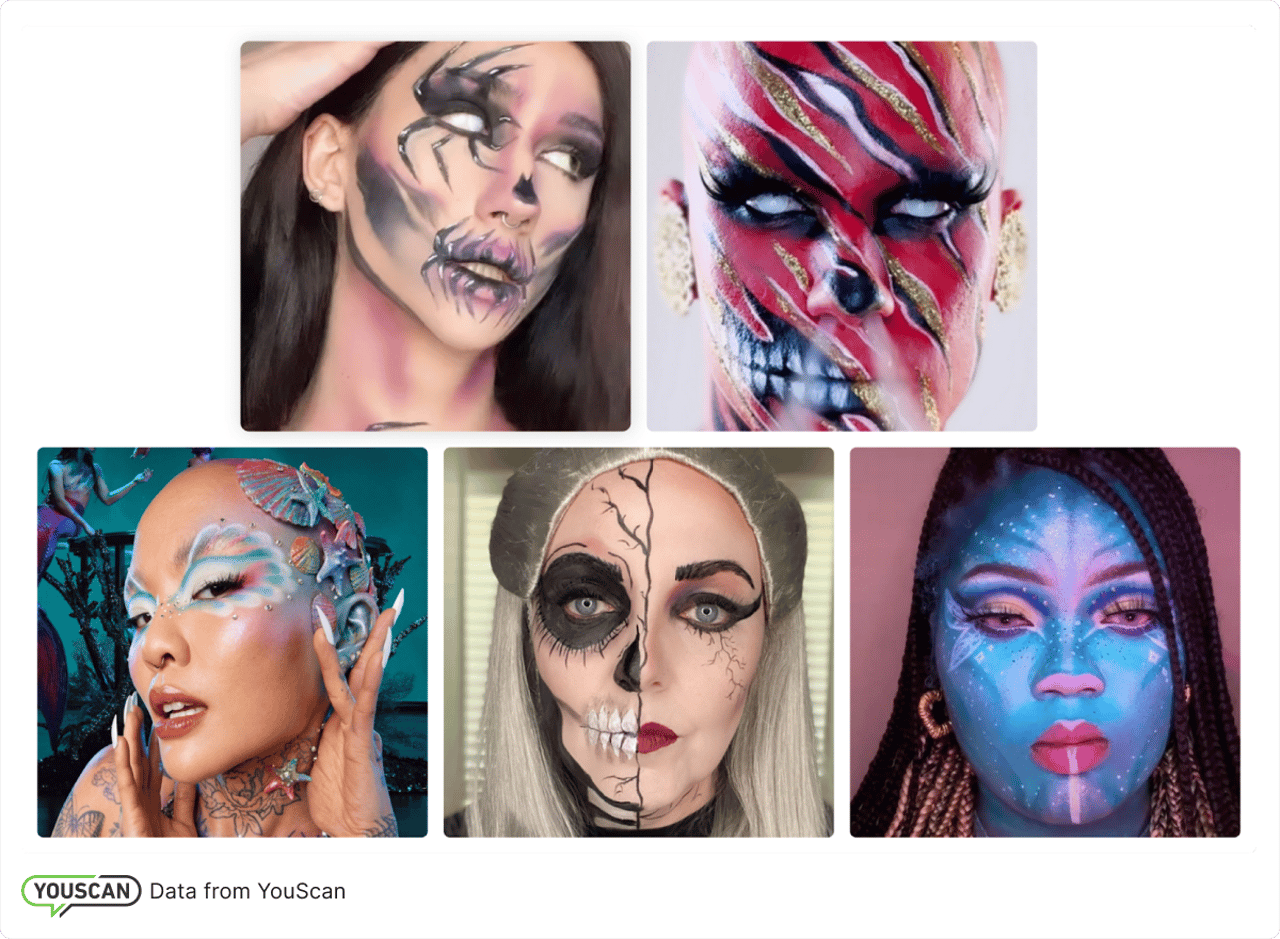 Market and competitor research: conclusions 
Social media listening is one of the most effective ways to research your competitors. It helps you to understand your customers and make a detailed analysis not limited to borders.  
Our beauty brands competitor research showed the following: 
Rimmel is the brand with the highest number of positive mentions

lipstick is the most frequently discussed product

сlients mostly like brands for pallets of shadows

only 3 of the 6 brands offered reasonable prices according to the opinions of social media users

the greatest number of beauty-related posts are published on Pinterest, but TikTok leads to better results when the goal is user engagement

collaboration with macro influencers can still be effective, especially if user engagement and reach are the main goals

If you want to conduct detailed market research and analysis of competitors – consider trying YouScan, Social Listening Platform.