New trends on TikTok
TikTok has already become one of the biggest social media networks in the world: last year, it reached one billion users, and it is not the ceiling. Thus, TikTok's content is one of the essential sources of consumer insights. With YouScan, a social media listening tool, we analyzed 75 million mentions and detected important trends in consumer behavior.
1. TikTok posts get the biggest number of user reactions.
Compared to other social networks, TikTok users interact with content more often. On average, one TikTok video gets 796 likes, comments, and reposts, while a YouTube video receives only 21 reactions. Twitter is an outsider by the amount of engagement per post. 
If your goal is to increase the number of likes, comments, and reposts and achieve better audience engagement, the best decision is to focus your content strategy on TikTok.  

2. Most of the TikTok posts are neutral.
Users would be more likely to publish posts with positive sentiment on Instagram or Facebook. Twitter holds the leadership in the number of negative mentions, while TikTok content is mostly neutral. 
For brands, it means that posting content on TikTok helps avoid facing an audience that tends to criticize and see more negative sides over positive.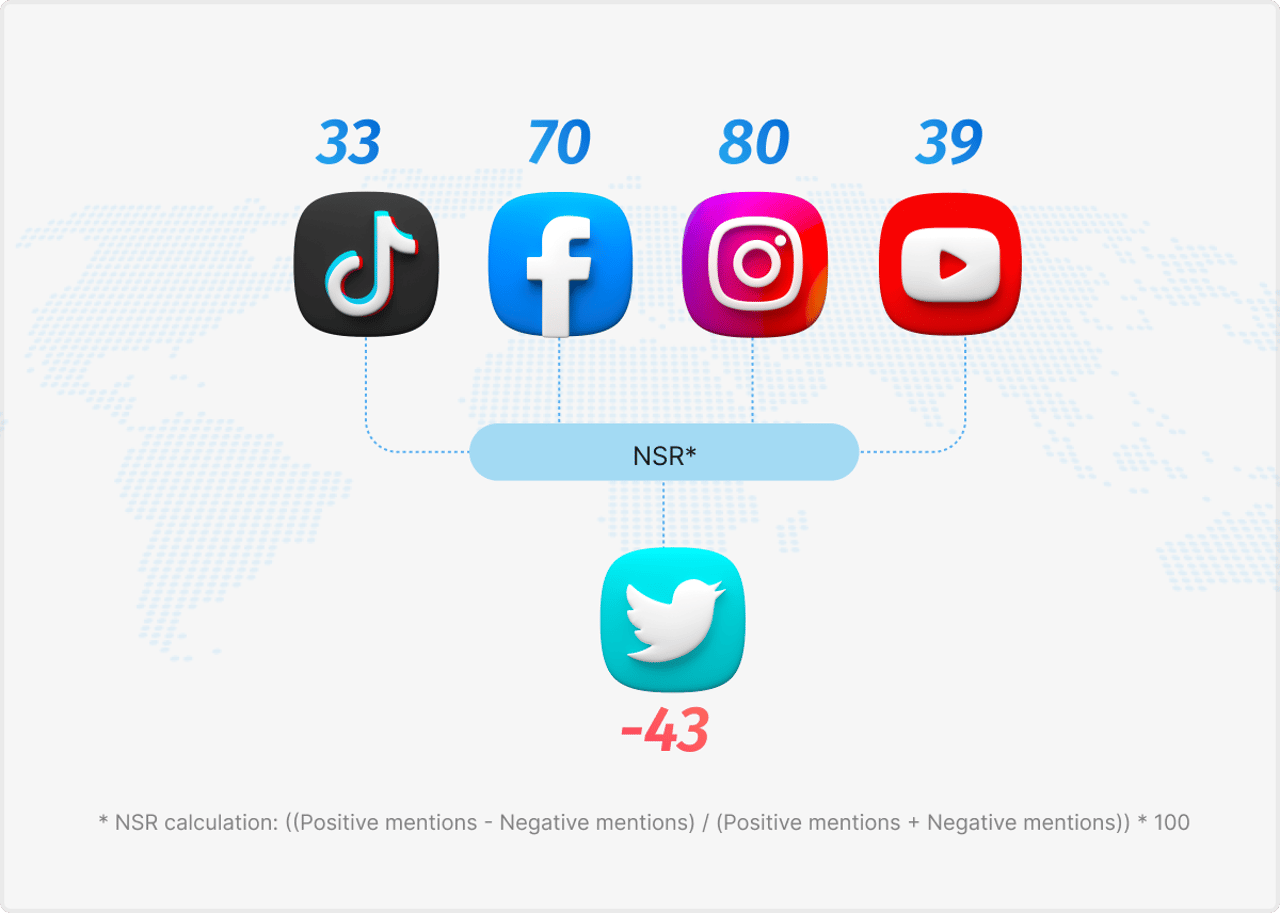 Videos about food, tourism, and kids usually have positive sentiment, while the content about the beauty industry, computer games, and health is more often negative.   
3. Women like to post beauty videos, while men prefer computer games. 
The highest number of videos posted by women are related to the beauty industry, food, and fashion. Meanwhile, men are also interested in food, but computer games and cinema are among their top popular topics.
The least popular topics for women are computer games and cinema while men most likely wouldn't be interested that much in interior and, surprisingly, car sports.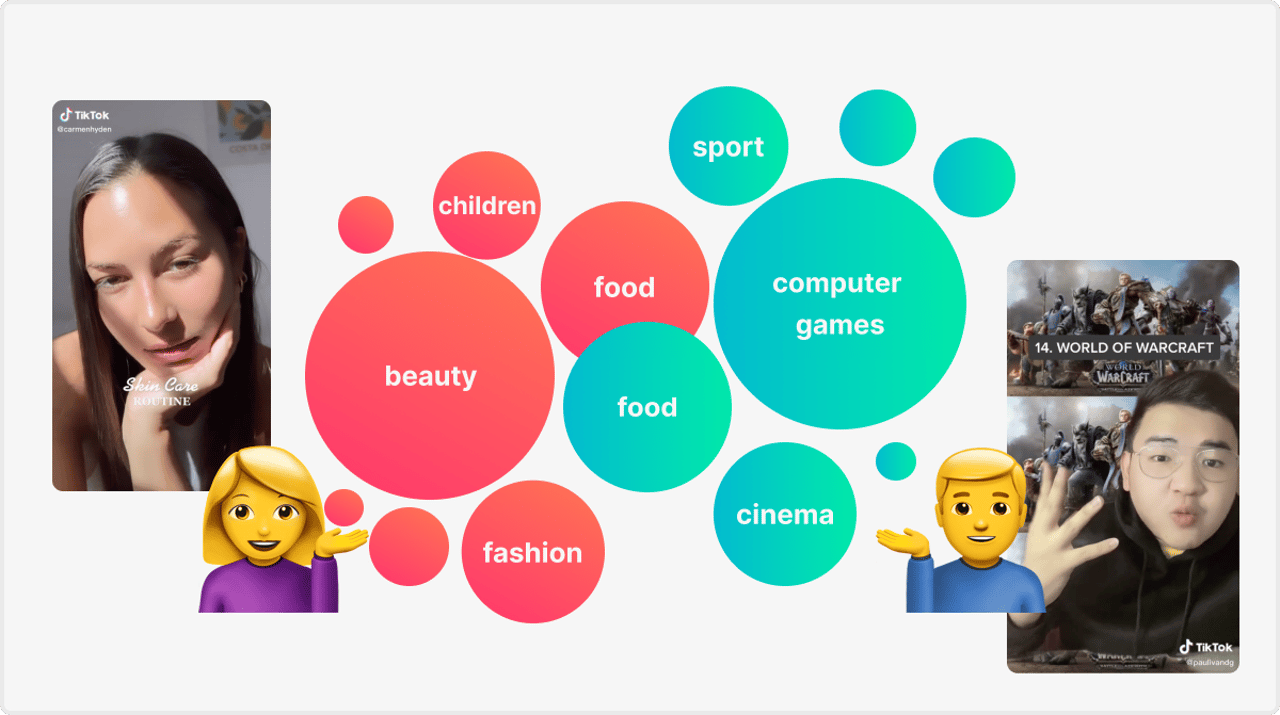 4. Nike's logo is the most popular on TikTok. 
Based on YouScan's logo recognition data, the most widespread logos on TikTok are Nike, Google, and Adidas. Nike is often mentioned in American football and basketball competitions, while Adidas is more widespread in fashion outlooks. 
Another sports brand that often appears on this social network is Puma. 
Unexpectedly, the world's beverage giant Coca-Cola is the least popular brand on our top. Netflix is another famous brand that wasn't represented enough on TikTok.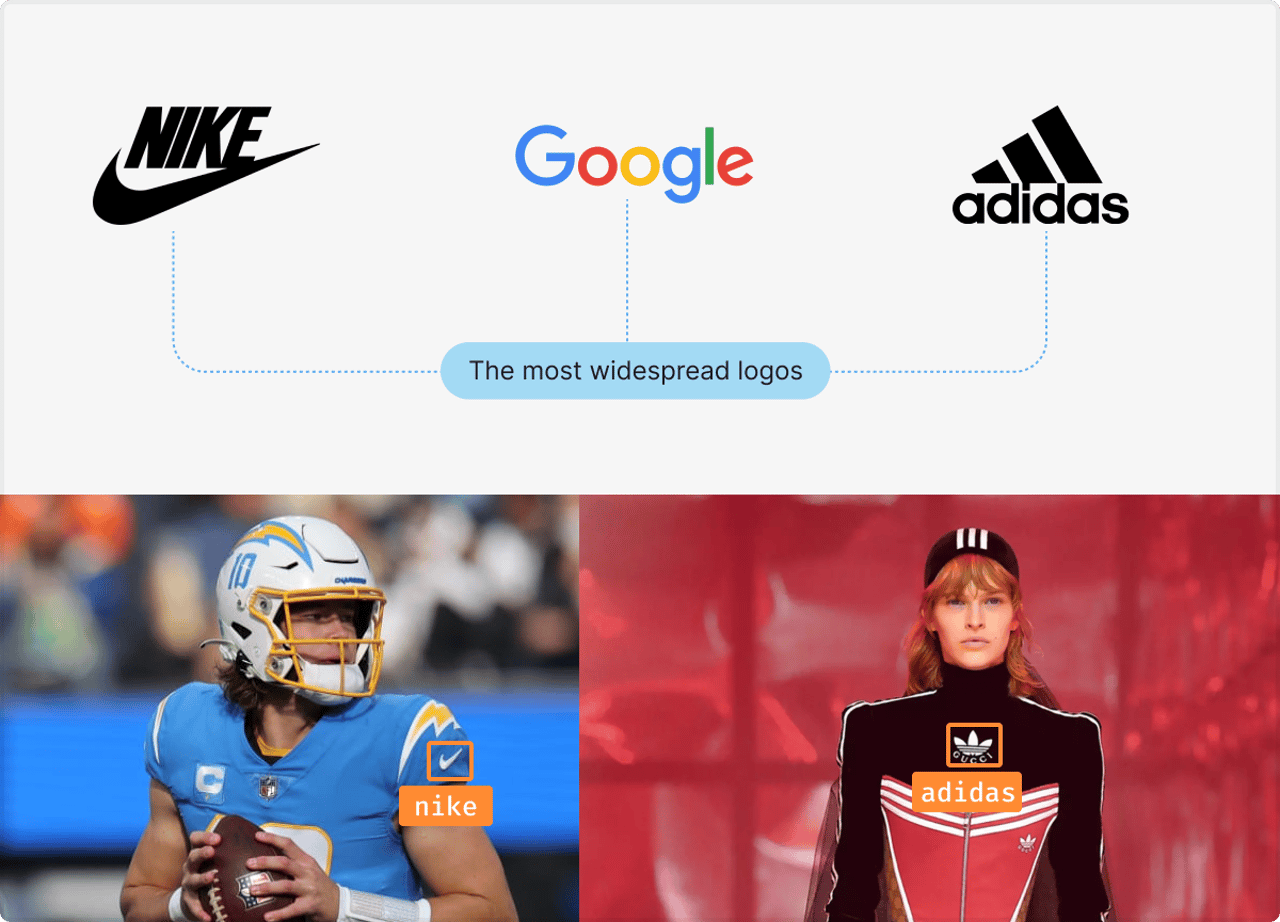 5. TikTok users like to celebrate birthdays and use the heart as the most common emoji. 
Happy birthday is the most widespread phrase on TikTok. Users also like to wish each other good morning, tell something they do for the first time, and mention their best friends.  
Positive emojis are more popular than negative ones. Social media audiences often use heart, the laugh-cry emoji, and smiling faces with heart-shaped eyes. 
The most widespread negative emoji is the sob face.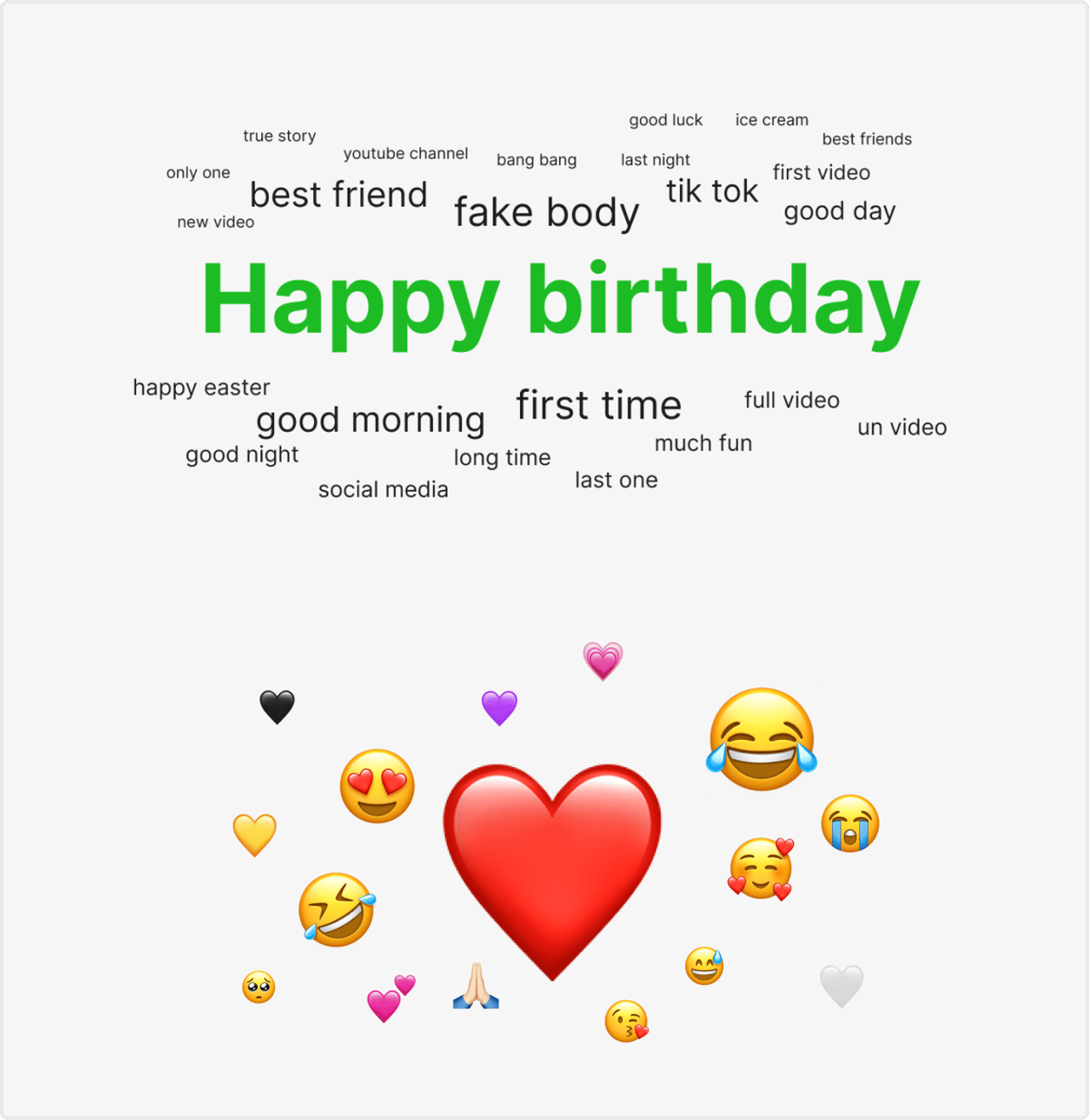 6. The best days to post on TikTok. 
TikTok users will more likely interact with posts on Thursdays from 2 to 5 p.m. and 8 p.m. On the other days, the level of engagement will not have a crucial difference. Brands should avoid posting content on TikTok before 1 p.m. on weekdays and before 4 p.m. on Saturdays to gain the maximum engagement.

7. Performers have the most popular TikTok accounts.  
According to TikTok official data, Spencer X is the most popular blogger by the number of followers. Having a 55 million audience, he became one of the world's famous beatboxers.  
Dominik with more than 52 million followers started his TikTok career as a dancer, but now posts lot's of lifestyle videos. Now he is the second most popular TikToker in the world. 
The third most popular influencer on TikTok is Jason Derulo. As a singer, he uses this platform to share his new music videos.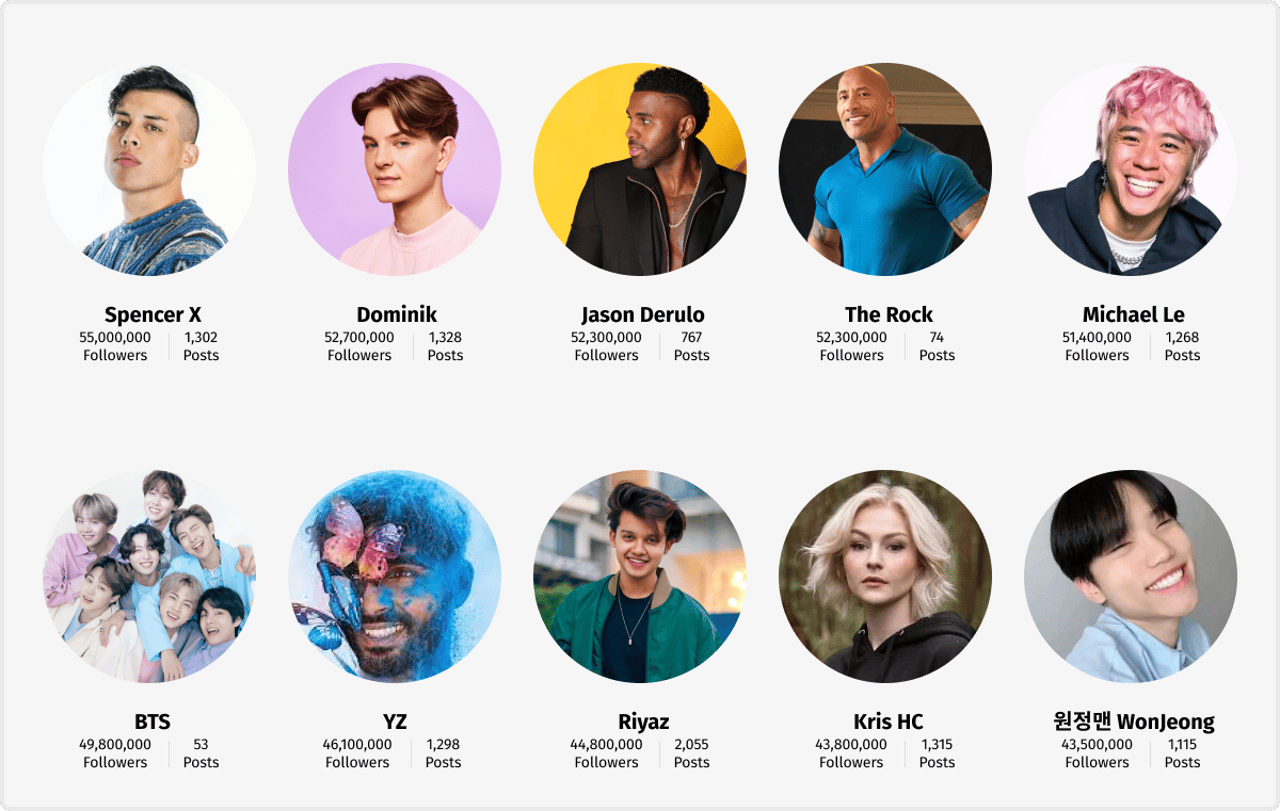 If you want to dive into more details, just download the complete research version from our website.