Why brands and agencies choose YouScan for social listening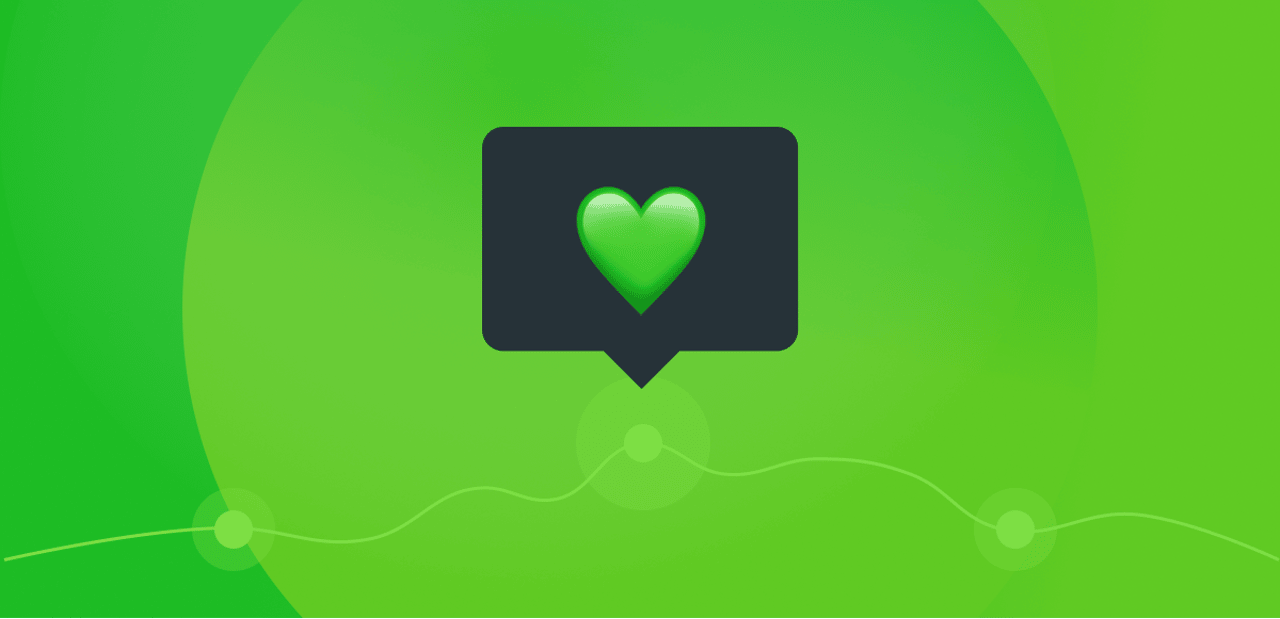 Нас так часто спрашивают, чем YouScan лучше других систем мониторинга соцмедиа, что в этот раз решили ответить на него более подробно, написав статью.
Global coverage of the most important sources
We are constantly improving and expanding our coverage to ensure that our clients get the most out of social media listening. In other words, we add new sources on a regular basis, such as blogs, media, and review websites, allowing our clients to see a complete picture of how their business is perceived by their customers anywhere in the world. This is extremely useful if you need to analyze your competitors or other markets before launching in a new region.
A particularly useful feature for brands is that we integrate new social media platforms into our system as soon as possible. For example, we provide our clients with access to popular platforms such as Facebook, Twitter, Instagram, YouTube, Reddit, Quora, and...TikTok! You can see the full list of our sources following the link.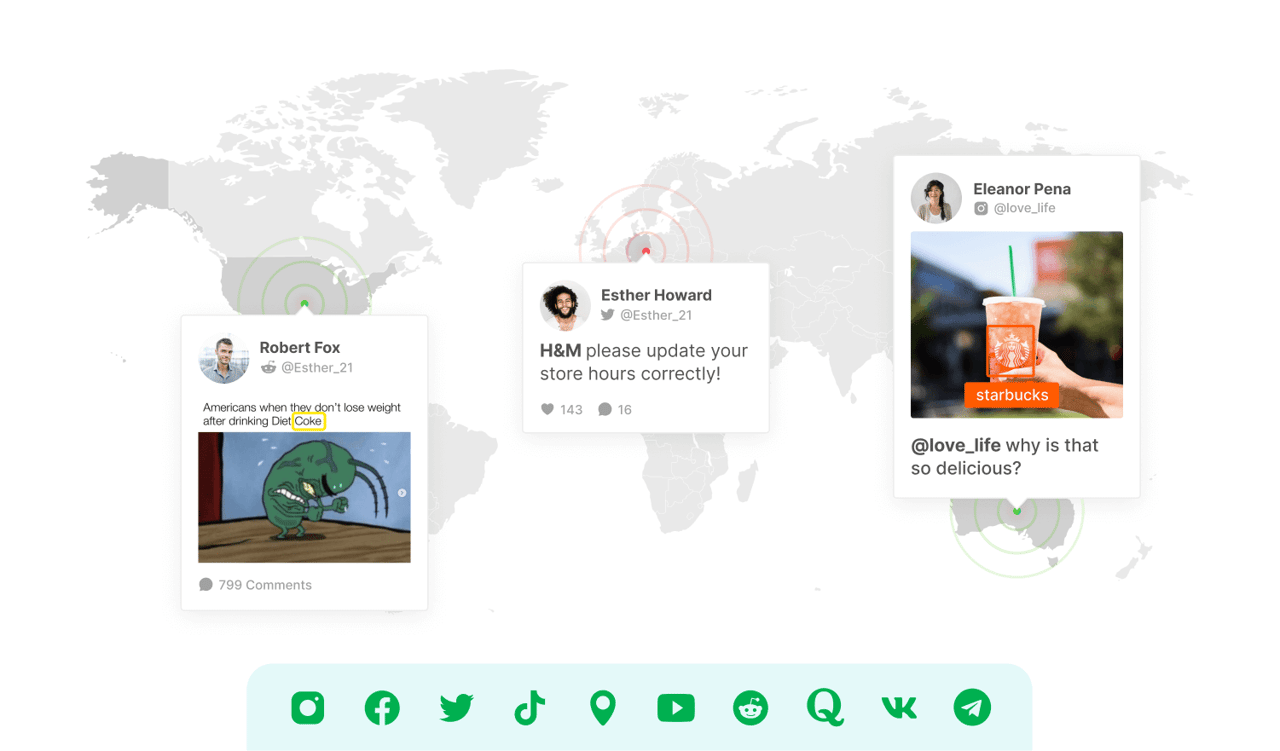 We only monitor sources via official APIs, as one of our values is treating data ethically. Each source has its own set of regulations, and it is critical for any business to follow those rules.
YouScan's AI-powered smart features provide robust analysis and insights detection
When working with large amounts of data, it can be challenging to find relevant information. YouScan AI-powered features make it easier to filter and sort data based on your needs, as well as provide advanced detection and analysis capabilities.
Now, let's get into the specifics of our core features:
Aspect and sentiment analysis
Simple tracking of brand mentions on the Internet is not enough to provide detailed analytics while YouScan's AI-powered algorithms enable our customers to obtain valuable statistics right away. Our system detects the post's sentiment and tracks the aspects mentioned in the post.
When it comes to sentiments, the system assigns positive, negative, or neutral ones to each post based on its tone. This feature allows our clients to keep an eye on their brand health, prevent crises and identify weak spots in their products or services. Moreover, you can entirely rely on the data as our system provides more than 95% accuracy.
Monitoring sentiment is great, but it's also important to know which particular aspects evoke these feelings. And again, our system can give you an answer to this question. Aspects refer to various characteristics of a product or service, such as price, availability, taste, quality, and more than 20 other features.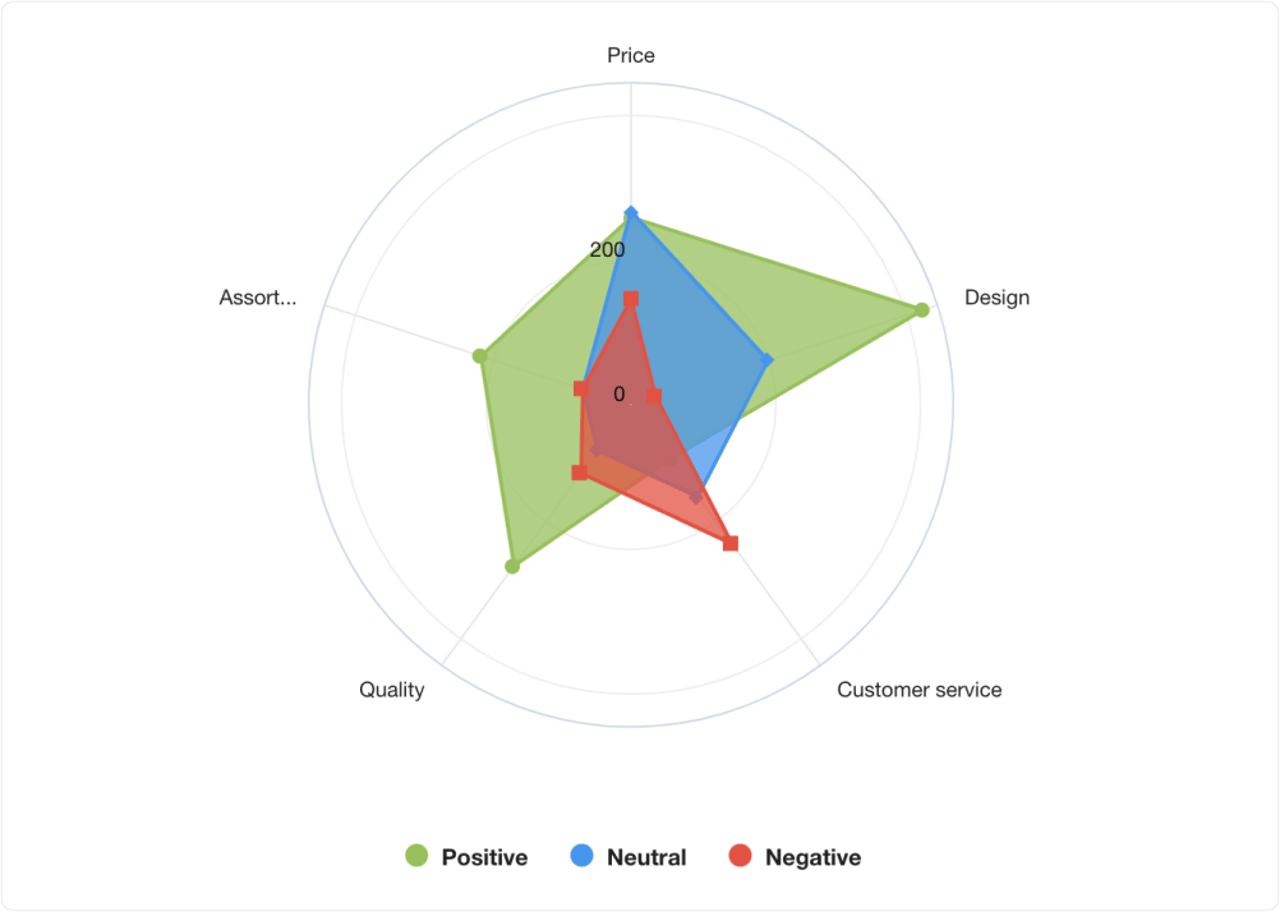 Detecting Trends
Following trends is important, but detecting them in their early stages is even more critical. The quicker your company responds to a new meme, trending TikTok video, or a shareable negative post, the better the results may be.
YouScan allows brands to quickly respond to viral conversations, trace their origins, analyze large data sets, and search for insights.
Using machine learning, YouScan groups a number of mentions dedicated to the monitoring subject that gain traction over a set period of time.
Each new spike is displayed on a chart, along with the sentiment and trend name.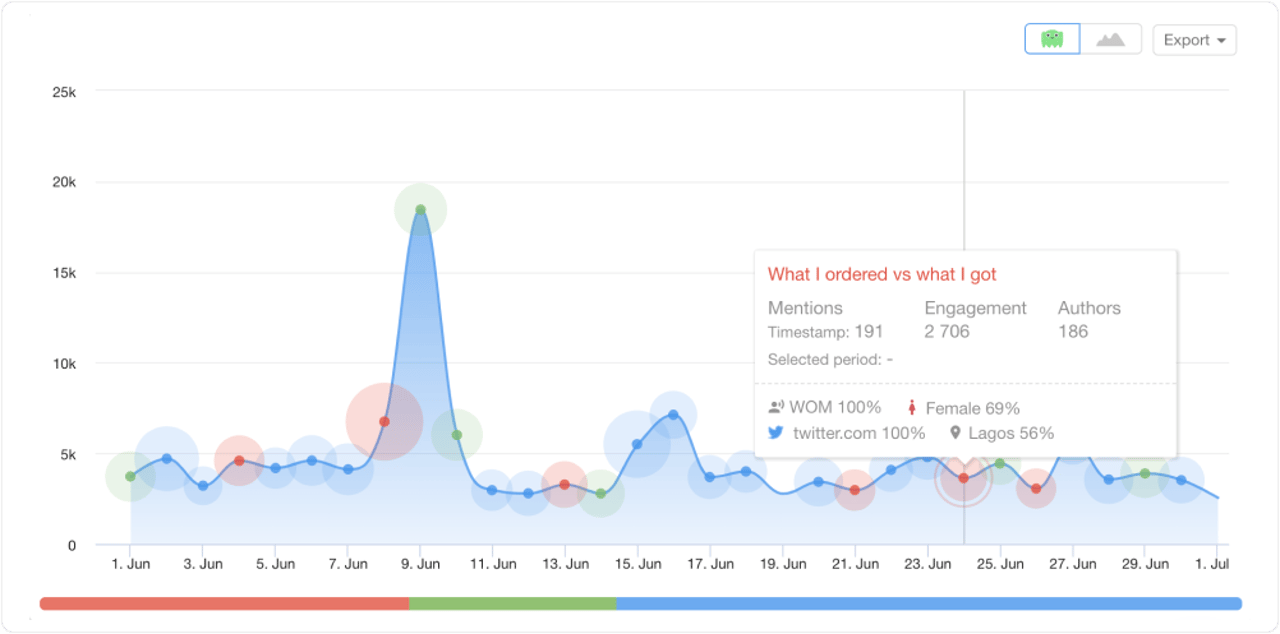 Auto-categories
The more social media data you have, the more resources are required to process it. YouScans' auto-categorization algorithm can distinguish between different types of discussions. For example, user posts are assigned to the WOM (word of mouth) category, whereas vacancies, giveaways, and official responses are assigned to their own categories.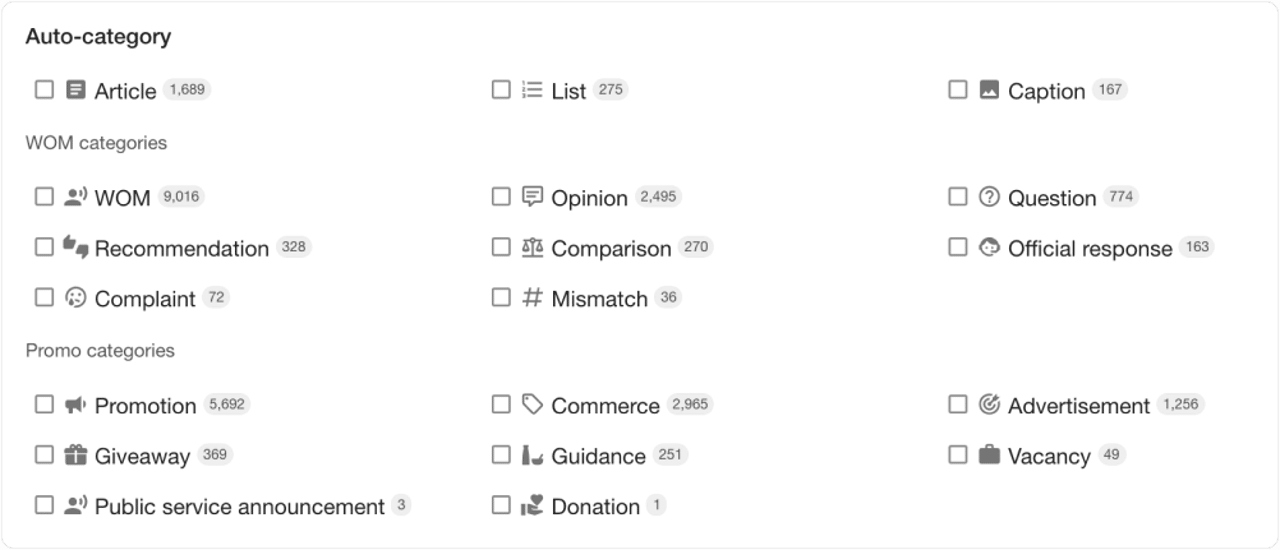 Subjects
Another useful AI feature is filtering mentions by subjects such as food, politics, health, beauty, and more than 20 others. It helps to point out key discussion topics within your monitoring search, remove irrelevant mentions, and improve filtering specific cases. For example, you can discover the most frequently discussed topics about your brand.

Smart tags
When you're required to monitor thousands of mentions on a daily basis, automated segmentation becomes essential, and that's when Smart Tags come in handy. Using AI, YouScan divides all mentions into your company-specific categories that best correspond to each post's content. For example, a bank can create such Smart Tags as ATMs, customer service, fraud cases, etc.

In addition to segmentation, mentions can be assigned to a particular person or department to process them further.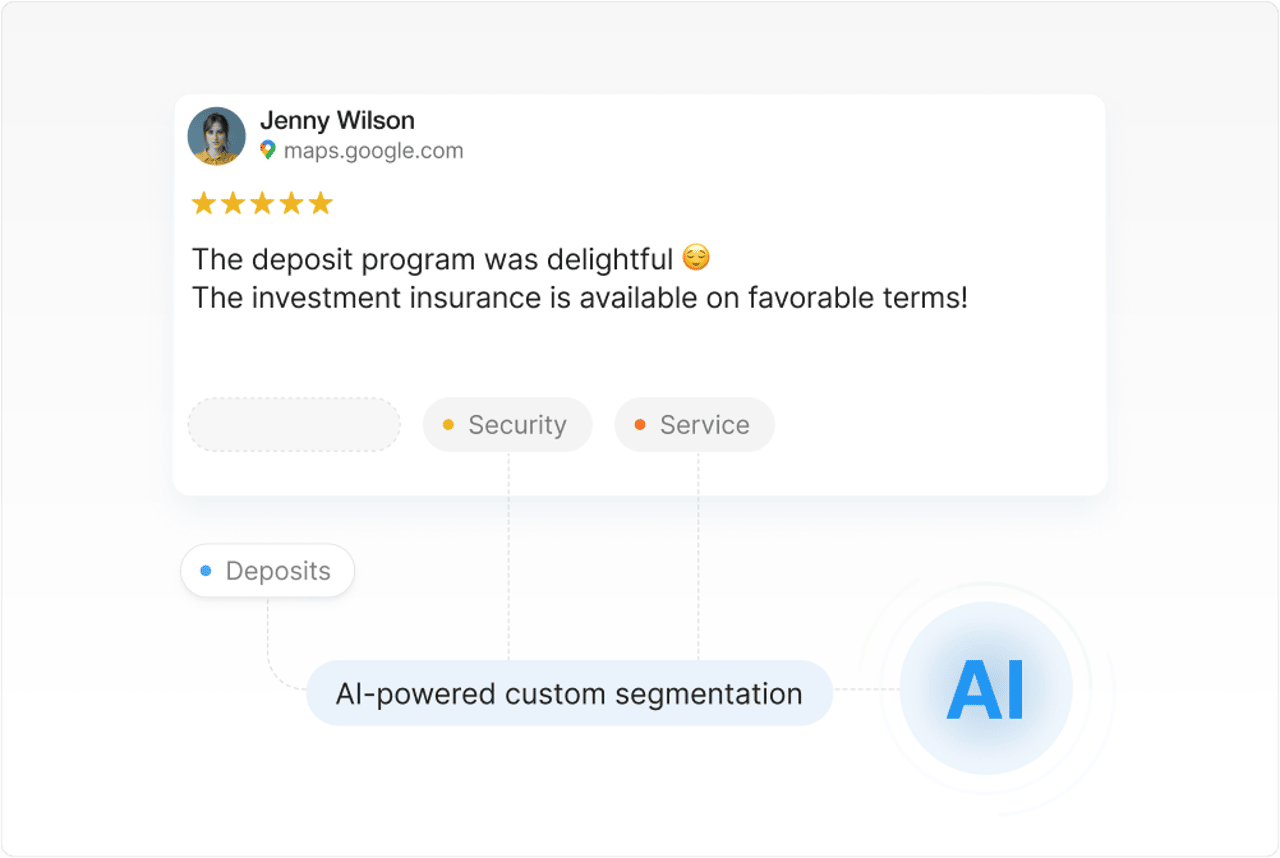 Visual Insights help dive deeper into analysis
According to statistics, brands miss more than 80% of social media mentions when they do not monitor visual content. A common situation is when users post images of a product without mentioning the brand in the caption. In such cases, businesses must use social media monitoring tools powered by image recognition to ensure that important mentions and insights are never missed. YouScan's in-house built image recognition technology allows our clients to track and analyze visual mentions with ease. Below, we'll cover our capabilities in more detail:
Logo recognition and OCR
Social media listening tools can track brand mentions on images in two ways: recognizing the logo or using OCR (optical character recognition). OCR allows the detection of text, keywords, and text logos (word marks) on images. Logo recognition, as you might guess from its name, is capable of detecting logos in a variety of positions.

YouScan supports both methods, allowing it to track any type of logo based on your requirements. Starbucks, for example, has both types of logos: with and without text. In the first case, OCR technology will be required to track the text logo. Similarly, when monitoring a logo without text on it, logo recognition remains the only opportunity.

Detailed image analytics
While people post billions of photos daily, brands must analyze their content and patterns to understand their audience better. What are the product's typical use cases? Who is portrayed in photographs? What are the most common scenes and objects featured in pictures? 

YouScan does more than just collect images of your brand; it also provides detailed analytics. Aside from logos, our system can recognize objects, people, activities, and scenes in photographs. This data enables brands to learn how their customers use their products in real life, discover behavior patterns, unusual use-cases, and so on.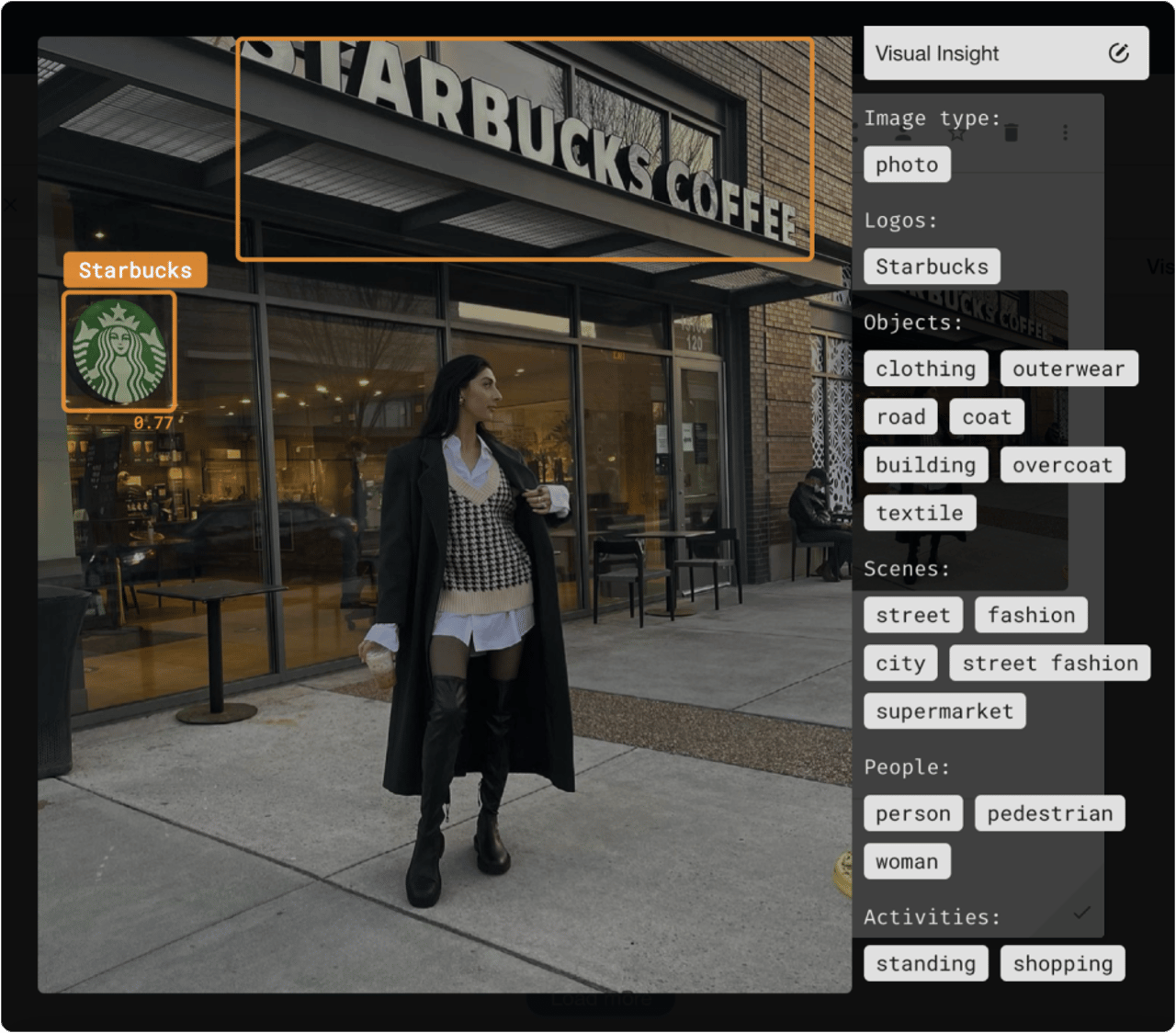 Engagement chart
In recent years, engagement has emerged as one of the most important marketing indicators. This is why we've included the option to determine which visual content is more engaging in general, and divided it into categories like objects, scenes, people, and activities for easier analysis. 

The VI Engagement Chart can help you gain valuable insights into your branded images and user-generated content. This feature not only makes it easier to plan marketing activities or analyze previous ones, but it also helps to understand what motivates the audience and even to discover influencers in your niche.
Logo comparison
By the way, did you know that you can track not only your brand, but also your competitors? You can see the different contexts of images mentioning your brand and competitors using the logo comparison feature and discover similar and diverging characteristics. To make it easier to search for insights, our system will automatically select the most contrasting data, including objects, scenes, people, and activities.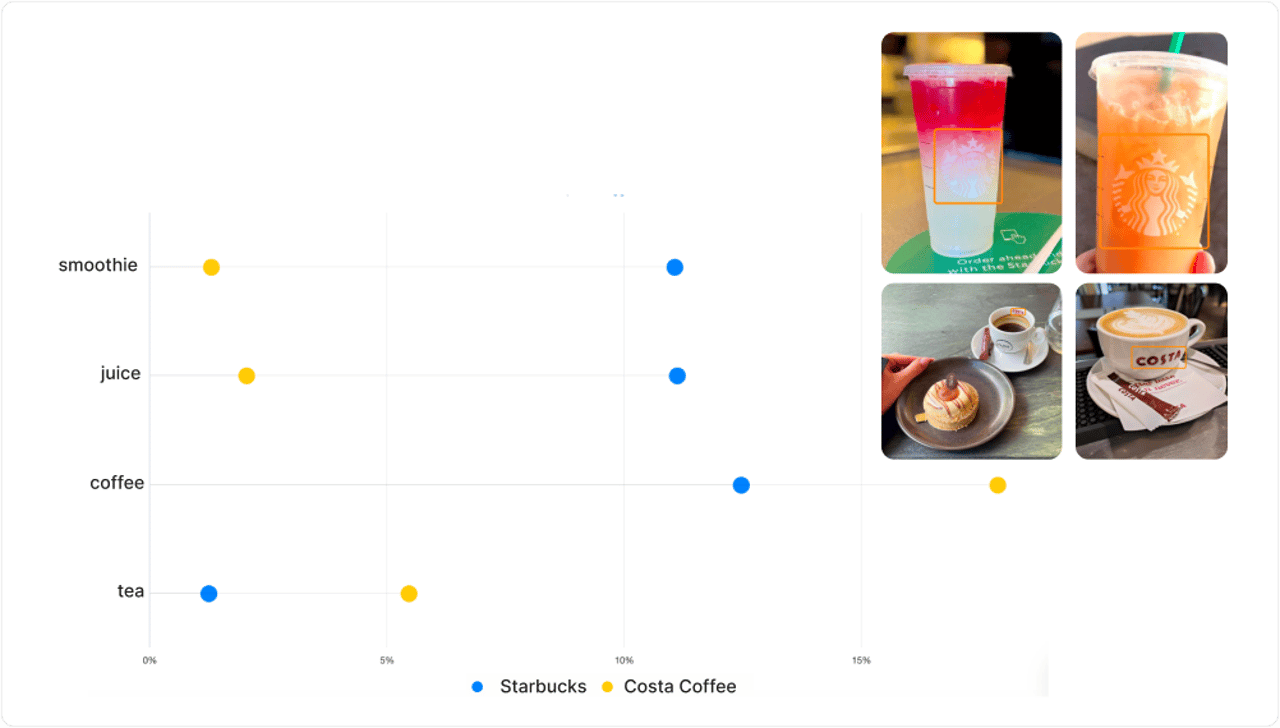 Simple reporting and monitoring
Since YouScan provides multiple features that different departments within one company can use, we've made it easy to share information and present it in the most understandable way.
Custom Dashboards
A custom dashboard, in a nutshell, is a separate page where you can place the necessary visualizations (widgets) using data from one or several monitoring topics within your account. Easy reporting, regular monitoring, campaign analysis, and competitor analysis are just a few examples of how custom dashboards can be used. This feature significantly reduces manual work: once you've created the dashboard, its overlay remains the same, only the data changes over time.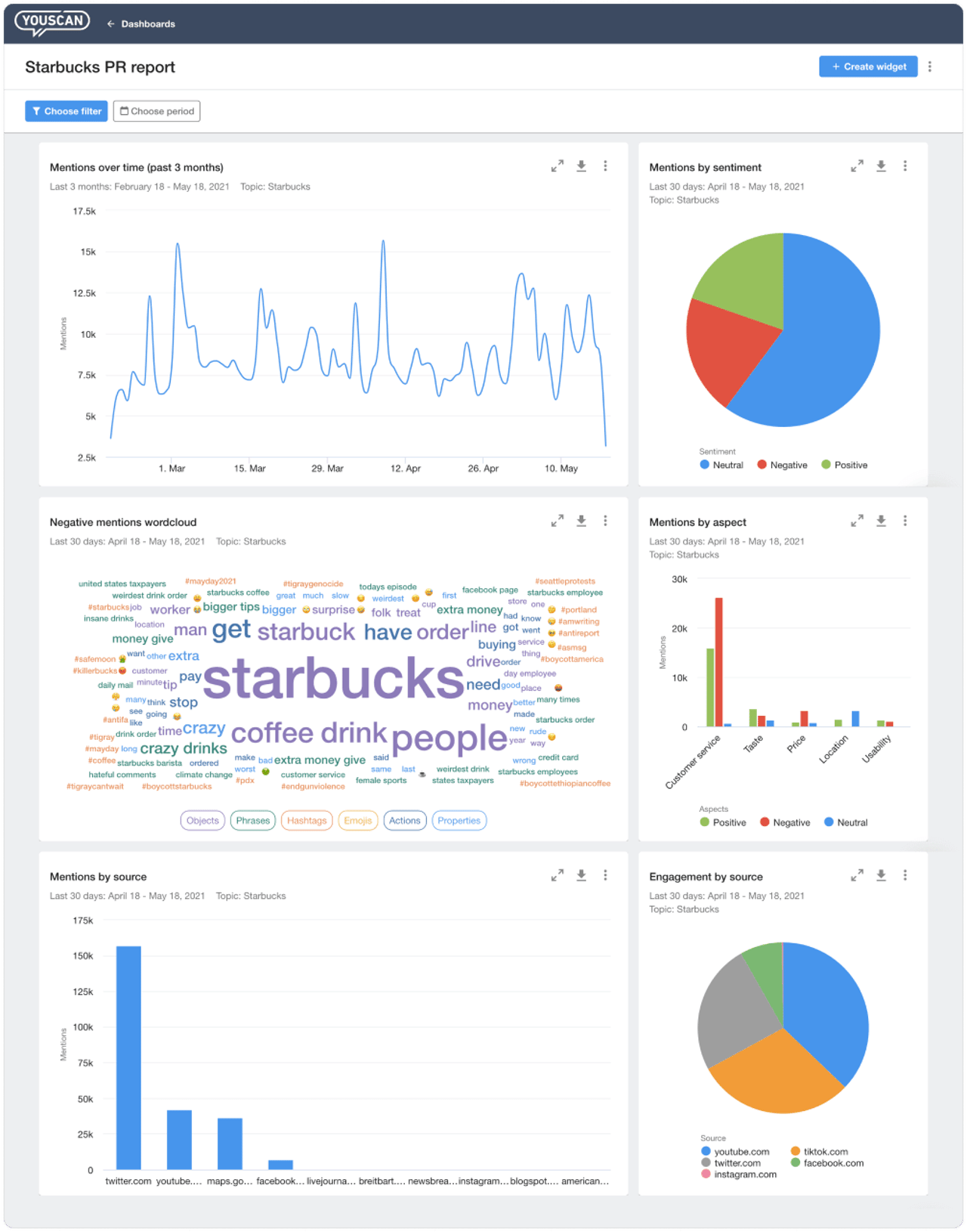 Integrations
Our clients use various tools in addition to YouScan to accomplish different goals and tasks in their work. We've decided to make it easier for them to transfer critical data to CRM, helpdesk platforms, and messengers by launching a growing list of integrations. HubSpot, Slack, Freshdesk, Creatio, and other tools can be integrated with our system in one click. In truth, YouScan can be integrated with any third-party solution via API. Using the Rules feature, you can send particular mentions to a chosen integration for further processing, or be notified of critical spikes in conversations via messengers or email.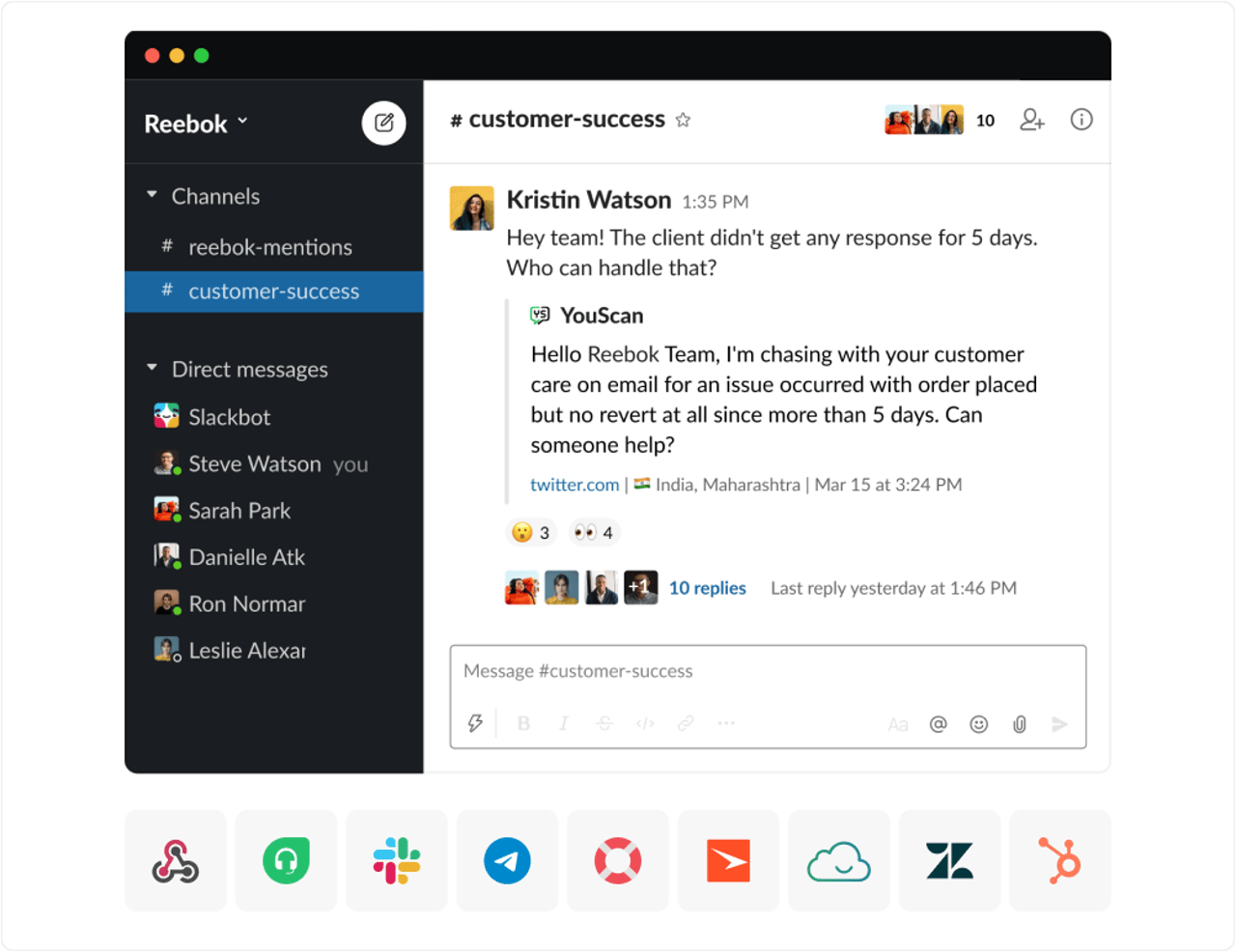 User-oriented system in all senses
In today's complicated world, a simple interface or easy-to-use system is like a breath of fresh air, especially if you are overwhelmed by numerous tasks. Social media listening is complex work that involves processing large amounts of data and analyzing it to generate actionable insights. However, when you have assistance in the form of a platform that simplifies your routine rather than making it more difficult — the process becomes more pleasant and comfortable.
Easy-to-use interface
We're working hard to make complicated things appear simple. That is why, when compared to other social media intelligence platforms, YouScan's clean interface stands out.
The platform has light and dark modes, allowing you to select the best option based on your needs. The menu is user-friendly, making it simple to locate and navigate the system's features.
Customer support
As with any software or service, users might have any additional questions, so we have compiled all the instructions, guides, and how-tos in our Knowledge base, which covers every last detail.
Nevertheless, our clients occasionally require additional assistance, from creating a query to adding integrations to their accounts (we'll go over this in more detail later). In such cases, our support team is always available to help via any appropriate channel.
Our distinct advantage is that customer service is already included in any pricing plan, and we do not charge our clients for any "extra" questions. When we say service, we mean it, as each of our clients receives a dedicated success manager who can advise on any business-related issues, tactics, and methods to help you achieve your goals as quickly as possible.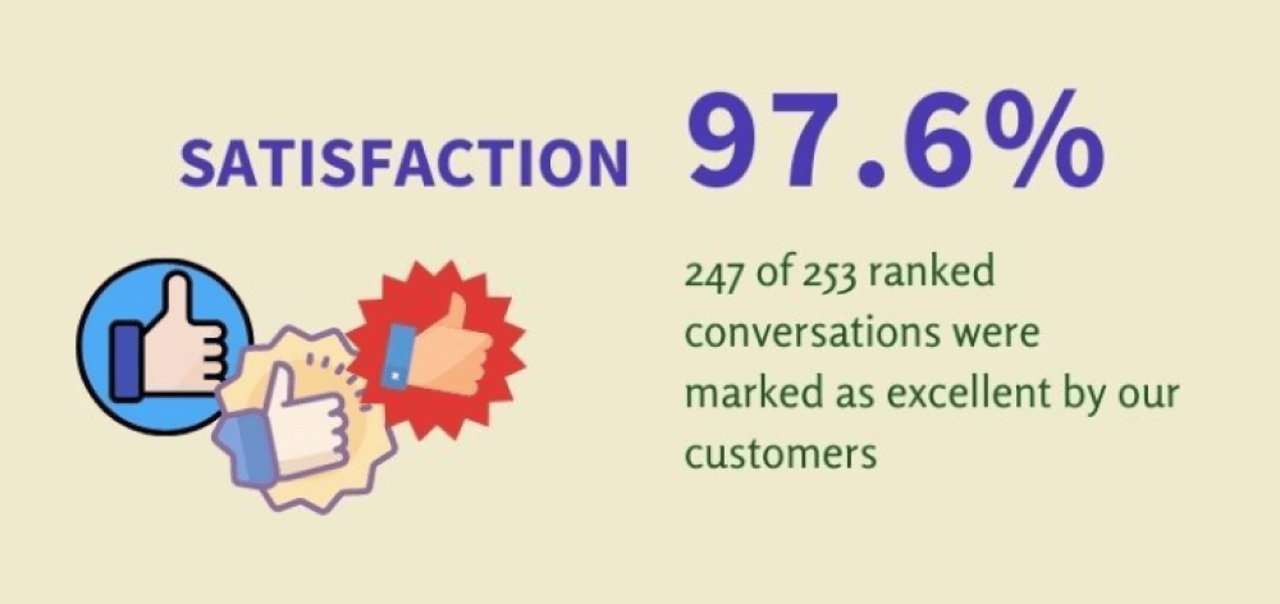 Collaboration opportunities
Since our mission is to help companies listen to their customers and improve, we made this process available to the entire team. At YouScan, each of our clients can add as many users as they need to cover all of their business objectives. This enables various teams to collaborate within the system, for example, PR, marketing, customer support, and researchers.

To make collaboration smooth and safe, you can set different permission levels for users, assign a specific person to handle mentions, or leave comments for future work.
Bottom line
Social media listening is not a simple process, but it can definitely become smoother and more effective with the right tool. If we've convinced you that YouScan is the one, request our free demo to see it in action.