Product news digest: More visual data for analysis and new reports for insights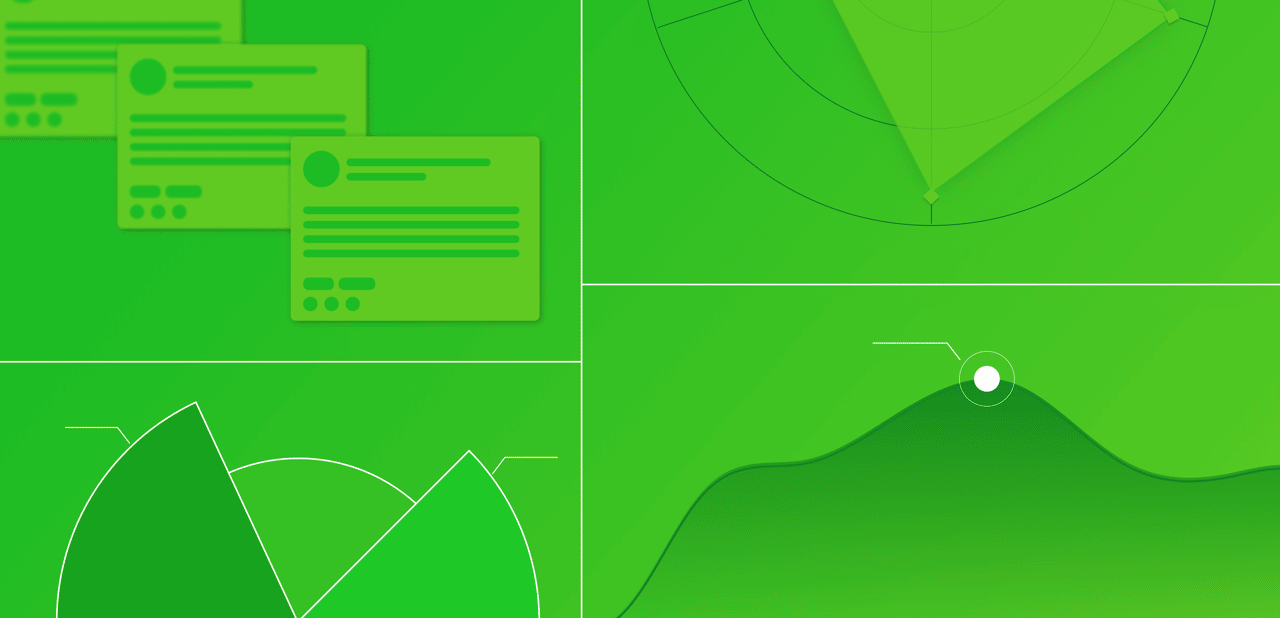 The social media landscape is changing fast and your social media listening platform should be improving all the time, too! In the past few months, we worked hard to bring many innovations to our customers. Here's the digest of the latest product improvements you can now enjoy in YouScan. They will undoubtedly make your social media listening process easier, better, and more insightful.
More Visual Data for Analysis
Video content is becoming increasingly important and prevalent on social media. With YouScan, you can now monitor even more videos from key data sources, such as Twitch and TikTok.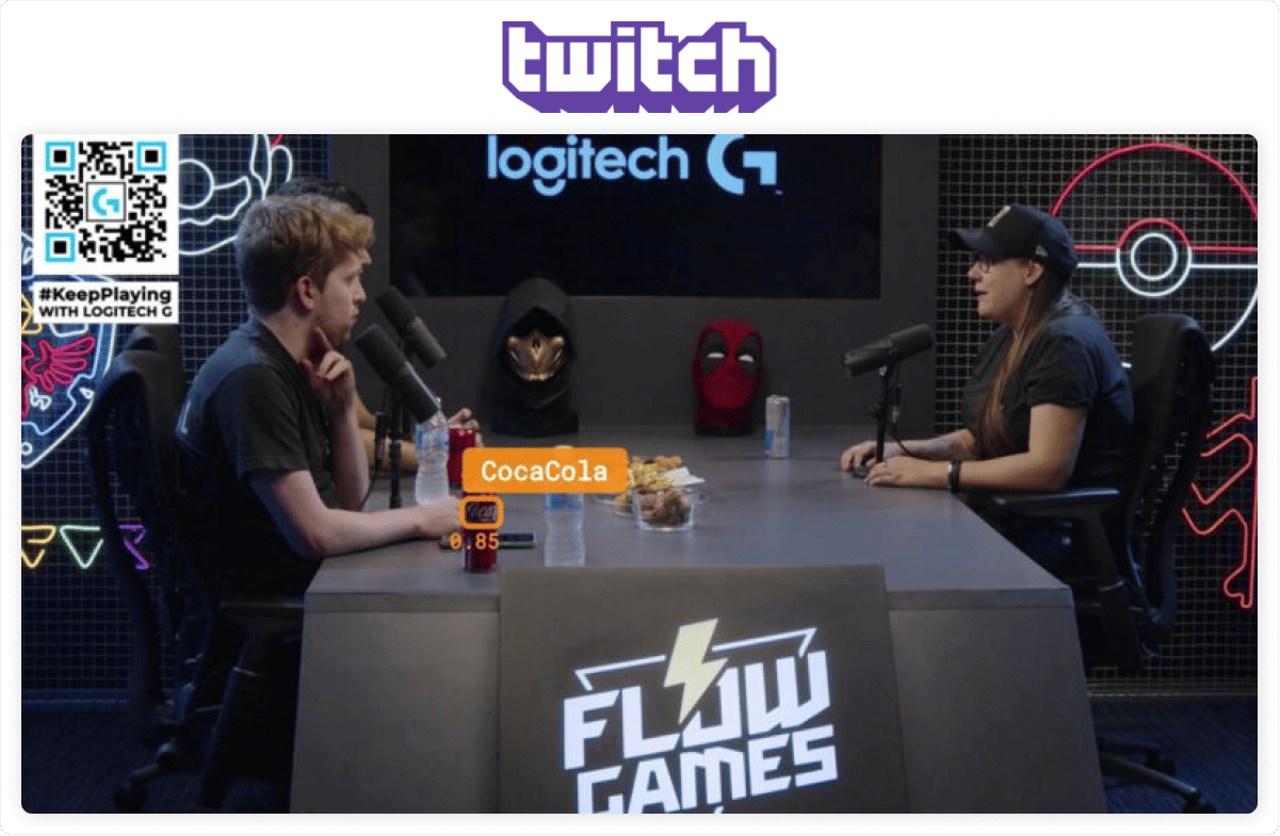 Twitch is a growing platform for video games, esports, and many other types of streaming content. Videos from Twitch have become available in YouScan, and now our customers can analyze data from this biggest live-streaming platform! 
YouScan can track both text and visual mentions on Twitch: 
Text, if the brand name is mentioned in the title, description, category/game of the Twitch video; 

Visual, if the brand logo is on the video preview image.
Pinterest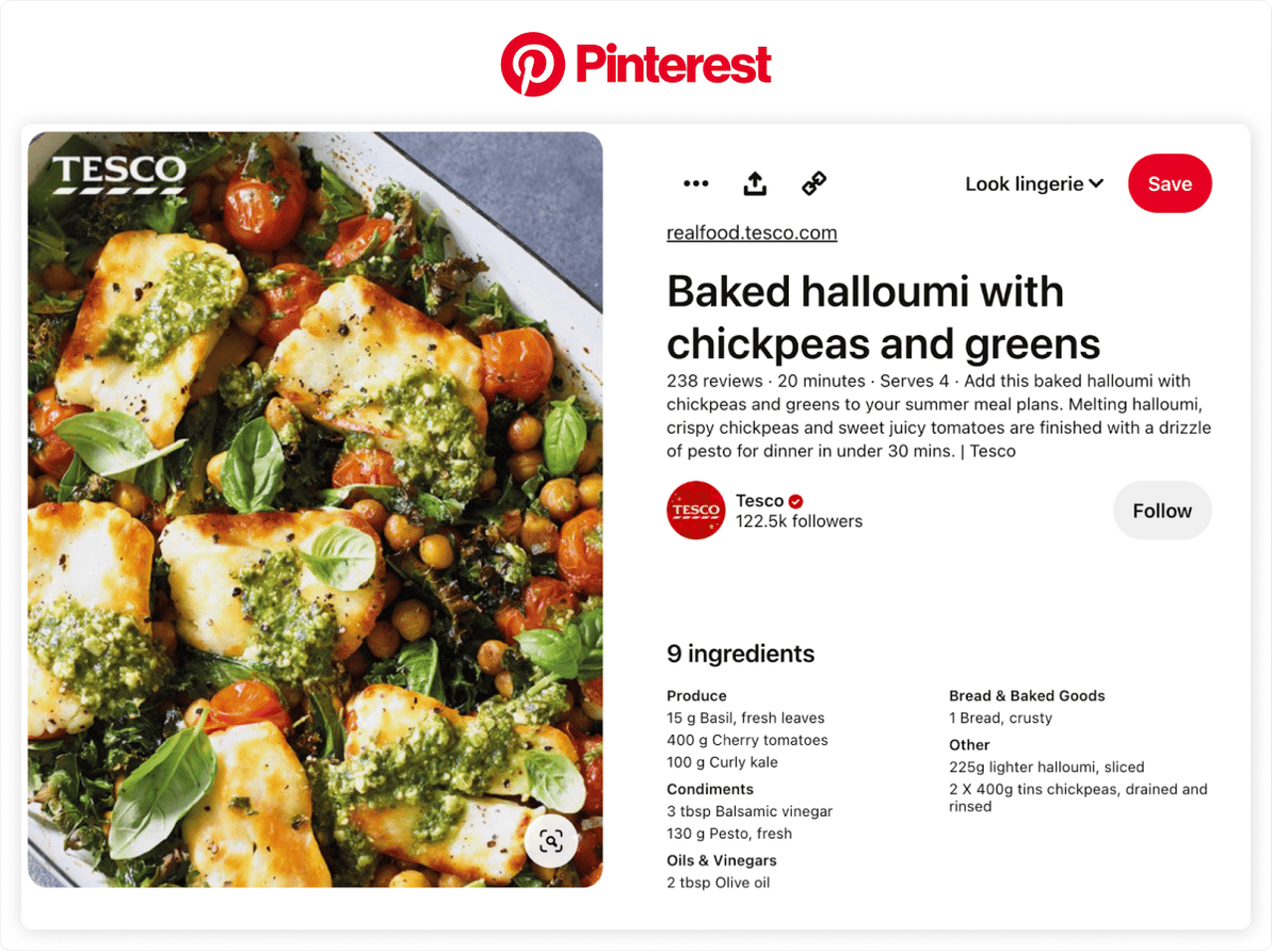 Pinterest data is now available in YouScan, bringing plenty of images and videos to our customers. Pinterest is a unique data source for brands in the industries such as fashion and beauty, food, retail, furniture, and interior design, among many others. 
You can spot emerging consumer trends on Pinterest before your competitors do, and many influencers can be found there, too!
Twitch and Pinterest platforms represent a trove of valuable public data for brands to analyze and uncover new consumer insights, detect emerging trends, evaluate their sponsorship efforts and find new influencers and brand advocates.
TikTok 
Another increasingly popular source for video content is TikTok. Customers get a lot of value from our extensive TikTok coverage, so we decided to push it further. Now, even more data from TikTok is available in YouScan.
Stickers from TikTok and Pinterest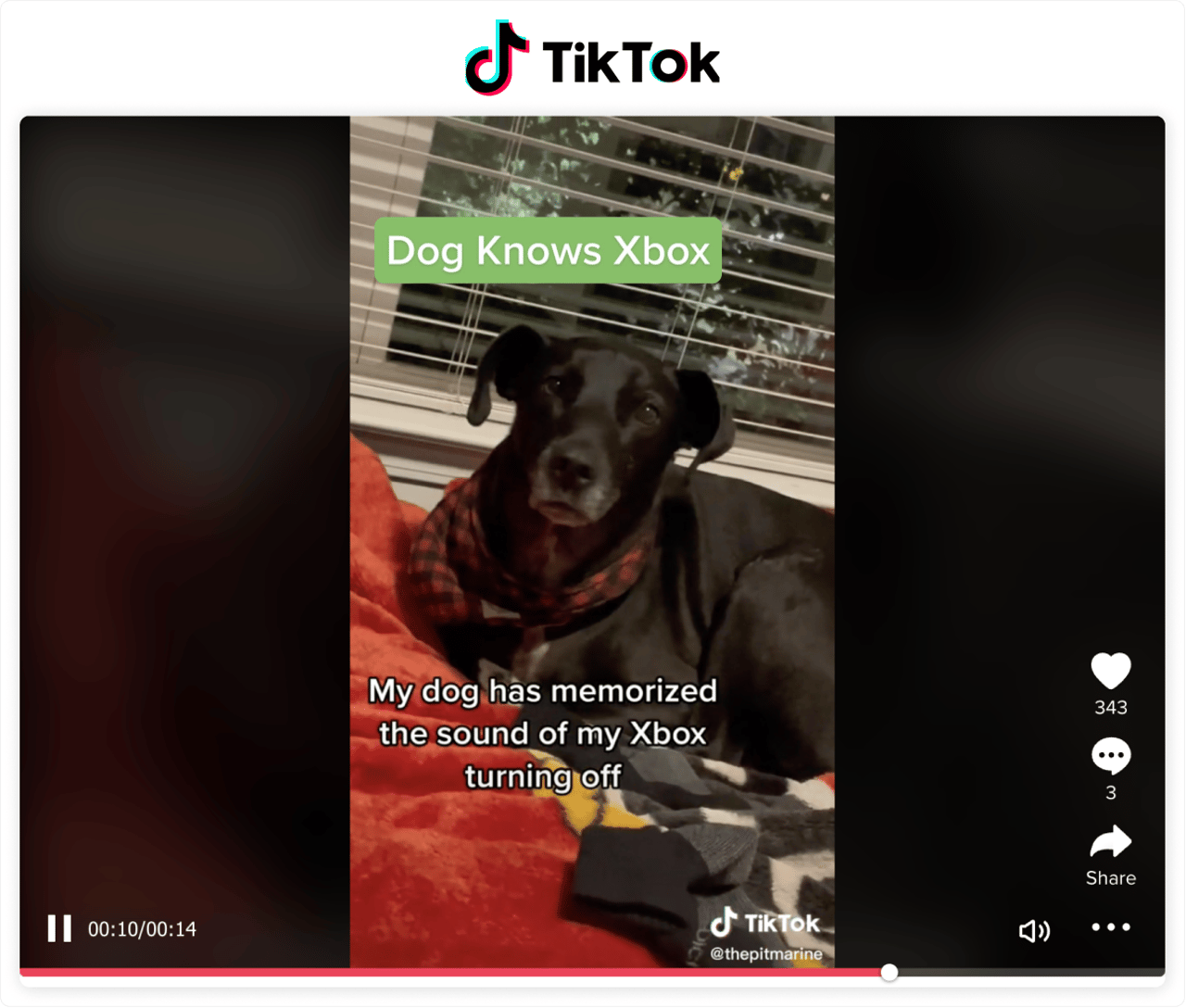 Did you know that texts that users add on top of the images are called "Stickers"? Such stickers are often used instead of traditional text descriptions in posts on TikTok and Pinterest. 
Now, YouScan customers can collect posts from these platforms by searching their stickers' contents by keywords. This way you can find brand-related publications that don't have standard text captions. 
For example, YouScan can detect a brand name on a sticker, like in this example with a cute dog that knows the sound of the owner's Xbox!
This way, it's possible to uncover brand mentions undetectable by other social media listening platforms but where the brand is central to the author's message.
That's a large amount of insightful data not to be missed!
Instagram Reels 
Reels can now be tracked in YouScan, allowing customers to monitor and analyze Instagram's increasingly popular content: over 20% of all content on Instagram is now Reels!
Content on TikTok, Twitch, Pinterest, and Instagram is visual, hence is a perfect source of unique visual insights that YouScan helps to find — read on to learn about new capabilities for image analysis.
Visual Insights
Image Trends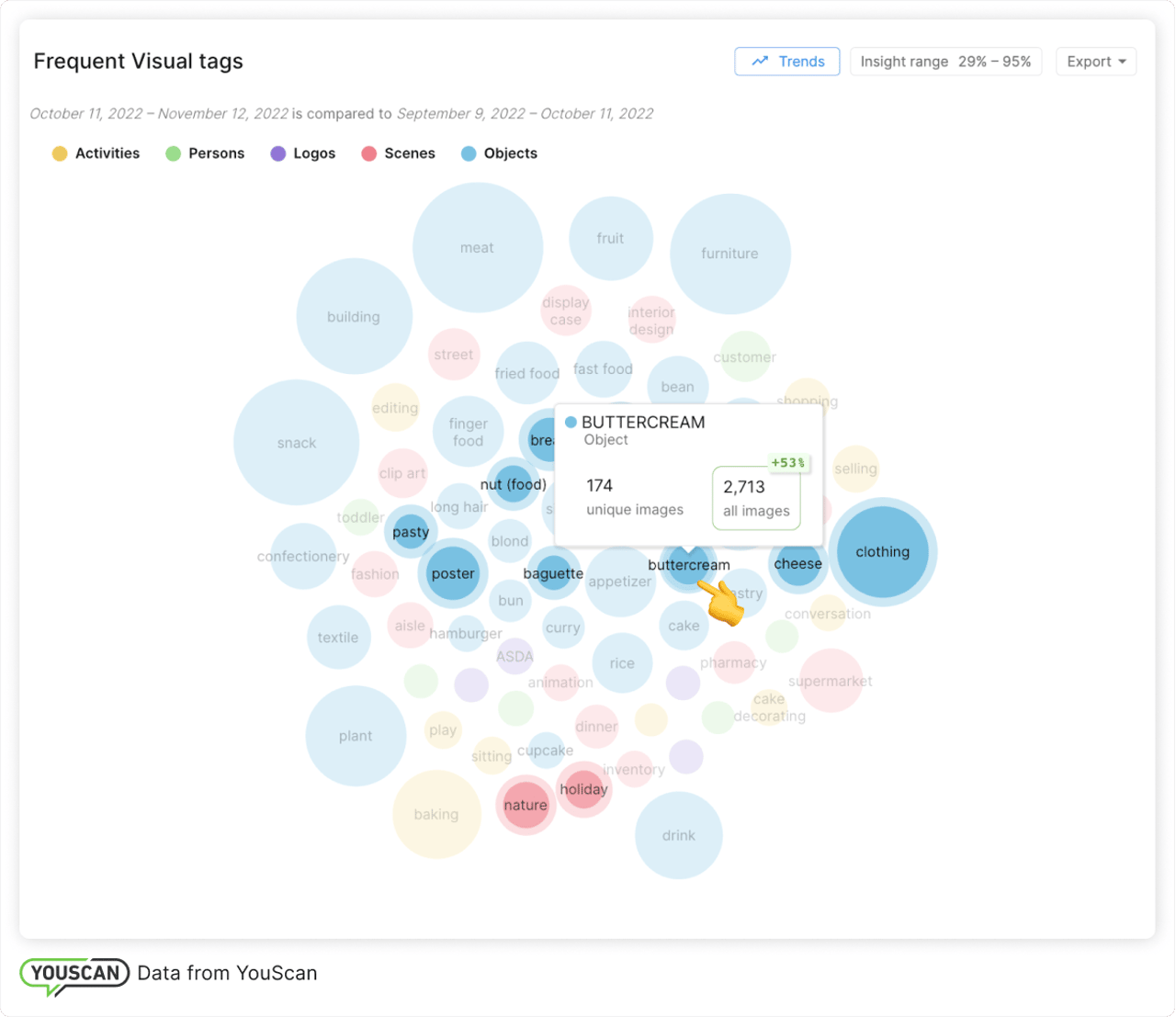 Finding out what's trending among your target audience is key to coming up with winning strategies and relevant communication. 
YouScan customers can now learn about what's trending in visual content: which objects, scenes, and activities are starting to appear more often in the images shared on social media. 
The new Visual Trends report allows seeing how the context of the brand-related or product-related images shared on social media is changing. Spot unexpected trends about consumption moments and your brand's (or your competitor's) audience's lifestyle!
Visual Insight Graph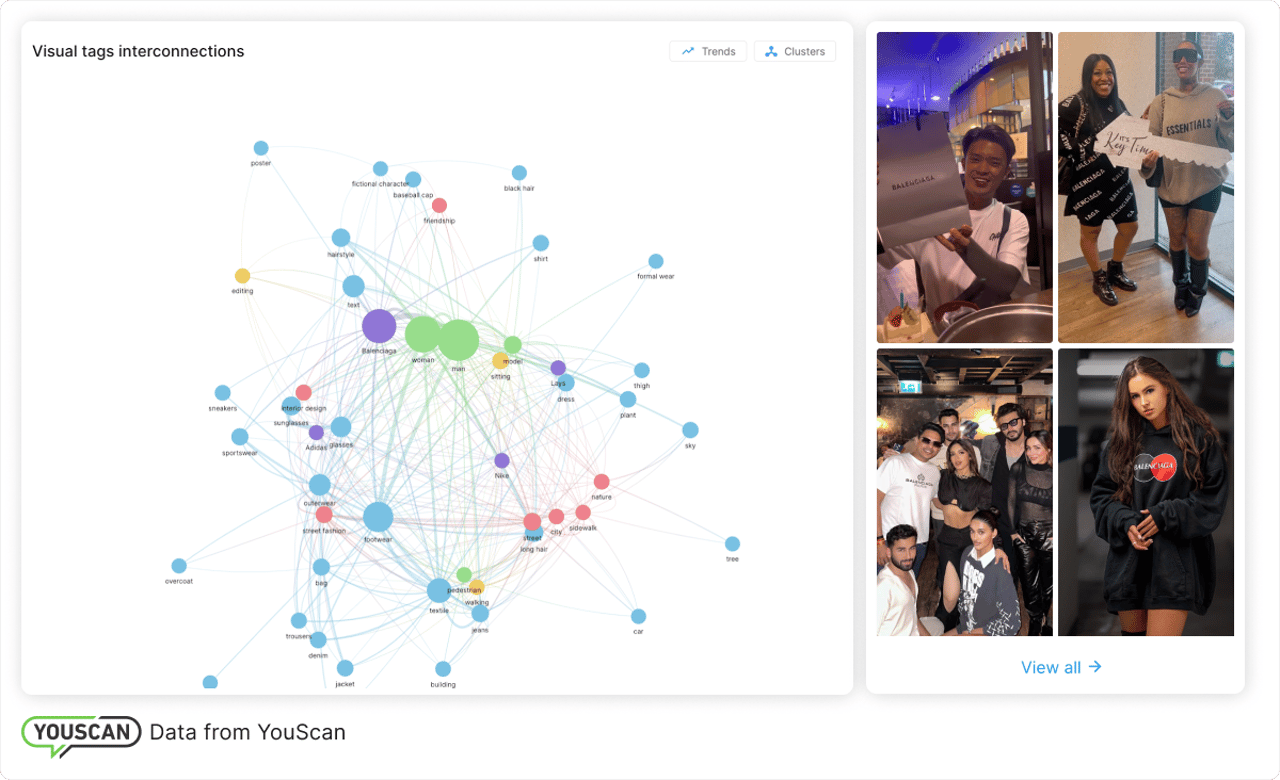 To perform even more advanced research, we introduced a tool that shows interconnections between all visual tags that appear in the images collected in your monitoring topic. 
YouScan users can now analyze how the brands, objects, scenes, activities, and people are seen together — and discover the patterns in how consumers display and perceive the brand.
Audience Insights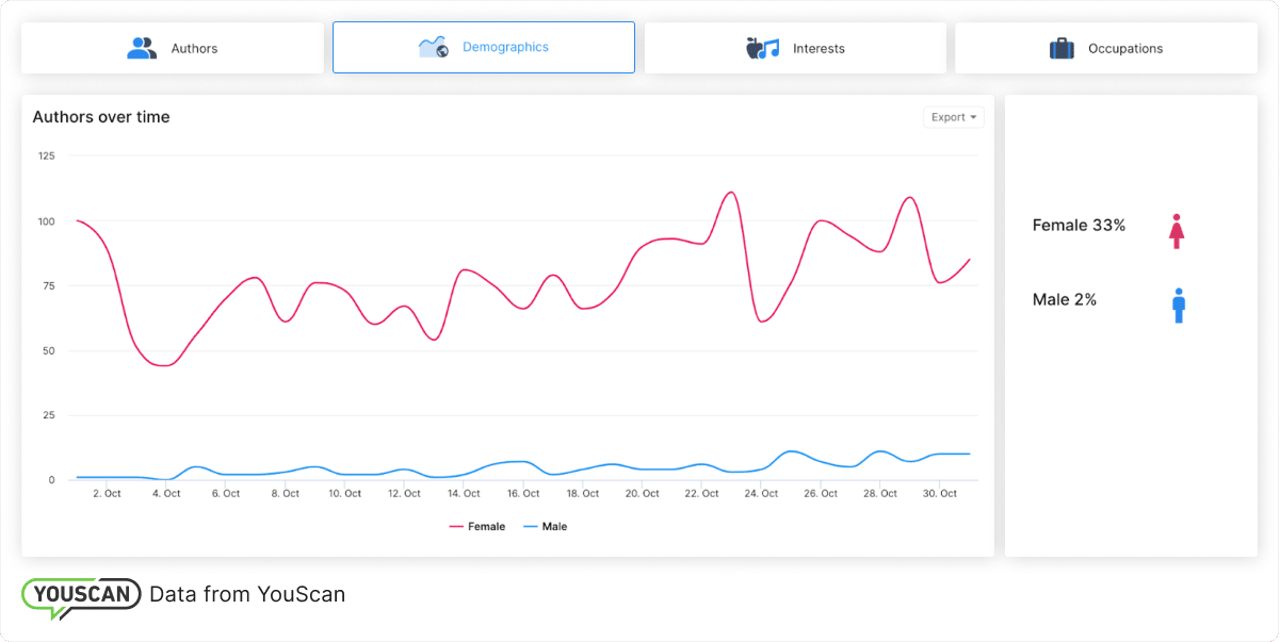 One of the most awaited releases of the last months is undoubtedly the Audience Insights add-on that helps analyze and understand audiences on social media. 
YouScan allows you to get not only basic demographics such as where the audience is based, their gender, and age. It also helps to learn about their preferences, interests, and occupations. 
With Audience Insights, you can understand how specific groups of users perceive your brand, find the most influential authors, and even get notified every time a journalist or blogger mentions their brand. 
All this is possible due to our proprietary AI algorithms that extract insights based on public profile data. 
Currently, this AI-powered feature of YouScan can detect over 500 interests and 8500 unique professions and displays this data in informative reports.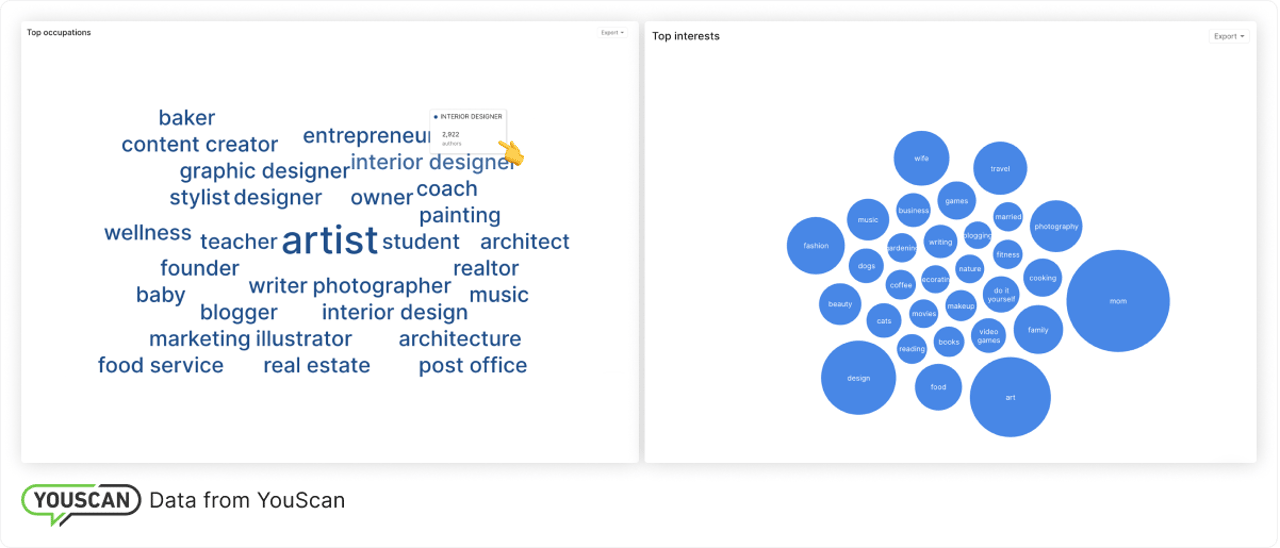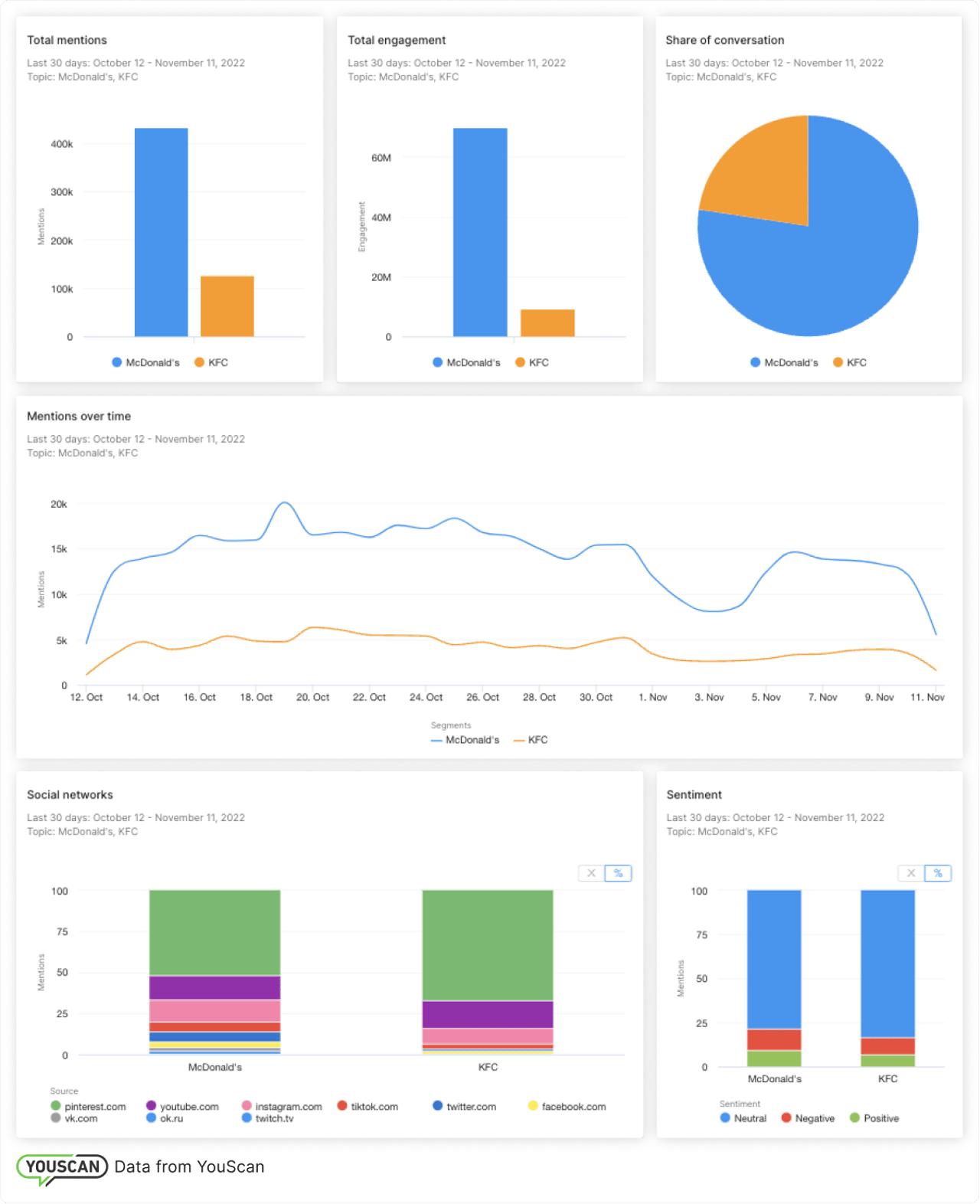 Analyzing competitors, measuring share of voice, comparing results of different departments, measuring campaign results. 
Comparing different data segments is a daily task for our customers. We have enabled the comparison mode in the Custom Dashboards to assist them in performing various comparisons. 
Now users compare data from different topics in one widget in five ways: with Line, Pie, Bar, Stacked bar, and Spider chart visualizations.
Moreover, adding widgets to Custom Dashboards became easier — now, you can do it with just a few clicks.
Easy-to-Use Product
Creating a product that saves customers' time and is easy to use remains our high priority, so we have a few updates for those of you who love great design and user experience (i.e., for everyone ;)
Streamlined navigation 
As the product has recently grown and become more sophisticated, we scaled and transformed its navigation system. The changes in the left navigation pane, top navigation bar, and location of some pages make the product easier to understand and use.
Explore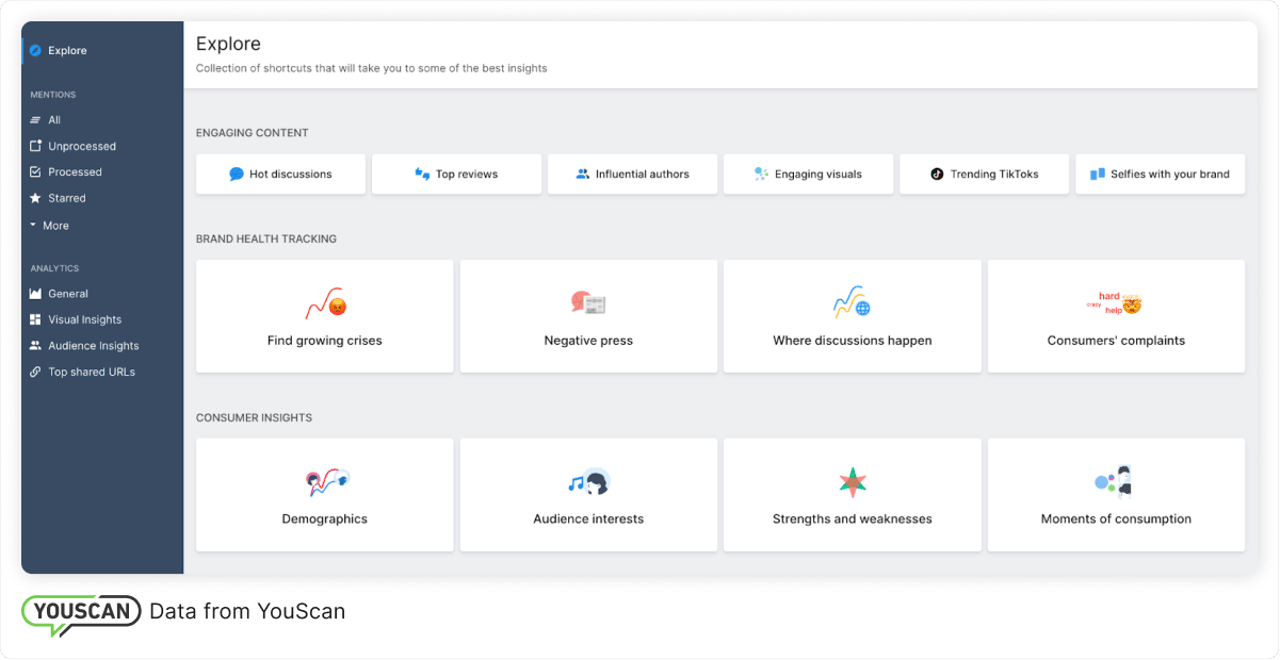 In the brand new "Explore" section of the YouScan platform, we've prepared a list of shortcuts that will take you to some of the best insights in one click. It will be especially helpful for our new users.
From "Explore," you can navigate directly to the hottest discussions about your brand, go to the top reviews or consumer complaints, see the most engaging photos shared on social media, and much more. 
Each "Explore" card will take you to the right place in the YouScan platform, with pre-configured filters and sorting to show data conveniently. Works like magic! ✨
Similar mentions 

It's a handy way to find mentions that have similar content. It may help you find irrelevant or the most important mentions faster and saves time on mentions analysis.
New "Statistics by" option in Analytics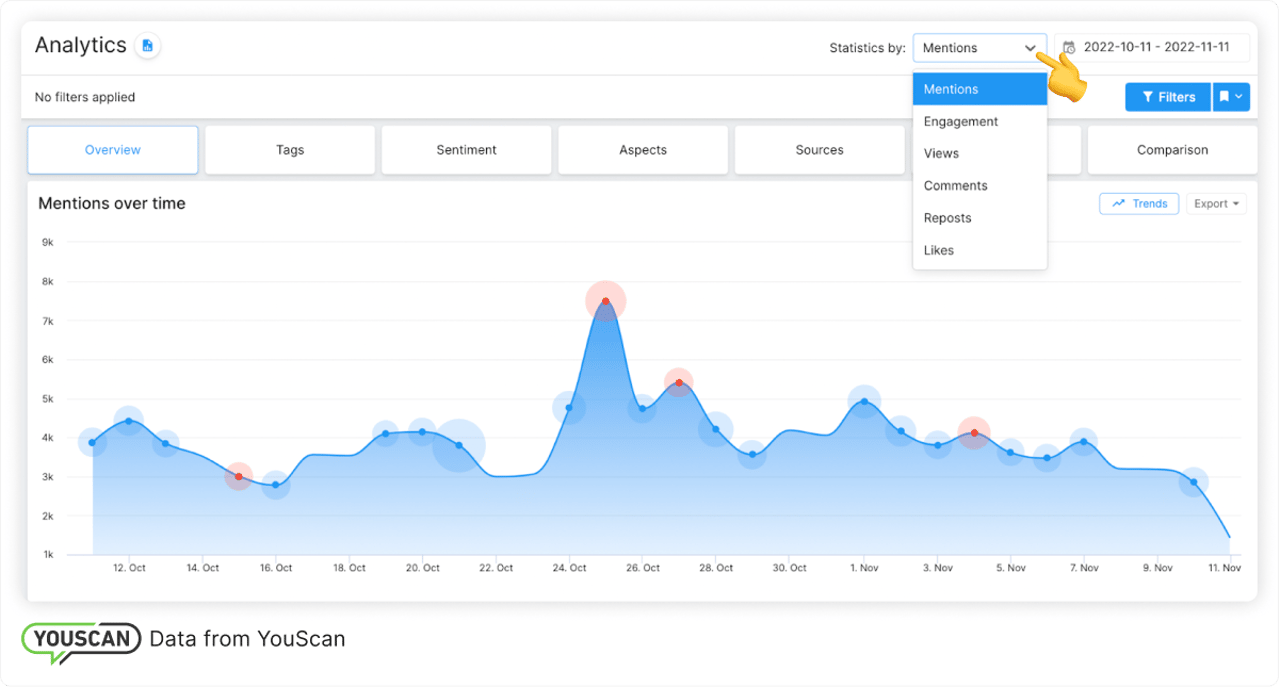 In Analytics, customers can now view reports based not only on a number of mentions but also on other standard metrics such as engagement and views.
More accessible history collection from Twitter 
Now there's no need to contact our support team when you need to collect historical data for the last 30 days — customers can start it on their own. Historical data from Twitter for up to two years back is available upon request.
If you're not using YouScan social media listening yet, you can try all these new and powerful capabilities hands-on. 
Please register for a free product demo and see how YouScan helps leading brands manage their online reputation and understand their consumers better.