Marketing on Twitch: can it really work?
Twitch is an American video streaming service focused on video games and esports competitions. With more than 15 million daily active users, the platform has become the largest of its kind in the world. So, which brands need to use Twitch marketing as part of their strategy, and how can they promote products and services on the social network?
Although Twitch was set up almost simultaneously with Instagram – 11 years ago, the video streaming service hasn't reached the same level of popularity among marketers. But things change. Nowadays, marketers often struggle to understand and target Gen-Z audiences effectively. For these cases, Twitch can come in handy. According to GlobalWebIndex's research, 74% of Twitch users are younger than 34.
At YouScan, we recently started collecting data from Twitch, and our research shows similar results. The core audience is men between the ages of 18 and 35.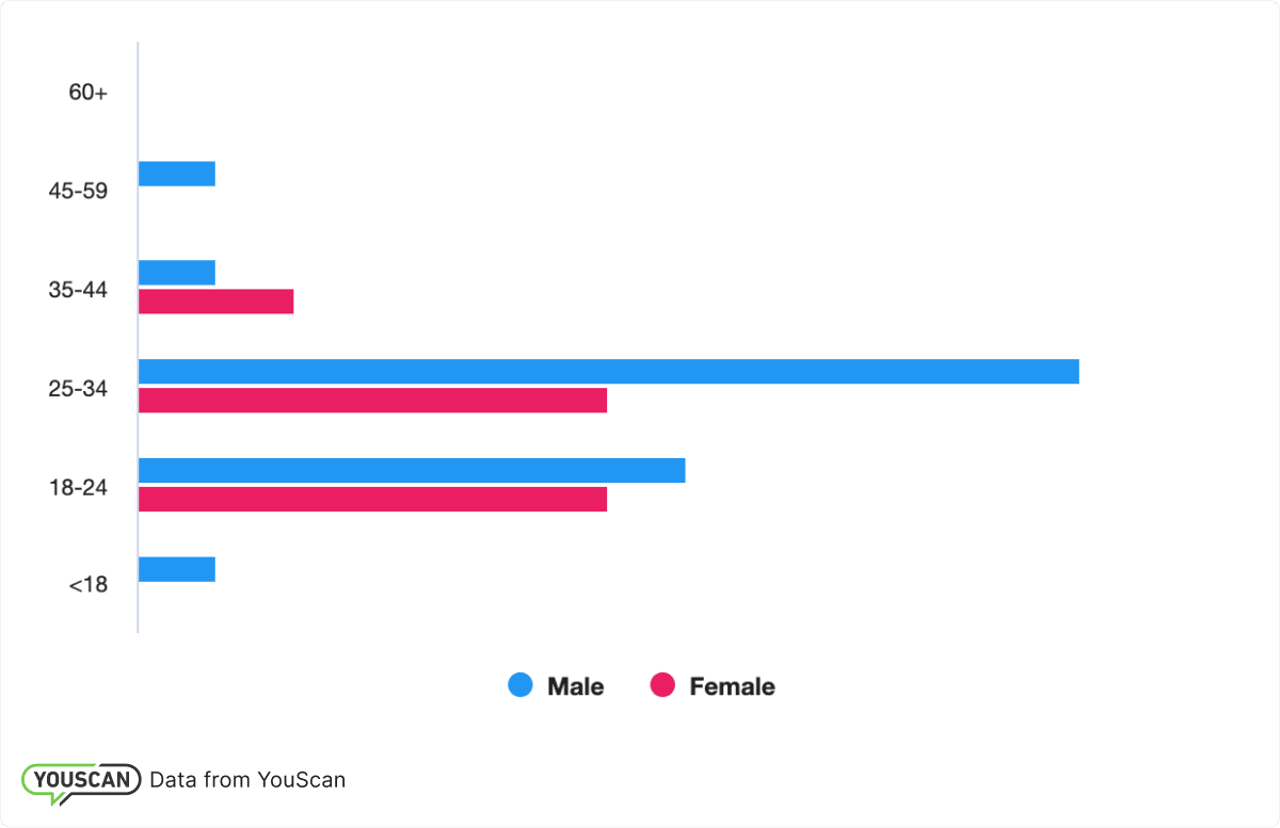 This makes Twitch one of the most efficient platforms to target audience younger than 30 years old. 
Although video games are among the top interests for the Twitch audience, users of the platform also have lots of other interests like pets, family life, drawing, and more.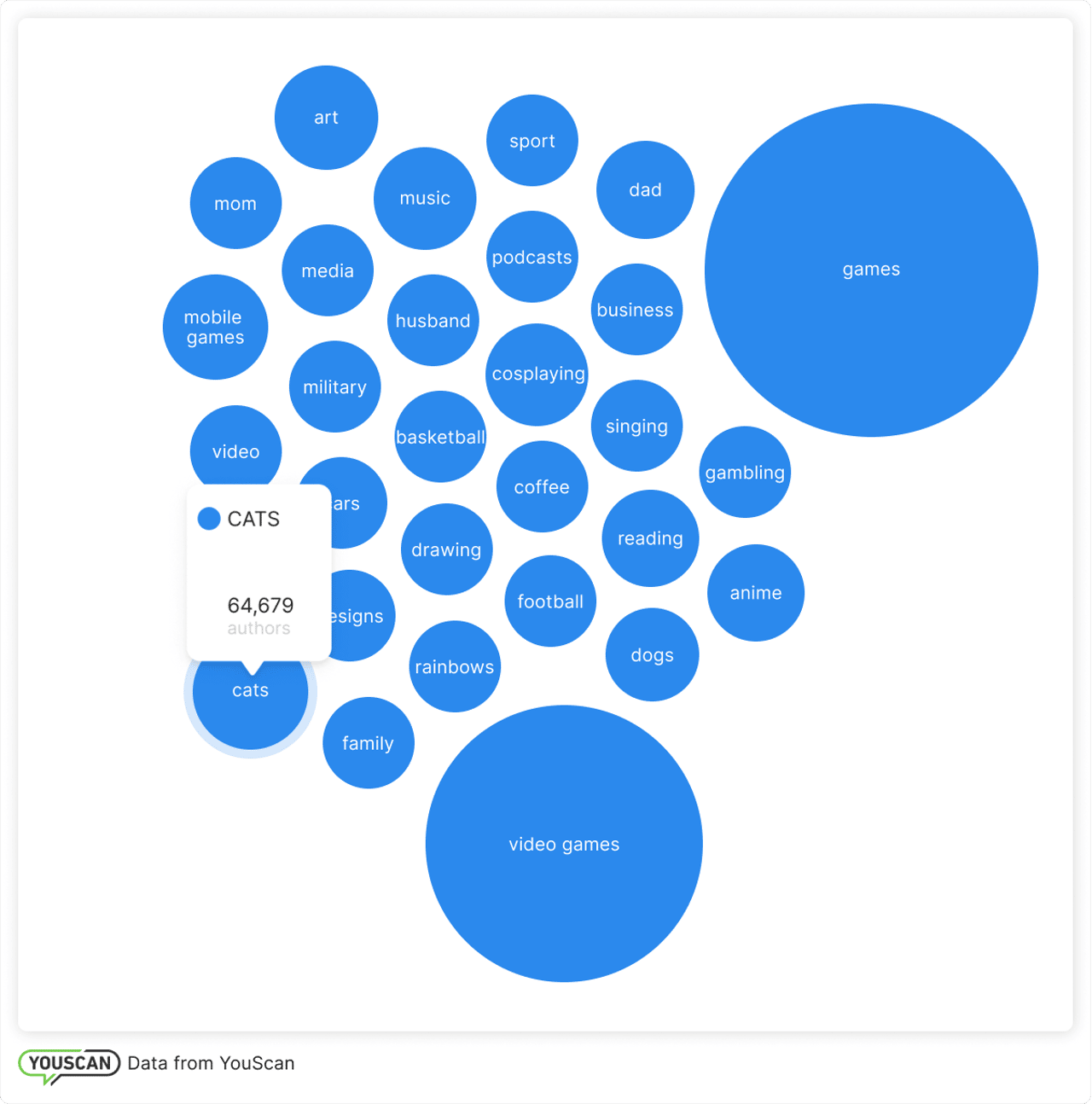 With YouScan, we collected all social media data posted on Twitch from the 11th of July till the 6th of November and analyzed the main trends. 
According to our research, on average users create around 300,000 mentions per day in total.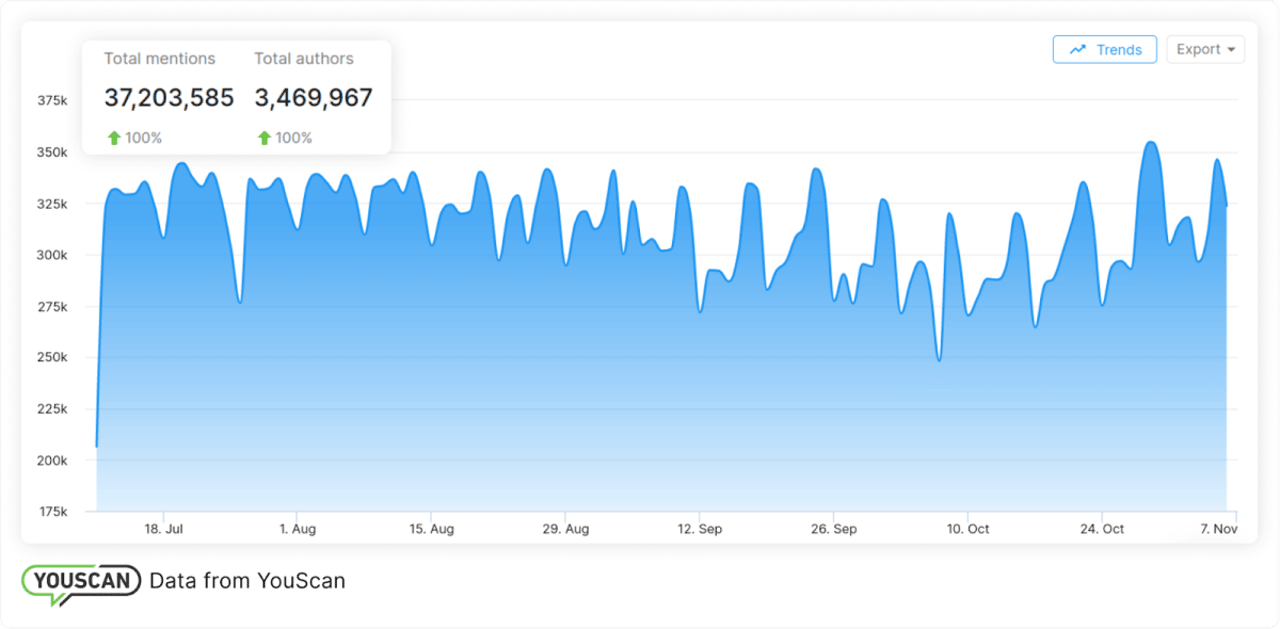 Since Twitch brings together millions of video game lovers, we've prepared the top 3 games mentioned on Twitch.
#1 Just Chatting is ahead of others by a big margin. 
#2 Call of Duty: Warzone came second place.
#3 Dead by Daylight won the third place. 
So if you are looking for a perfect match for brand collaborations, these 3 games should be among your top options to attract and engage Twitch's users.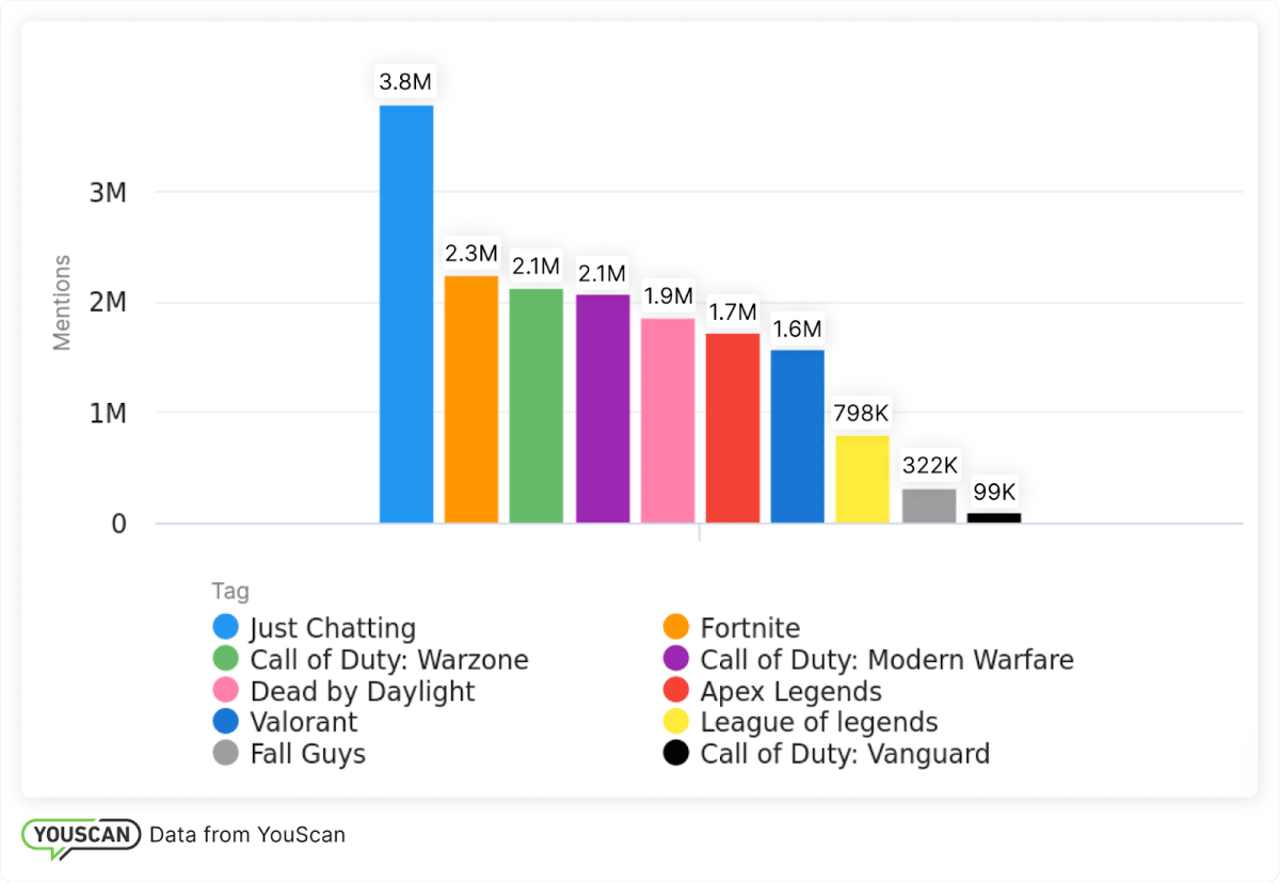 However, the leadership ranking will certainly change if we look at different age ranges. Audiences younger than 20 prefer Fortnite, while users over 40 more often mention Call of Duty: Warzone. 
The most popular logos
YouScan's Visual Insights capabilities can recognize logos, scenes, activities, persons, and objects in a picture. 
Spotify's logo appears most frequently on Twitch. However, this comes from something other than its marketing campaigns or fruitful brand collaborations. 
The reason why the Spotify logo is so popular is that the brand often appears on the shortcuts of desktops.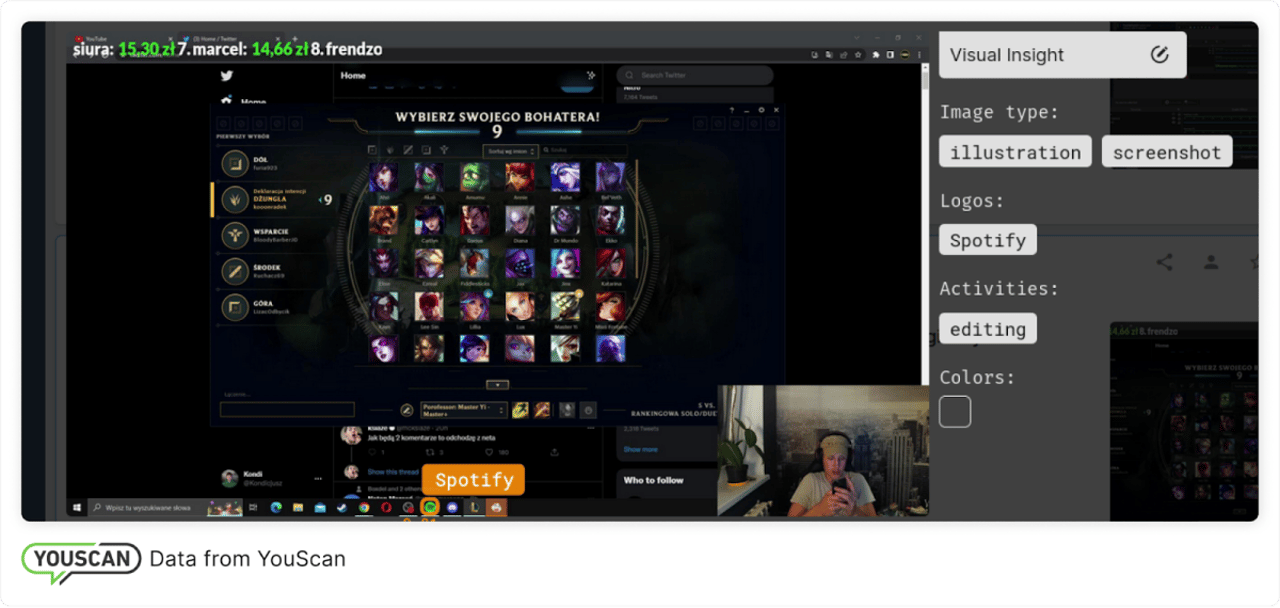 When it comes  to marketing efforts to create popularity, the most popular brand on Twitch is Nike. Its logo was among top-5 most popular and appeared in games like FIFA, on sports uniforms and promo banners, etc. 
We looked deeper into the logo distribution between the most popular video games. 
For Just Chatting, the most frequent logo to appear was YouTube, while Nvidia was the most often published in Fortnite's stream.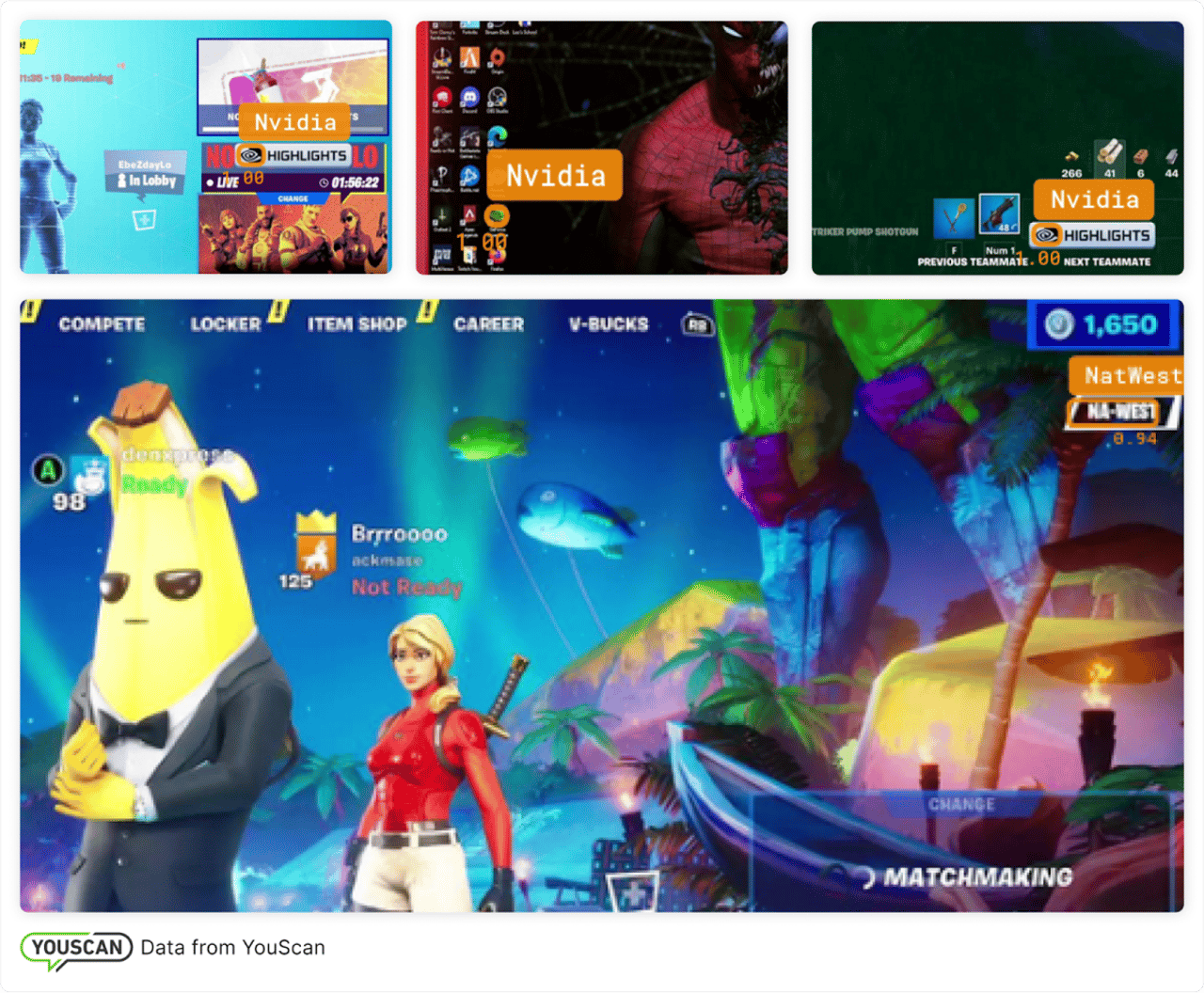 PlayStation was often mentioned together with Call of Duty: Warzone and Dead by Daylight. 
Influencer marketing on Twitch 
Although Twitch is a dedicated gaming community, it has more than 300 influencers with 1+ million followers. Eight of them have managed to get 10+ million subscribers.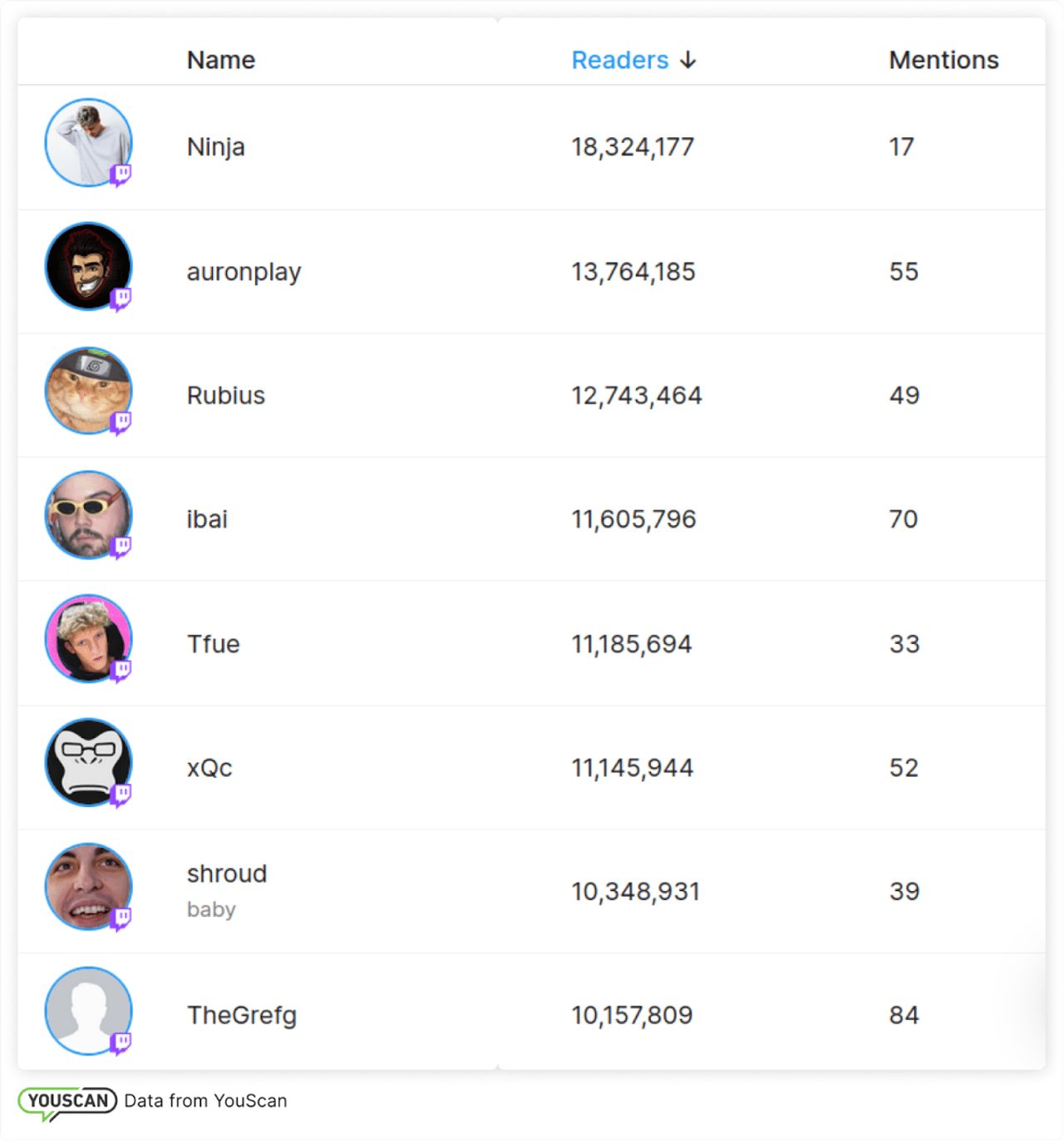 The most successful influencer on Twitch is Ninja, a true video game lover who makes live streams across all the popular social media platforms.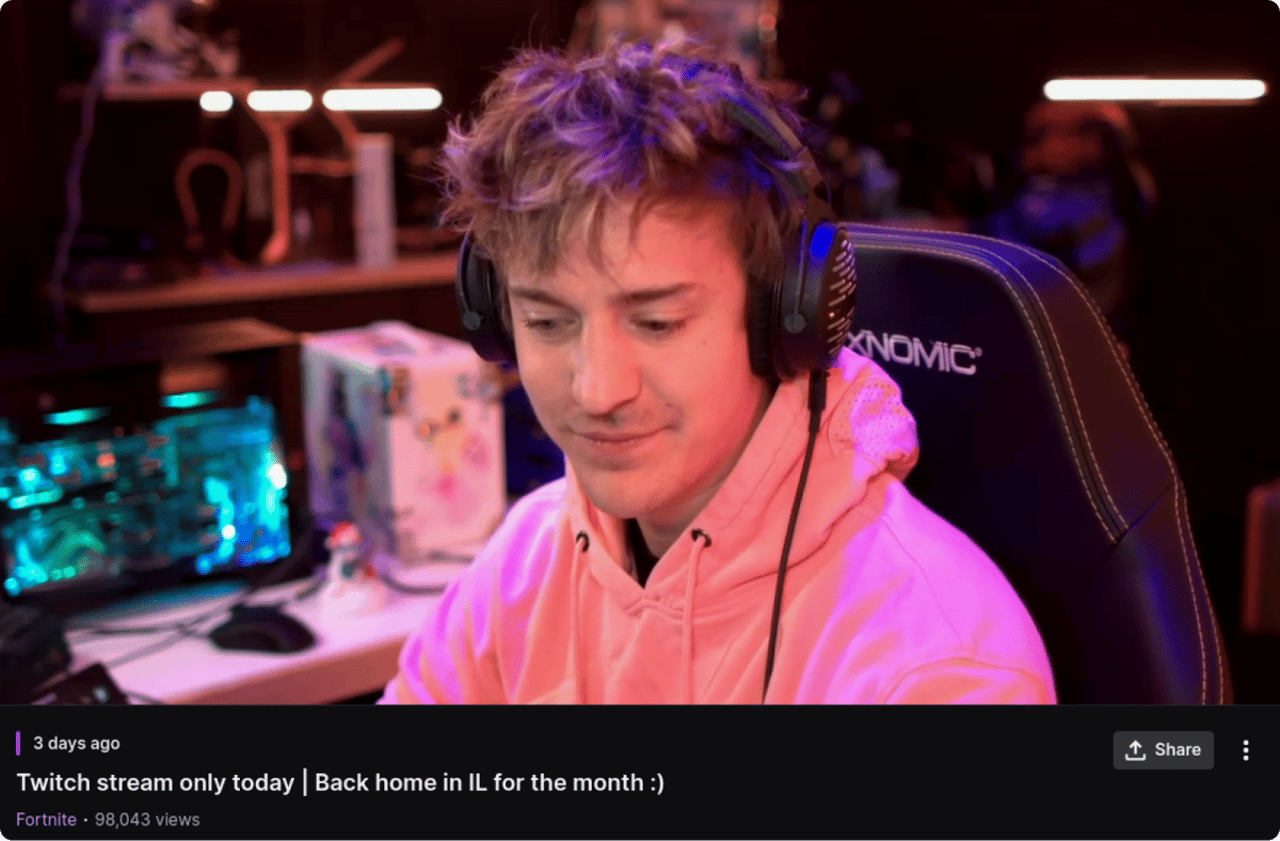 He is one of the most wanted influencers for brand collaborations, and is already well-known for a number of successful marketing campaigns. One of them was a collaboration with Adidas.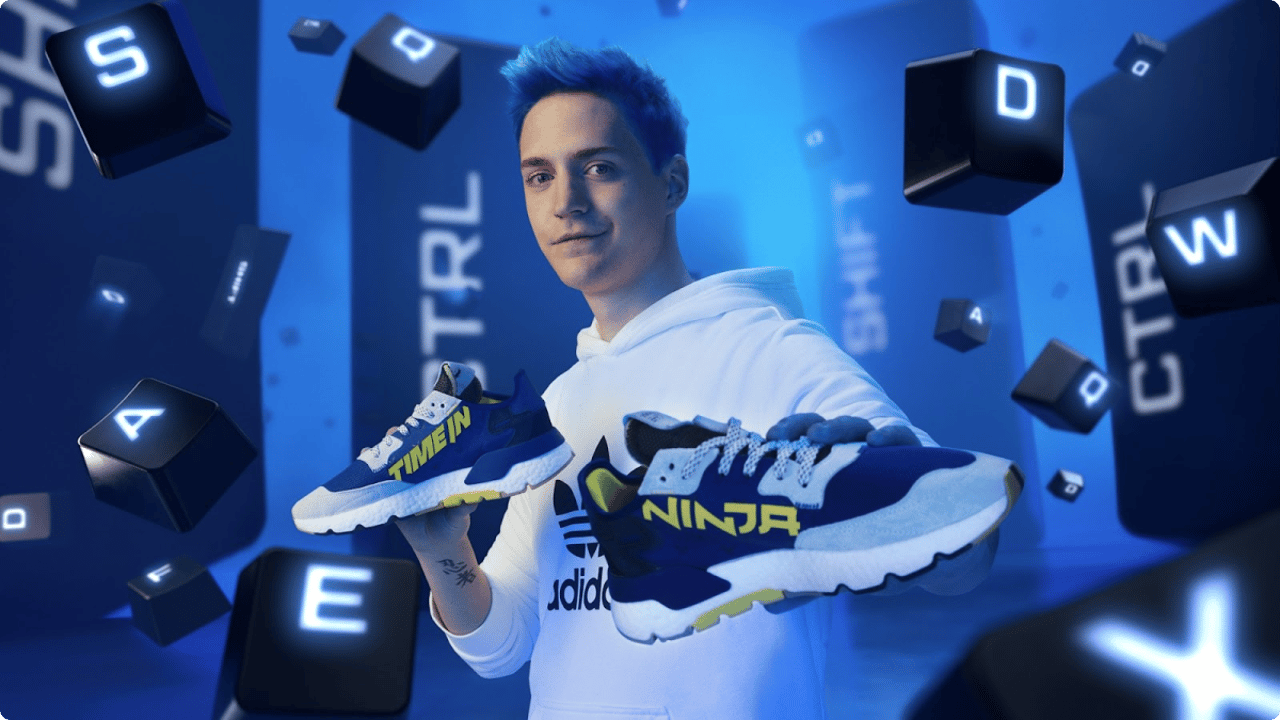 How to promote your brand on Twitch?
Apart from influencer marketing, brands can create their own Twitch channels. There are some successful examples. For instance, the famous American fast food chain Wendy's has more than 100 thousand followers on Twitch. The channel description mentions that the Wendy's team love watching video game streams as much as they love making burgers. 
Branded content and examples of meals are placed on all brand streams.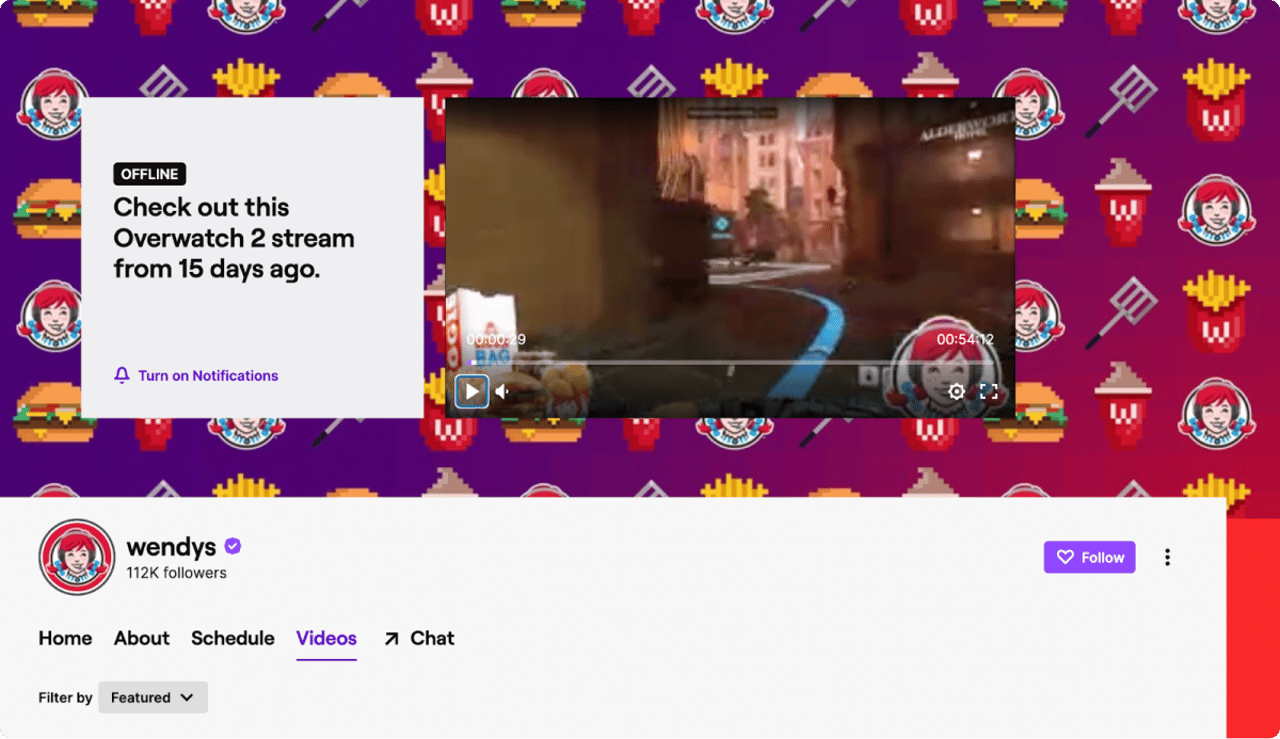 In contrast to Wendy's, KFC doesn't have its own Twitch channel, but the brand has managed to create some successful collaborations. One of them was with a famous blogger DrLuppo.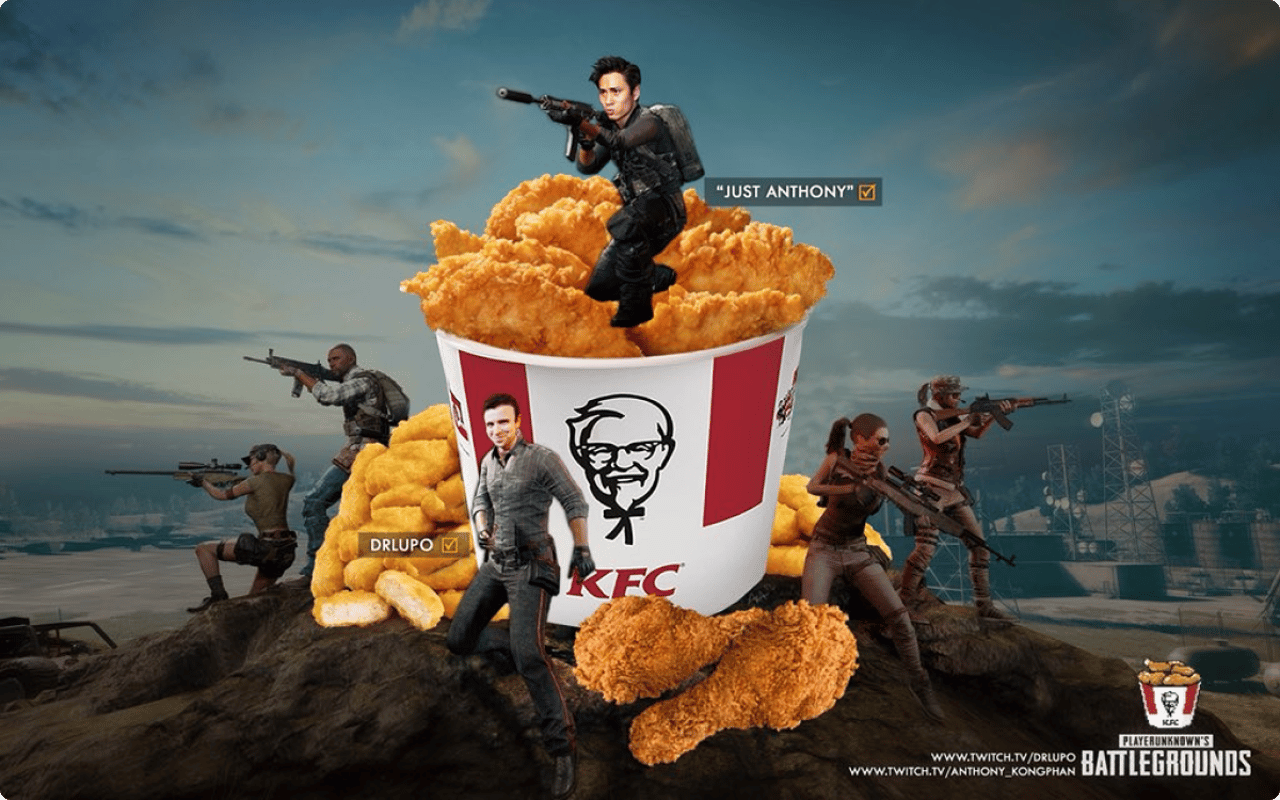 He set up a giveaway of $20 gift cards and played an interactive live stream contest. The winners got a chicken dinner. 
Previous examples have shown that fast food brands oriented on mass audiences use Twitch for marketing success. However, Twitch has room for promotion of luxury brands as well. 
The Japanese car brand partnered with Twitch blogger Fusile, who has 1+ million followers. The idea of the collaboration was to let users vote for the customization of the new Lexus car – 2021 IS sedan. Thousands of users voted in a poll highlighting what they wanted to see in the new model, including game consoles, a 3D controller, lights, and car wrap.
Even though Twitch is not the most popular social media platform among marketers, some brands are benefiting from using it to promote their products. There are three main ways how brands can use Twitch: 
Create their own channel and stream videos with branded content

Launch collaborations with influencers

Advertise products on Twitch
Try YouScan's free demo and benefit from YouScan social media listening platform.