Target audience analysis: aim accurately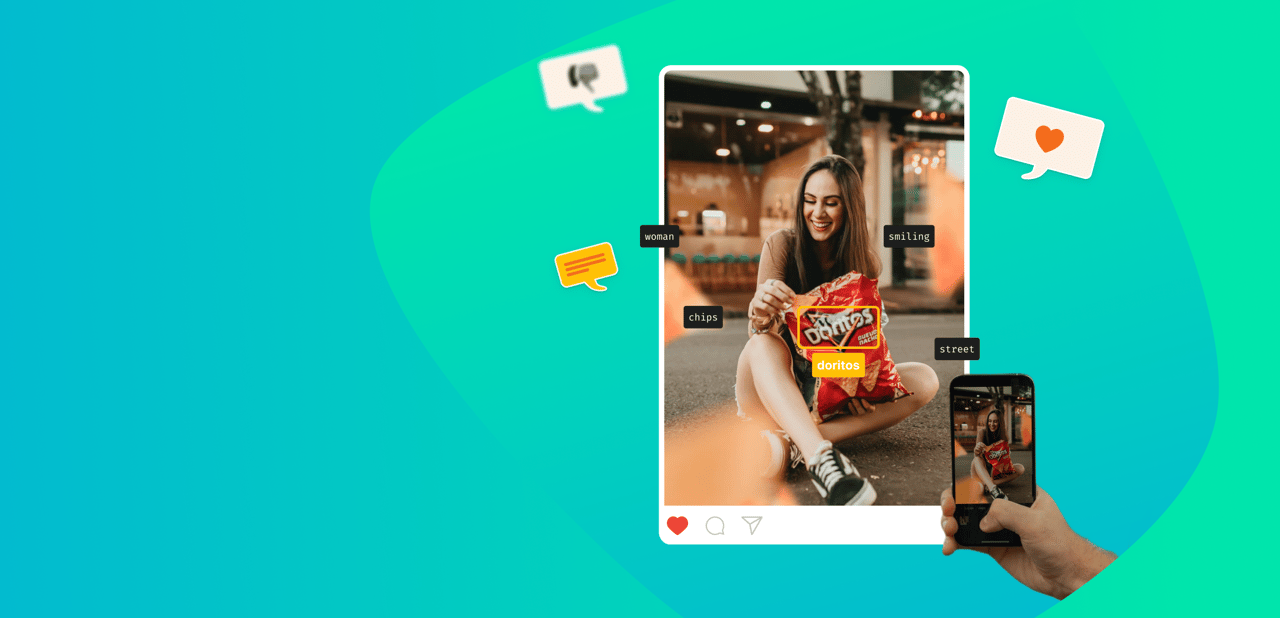 Aiming at everyone means not aiming at all. That's why target audience analysis is the cornerstone of all commerce. Social media listening allows you to conduct it at an advanced level, revealing hidden yet vital prospect data. Find out how this can work for you with our audience research for two competing chips brands in the US, Canada, and Mexico.
If you don't know precisely who your prospects are, your marketing and sales departments will be working blindly. The problem is that traditional methods of studying the intended audience are limited and leave many blank spots. One smart way to get a more accurate and realistic portrait of your customer is to listen to your prospects on social media.
What is a target audience?
The target audience is the group of people to whom you should focus your marketing efforts. These are the consumers who presumably need your products and are most likely to become your customers. But just because they want your products doesn't necessarily mean they'll buy them. 
It is critical to build communication with them and show that your offer best suits their needs. To do this, it is crucial to thoroughly study the typical representatives of your prospects, "put yourself in their shoes," speak the same language with them to understand what kind of messages they will respond to and what can seduce and captivate them. 
How to analyze the target audience?
The definition of the target audience implies many parameters, such as gender, age, profession, interests, education, geographical location, cultural background, etc. Social media intelligence platforms allow you not only to identify all these target audience characteristics but also to dive deeper into the consumer's world thanks to advanced AI-powered capabilities. 
For example, our Visual Insights capability (one of the best in the market) identifies images and scenes which contain your product and highlights the environment, objects, activities, and characters depicted in them, even if the post caption does not contain your brand's name. All this helps to better understand your consumers' perception of your product and tailor relevant messages for them. 
Below, we will explore these and other capabilities of social media intelligence platforms by analyzing and comparing the types of the intended audience of well-known chips brands – Pringles and Doritos in the US, Canada, and Mexico.
Geography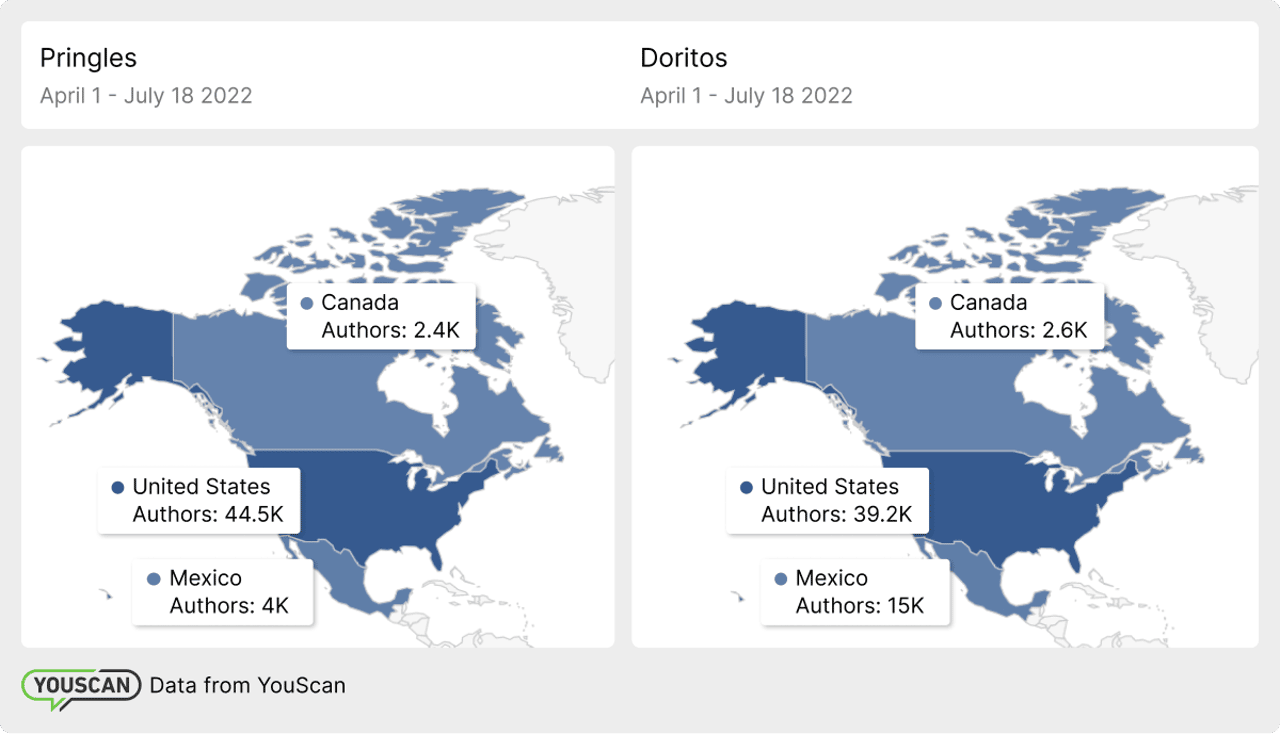 The total volume of authors in Canada and the US for both brands was almost the same. While in Mexico, the number of authors mentioning Doritos was three times more than those mentioning Pringles: 15K for Doritos vs 4K for Pringles. By further targeting analysis of the audience data from these countries, Pringles` marketers, for example, can suppose possible ways to increase market share in Mexico. 
Gender
For both brands, the gender distribution was almost the same for authors from the United States and Canada (28%-38% female and 61%-71% male). While for authors from Mexico, we detected some differences.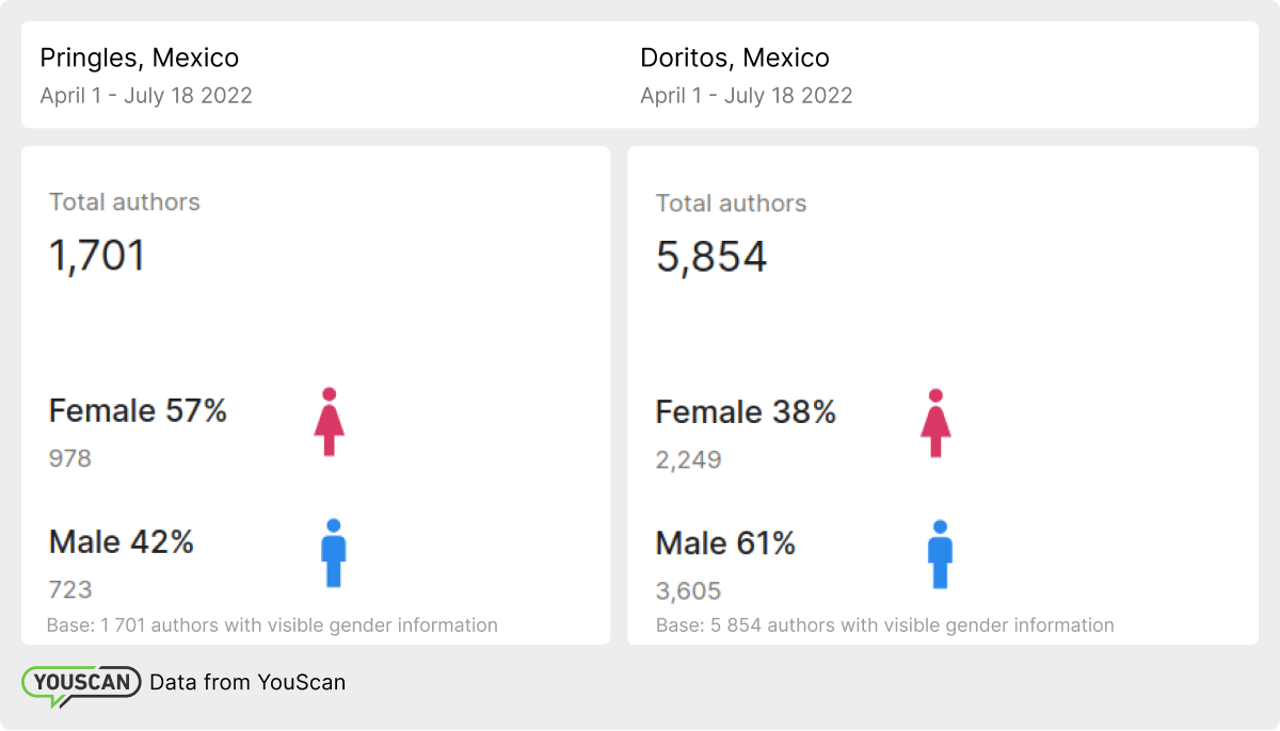 Women appeared to be the prevailing Pringles audience in Mexico (57%). Analyzing their discussions, we found that, in particular, women were largely engaged in commenting on a video by Eliot Channel Mx about junk food. Interestingly authors declared that they like Pringles and will continue eating it despite the author's criticism.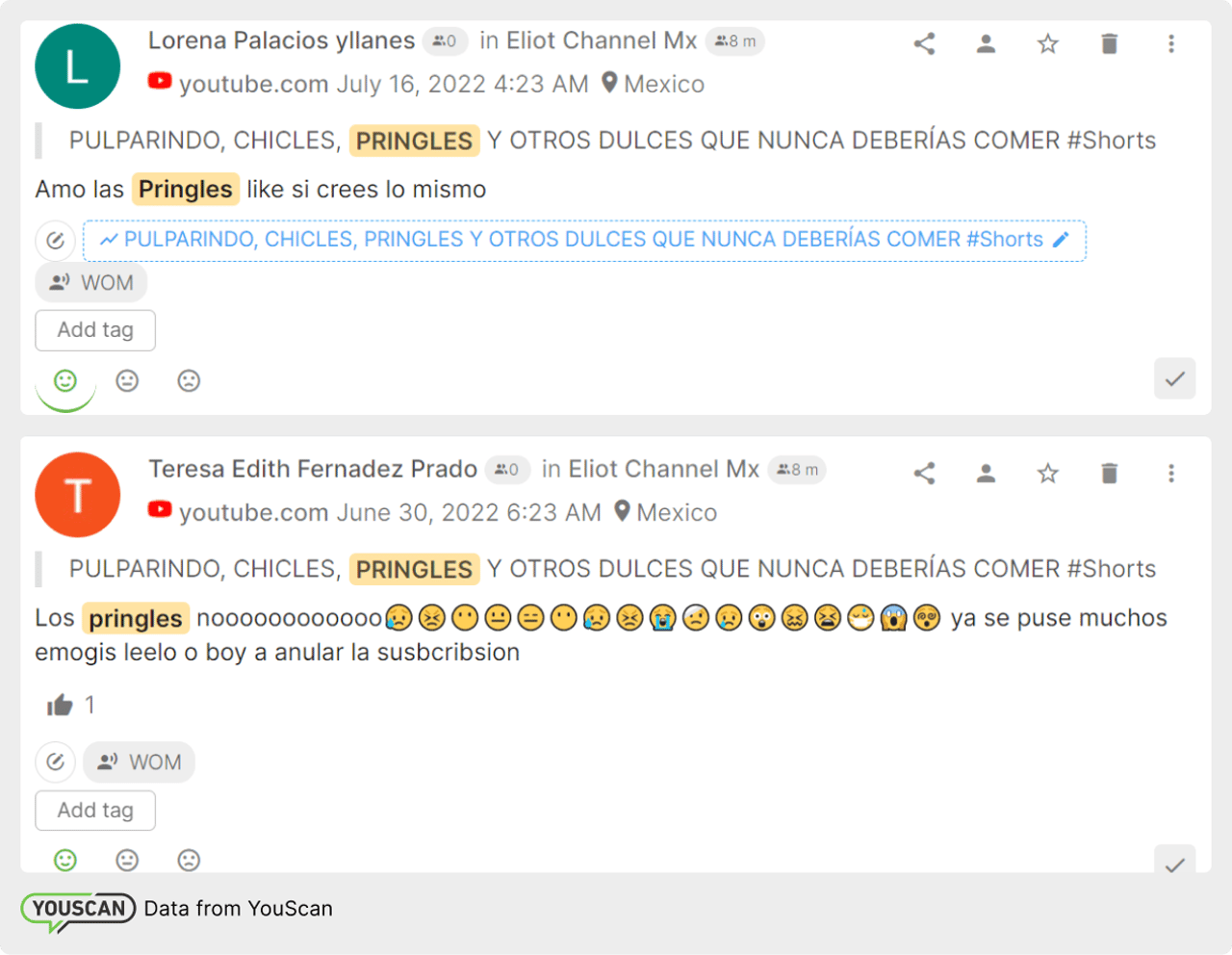 In contrast, the volume of male authors in Mexico was more significant for the Doritos audience (61%). A user`s short cartoon video provoked the largest number of discussions about a fictional character trying to buy spicy Doritos. We will see the vast benefits of user-generated content below.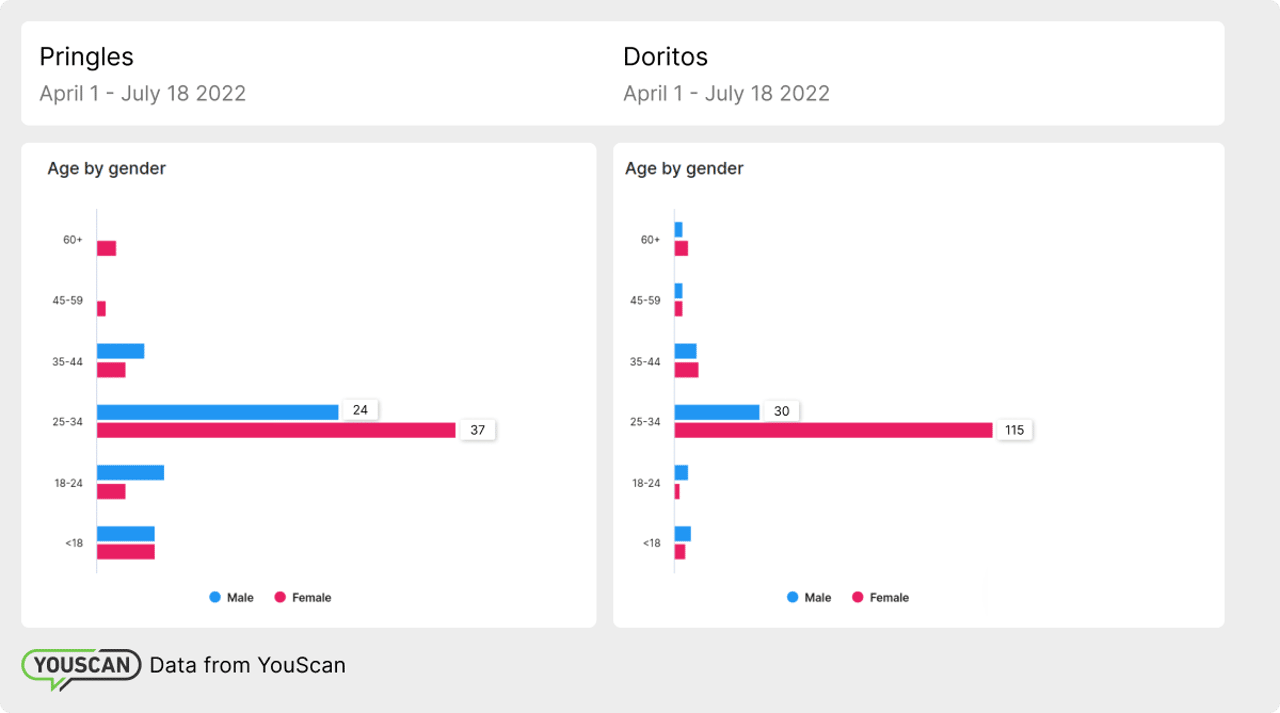 In each age category, we can detect a gender ratio. While Doritos fans are present in all age categories, Pringles are not mentioned in posts of 45+ men. Also, we can see that for both brands, the predominant audience is women in the category 25-34.  
Interests
Our Audience Insights feature also allows you to detect your prospects' interests and hobbies, allowing you to conduct a target audience analysis on a deeper level.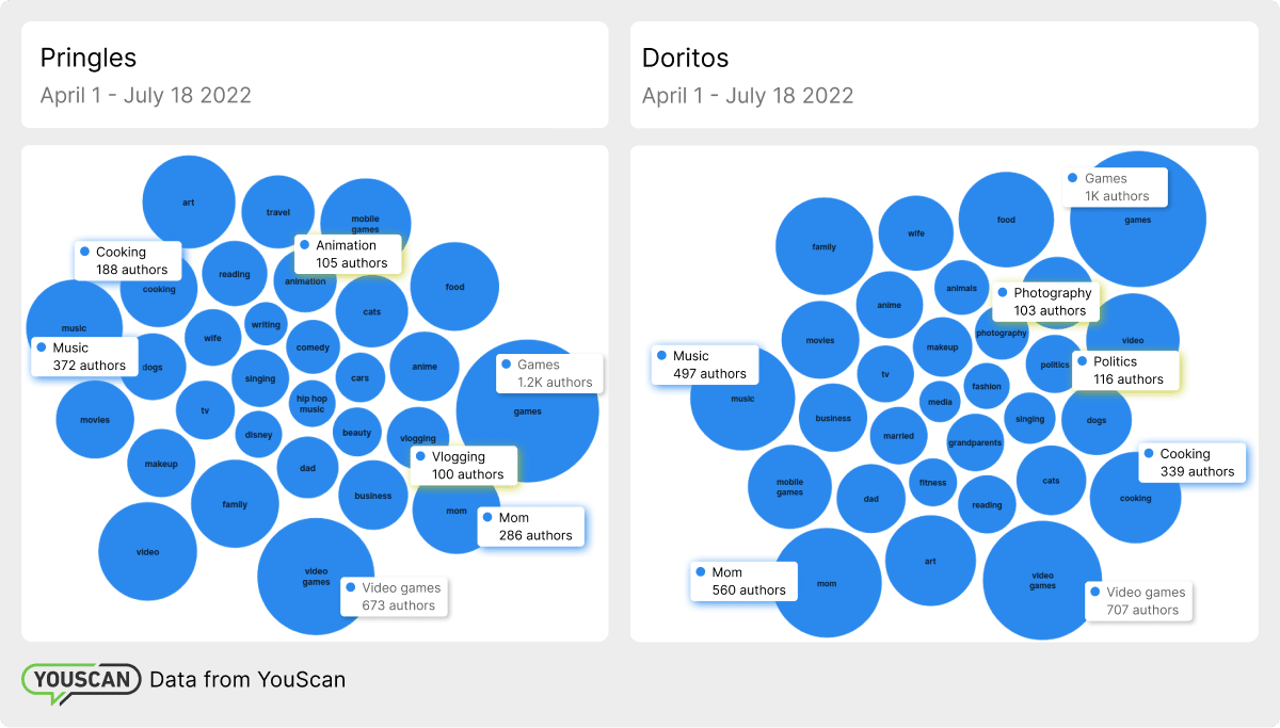 As we see here, the top interests of both brands' audiences are Games and Video Games. Do the marketers of Pringles and Doritos know that? If not, this insight can give them new ideas for messaging, promotion, and collaborations.
Doritos' audience were more interested in cooking (339 authors) than Pringles' audience (188 authors). Consumers mentioned dips, casseroles, tacos, nachos, pasta, and salad recipes with chips.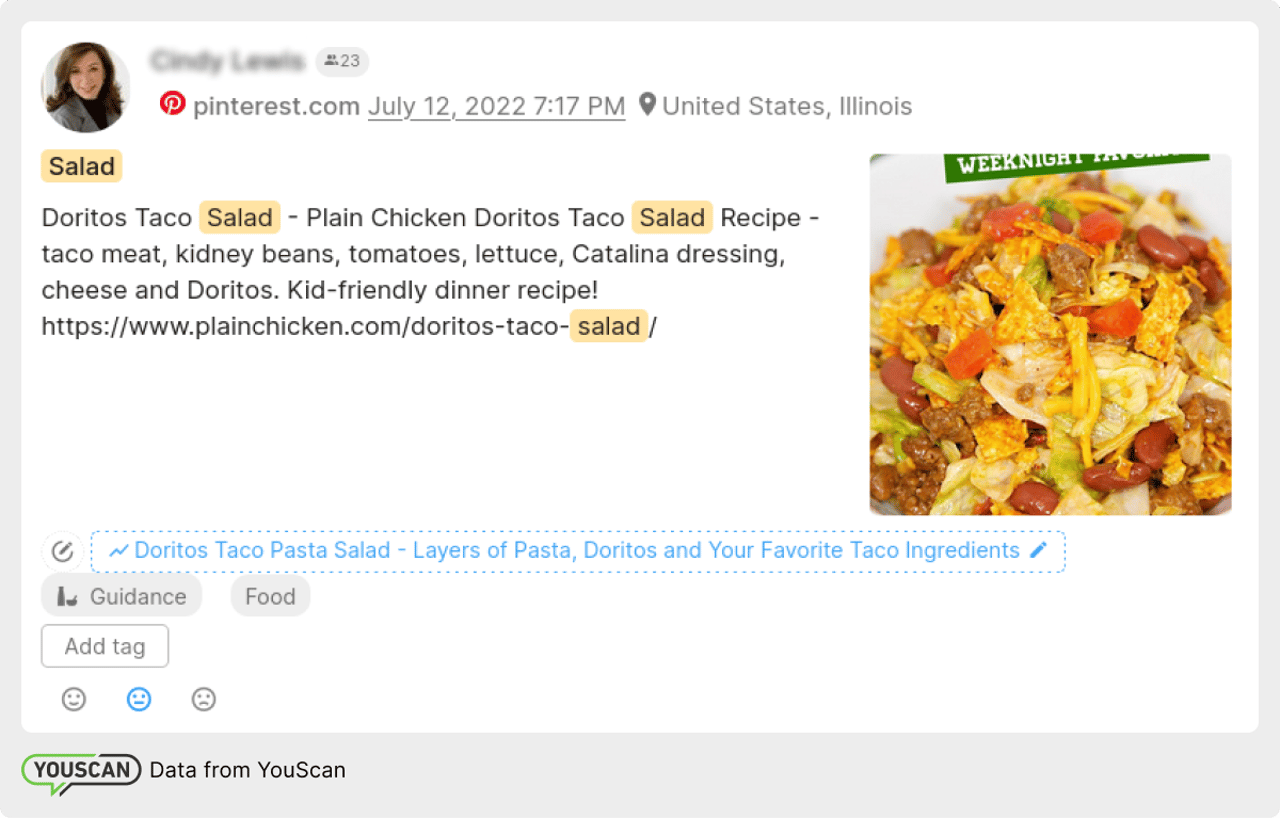 Several categories of interests were unique to the audience of each particular brand. Pringles fans were interested in animation (105 authors) and vlogging (100 authors). The brand could consider this to strengthen cooperation with vloggers and target an audience interested in animation using animated ads.

The Doritos audience is evidently interested in politics (116 authors) and photography (103 authors). Interest in photography, along with cooking and food blogging, resulted in many photos and videos of self-made dishes.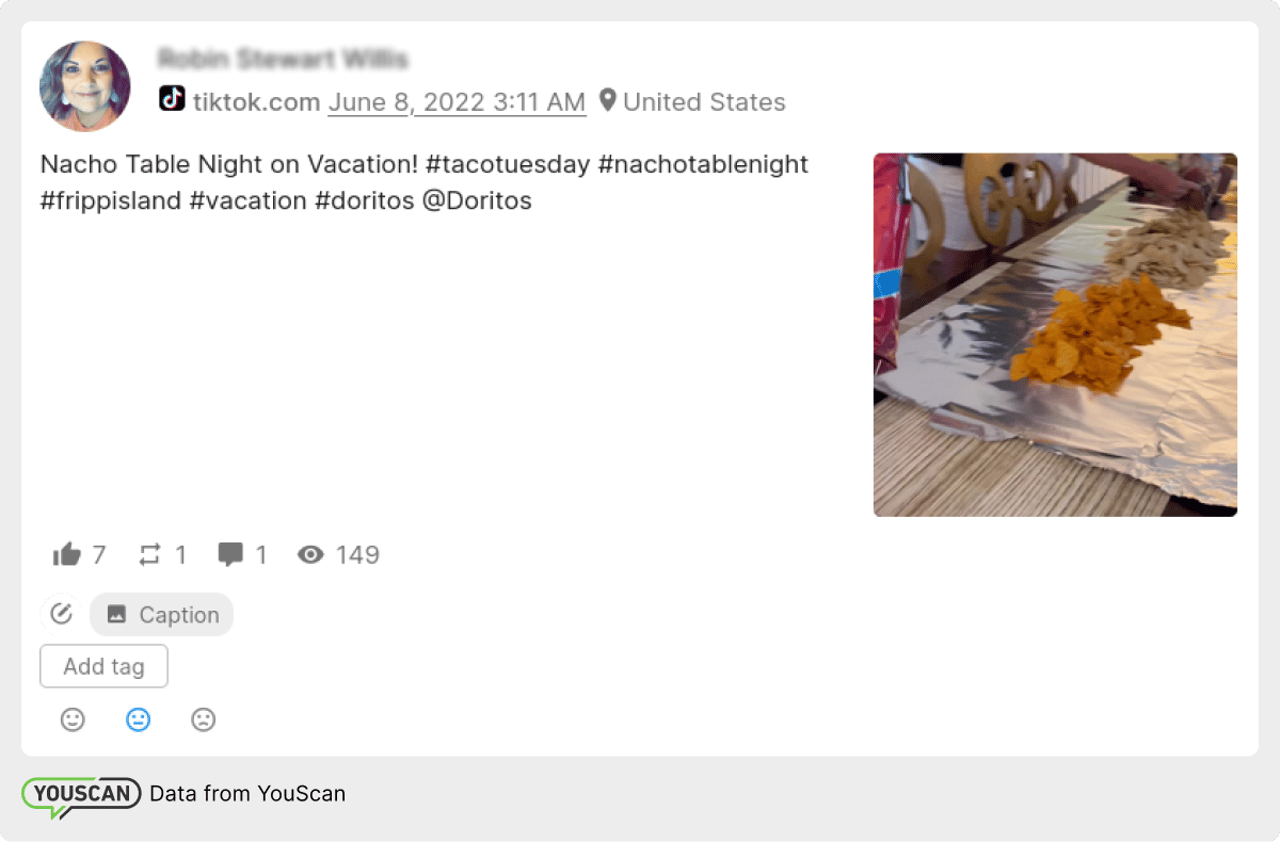 Occupations
Identifying your audience's walk of life is another insightful capability of most advanced social listening platforms. It makes the target audience profile even more specific and precise - and sometimes surprising.

Artists turned out to be the most common profession among admirers of both brands. Videos on TikTok about painting Pringles chips packaging and logo were among the most engaging content on social networks.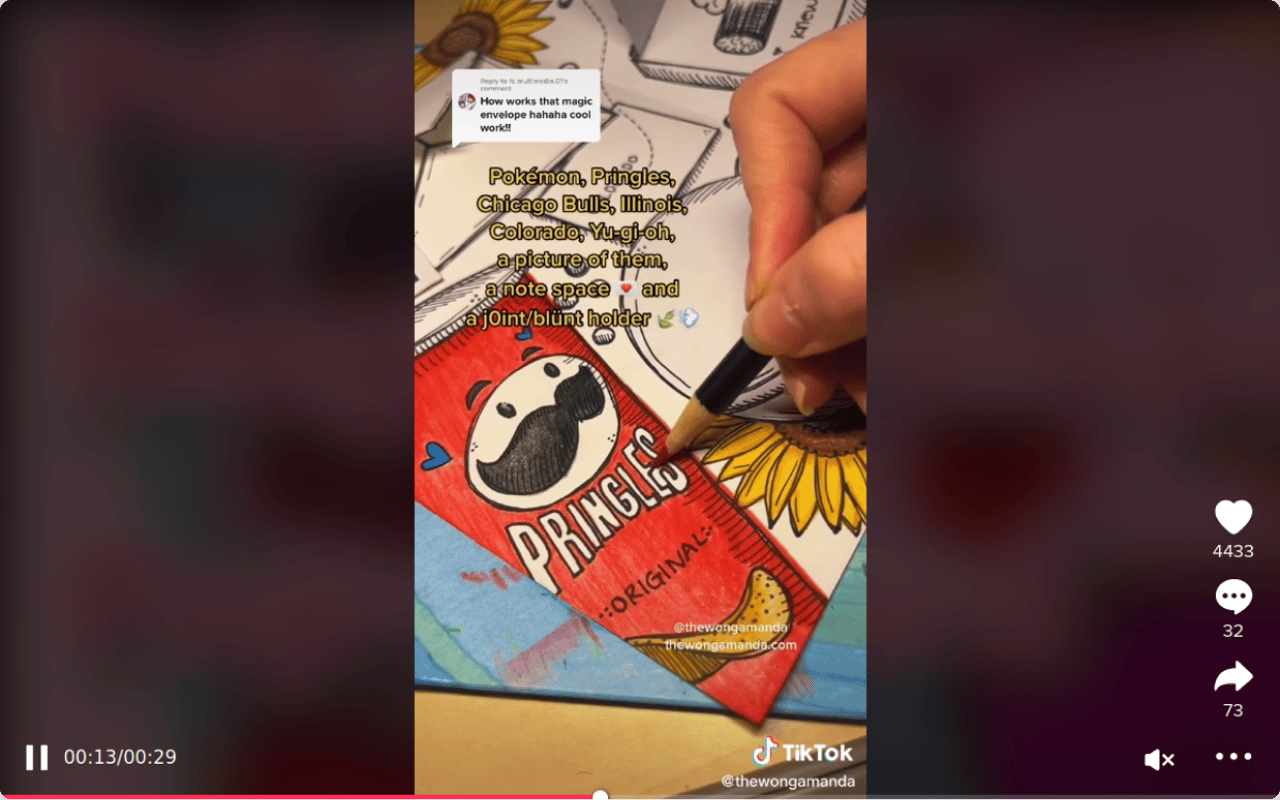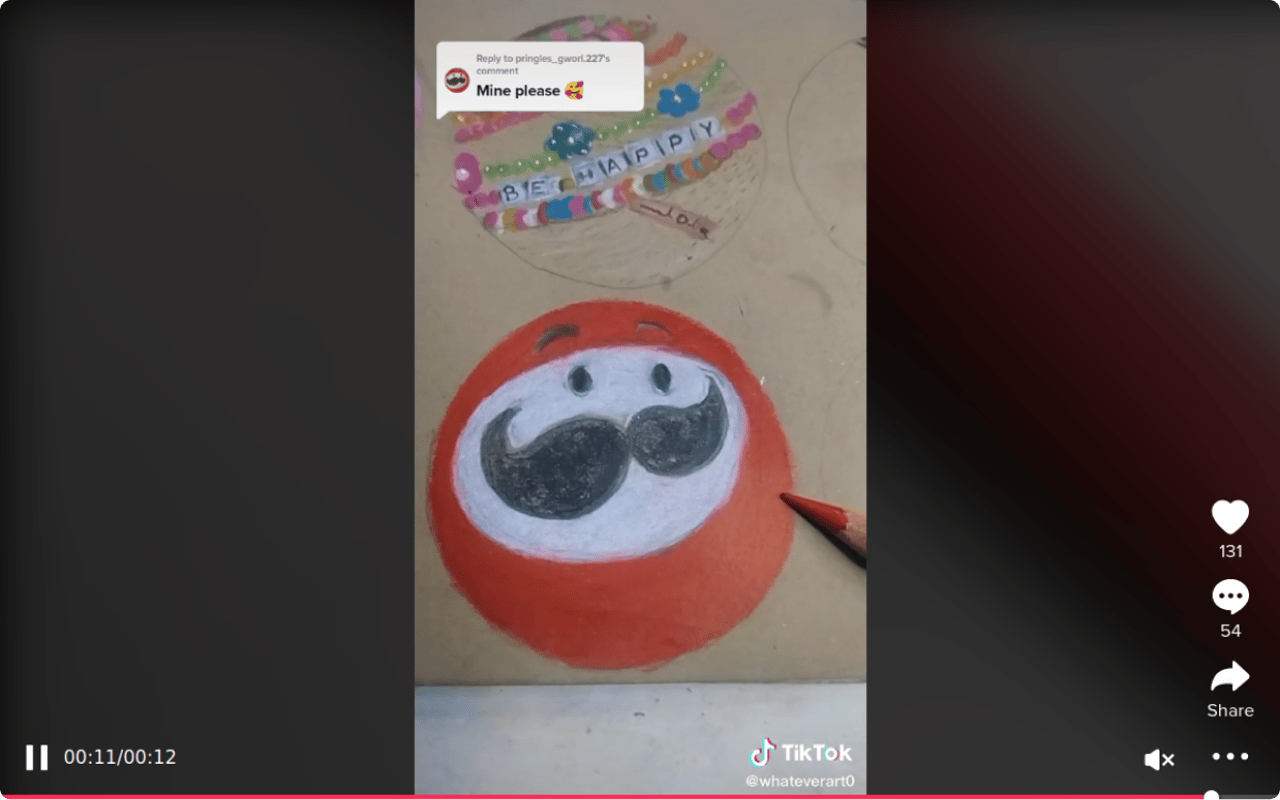 Artists' TikTok videos about Doritos are also incredibly popular and engaging. One user, for example, painted Doritos using a blend of paints and chips.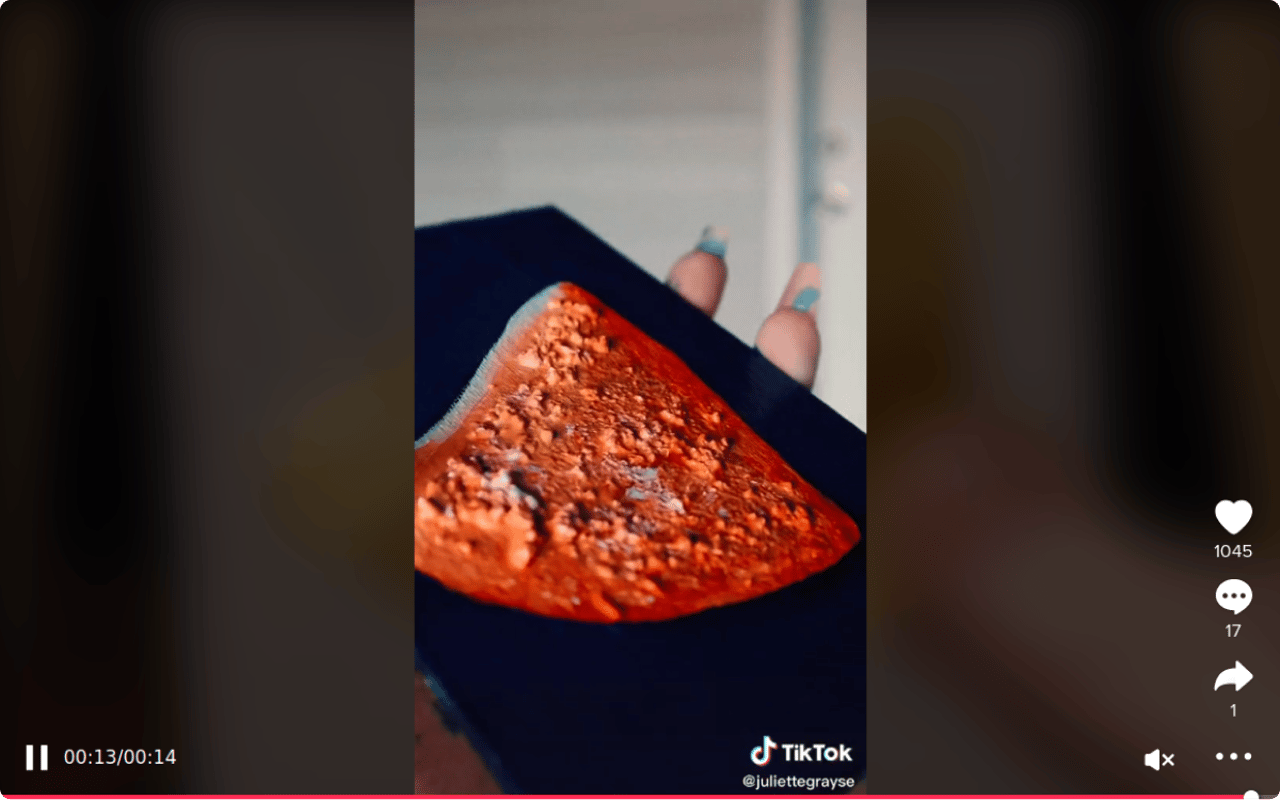 Of course, this doesn`t necessarily mean that representatives of other professions are less likely to buy these chips. But at least you'll know who's giving this product the most attention on social media. You will also be able to consider using user-generated content, collaborating with artists, and see different ways to message prospects in the most engaging way using art. 
Target market analysis also showed that several occupations were unique for either brand. Designers, CEOs (finances, investing, marketing, food service), actors, and TV broadcasters were found among Pringles' consumers, with tastes and prices being the most discussed topics among them. Medical workers mentioned unhealthy ingredients. 
Influencers (Top 5 by engagement)
Identifying influencers does at least two things – you'll understand what content is generating the most engagement, and you'll also be able to identify users to collaborate with and thus strengthen your authority among social network users.

The audience of the most popular authors who mention Pringles is in the millions. The most engaging were:
a short video on YouTube about fries consumption (the brand was mentioned as a hashtag)

a TikTok video by Oneya D'amelio about the last Pringle in the box 

YouTube video of the Minecraft game (the brand was mentioned in the description as a sponsor of the video)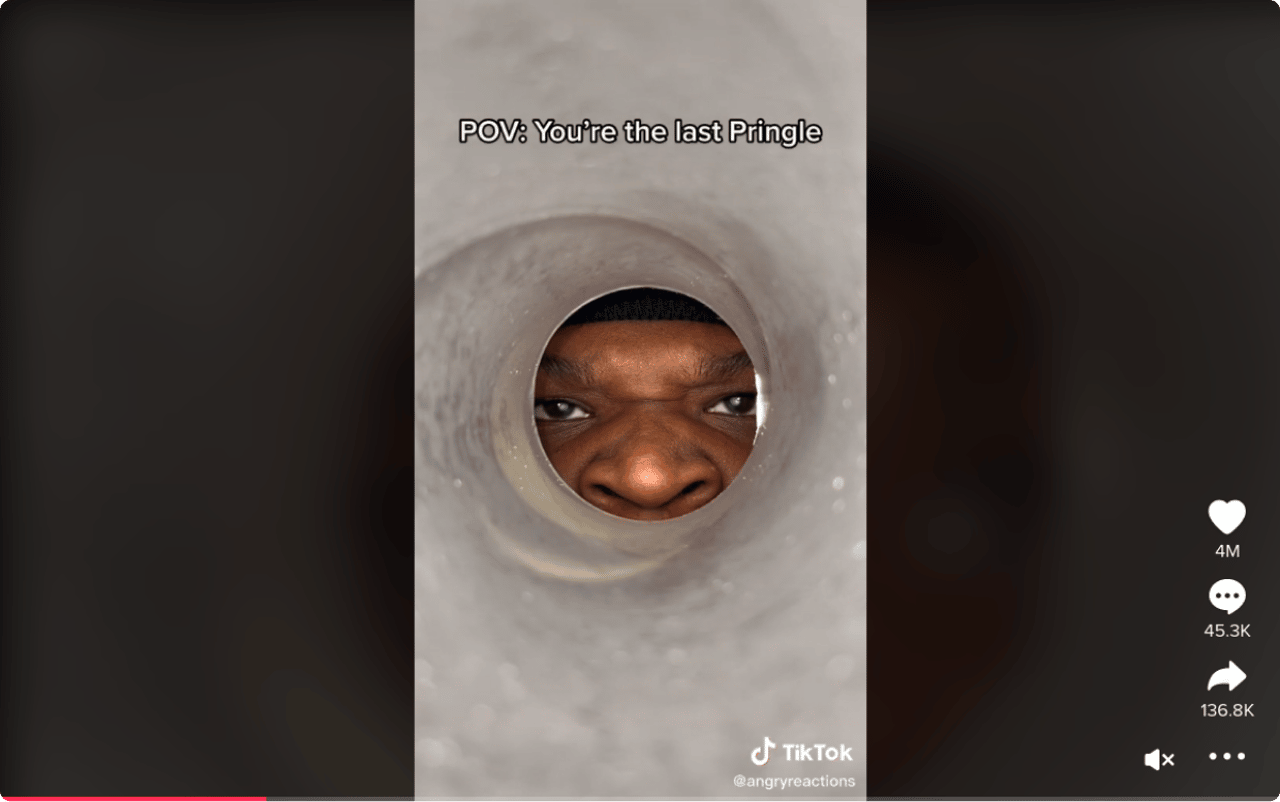 For Doritos, the most engaging authors are: 
Alejandro Liendo who published a video about his delight caused by the combination of Coca-Cola and Doritos. 

NahOwen with his videos on YouTube about the quantity of Doritos in a party-size bag. 

Lisa Nguyen`s video about Flamin' Hot Cool Ranch Doritos.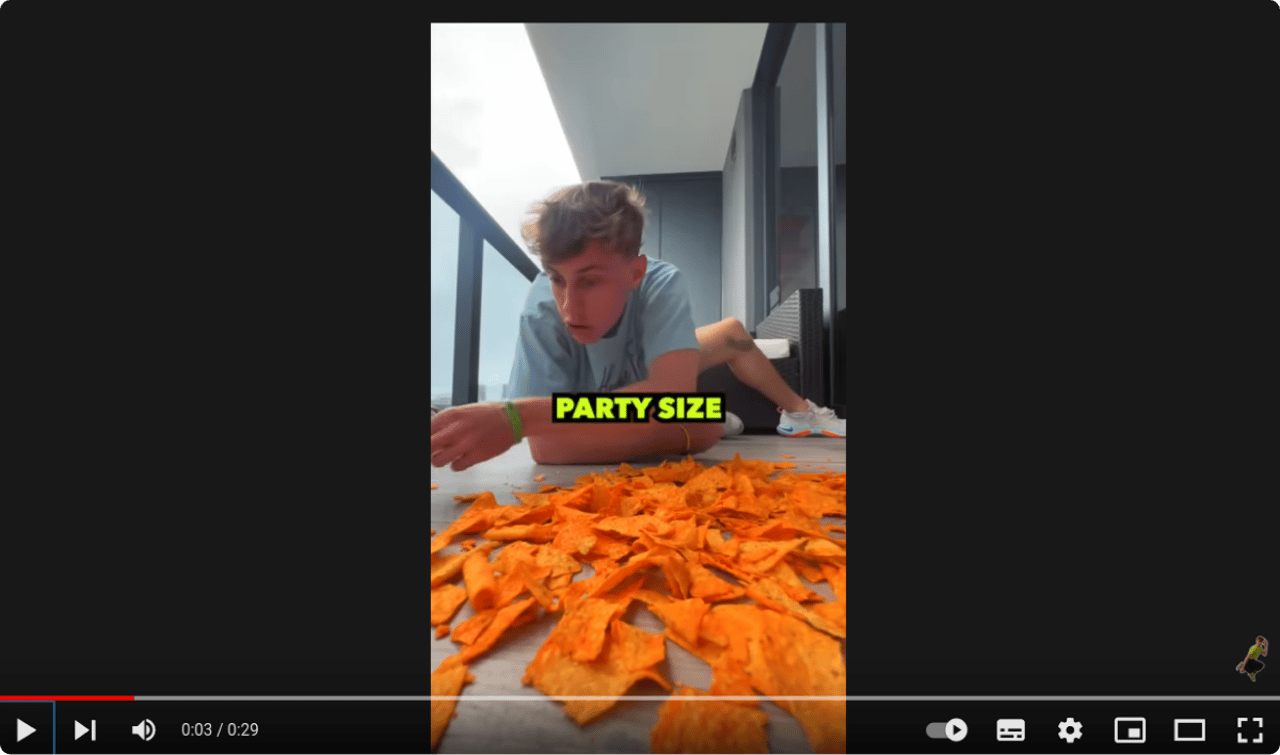 As we can see, target audience analysis through social media listing can provide a lot of insights that allow you to see your prospects "from the inside." Not only can you track demographics, but you can also explore users on a deeper level, getting to know their interests and lifestyle, and deepen your understanding of how customers perceive your brand.
Collaborating with influencers can make your brand more visible on social media. User-generated content will help you define genuine attitudes toward your products, suggest ideas for promotion, and build relevant communication with people who could very likely become your clients. We hope this target audience analysis example will help you make your marketing efforts more efficient.