How to keep up with fast-changing consumer behavior
In recent years, the world has changed at a rapid pace. Trends come and go in the blink of an eye. Consumer behavior changes, so it's no surprise that executives must revise their strategy, starting with determining who their target audience is and how it differs from their regular one.
Brands moved from an obvious and easily defined demographic to a more diversified customer population with various consumer behavior, preferences, and spending habits. Once marketers adapt to one audience and establish sales strategies for it, a new audience seizes the market and emerges as one of the major groups with purchasing power. The pandemic has also affected a lot the way people chose goods and services, as well as put doubt on the value of brand loyalty.
Use social media as a key source of consumer insights
In this race, brands need to use tools that give instant answers to any question and help stay up to date in this fast-moving world. Social media is one of the sources where marketers can find consumer insights in real-time and adapt to the changing landscape.

Why social media? According to statistics, there are over 4 billion active social media users worldwide, with a penetration rate of 49 percent on average (active users vs. total population). Apart from passive consumption, people actively create and post content on their profiles, with a growing emphasis on visuals. For example, on Instagram alone, 1,074 photos are uploaded every second. 
Monitor user-generated content to be on the same page with the audience
Consciously or not, users might mention a brand in the caption or capture it on the photo without adding a tag while sharing their daily routine and personal experiences. Social media listening tools powered by image recognition, such as YouScan, allow tracking visual mentions along with the text ones. 
That's how marketers can validate the current audience and analyze user-generated content to check whether it reflects the vibe and identity that the brand is aiming to create. For example, with the latest trends for authentic and unretouched visuals, some brands get inspired by what their audience shares on social, and adjust brand imagery according to their interests and style. Glossier, for instance, has not only created an easy-to-replicate visual concept, but also gives content creators a time in the spotlight by posting their photographs on official pages, encouraging customers to eagerly post the brand's products on social media. 
Here's an example of an Instagram user who posted a selfie and tagged the brand in the caption. It's interesting to note that her original post contained no product names. Meanwhile, when the brand shared her image on its official Instagram account, they included all of them, implying that they not only requested Anna's permission to use her photo but also created a closer relationship with her by asking about specific products used to create her glowy makeup.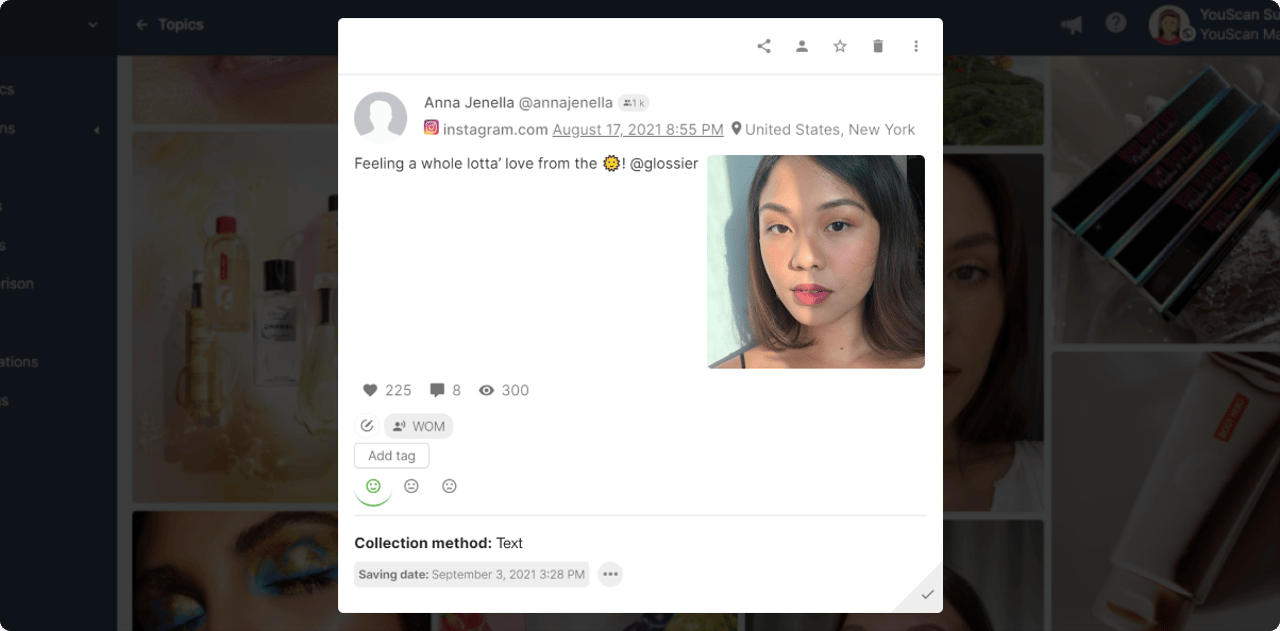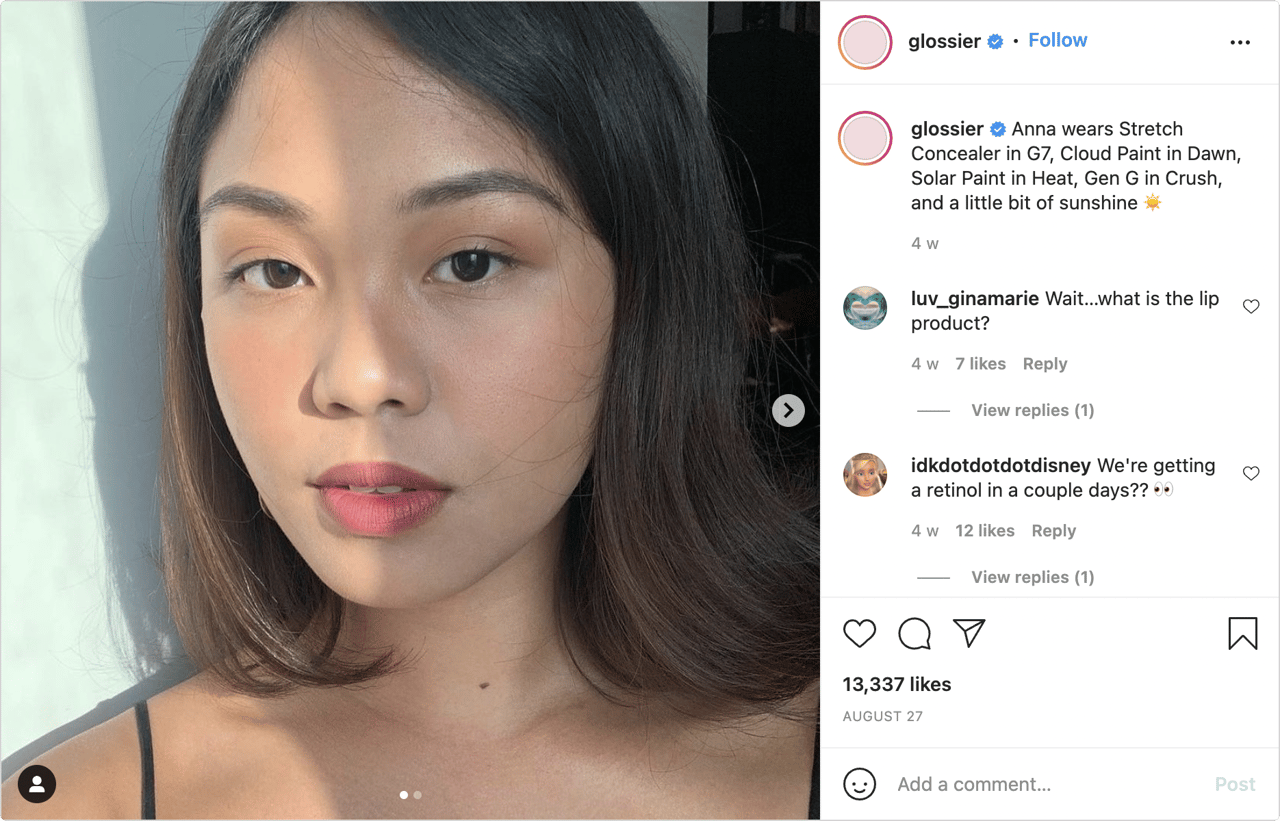 Keep up with factors influencing consumer decisions 
Aside from digital habits, the pandemic, global climate change, and the trend for social awareness all affect how people now choose brands, goods, or services. Consumers are now expecting brands to be present online, deliver fast, and use natural ingredients. But how can companies determine which aspects are most important to their target audience, and which gaps they need to fill in order to gain more loyalty?
Monitoring brand mentions on social media, again, is the fastest way to do that. With the help of AI, social listening tools provide detailed customer opinions on your product's strengths and weaknesses by recognizing both the context of posts and their tone. For example, if your customers complain about the assortment but praise the quality and price, this information will be displayed in a dedicated tab without the need to manually examine thousands of posts.
The case of KFC is an excellent example of how customer demands are changing as a result of the pandemic. We've decided to compare the top five aspects mentioned in posts during the quarantine in summer 2020 and the same period in 2021. It turned out that in 2020, people were discussing the shelf-life of KFC's products because they had ordered delivery and wanted the food to last longer. Meanwhile, by 2021, this aspect had been replaced by locations, as the restaurants were now open, and there was no need to store chicken wings for days.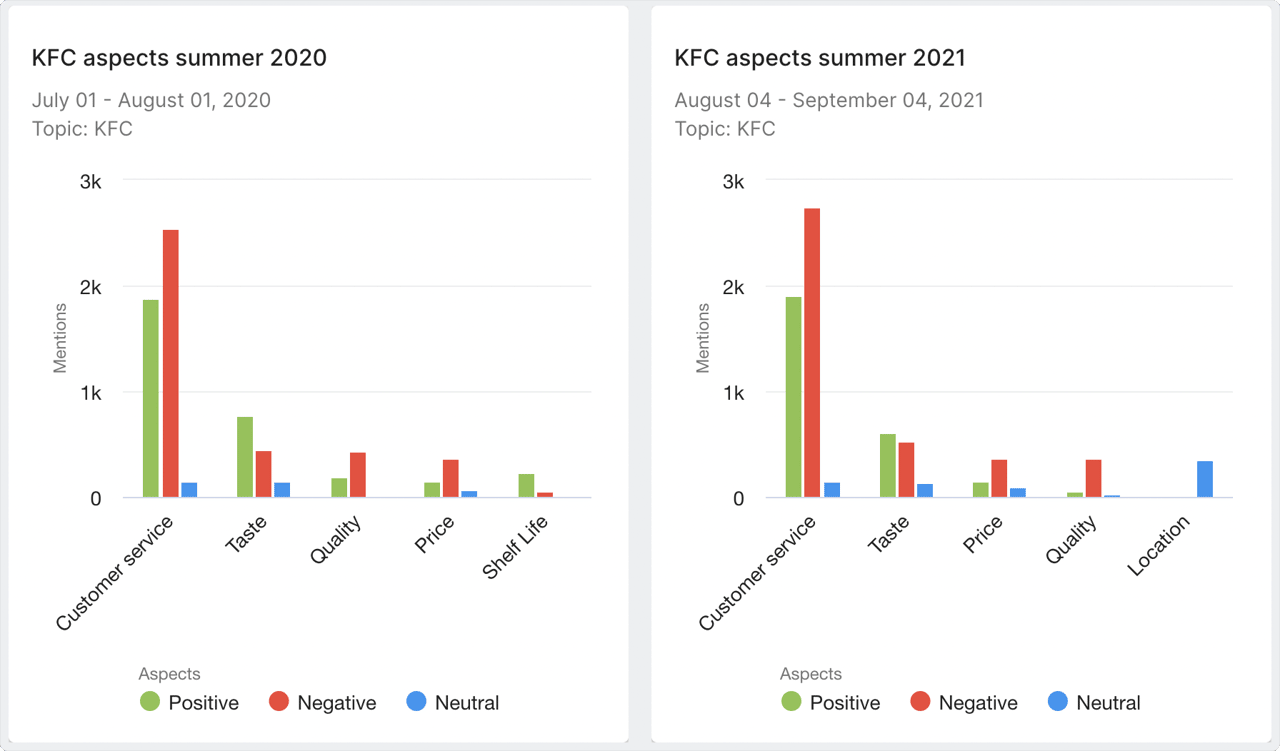 Choose relevant social media influencers
By our nature, we tend to trust someone similar to us. Even though we continue to follow celebrities' lives, we no longer trust them as much as we once did. According to the most recent statistics, social media influencers, on the other hand, receive far more trust.
Both small businesses and enterprises are now adding influencer marketing to their strategies, while the latter even increased budgets for these channels during the past several years. However, nothing is everlasting, and influencer marketing is no exception.
After getting millions of subscribers and followers and increasing the price tag per post, bloggers are starting to lose their audience's trust. Unfortunately, popularity is accompanied by competition for reach, engagement, contracts, and the perfect feed. The authenticity is fading, and the influencer is heading toward a typical celeb with polished content. That's why niche influencers are now in demand, as they have an engaged audience and a higher trust rate. 
In a nutshell, it's critical to find influencers relevant to the brand and who can naturally communicate your offer. A good decision would be to collaborate with someone who's already mentioned a brand or topic you need to promote. YouScan allows businesses to handle the full cycle of influencer collaborations, from discovering the right authors to analyzing their activity and tracking the project's performance.
Grasp consumer behavior shifts and adjust to them
Brand audiences are dynamic. Let's imagine you've been selling to one group and discover one day that your product has gone viral among the other group due to a social media post by an influencer. Sounds like a lucky bounce, doesn't it? However, in order to keep this audience with you as the trend fades, you must quickly adapt to it. 
Social media listening helps analyze how the brand is perceived online, what people say about it, and what they expect. The best part is that all data is collected in real-time, allowing brands to capture any changes in their audience's interests, demographics, or sentiment and become instantly informed about emerging trends.
For example, Covid-19 continues to influence how brands communicate with their audiences, particularly when unusual changes are required in their work. It's been a while since UK restaurants and cafes were permitted to serve customers inside only after providing a vaccination certificate, a negative test, or proof of immunity, as well as a photo ID. This restriction has resulted in a boycott of Costa Coffee, particularly by anti-vaxxers, as evidenced by the trending words chart. Knowing that this topic is becoming more popular, the brand can use it to improve its communication about the new rules, making customers feel appreciated regardless of their vaccination status.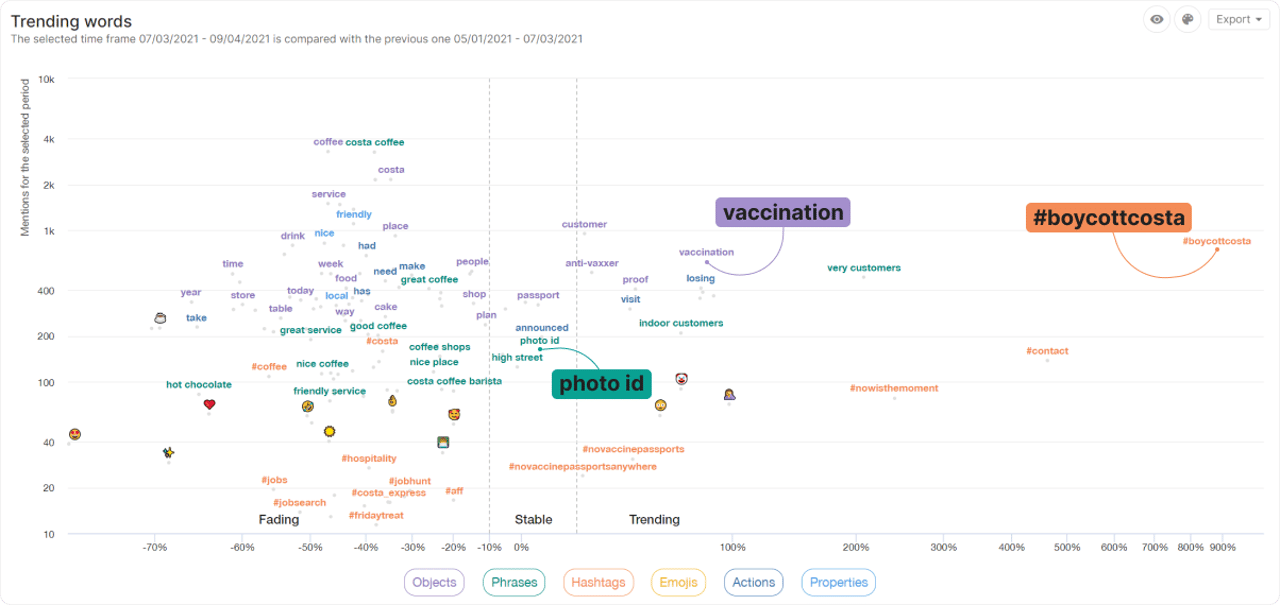 Bottom line
With the rise of AI-powered social listening tools, marketers can now easily follow their audience's conversations and adapt to the fast-paced environment. Request YouScan's free demo to form stronger ties with your communities and reap the benefits of these relationships in the long run.