How to efficiently collaborate with influencers in 2021
Social media influencers are now highly associated with branded content and advertisements. Nevertheless, their authority is rising as people tend to trust other people instead of abstract ads, so brands are interested in this channel despite all the risks. But how to make your influencer collaboration stand out and bring actual results? Read this article to discover five influencer campaign ideas.
1. Long-term partnerships with opinion leaders
In recent years, brands have rejected one-time sponsored posts in favor of long-term partnerships with influencers. The primary reason for this pattern is that selling takes time. Even if you work with the blogger with the highest level of engagement, it's nearly impossible to get meaningful results from just one sponsored post. In this case, the best strategy is to combine different types of publications: posts, stories, videos, live streams, and so on.
Casetify, a tech accessory brand that claims to be a platform for creativity and self-expression, creates personalized cases for mobile devices and tablets. Aside from designing, they collaborate with creators all over the world and launch long-term collaborations. Bri Emery, @designlovefest on Instagram, for example, named working with Casetify her favorite partnership. She had several sponsored blog posts on her Instagram page in addition to her work as a creative director.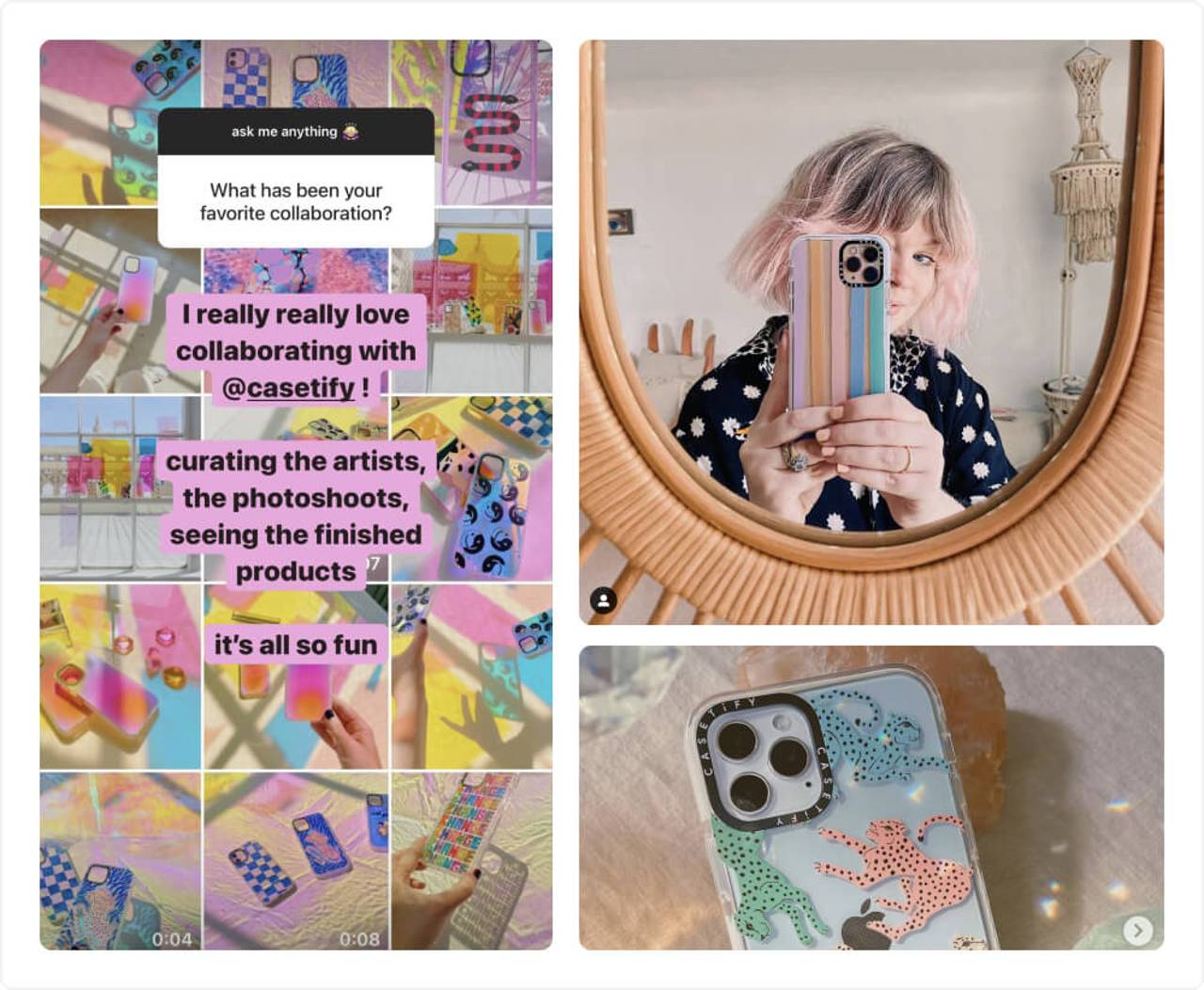 When launching a campaign with one blogger that includes several posts, it is easier to create a detailed content plan, work strategically with a loyal audience, and focus on one project rather than managing multiple small projects.
Meanwhile, collaborating on exclusive products or collections with celebrities or influencers, even if they are niche, is a fantastic opportunity to build a PR campaign around and engage a large audience.
2. Launching brand ambassador programs
The ambassador program is another long-term collaboration. In this case, the brand partners with influencers who share similar values and might represent the brand's products for a long time. Brand ambassadors frequently increase not only brand awareness, but also sales. Bloggers can also earn money through ambassadorship by sharing special promo codes or UTM links and receiving a percentage of each sale.
Revolve, the fashion retailer for Millennial and Generation Z consumers has launched its ambassador program, which you can apply directly on its website. 
For example, Julie Sariñana, a fashion blogger with 6 million Instagram followers, is also the Revolve ambassador. She is posting her outfits on social media with the hashtag #revolvearoundtheworld so that her followers can shop her look online.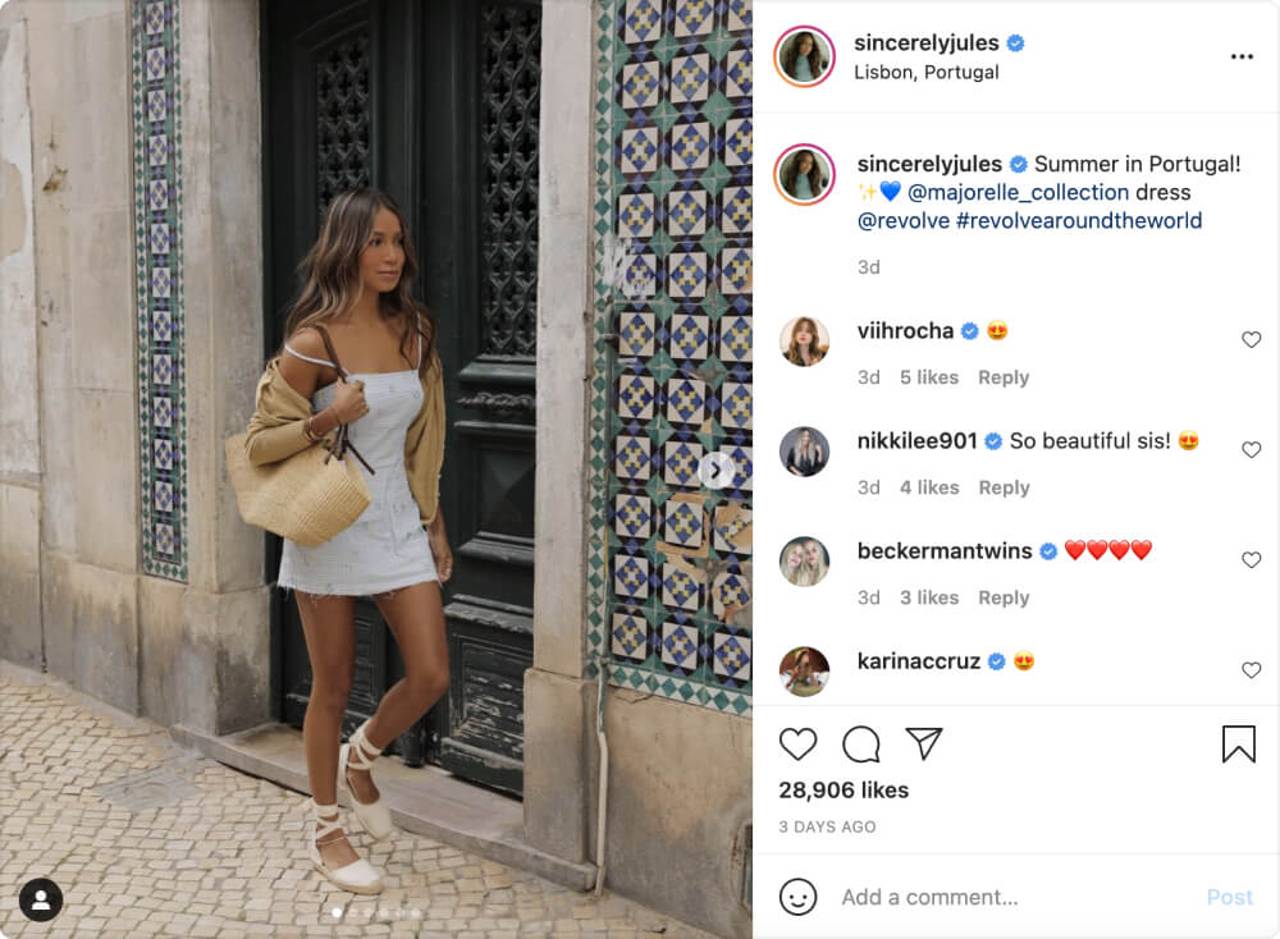 But how to search for influencers who will be perfect for your brand?
Finding influencers for collaborations is becoming simpler than ever. Using social media listening tools such as YouScan, you can now discover popular bloggers in various niches and categories. Meanwhile, many brands have followers who already know and love their products, willingly share reviews about them on their pages. Our tool allows finding opinion leaders who have already mentioned your brand in their posts. 
Such users are more likely to become brand ambassadors, promoting your brand for a longer period of time and in a more natural manner.
At YouScan, we have a special tab with authors where you can find the list of all users who've mentioned your brand. You can sort the results by engagement, number of mentions, or influence (follower count) and examine the dominant sentiment of their mentions.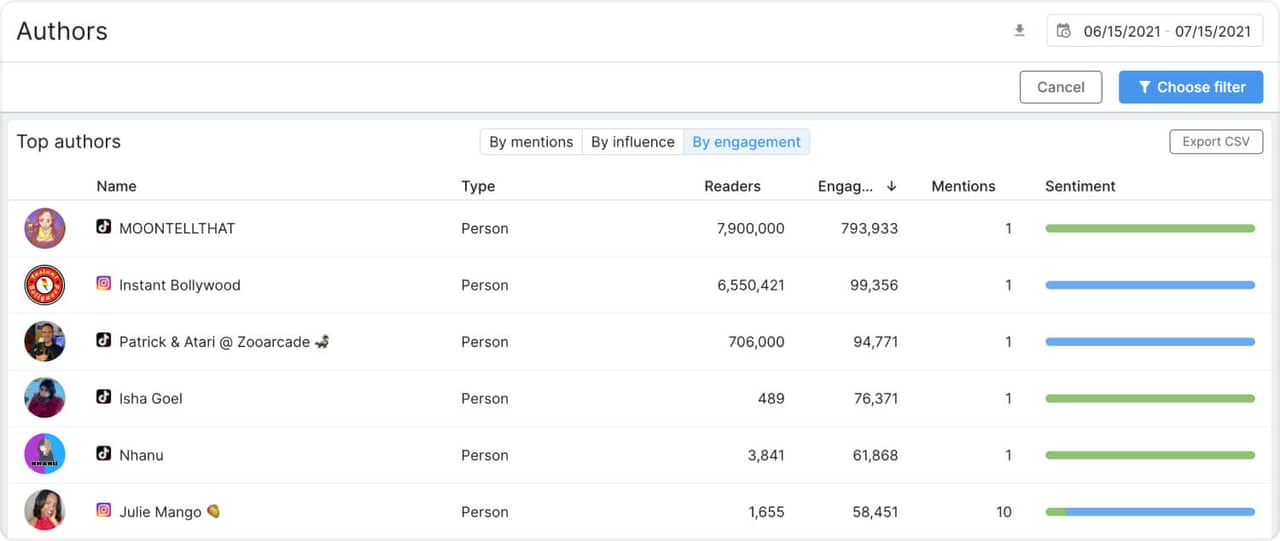 3. Choosing niche micro-influencers
Most influencers choose a niche to grow their accounts in, and there are numerous benefits for brands. After all, they will be able to reach the most relevant audience this way. And it makes no difference how specific the advertiser's request is in this case.
When it comes to promoting a shoe brand, for example, there are two options. The first option is to pay for advertising from a blogger with a large audience, a sizable portion of which is not interested in fashion, and even a few posts on the subject are unlikely to perform well. The second method is to find an influencer who focuses on promoting this topic and has an engaged audience.
The Sorel footwear brand decided to focus on niche influencers such as Chelsea Lankford, @tryelane on Instagram to promote their social campaign, which included donating to local organizations on behalf of bloggers. 
Not only is Chelsey focused on style and fashion, but she also has an active position that she shares on her social accounts, which perfectly aligns with the brand's values.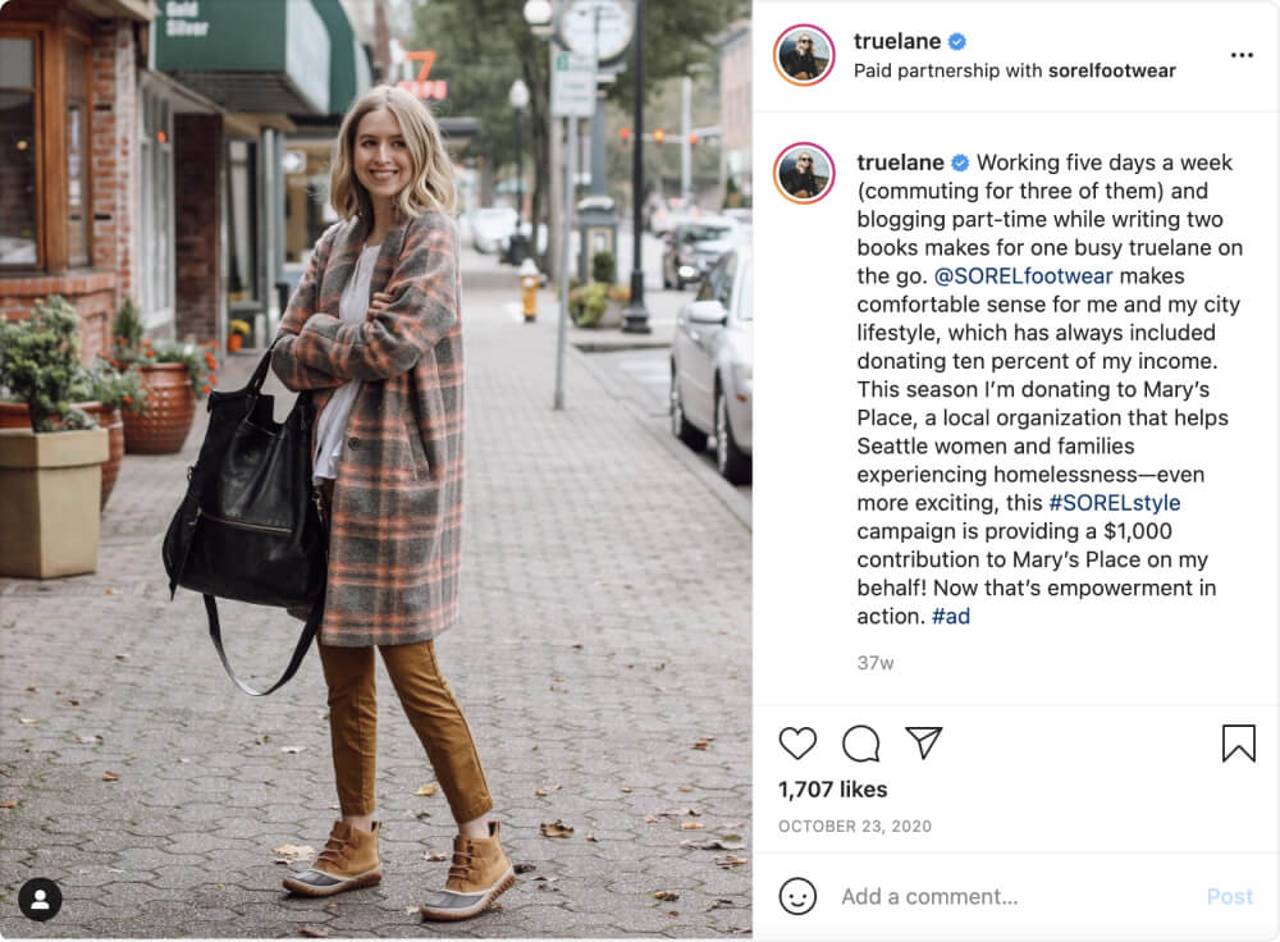 4. Using video content instead of images
The most popular types of content on social networks are live streams and video tutorials. In 2022, video content is expected to account for 82% of all social media content. You can find more facts and social media trends 2021 in our infographics for MarTech Zone. 
It's no surprise that brands are starting to actively use TikTok, sponsored videos on YouTube, and Instagram live videos, especially after their announcement to become the video-first platform. 
But why video? This is an excellent format for capturing the brand's aesthetics and vibe. Assume you are a coffee company looking to promote a new coffee machine. You can ask bloggers to post photos of the device in their kitchens, or you can ask them to post a video of them making coffee, which will make you want to get your cup right now.
Keurig nailed it by collaborating with Viktoria Dahlberg, known for her aesthetic content.
5. Organizing special events for influencers 
Aside from launching limited products with influencers, bringing a community together is the next best way to broaden your audience and creatively promote your brand. For example, in addition to launching a campaign, host an exclusive event for bloggers who will translate the process on their social media accounts to deliver your message to a broad audience in the most comfortable way. 
For example, Nespresso launched a summer collab with world-renowned Italian entrepreneur Chiara Ferragni, who created exclusive designs for best-selling coffee machines and accessories. Besides traditional social media promo, the company organized events in Cannes and Athens, hosting the most relevant Instagram bloggers who've posted videos and photos in their feeds with the campaign hashtag #nespressoxchiaraferragni.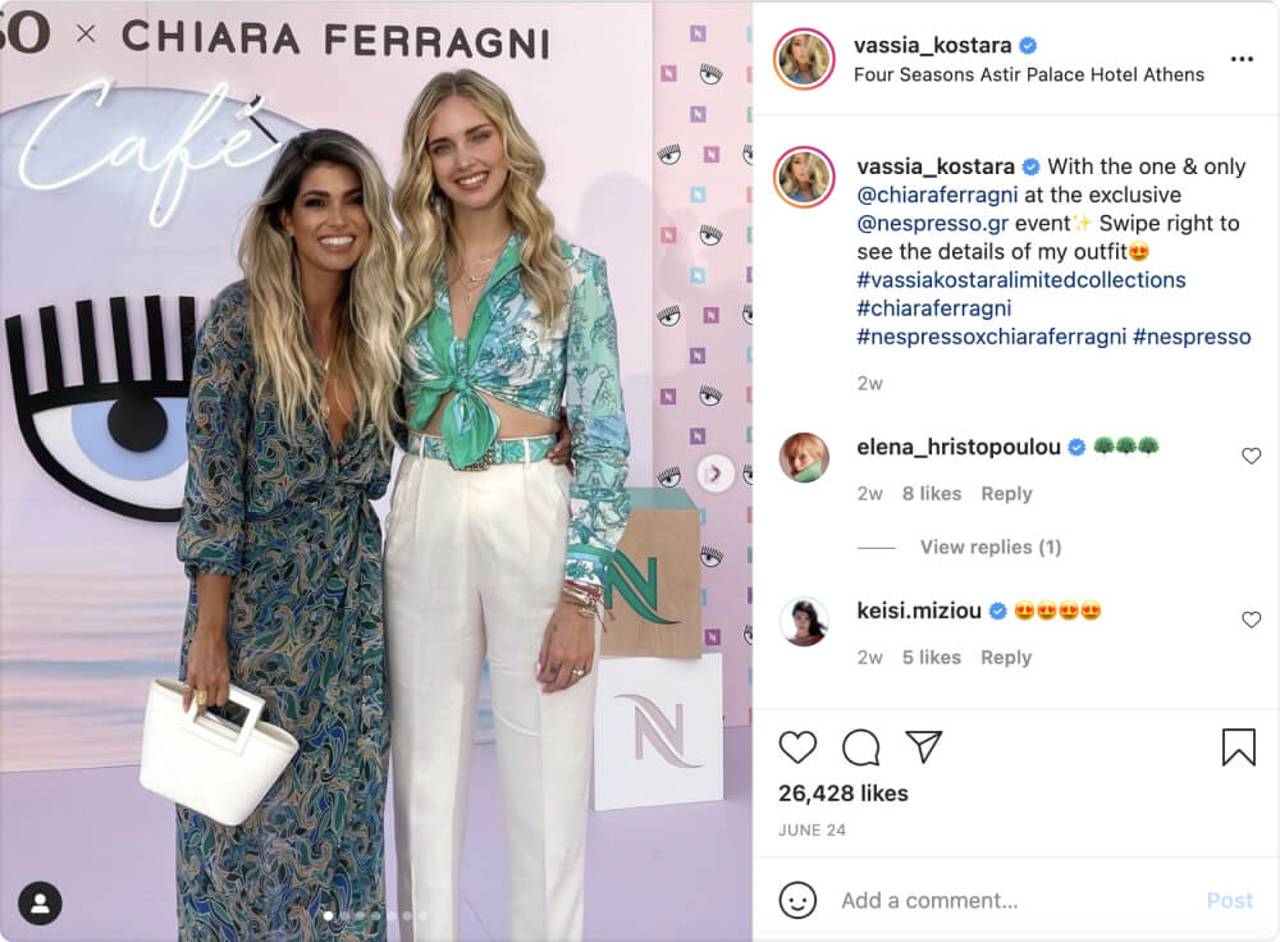 These events demonstrated the lifestyle that anyone would like to have, which fueled the desire to purchase limited machines while they were still available.
Are you ready to put your brand's influencer collaboration to the test? Request free YouScan's demo to find the opinion leaders and launch effective campaigns on social media.