Consumer insights: look at your brand through the user's eyes
The main intrigue of marketing is that buyers do not always behave as expected. Brands are constantly trying to bridge the gap between their calculations and reality. Consumer insights provide new opportunities for this, allowing marketers to immerse themselves in the world of customers and better understand them.
What is customer insight? 
A consumer portrait, no matter how detailed it may be, always contains "blind spots" – areas that escape the marketer's attention but can become decisive in determining buying behavior. Insights help to penetrate these zones, and reveal important though not obvious factors and hidden motives. 
Consumer insight research gives you access to what people say, think, and feel about your product in everyday life. It allows you to look at the product from a buyer's perspective and understand what they really may want. This helps brands realize how to best align company goals with the target audience's mood.  
Such an understanding is achieved by having a broader view of consumers, and considering not just their key characteristics but also sentiment, values, interests and lifestyle trends. Ideas obtained in this way can help improve many aspects of a business – from service to developing new products and their promotion. 
Thus, any consumer insights definition should contain essential characteristics such as novelty, non-obviousness, and practical applicability in achieving business goals. 
What are consumer insights in marketing research? 
Insights give marketers, on the one hand, unexpected answers as to why consumers act in one way or another; and on the other hand, they help open new opportunities for product development and more effective promotion. 
Now that people spend a significant part of their lives online, social networks have become one of the key sources of consumer insights. For their exploration, marketers are increasingly using social media intelligence platforms like YouScan.  
They not only track and study all the numerous users' mentions of a company or product but also capture their live context. Thus, you obtain a real reflection of the brand in the minds of consumers and, importantly, can understand it continuously in real-time. 
Consumer insights: new opportunities 
Listening to consumer voices in social networks opens up new marketing opportunities that are otherwise difficult to detect. These allow marketers to: 
evaluate the visibility of your brand in comparison with competitors 

see the use of your product in real consumption situations 
track the most trending discussions related to your brand 

get to know your audience better 

find out the most popular words associated with your brand 

find out exactly what your customers are satisfied or dissatisfied with 

quickly find influencers for effective promotion in social media and much more 
Let's take a closer look at just some of them, using the YouScan platform as an example. 
Monitor consumption situations 
You may see your product in circumstances other than those in your advertising campaigns. Such a consumer behavior insight can help you take a fresh look at your product, see it in real life and suggest new messages for further promotion.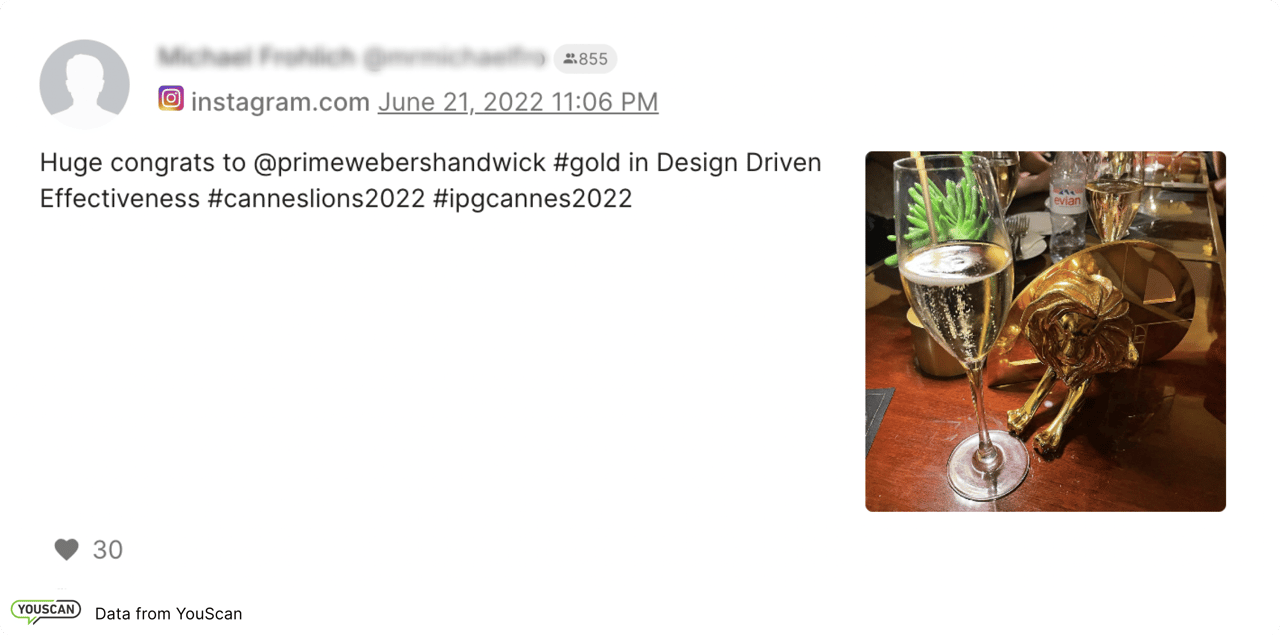 Here, for example, Evian is spotted in the context of the Cannes Lions advertising festival, one of the most talked-about events in June of this year. The bottle of water is surrounded by symbols of triumph – the winner's trophy and a glass of champagne. Thanks to logo recognition capability, you will find this photo even if the post text does not mention the brand. 
Detect existing and upcoming trends  
By exploring the vastness of social media with the help of intelligence tools, you can easily keep track of the most trending discussions related to your brand. This will help you keep up with your customers and spot trends in their perception of your product.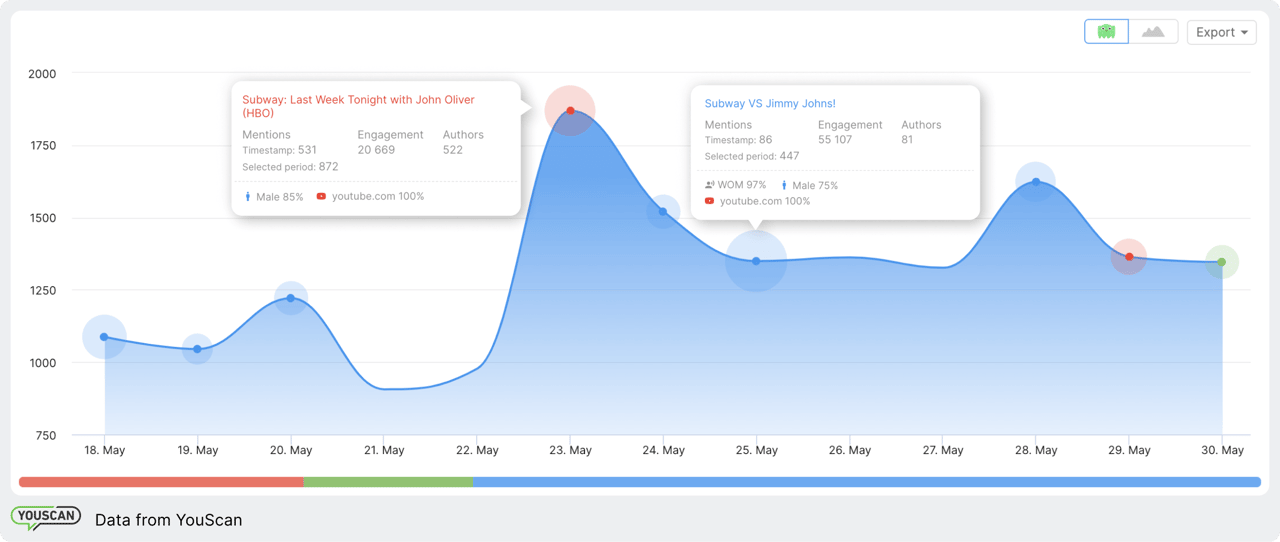 Thanks to the trend detection function, the YouScan platform will display the most popular discussions in the selected period of time. In this graph for the fast-food chain Subway, we can see two YouTube videos received the most consumer engagement: a negatively charged HBO show featuring Subway sandwiches and a neutral user's video comparing Subway to its competitor Jimmy John's.  
By choosing a trend, you can discover what in particular people are saying in these discussions.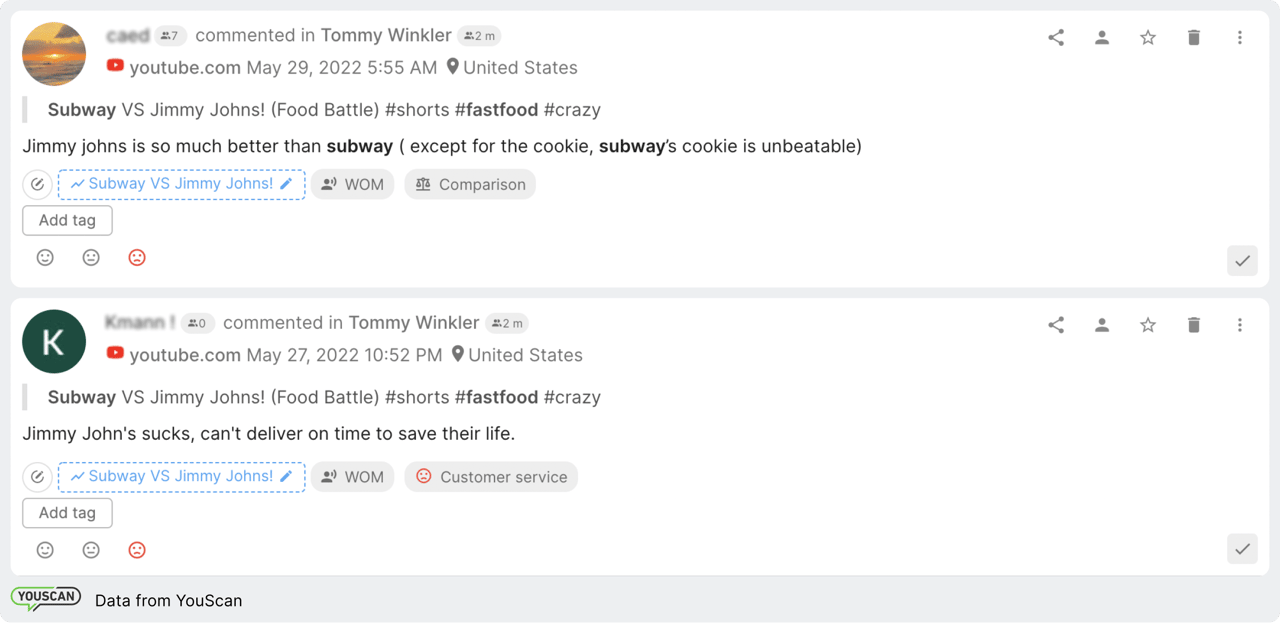 Find out exactly what your customers are happy or dissatisfied with 
Thanks to handy charts, you can see what the general sentiment towards your brand is as well as what specific characteristics of your products your customers like or dislike. Below you can see consumer sentiment towards Evian water and how people feel about selected aspects of the product. 
As shown here, buyers tend to be satisfied with Taste and Health effects while not being happy with Price and Customer service.  
To get a more detailed view of customer complaints, you can apply a negative sentiment filter, select an aspect (customer service in this case), and you will see all relevant posts in the feed: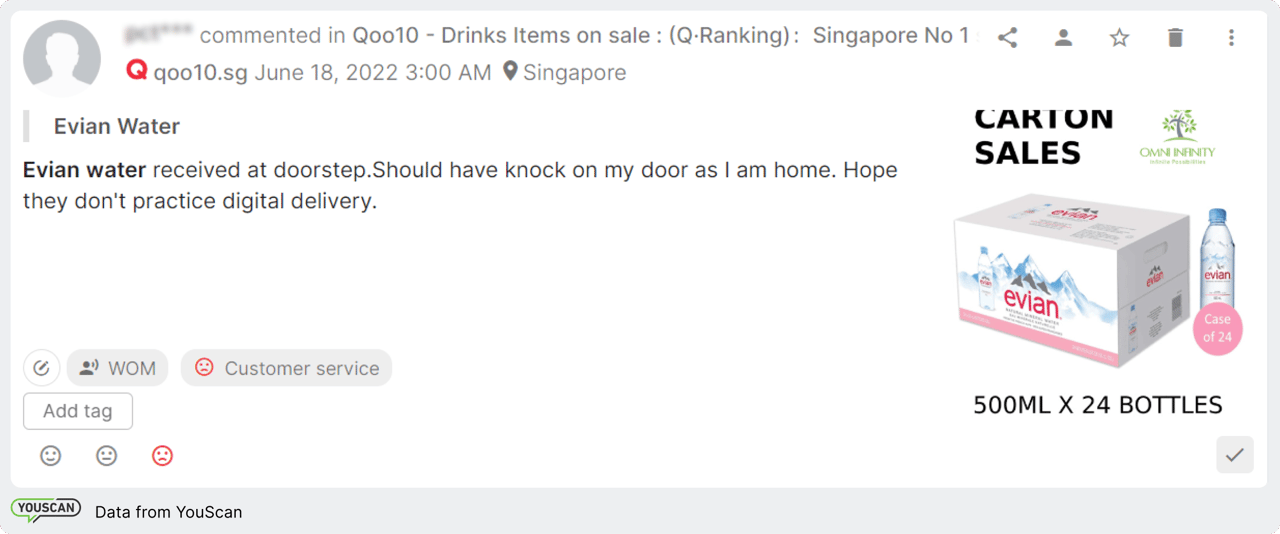 Discover words associated with your brand 
The Word Cloud feature lets you see the most popular vocabulary used by social media users in connection with your brand. For example, we can select words that reflect the properties of a product and apply a negative sentiment filter. As you can see, for Pringles chips, one of the most popular words is "broken".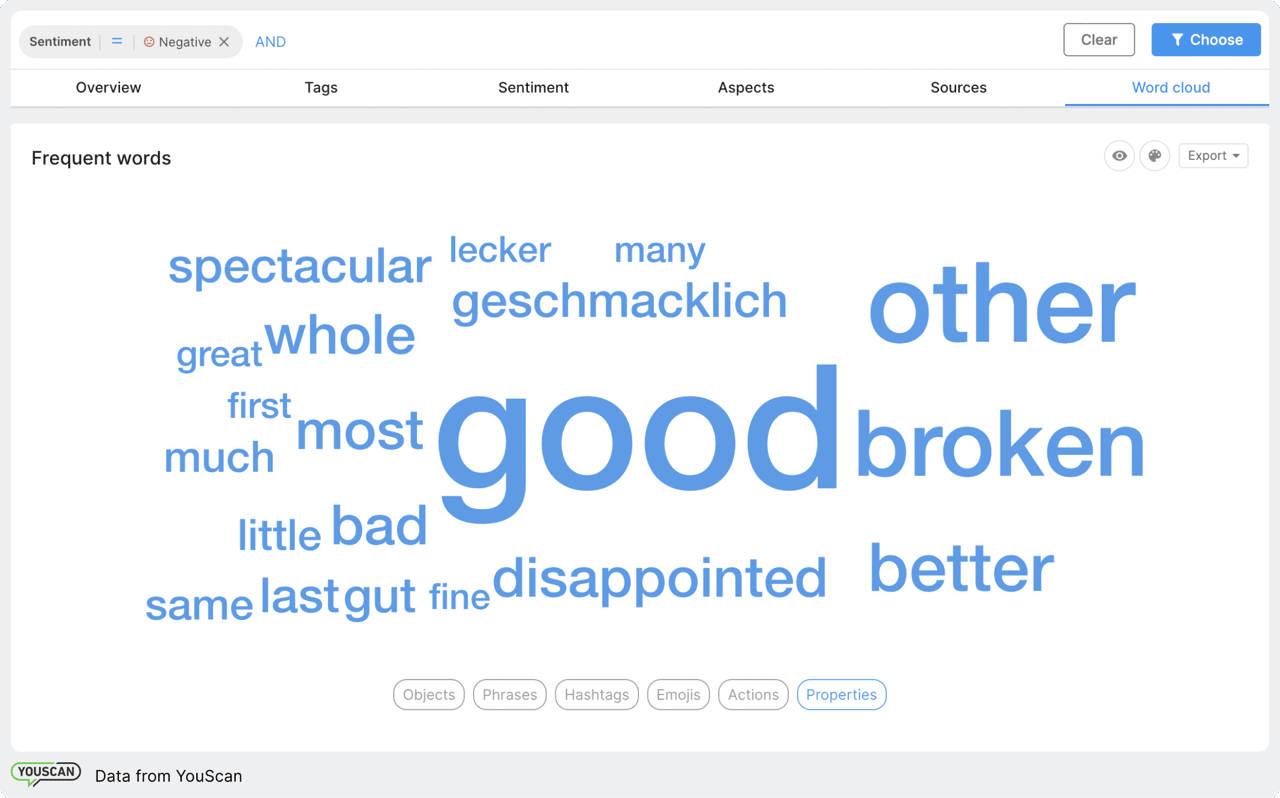 By clicking on this word, we get into the feed of the relevant posts and find out that when home-delivered, these chips often get destroyed.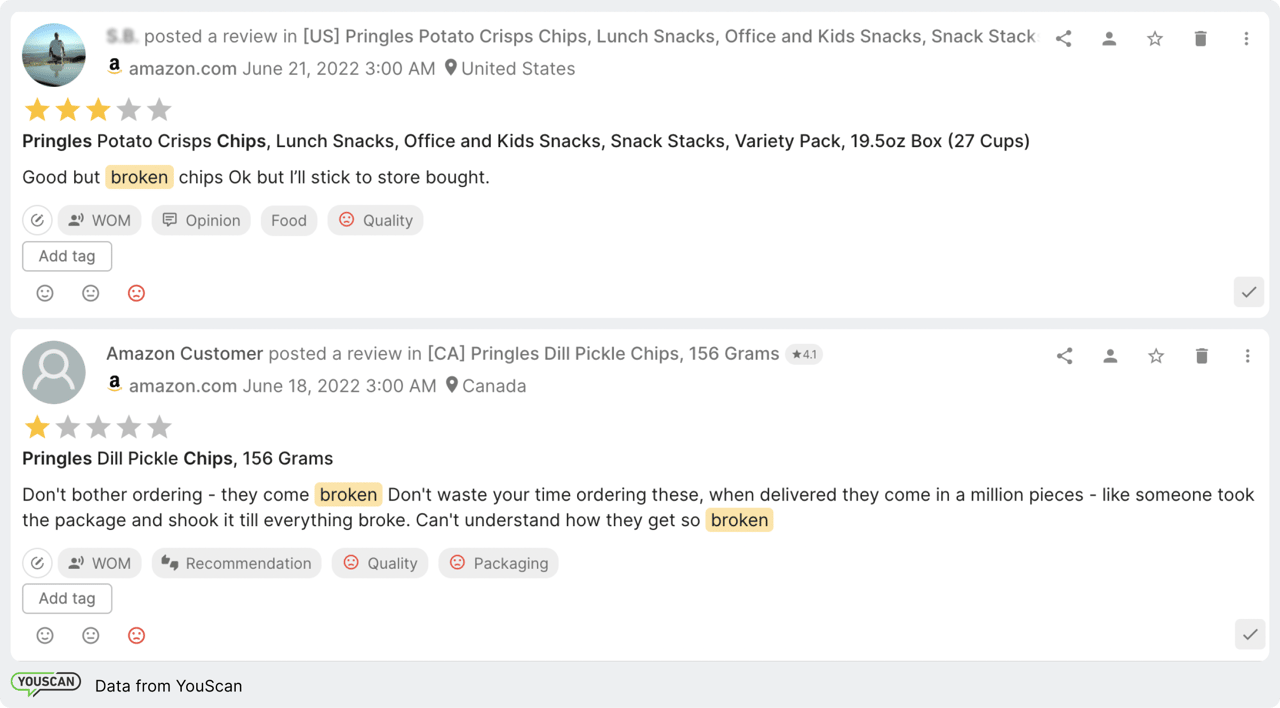 The visual analysis breaks ground 
Processing visual content with AI takes customer insights analysis to a whole new level opening a layer of brand mentions inaccessible by other means. Thanks to the logo and text recognition features in YouScan, it is possible to detect 80% more posts about your company, even including those that do not contain the name of the brand in the text itself.  
With this, not only do you get more brand consumption occurrences, but you can sort them into categories and can keep track of which objects, activities, persons, logos, and scenes are the most popular in them. 
This can demonstrate how the product can be improved, give new ideas for promotion, and allow you to find new audiences and promising niches.  
If the results seem too apparent, you can reduce the "insight range" and see less predictable findings.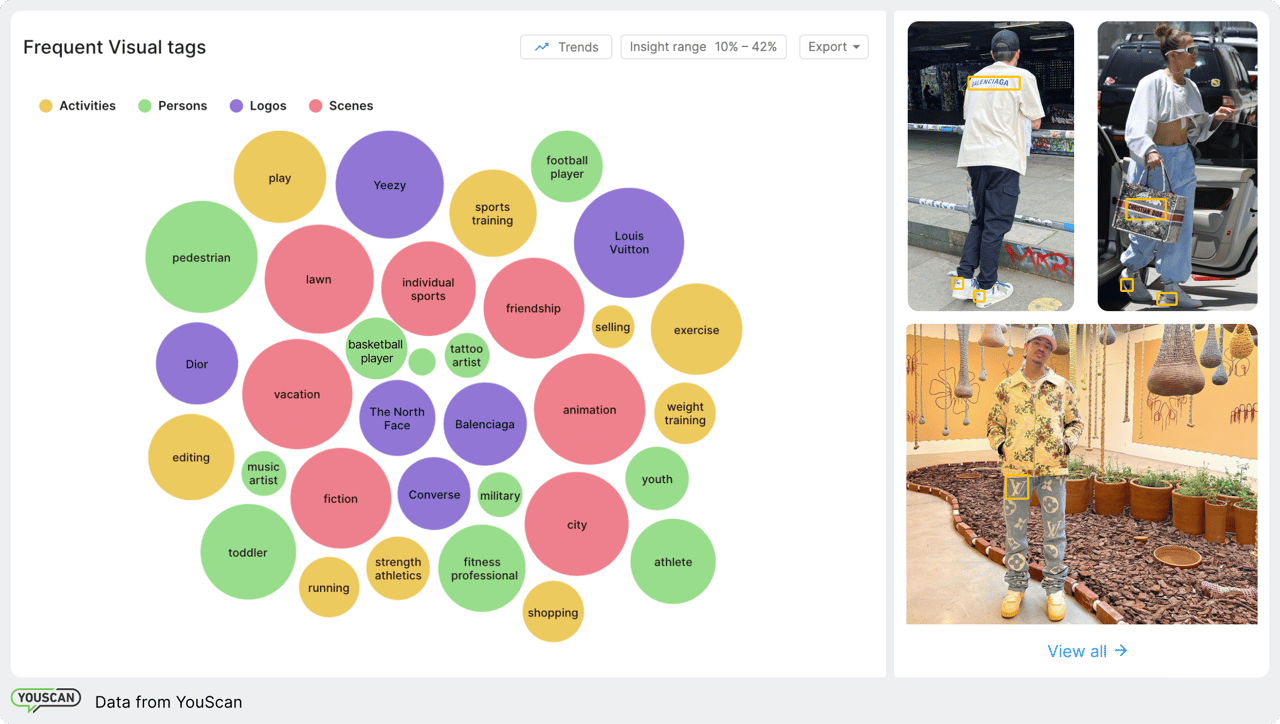 For example, a chart generated for Nike shows that consumers feel comfortable mixing this brand with items from luxury fashion houses like Dior, Louis Vuitton, and Balenciaga.  
Wrapping up 
Valuable consumer market insights are obtained by deep diving into the user's world. They give new, non-obvious ideas for brand development and promotion. One of the most effective ways to get them is to use social media intelligence tools, which are becoming the new standard in marketing analysis.