Tiger King, Michelle Obama and Ozark: what Netflix shows we love the most according to social media discussions
Even though the lockdown has changed our behavior and habits, causing anxiety over the impending future, streaming services jumped in to save us from depression, helping us to kill time, and boost our mood.
Now we can entertain ourselves by watching everything from the reality TV series to Oscar-winning movies, anime, and theater productions. Since the coronavirus forces us to stay at home, the streaming services are surging in popularity.
Indeed, while many businesses around the world are struggling, others are thriving. Netflix, HBO, Hulu, Amazon Prime Video, and Disney+ are doing their best in helping us stay sane while spending 24/7 time at home. They offer free subscriptions and a wide choice of content to binge-watch and catch up with the TV series.
According to BBC, Netflix observes an incredible surge in subscriber numbers in the last 3 months with almost 16 million clients creating accounts. The TV-entertainment giant's share price has increased by more than 30% this year.
The Guardian reports that: "In our 20+ year history, we have never seen a future more uncertain or unsettling… At Netflix, we're acutely aware that we are fortunate to have a service that is even more meaningful to people confined at home, and which we can operate remotely with minimal disruption in the short to medium term."
In the meantime, Walt Disney streaming service, launched in November, leveled up its subscribers to 54.5 million during the lockdown. Disney initially forecast that it would reach 60 - 90 million subscribers in five years, but it is growing at an explosive rate and is already outpacing its predictions.The platform has added about 20 million subscribers in the last two months. Disney Plus streams shows and movies from franchises such as Star Wars, Marvel and Pixar along with the family-friendly Disney movies and animation, in addition to the Simpsons and Fox's content.
HBO reported that movie binge viewing increased by 70 percent from its average, and some shows saw an audience increase of over 50 percent. HBO provides some of their content for free. It includes a bunch of documentaries and movies, along with its best series in history, ranging from classics to shows that are still airing today.
In this article we applied YouScan social media intelligence software to analyze what people watch during the lockdown and which service they favor most.
Overview
In the search query we looked for streaming services such as Netflix, HBO, and Disney+.
From April 12 till May 8 there were detected 3,401,779 mentions and 1,923,890 unique authors.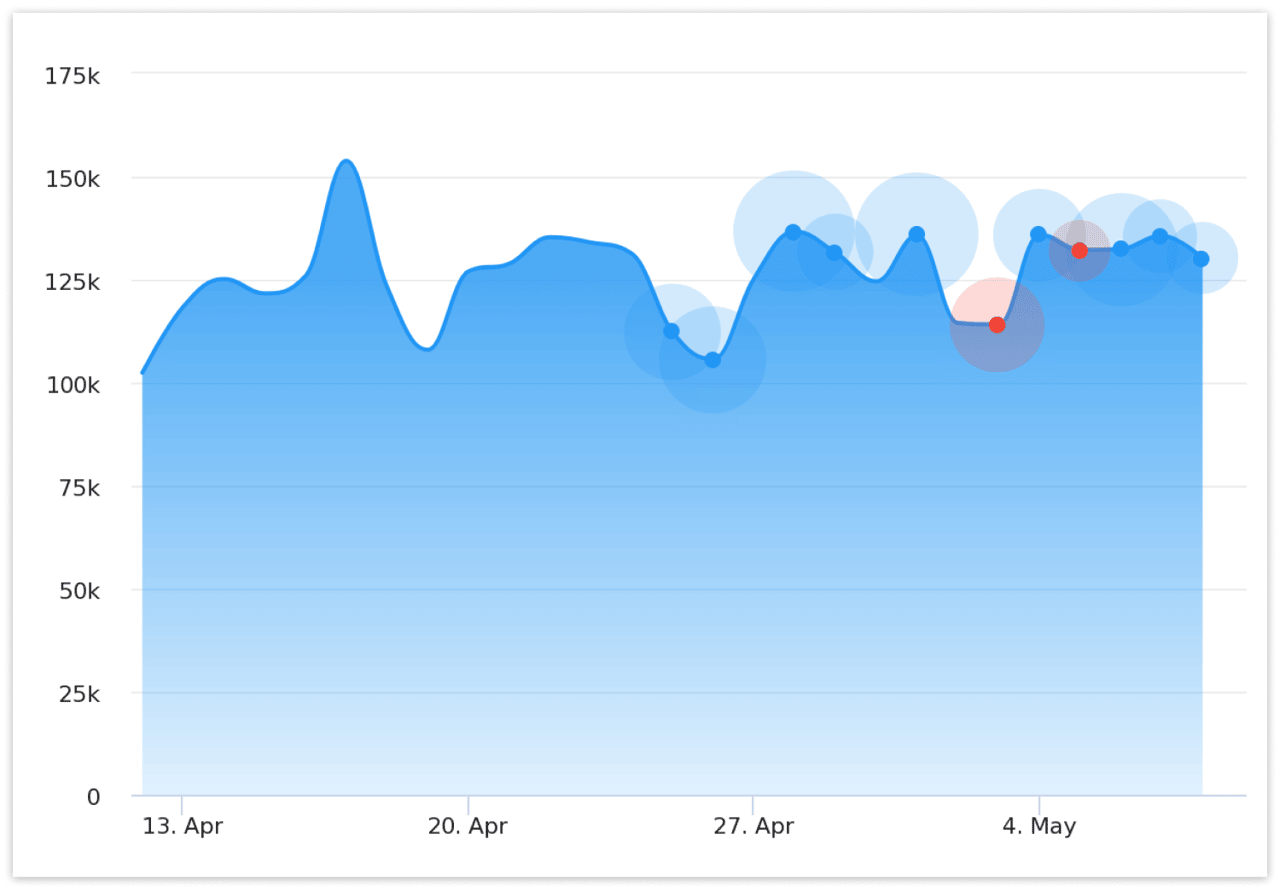 The overview of further analytics shows that the USA, Germany, the UK, and Russia have the majority of mentions.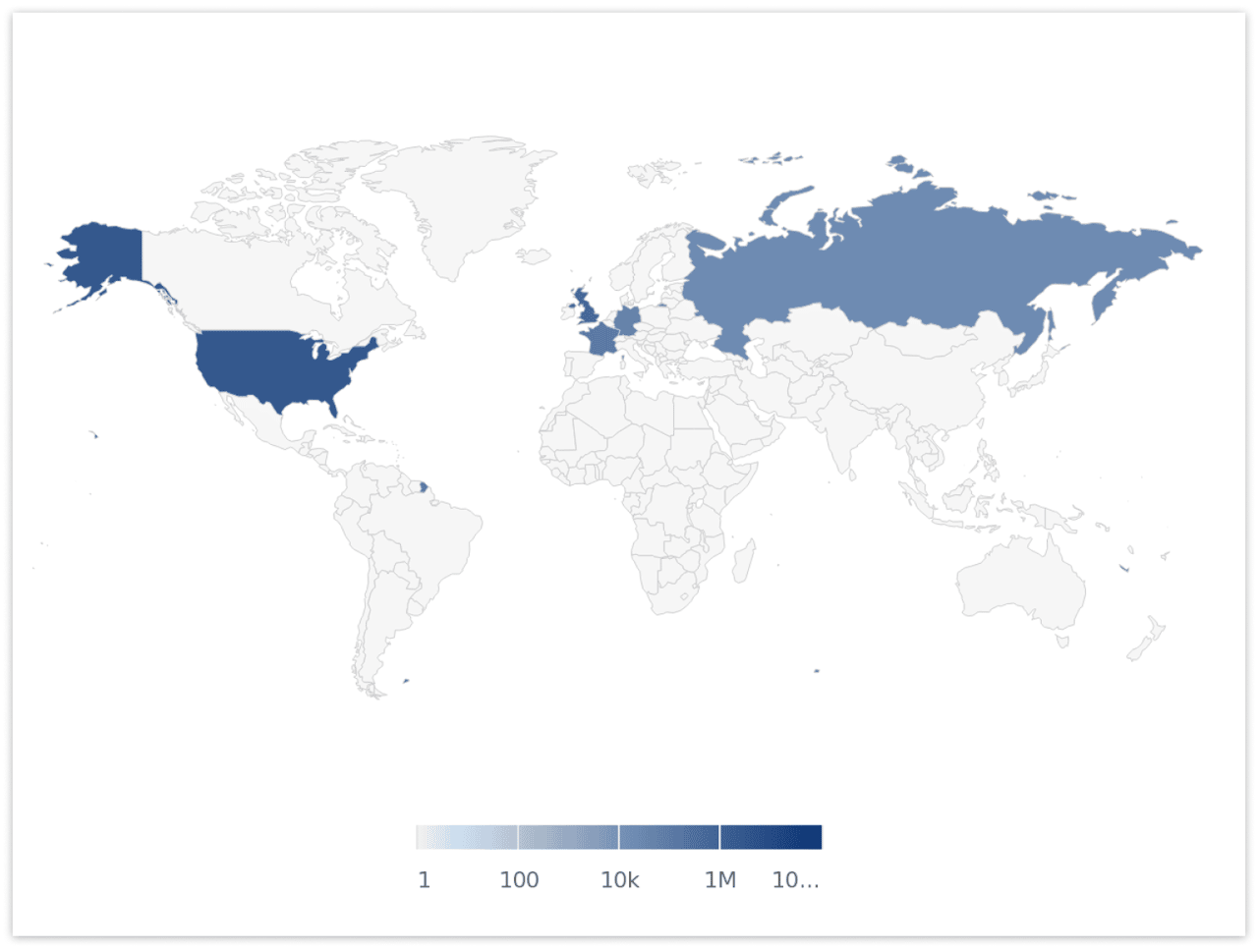 Now we can proceed with the analysis of gender, sentiments, and aspects. The system revealed that men (68%) are talking more about streaming services than women (32%).
Sentiment analysis shows that there is neutral and positive feedback with only 8.6% of negative mentions.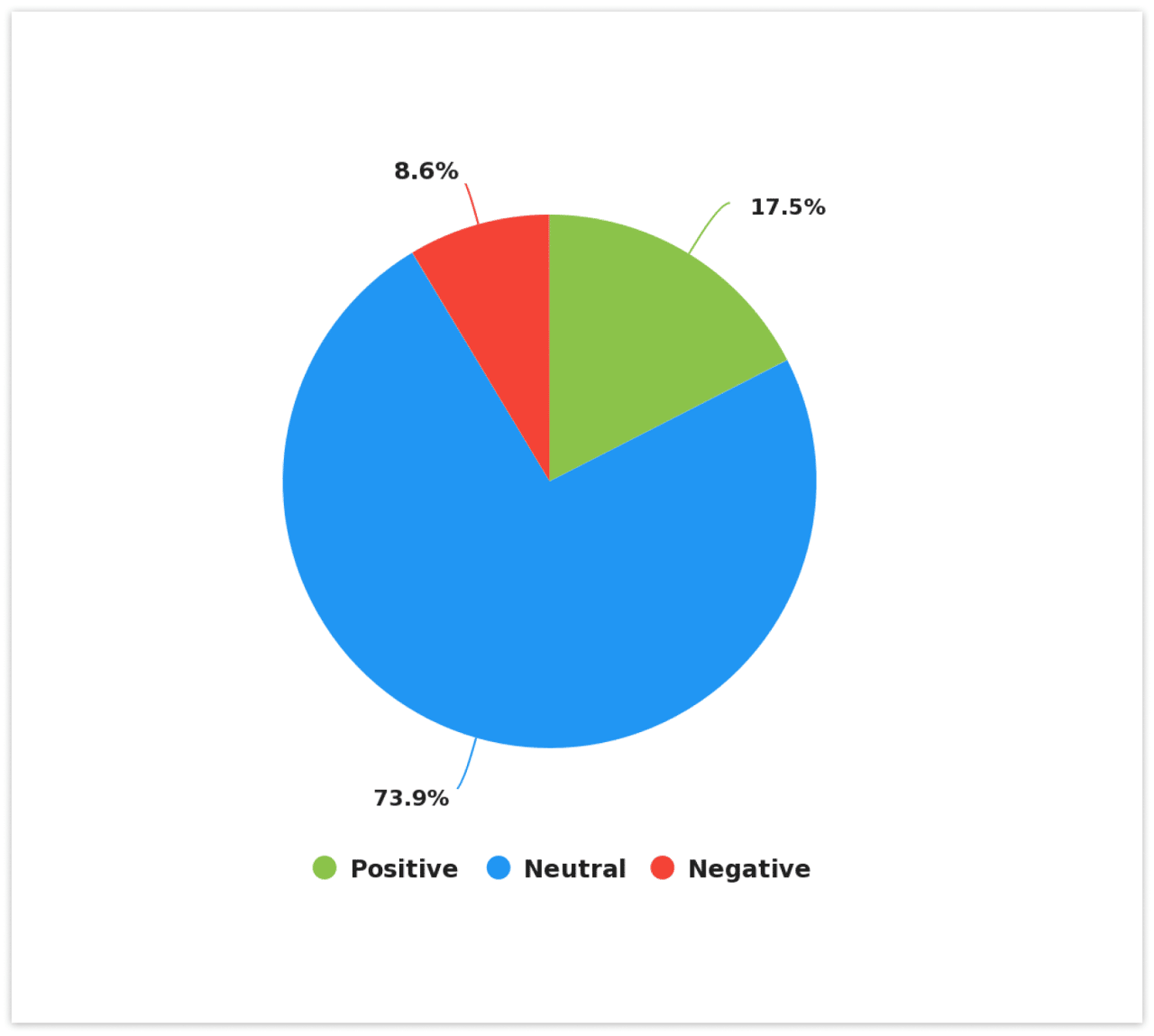 Aspect-based analysis allows understanding which characteristics people appreciate and about which they complain. The graph shows that price, customer service, functionally, and availability have the highest percentage of negative mentions.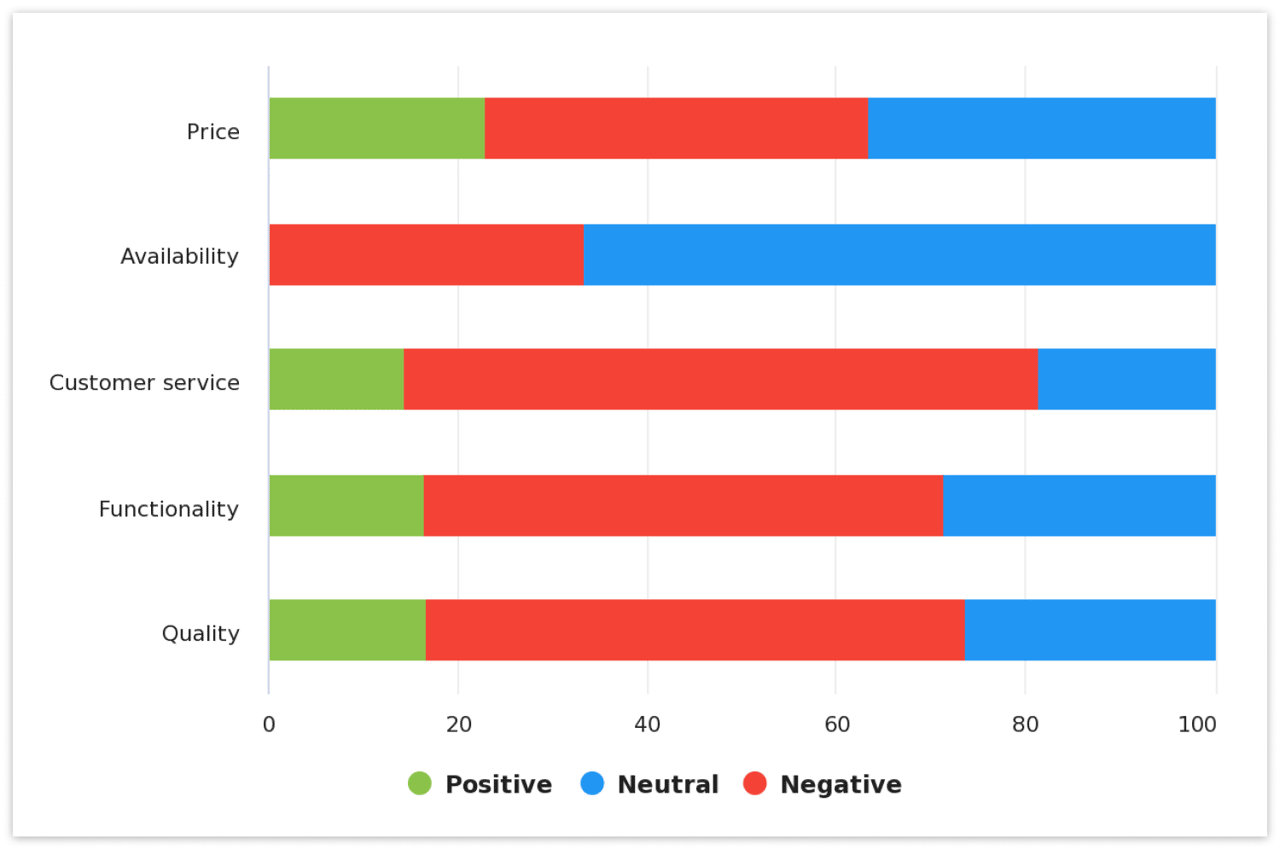 What do people complain about?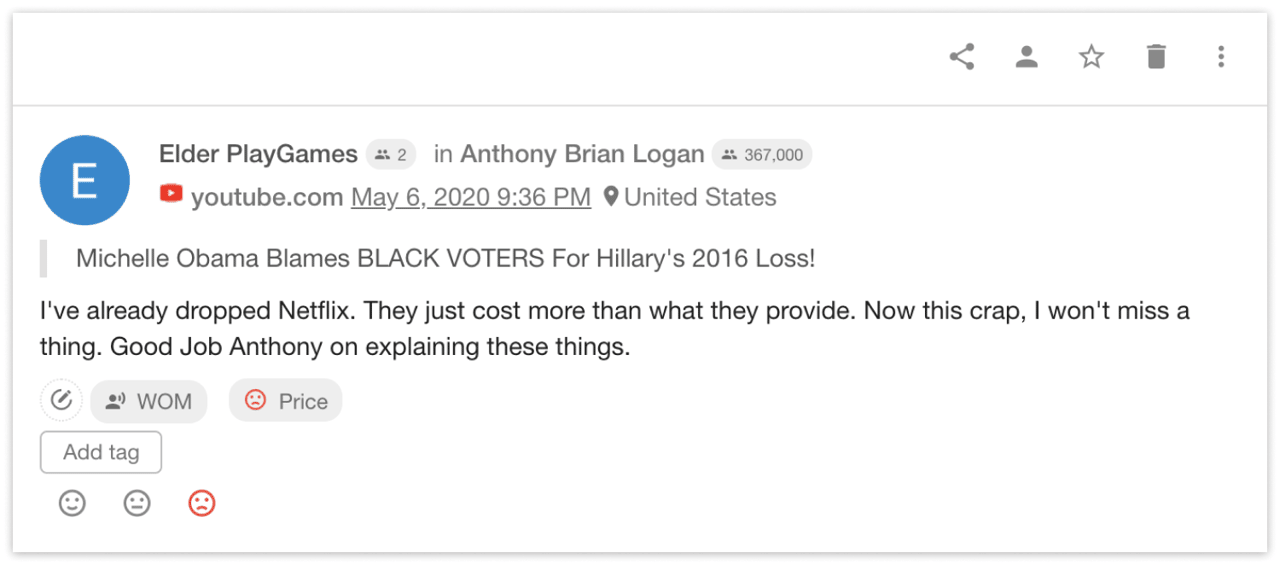 Apart from this, Netflix should take into consideration how they provide service to the customers and work on improving the functionality of the app.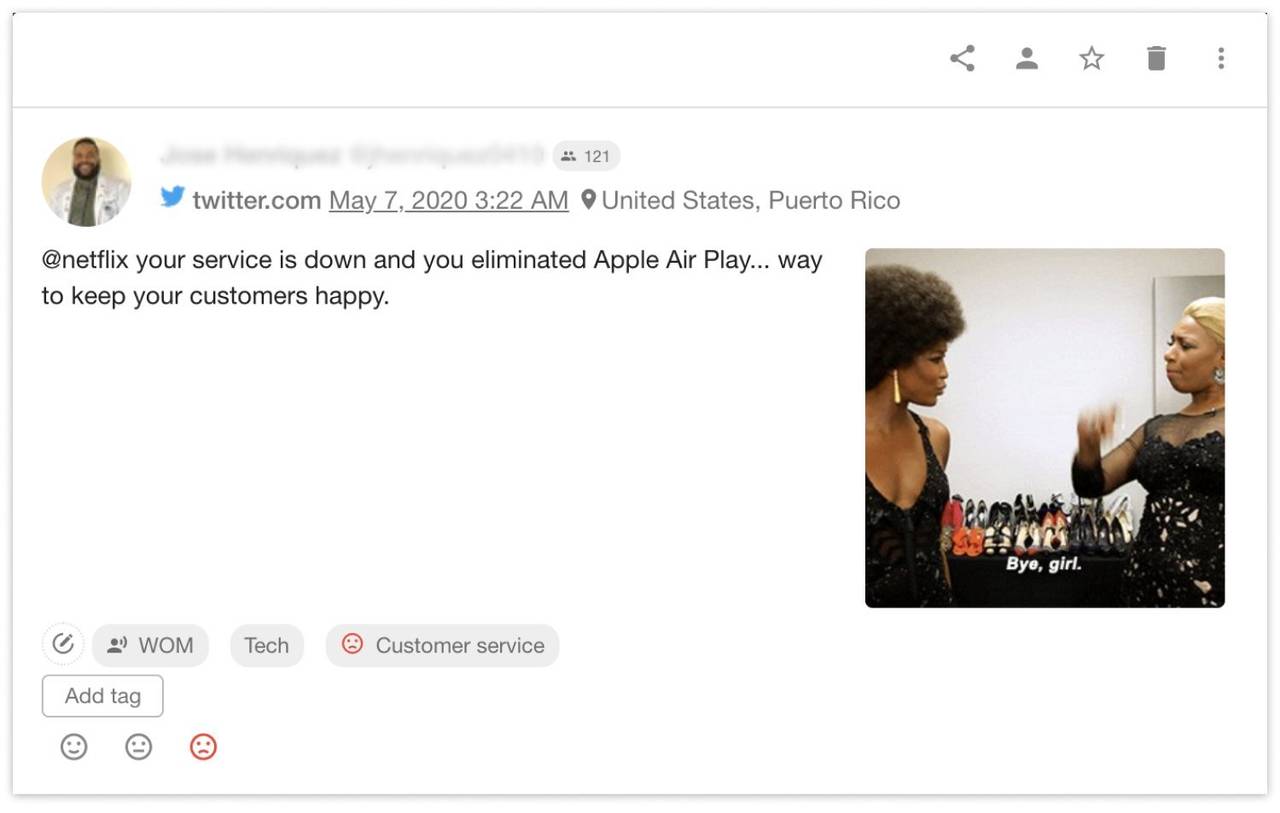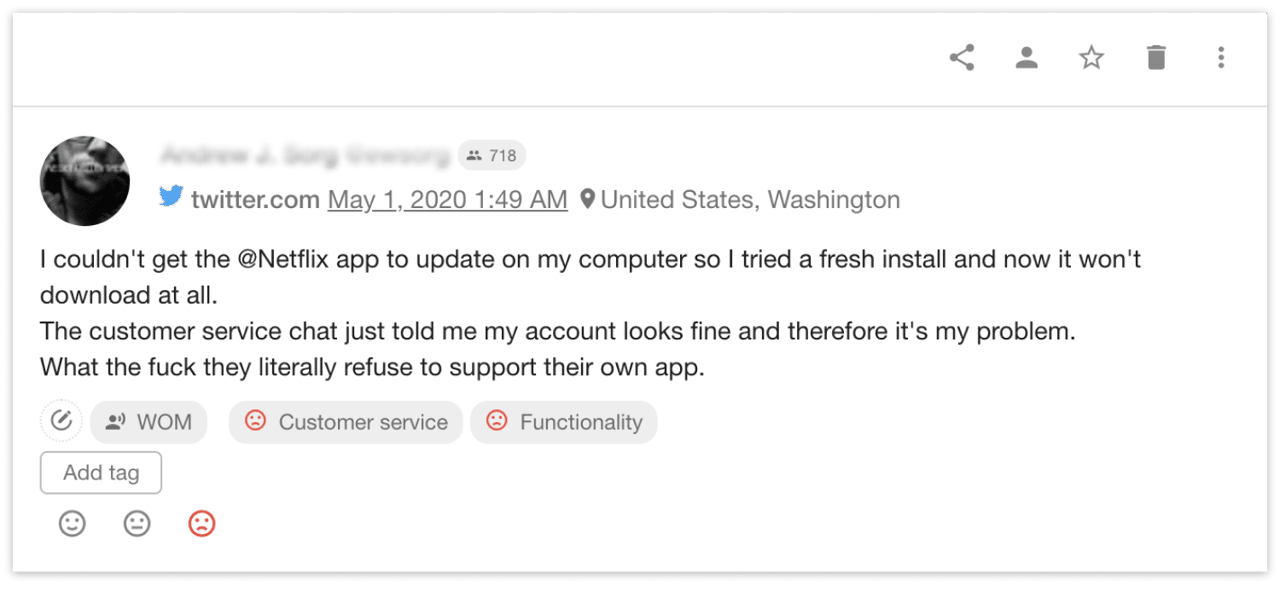 The word cloud reveals some interesting insights. The words such as king, tiger, mayhem, tiger money heist, and ozark are all related to Netflix TV shows and movies. Thus, it makes sense to analyze what people talk about Netflix in particular to understand which TV shows are the most binge-watched today.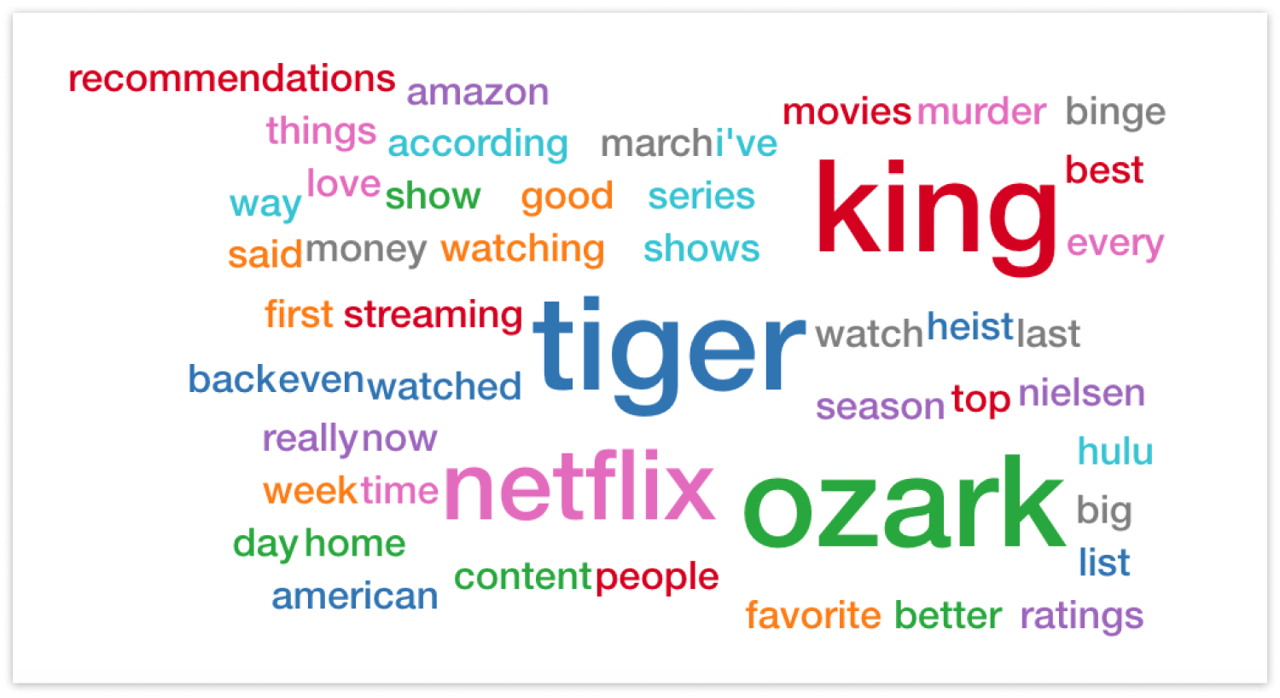 Revealing Netflix Insights
From May 5 till May 12 YouScan detected 481,100 mentions with Netflix. We filtered the query to see the results only for English-speaking countries and English language.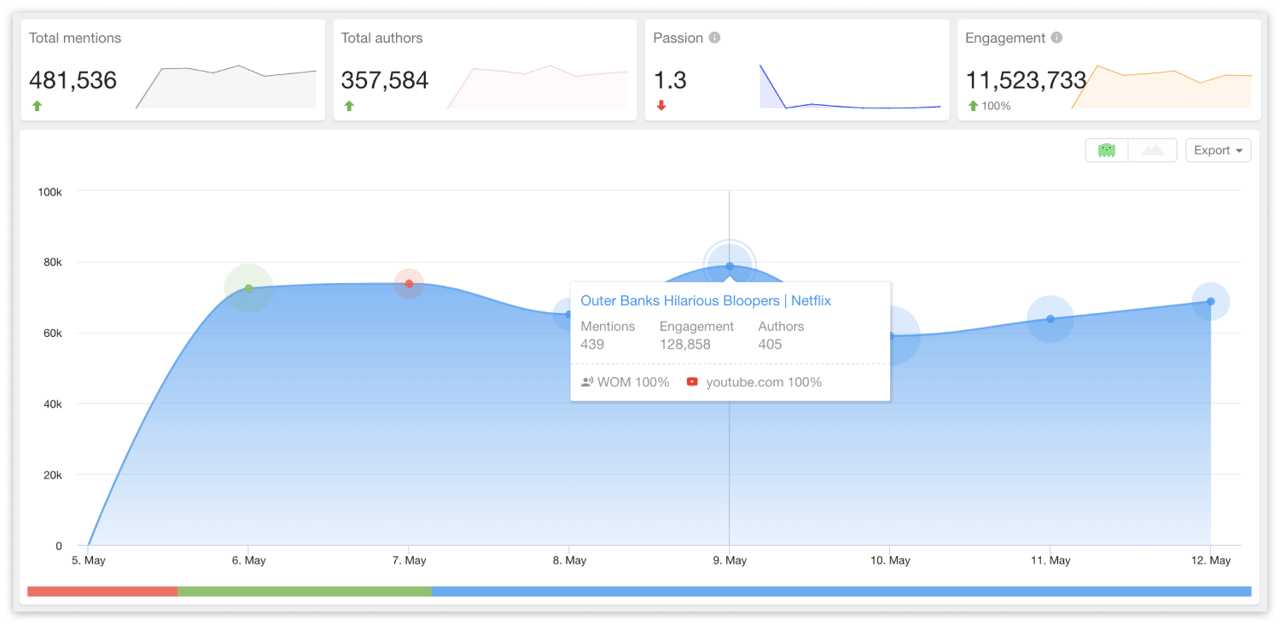 The smart feature AINA has detected several trends during the period of one week. Let's take a closer look at the trend which gathered the highest amount of mentions and engagement rate. It is called Outer Banks Hilarious Bloopers.
The trend is related to Netflix newly released TV show called Outer Banks, a teen drama, described as a coming of age story about hot teenagers who find themselves at a high-stakes treasure hunt after the hurricane. Mystery, murder, summer, and romance is probably worth watching during the lockdown to uplift the mood. Let's see what people say about the show.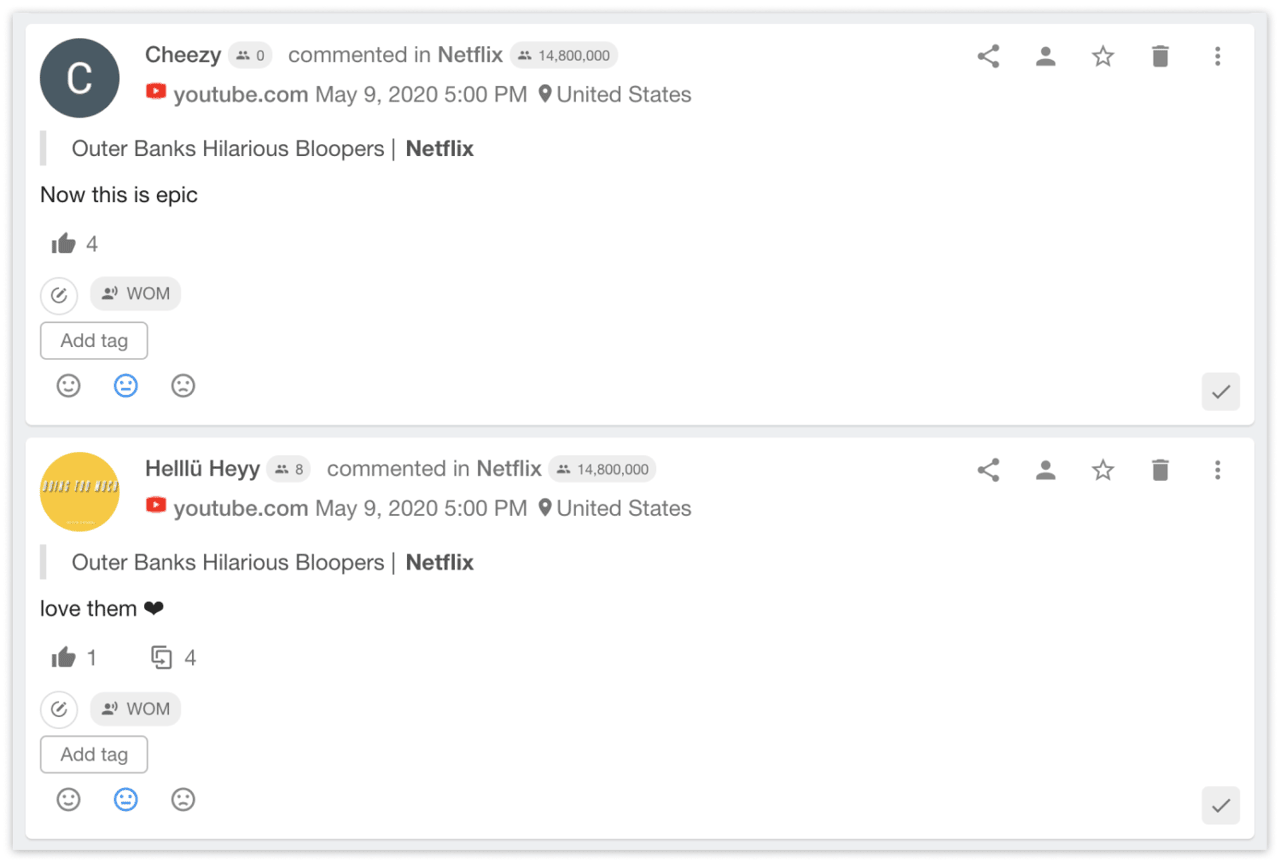 The TV show has definitely won over customers' hearts.
Apart from this, there are 3 more trends all related to Michelle Obama's latest film: "Becoming," a documentary that offers an intimate look into the life of former First Lady Michelle Obama during a moment of profound change.
Let us notify you that Michelle and Barack Obama signed an agreement with Netflix in May 2018 to create "a diverse mix of content, including the potential for scripted series, unscripted series, docuseries, documentaries, and features" from their production company, Higher Ground Productions. And here we go, let's see what people talk about the film.
Michelle Obama has mentioned the release on her Instagram page along with empathetic and inspirational speech to support people in uncertain times.
For some people the movie has reminded of the times of Obama's Presidency and apparently they miss his administration.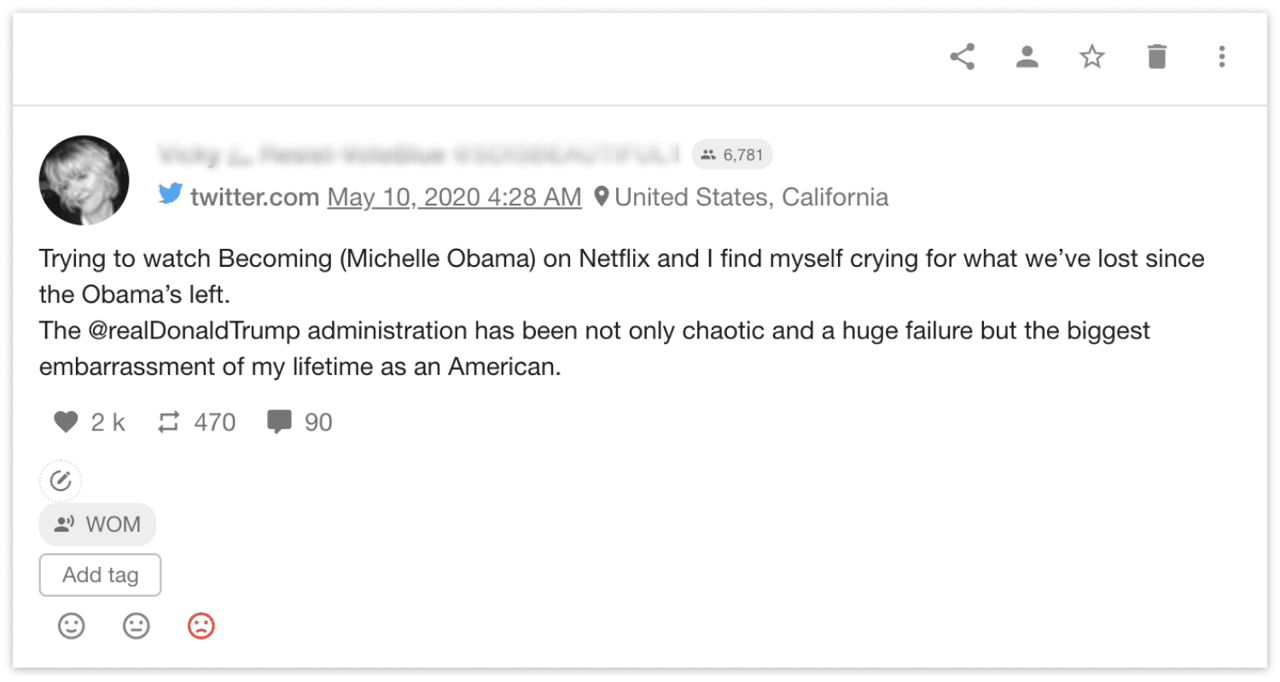 For some people the movie has reminded of the times of Obama's Presidency and apparently they miss his administration.
People are expressing their admiration to Michelle Obama's story and especially they show gratitude for uniting people during the difficult times.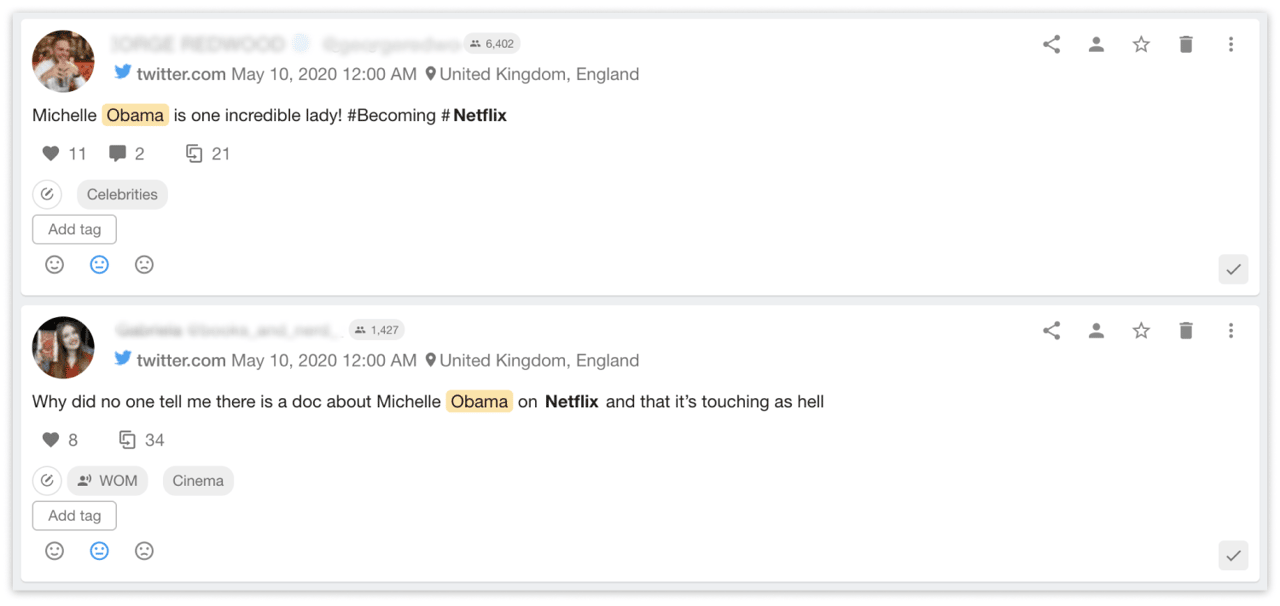 Moving forward and analyzing the word cloud, we can see that the most frequently used words are Tiger King, Ozark, and Heist. Let's analyze them separately.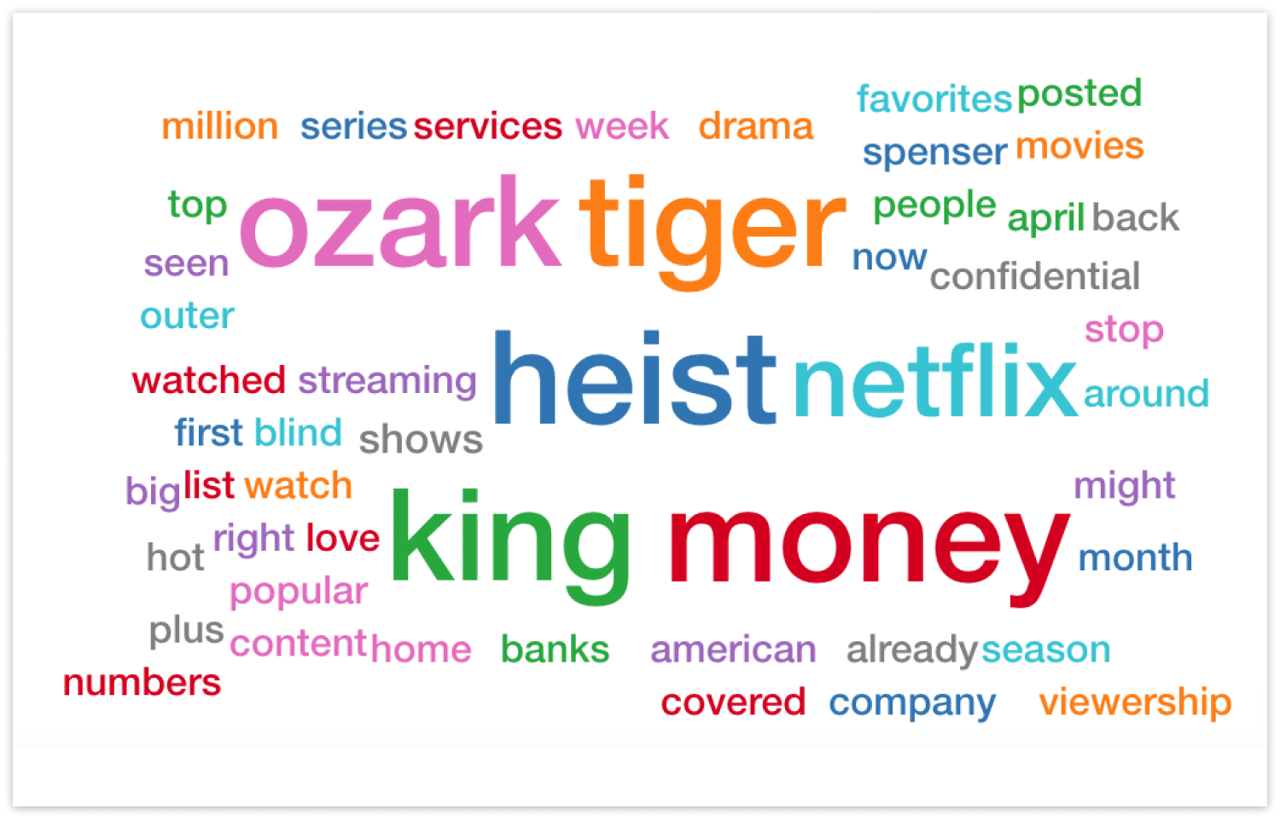 Tiger King is Netflix original movie, the documentary series with Spenser Confidential. It has reached 64 million views and has become a breakout hit for the streamer in the first 4 weeks of the release. The star it Joe Exotic, a big cat zookeeper, and the documentary shows how he is grooming the animals, protecting his zoo from animal activists. Today, he is accused of hiring a killer to murder an animal rights activist.
Apparently some people are taking the TV show too close to heart.
Besides, people talk about Nicolas Cage who is headed to television — as Joe Exotic, a hero of Netflix's breakout docuseries Tiger King: Murder, Mayhem and Madness. Cage will play Joe in an eight-episode scripted series.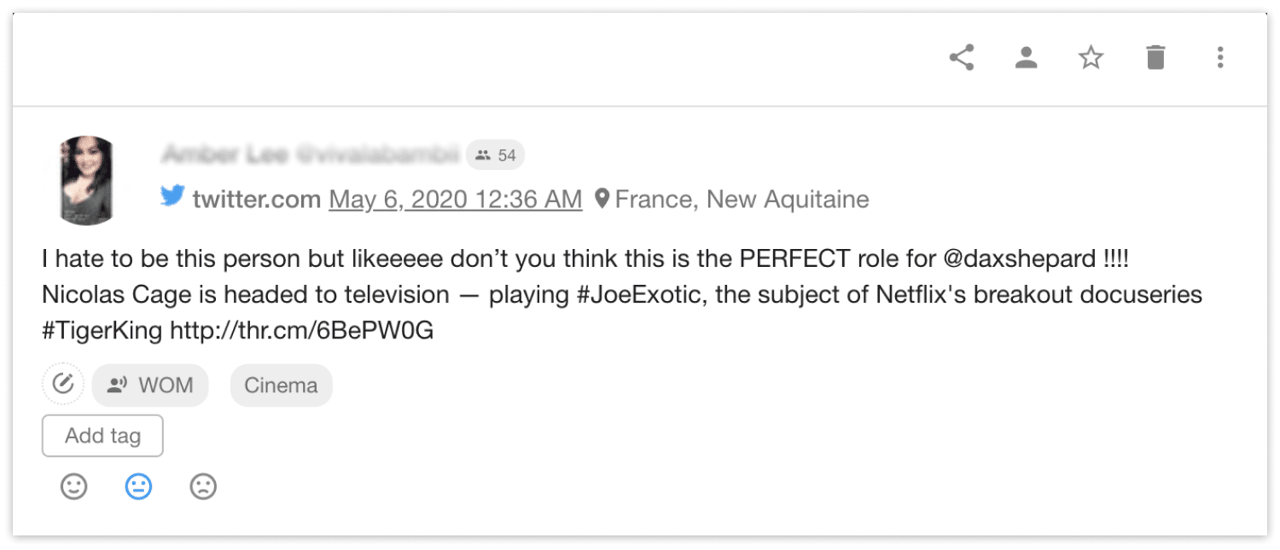 Nicolas Cage has also shared his excitement that he will star as Joe Exotic in a scripted 'TIGER KING' series for CBS Television Studios.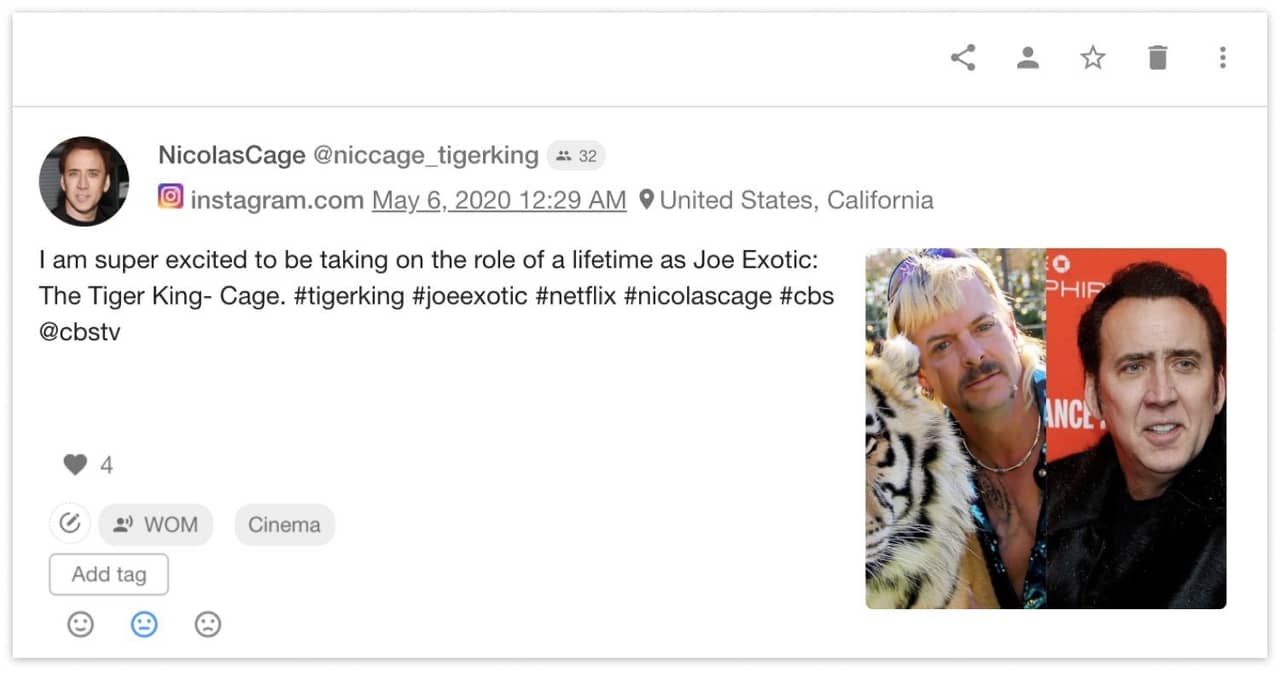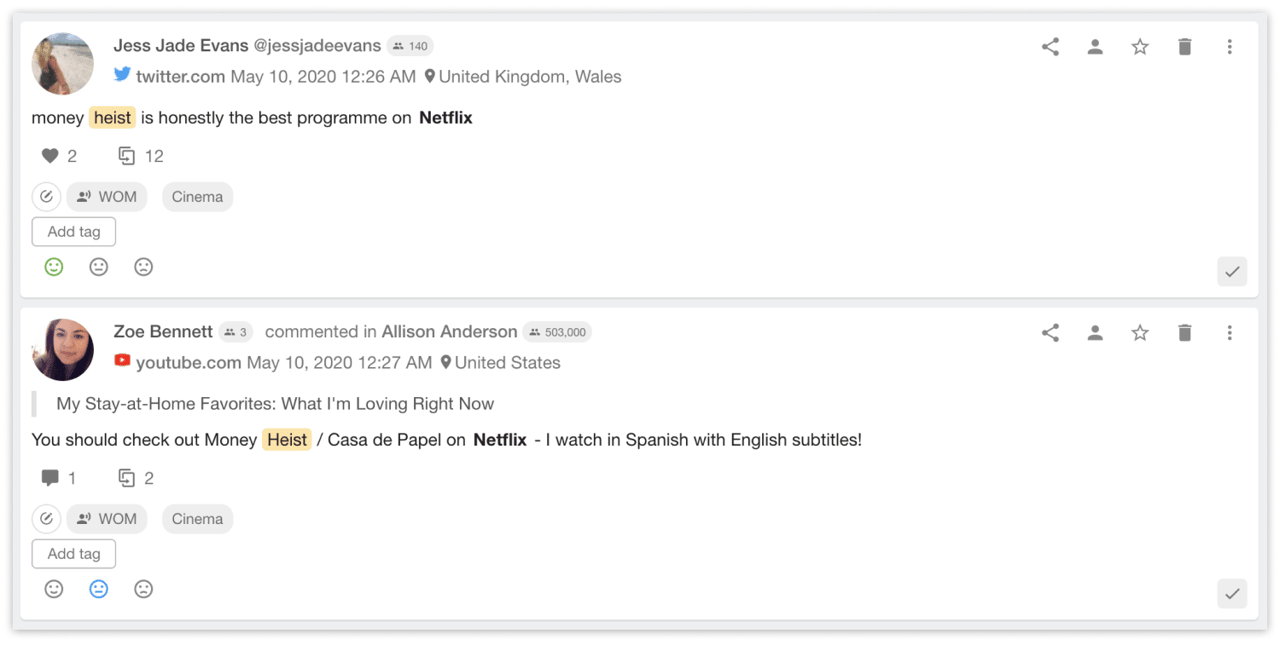 Netflix influencers
If we choose the most influential authors, Donald Trump and Michelle Obama are dominating the list.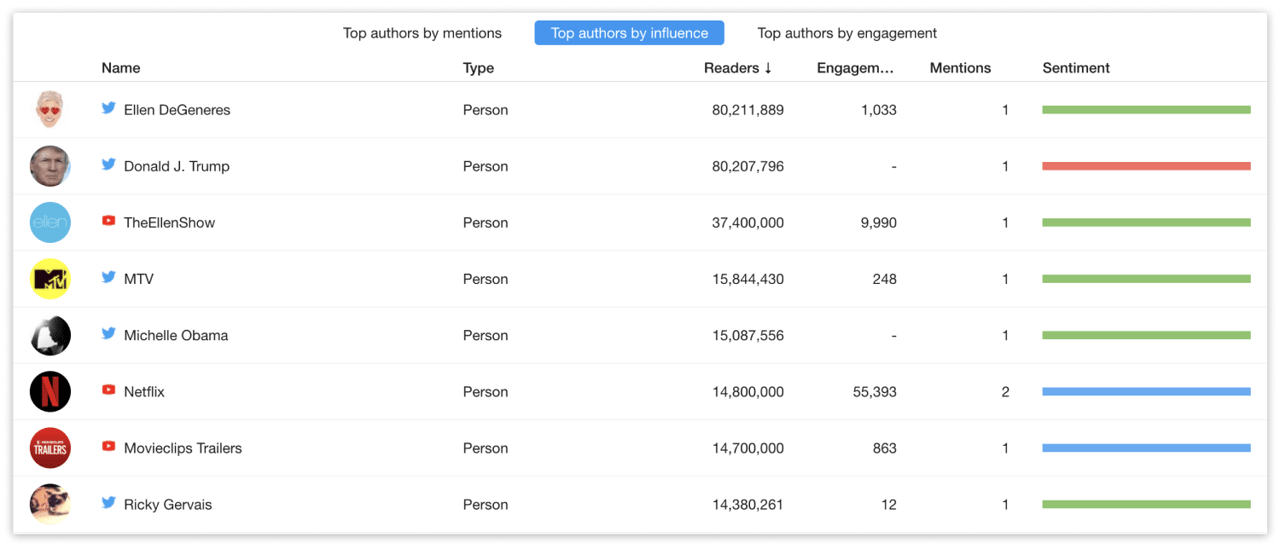 It's no wonder that after the release of Becoming, we can see Michelle as the top influential author. Donald Trump appears on the list due to the recent Obamagate scandal, the politicians wars, where Trump spent the Mother's Day assailing his predecessor and coming up with a new term "OBAMAGATE!" ("gate" is related to the Watergate scandal that toppled President Richard Nixon).
In the meantime, top authors by the engagement are different.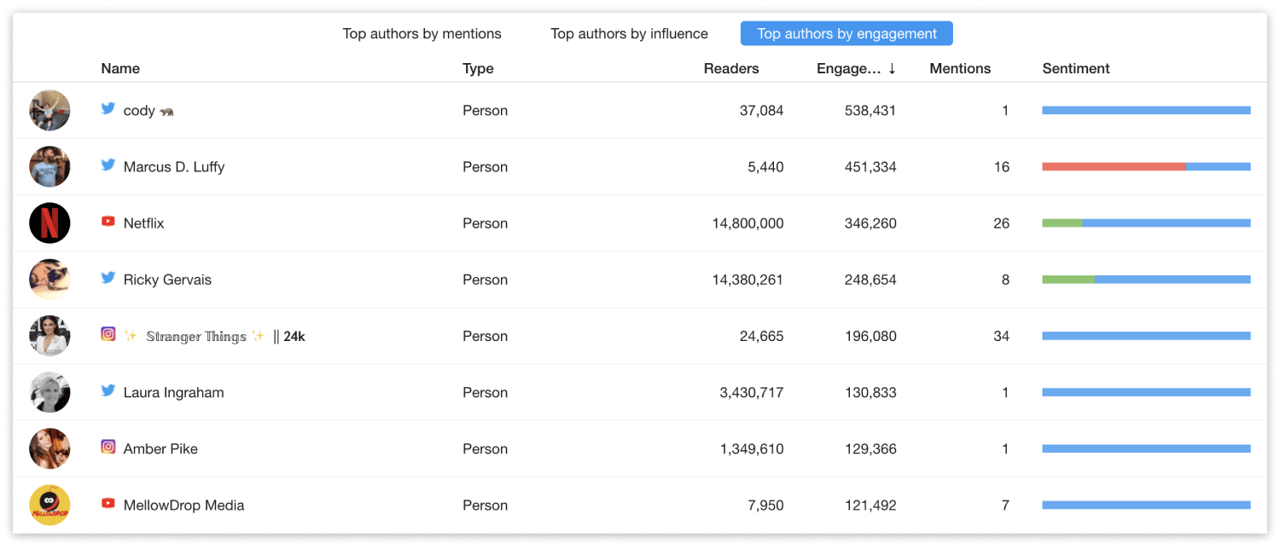 Visual Analytics
What do people do during binge-watching Netflix and what surrounds them? The AI-powered Visual Insights have analyzed users' photos and detected the following insights in their images. Women, men, and business persons are more frequently depicted in the images. What do they do? Considering the fact that we spend the majority of time at home, they are eating, sitting, and entertaining. In the meantime, YouScan revealed such scenes and objects as room, interior design, beauty, television, and fashion.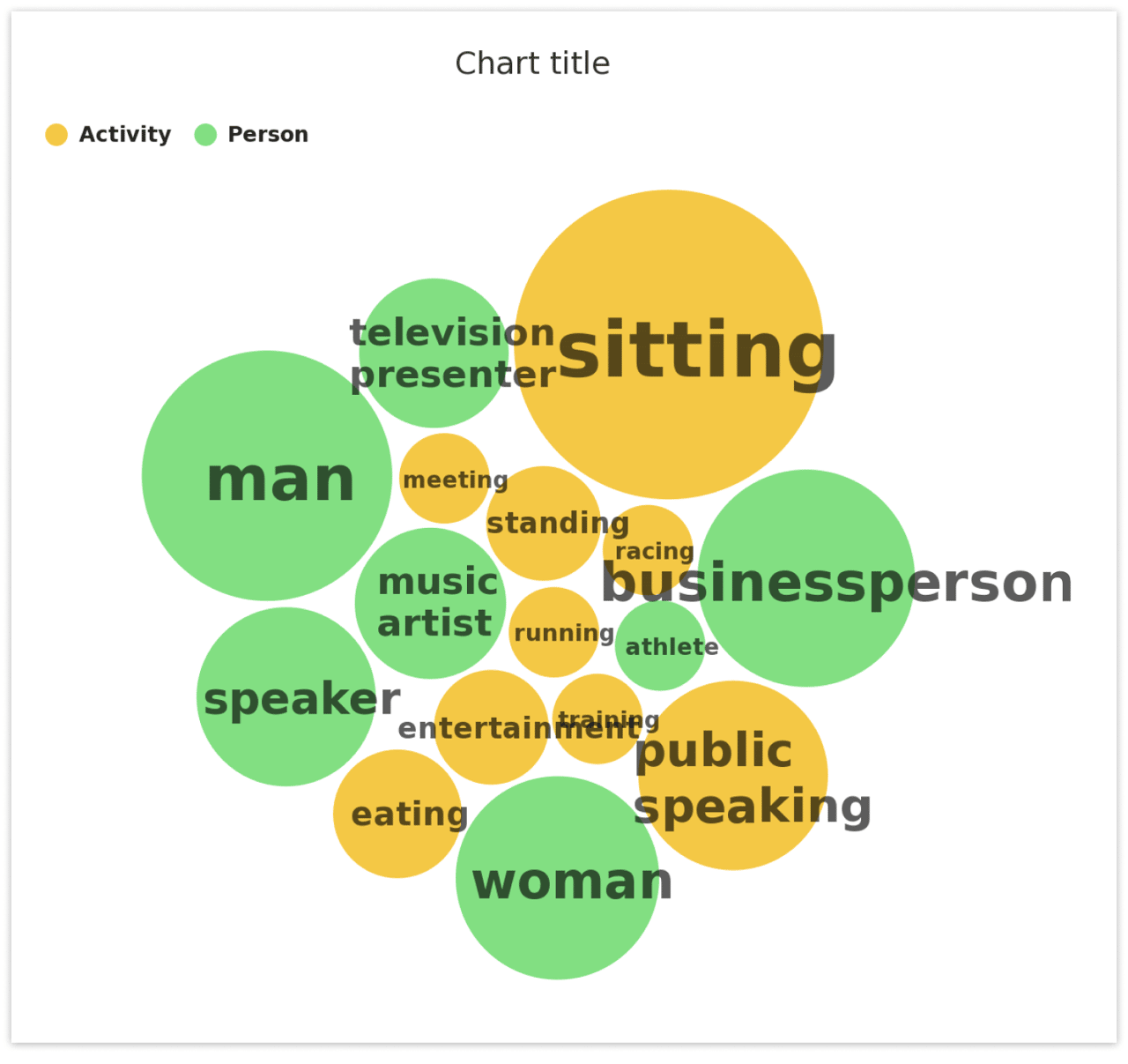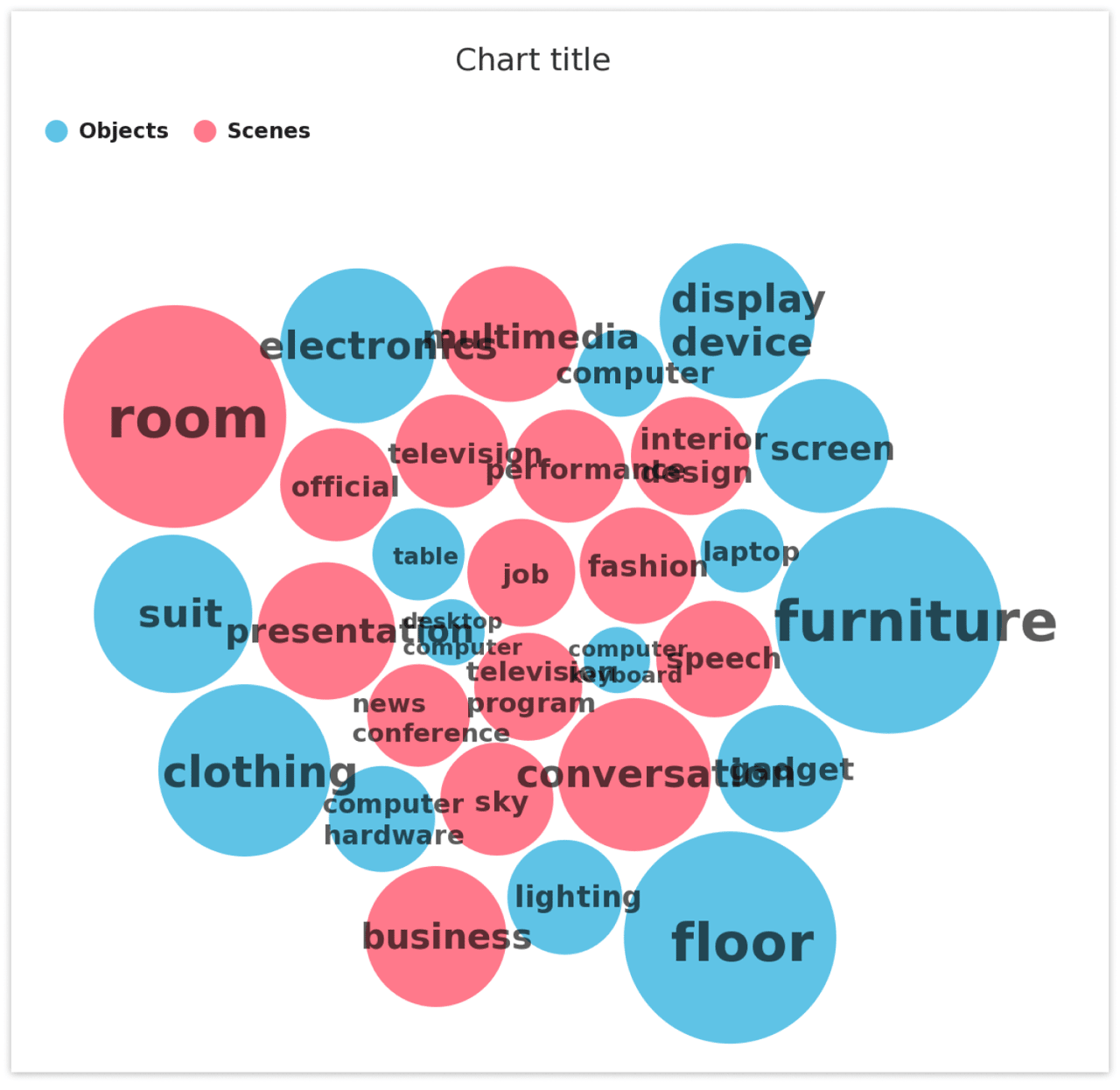 If we analyze the images, we can see that system reveals the interiors of people's homes, in particular women's, where they are watching Netflix, sitting, and eating.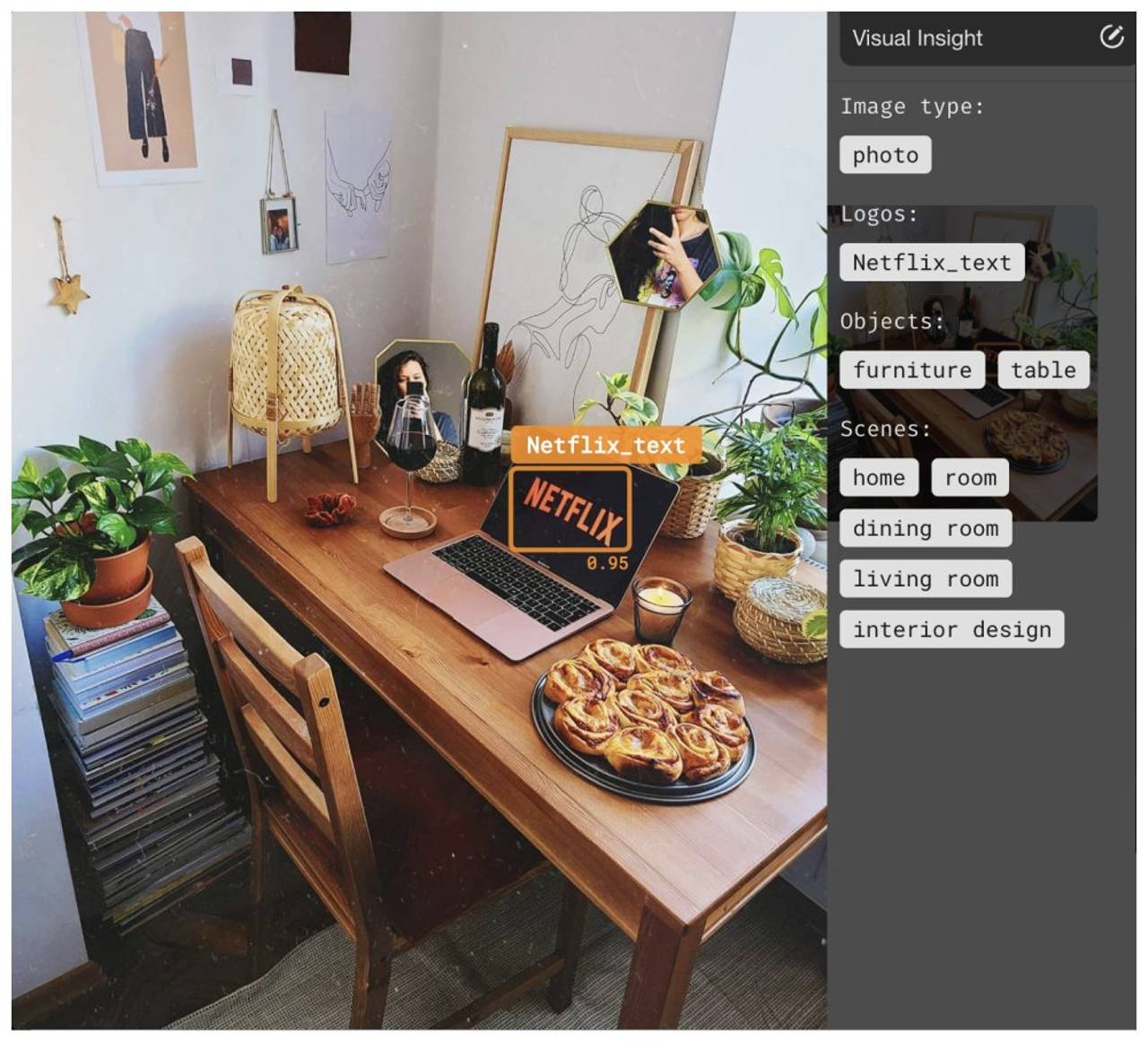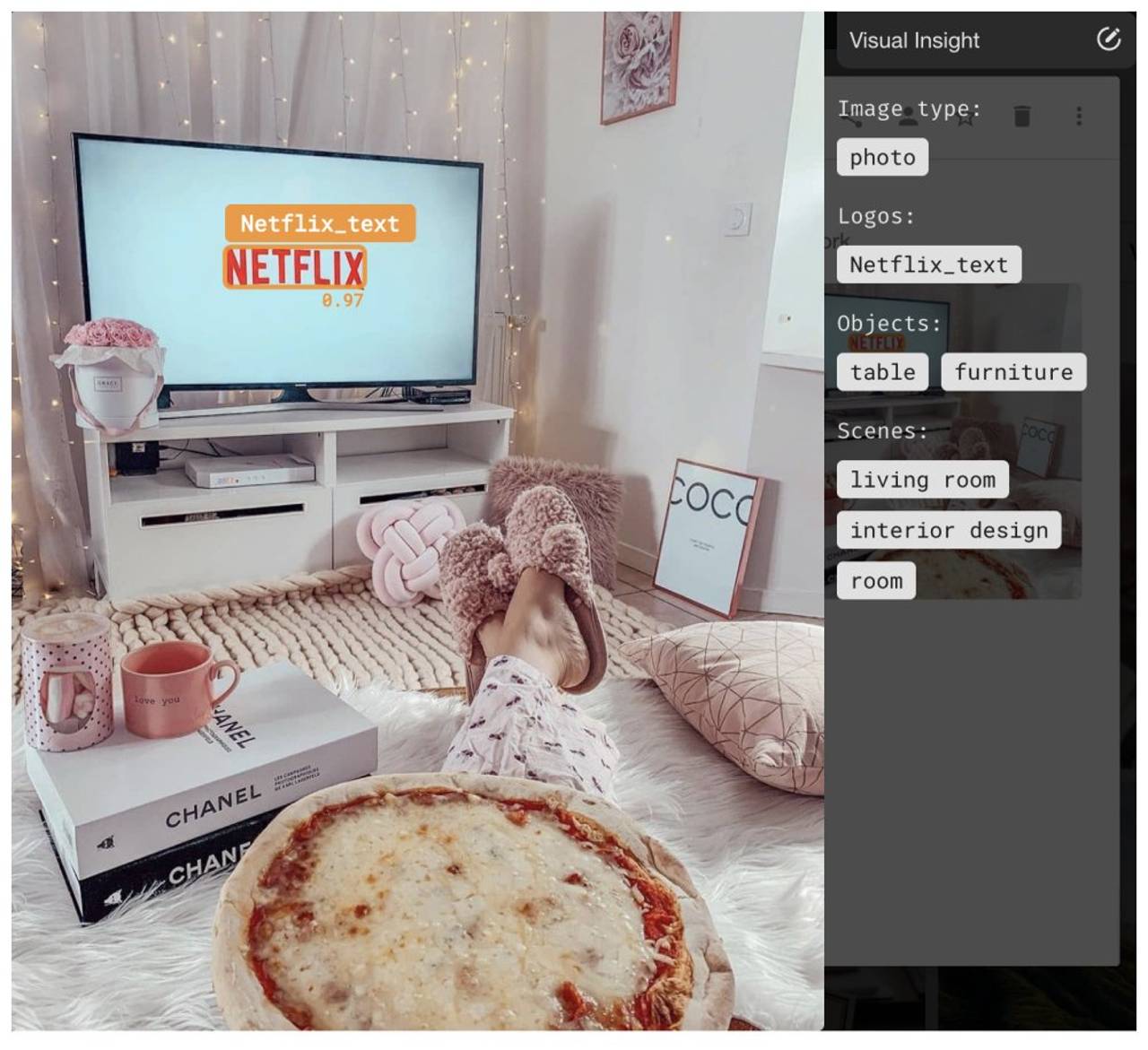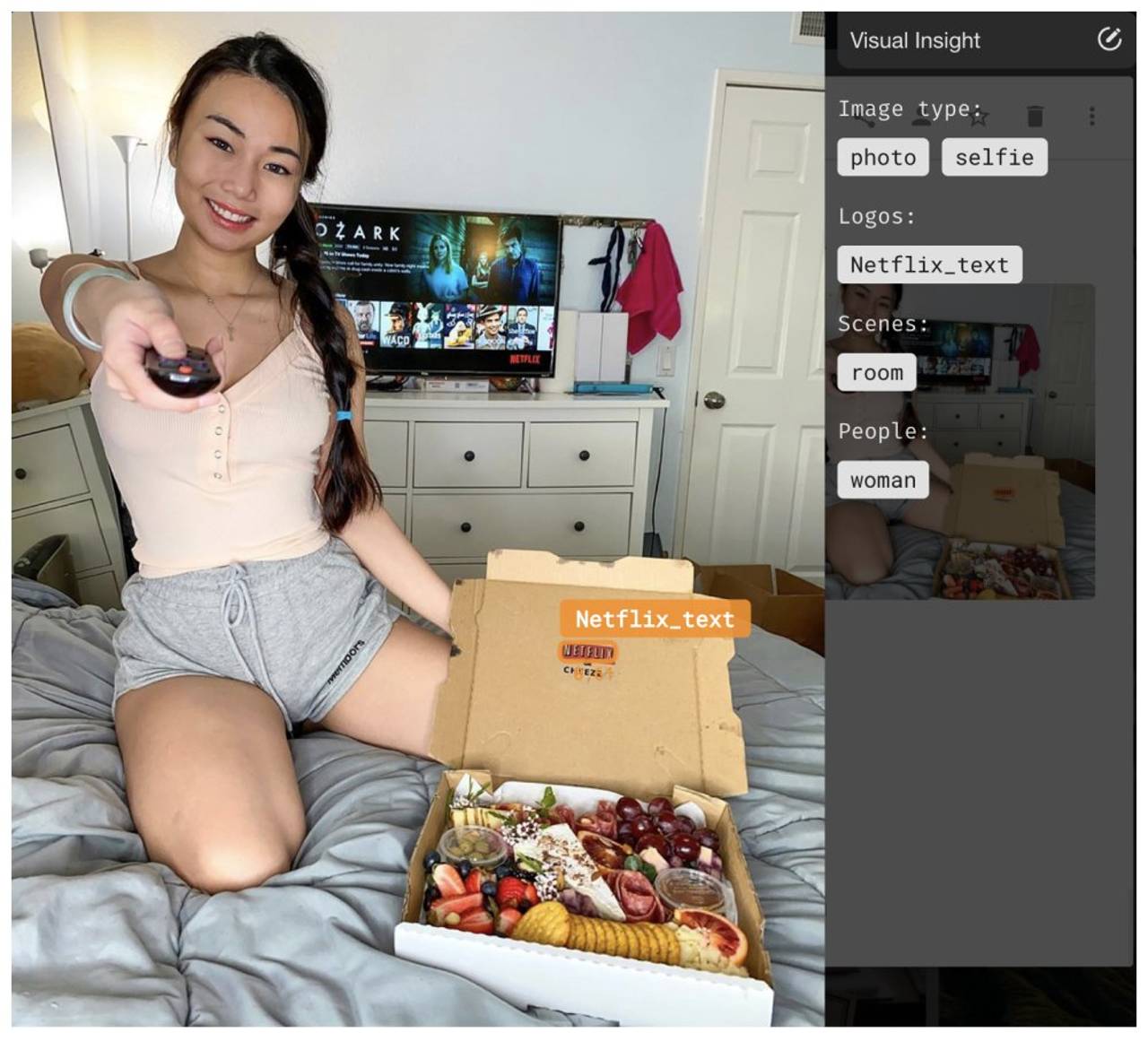 Summing up the streaming research, we have revealed that Netflix is a leading streamer which has the highest rate of views and mentions. The deep learning algorithms with social media software technology helped us to outline the following movies as the most binge-watched during the lockdown.
Tiger King

Ozark

Money Heist

Obama Becoming

Outer Banks
Even though the lockdown measures are slowly easing, we still have to stay home to prevent the infection rise. After the in-depth analysis of social media data, we revealed several insights and managed to compile the list of top movies and TV shows. Thus, social media intelligence software can be used for various purposes, even to research the entertaining industry to understand customers' preferences. Netflix is definitely enjoying its glory hour.
If you want to reveal insights about your brand, whatever industry you're serving, don't hesitate to try YouScan for free.