What is brand recognition and why should marketers track it?
Brand recognition is one of the most important components in growing sales. How do we measure it, and what steps should you take so that more people learn about your brand?
What is brand recognition meaning?
Brand recognition is a concept that means the ability of customers to recognize a specific brand based on its features and attributes apart from other products and services in the same niche. Here are the main brand characteristics that help clients identify it:
Logo

Slogan

Brand colors

Packaging
The most successful example of brand recognition is where customers can recognize a brand without mentioning its name. 
How to measure brand recognition?
There are several ways to define brand recognition. Some of them are expensive and time-consuming while others ways are more innovative, fast and effective. 
Surveys. 
This type of analysis of your brand name recognition is one of the oldest. You can conduct a survey about your brand and its competitors by email or telephone, set up a questionnaire on your website, or even do research with a focus group in person. The more people you involve, the more precise results you get. 
Check your website traffic and compare it with your competitors. 
Try to understand how many visitors your website has compared to other brands and see who has managed to build strong brand recognition. Pay attention only to brand traffic since only this type of user's search shows the real interest in your products and services. Use tools like Semrush to analyze it regularly. 
Check the search volume. 
How often do customers look for your brand compared to other market players? Analyze Google search results to see the full picture of online trends in your field. 
Use social listening.
This is the most innovative and effective way when it comes to brand recognition research. To get this data, you need to collect data on the number and type of mentions of your brand and its competitors and analyze the Share of Voice. The more users discuss your brand online, the better results you see. 
For instance, brands such as Zara, H&M, and Uniqlo work in the same retail market but have different results regarding social media discussions. H&M is the leader in the number of mentions (91%), while Zara's Share of Voice is only 1.5%.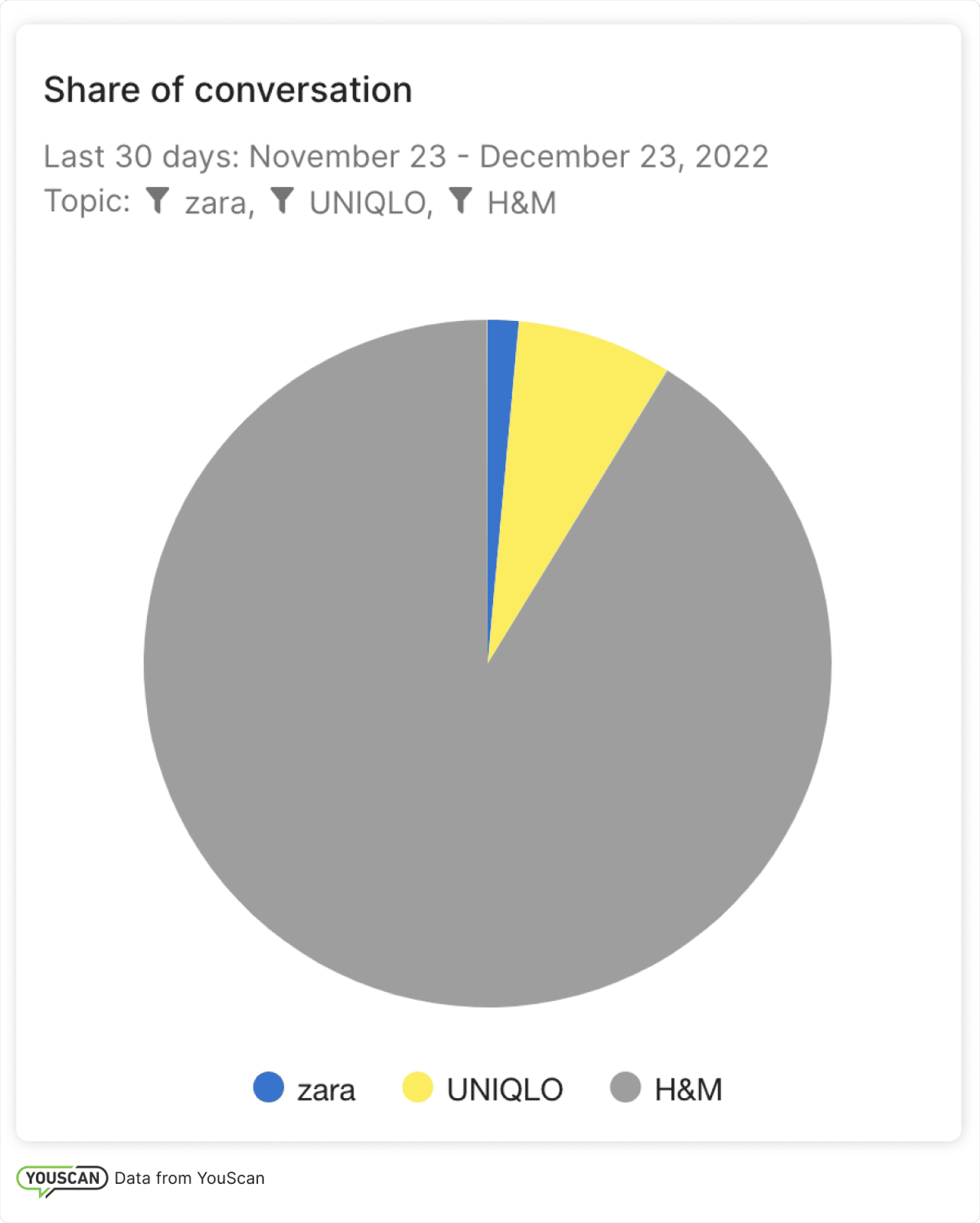 How to increase brand recognition?
There are many ways you can achieve better brand recognition. You can resort to traditional methods like TV adverts, sponsorship of big events, billboard advertising, launching promotions, etc. In this article however, we will not consider offline methods but concentrate on brand awareness and brand recognition on social media. 
Collaborate with influencers. 
Launching campaigns with opinion leaders is still one of the most effective ways to increase brand recognition. You can check out the latest trends in influencer marketing in our 5-step guide on collaborations with influencers. 
With social listening tools, you are able to achieve several goals: 
Look for influencers interested in a specific field

Analyze a blogger's infofield 

Monitor your competitors' collabs with influencers

Look for brand ambassadors (people who already love your products and already are promoting them for free)
With social media listening, you can launch truly creative campaigns. For instance, while analyzing social media data, you will find out that not only are humans macro-influencers, but also pets. 
Cat Stephan has 1.3 billion followers and has already become an ambassador of the Save Ukrainian Culture project. As a real Instagram star, his picture was even posted on Britney Spears' Instagram page. 

Launch virus campaigns. 
One of the most famous and successful examples is Spotify Wrapped. It was first launched in 2016, and since then, every year, it shows users their favorite audio content and allows sharing of it on social media. 
In 2022, this campaign received  more than 2 billion mentions. 

These types of campaigns are perfect for building brand recognition. With social media listening, you can track users' reviews and analyze what they like about your campaigns and what seems disappointing to them. 
Collaborate with related brands. 
Viral brand collaborations is another effective way for creating brand recognition. With this type of activity you can exchange audiences with a brand you collaborate with and draw attention to a campaign.  
Here is a good example of brand collaborations that at first  seem incompatible. 
The glamorous Manolo Blahnik and the comfortable Birkenstock were difficult to imagine together, but the brands managed to create a fantastic collection. 
Unpackaging videos with Manolo Blahnik x Birkenstock shoes were viral on TikTok.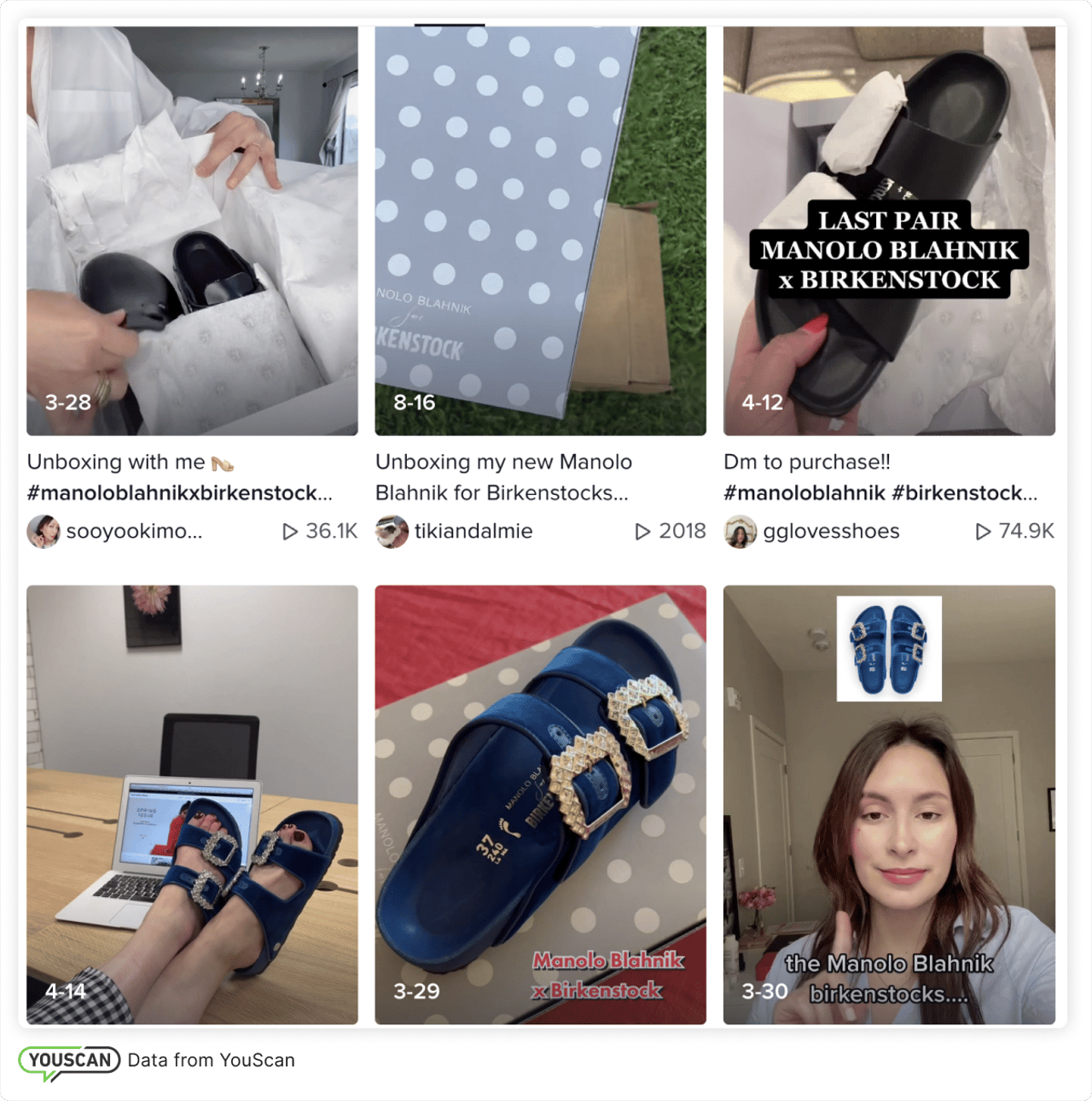 Why is brand recognition important?
The importance of brand recognition is determined by steps in the marketing funnel. Since it refers to the customer's ability to recognize and recall your product or service, brand recognition has a crucial influence on client acquisition. 
There are several reasons why you should build strong brand recognition: 
keep your brand at the top of your existing and potential customers' minds

achieve a number of business goals like audience expansion and revenue growth 

obtain a better Share of Voice and market share
Do you want to know how social media listening can help you to increase your brand recognition? Learn more about YouScan, a social media listening platform, and try a demo for free.