Social media crisis management: how to get away with a scandal?
Brands often use social media not only as a source of actionable insights, but also as part of their marketing strategy, promoting products and services via social networks. On the flip side, as a result, they often have to deal with social media crisis management. A sudden scandal can be caused by a failed advert, a bad customer experience, defective products and more. Now let's come to the question of how to deal with a stream of negativity on social media.
The key to  successfully overcoming a social media crisis is creating a strategy long before your brand gets into any controversy. Worry not if you don't know where to start and how to draw up a detailed plan. Check out below a few steps that will help you get ready to manage a social media crisis. 
Identify the problem
It takes lots of effort to spread information about the launch of a new product or service, but when it comes to negative feedback, time isn't on a brand's side. Customers' discontent attracts attention fast and as a result, more and more users get engaged in discussions. 
Therefore, real-time monitoring of brand mentions is crucial for maintaining reputation. Social media listening platforms like YouScan track the slightest spikes in mentions and growing trends in discussions. Moreover, the brand's team can receive notifications via Slack or other messengers when a new event occurs in their topic. 
For instance, Balenciaga's recent fashion show with stars of the highest magnitude such as Dua Lipa or Bella Hadid got only one spike in mentions, and it was negative. 

One YouTube channel ridiculed the show and got more than 1 million views. By comparison, the stream of the fashion show on Balenciaga's official channel got 4 million views.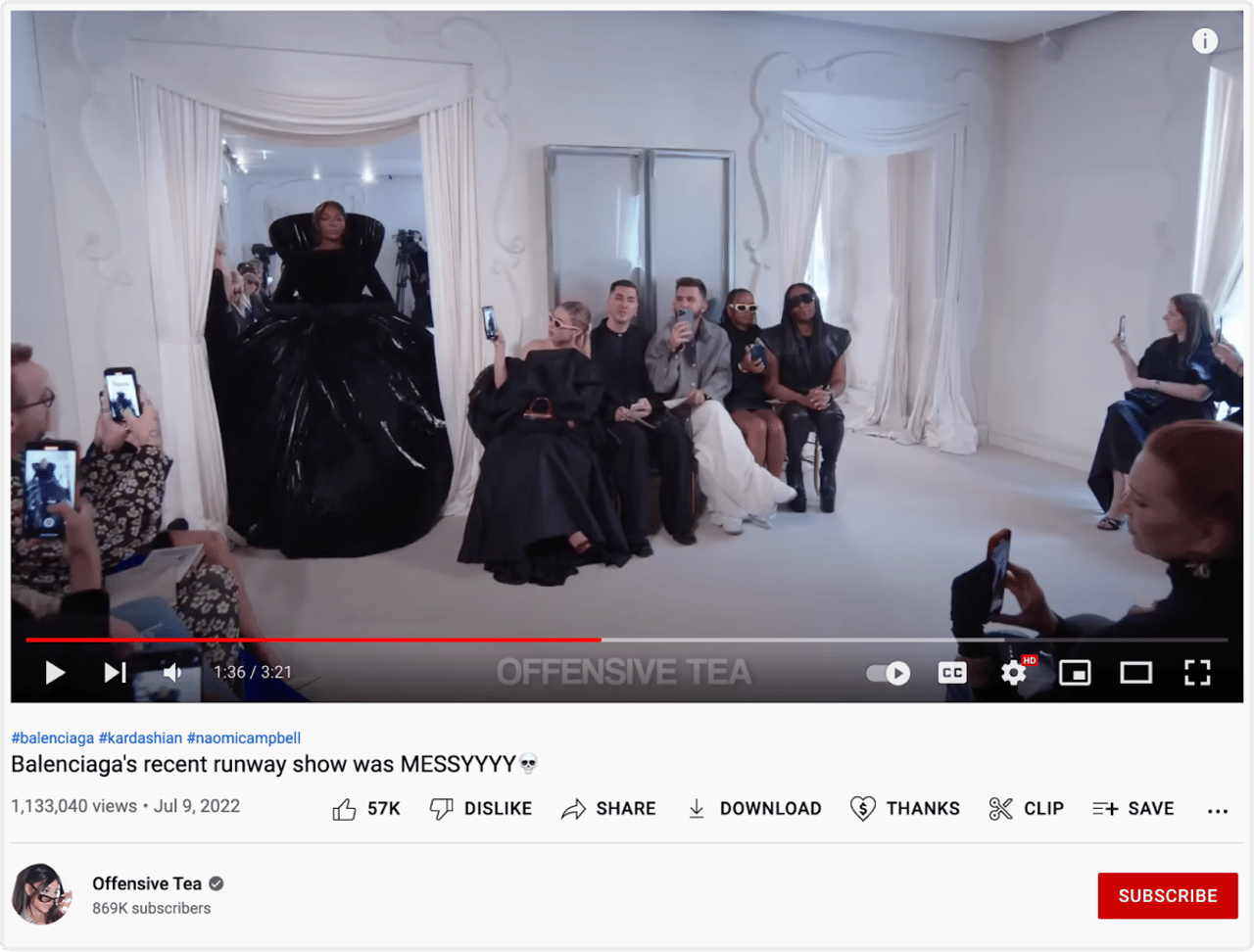 When tracking these spikes, marketers can analyze all details and see if the user's negative reaction was caused by inappropriate actions from the brand's side, or if it was just hype of bloggers who tried to get more views. Based on this analysis, it's easy to determine further steps: prepare a statement or skip it. 
Analyze crisis situation
To understand how to handle a crisis, it's crucial to make a deep analysis of the situation. Social media listening helps to perform  this fast. 
Here are several questions that the brand's representatives should answer before choosing the right steps:
How many mentions has the topic received?? 

What were the sources where people mostly discussed the crisis situation?

Will the brand's official response attract even more negative attention to the issue? 
Based on this information, it's easier to identify what steps should be taken.
Let's look at a social media crisis management example. At the end of December 2021, international logistics company FedEx faced an unprecedented reputational crisis. One of the company's drivers had simply thrown away the parcels from their truck and left. 

It's obvious that inside the company, FedEx will investigate the accident, but how should they behave in public? 
Sometimes it makes sense to keep silent in order to avoid attracting more attention. But in the case of FedEx, this wasn't the way out. Firstly, the spike in mentions was very tangible. Secondly, and probably the worst, the world's top media mentioned the issue in the news. The New York Times and CNN were among the main sources by engagement.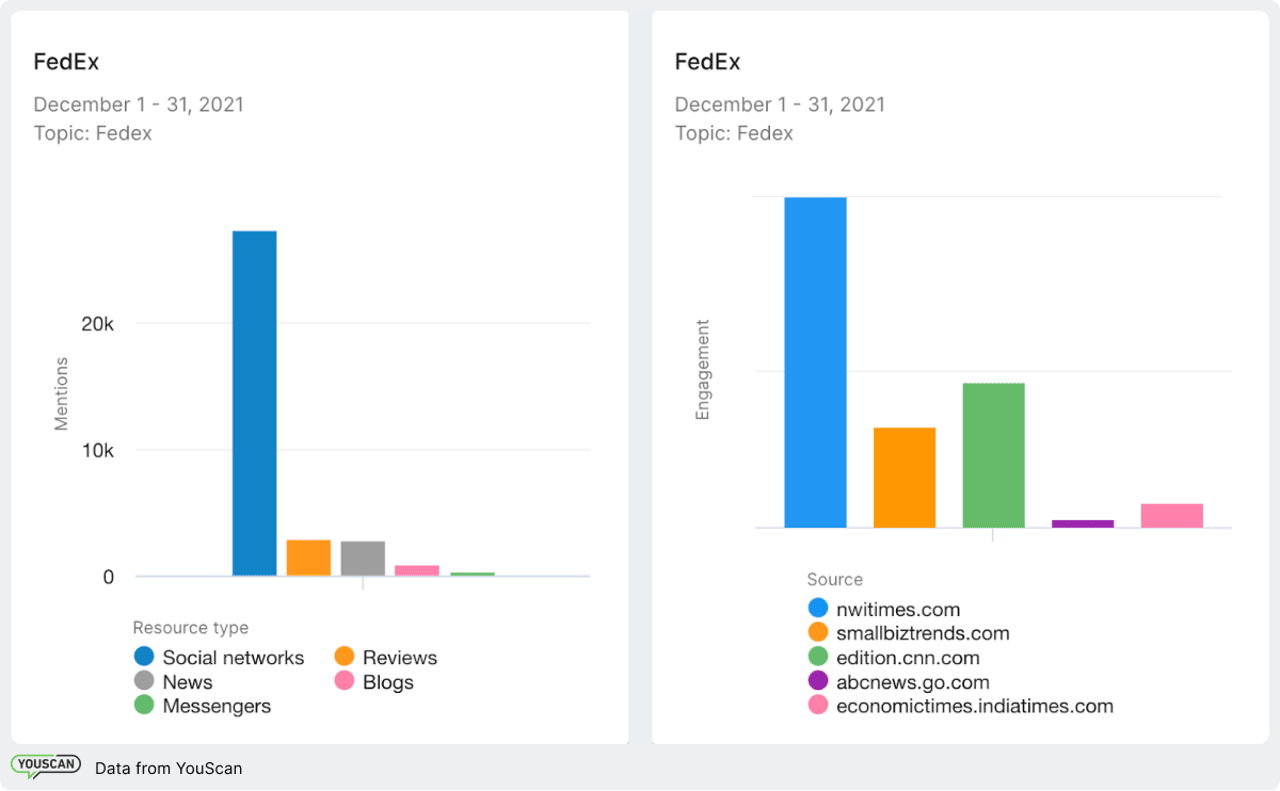 For FedEx it meant that apologies on social media wouldn't be enough. The "minimum program" could have included rectifying the situation by giving compensation to affected customers and sharing a press release about all actions taken. 
Implement your social crisis management plan 
Every crisis case is unique, but there are steps that are common for all situations. 
Here is a step-by-step plan: 
Put together a crisis management team. Notify them as soon as the issue occurs and ensure they are provided with all the necessary information.

Once an issue occurs, stop all marketing campaigns, as they can potentially attract more negative reactions. 

Start responding to all requests on social media. 

Analyze what caused the negative spike in mentions and come up with a solution

Evaluate the reputational damage for both cases where the brand makes or doesn't make a statement. Based on this conclusion, decide if it makes sense to cause another spike in mentions by publishing an official position. 

If the situation provokes a deep crisis, choose a spokesperson or ask the CEO to take this role. It will help to restore trust and communicate the problem on a long-term basis. 
Restore brand reputation
Massive crises often lead to lower interest levels from audiences. To make amends, companies sometimes put lots of effort and budgets into rebranding. Should however the company has invested in growing its brand ambassadors, they can support it during these dark times. Companies like Red Bull, Harley-Davidson, and Xbox have iconic ambassador programs from which other brands can learn. 
Let's look at an example from the computer games industry. Xbox allows its loyal customers to unlock hidden levels in a game, join a closed competition or receive a gift like merch or a poster.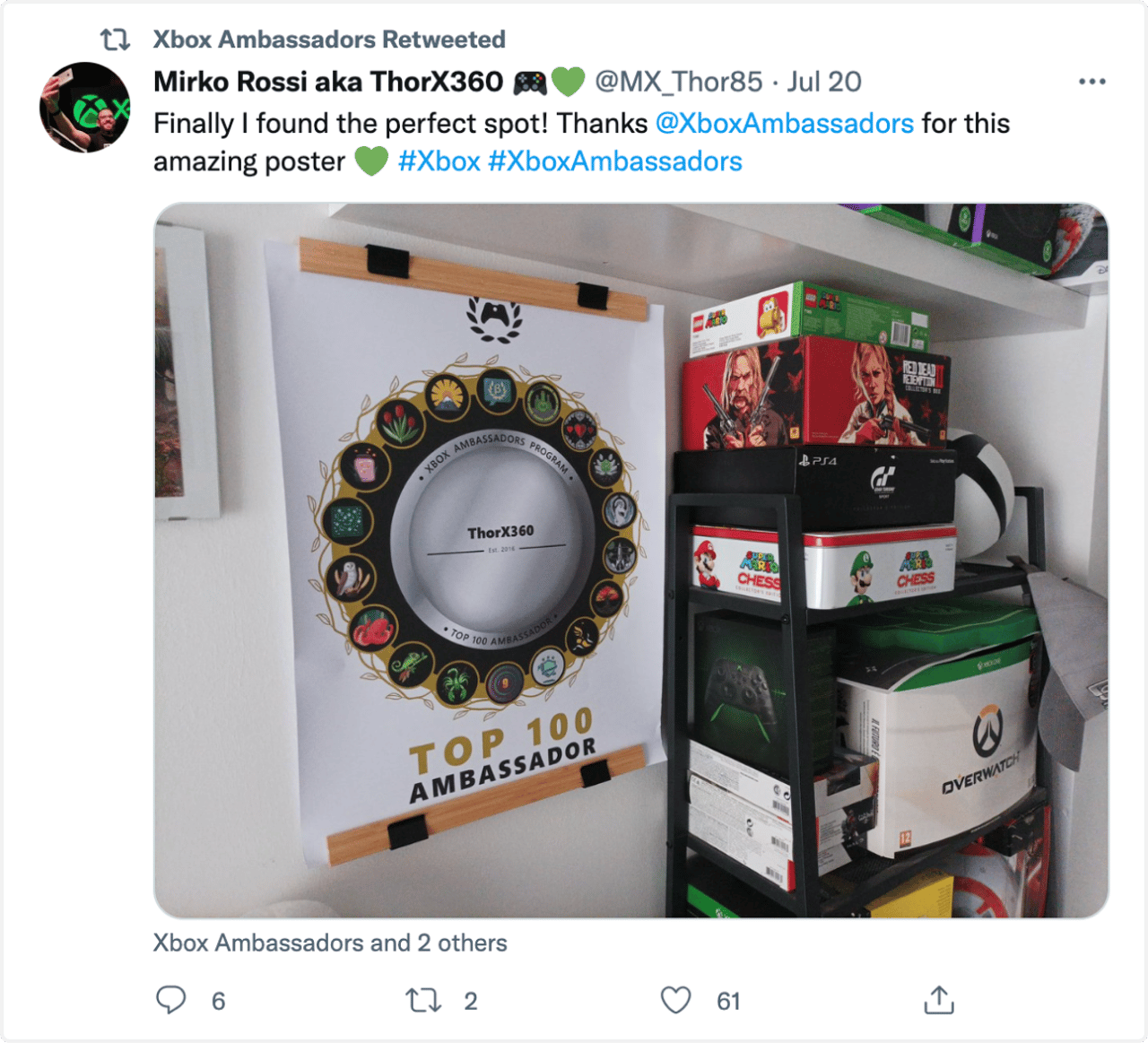 Brand and ambassador connection enables Xbox to involve users in product development and make the console maker's upgrades meet expectations. If a reputational crisis happens, its audience will support the brand. 
If you are unable to  propose similar opportunities to your customers, you can instead start building relationship with some baby steps: 
find loyal users and comment how much you appreciate their positive reviews;

give a promo code for their next purchase;

send a gift or sample of your product;

Invite customers to attend your event, etc. 
Social media listening helps find potential brand ambassadors in just a few clicks. You can collect all your brand mentions with YouScan and check the top authors by engagement who leave positive reviews. 
For instance, this is Heinz's list of top bloggers by engagement. Looking for ambassadors, brands can not only analyze influencers with millions of followers, but also check accounts with smaller amounts of subscribers and high engagement.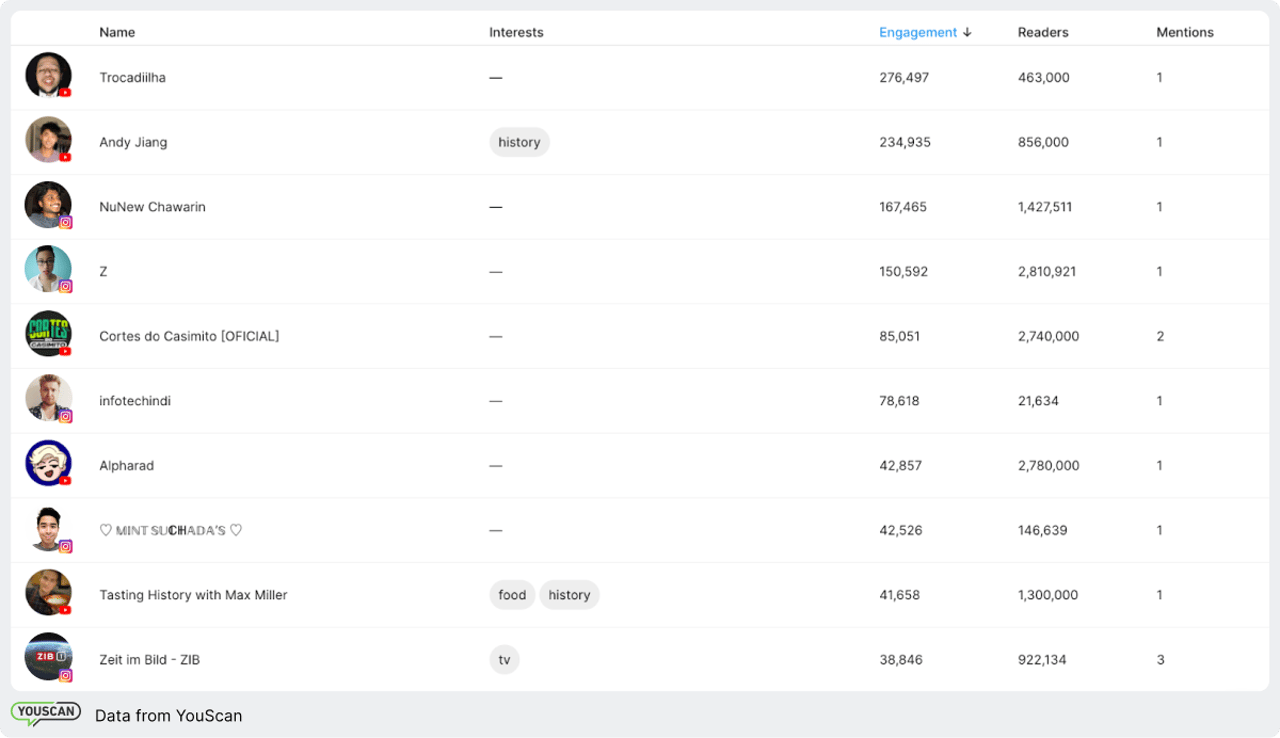 Do you want to defend your brand from a social media crisis? Try YouScan's free demo to learn more about how social media listening can help improve and defend your reputation.