Marketing & PR
Visual Insights
How to Find Brand Ambassadors?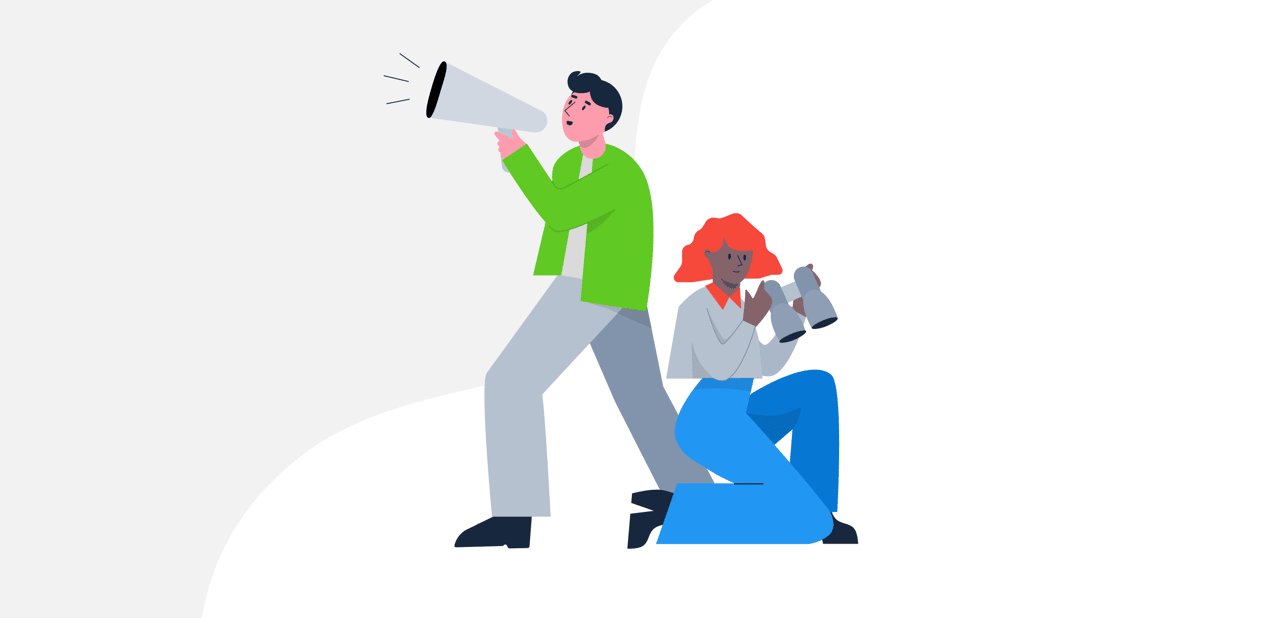 Social media presence is as important for brands as ever. We are used to seeing influencers everywhere and working with them, but what about brand ambassadors? When it comes to marketing strategy, their role is growing, and so is their power. Keep on reading to understand who they are, why they are a huge benefit for brands, and what the most efficient way to find your brand ambassadors is.
Brand ambassador guide
What does brand ambassador mean? Usually, it is someone who is initially a fan of your service or product. They know it, they use it, they love it. What do brand ambassadors do? Basically, they promote what you do even before you communicate with them. Their positive experience with your brand is the reason why they want to spread the word about what you do. Thus, their message is 100% genuine. This is a very important part because trust is a huge issue among consumers when it comes to ads or paid partnerships.

What differs brand ambassadors from influencers? The former are often ordinary people without massive followings, whereas the latter are usually celebrities or bloggers. Yes, the scale is much smaller, but so is the distance between them and those who follow them.
Also, brand ambassadors sometimes focus on a particular topic. They may be experienced users or even experts in the fields they cover in their content. For example, someone who has had skin-related issues for a long time talking about products that helped them improve the condition of their skin. Or a personal trainer sharing their opinion on workout gear and healthy snacks.
Plus, usually money is not involved. Brand ambassadors do not earn a living via content creation. They are actual consumers with day jobs who happen to be eager to share their impressions with others. Brand ambassadors do not need to promote new stuff all the time to pay their bills, but they might be interested in having direct communication and collaboration with a brand they like.
How to find brand ambassadors?
The earlier you start including brand ambassadors in your marketing strategy, the better. But where do you find them? Sure, you can explore your social media profiles, look at the posts under your brand`s hashtag or your mentions, and choose.
However, there are certain nuances that might be missed when the search is done manually. For example, ambassadors tend to skip tagging brands or using branded hashtags. So while they are unconsciously promoting a particular brand without mentioning it or talking about it directly, it can be literally impossible to find their posts. Or a person may share a lot of relevant content while also receiving a ton of negative feedback. Thus, not being a safe representative of a brand.
Plus, as your company grows, the number of people posting about it will go up as well leading to the efficiency decline of the personal approach. This is where software comes in.
YouScan is a social media listening tool that is capable of solving these and other issues, as well as providing you with a ton of useful data that can help you make much more informed decisions. Let`s have a look at several examples.
Dive deep into user-generated content
Glossier is an American skincare and make-up company that has managed to build an exceptionally strong brand and successful business in just a few years.
From the start, they made a big bet on user-generated content, and this approach has definitely paid off. People love posting photos of their products and sharing their impressions. But how can one find genuine brand ambassadors in such a crowded space? Software is the answer.
We used YouScan to collect all Glossier mentions that were posted within the past month and discover the ones that might be relevant in terms of finding brand ambassadors. These are some of the posts that stood out.
An Instagram user with less than 2000 followers had around 400 likes and more, as well as dozens of comments. Its author turned out to be a skincare aficionado constantly posting about skincare and make-up products and receiving a lot of feedback from a small circle of her followers.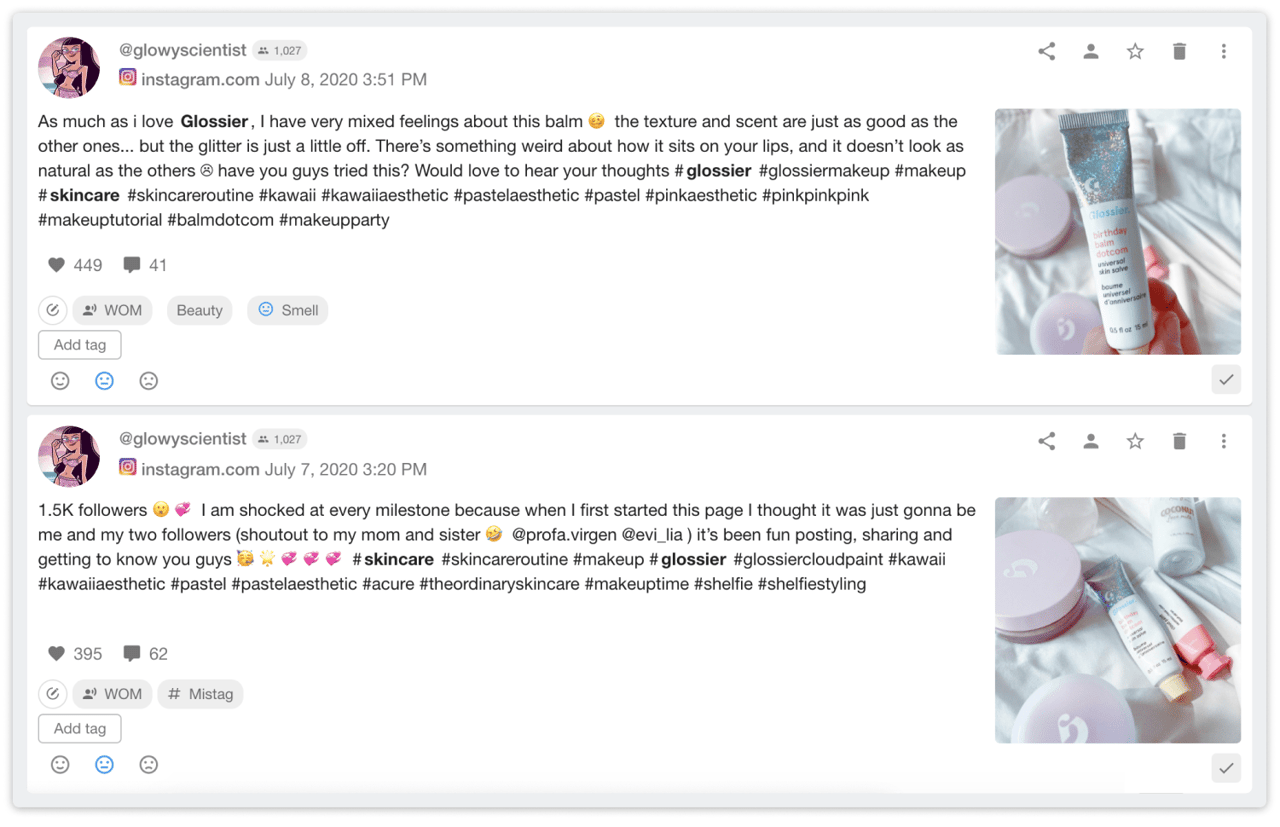 This profile could have been lost among many others that feature Glossier, but our software has emphasized it because it had numerous posts dedicated to Glossier products with positive reviews about them. So, its creator can be considered their brand ambassador.
It would make a lot of sense for the brand to reach out to her and build a long-term relationship with someone who is already a fan of what they do and would be thrilled to keep on using their products and talking about them.
To find posts that featured the brand but did not mention it in the text, we used Visual Insights. This feature is capable of detecting particular logos, as well as objects and scenes. One of many results was an inspirational type of image with a Glossier product and no tags or mentions of it.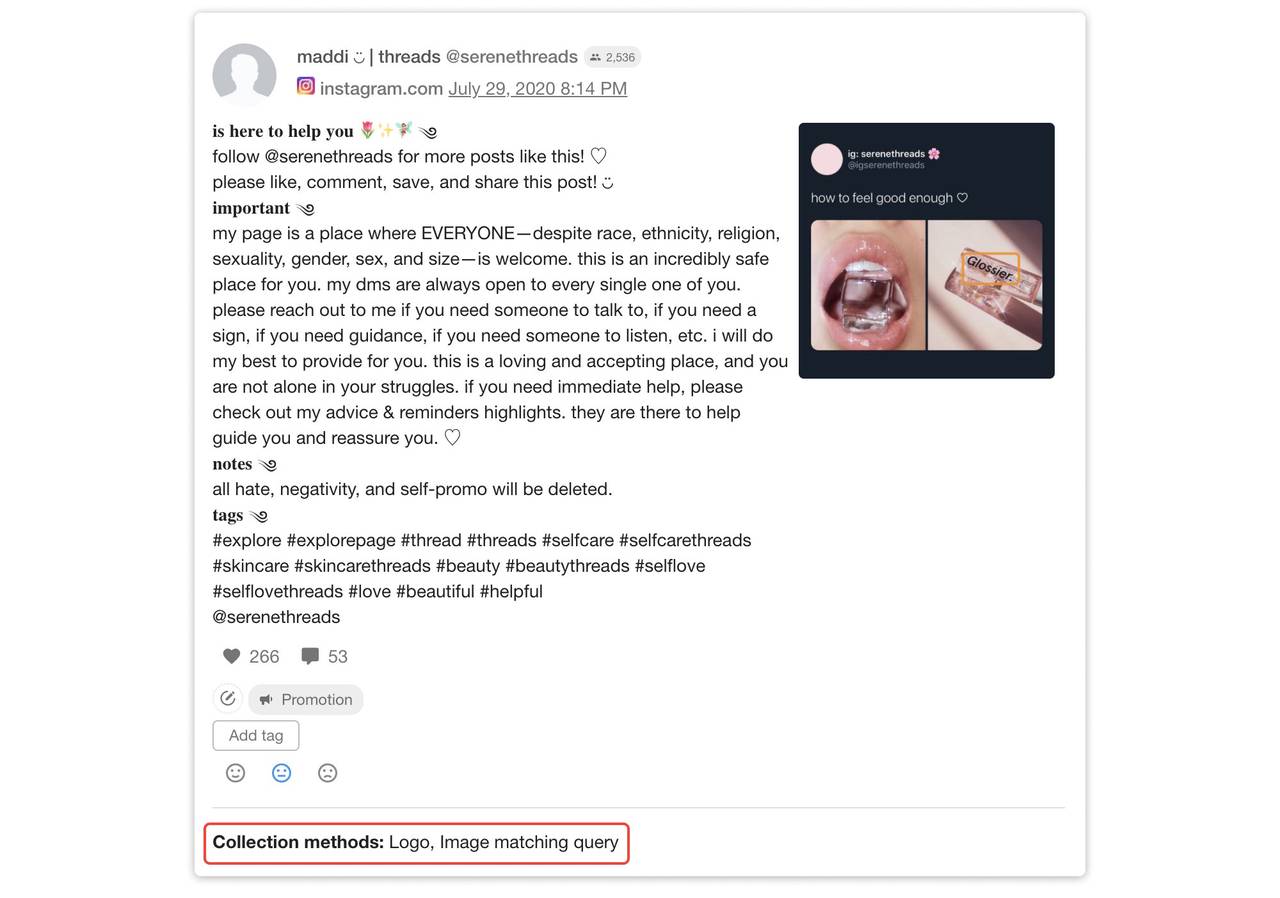 When you look for brand ambassadors or influencers, for that matter, it is a good idea to be in touch with people that have audiences of different sizes. So instead of communicating and collaborating with 5 content creators with 5000 followers, better pick someone with less, and others with more.
Two very important tips: choose the Word of Mouth category in order to focus on the posts about personal experiences of the authors. They tend to be more insightful. And turn off the Promotion category to find posts that had high engagement without being paid for. You can do both in the Filters section.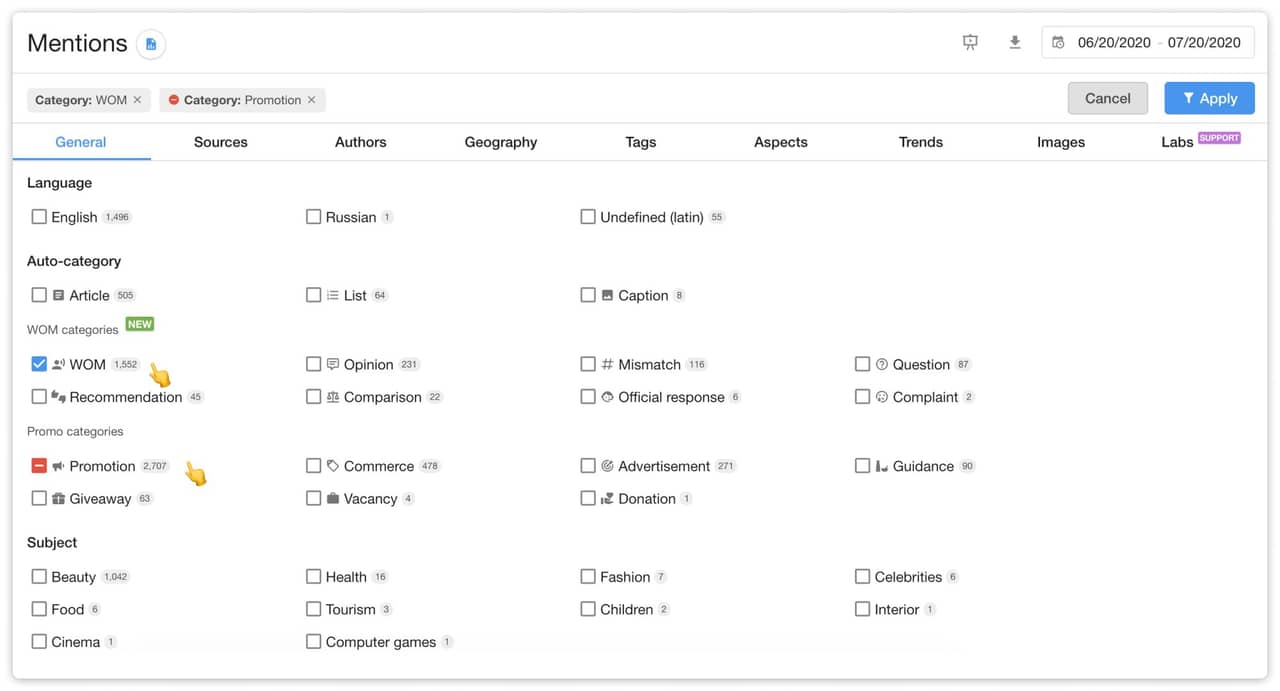 Analyze demographics and embrace diversity
Oatly is a Swedish vegan food brand that has won the hearts of their consumers thanks to not only high-quality products that taste good, but also with their light-hearted and playful tone both in ads and on social media.
Representation is important. Women tend to discuss lifestyle and health more often. And one might think that a food brand would win from focusing their communication strategy on women, but that would be a mistake. Men are becoming more and more interested in joining this conversation as well. So, covering all bases would be the right thing to do.
We analyzed the demographics of the Oatly mentions and found that there were posts both by female and male authors. It is definitely useful to take this into account when you plan and execute your strategy, and instead of looking for female brand ambassadors only, it is a good idea to include men as well.

We used YouScan in order to have a look at content creators that were mentioning Oatly in their posts and find those that were at the top in terms of influence and engagement. It is important to point out that these columns usually have different users in them because one might reach more people but have a lower engagement level than someone else with a smaller outreach but higher engagement. On top of that, you can add various filters to see the top authors in terms of aspects that matter to you the most.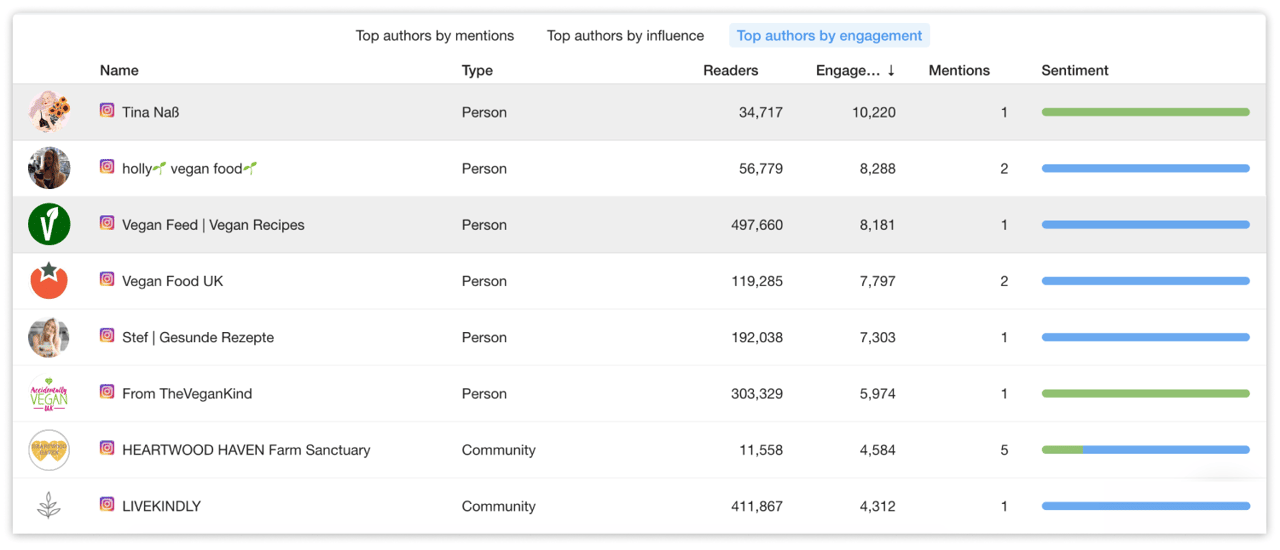 Pay attention to the numbers. A profile with 34,717 readers has a higher engagement level than one with almost half a million followers. This is a perfect example of the current situation on social media: huge content creators may actually be less influential than people with much smaller pages.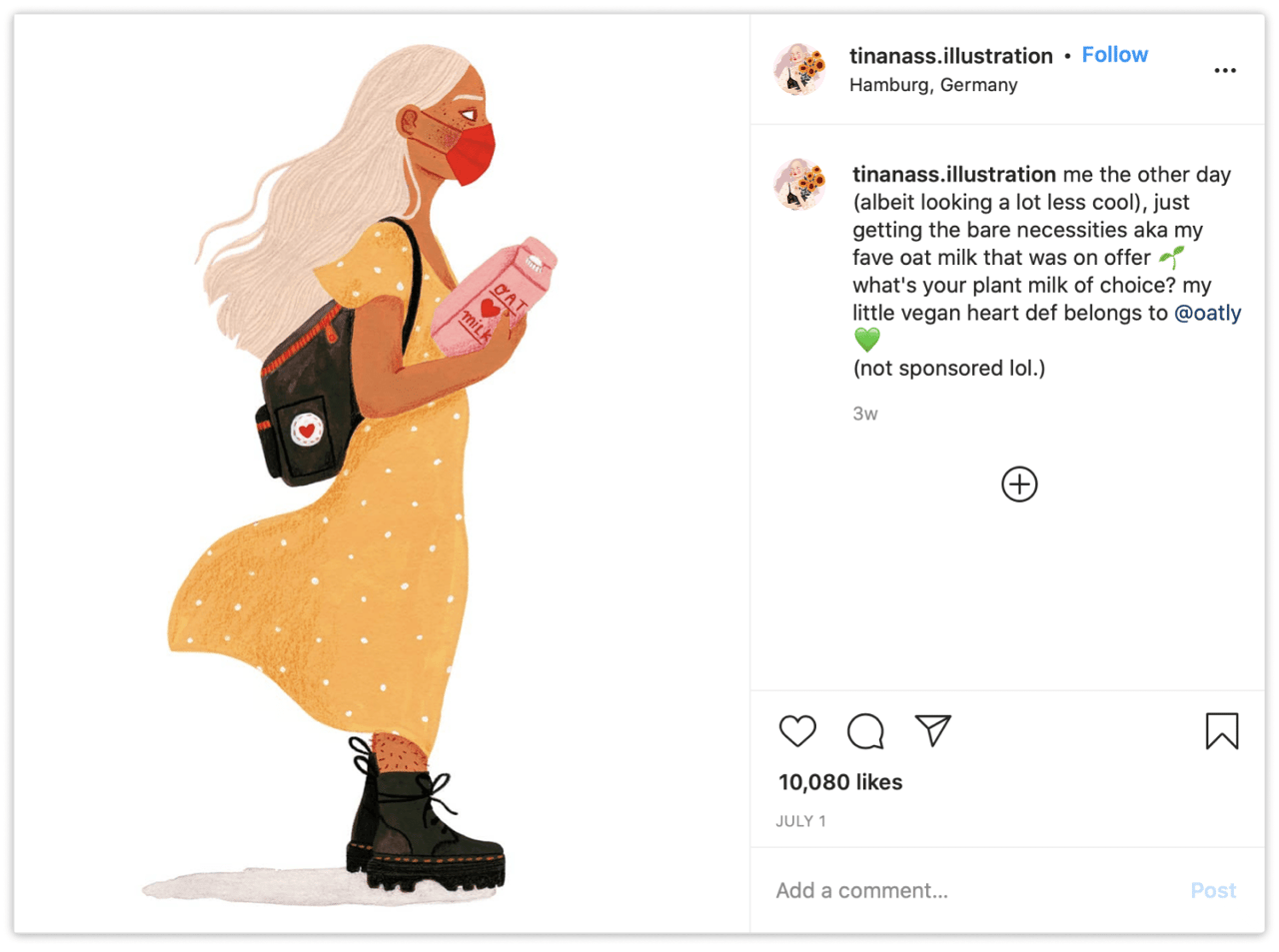 Geography is another filter that is full of insights. Our software has shown that Oatly was mentioned in the United State and the United Kingdom the most.
It is a good idea to use this feature before launching a product on a new market and finding local brand ambassadors. They might be interested in what you do even before they get access to it. Or they might have already tried it and would love to inform their followers about a new opportunity.
Focus on visual insights
Even though we have mentioned that brand ambassadors are usually ordinary people without massive following, it does not only have to be that way. Brand ambassadors can be extremely popular. And they can promote your brand consciously or unconsciously.
We chose Gucci as a case study and used our logo search feature to find posts that included the brand but did not have any tags. Visual Insights helped us do that.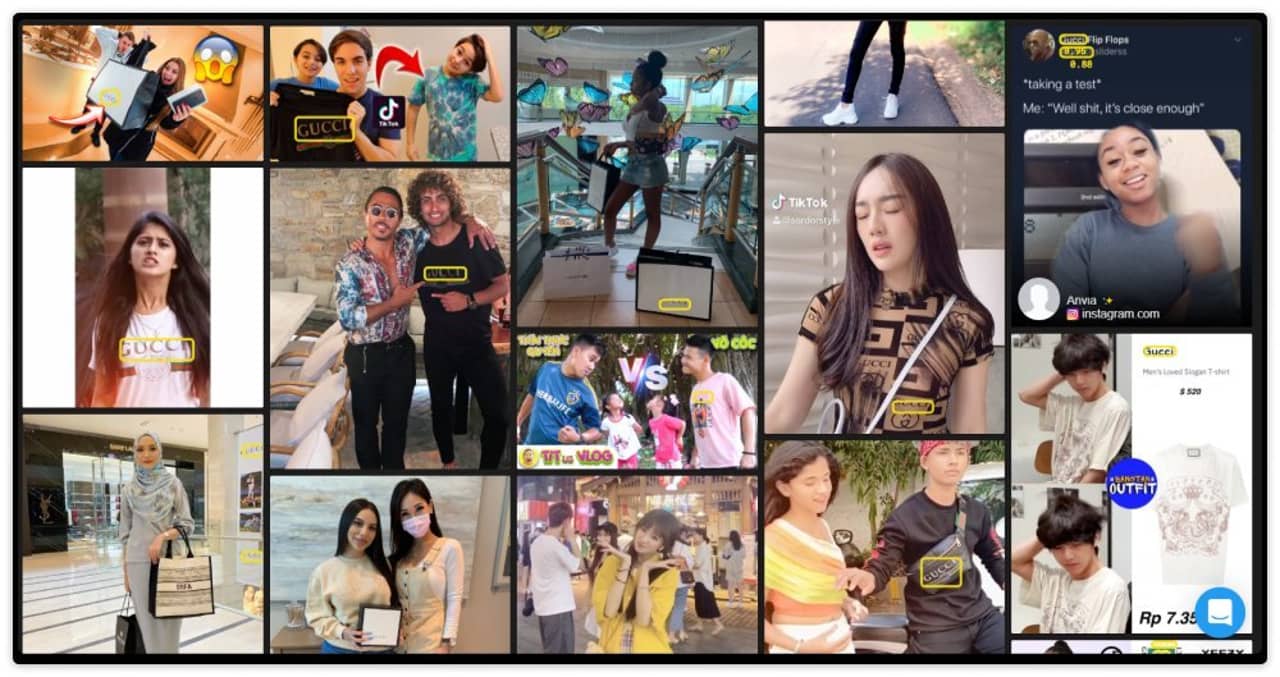 One of many detected posts was by a famous TikToker from Thailand with over 1 million followers. In it she is wearing a Gucci top but the brand is not tagged, and the hashtags do not mention Gucci either. And even though the purpose of the post had nothing to do with the fashion power house, it is a perfect example of someone being a brand ambassador.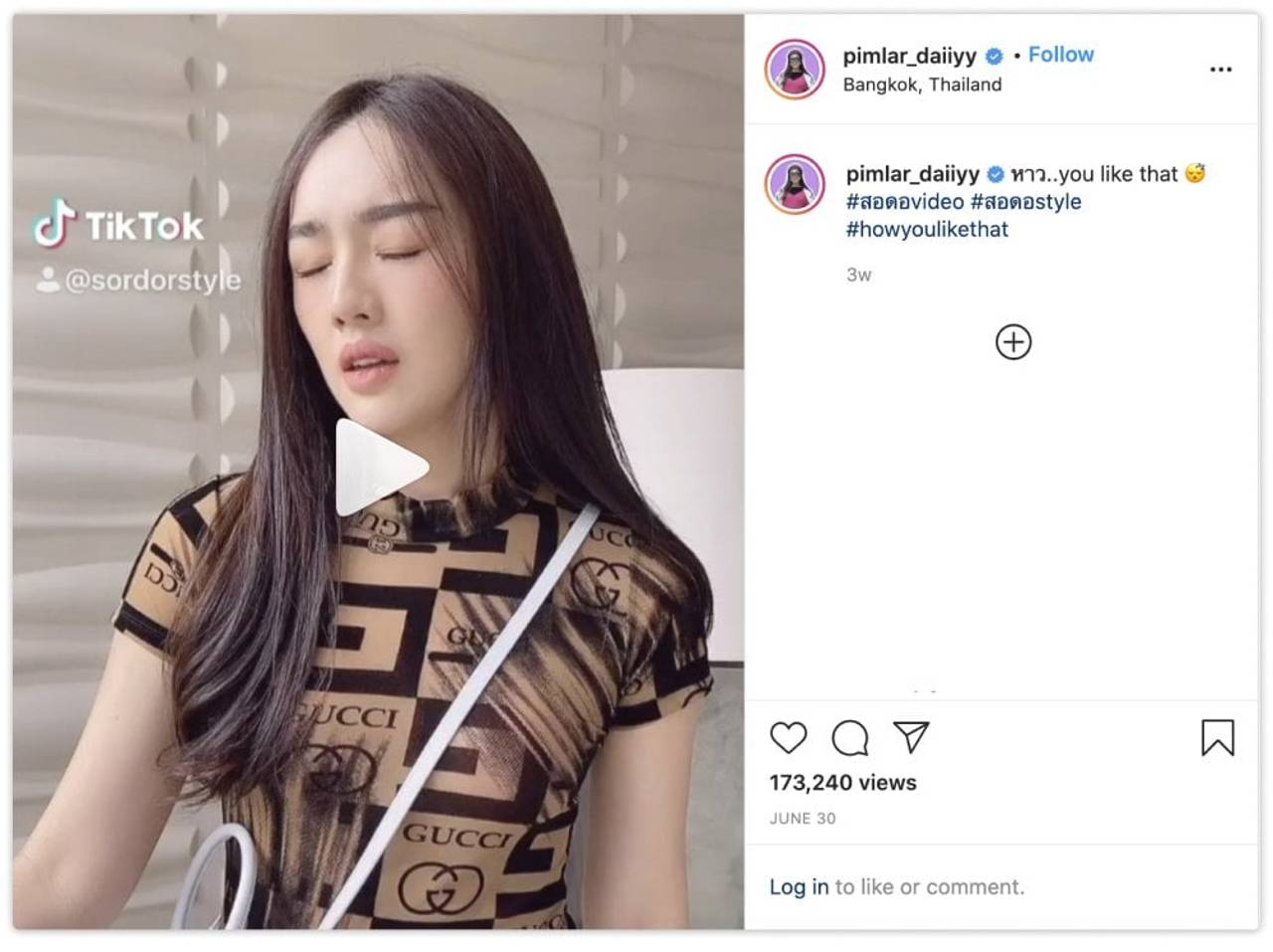 Obviously, details matter. So, the more filters you choose, the better. For example, you would like to focus on the market in the US and New York, in particular. No problem! Our filter system lets you do that quickly and easily. That is one option out of many.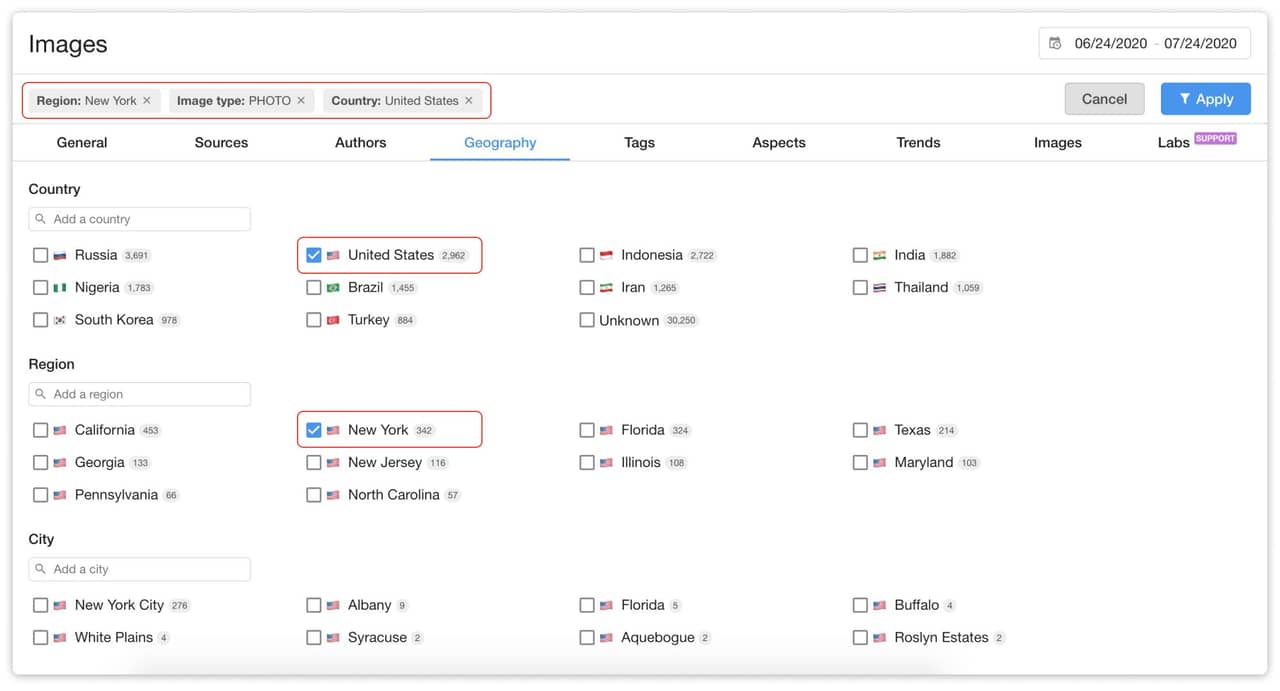 This is an example of a post that would never be found manually. Meanwhile, a woman in the photo is promoting Gucci by wearing their glasses and demonstrating them.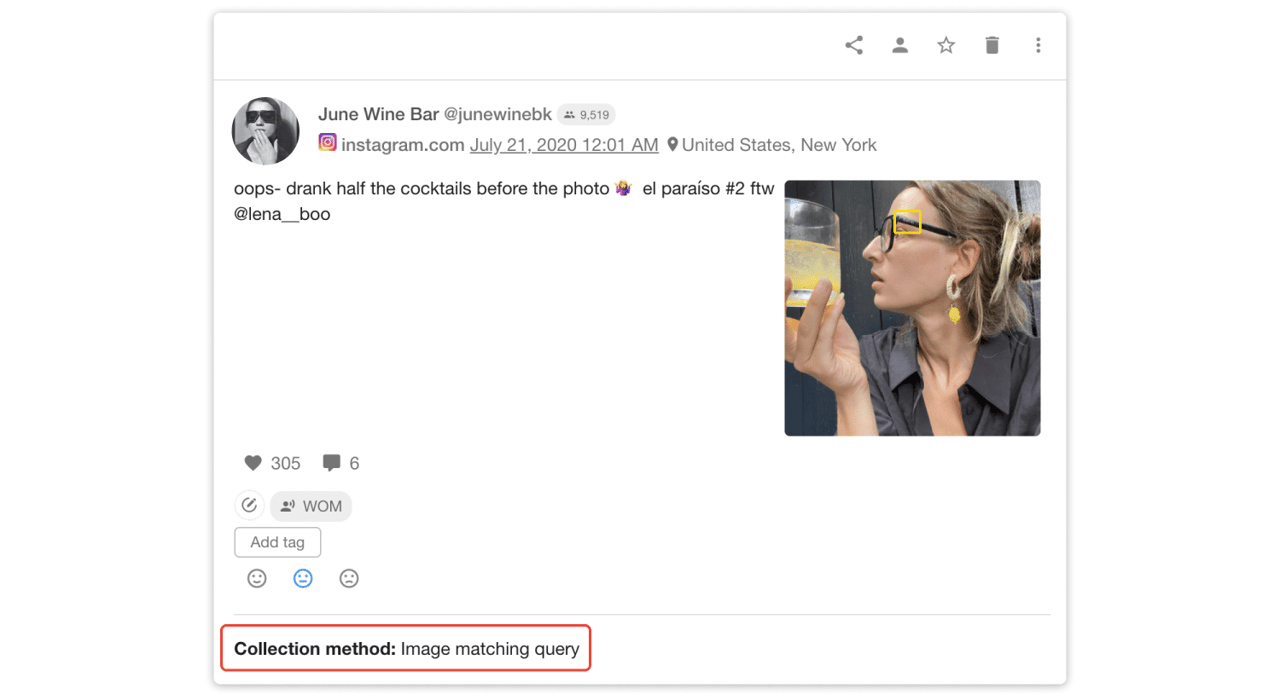 Brand ambassadors in a nutshell
All in all, as social media users are getting tired of seeing ads that are becoming more expensive and less efficient, brand ambassadors are turning into an essential asset of any company that is willing to keep on evolving and growing.
If you would like to find your brand ambassadors with loyal audiences and high engagement level, social media listening software like YouScan can help you do exactly that.
Would you like to bring your marketing strategy to the next level? Request our demo.