How DTC brands benefit from social media listening
Traditional brands are trying to catch up with direct-to-consumer brands as they conquer the Millennial digital-first market. Because of their digital nature and focus on social media marketing, these young but rapidly rising companies may compete on an equal footing with older and more established brands. This trend - dynamic, consumer-first upstarts challenging the incumbents - emerges today in almost any industry.. So, how do DTC companies use social media intelligence to grow their business?
Understanding the DTC concept
The DTC brands are "direct-to-consumer" companies. In other words, these are businesses that offer their goods directly to consumers rather than through retailers, marketplaces, distributors, and so on.
Such brands typically rely heavily on online sales, particularly in recent years, when pandemics and logistics issues have impacted offline sales in most countries. Still, the main reason many companies choose the direct-to-consumer sales model is that such an approach allows them to provide a better customer experience. Since the DTC brands engage directly with their audience, they have more control over the quality of service, resulting in greater performance and customer loyalty.
Many of these brands went viral and gained a large number of followers. The most well-known success stories include the beauty brand Glossier, which was started only in 2014 and is now worth $1.8 billion, and Dollar Shave Club, a subscription shaving brand bought by Unilever for $1 billion in 2016.
Typically, D2C companies mainly use online channels for communication, with a strong emphasis on social media. 68% of direct-to-consumer marketers cited social platforms as their primary way of reaching out to their target audience.
So, if social media is that crucial for direct communication with the audience, let's see how social media intelligence can help use this channel to its full potential.
Improve customer experience
Due to the digital nature of marketing communications, brands can fully access all customer data without relying on third parties. For instance, tracking sales, customer satisfaction, delivery, and so on can be managed directly through the brand's owned channels and software. 
Social media data, on the other hand, is a perfect source for tracking and analyzing consumer attitudes and behaviors. Such social media intelligence tools as YouScan, allow marketers to instantly access social conversations featuring their brand and explore what people discuss online.
For example, Casper is an e-commerce company selling sleep products. The brand claims to provide the best bed for better sleep. By accessing brand mentions on various social networks, we can check whether the promise reflects what people frequently mention when discussing Casper online. Aspects analysis provides a complete picture of the most often discussed product features as well as consumer attitudes towards them.
Fortunately for Casper, customers are mainly pleased with the usability, pricing, health effects, customer service, and design. However, there is definitely space for improvement, as pricing and customer service are regularly criticized.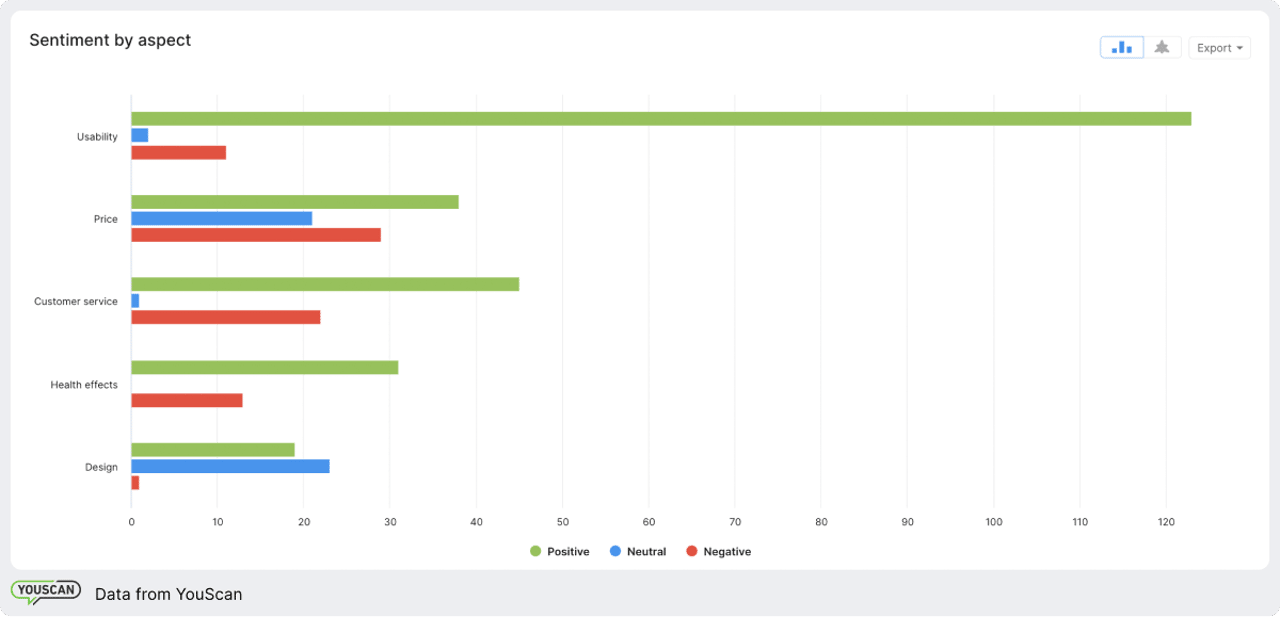 Uncover consumer insights
Since people are used to sharing their experiences and reviews on social media, brands may leverage itl to better understand their customers' needs, interests, and motivations, as well as uncover hidden insights. This might be an unusual use case, product improvement advice, or even a fresh positioning concept. Marketers may use social intelligence to evaluate general brand health metrics, build dashboards, and measure KPIs while also diving into the mentions stream and reading brand mentions in full.
For example, Ikea, the Swedish home retailer, is well-known for its affordable pricing, simplistic design, and ability to combine or adapt its products to your preferences. Many consumers, particularly DIY enthusiasts, like sharing their hacks and ideas for creating unique interior solutions.

Here's a post from a client who made a mirror wall out of Ikea's Fiskbo picture frames. The brand might analyze similar posts to see how customers use their products and generate ideas for future ones. Monitoring visual mentions (those including photos) can also be added to the Inspiration & ideas section, where the company gives real-life examples of products in real homes.

Improve communication with user-generated content
For marketers, user-generated content (UGC) is a hot topic. While some businesses are looking for ways to encourage their customers to post brand-related content, others are so successful that they can build a visual strategy around it.
Mejuri, an everyday fine jewelry online shop, is so aligned with its consumers that the brand's Instagram feed is nearly entirely made up of user-generated photos and videos. The key benefit of such a strategy is that users are eager to post more photos and tag a brand in order to be featured on a company's official page. As a result, Mejuri reaches a larger audience and enjoys free marketing content.
Below is a screenshot of the visual mentions feed from YouScan. These photos align perfectly with Mejuri's visual aesthetics.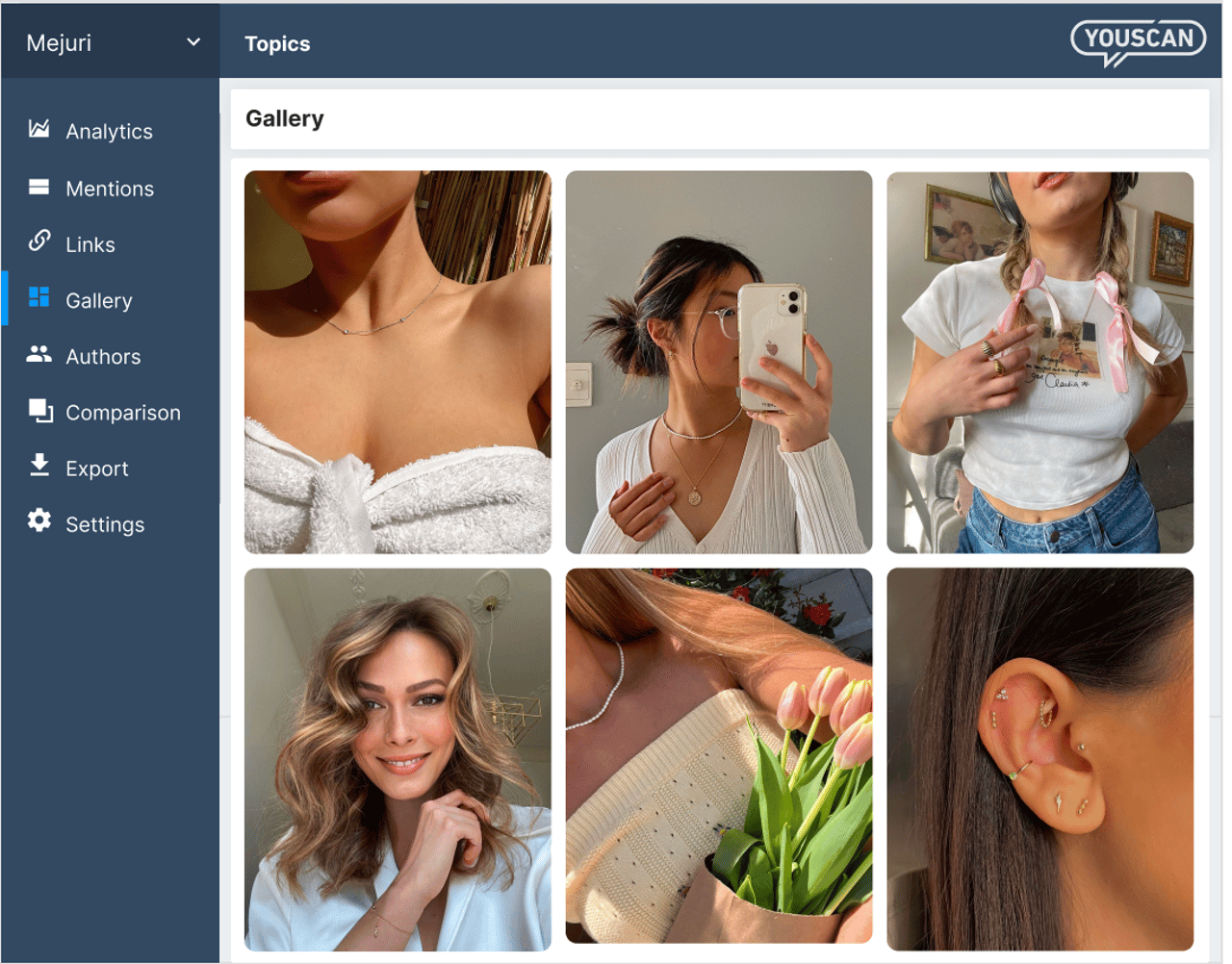 And here is the brand's page on Instagram. If we check the picture with rings, it turns out that it's a repost from a customer's page.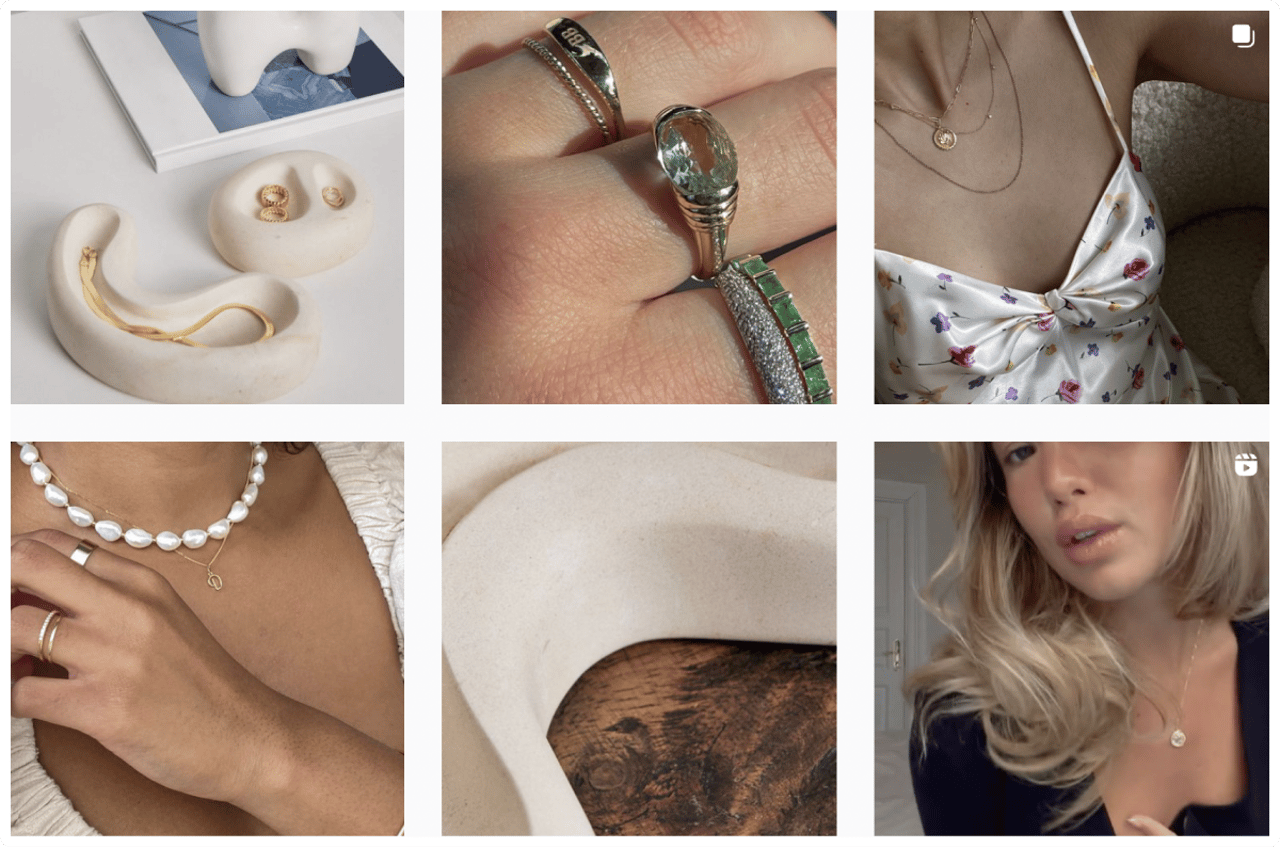 And here is an initial post tracked by YouScan.

With the ability to track user-generated content, businesses can not only implement it in their own communications, but also bring diversity to their campaigns if they notice that consumers have a different aesthetic. 
The general conclusion here is that D2C brands must constantly analyze how their customers perceive their brand in order to maintain their major advantage of understanding their customers better. And what's better for that than social media listening?
Do you want to know what people on social media are saying about your brand and its competitors? Request a free demo of YouScan to dive into your audience's discussions.