What is crisis management and how social media listening can help with it
Sooner or later, every big brand grips with the challenge of protecting its reputation. What crisis management strategies work, and why do some brands fail to get away with the scandal?
For Apple, this year didn't start well: at the very beginning of January, TechCrunch, one of the most influential tech media, published an article "Apple's biggest scandal of 2022 is already happening". The text was dedicated to AirTag, a sensor that helps track the lost keys, luggage, or any other objects. With this article, Apple's reputation crisis started.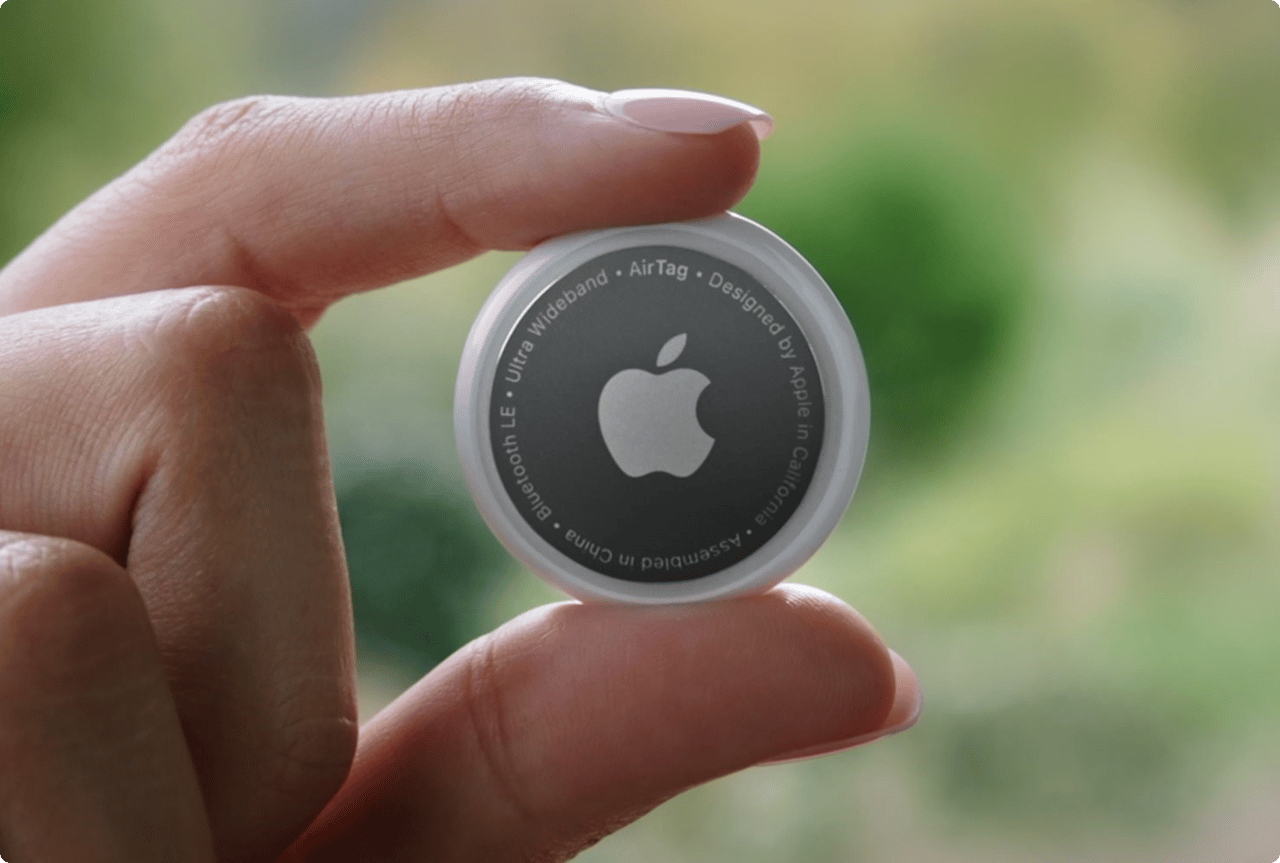 The main concern about this product was the possibility of abusing it for stalking people. Media worldwide were sharing the stories of casual people tracked with AirTag. As a result, Apple had to implement all its crisis management measures instead of getting excess profit. 
According to social media data, the word "AirTag" more and more often appeared together with such words as "criminal", "vehicle tracker", "thief", "police", etc.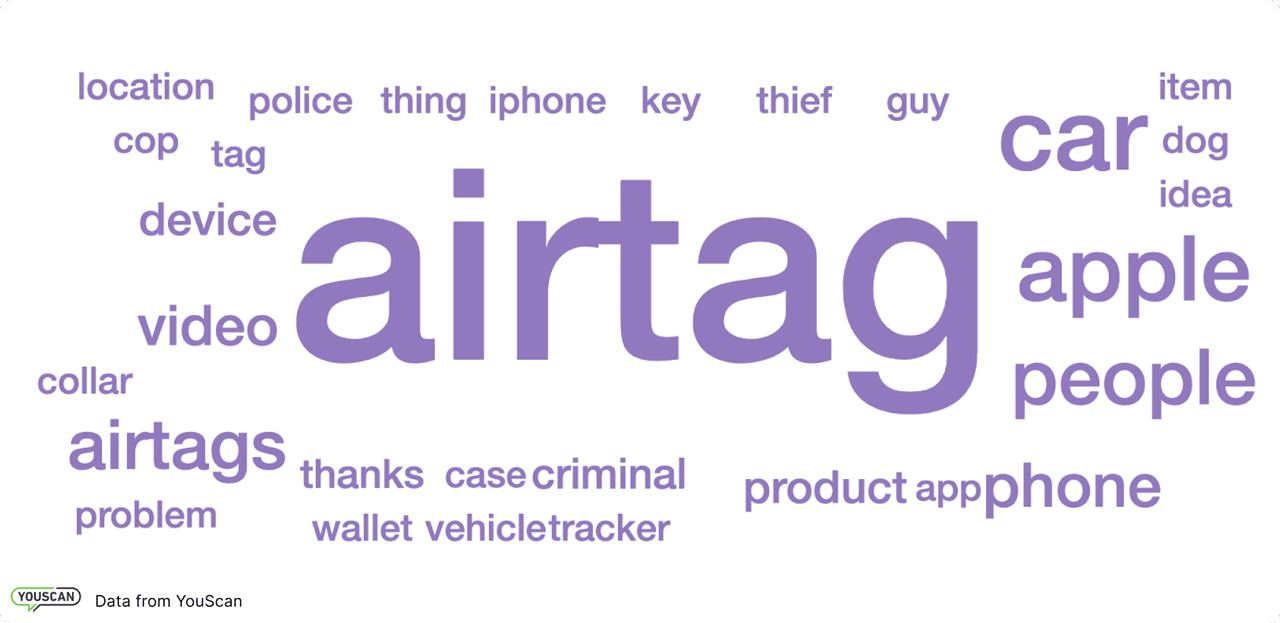 In addition to negative news articles, the new Apple device received lots of negative feedback from influencers. According to YouScan's data, YouTube got blogger Mrwhosetheboss with 188 thousand likes and more than 5 million views who became the #1 author by engagement among the reviewers of AirTag.
After the spy scandal started, Apple made some changes to the product. Its crisis management steps included privacy warnings in AirTag and AirPods alerts about suspicious devices nearby. Apple also promised to disclose users' data upon the police requests if they suspected the device was in the "wrong hands". 
With extensive experience in crisis handling, Apple still can't cope with the AirTag's bad reviews, as the product changes didn't work well. The number of negative mentions at the beginning of the scandal and 6 months after stayed at the same level.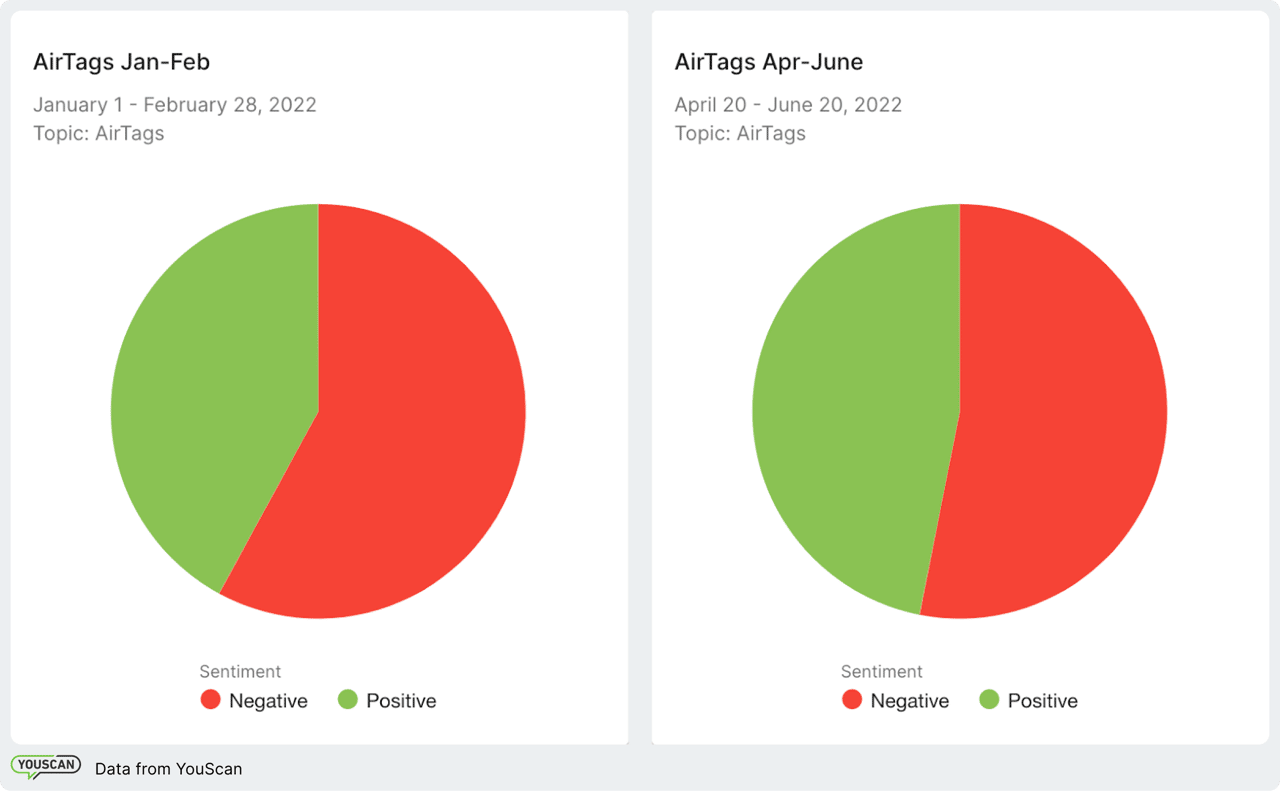 And it was predictable because the problem wasn't resolved: AirTag still can be used for stalking. 
Campaigns tracking
Fashion brands know well that there is a narrow line between bringing fresh and new ideas to the market and being overly creative. One of the biggest scandals in the fashion industry happened to Dolce & Gabbana in the Asian market in 2018. The founders decided to teach Chinese people to eat pizza without chopsticks in its advert.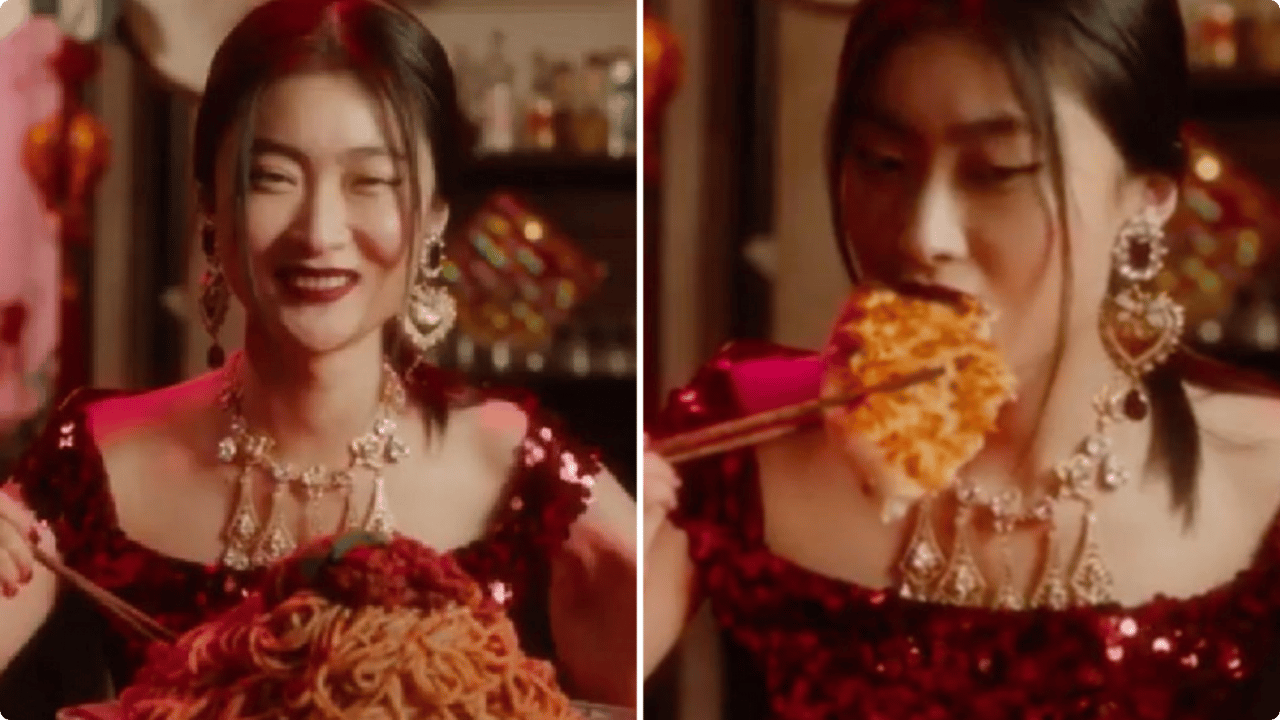 Ridiculing cultural differences was inappropriate for Asians: after the massive scandal and financial losses, the brand had to leave the market. 
Tracking social media reactions helps to avoid crisis events. Zara's recent example shows that if the situation was rectified quickly, it wouldn't turn into a big fire. 
In June 2022 Spanish mass-market brand launched a new campaign. The creative photoshoot included shoes that the designers put on top of the bread.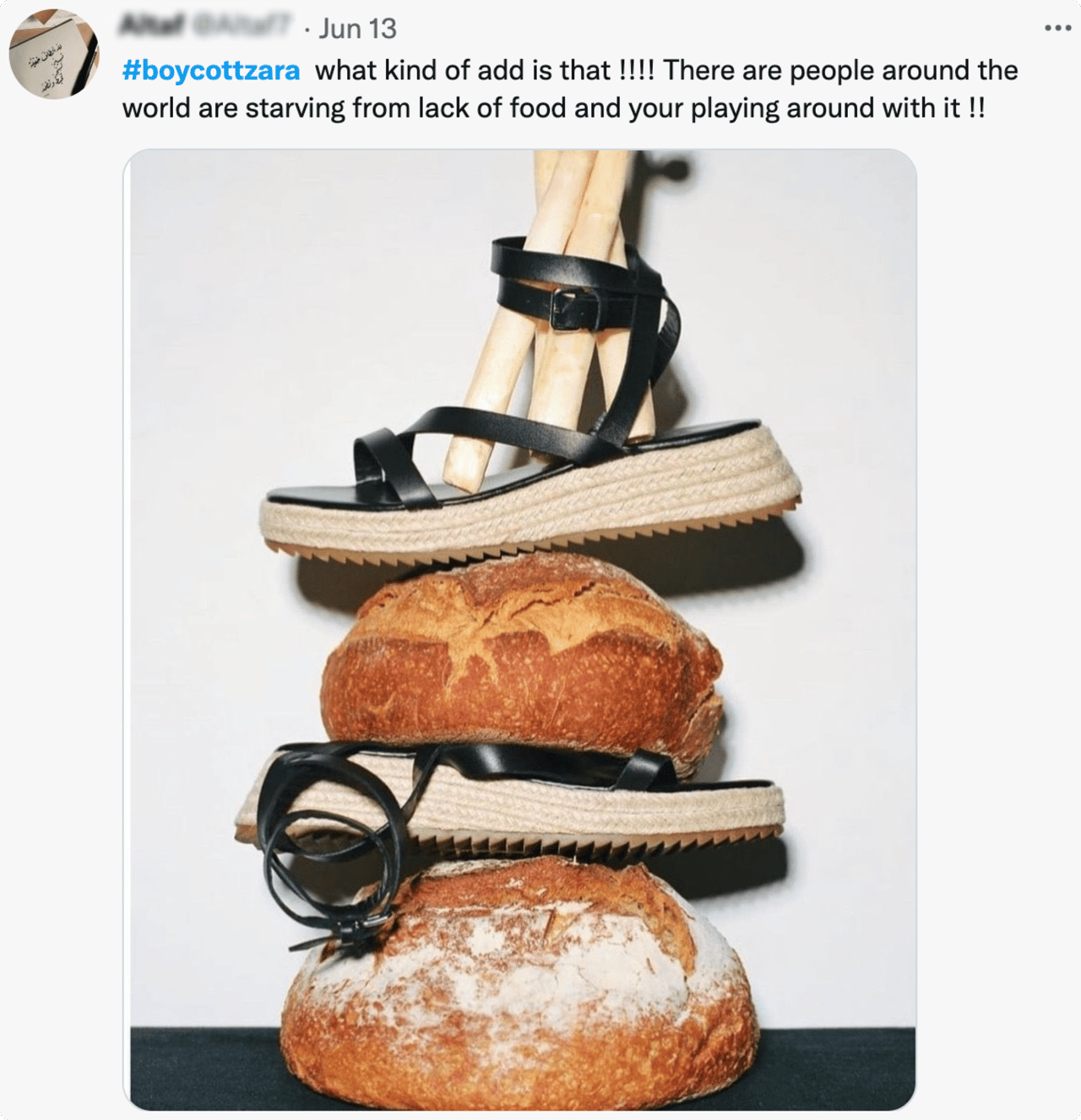 During 10 days, the campaign received less than 1500 mentions, but reached a very high level of engagement – almost 250 thousand likes, comments, and reposts. The ratio between positive and negative mentions was skewed toward criticism: the Net Sentiment Rate dropped to -51.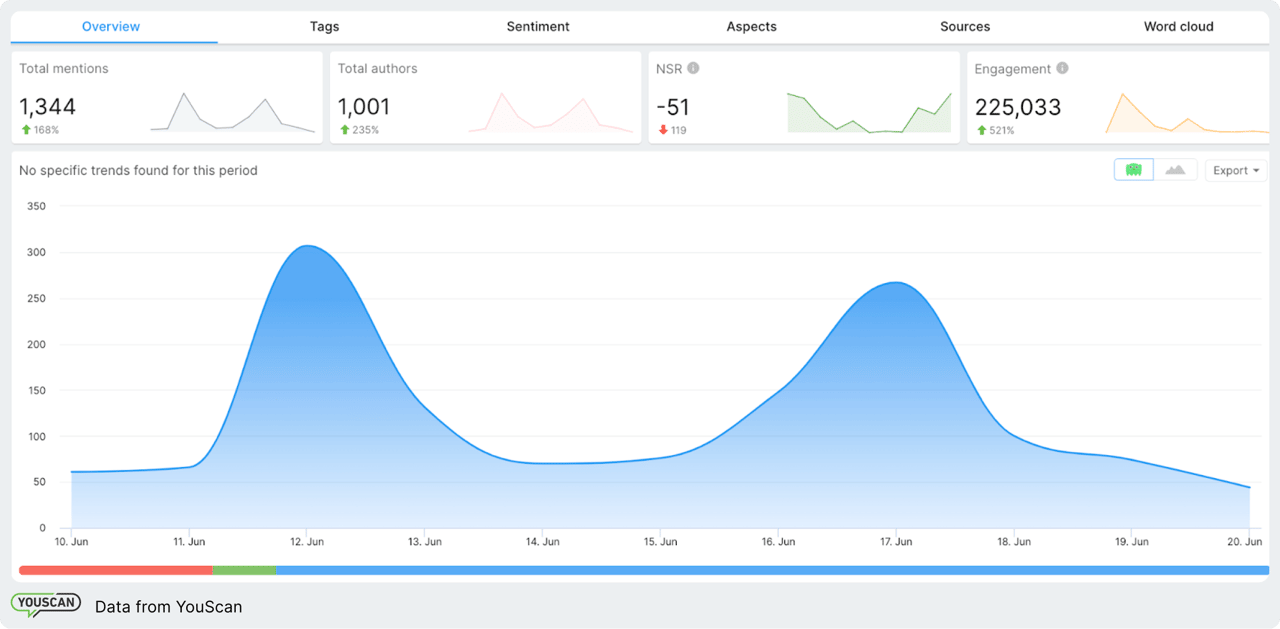 In media, the situation was even worse: campaign didn't receive even one positive mention, while NSR was -100.

Users mentioned that brands shouldn't use bread this way while so many people worldwide are affected by hunger. In Turkey, users started a Twitter flash mob with hashtags #zarahaddinibil and #boycottzara.
Tracking social media reactions helps avoid passing through all crisis management phases by suppressing the scandal in the very begging. Zara's response to criticism was immediate: the brand removed an advert that disappointed users. 
Another food scandals happened to KFC. While Australian customers, including the country's prime minister, criticized the fast-food chain for replacing lettuce in its burgers with cabbage, China declared war on this brand. 
Recently, KFC launched a campaign selling toys with meal kits. To get this toy, Chinese people started to buy kits, even if they didn't plan to eat them. As a result, KFC was accused of provoking enormous food waste. Because of that, the Chinese government called citizens to boycott the restaurant. 

The solution to this problem wasn't cheap for KFC: the brand set up a food redistribution program that cost 12 million dollars. This initiative didn't provoke the same spike in mention as accusations of food waste, but at least the amount of criticism went down. 
The best practices of crisis management
There is no universal remedy for any problem, but during the last years, brands managed to find several effective scenarios. 
Be open and honest
Nobody is perfect, and the same goes for brands. In lots of cases, it's more than enough to admit the fault and apologize. This strategy worked perfectly for Starbucks when the employees of the restaurants asked Afro-American visitors to go out if they weren't planning to make an order. These actions of stuff provoked a massive scandal, but the brand rectified the situation by admitting the fault and apologizing. 
Assign a spokesperson
For customers, it is essential to see the person who takes responsibility for the accident. Acting as a spokesperson, a company representative will share all reputational risks. That's why using a "crisis manager" will help regain trust. This strategy was used by Volkswagen in 2015 when the automaker was forced to admit that special software on its cars underestimated the number of harmful emissions. The company's executive Martin Winterkorn took all responsibility and was the one who communicated the problem. 
Keep silence when it's appropriate
If the problem was noticed very early, it makes sense to rectify the situation without additional attention. Zara's "bread scandal" is an excellent example of when this type of behavior is acceptable. Apologizing on its Instagram account with more than 50 million users will attract much more attention and provoke additional criticism.  
The importance of crisis management is not in doubt: an effective strategy can help a brand not only protect its reputation, but also save the company from financial ruin. Social media listening helps to see the first signs of a future PR disaster. If you are ready to know what customers think about your brand, try YouScan's free demo.