Top trending hashtags: how to find and use them properly?
While the first hashtags were launched in 2007, lots of brands are still not clear on how they work, when it makes sense to use them, which hashtags can be effective in certain circumstances, and what strategies work best.
Hashtags are an effective way to reach more people when sharing content on social media. When using hashtags, your post automatically appears on the page featuring all existing content with that particular hashtag. You can add hashtags to posts, stories and videos. Moreover, users can follow certain hashtags on Instagram.
By using trendy hashtags, you can achieve several important goals: 
Increase the reach of your posts 

Build your brand community 
Let's look at each option in detail. 
To increase the reach of your post, add relevant hashtags to all types of your content. 
Currently, on Instagram, you can add up to 30 hashtags to a post and up to 10 hashtags to a story. However, there is no reliable official information on how it influences your reach and engagement. 
According to the Instagram creator's account, users should use 3-5 hashtags. In other official Instagram recommendations mentioned that 8-15 hashtags work better. 
Later, a marketing platform for Instagram, did research based on 18M posts and shared some interesting conclusions that more hashtags lead to better results. For the highest reach rate, 20 hashtags are optimal, while 30 give a better engagement rate.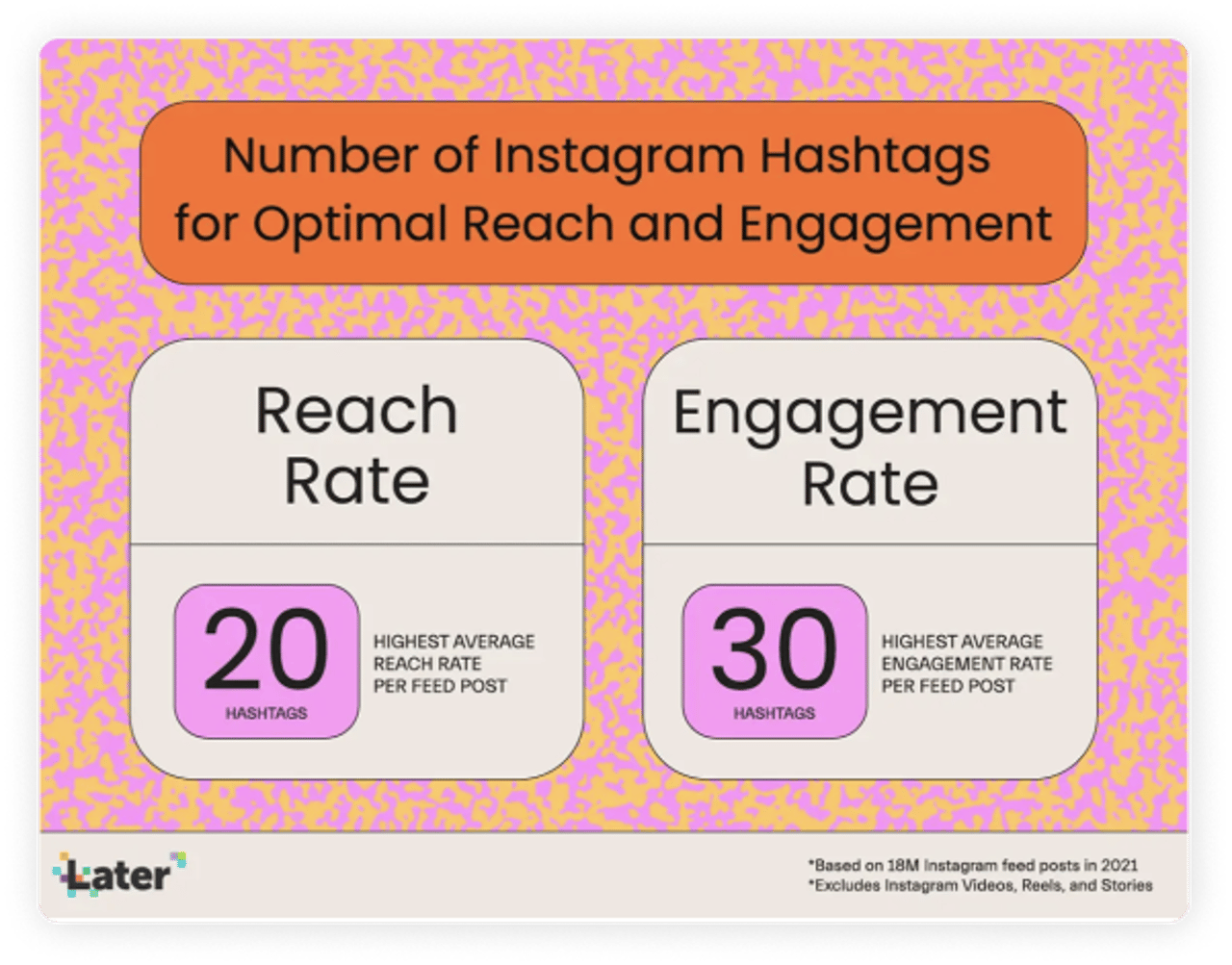 In addition, social media use hashtags for SEO. That's why social networks encourages users to select only the most relevant trending hashtags right now. In addition, relevant SEO descriptions of the post can increase reach. 
How to find the most trending hashtags today?
Explore page on Instagram or TikTok
The fastest and easiest way is to open the Explore page on Instagram. The content placed on this page is chosen by an algorithm and is based on your interests, reactions, accounts you follow, and content you watch longer than other types of posts. It is one of the best ways to check hashtags under posts you see, as there is a high probability they would be the most relevant for you. At the same time, if you use hashtags from the Explore page, most likely people with similar interests will see your post on the same page. 
Instagram and TikTok tags
If you are wondering what hashtags are relevant in a specific field, try to type the keyword on the Tags page. Just start typing the most relevant word, and you'll see suggestions ranging by the number of times they were used.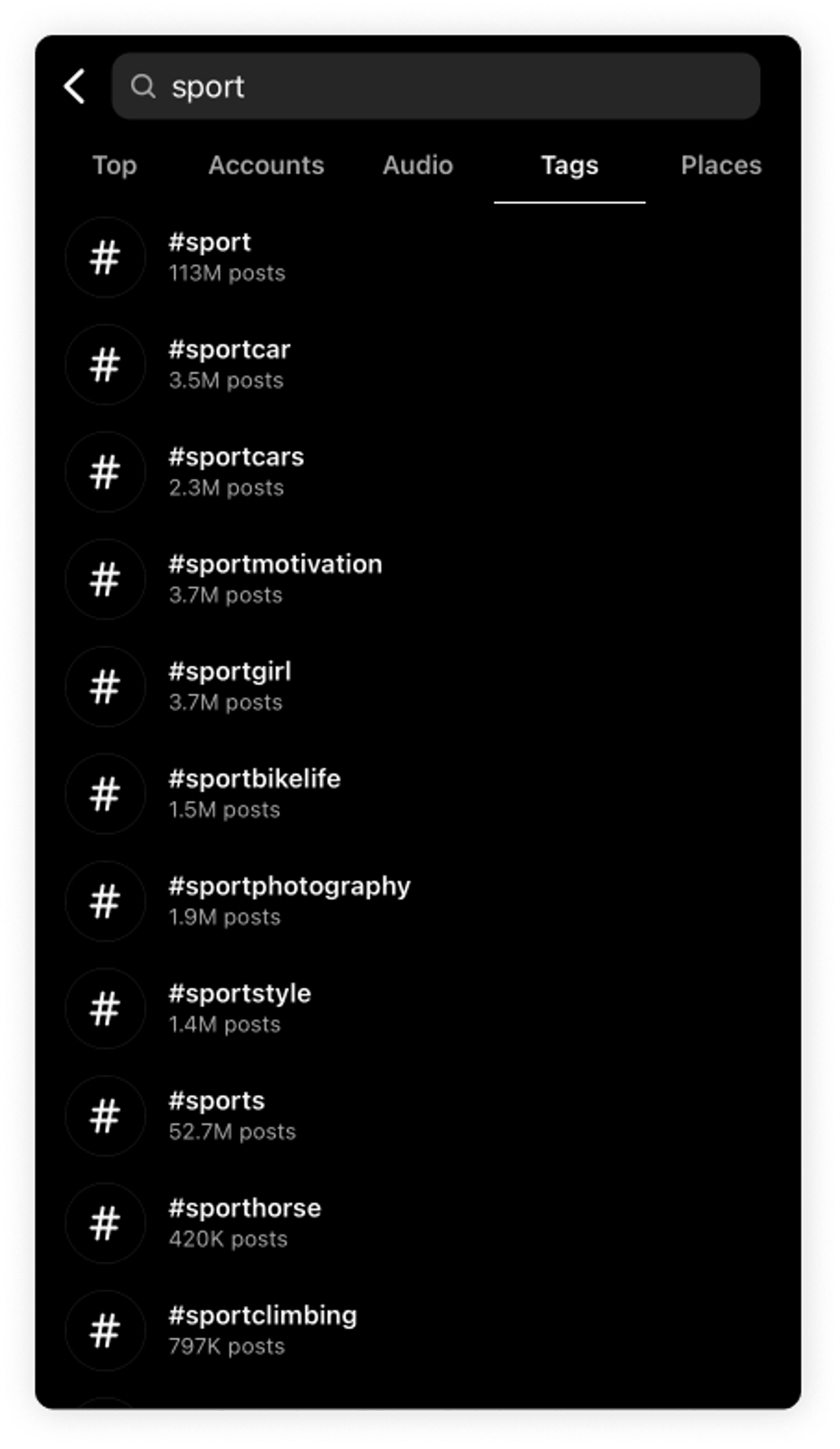 Websites with top trending hashtags today
It's easy to find a source that suggests the top popular hashtags. However, you should keep in mind that these hashtags are used by millions of people, and if your brand's page doesn't have a really big audience, it will be difficult to stand out. However, if you think the list of highest trending hashtags can be helpful for you, you can check one of these sources: 
All Hashtags

Later

Influencer Marketing Hub 
Social media listening platforms
These tools have a wider application than hashtag searches; however, their capabilities can be helpful in this case as well. There are several ways to use social listening for hashtag research and hashtag analysis. 

1. Trending hashtags search

With social listening tools like YouScan, you can collect all data related to a certain topic and see which are the
top trending hashtags right now. For example, we've collected all social media data about available on a vegan lifestyle, and this 'is how the most popular hashtags look.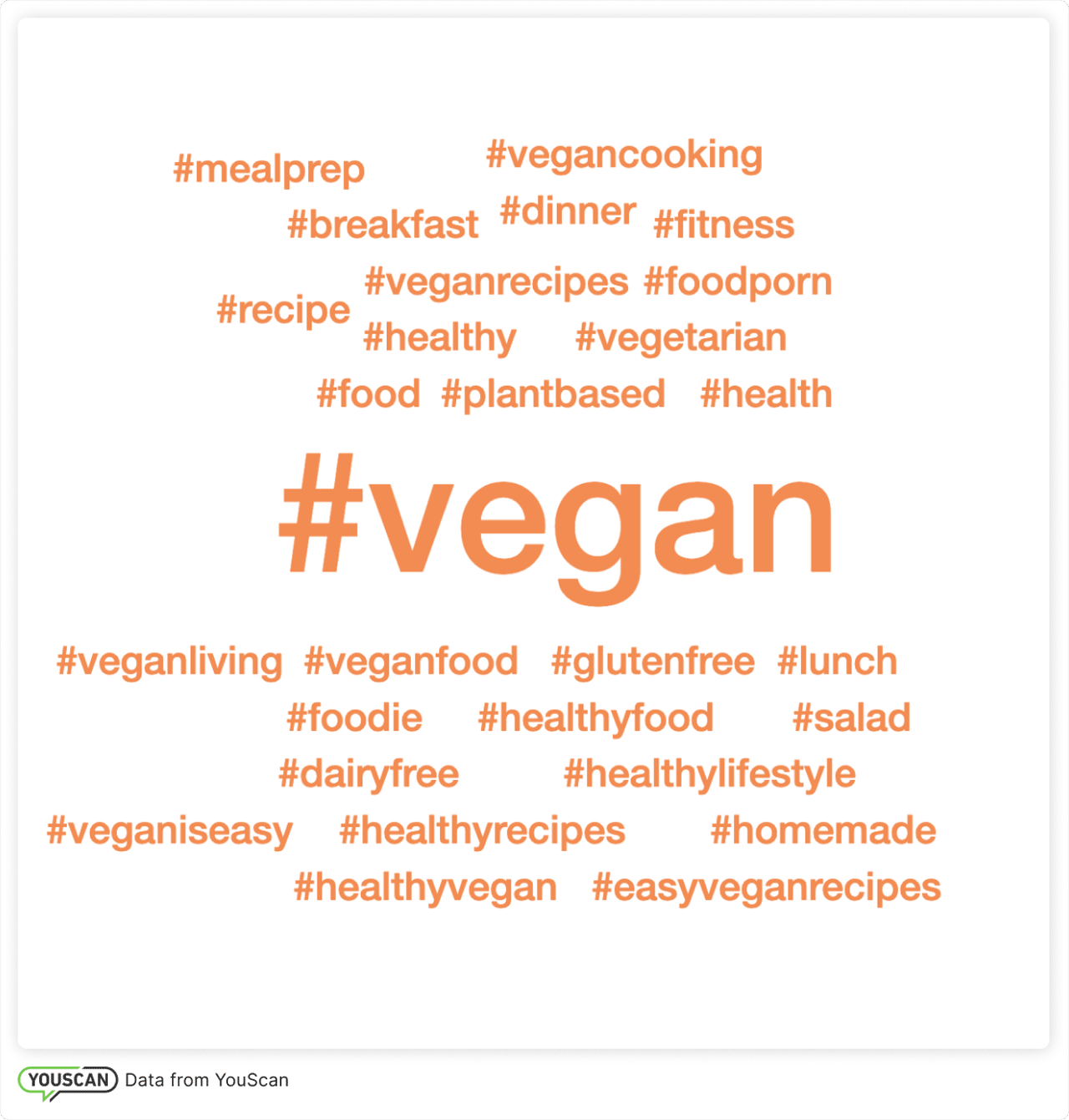 You can download these hashtags as a list ranging from the most till the least popular. 
#vegan
#plantbased
#glutenfree
#veganfood
#healthy
#vegetarian
#food
#healthyfood
#veganrecipes
#foodie
#healthylifestyle
#foodporn
#dairyfree
#health
#breakfast
#recipe
#fitness
#homemade
#dinner
#lunch
#healthyrecipes
#salad
#mealprep
#vegancooking
#easyveganrecipes
#healthyvegan
#veganiseasy
#veganliving
One more useful capability is to see hashtags that are gaining or losing popularity. In the case of veganism, hashtag #easyveganrecieps is gaining popularity more that others, while the hashtag #vegan is declining.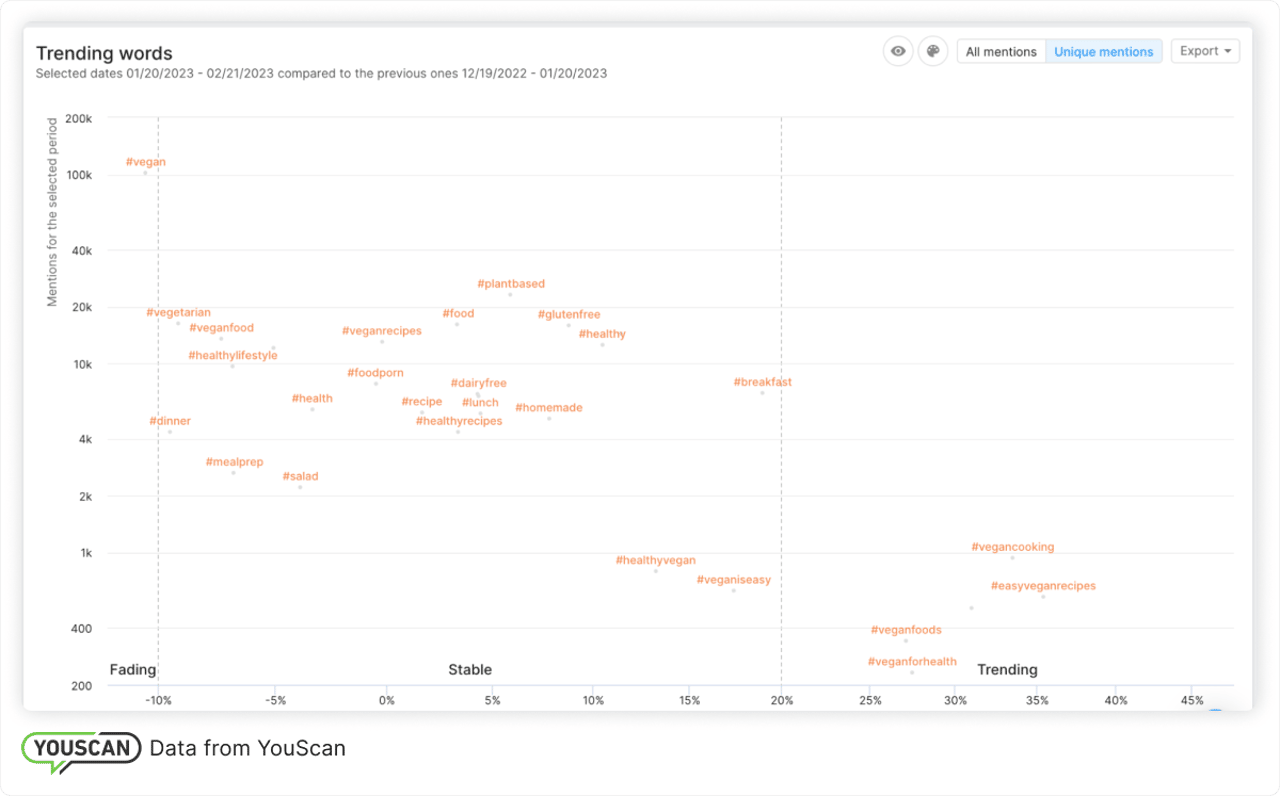 2. Current trending hashtags for your brand. 
Another way to use social media listening platforms is to check the latest trending hashtags related to your brand. YouScan collects  data according to your search query and shows you all hashtags that are mentioned most often and which of them are gaining popularity. 
Below you can see how Gillett's current trending hashtags look now.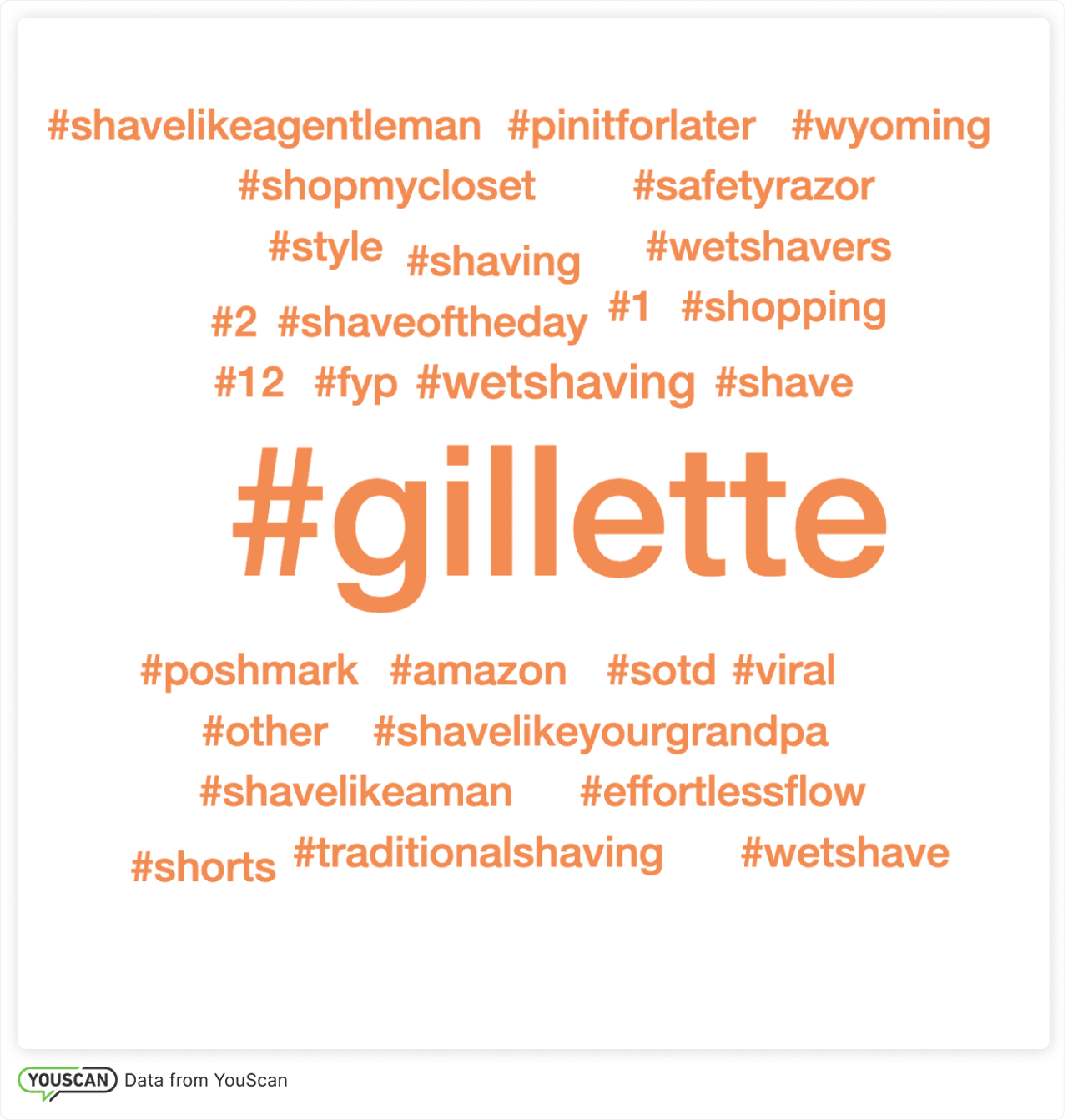 3. Search trending hashtags and hashtags used by your competitors. 
With social listening tools, you can add to your search query not only words and phrases but also hashtags and use all the benefits of automated data analysis without extra manual work. This can help you monitor hashtags used by your competitors and content with certain hashtags in general. In the picture below, you can see how many posts you are losing sight of without hashtag monitoring.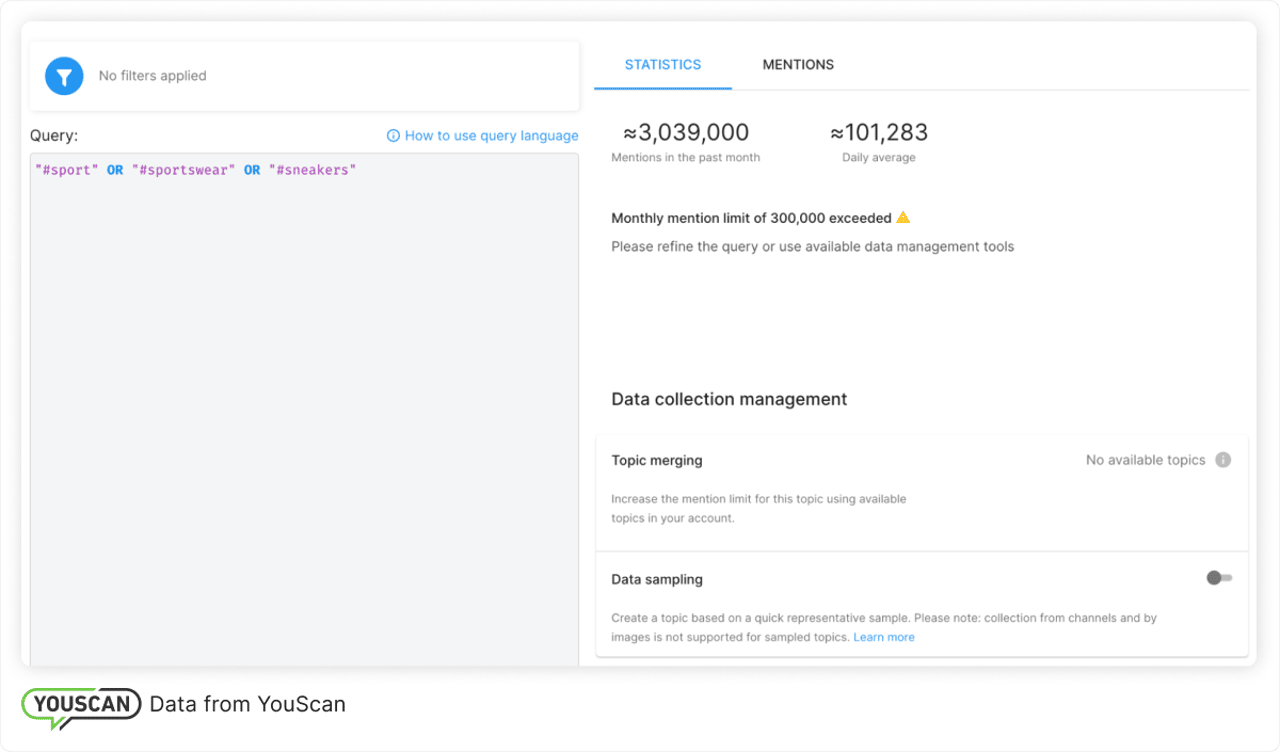 In addition, you can monitor competitors which will also help you find trending hashtags.
Use own hashtags
The main problem with popular hashtags is that for brands it is challenging to stand out from the millions of other posts. However, there is a way out. You can create your own hashtag to promote your brand, new collection, or a certain campaign. Sports brands, for instance, succeeded in using new trending hashtags. 
Adidas branded hashtag #impossibleisnothing has already got almost half a million posts.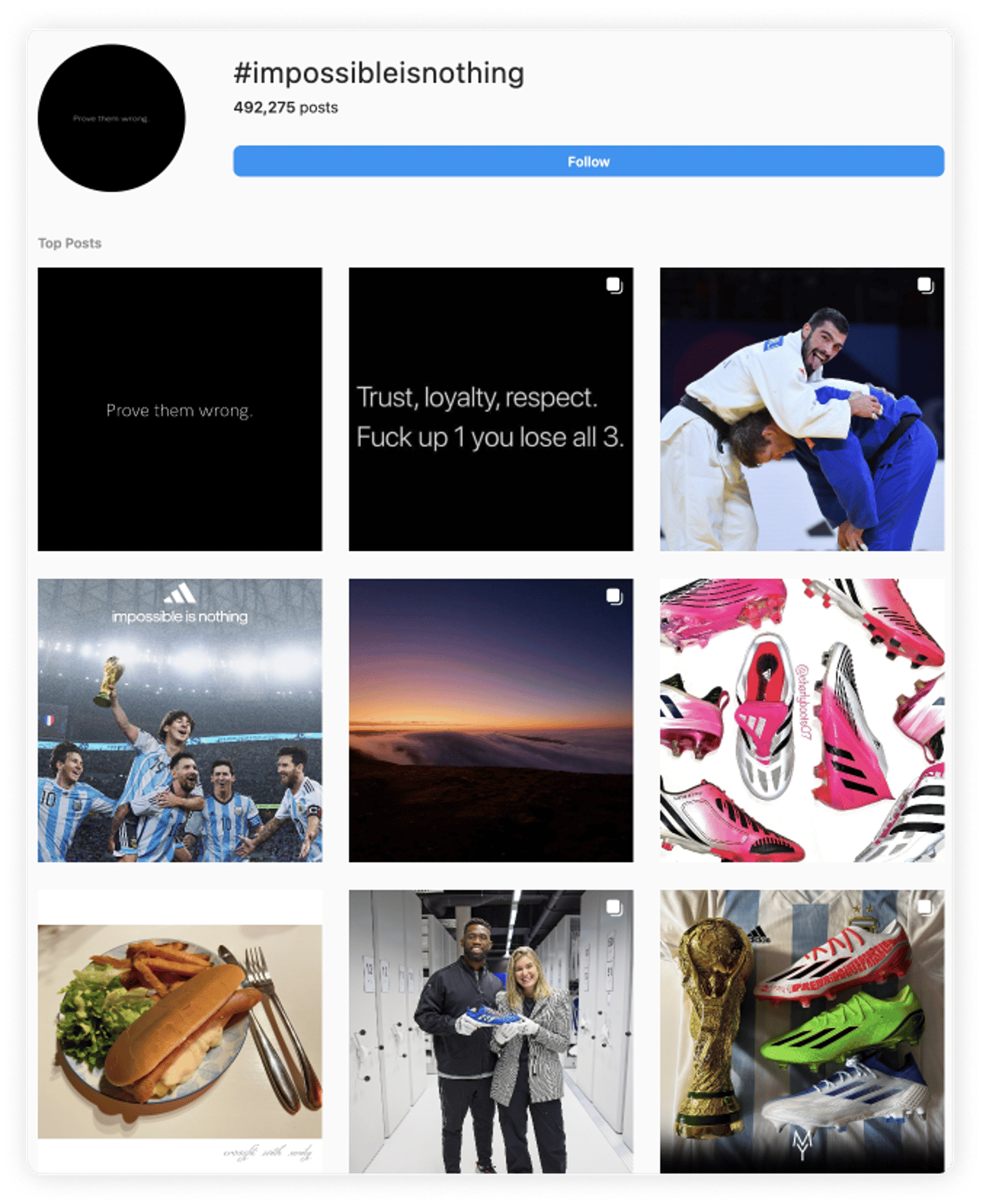 Another example is Nike. The brand used a new hashtag, #FeelYourAll to promote one of its new drops. Although the hashtag didn't get that many posts yet, it makes navigation for users more manageable, and when they see this hashtag under the brand's post, they can check almost the whole collection by clicking on it.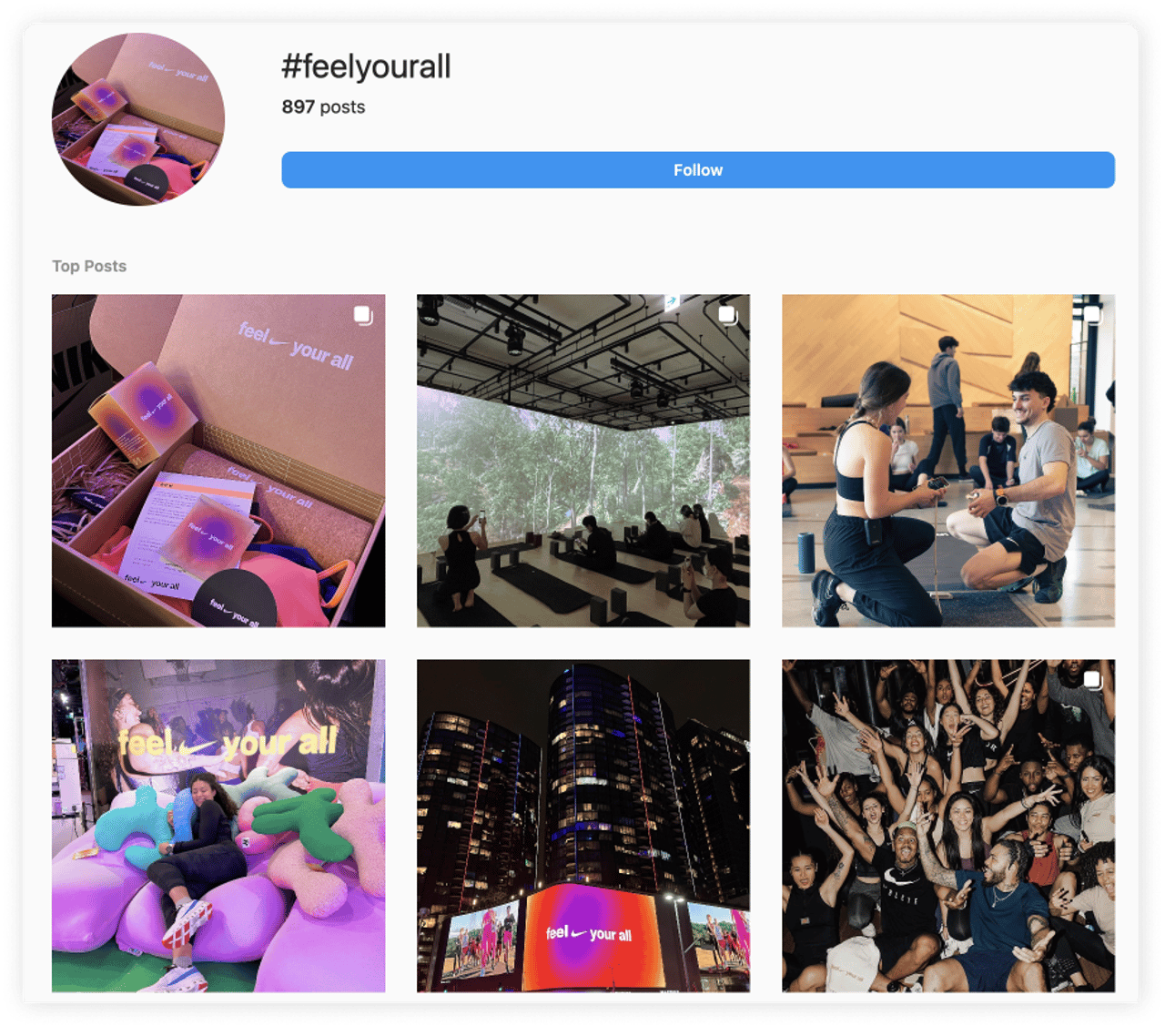 At the same time, Nike used another popular hashtag #JustDoIt to promote the brand. Now it has 20+ million posts, mainly associated with Nike, while this phrase had nothing to to do with this brand itself before Nike picked it out.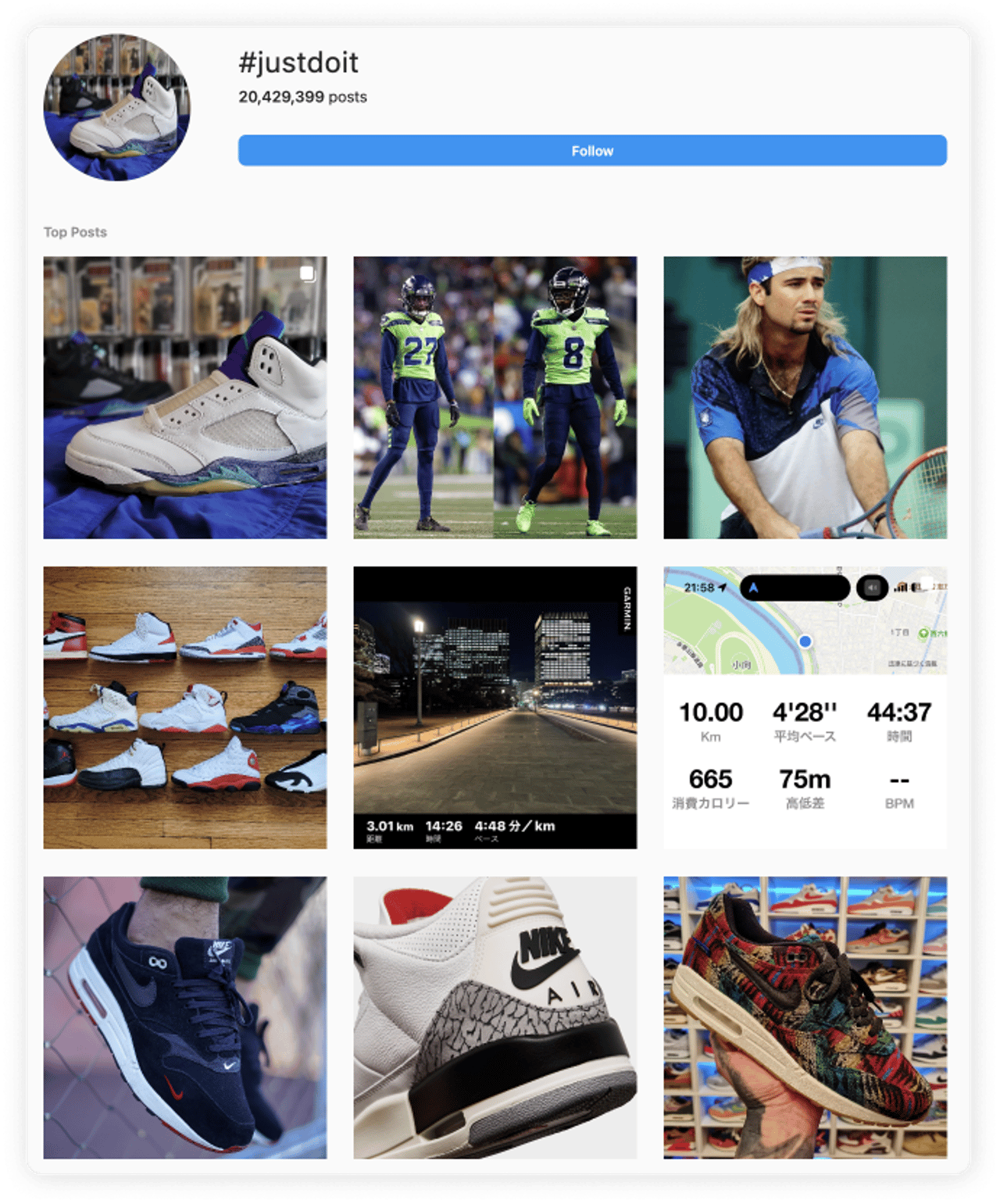 But one of the most successful campaigns that turned out to be one of the best trending hashtags is #ShareACoke by Coca-Cola. 
The brand launched a campaign where the brand logo was replaced with different names of people. As a result, the campaign went viral, and users started to share their pictures with these bottles.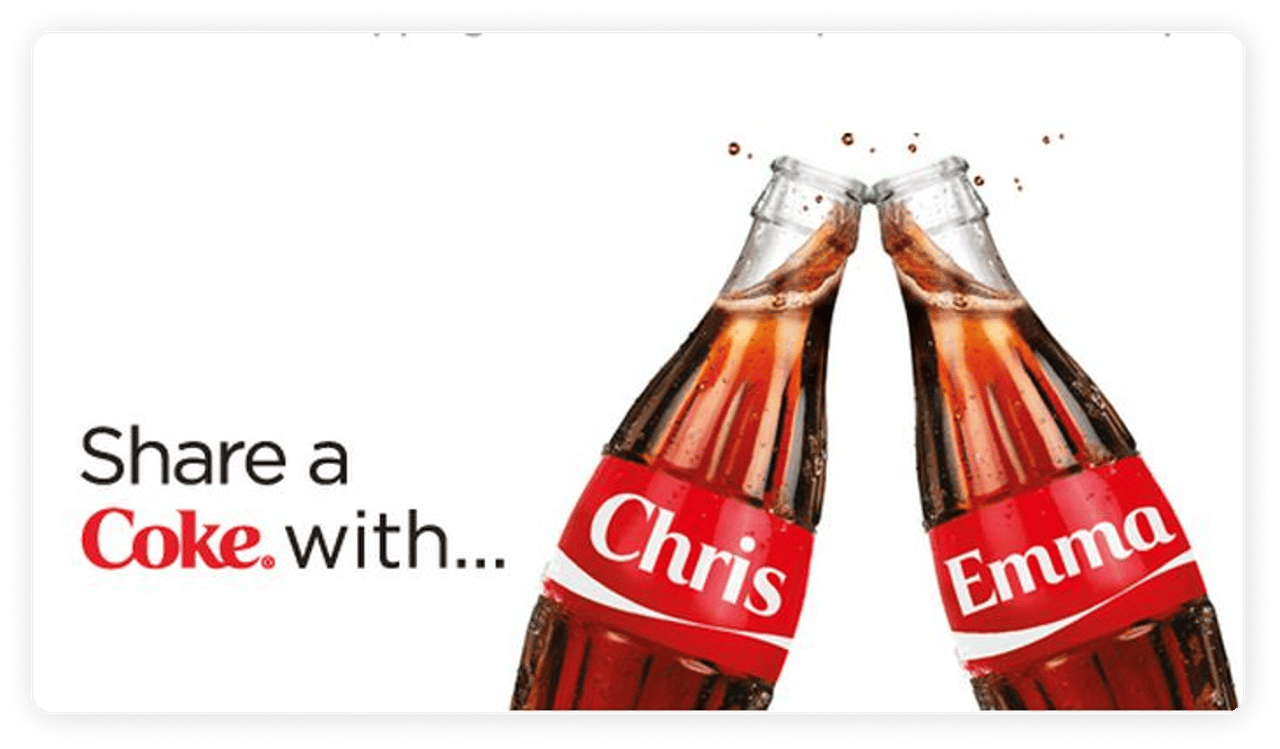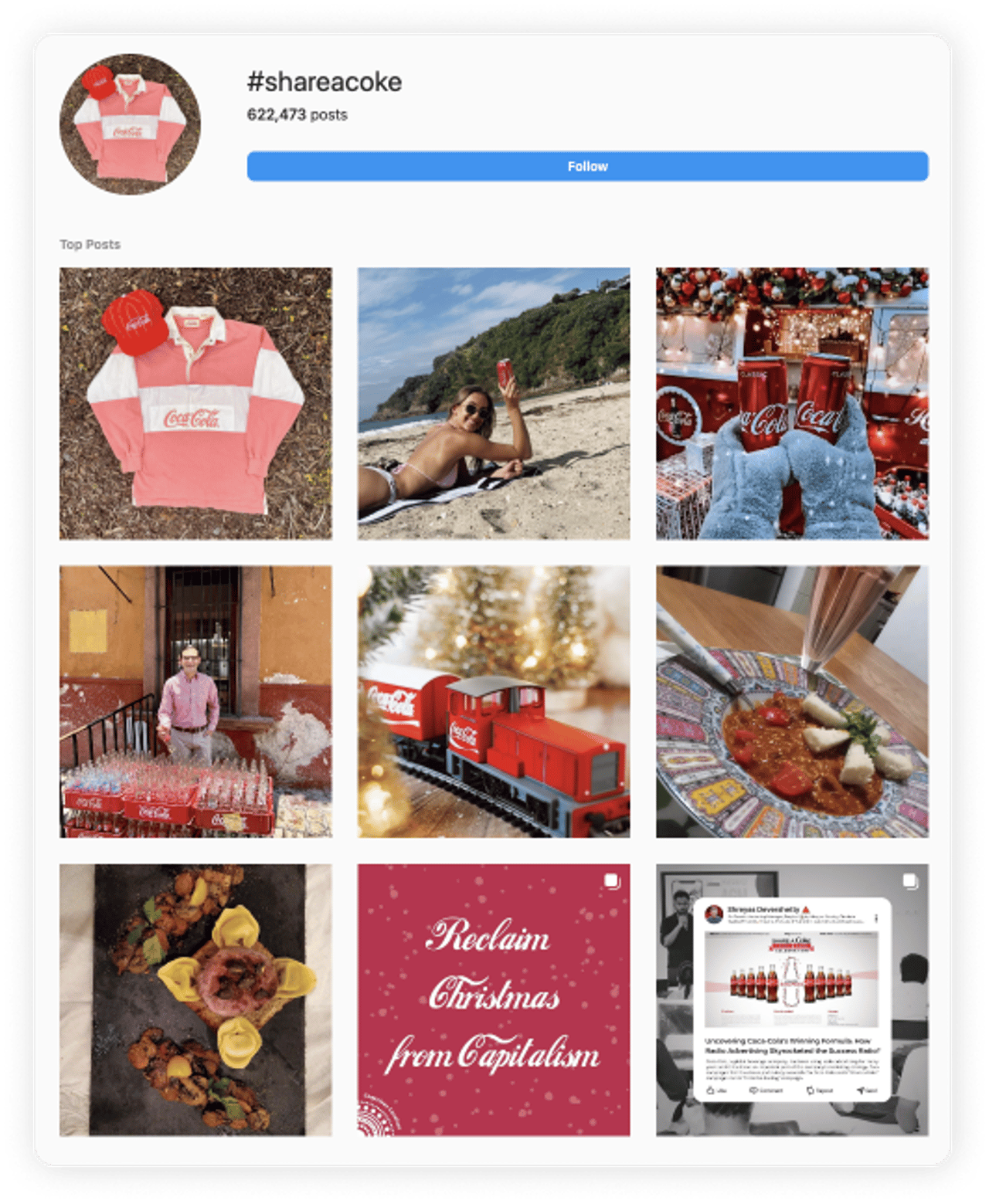 Summary of usage of popular trending hashtags
The number of hashtags is the key to getting more reach and engagement: the more relevant hashtags you use, the better results you get. However, for big brands, it makes sense to consider creating their own hashtags to support specific campaigns to promote the brand in general. To find the right hashtags, brands can use Instagram or TikTok as well as special tools. Social listening allows you to search for today's top trending hashtags in a certain topic and monitor posts related to specific hashtags.