Top 10 social listening tools in 2023
Understanding the target audience's real needs and meeting them in the best possible way is one of the critical tasks for any marketing team. Social listening tools provide direct access to candid and unbiased consumer opinions, wishes and feelings about brands and products. Companies are increasingly using such tools to streamline their marketing strategies and align them with people's moods.
The social media monitoring market continues to grow. It is expected that by 2026 it will have increased to $9.3 billion. New and existing social listening tools are constantly improving their capabilities, such as collecting brand mentions, audience analysis, visual insights, sentiment detection, competitor monitoring, reputation management, consumer trend tracking, and so on.
That is really great and helpful for companies striving to grow their marketing expertise. But on the other hand, it is becoming more and more challenging to choose the best social listening tool from a large number of worthy options. We have tried to select 10 platforms that best suit the market's current needs and provide the most advanced social listening experience.
1. YouScan
The first thing you need to know about this social media intelligence platform – and what makes it stand out from the competition – is its perfect visual analytics capability which opens up a new layer of social monitoring. In addition to text mentions of a brand, YouScan is able to find images with your logo, as well as pictures of situations in which your products are used in real life, including detecting objects, scenes, persons, and activities depicted in them. This capability produces very valuable insights into customer behavior, vision and values. The software has one of the best coverage of mentions in the market with access to an impressive number of media channels. This provides a holistic understanding of your prospects.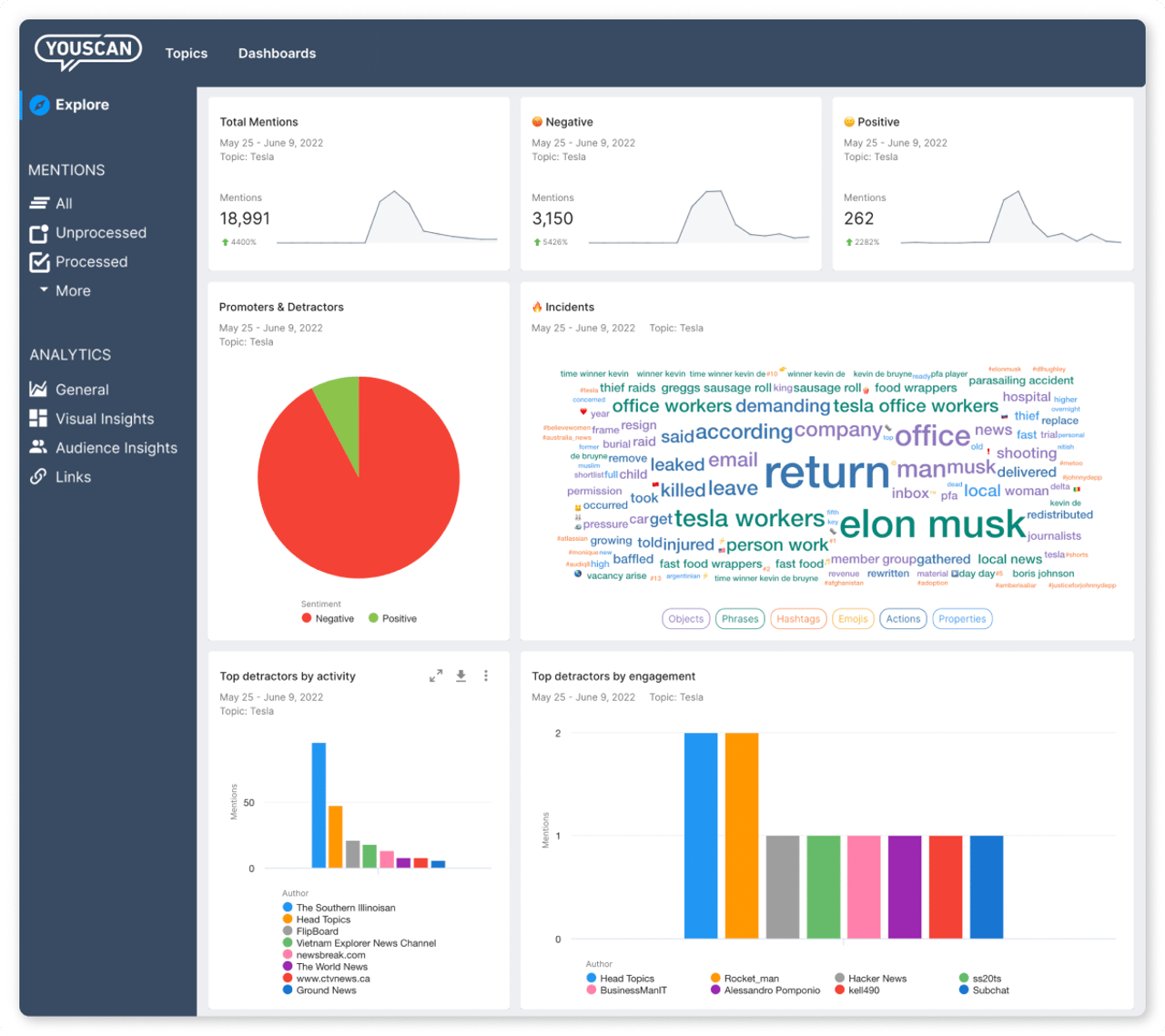 Other strengths of the platform include a sophisticated AI-powered engine that allows you to sort information precisely the way you need it. It accurately segments the audience, determines trends in discussions, narrowly classifies and filters mentions by a significant number of categories, and recognizes positive or negative attitudes of consumers. By the way, the outstanding accuracy in sentiment detection is another superpower of this social listening software. The WOM (word of mouth) filter is also very impactful. It enables you to distinguish between the genuine opinions of real users against promo posts and articles from mass media and therefore get a more realistic view of the consumer. 
2. Brandwatch
This is another powerful social listening tool, but it's also one of the most expensive. In addition to monitoring and classifying brand mentions, Brandwatch offers image recognition, provides demographic data about your audience, recognizes trending conversations within a given topic, and allows you to export analytics to custom dashboards. By the way, Brandwatch is used not only as a social listening platform but also as an integrated platform for social media management, providing publishing, advertising, and so on.
Many of the platform's features are available as paid add-ons. However, many big companies use this tool to get detailed insights into their audience. The AI capabilities of Brandwatch allow you to analyze all of the needed data automatically and, moreover identify why the trends and spikes in conversations have appeared. Well-timed responses to these discussions allow companies to flexibly adapt to any shifts in consumer sentiment.
3. Brand24
Unlike most of its competitors, Brand24 is suitable not only for large enterprises but also for small businesses. It offers a basic set of features that allow you to track and respond to your brand mentions in real time. It shows you a history of mentions on social media, allowing you to track what your audience is saying about your company and your products, detecting its sentiment in a rapidly changing market. You can join these discussions and respond to them in time, avoiding many reputational risks.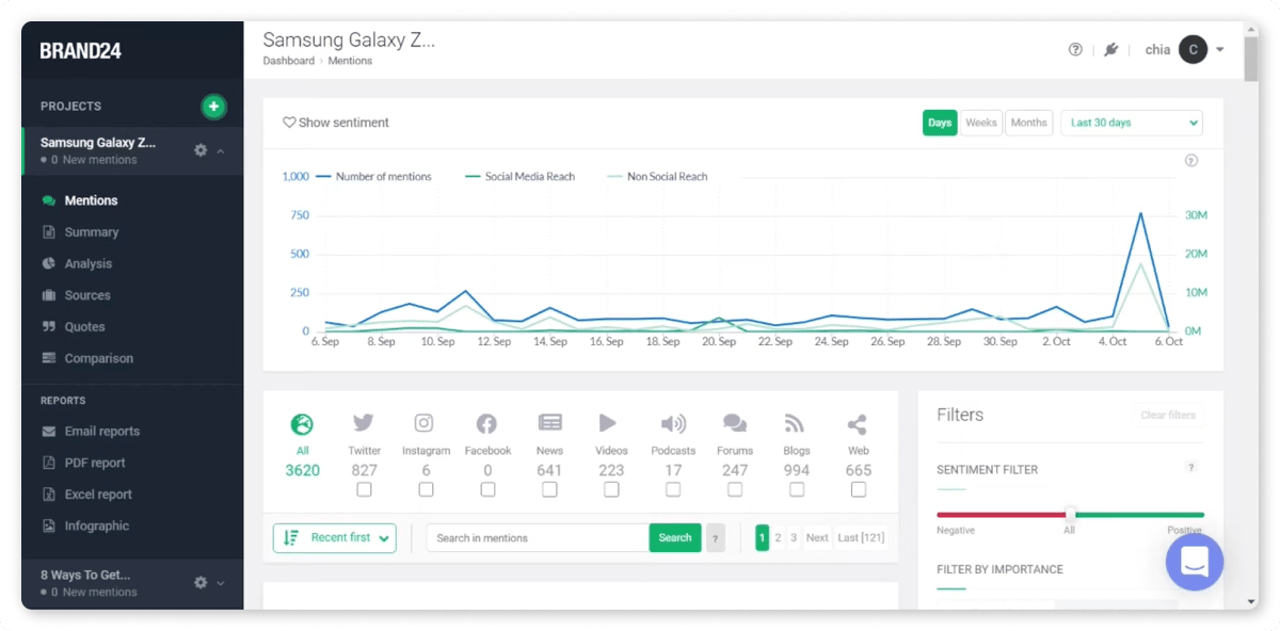 As with many other social media listening tools, you can track the volume of discussions on a particular topic, see a graph of mentions, and find out if there are topics that require special attention. Thus, you get a visualized report on the audience's attitude towards your company, products, service, etc. You can also determine if the mentions were positive, negative, or neutral in tone. It has a rating of influencers with whom you can collaborate to strengthen your positions on social networks. 
4. Digimind
Digimind is definitely among the best social listening companies that provide a number of helpful features that allow you to turn the received insights into actionable business ideas.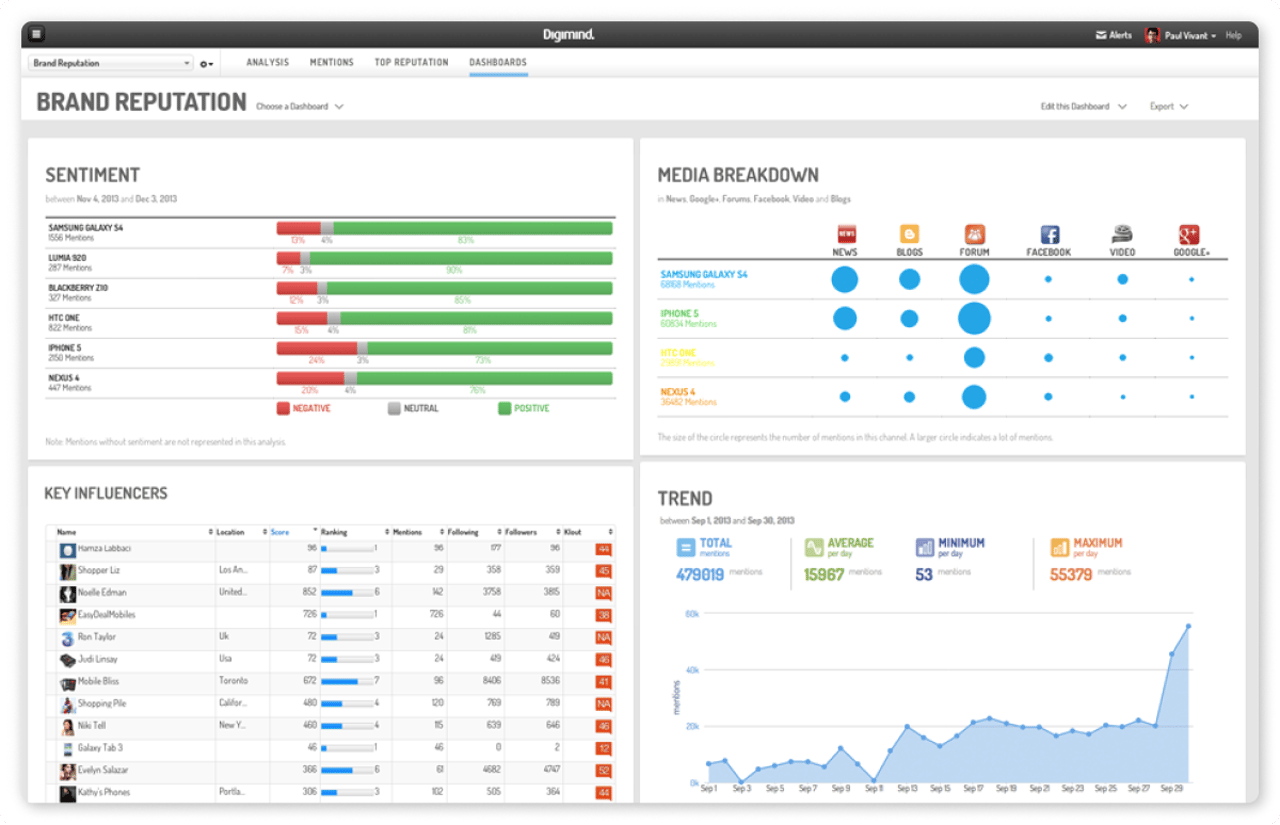 In addition to online monitoring of brand and topic mentions, Digimind enables you to measure the ROI of your own media investment, conduct competitive analysis, use search results to manage your reputation, and of course, track the conversations that matter most to your brand and gain vital insights to improve your marketing strategy. For your convenience, you can use customized reports based on millions of online sources. All this will allow you to see what your customer communities really think about your brand: what they love and what needs to be improved.
5. Sprout Social 
The platform is designed to process social media data and transform it into actionable insights, not only for marketing but also – as they claim – for other areas of business. Sprout Social was created to unlock the full potential of social monitoring for a better understanding of customers. Diversified analytics of brand mentions is designed to suggest business ideas for the growth of their client companies.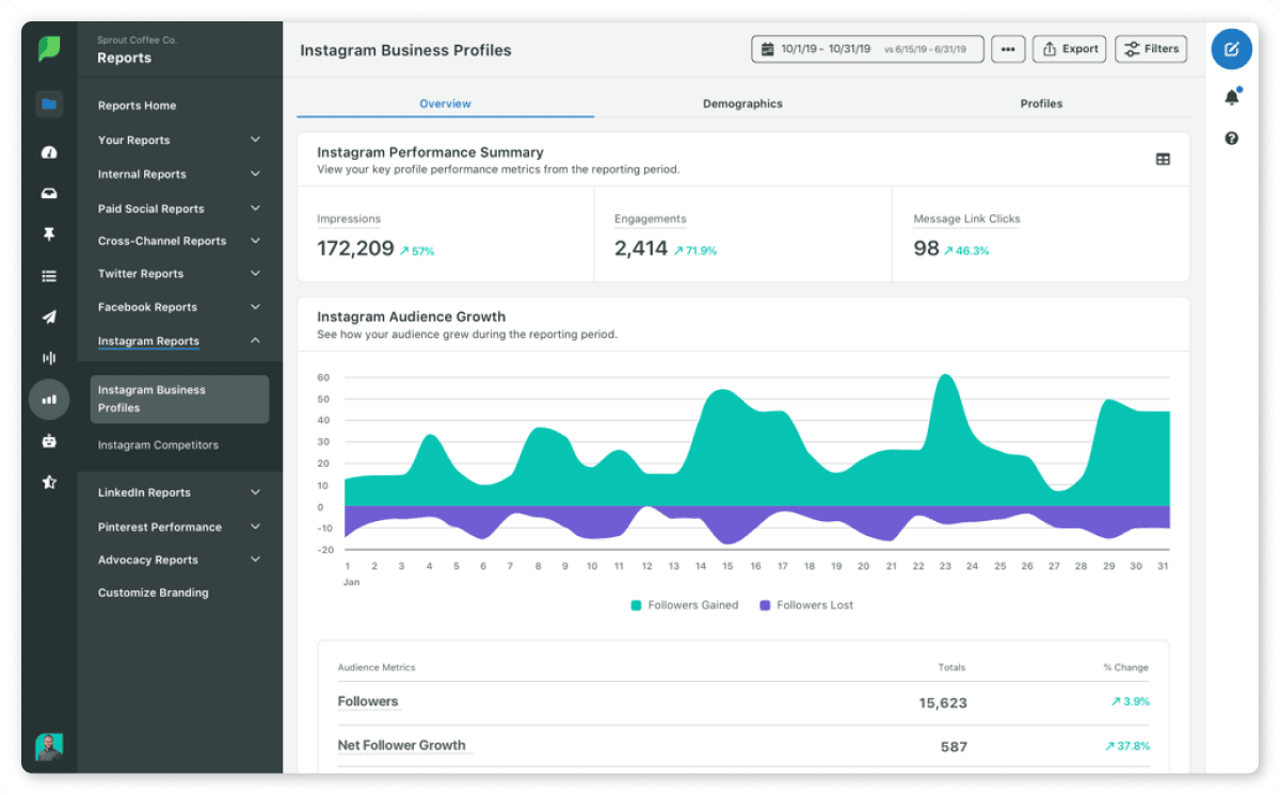 Using this listening tool for social media, you can count on basic features such as brand mentions tracking and trend detecting, audience insights, sentiment detection, monitoring of spikes in conversations, obtaining demographic data, and various kinds of other analytics. All these features are implemented at a fairly high level. What they themselves value most in their project is the ease of use, a high level of customer support, and good ROI. The platform also includes social CRM and collaboration tools, which streamline teamwork.
6. Talkwalker  
Distinctive features of this global platform are video recognition and speech analytics capabilities, which make it possible to analyze not only text and images but also TV and radio content. Talkwalker provides monitoring of a relatively large number of social media channels. Still, they do not have access to channels from marketplaces, which may be important for some types of businesses.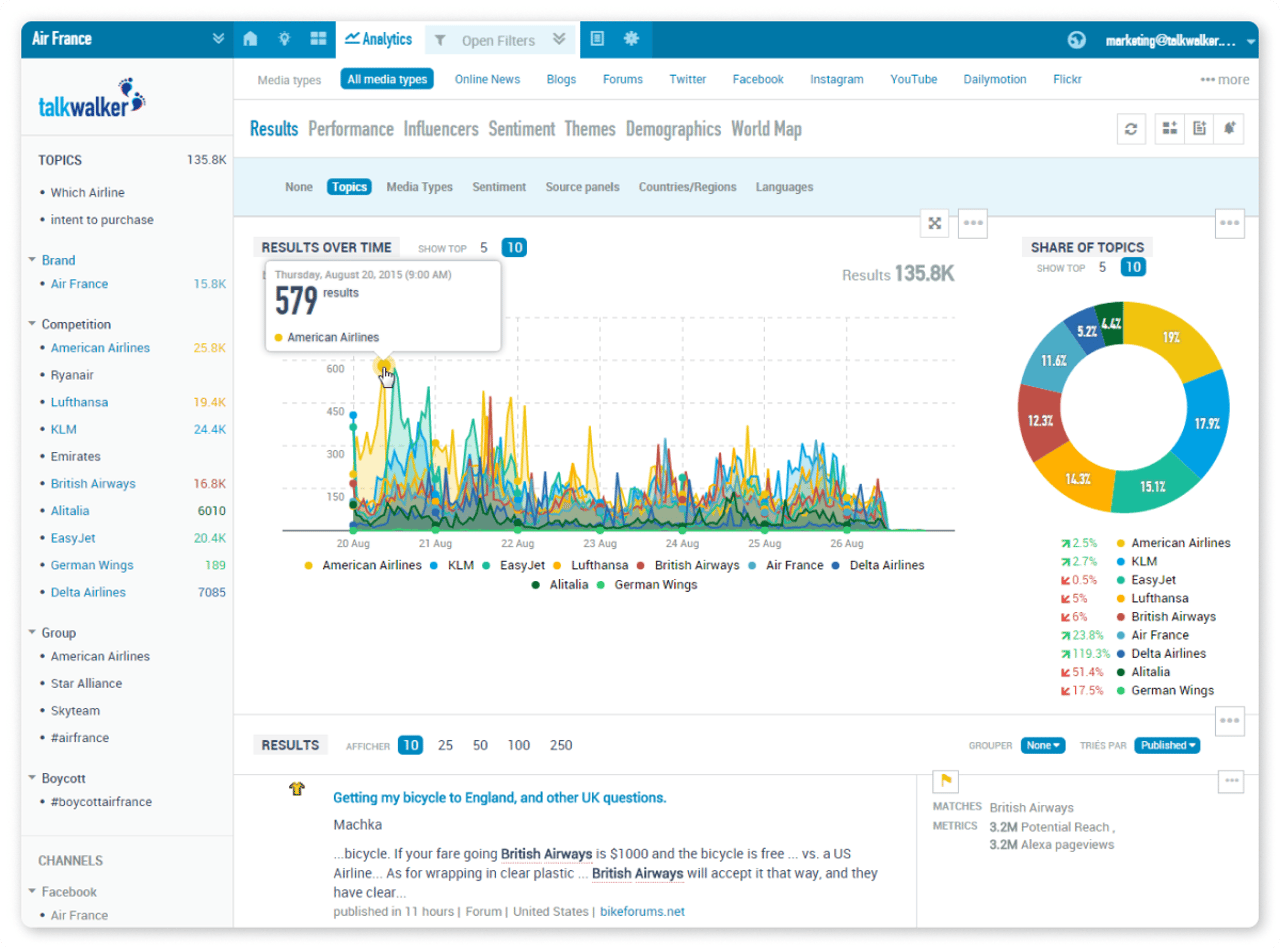 A refined AI engine learns to classify relevant mentions in order to improve the system's performance and get results for the queries or products the customer wants to prioritize. Talkwalker enables you to detect the most popular discussions related to a brand or a product, compare a company to its competitors based on specific metrics, analyze audience sentiment and do many other helpful things for better decision making.
7. Meltwater
Like many other front-rank social media listening platforms, Meltwater was designed to ensure that marketers always stay in tune with consumers in an ever-changing market. The tool offers a systematized collection and comprehensive analysis of brand-related media conversations. Among other features, the platform provides a brand management capability to cope with imminent reputational risks.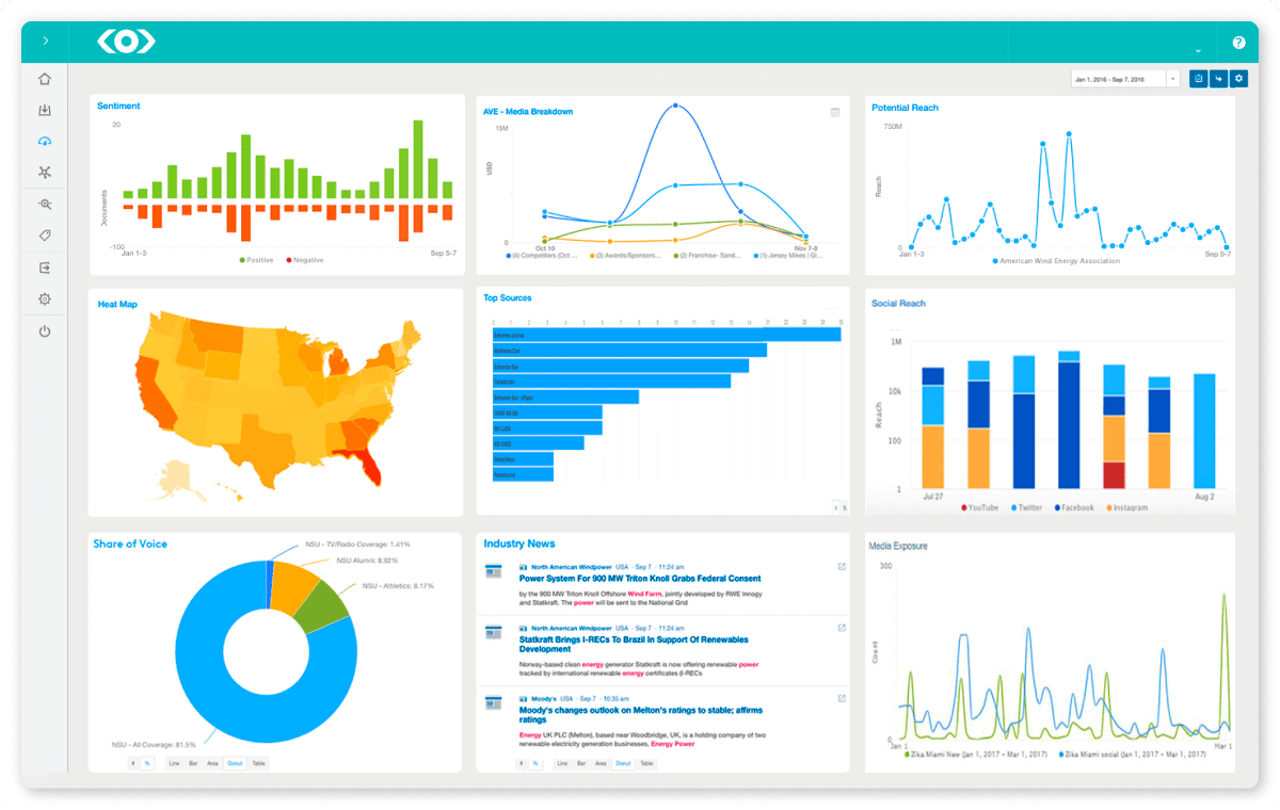 Its social media management component streamlines the process of scheduling content, interacting with the audience, and evaluating the effectiveness of different communication channels. The tool also helps to collaborate with appropriate authors and journalists to ensure the proper distribution of the content. 
8. NetBase Quid
Processing millions of social media posts, this AI-driven platform provides insightful monitoring of conversations related to brands and their products. You can detect the emotions prevalent in these discussions, determine audience demographics, track the most discussed topics and respond to them in real-time. In addition to social media data, NetBase Quid also uses formats such as polls, focus groups, reviews, and ratings to make audience understanding more structured.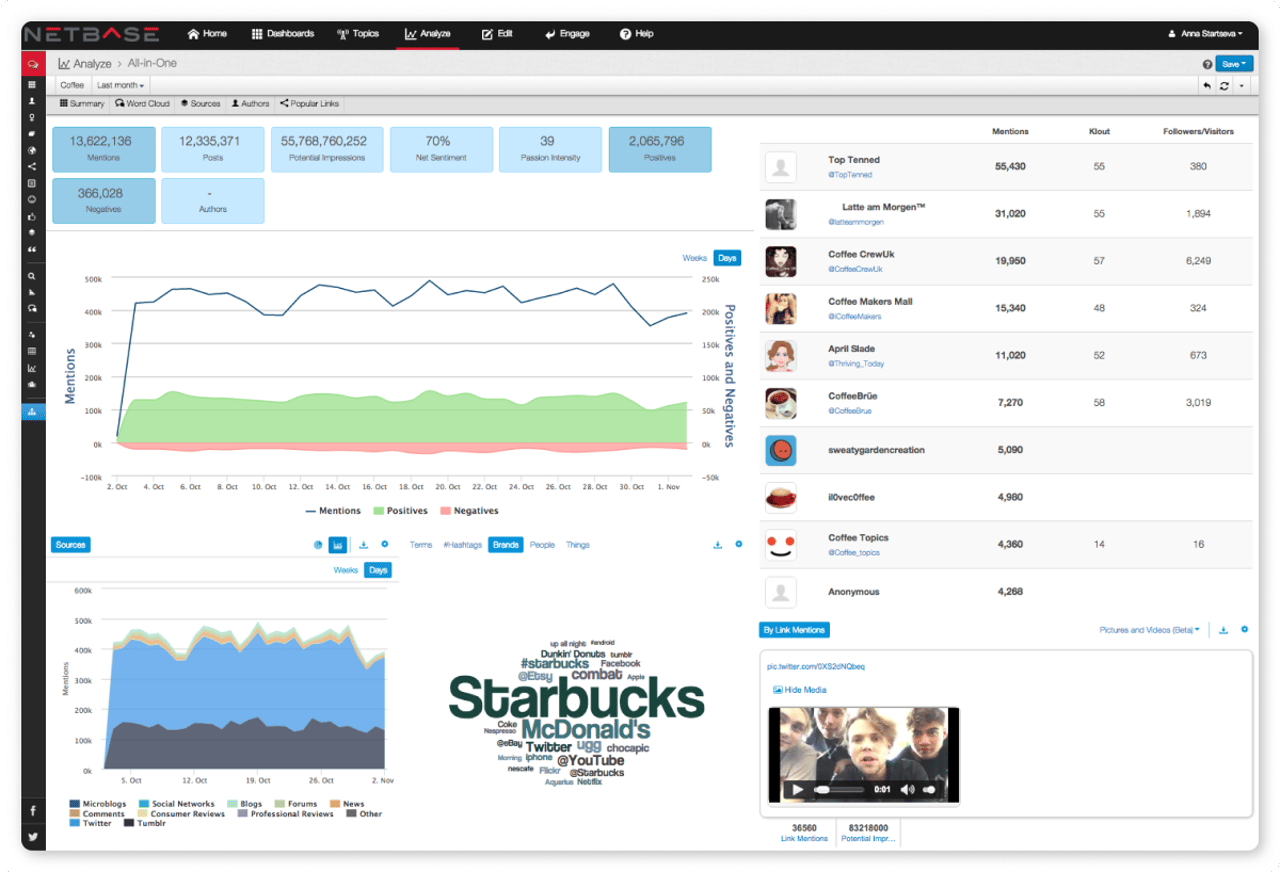 Visual analytics capabilities help you track when your brand appears on images, allowing you to capitalize on the most interesting and popular user-generated content, such as on platforms like Instagram. NetBase also uses Natural Language Processing, which makes conversation analysis more efficient, more adept at capturing trends, and helps better define audience perceptions of a brand.
9. Synthesio
The most important part of this market research platform is the social media listening tool. It allows you to track the changing sentiments of an audience towards a brand on social networks and identify the most important trends in discussions. Synthesio is able to follow conversations on precisely defined topics in a carefully segmented audience. This allows you to sort data by a variety of parameters.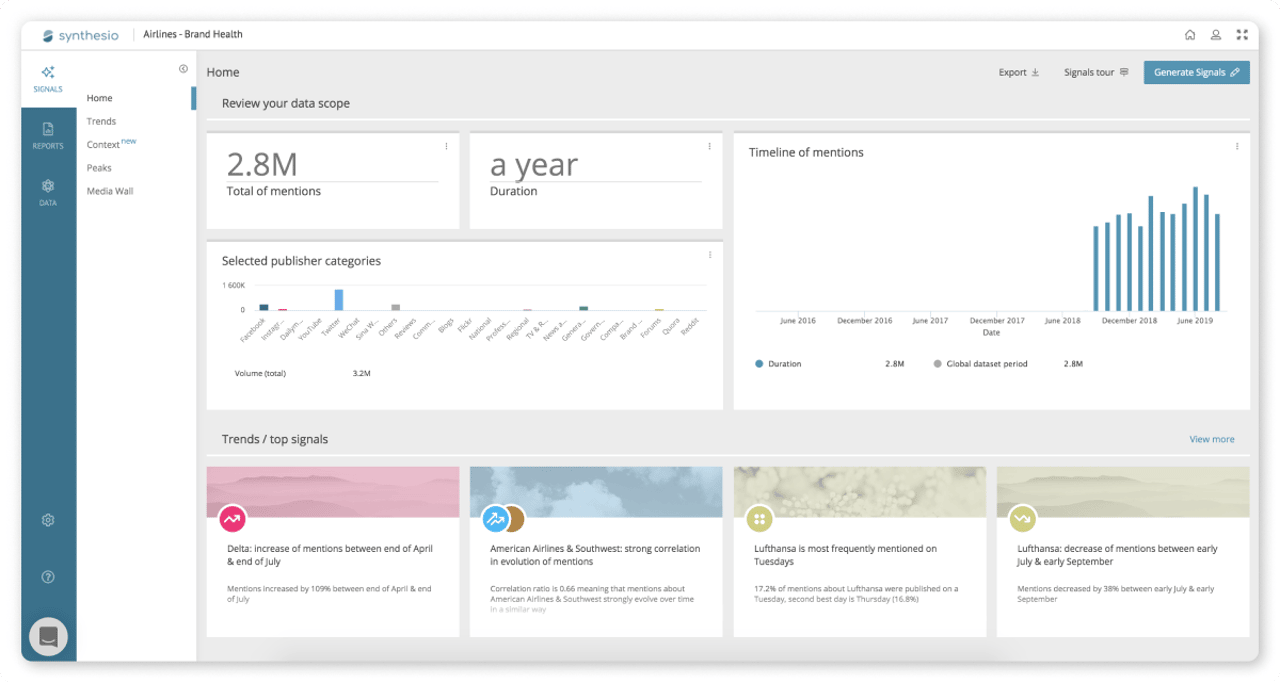 The tool provides more than 10 filters to segment the received information. You can filter languages, authors, countries, themes, sentiment,  gender and other parameters. The platform has proven to be effective in tasks such as competitive analysis, audience sentiment detection, influencer marketing, trend tracking, crisis management and others.
10. Linkfluence
This is another trusted tool that effectively uses artificial intelligence, data science and human expertise to analyze social data and refine its marketing strategy. Constant processing of a vast amount of information from social networks allows Linkfluence users to receive up-to-date information on consumer trends in real time. The data is organized, structured and visualized to cut out the noise and focus on the data that really matters.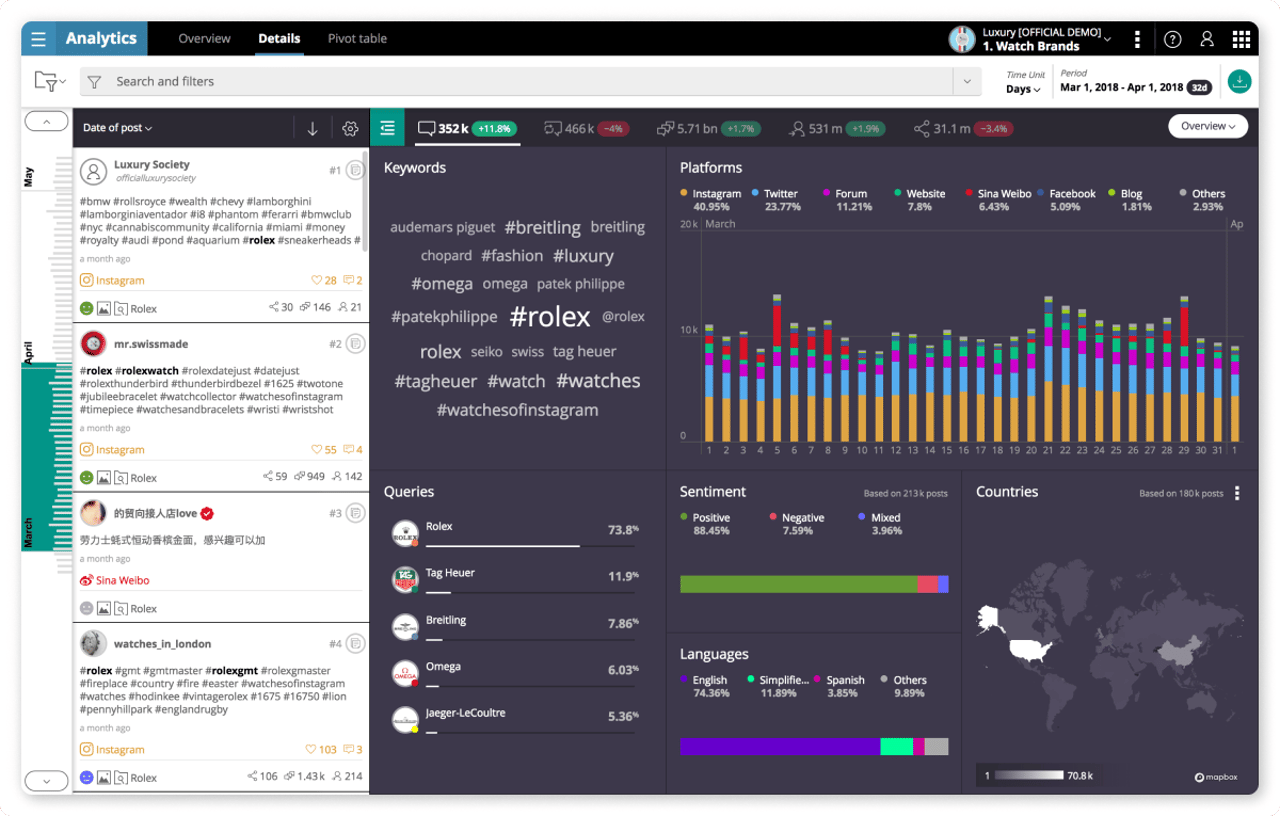 The platform's capabilities are able to not only "listen" to the audience but also to manage the brand reputation, conduct competitive analysis, spot trends and identify growth points to increase the organization's chances in fierce competition. This social listening platform has several different products in its structure aimed at consumer insights, audience segmentation, improving customer experience and forecasting trends.