A quick guide to social media analysis
Social media contains lots of data that is impossible to collect from other sources. How can we use this data to help find consumer insights?
What is social media analysis?
Social media analysis is the process of collecting relevant data from social media and converting it into actionable insights. It gives brands a chance to replace expensive and time-consuming research with quick real-time analytics. 
There are several types of data that are impossible to analyze without the use of social media listening:
real-time mentions from any geolocation:

historical data;

Industry trends;

the interests of a narrow audience. 
Let's look into these examples in detail.  
Unlimited geography
One of the main advantages of social media is that there are no borders that prevent brands  from connecting with existing and new users. It is possible to collect data from any country in the world, and there is no need to visit it nor arrange interviews with focus groups. For social media analysis, it's enough to create a search query in your social media listening tool. 
Let's imagine that you are about to bring your brand to a new market. You will likely want to know who your main competitors there will be, and which brands are most suitable for collaborations.  
Let's find this question out for Balenciaga, a famous fashion brand, using visual analysis provided by YouScan. 
A quick analysis shows that in the USA, Balenciaga's logo is mentioned together most often with Nike, while in Italy, most often with Adidas as well as Italian social media users often mentioning the brand  with the Cartier jewelry.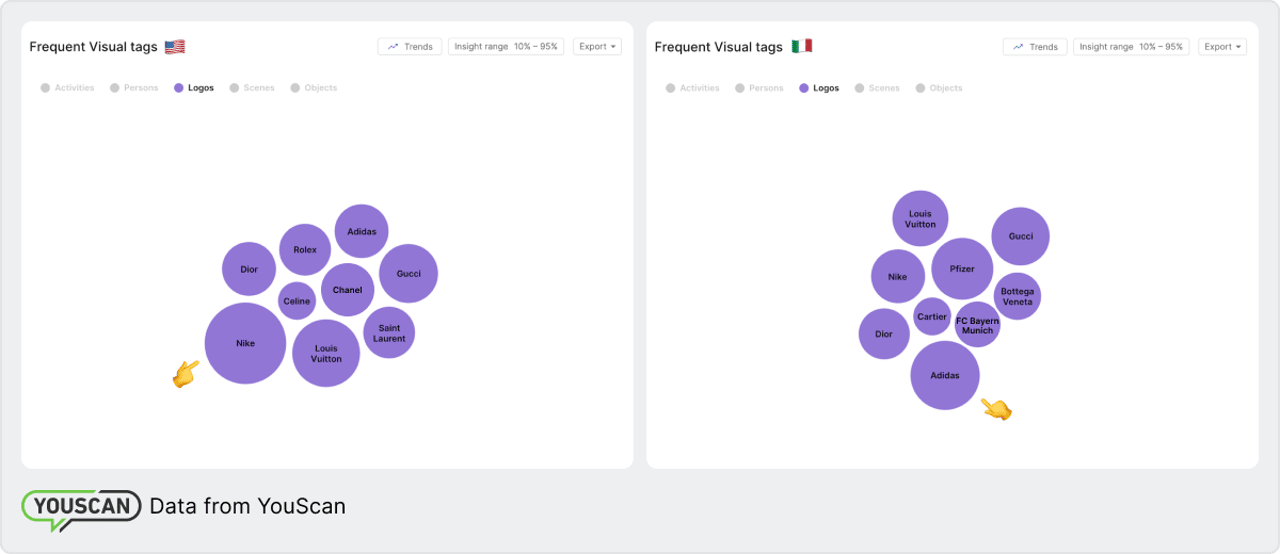 In terms of the number of mentions, Balenciaga is particularly  popular in the United States, Canada, Australia, some European countries, India and, unexpectedly, Brazil.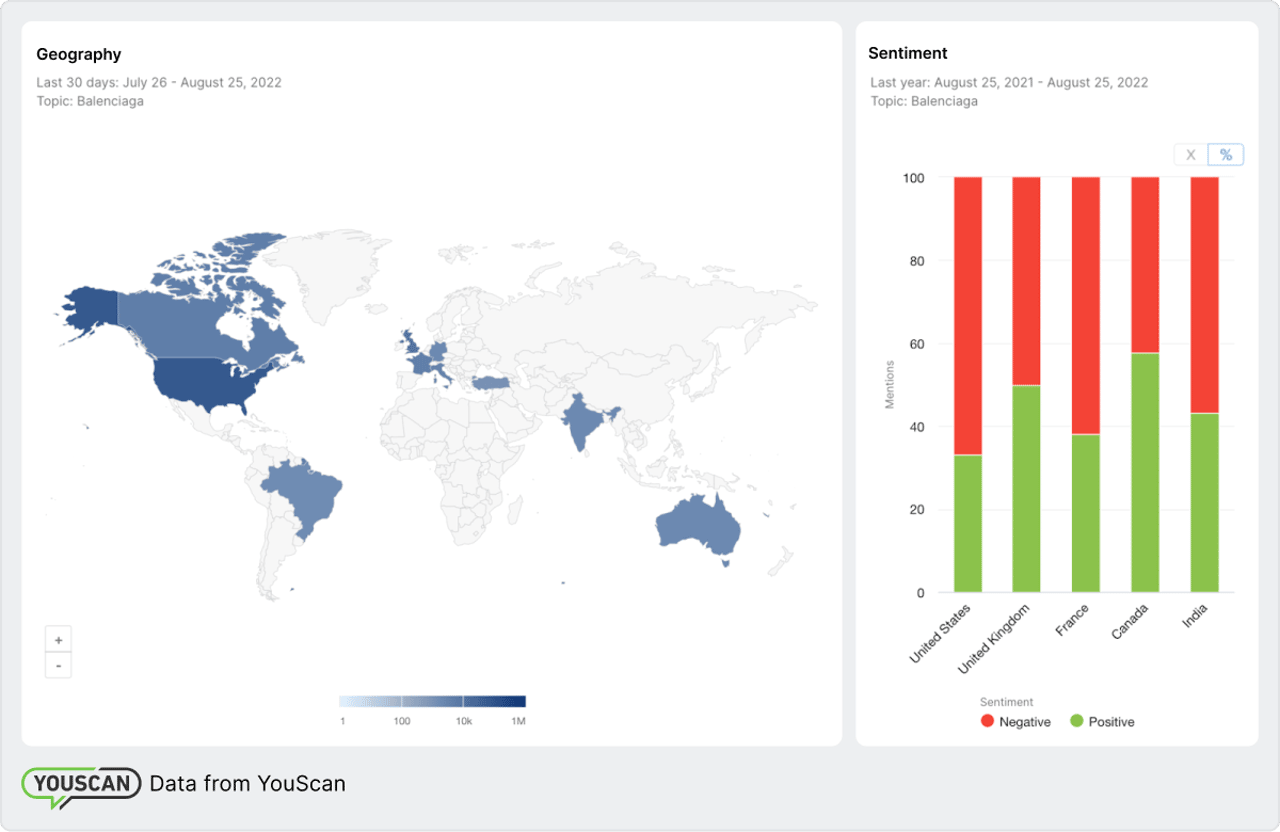 It's been 1 year since Balenciaga opened its first boutique in South America, and this market is already in the top by the number of mentions. 

Historical data 
It is almost impossible to find out what a specific audience thought about a particular topic in the past by using a traditional survey. At the same time, this information is crucial when it comes to trend analysis. 
For instance, you are about to launch a new cosmetic brand, or you are looking for a way to rebrand an existing product. 
One of the latest trends that has changed the beauty and fashion industries is animal defense. Brands have reduced their usage of real fur and leather while cosmetics companies are increasingly rejecting the practice of  testing their products on animals. Here we come to the question whether it makes sense to follow this trend for marketing purposes. To find out the answer, we've made a  social media data analysis of all the mentions of cruelty-free cosmetic products for the last 4 years. 
In the chart below, we've filtered only promo and adverts. As you can see, brands use this trend more and more often to promote their products.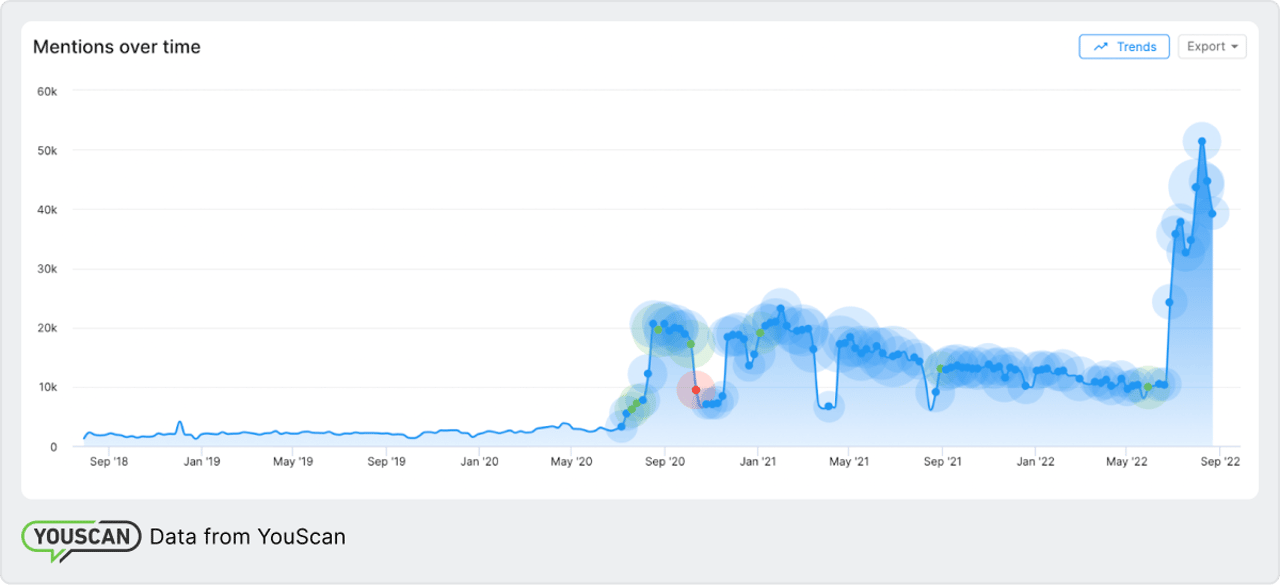 But what about the interest of the target audience? Are social media users discussing this topic more and more? 
Social media data analytics shows the opposite trend. The peak number of WOM (World of Mouth) mentions came in 2020-2021. This indicates that users are no longer 't discussing the topic as much as before, and that launching a new cruelty-free brand wouldn't be a real breakthrough initiative for cosmetic companies anymore.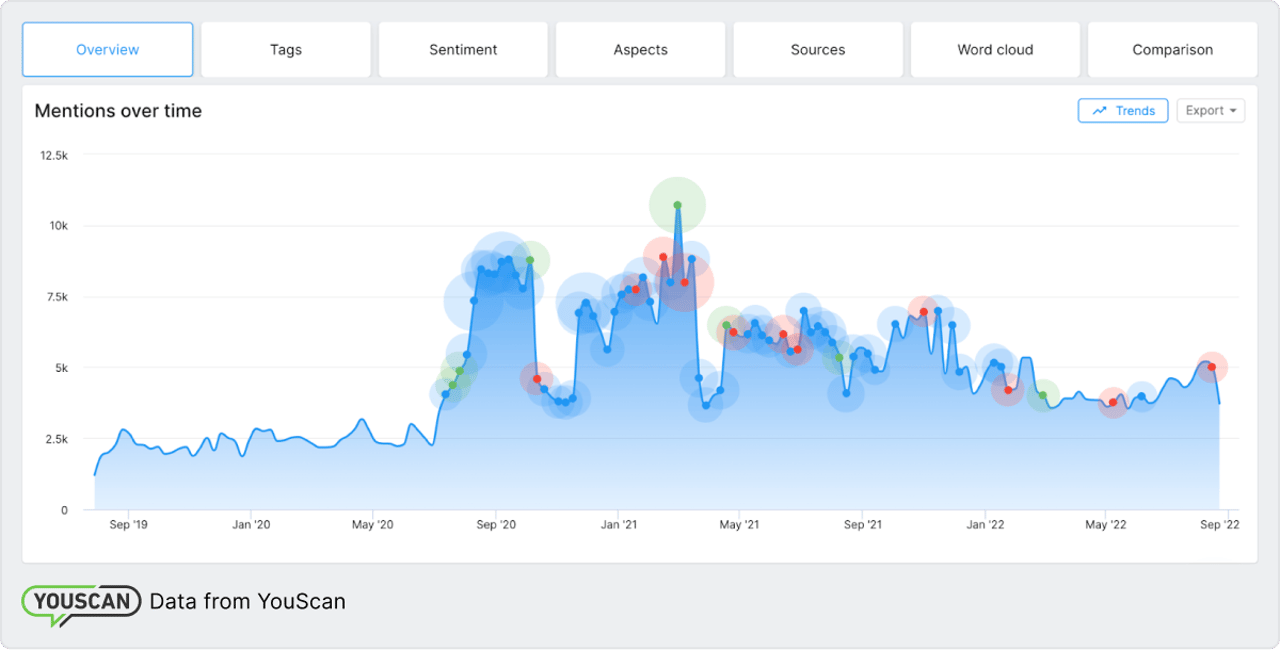 It doesn't mean that brands should abandon the idea of producing cosmetics that aren't tested on animals. The topic is still popular and the environment's support will make the brand more attractive to customers. However, it won't help it to stand out among other vegan products. 
Industry trends 
In contrast to questionnaires, social network analytics allows collecting user opinions that don't answer any questions and aren't limited by any statements. Users share their genuine feedback about brands and products, which helps to detect news trends amongst discussions. 
How to use social media data analysis for real business use cases? Let's try to find a new trend in craft beer. Let's assume you need to choose a type of beer to use for an advert.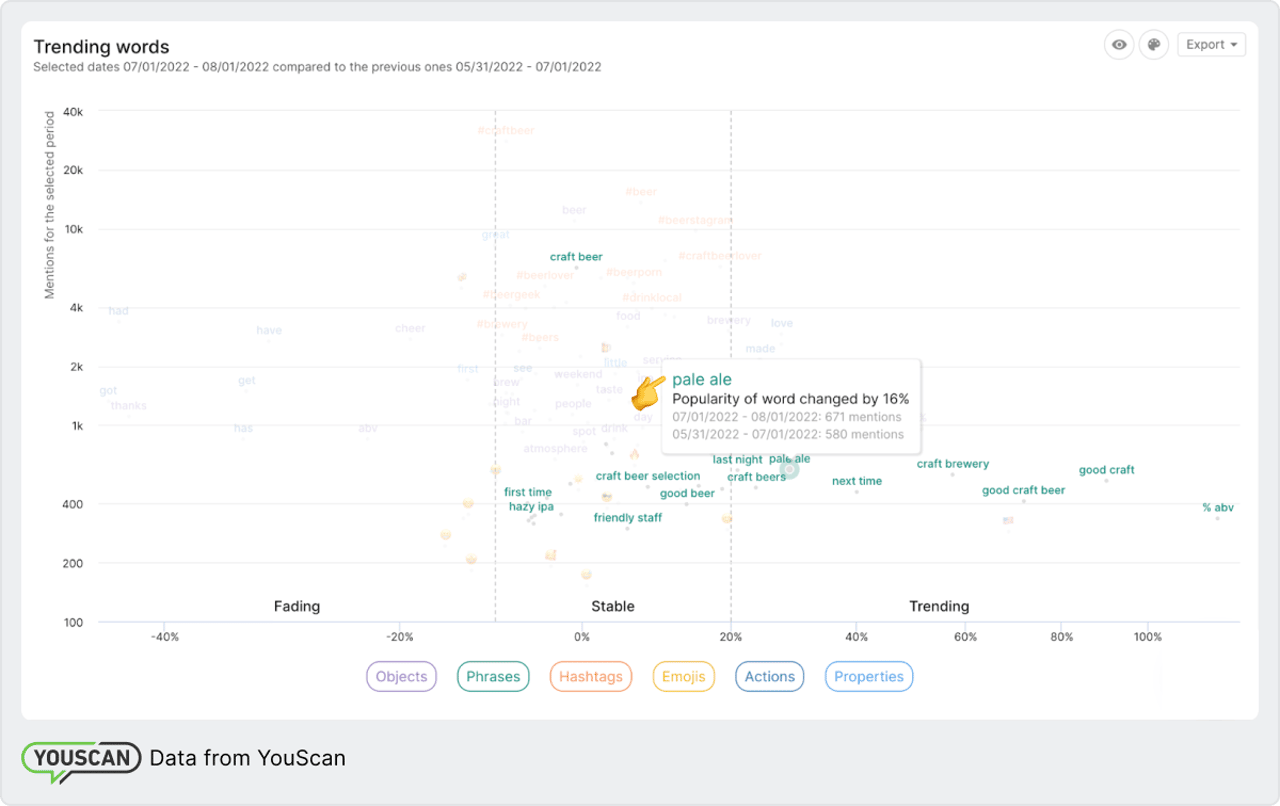 Based on data analytics in social media, there is only one type of craft beer the frequency of mentions is growing. Pale ale is an amber-coloredbeer invented in the 18th century and one which is becoming increasingly popular by the day. This means that this type of beer would be an excellent option for adverts as the demand for it is growing. 
Interests of a narrow audience
It's easy to collect information about an audience of a certain age or gender. But what about finding information on different areas of interest? How to analyze bike lovers or true fans of Italian food? Social networks analytics can help. 
One of the most difficult audiences to analyze are pet owners. This information users don't share with others more widely than on social media. Here you can investigate trends in discussions of rare animal owners, popular breeds, etc. 
If your company produces cat food, the breed of the cat placed on the packages matters. The more popular the breed, the more cat lovers are attracted by a package with this breed. Social media analytics can find out this data in a few clicks. 
Last year, social media users mostly shared information about a breed called Sphinx. Ragdoll and Bengal cats lagged behind, but users still often mentioned them. 
Moreover, on social media, users share pictures and information about their animals' behavior, problems and needs, as well as some ideas that brands can use for their new product lines. 
For instance, images with Sphinxes usually contain cat clothes, while animal toys aren't trendy on social media. This information gives brands a clear signal about the type of products they should focus on.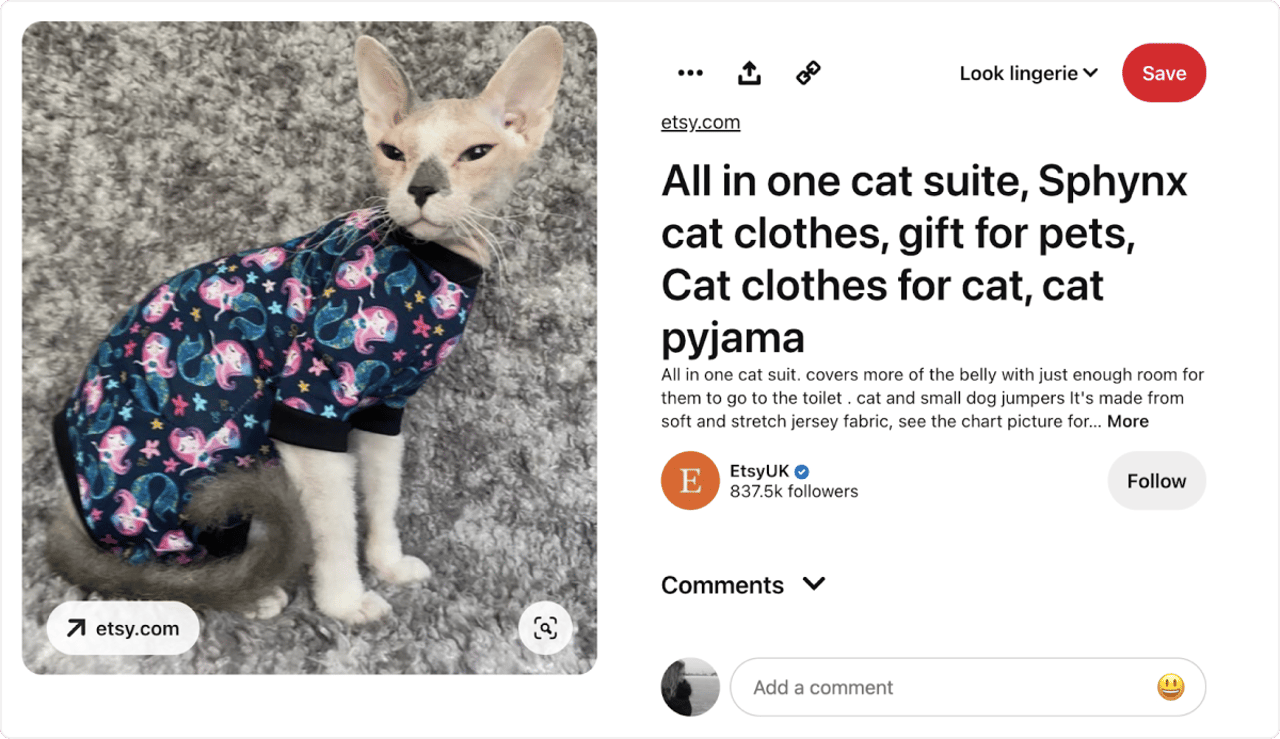 Social media contains tons of unique data that is impossible to collect from other sources. All you need to get access to them – a good social media listening tool. Request YouScan's free demo and find out what useful data you can get for your brand.