Grocery delivery: competitors analysis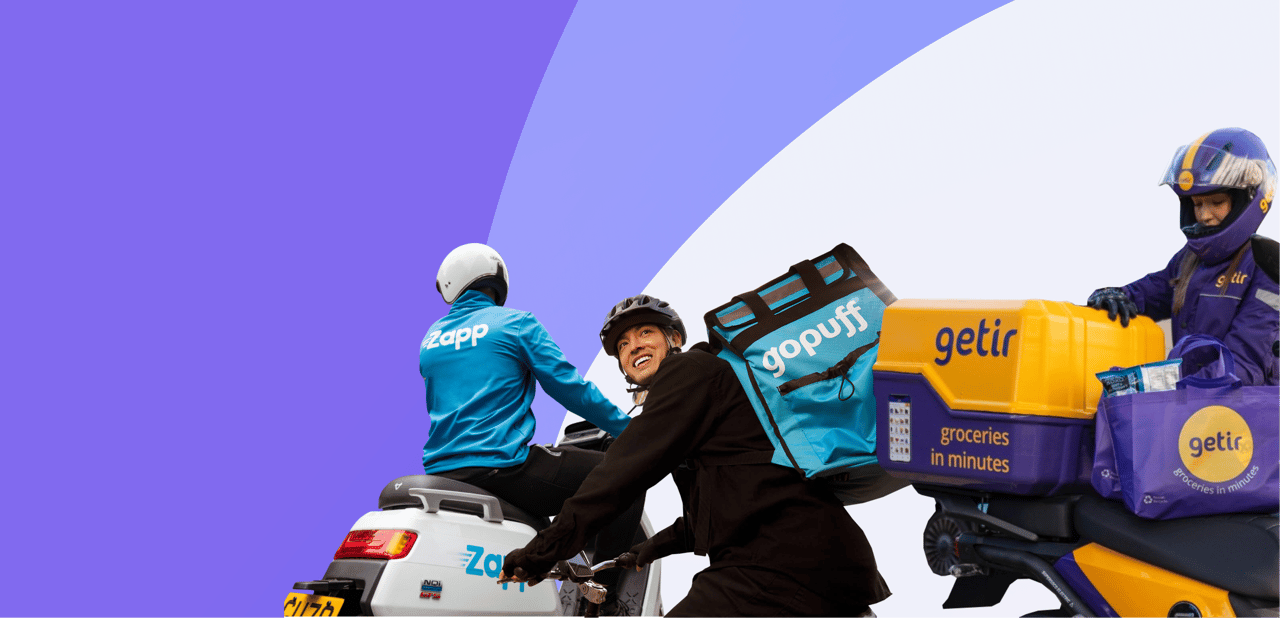 Online grocery shopping increased by 230% in response to the COVID-19 outbreak. More and more startups are fighting to be the one who brings food into customers' fridge. Which of them has already managed to become a favorite in Great Britain? We compared Getir, Gopuff, Gorillas, and Zapp to see their strengths, weaknesses, and growth points. 
Overview
After online shopping grew by 230% in response to COVID-19, this fantastic take-off was followed by a natural decline. In 2022, grocery delivery startups faced a massive drop in demand. Economic hardship resulted in bankruptcy, company acquisitions, cut costs, staff layoffs, and more. How did these economic prerequisites influence service quality, and which grocery delivery companies managed to keep their customers loyal? We compared Getir, Gopuff, and Zapp to see their strengths, weaknesses, and growth points. 
More than 90% of users believe that online reviews sway their purchase decisions and are equally trustworthy as personal recommendations. It means that the importance of a positive online brand image is skyrocketing. If British users were to choose a grocery delivery service based on customer reviews, which one would they prefer?
With YouScan, we collected all the social media posts published in the last 6 months that contain brand mentions of Getir, Gopuff, and Zapp to find out the answer. 
The results show that each brand has its top sources of social mentions.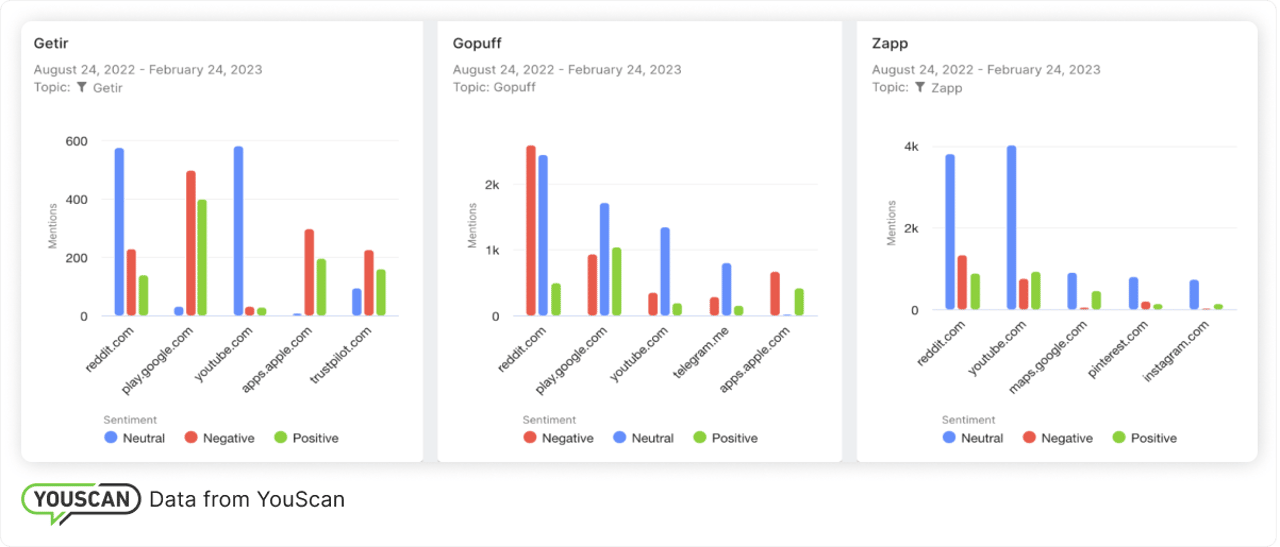 However, the #1 source for all of them is Reddit, one of the most underestimated platforms by marketers. For Gopuff, it is the primary source of negative mentions, while for the other 2 brands, negative mentions on Reddit prevail over positive ones.
Although users mention Gopuff's technical problems, the main topic of discussion is the company's economic issues, layoffs, and staff optimization. 

Based on the posts published during the last 6 months, Gopuff is a leader in the number of mentions, while Getir has better engagement (likes, comments, and reposts) despite having fewer posts. At the same time, Gopuff is a leader in the number of negative mentions, and Getir leads the pack in terms of good references.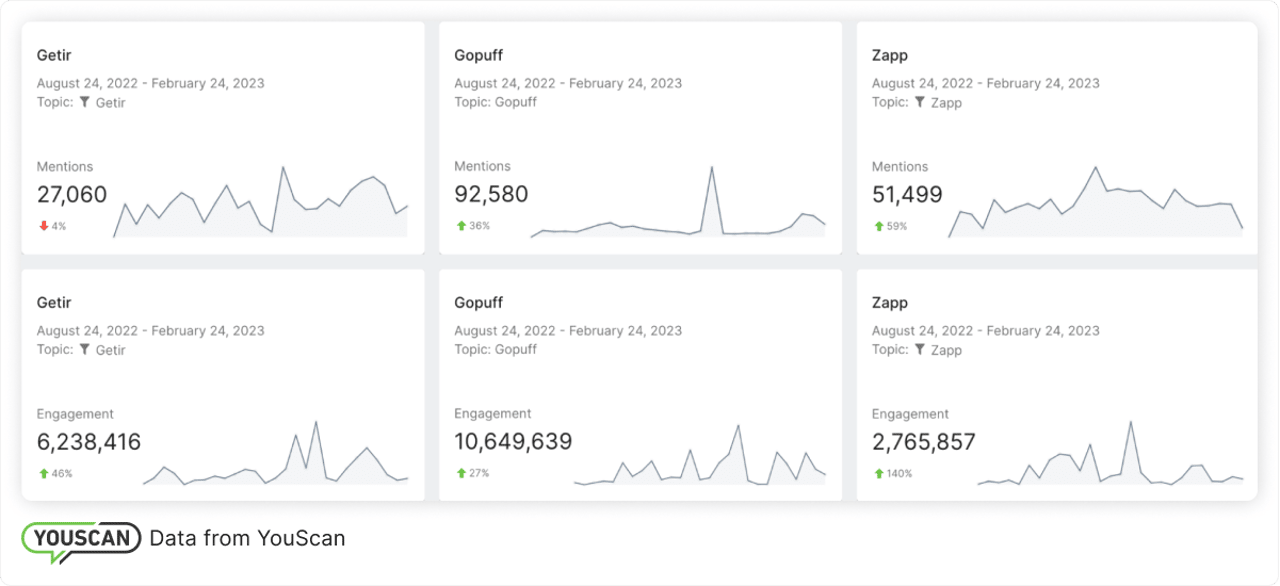 Since users predominantly discussed the apps in a neutral way, they appear to be neither impressed nor disappointed with the service they get.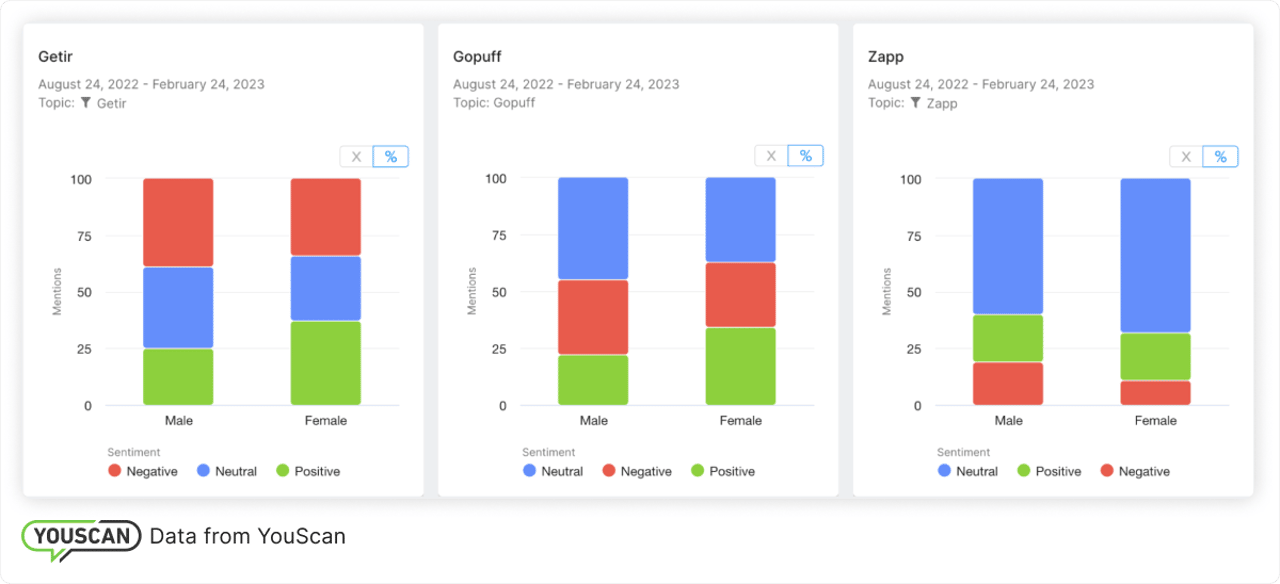 Strengths and weaknesses
Research shows that customer service is a weak side of both Getir and Gopuff.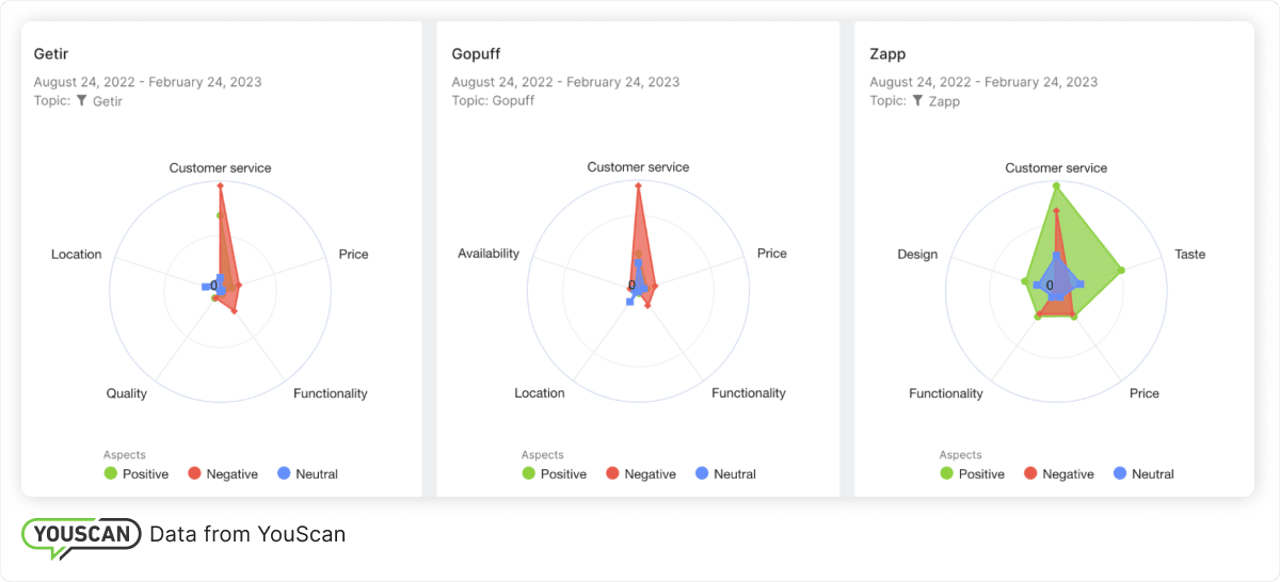 This problem is also evident in the Word Cloud created from the most popular phrases in the brands' mentions. 'Customer service' is the most frequently mentioned phrase in a negative context relating to Getir and Gopuff.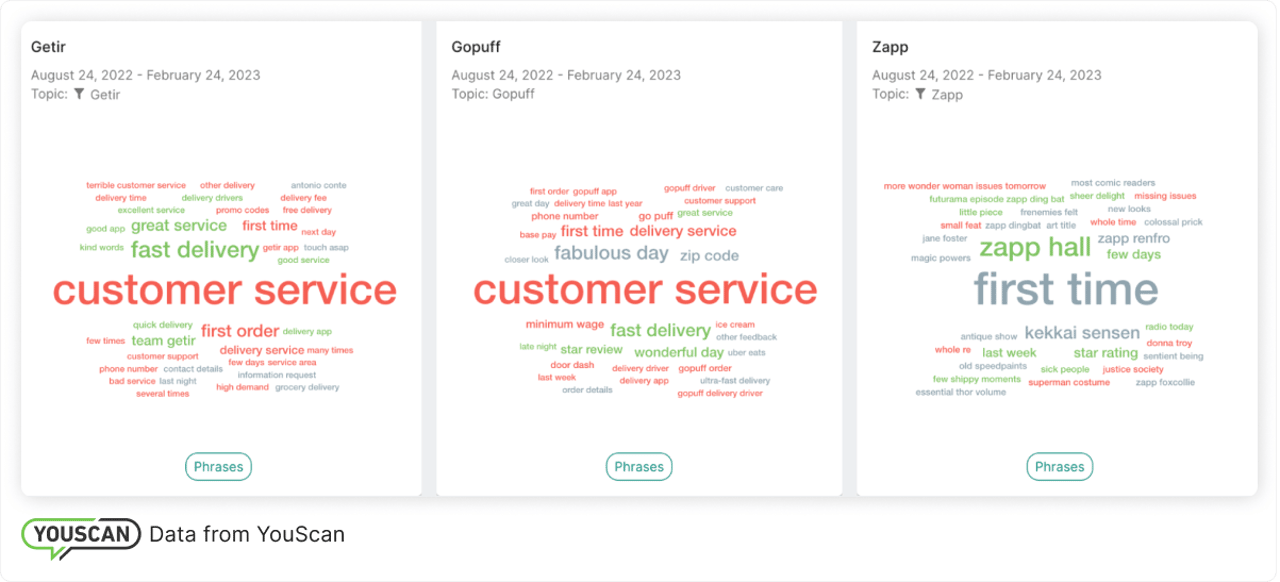 Getir's users complain about several problems: delivery of wrong orders, issues with promo codes, app bugs, rude carriers, etc. Almost all complaints have one thing in common: users aren't able to get help from customer support. 

Gopuff's users face similar problems: if the quality of goods isn't good enough, the order contains missing items, or they encounter other issues – and clients again can not get a response from customer service. 

In contrast, Zapp customers do not experience these problems: users praise the customer support and the quality of goods.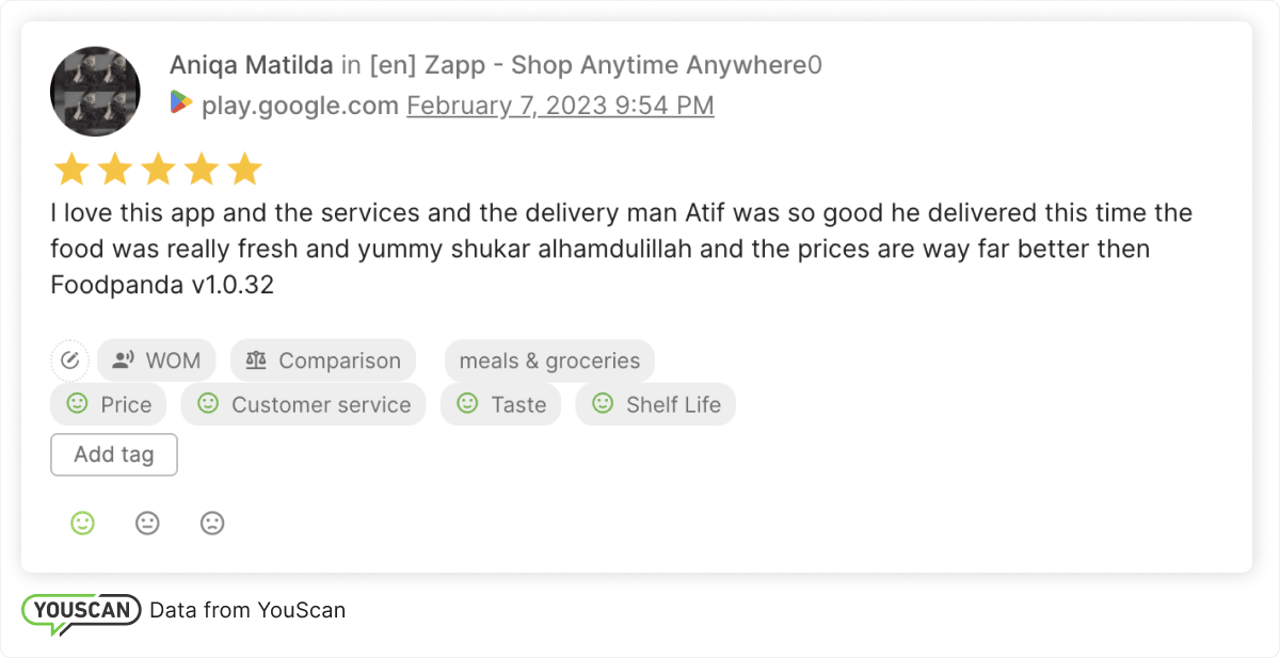 The latest insights from Gopuff customers revealed that Android users are more satisfied with the service's stability than Apple users. The number of negative reviews on the App Store outnumbers good ones; however, the situation is reversed on Google Play – users mainly leave neutral feedback. At the same time, Getir's app receives complaints from both sets of users – Android and iPhone.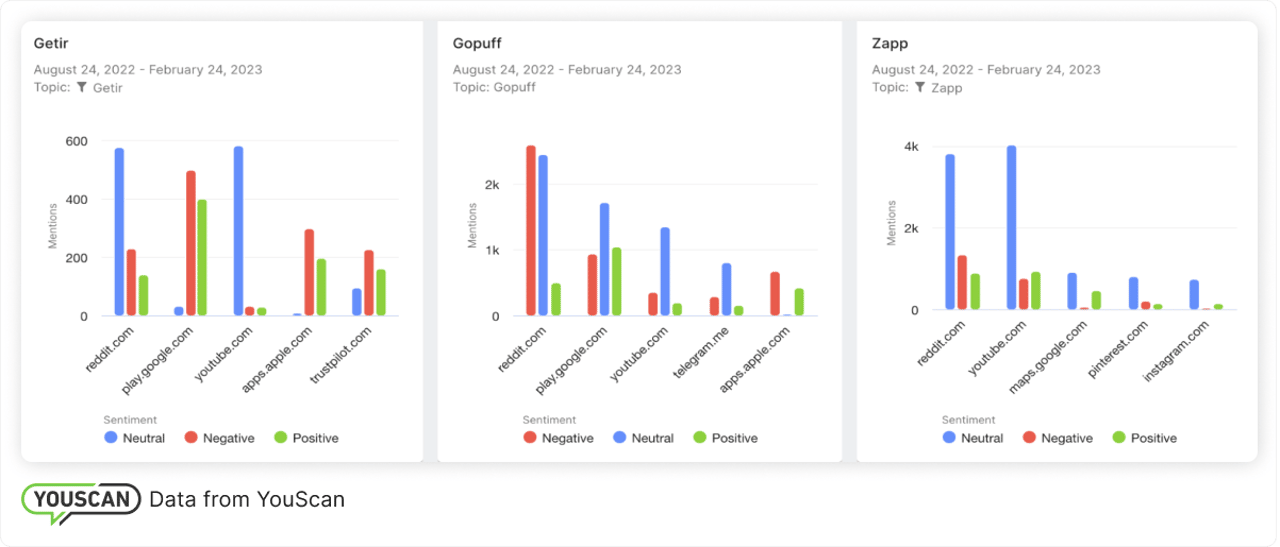 The main issue of the app mentioned by users of Gopuff is to do with problems with transactions. The app charges money, but customers don't always get their orders.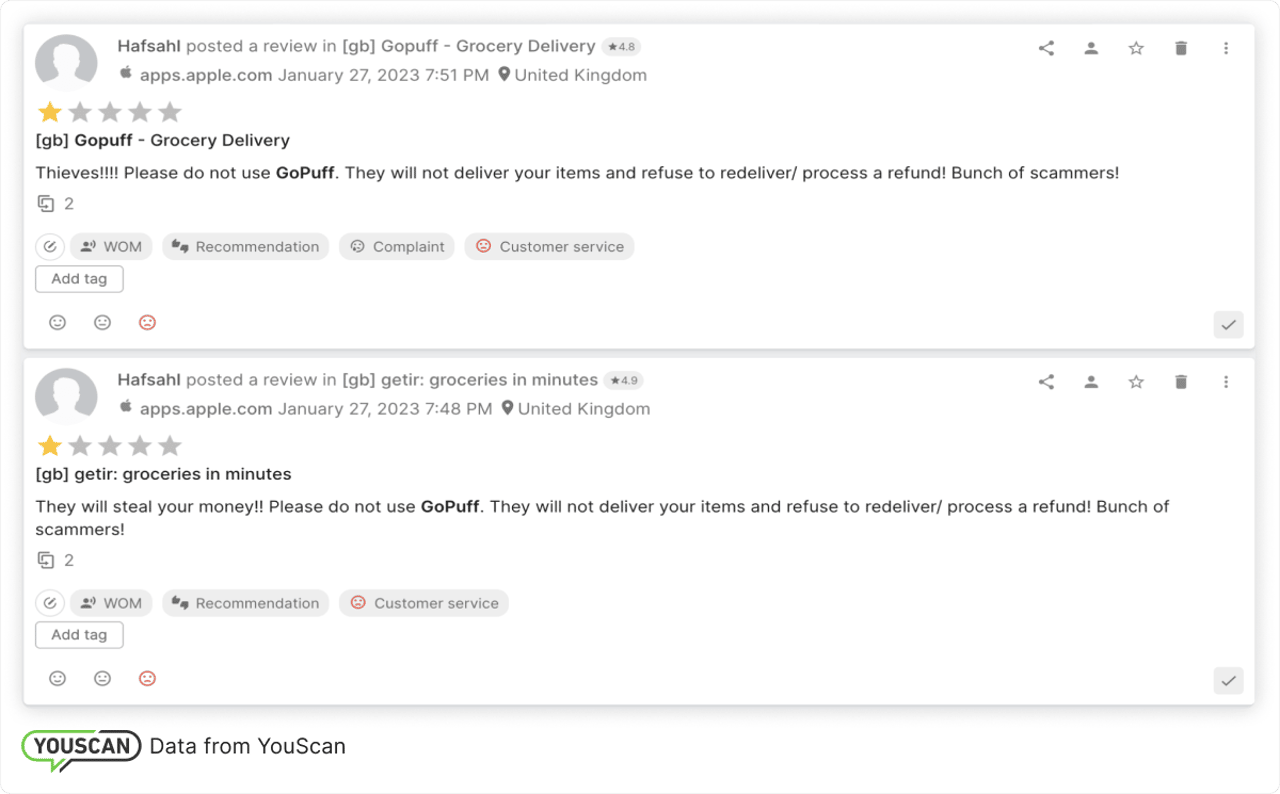 A strong side of the brand, users mention reasonable prices even though they are a bit higher than at supermarkets. 

Getir's benefits are a great assortment of products and different opportunities that help users save money thanks to various promotions. 

Audience analysis
For all 3 brands, men are the core audience. But whilst for Gopuff and Getir women users are relatively widespread,  Zapp has succeeded the most in piquing the interest of the female audience.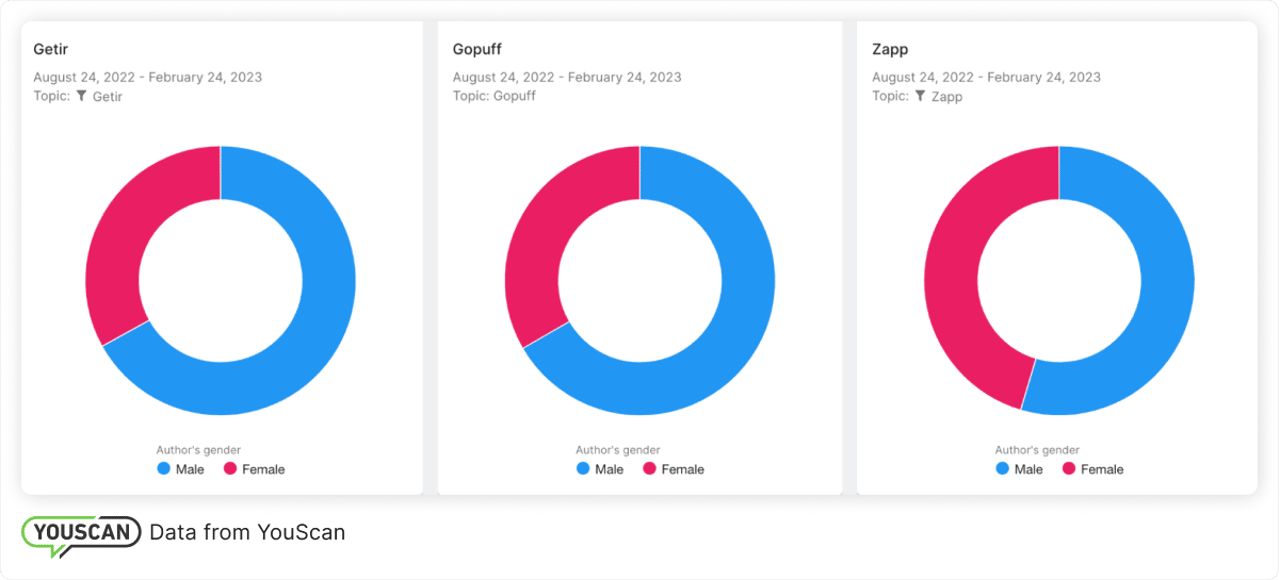 Although men are the key audience of all the brands, they tend to leave more negative reviews, while women are more often satisfied with the services and rank them positively. At the same time, women tend to publish more positive feedback about the service of Gopuff and Getir even though they aren't the core audience.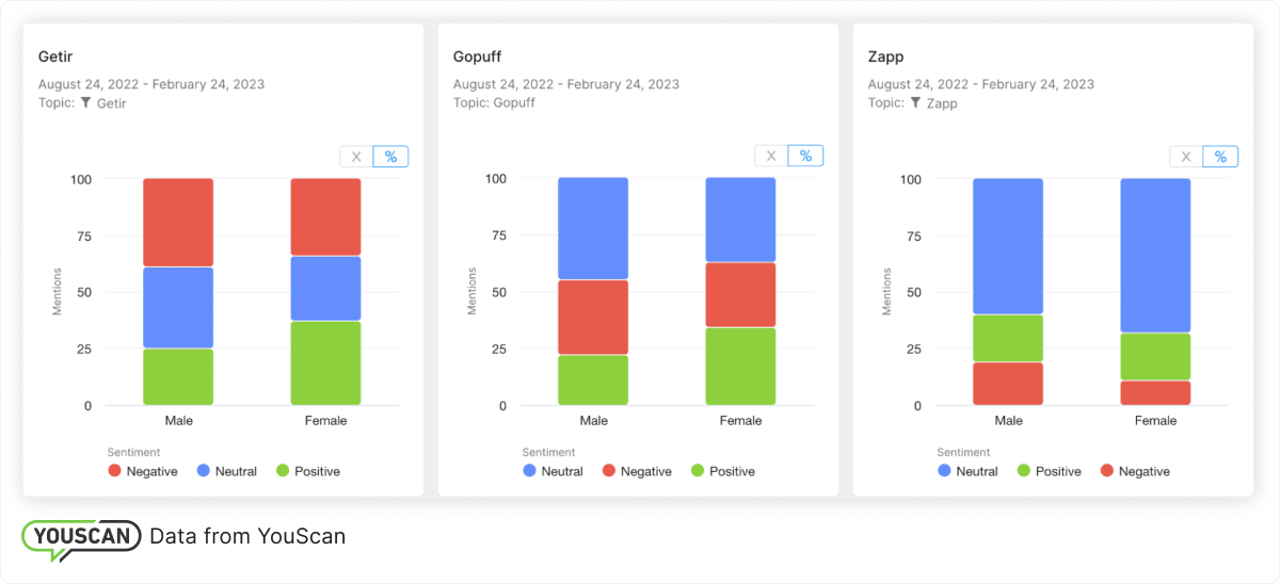 Geography
When it comes to a company's expansion, there is always the question of what region shows better results and the strongest interest. Social media data show countries, regions, and cities where discussions of certain brands are gaining popularity. 
While for Getir and Gopuff, London is the #1 location, Zapp's audience is concentrated in Cardiff, Wales. However, London is still one of the top locations for Zapp's audience.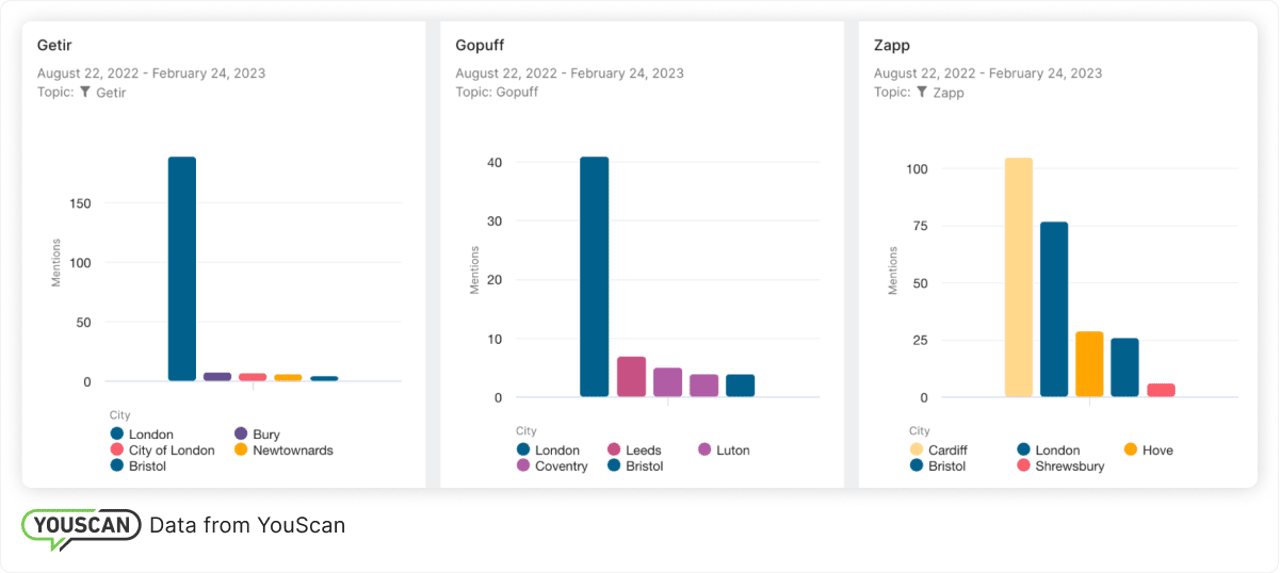 Key learnings
Let's look at the primary conclusions to summarize the research results:
Two of the three brands failed to offer their clients high-quality customer service. Thus, budget optimization significantly influenced user loyalty.

Men are the core audience of all 3 brands.

Gopuff is the most widely discussed app; however, it is also the leader in the number of negative mentions. 

Zapp showed the best results in growing their audience outside of London. It also got the best results in terms of being able to attract a female base. 
Returning then to the question of which is the favorite grocery delivery brand in Britain, Zapp provides a relatively smooth service with no crucial number of positive or negative mentions. However, if customers choose based on brand awareness, Gopuff is the winner.