Grocery delivery: competitors analysis
Online grocery shopping increased by 230% in response to the COVID-19 outbreak. More and more startups are fighting to be the one who brings food into customers' fridge. Which of them has already managed to become a favorite in Great Britain? We compared Getir, Gopuff, Gorillas, and Zapp to see their strengths, weaknesses, and growth points. 
Overview
More than 90% of users believe that online reviews sway their purchase decisions and are equally trustworthy as personal recommendations. It means that the importance of a positive online brand image is skyrocketing. If British users start to choose a grocery delivery service based on customer reviews, which one would they prefer?
With YouScan, a social media listening platform, we collected all social media posts that contain brand mentions of Getir, Gopuff, Gorillas, and Zapp to find out the answer. 
The results of the study show that each brand has its top sources of social mentions. 
While Getir's and Zapp's users leave the highest amount of reviews on Trustpilot and YouTube, commending the customer's service, the clients of Gopuff,  and  Gorillas discuss the quality of the apps themselves on Google Play.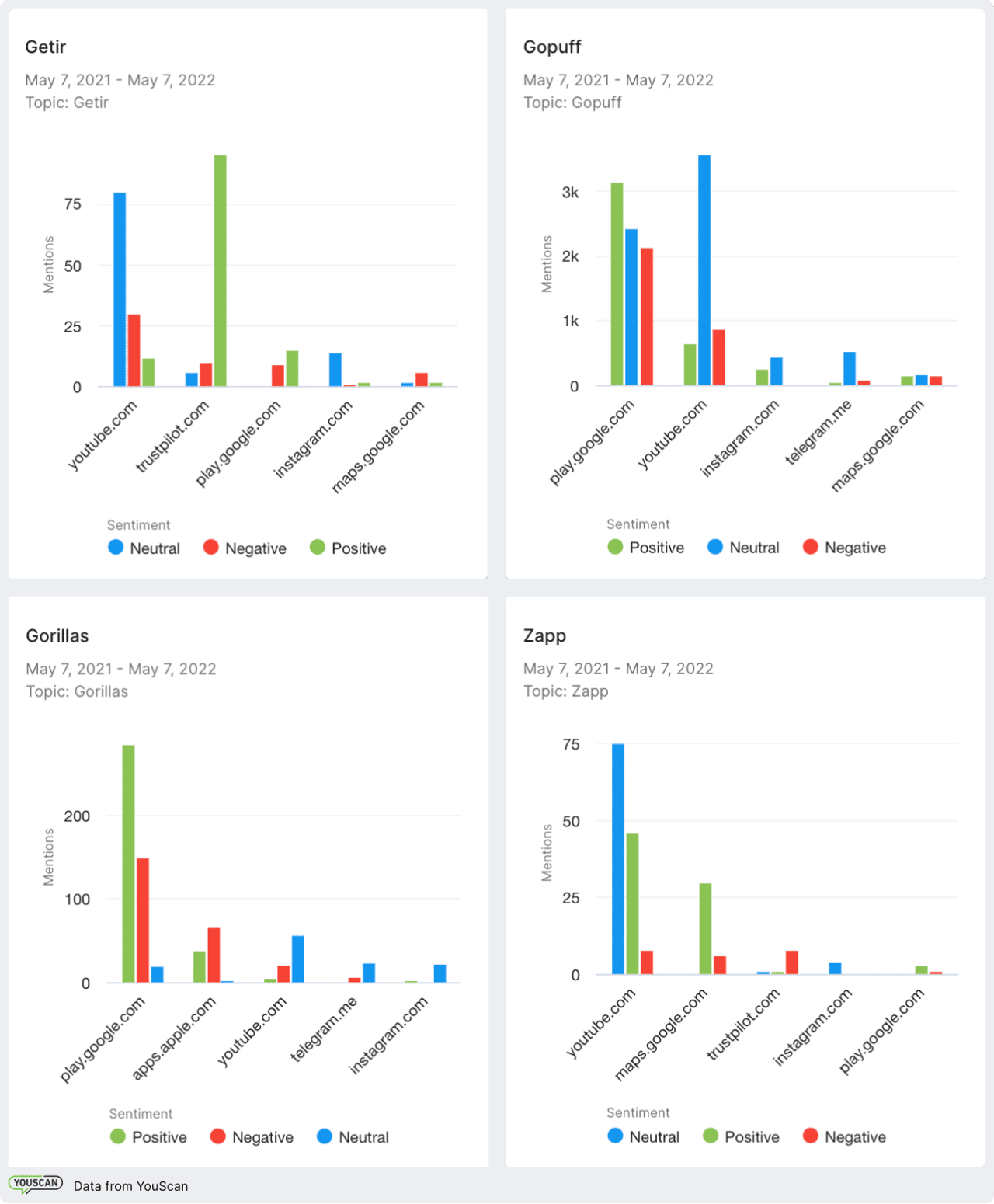 Based on the posts published last year, Gopuff is a leader in the number of mentions and engagement (likes, comments, and reposts). However, the brand has the least amount of positive reviews in comparison with competitors, while the amount of negative mentions is high.
Zapp leads the pack in terms of good references, while Gorillas received the most negative feedback.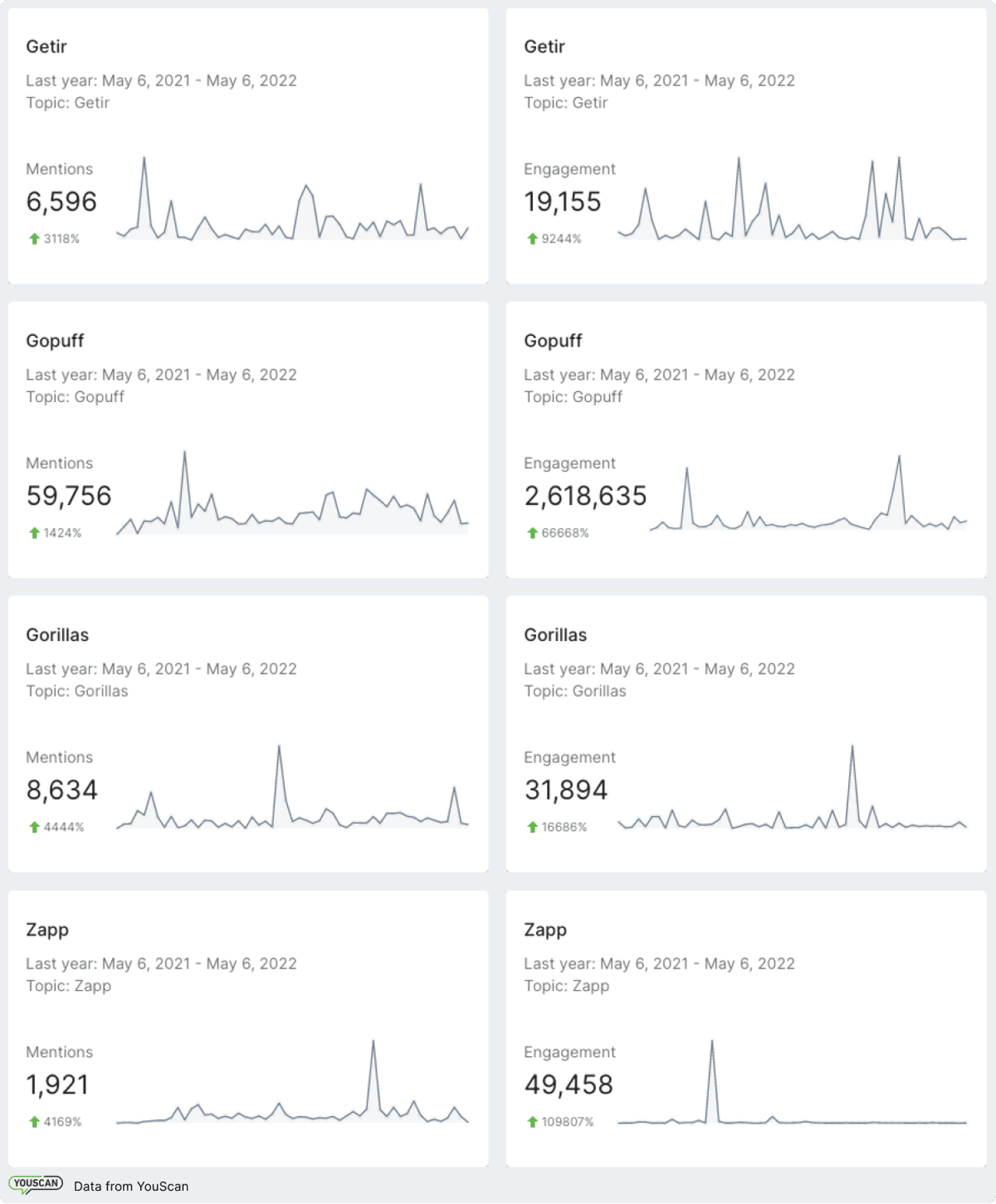 A deeper look into strengths and weaknesses
According to research results, customer service is the strong side of all brands. At the same time, Gorillas and Gopuff have been chastised for their app's functioning and bugs.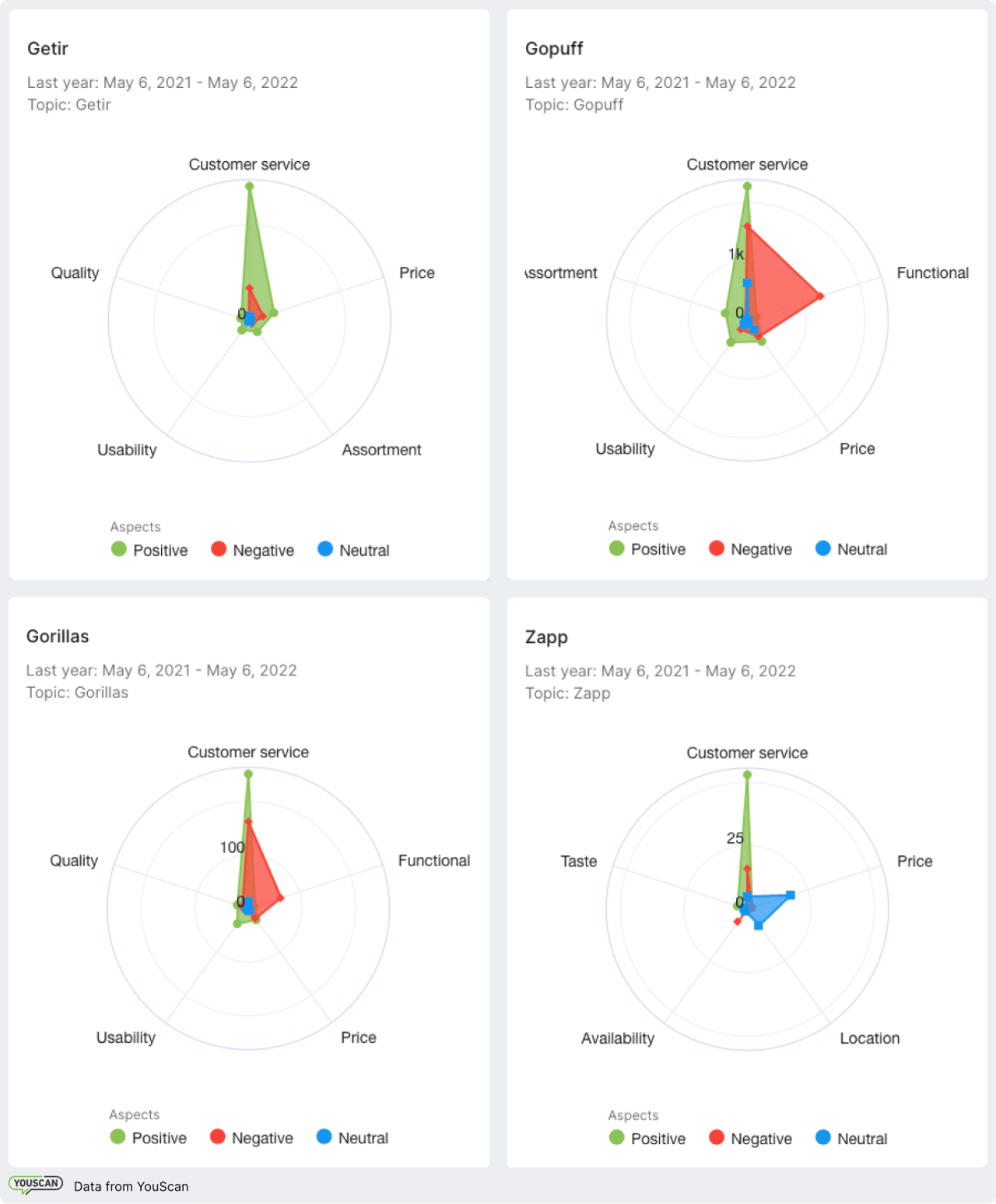 The latest insights from Gorilla's customers revealed that Android users are more satisfied with the service's stability than Apple users: the number of negative reviews on the App Store is larger than the number of good ones; however, the situation is reversed on Google Play.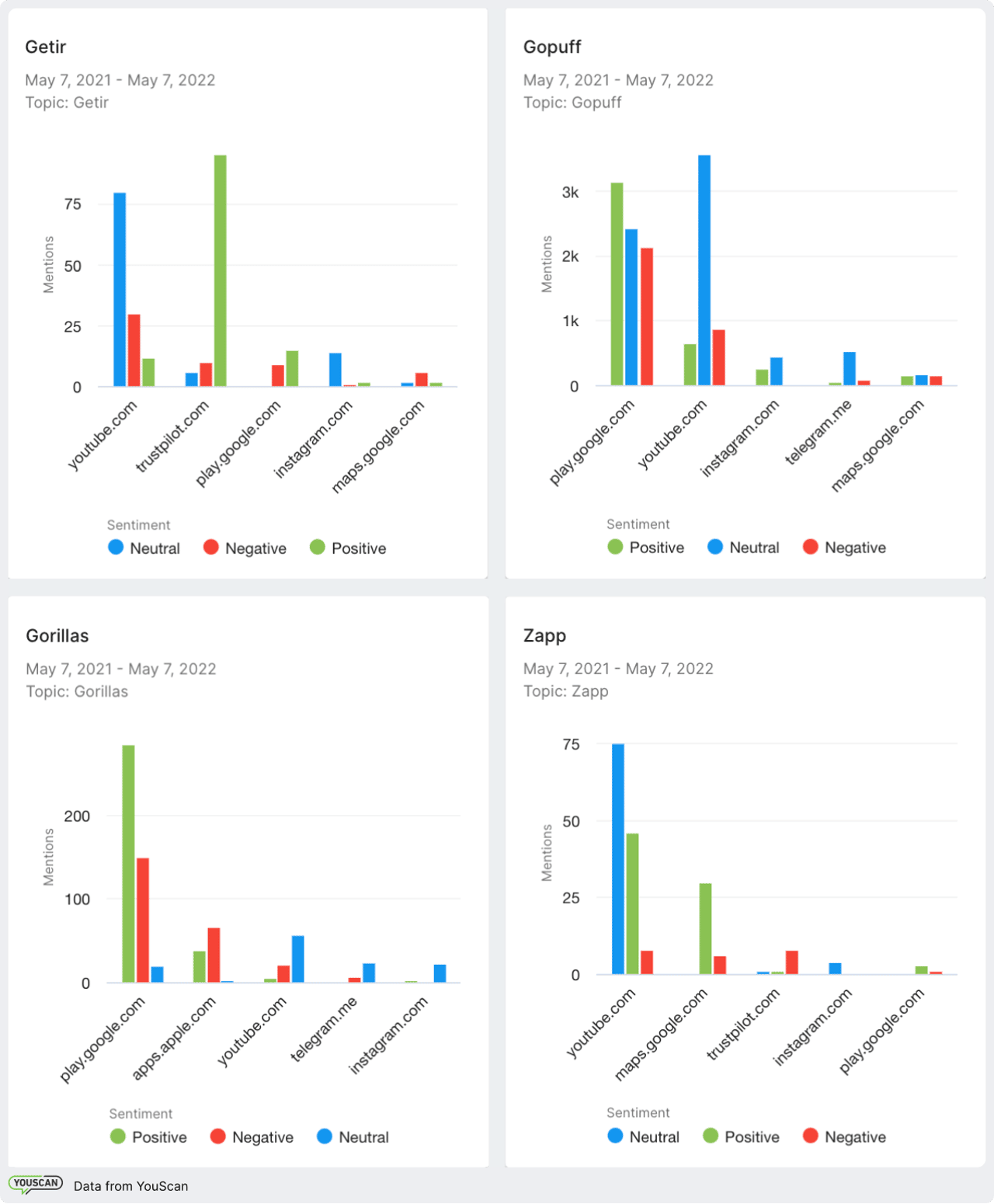 In the examples below, users complain about the inability to use the apps because of numerous errors. Customer support representatives reply to the negative reviews, explaining the steps to make the apps work. Thus, this doesn't help reduce dissatisfaction as service usage becomes tricky and time-consuming.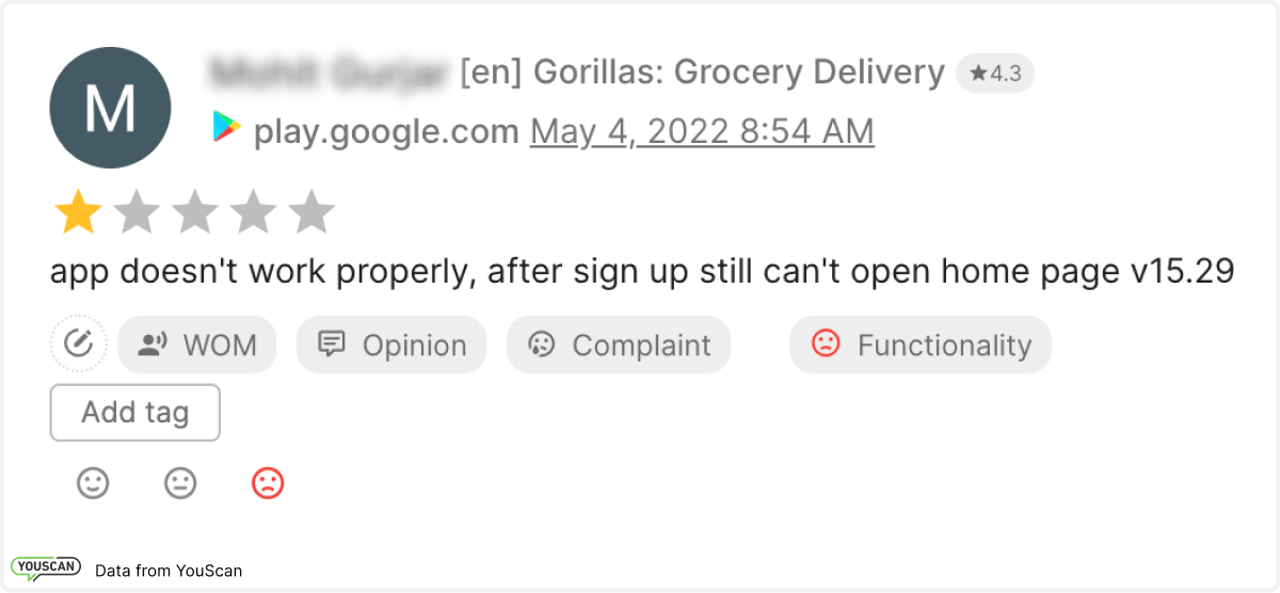 Users who don't face any technical problems commend Gorillas delivery positively, highlighting that it works at a cosmic speed taking up to 10 minutes. Other brands' strong sides are high-quality packages and couriers' friendliness.
Gopuff has similar advantages: delivery is quick, even in the late hours. Customers are also satisfied with the variety of items that couriers can pick. The brand invests in many promos encouraging clients to use its service more actively, and these initiatives receive positive responses as well. 
The words and phrases that are most commonly used in connection with the brand speak volumes about its main features. With YouScan, we created a Word Cloud of the most popular phrases for each brand. For Getir it is "fast delivery", Gorillas is often called a "delivery hero", Gopuff is most frequently mentioned together with the phrase "customer service," while Zapp is associated with "free delivery".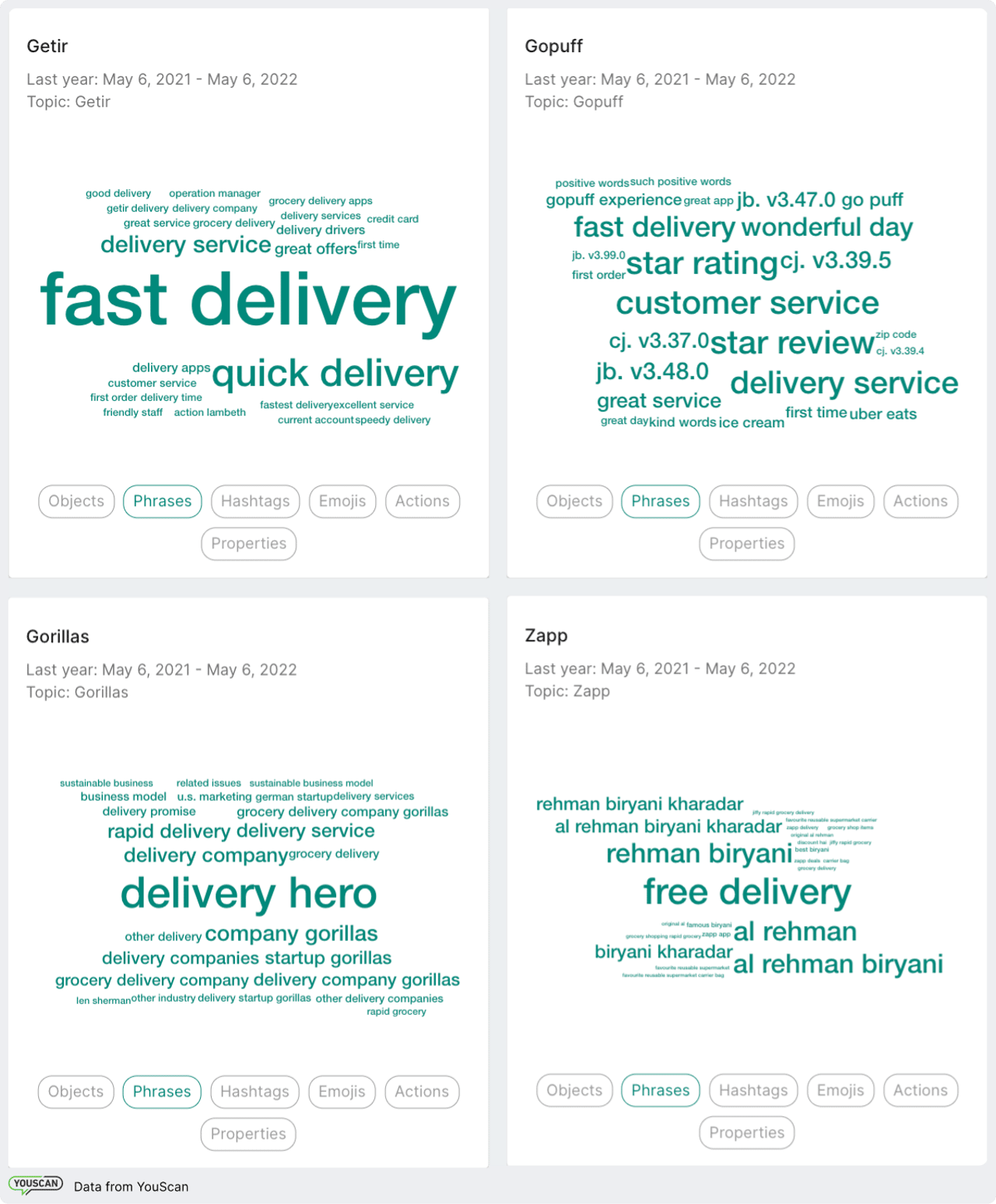 Audience insights and geography
For all 4 brands, men are the core audience. At the same time, Gopuff and Gorillas are relatively widespread among women, whereas Zapp failed to pique the interest of a female audience.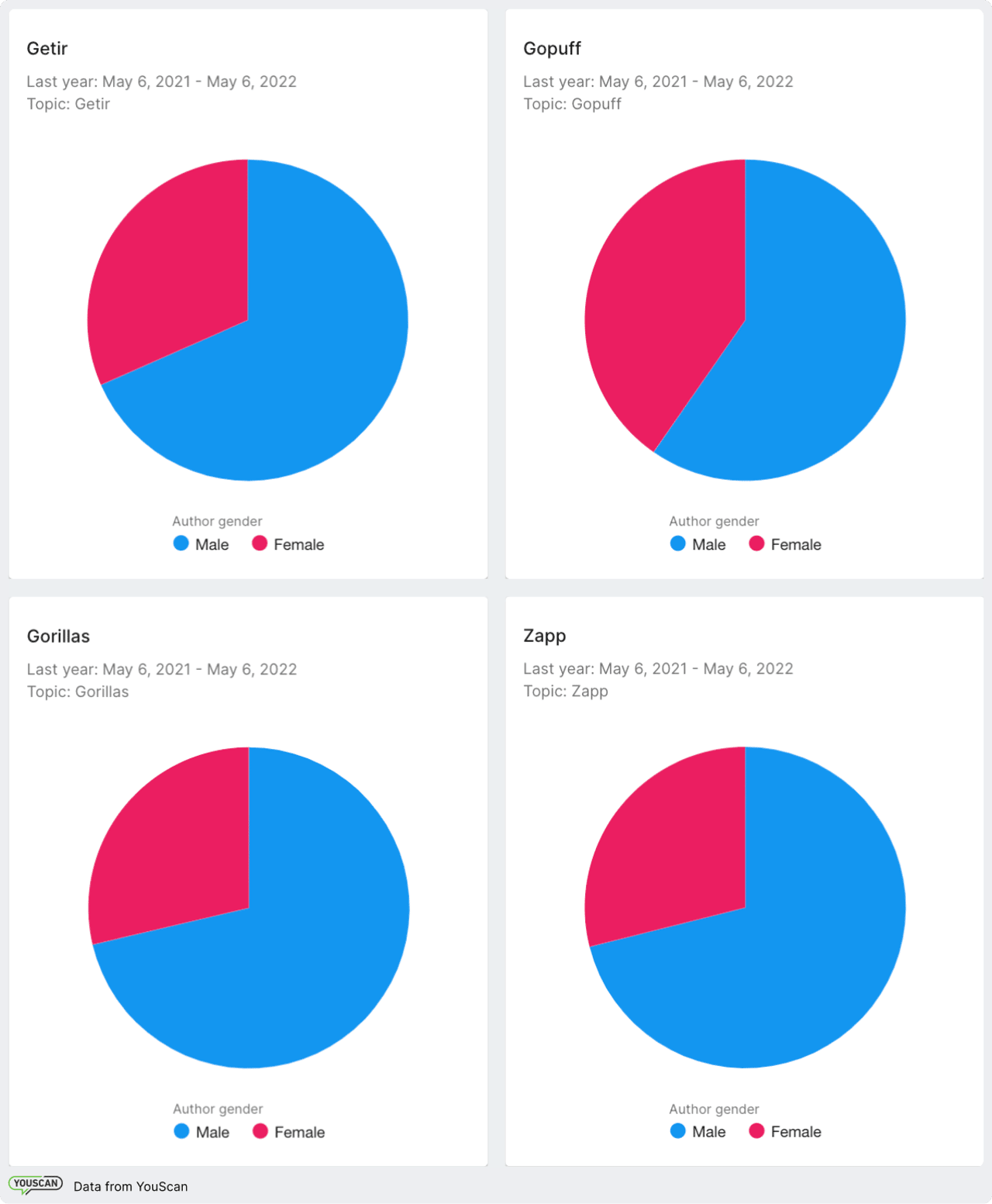 Although the men are the key audience of Gorillas' delivery, 34% of them criticize the brand, while only 6% of women negatively think about it. The least favorite app among men's audiences is Gopuff.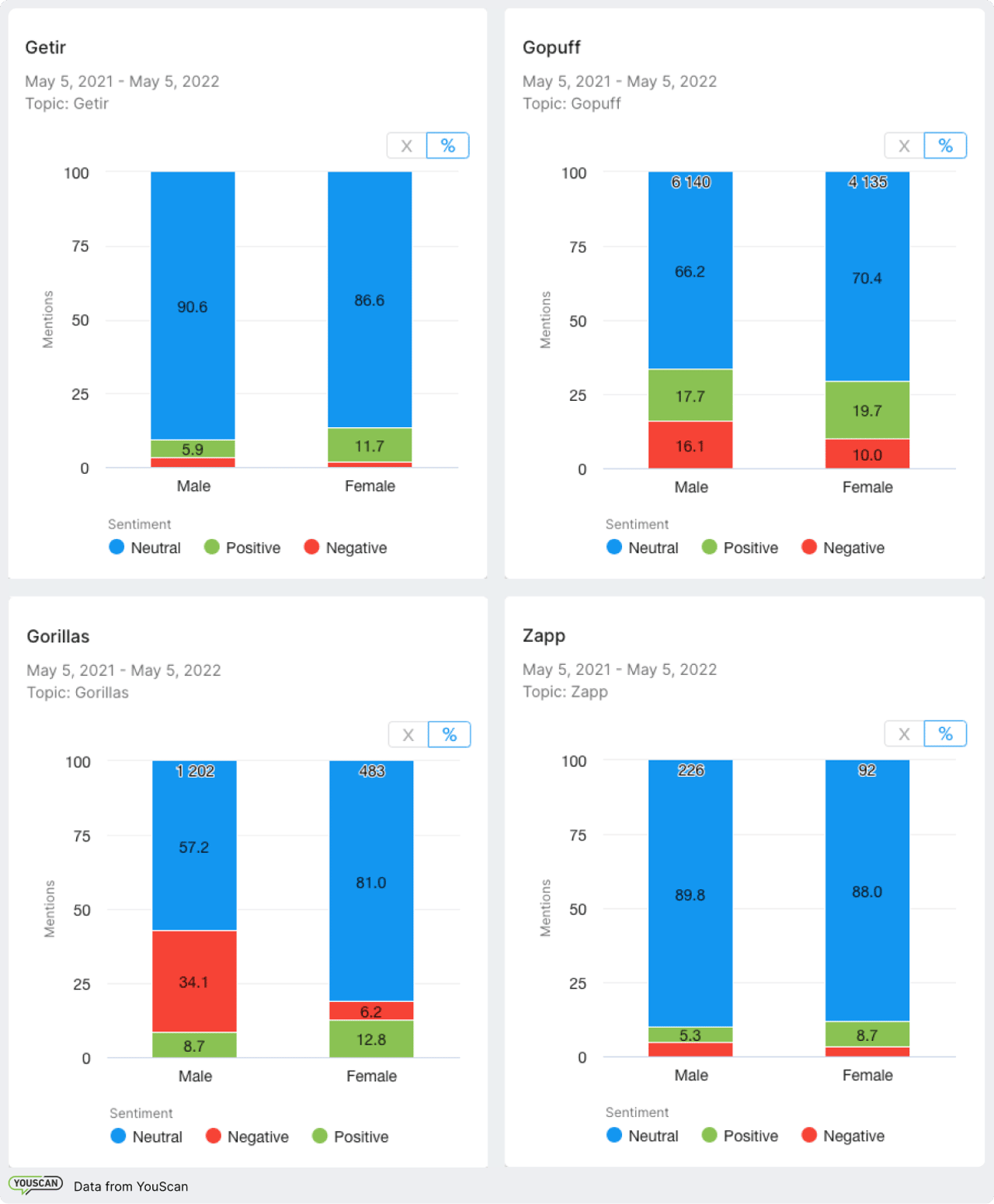 Geographical perspective
When it comes to a company's expansion, there is always a question of what region should be covered next. Social media data show countries, regions, and cities where the discussions of certain brands are gaining popularity. It's no surprise that London is first, as all services were already launched in the city. But the other top locations are unexpectedly different for all 5 brands, even though they work in the same niche.
For instance, Getir is often discussed in Bracknell, Gopuff in Leeds, and Zapp in Hednesford, while Gorillas experience a lack of popularity outside London.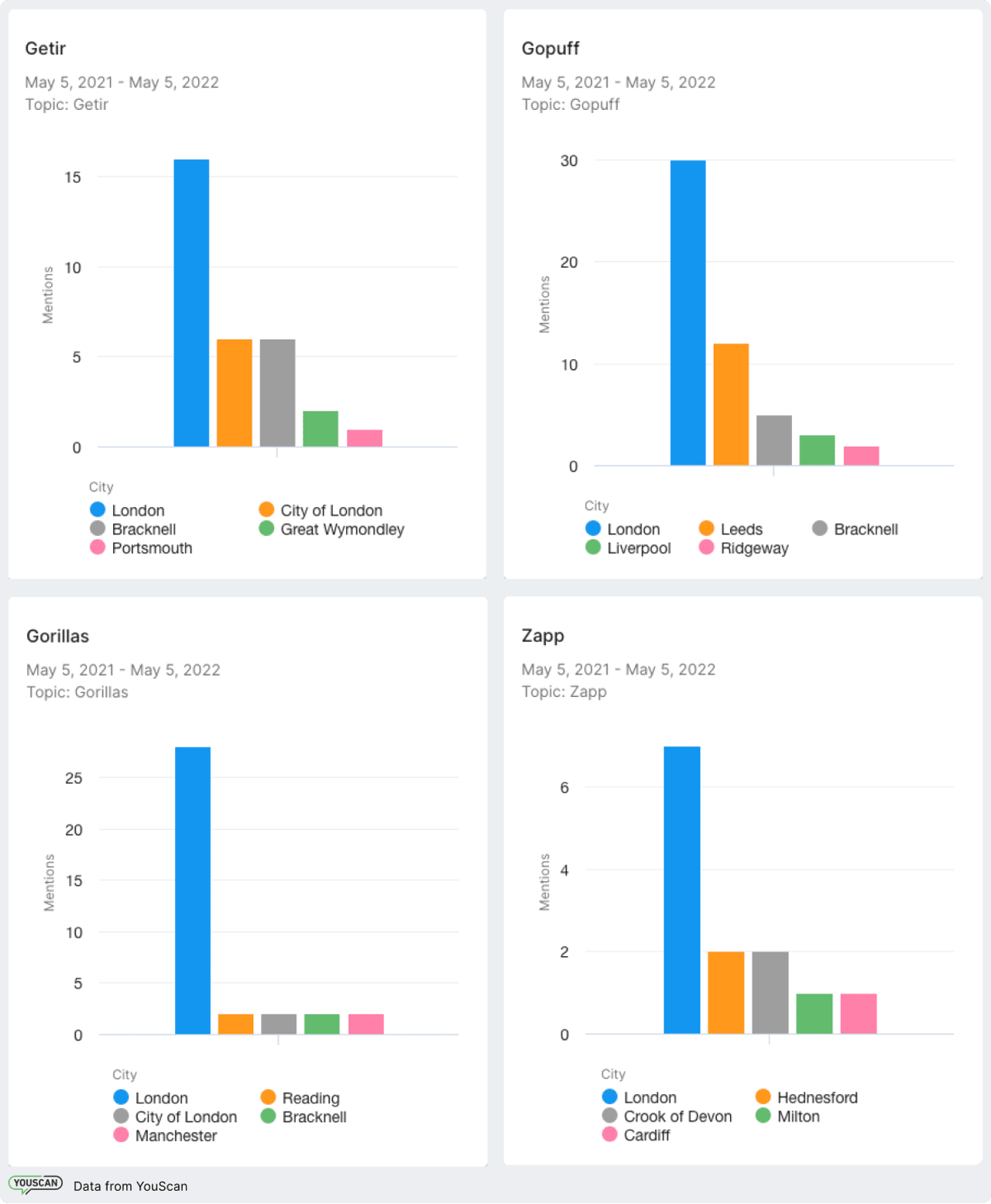 Summary.
Let's look at 4primary conclusions to summarize the research results:
all 5 brands provide customers with high-quality service, while the brand reputations of some services are in danger because of bugs in their apps;

Gopuff is the most widely discussed app, and this result was achieved via spreading promo codes, discounts, etc.

men are the core audience of all 5 brands;

free delivery is one of the main expectations of the target audience;

4 in 5 brands have a good chance of growing their business outside London.
Referring to the question of the favorite grocery delivery brand in Britain, Zapp is the service with the highest amount of positive mentions and ​​the least amount of critics. However, if customers make a choice based on brand awareness, Gopuff is unmatched. 
Request a YouScan's free demo to know what people think about your brand.