Saas Advisor Named YouScan a Visual Analysis Category Winner in Martech-Challenges
Paris, France — 10/29/2019. YouScan, a global software vendor that provides an AI platform for Social Media Listening and Image Recognition, today announces that it was recognized in the first edition of Martech-Challenges as Visual Analysis category winner by the Saas Advisor.
Martech-Challenges were designed to compare the best Marketing Technology software and services based on "real life briefs & competition conditions". On their first edition Saas Advisor addressed the "Social Listening Technologies" segment and analyzed the vendors all round — from software architecture to professional services. The jury included representatives of the world-renowned brands and agencies — Guerlain, Coca-Cola, L'Oréal, Renault, Digital Insighters, The Metrics Factory, OpinionWay, June Marketing.

YouScan participated in two categories of the Martech-Challenges first edition:
Local Brand (UK/US) — the challenge is to monitor a Brand within a local scope (UK or US).

Global Consumer Brands — the challenge is to monitor all verbatims regarding a consumer brand within a global scope.
YouScan's recognition as a Visual Analysis winner is a result of our hard work on the system's Visual Insights functionality. YouScan's comprehensive platform allows customers to not only detect brands' logos in social media images, but also to recognize their visual context: scenes, objects, activities, and even dominant colors, which helps brands to uncover valuable consumer insights in a completely new way.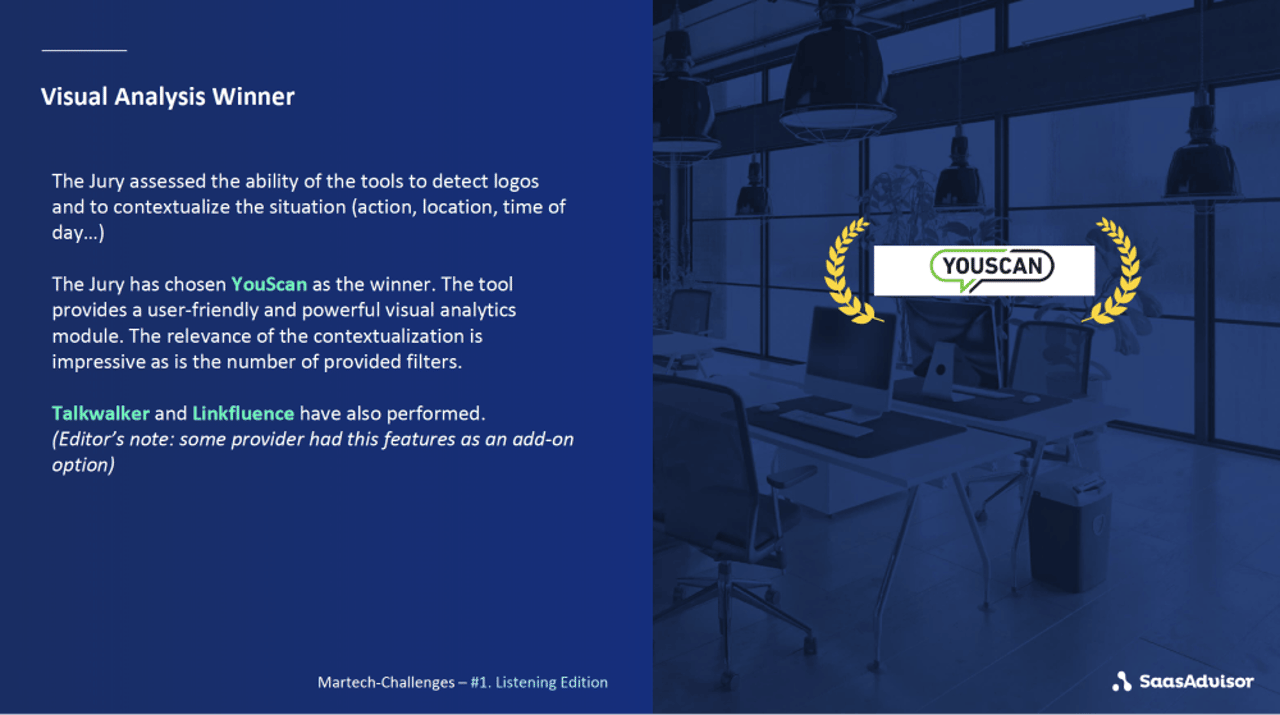 According to Saas Advisor, "The tool provides a user-friendly and powerful visual analytics module. The relevance of the contextualization is impressive as is the number of provided filters."
"We are thrilled to be recognized as a leading player in the social media image analytics space. Our AI-powered image recognition technology developed in-house by our data science/ML team is indeed very accurate, highly scalable, and improves continuously due to user feedback loops." — commented Alex Orap, YouScan CEO and founder.
Considering that more than 260M all over the world speak Russian, Saas Advisor included Russian language analytics as a separate part of evaluation — and YouScan was named the only Leader.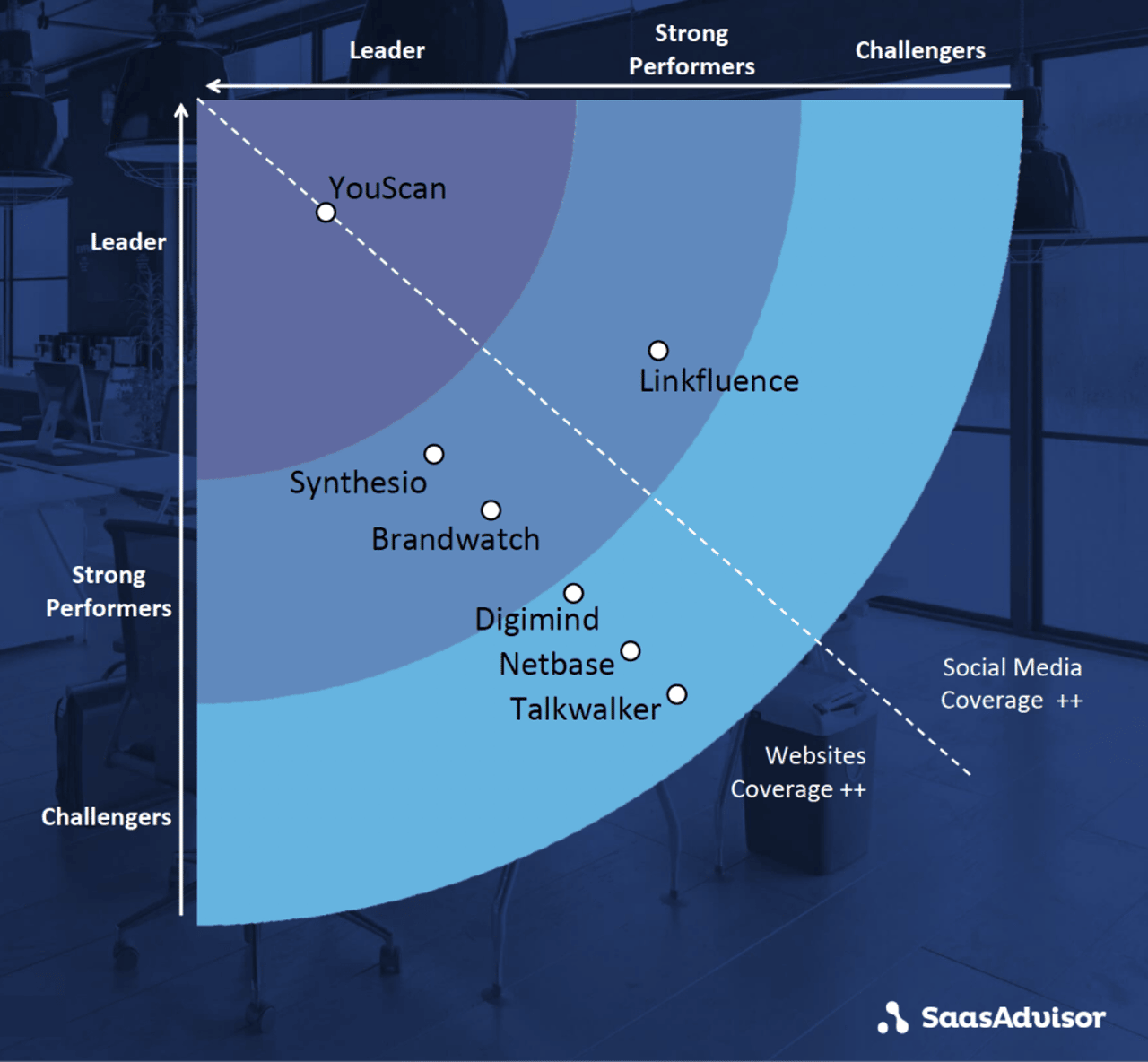 In addition, Saas Advisor named YouScan a Strong Performer for the Quantity and Quality of Data collected on the most popular social platforms — Instagram and Facebook.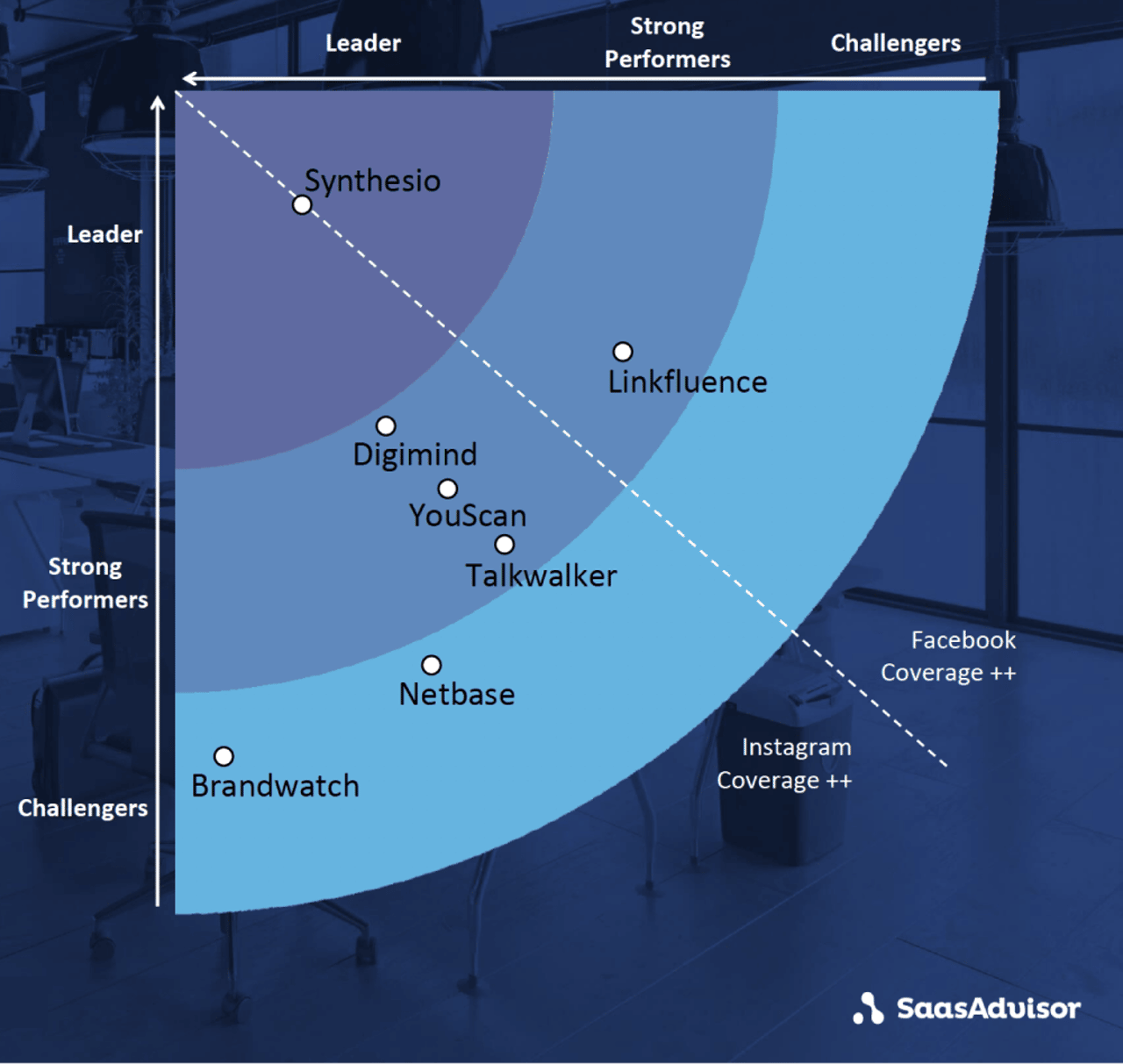 About YouScan

YouScan is an AI platform for Social Media Listening and Image Recognition that helps businesses tune into their customers' online conversations. More than 500 businesses worldwide use YouScan to listen to the customers and win their trust online.
About Saas Advisor
Saas Advisor is a consulting firm specializing in SaaS solutions for companies, agencies and especially for marketing departments.