How to create a meaningful PR report
Even in 2021, PR managers still face the problem of clients underestimating their work. Those who didn't have a lot of experience with public relations or had a negative one might feel it is tough to measure the value and impact of PR on their business. That's where a competent PR report comes in handy.
Public relations have multiple metrics and activities that any PR professional must follow and implement. Crafting press releases, working with the pres and influencers, launching online and offline campaigns and events is only a short list of daily tasks of a PR manager. Tracking media coverage, brand health, sentiments, share of voice, and other metrics is also essential. But what is equally crucial as performing all the mentioned routine is to analyze all these data and turn it into a comprehensible PR report.
Why does it matter? Because the simple listing of the performed work might look overwhelming. Remember that your executives don't work daily with PR and usually don't have time to puzzle your report out. They need facts, conclusions, and suggestions to further strategy.
So, how to create a PR report that will satisfy your supervisors?
Data visualization – the main booster of any report
According to statistics, people process visual information 60 000 times faster than text. Moreover, they can recall 65% of visuals 3 days after seeing them, while only 10% of text can be remembered. As we see, humans are designed to perceive images and video. Hence, adding them to your report will make it more user-friendly and understandable.
But how to visualize data to make it look simple yet appealing? Charts of all kinds, maps, diagrams, and other visualizations are the best way to show your campaign results, especially when comparing different periods and brands or track your performance over time. Such illustrations are engaging, giving the readers a complete picture and allow them to quickly determine the key points to make data-driven decisions without looking through multiple pages or spreadsheets.
For example, the graph below provides an overview of the number of mentions and their sentiment for the past month, indicates the peak dates, and allows you to discover the most trending mentions by clicking on them. In this particular example, we can see that Starbucks' PR manager did a great job as the press release about their new drink become trendy and got multiple mentions. Also, the key metrics are displayed on the screen, so adding this graph to the PR campaign report is a great idea, right?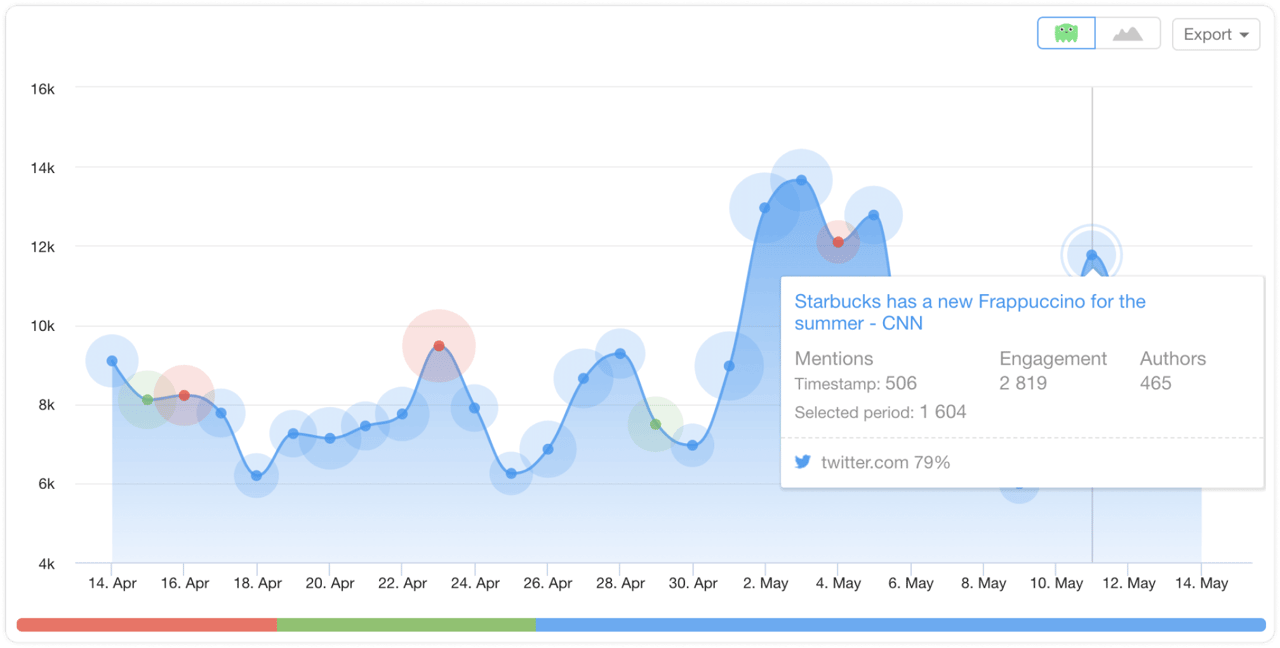 Using a custom dashboard for a one-time or ongoing PR report
Now, let's move to the practical part and discuss the report's structure.
We suggest starting with a plan. Don't forget to include all the PR KPIs that you've discussed with your client or supervisor. At the same time, consider adding only those metrics that matter to your reader and actually influence business results.
Now, when the content is ready, what's with visualization? There are two most effective ways to present a report: using presentations (Keynote, Google Slides, PowerPoint, etc.) or the social media monitoring tool.
Benefits of presentations:
possibility to set up custom design;

connection with other services (for example, Google Sheets);

possibility to download visualizations from YouScan and adding them to your presentation;

most familiar tool among executives.
Disadvantages of presentations:
not interactive;

requires a lot of time to design and connect all the data;

the need to create a new file for each new report (monthly PR report, quarterly report, pr annual report, etc.)
When it comes to social media monitoring tools, everything depends on the system you are using as they have different capabilities and features, especially for reporting. That's why we'll explain how it works on an example of our system.
For instance, YouScan has a specific Custom Dashboard tool where users can create dashboards to track various metrics. We also have a dedicated article about this feature.
Benefits of crafting a PR report using YouScan's Custom Dashboard:
all the data is displayed real-time;

instant report that is created automatically by the system (no manual work needed);

possibility to track several topics/ brands/ periods/ campaigns, etc. on one page;

comprehensive and informative data visualization;

possibility to tune the widgets depending on your needs;

a limited number of visualizations in one dashboard not to overwhelm the reader;

interactive widgets (you can click on them to dive deeper into analytics);

possibility to export widgets to insert them in a presentation, for example;

easy sharing with other stakeholders via link to the dashboard.
Disadvantages of social media listening tools for PR reporting:
design customization is not available;

only registered users can tap on widgets to see the detailed information.
How does a dashboard for a PR report look?
The main trait of a dashboard is adding only those metrics that are relevant for you and choosing the best visualizations for each of them. You can choose their looks, placement, size, and monitoring period.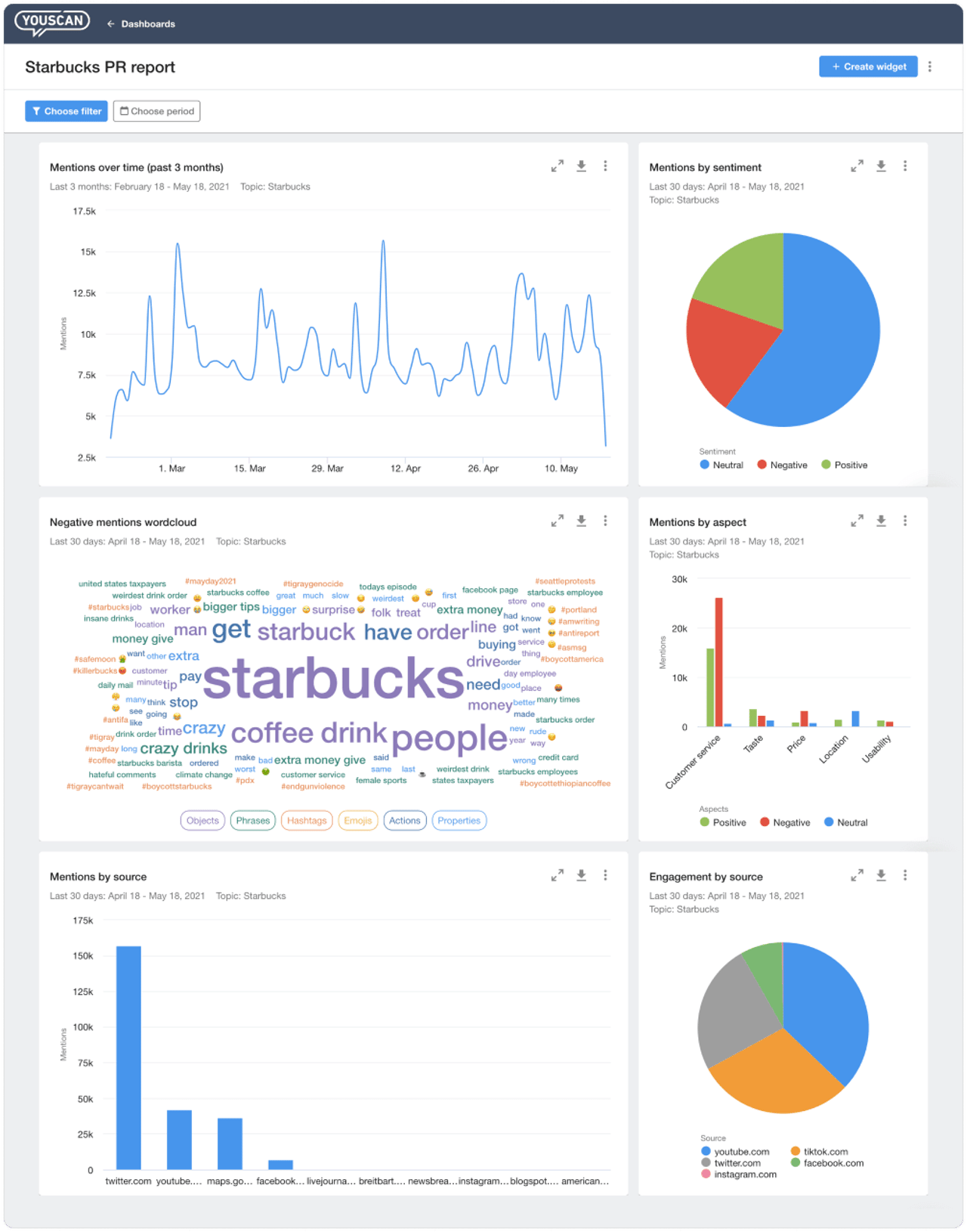 So, what is an algorithm for working with a dashboard?
Create a template where you place all the needed widgets that visualize the key metrics. Once the template is ready, you don't have to refill the data as the system automatically shows the latest month. You can manually set up the required period for the whole dashboard or for particular widgets (to demonstrate before-after results), depending on your needs. When the dashboard is set up, you can share it via a link with colleagues, clients, your manager, and other stakeholders so that they have access to your report whenever they are and at any time they need.
Same as any other business activities, public relations requires a smooth process and careful analysis. YouScan is a system that can cover both needs and make your company stand out from the crowd. Are you ready to boost your PR and reporting? Request our free demo to see if we are a good fit for your business.