Online trends
Marketing & PR
Nike vs Adidas: Who's on Top with Social Media
Nike and Adidas share a long history of competition. Nike, on the one hand, has dominated the sportswear goods industry for decades, taking half of the market share in the US athletic shoe market and making "Just Do It" one of the most renowned slogans of the 20th century. In recent years, however, Adidas has been battling to bridge the gap by generating impressive levels of hype around its name and products.
Stock market statistics reveal that Adidas is now beating Nike on Wall Street. Their shares have outperformed the king of the athletic footwear market over a 5-year period, and shown a marked growth from the end of March this year.
There's a consensus among experts that the marketing buzz created by Adidas is integral to its success. As most of the marketing efforts are now focused on winning over social media audiences, we decided to look into how the perception of the two brands has been changing over the last 5 months to see if the public opinion is in step with this trend.
To get a clearer picture on what consumers have to say about Nike and Adidas, Topface Media's team used YouScan social media listening software. From the 18th of March, 2019, it's collected over 76K mentions in a Word-Of-Mouth (WOM) category across the United States.
Our analysis includes only social media posts and comments that reflect people's opinions or experiences with the two brands. For the purposes of our comparison, we excluded promotional social media posts from retail chains or marketing posts from the official brands' channels.
We also filtered out the posts about reselling Adidas or Nike's sneakers, although it's a compelling subject in itself. If you're interested in gaining some insight into the two brands' competition on the second hand market, take a look at this article.
So, who's the winner in the online reputation stakes? Place your bets now.
Which of the two brands is most talked about?
Here's a breakdown of the number of mentions for both brands. Nike's overall share of conversation doubles Adidas – and then some.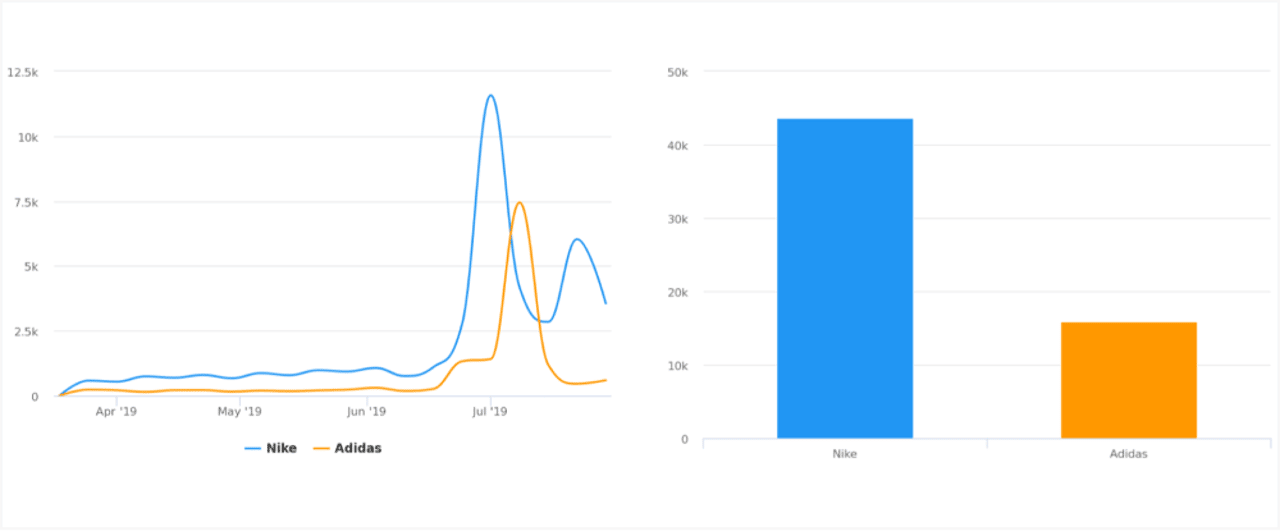 Pretty much the same picture can be seen with search history on Google Trends over the same period:

Winner by the share of voice: Nike
How does the share of voice compare across states and social media platforms?
Next, we wanted to find out if Nike or Adidas managed to win over the audience in a specific location, either geographical or digital.
Turns out, there are a lot of similarities between where social media users are discussing both brands. The platform of choice is YouTube, with 59% of all Nike mentions being comments to videos. For Adidas, this number goes as high as 75%. YouTube is followed by Twitter, with 24% of all Nike mentions and 14% of Adidas mentions.
The distribution of mentions across the States is pretty much the same for both Nike and Adidas, with the largest number of mentions coming from California, New York and Texas.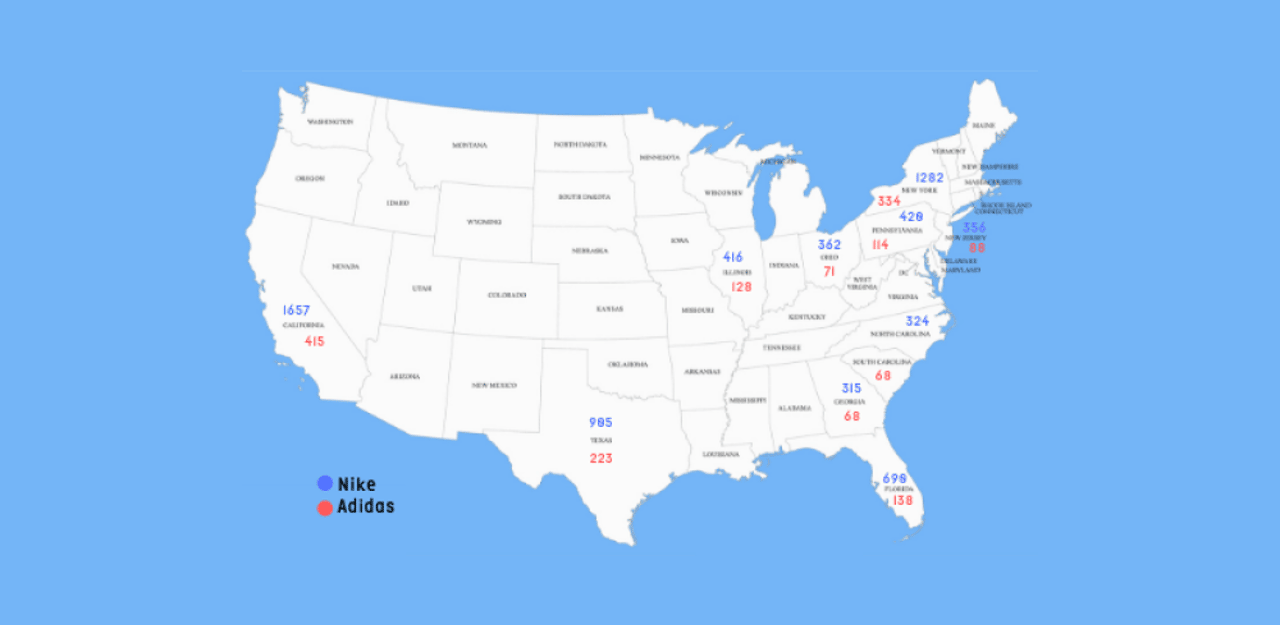 Winner: even (although, we are tempted to give Adidas an extra half point for hopping on the hottest marketing trend – videos, and managing to grab the attention of the YouTube audience).
What's the overall sentiment towards Nike and Adidas?
Nike got twice as many negative comments as Adidas and a slightly larger share of positive comments. Later on, we'll take a closer look at what triggered the negative emotions.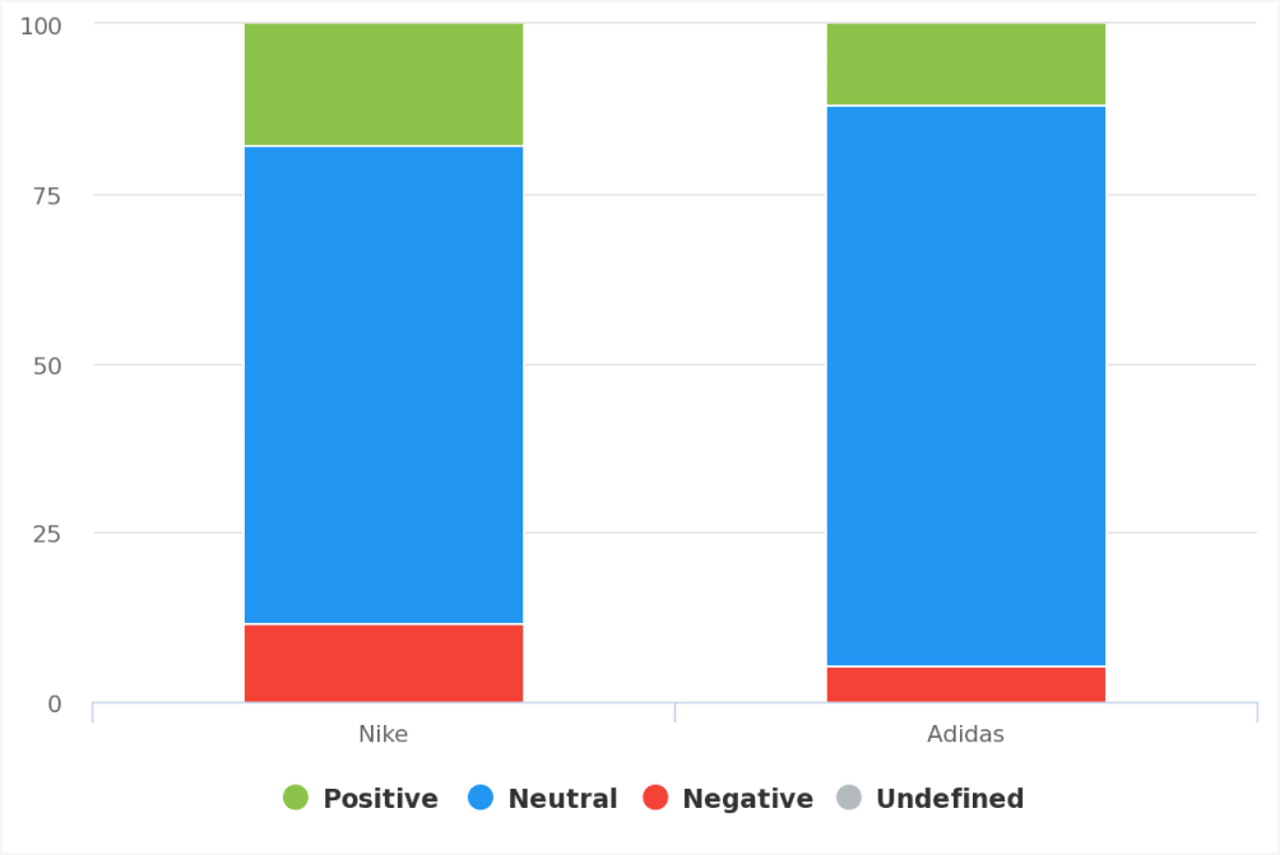 Winner by the negatives to positives ratio: Adidas
Who's better at generating news hooks in conversation?
Here, Nike leads again by generating spikes in social media conversation – both positive and negative.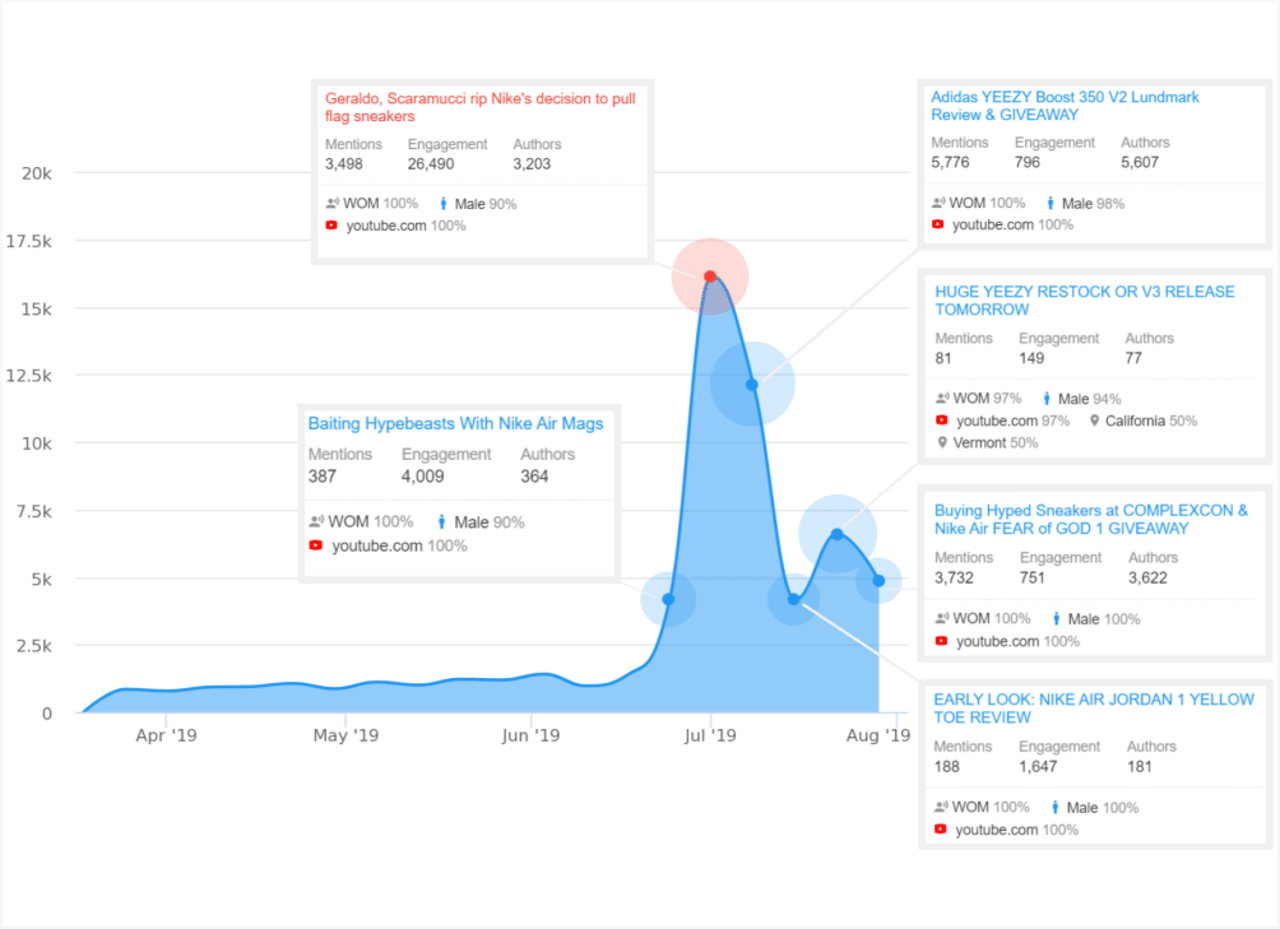 The biggest buzz was around Nike's controversial special edition of the Air Max 1 Quick Strike sneakers featuring Betsy Ross flag. The company had to cancel the release after Colin Kaepernick, the former National Football League player and face of one of Nike's ad campaigns, criticised the design for its associations with the Revolutionary War and racism.
Nike's decision has generated a lot of heat on social media, with opinions split between some wanting to protect the 'original' American flag and considering the cancellation unpatriotic, and others who support Kaepernick in spotting the symbol of oppression.
Although analysts said that Nike hadn't suffered financially from this scandal, it was the source for negative mentions associated with the brand – and a source which has impacted its overall reputation.
4.5% of the negative comments went along the lines of "I will never buy Nike products again". They came both from people who found the Betsy Ross flag racist, and those who didn't support Nike for 'kneeling' before Kaepernick.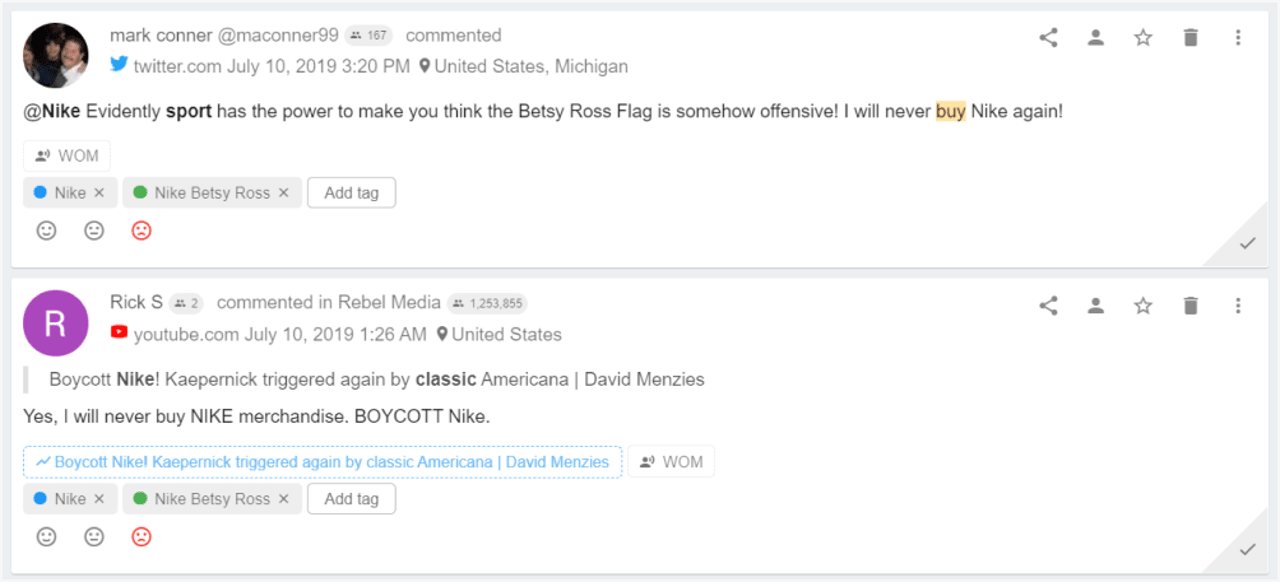 Nike's other trending topics didn't culminate in a PR crisis and revolved around releases and reviews of new sneaker models.
As for Adidas, all the buzz on social media was to do with the release of YEEZY Boost 350 V2 sneakers. Releasing these Kanye West collaboration series in limited numbers seems to be working really well for the brand's marketing. Even though it might not appear as newsworthy as Nike's Betsy Ross shoes going for $2,500 on a resale market, it definitely has the longer-lasting effect of creating anticipation among the customers.
However, this tactic also has its downsides. Most of the negative comments on Adidas were left by people who were disappointed when they couldn't get their size while adidas was restocking for the limited series. A significant chunk of complaints were from people who were prevented from making their long-awaited purchase.
Winner on generating buzz: Nike
Who's more popular among sneaker fans on YouTube?
Enthusiastic sneakerheads are contributing the most to the conversation about Nike and Adidas. The mention of any other types of sportswear is almost indistinguishable against the backdrop of the comments on footwear.
YouTube videos on buying and unboxing sneakers, reviews and announcements for upcoming releases appear to be the most popular with audiences, which are predominantly male. It's these videos that generate hundreds – and sometimes even thousands of comments.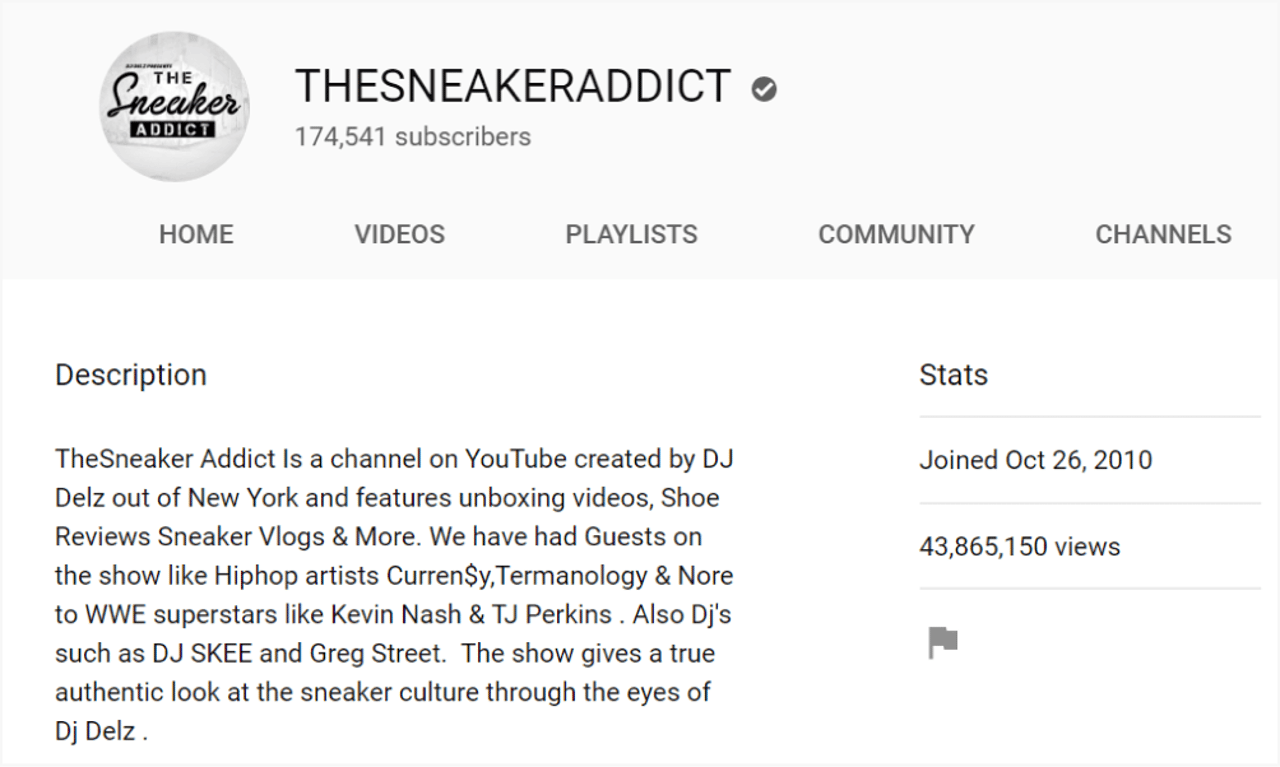 The close competition between the two brands is very apparent on YouTube. Compare these two videos by Seth Fowler, a popular sneaker reviewer, Nike and Adidas enthusiast, and collector. He has almost 500 000 followers. Both Adidas' YEEZY Boost and Nike's Air Fear Of God giveaways resulted in spiky engagement rates.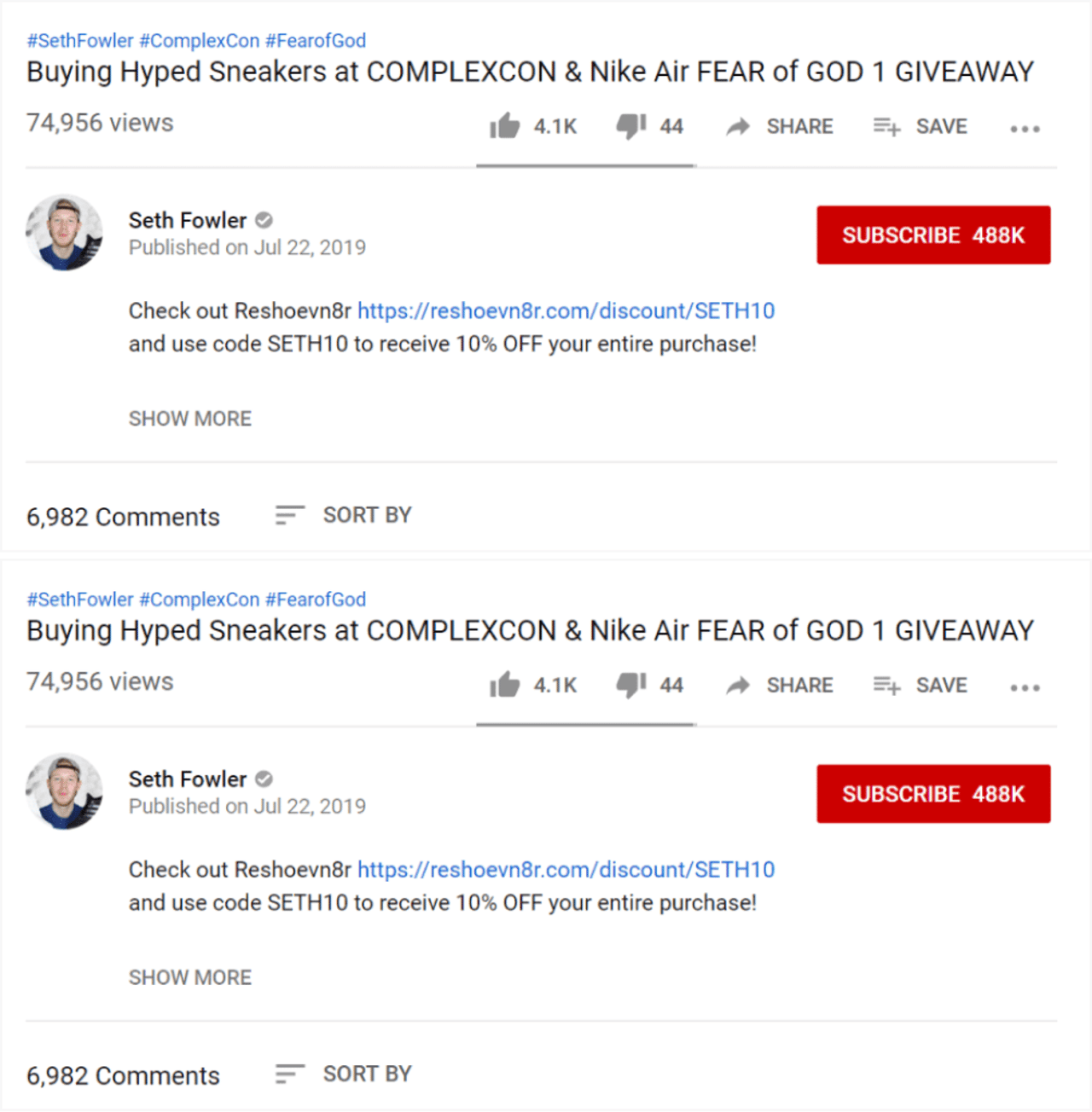 Winner: even.
What are the most discussed products?
The first name that comes to mind when you ask anyone about Nike is Michael Jordan – the inspiration behind the iconic Nike Air Jordan sneakers. Their collaboration is considered the game changer for the sports marketing industry.
But Adidas has managed to disrupt Nike's leadership even here by working with Kanye West since 2014.
The competition between the brands of the legendary basketball player and the famed rapper feature in a good number of the comments. If we look at comments where there's a direct comparison of the two brands, it seems as if devoted sneakerheads have more love for Jordans rather than YEEZY. The general consensus can be summed up in this comment – a response to the assertion that Nike Air and YEEZY are at the same hype level in 2019:

Despite that, over the analysed period YEEZY Boost 350 is killing it in the top five products by number of mentions. This product alone takes up the lion's share of conversation across all of them.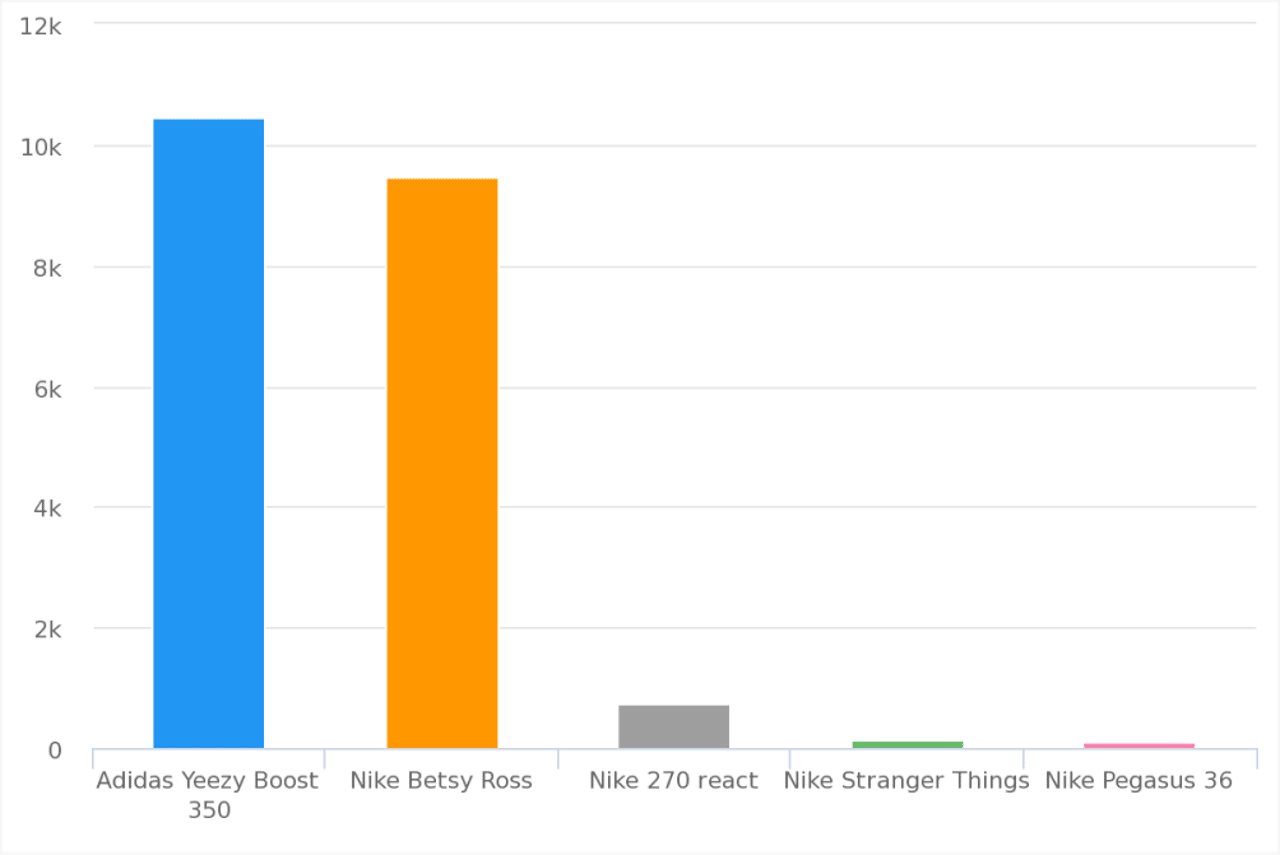 Winner: Adidas
Who is more insta-worthy?
YouScan Visual Insights reveal striking similarities between the two brands in terms of what gets into a shot. Most of them show people wearing branded clothing (mainly t-shirts, shorts and leggings) and, of course, the sneakers.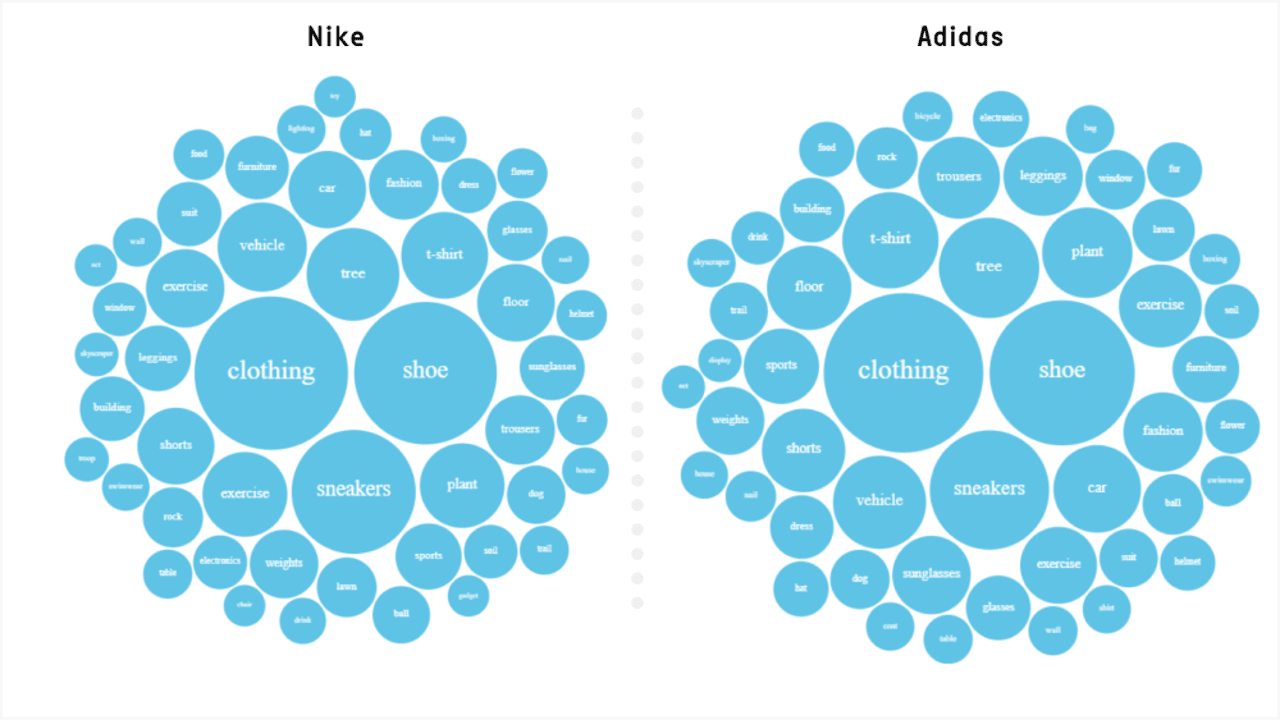 US social media users posted 3 700 images featuring Adidas' logo and 12 000 pictures with Nike's.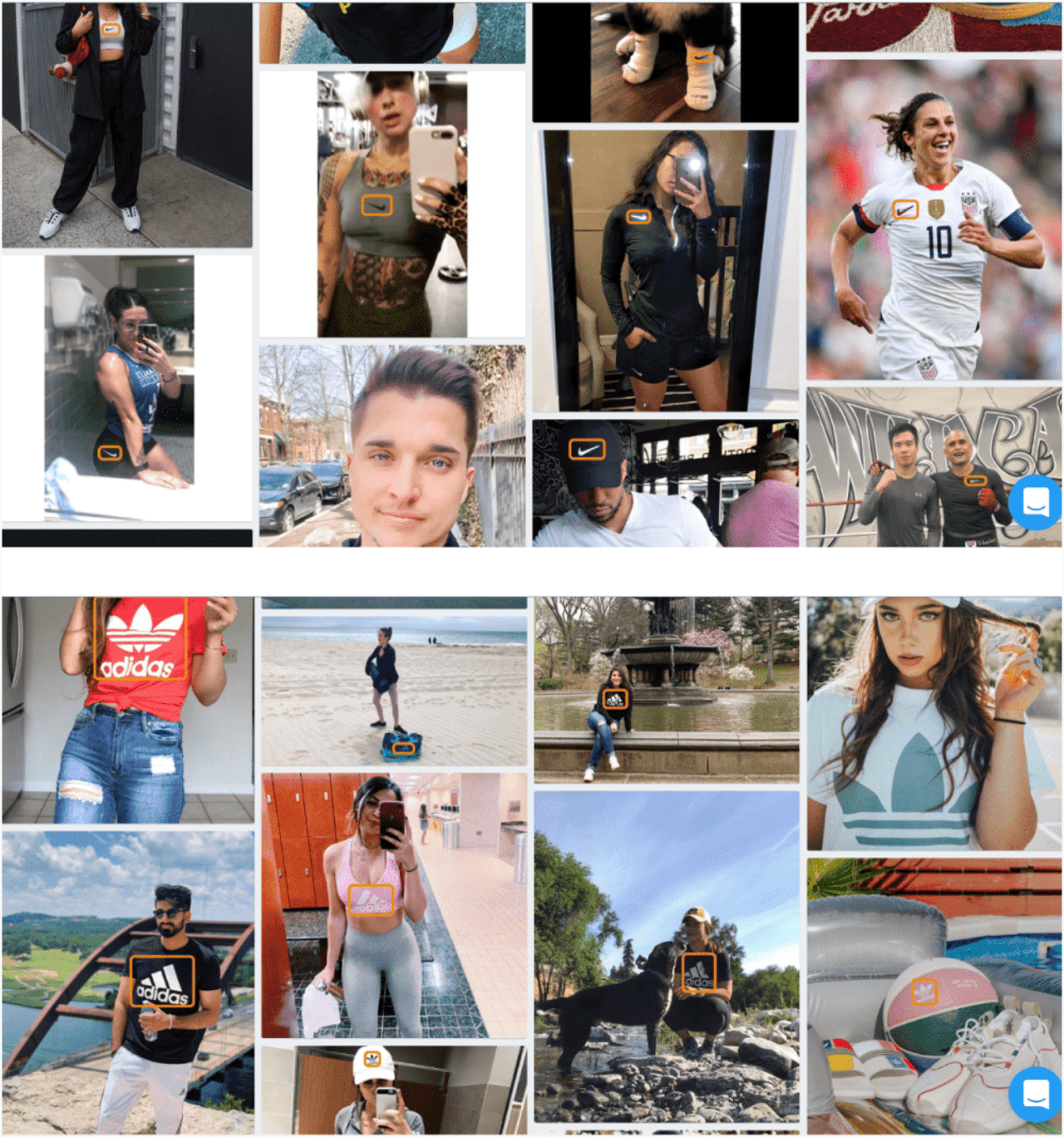 With Adidas, 52.2% of the posts come from Instagram, which is followed by Twitter (45.9%). As for Nike, we would've been better off asking who's more twitter-worthy because it turns out that 58% of the photos were posted there, leaving Instagram with 40%.
Most of the posts were made by men, although Adidas takes a slightly larger share of female authors than Nike.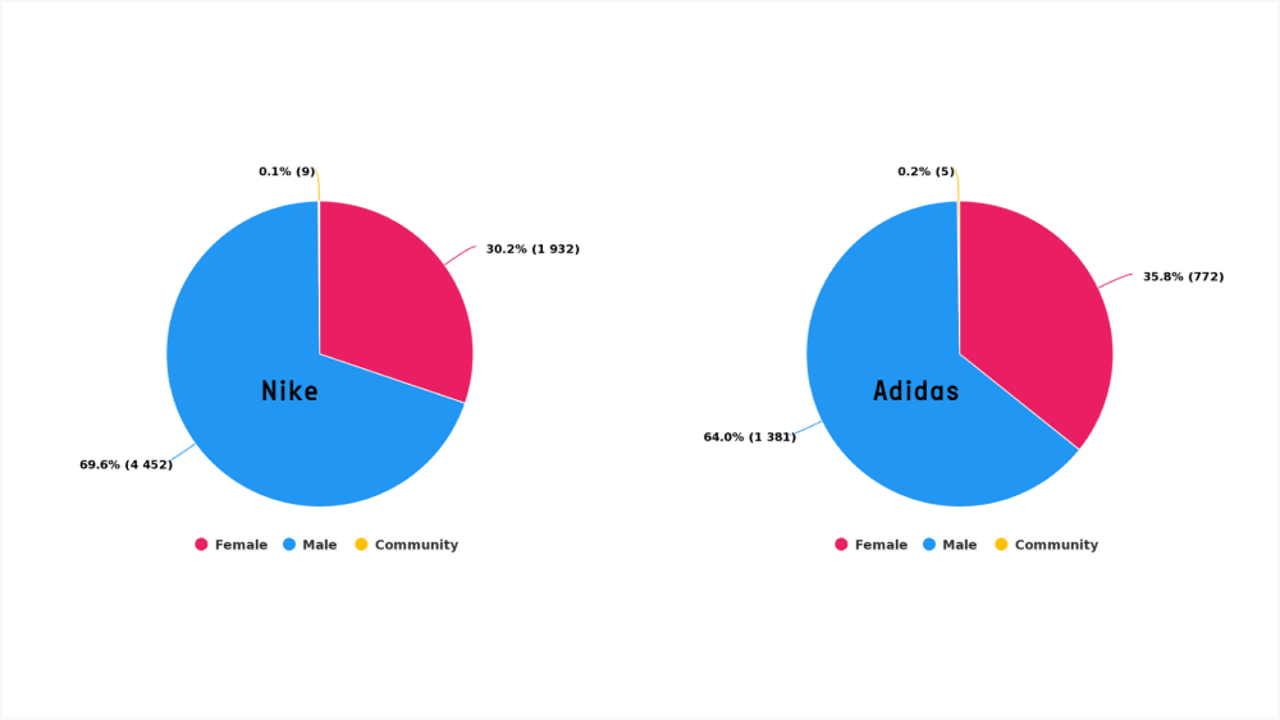 However, we finally find the conspicuously underrepresented women in the visual feeds of both brands. They appear on photos more often than men.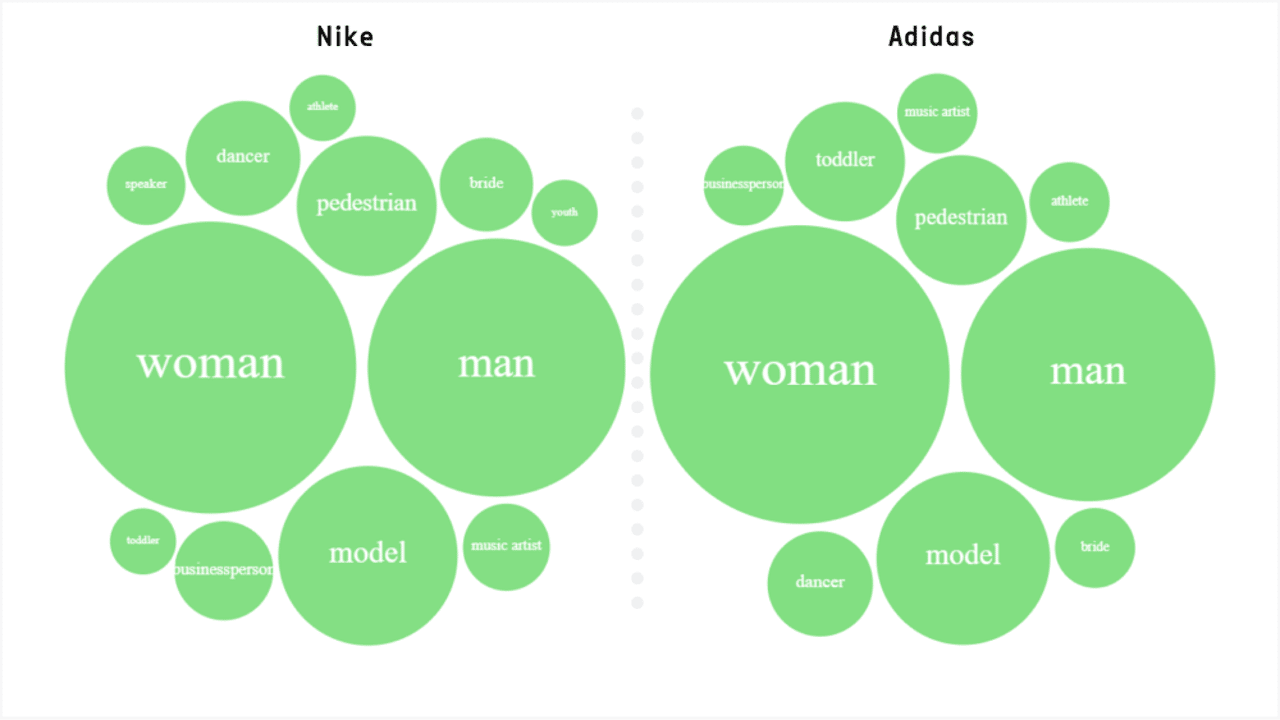 When we look at selfies, the balance shifts to men yet again – there are twice as many men taking pictures of themselves wearing Nike or Adidas. The number of people proudly flashing one of the two logos is almost the same: Adidas' image posts contain 3.7% of selfies, while Nike comes in first with 4.1%.
Sportswear from both companies appears to be quite popular as part of an everyday wardrobe. Trendy photoshoots take up more than half as much space in the feed as photos featuring Nike and Adidas clothing on sportsmen and at the gym.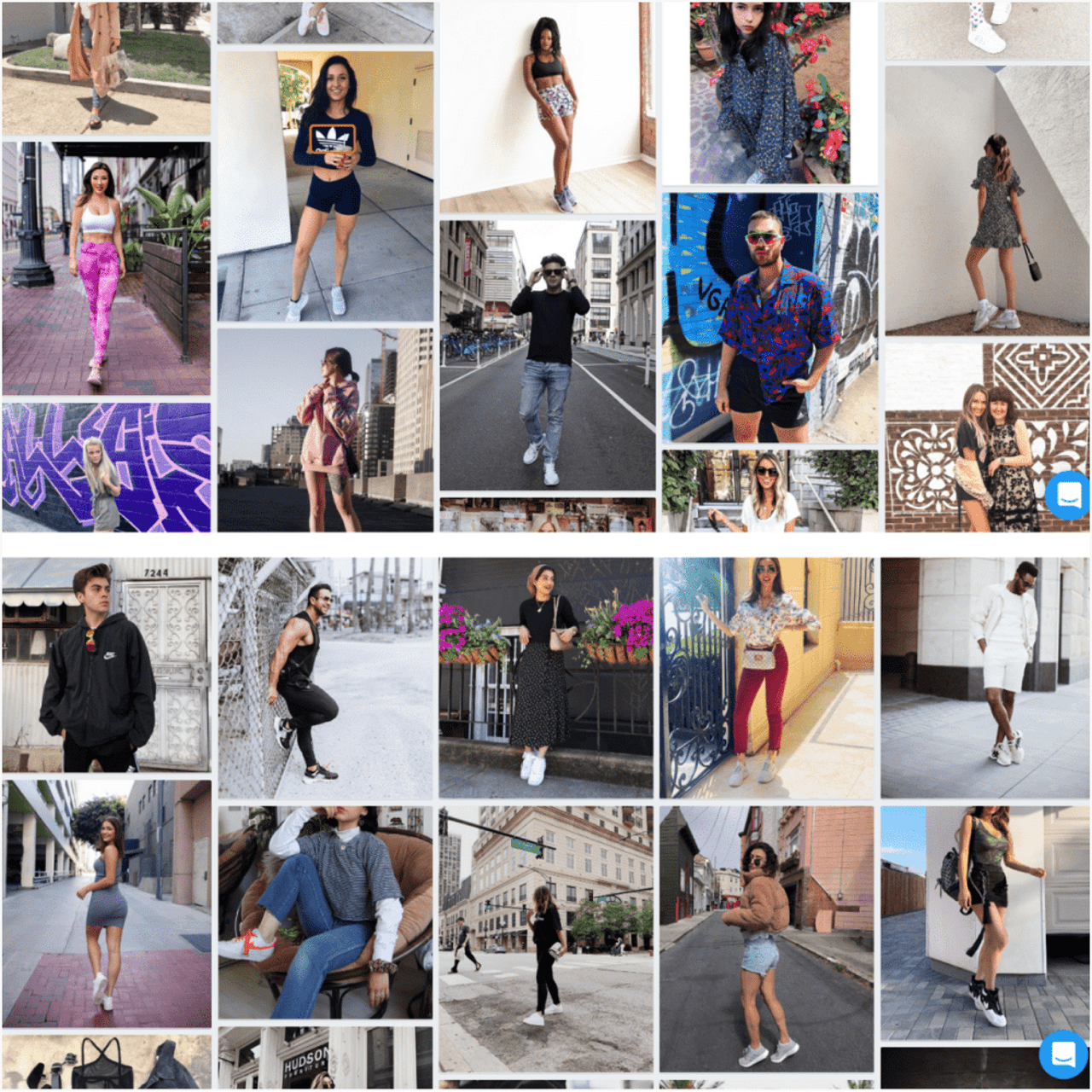 Influencers and sneaker fans are even making both brands part of their wedding photoshoots.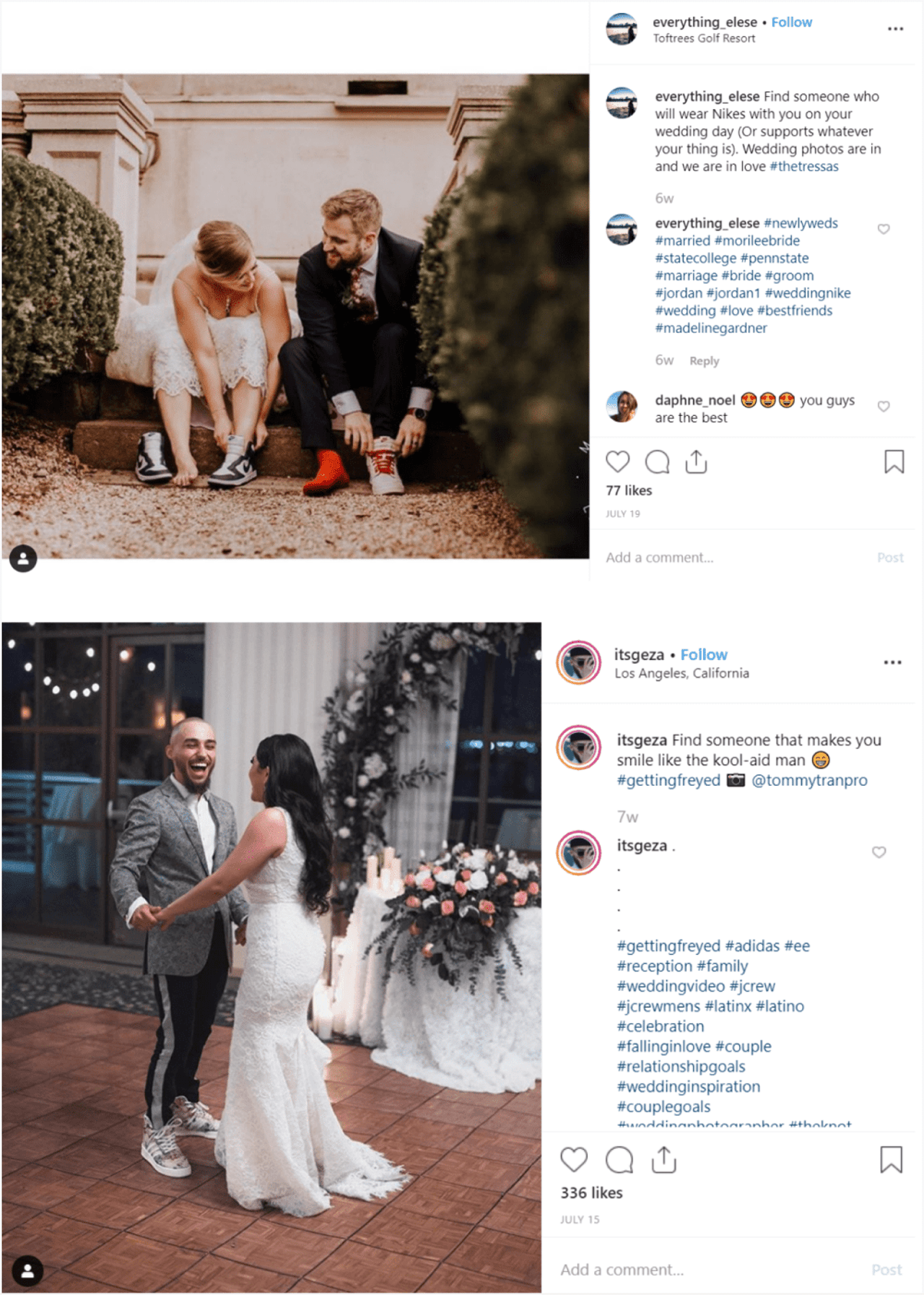 The similarities don't stop there. We found a number of pictures of animals posing with Nike and Adidas logos – and all of them were dogs.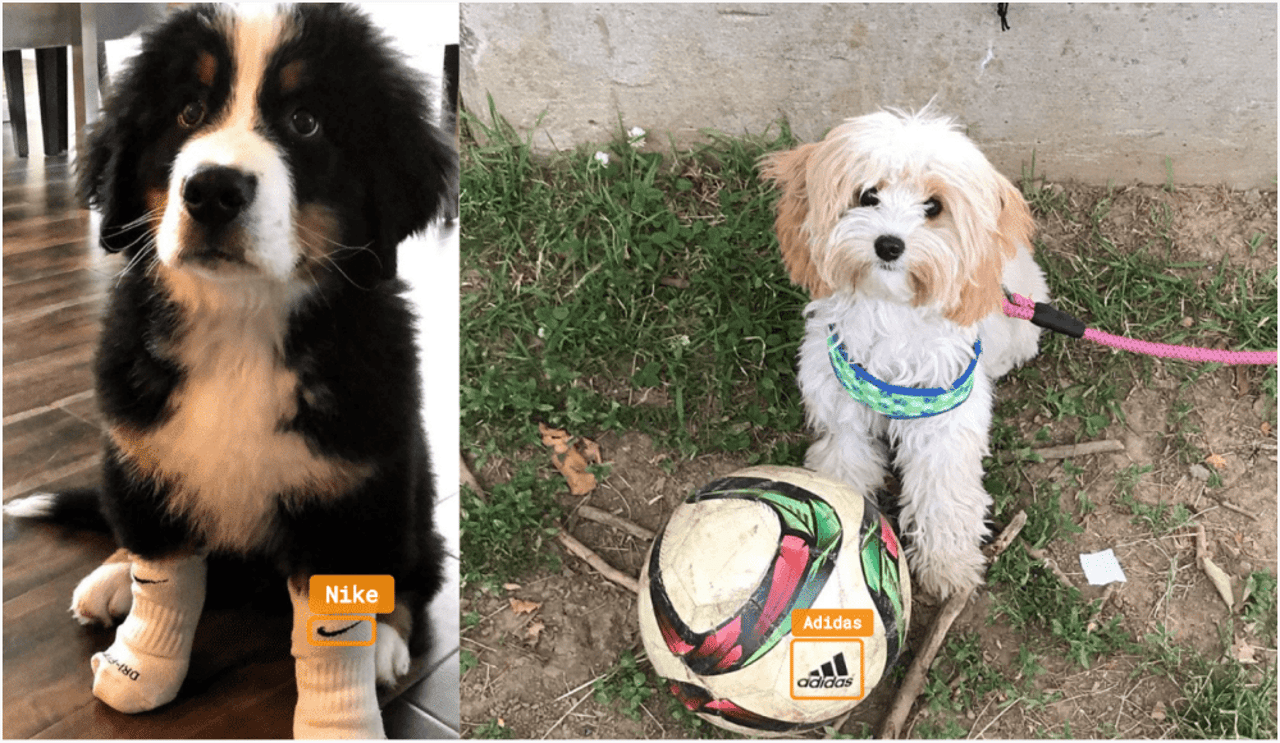 Winner: even (although the dog in socks made this a very difficult decision).

It's not even up for debate that Nike continues to dominate the market and make more sales in the US. But Adidas is hot on its heels when it comes to social media marketing and winning over audiences.
The battle continues, and we'll be sure to keep an eye on what happens next.