#StandWithUkraine: Global Brands' Response To War in Ukraine
A growing number of international brands are exiting the Russian market in light of its invasion of Ukraine. The list includes companies in the fashion and beauty industries, banking and aviation, energy and entertainment, technology and sport.
A recent study conducted by the World Federation of Advertisers showed that three out of four brands had cut their advertising investments after the war started. While some of them are just trying to avoid reputational and financial risks, lots of companies are attempting to make a difference with their actions. 
Brands to exit Russia 
Shortly after the troops crossed the Ukrainian border, the Russian market began to fall down like a house of cards. Apple, Danone, H&M, Mercedes, L'oreal, and other industry giants pulled back on operations. In addition, some of them invested in philanthropic initiatives focused on refugee support. 
At one point, brands began to compete in the amount of money they were donating to help the people of Ukraine. 
Amazon, one of the biggest e-commerce platforms in the world, not only suspended all sales in Russia, but also said it is transferring $5 million to the NGOs specializing in supporting the war victims. Jewelry brand Pandora donated $1 million to UNICEF's efforts to help children affected by the humanitarian crisis. 
Hundreds of businesses have attempted to raise awareness of the Ukrainian issue, but not all of them succeeded. Since social media comprises billions of users, we tried to use this channel to analyze which brand gained the most significant amount of mentions, drawing attention to the war.
With YouScan, a social media listening tool, we investigated which company's logo was the most popular in the context of the Russian invasion. A quick analysis shows that the media campaigns of Nike, Mercedes-Benz, and Adidas worked best. These three logos appeared more frequently in Ukraine-related discussions with a positive or neutral sentiment. 
On March 2nd, when Nike announced the closing of all its stores in Russia, the news about exiting the market resulted in a spike of mentions on social media. The brand's audience outside of Russia welcomed its decision to cut off clients from the aggressor country.

As the war started in the middle of Milan Fashion Week, the creative community couldn't stay silent in its beauty bubble. Several designers and brands immediately came out in support of Ukrainians. Kering, the French luxury group that owns Balenciaga, Bottega Veneta, Gucci, Saint Laurent and others, announced a donation to help millions of refugees suffering as a result of the Russian invasion.
Balenciaga was among the first brands that tried to draw attention to the Ukrainian crisis on social media. The brand has cleared out its profiles, leaving only a post with the Ukrainian flag, and dedicated an upcoming Fashion show to the Ukrainian crisis.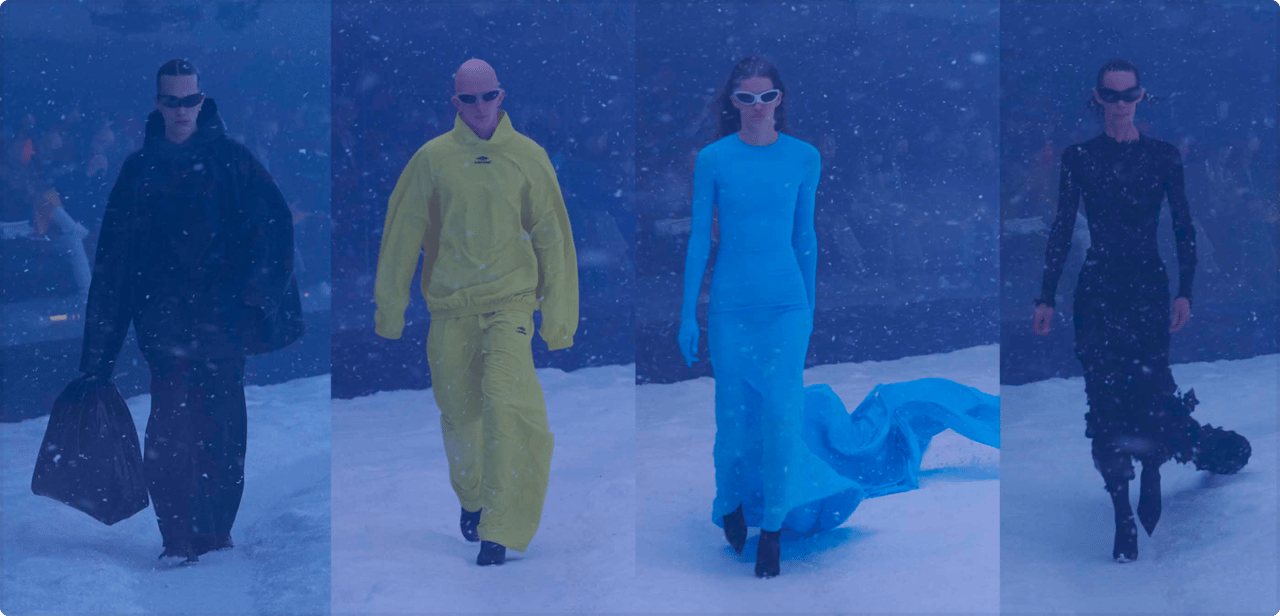 Moreover, Balenciaga has made a donation of an undisclosed sum to The World Food Programme, encouraging its audience to do the same. 
The initiative seemed to be promising, as the amount of Ukraine-related conversations was skyrocketing all over the world. Social media monitoring tools such as YouScan help brands track newsworthy topics. On the chart below, you can see the booming trend of the #StandWithUkraine hashtag use. 

However, Balenciaga's initiative surprisingly hasn't gained a lot of attention on social media. YouScan analysis shows that over the past month, the brand's name mostly appeared when users discussed Kim Kardashian getting ready for the Milan Fashion Show. 

Even though the brand carried out an essential mission of helping Ukrainian refugees, it turns out that political conflicts aren't relevant to its audience. At the same time, the brand got more than 10 thousand mentions in the news, including top media outlets such as Reuters. Undoubtedly, Balenciaga's campaign has met the challenge of bringing attention to the Ukrainian problem, which will positively impact its reputation in the future. 
Companies urged to suspend the Russian market
While thousands of brands suspended operations in Russia and donated millions of dollars in support of Ukraine, some of the international giants weren't planning to leave, keeping their profit. 
Coca-Cola, McDonald's, and several other world-renowned companies which refused to pull out of the Russian market were dragged into the ensuing scandal.
The decision to stay elicited a barrage of critical reactions on social media worldwide. As a result, the usage of the hashtag #boycottrussia increased by 1000%, surpassing the popularity of #StandWithUkraine.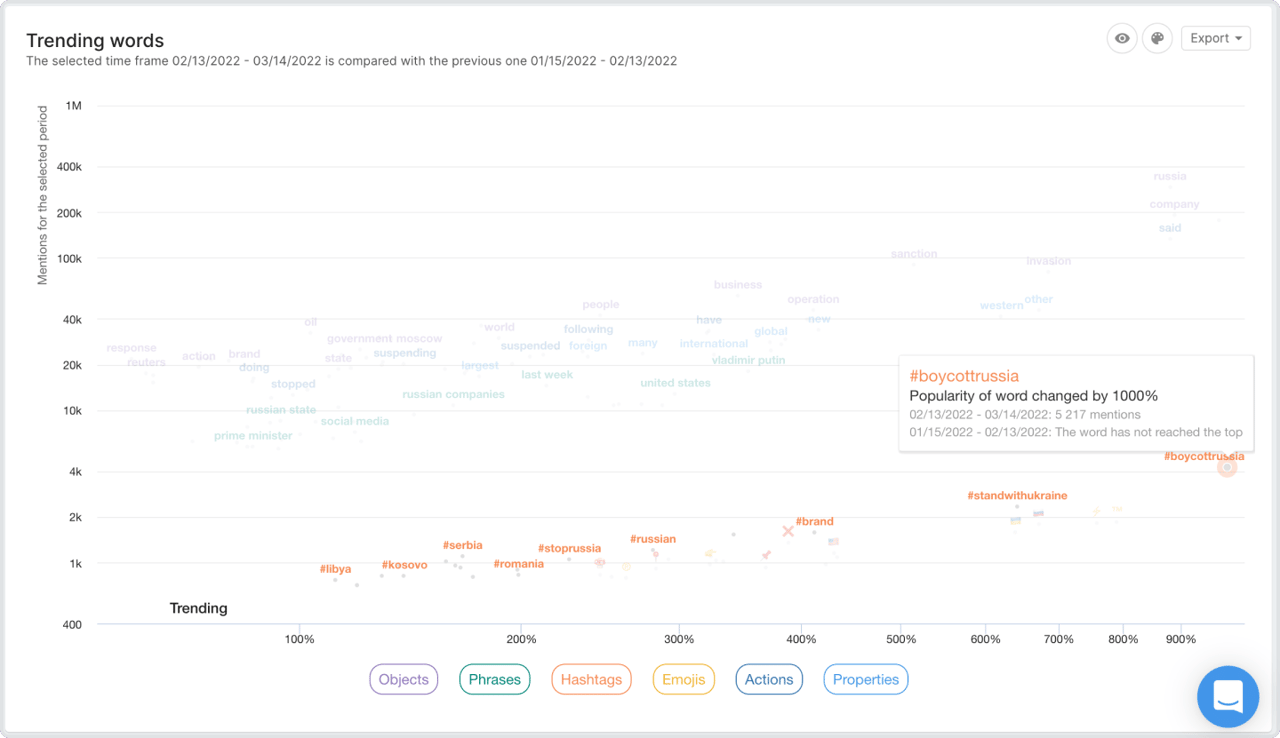 Predictably, brands that haven't pulled out of Russia faced growing criticism. For Coca-Cola, it came as an immediate spike in negative mentions, which damaged brand reputation.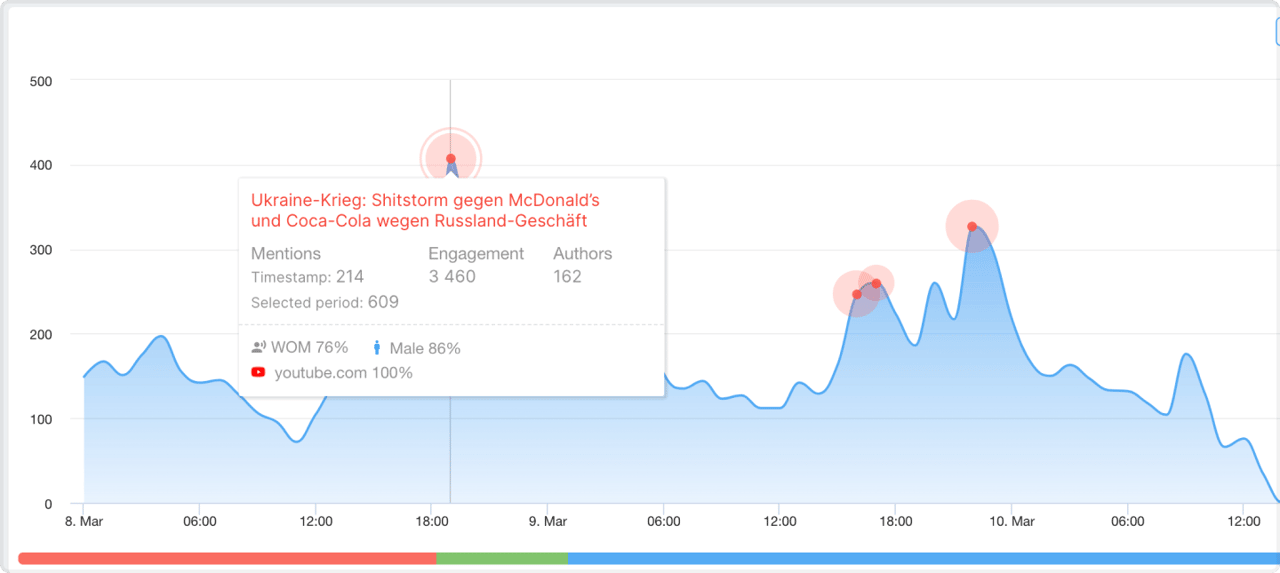 Public outrage was supported by Ukrainian retail chains, which removed Coca-Cola from their shelves. The pressure intensified after Ukraine published a list of 50 international brands that were still operating in Russia despite the sanctions and international isolation of Putin's regime. 
As a result, the Coca-Cola Company had to suspend its business in Russia due to the war in Ukraine. McDonald's, Unilever, and some other international companies were forced to do the same. 
A recent study showed that for brands, leaving the Russian market and donating funds in support of Ukrainian refugees is not only a matter of honour, but also a possibility to protect the brand's reputation. 51% of UK consumers would prefer to buy from a company that supports Ukraine. It means that for lots of brands, the decision to cut all connections with Russia is beneficial and may positively affect future revenue. 
Do you want to get more information about your brand? Request YouScan's free demo to find consumer insights.