Marketing & PR
Visual Insights
Your new superpower: Find and analyze images using YouScan's artificial intelligence
YouScan can now help you find mentions of your brand in social media posts that contain no words - all you need is a recognizable image of your brand's logo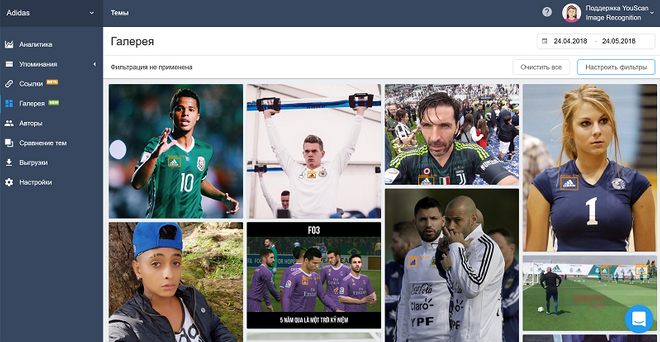 YouScan can now help you find mentions of your brand in social media posts that contain no words - all you need is a recognizable image of your brand's logo to be present somewhere in the photo!
The innovative Visual Insights technology has been in development for a while; we first started demonstrating the image recognition function at YouScan business lunches about a year ago. But it took a lot of time and effort to fully incorporate resource-heavy AI and machine-learning algorithms into image recognition for large-scale projects.
How does it work?
In order to analyze mentions of your brand's logo, YouScan will create a separate topic that collects visual mentions instead of text. Working with such a topic stream is no different than working with a typical stream in YouScan, except the Gallery view will be used more frequently to view your mentions. The logo will be highlighted with an orange square in the mentions.
In addition to logo recognition, YouScan can detect the context of the image: which objects are present in the photo (people, animals, miscellaneous objects), as well as its setting (street, office, bar, the outdoors, etc.). You can filter the Gallery by object or setting, or or view any other analytics report with criteria of your choice.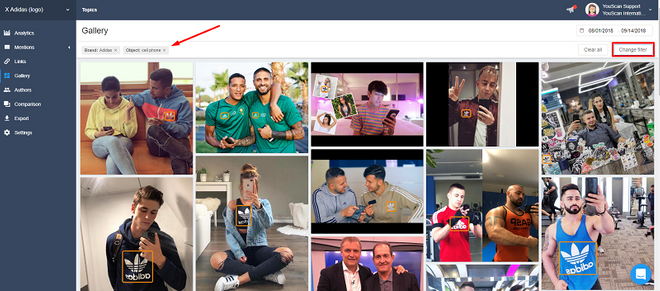 What goals can be achieved with the help of Visual Insights?
Let's examine some use cases where YouScan can help you find unexpected consumer insights, as well as plan your marketing campaigns and measure their effectiveness.
Your brand sponsors a sporting or community event, or acts as a sponsor of a sports team
Your logo is featured on the uniforms of players, referees, coaches, fans; it's displayed on stadium banners and in other prominent spots. Your aim is to increase brand recognition, since the logo will be seen not only by fans attending in-person, but also by a massive online audience that will encounter photos from the event on social media.
In order to be able to objectively evaluate the effectiveness of this sponsorship, you need to understand which user demographics see your logo, what context they're seeing it in, how much engagement social media posts of your logo get online, and the overall sentiment of the publications that feature your brand.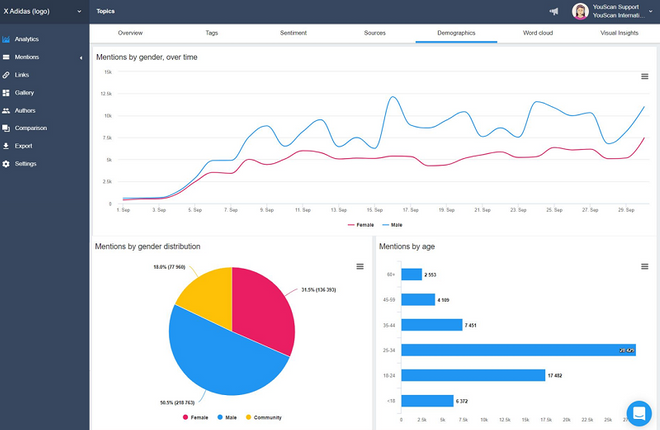 You want to get a better understanding of the user experience surrounding your product
If you run a major consumer brand, then it is imperative for you to understand where, how, and in what context your brand appears in your consumers' real life scenarios in order to conduct effective ad campaigns. No market research or focus group surveys will give you the kind of information you can get from a social media image analysis. How often are your products used at home? On the street? Outdoors? Which other objects often appear in the shot with your product? Do these surroundings change over time? How do your ad campaigns influence these use cases, if at all? There is no limit to new knowledge you can gain from Visual Insights.

Soccer match featuring a sponsored team
Users review your products without explicitly mentioning the brand
Users don't always include explicit mentions of your brand in their written posts — sometimes, they simply share an image of your product. Visual Insights lend you the superpower to find these "implicit" mentions of your brand, and analyze them using the full analytical capacity of our monitoring system.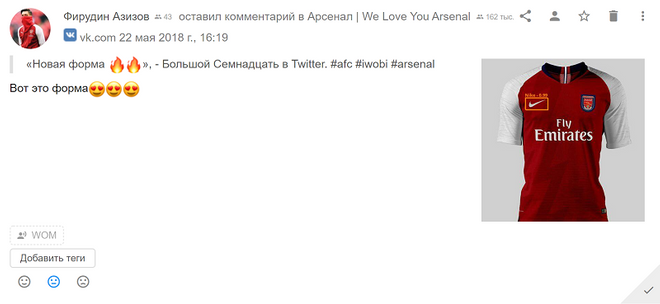 Image text: "That's what I call the sportswear!"
If you're already a YouScan user interested in new opportunities of logo recognition and image analysis, get in touch with our customer service team for more information. The Visual Insights feature can be enabled for any payment plan at an additional cost.
Leverage the full power of artificial intelligence with YouScan to improve your business!