Top Takeaways from the Annual Quirk's Event in London
Last week, YouScan participated in Quirk's Event - conference in London for consumer research professionals. And now we can't wait to share our key takeaways from the conference. In this article Alex Orap, the CEO of YouScan, Uuree Selenge, the Sales Manager, Irina Chikomasova, the VP of Sales, and Alina Hura, the International Marketing Manager at YouScan, share their insights about new research trends and promising opportunities for brands in 2020.
Our team returned with a deluge of notes and thoughts about how fast the consumer insight and research industry is changing, which we've shared below.
The Quirk's Event featured speakers from Danone, CocaCola, WizzAir, TUI, Ford, Zappi, Kantar, MediaCom, CNN International, and a ton more fascinating brands and agencies. We listened and talked to some speakers, trying to connect the dots and uncover the hottest trends.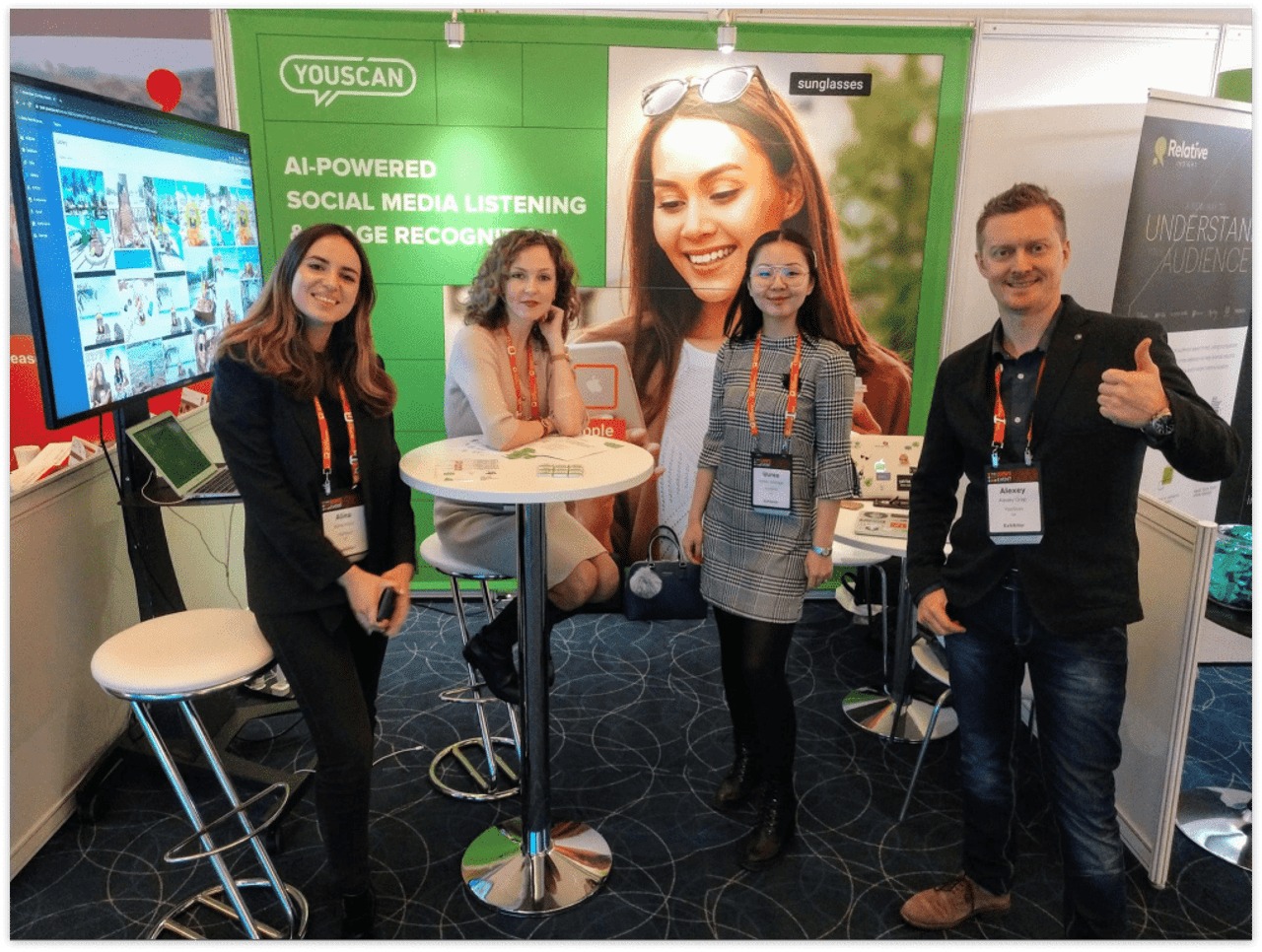 Alex: I spent most of the time talking to visitors at our exhibition booth and meeting/exchanging contacts with other exhibitors. Still, I also was able to attend a couple of presentations.
What has impressed me is that most of the presentations I attended were not just "theory," but showed real-life cases. The majority of cases were presented together by the brand + agency, or brand + technology provider.
My main insight is that the consumer research industry is going through a rapid technological transformation.
Traditional research agencies (for example, Kantar, Ipsos) and solution providers for online/offline panels dominated an exhibition floor. Still, it was clear that AI-powered and other novel research methods are rapidly finding their way into the consumer research industry.
As an example, I was impressed by the presentation "Applied AI in voice analytics: Can smart innovations save us from stress?" of Judith Suttrup from SKIM, "Netherlands-based agency. Judith talked about how they used AI-powered voice recognition and emotion detection to gather additional insights during consumer interviews related to their experience with different symptoms and medications. The main takeaway for me was that voice analytics could help achieve a more realistic estimation of product interest to adjust innovation strategies.
Another startup, Living Lens, applies facial recognition using computer cameras and A.I. to understand viewer's emotions as they watch different video contents (ads, movie trailers, etc.). It then overlays detected emotions to a video clip timeline. This way, video producers can better understand how their contents resonate with viewers and can make adjustments when needed.
The technology-powered agency, MDI, which I spoke to, is providing a solution for consumer video-diaries, that brands can analyze to understand better consumption situations and patterns.
One of the exhibitors was Black Swan Data - quite an exciting product too. They use proprietary models to uncover emerging consumer trends within discussions on social media. For example, they can tell FMCG companies which food trend is on the rise and will reach its popularity peak in the coming years. So brands can adjust their marketing and product strategies.
Another company, DiscoverAI, uses A.I. & NLP to detect trends from various user-generated data. They had a joint presentation with Heinz, where Colin Haddley, Director of Insights at Kraft Heinz, presented how they apply an increased value of social data for qualitative insights. One of his thoughts was that as a consumer research expert, you should not try to "boil an ocean." In other words, don't try to analyze every and all existing data points, but instead, get quick and valuable insights from social data. By the way, that's exactly what we help brands to achieve with YouScan!
Alina: Even though I mostly stayed at our booth, talking to visitors, I returned with an overwhelming desire and inspiration to drive our marketing research forward. It was so refreshing to be around people who know what YouScan does and to see their keen interest in social media analysis. What was the most eye-opening for me is that I saw the word "agile" in at least 7 sessions during the conference. More and more big companies embrace the "agile" approach in their consumer research and marketing projects.
For example, I attended a PepsiCo's presentation, where their Global Marketing Director for Insights Digitization, Sioned Winfield, showed how they keep up with rapidly changing trends and competitors. To do so, PepsiCo launched a systematic market research approach to get closer to their consumers.
One of her points was that the brand's innovation is not linear anymore ("long planning -> launch"), but should become agile. PepsiCo's strategy is to "be better from day one": use consumer insights quickly and iterate. Doing better, faster research, and cost-effectively - is now possible, she said.
I was also pretty impressed by Toluna's presentation, bringing in the questions about how quick product development is crucial for brands to sustain market success. Instead of spending years or months, brands can use technology to do consumer research in a couple of days and then apply findings immediately to launch new products.
I also liked the presentation from Finn Raben, ESOMAR, who delivered an eye-opening speech about data privacy and demonstrated that for brands, the ethical and transparent treatment of data could have a far-reaching impact on their business results.
It resonated with me a lot "Treat user's data ethically" as one of our core corporate values at YouScan! ​​​​​​
Uuree: "Research agencies are still very much relevant to companies and their rather traditional approach to conduct research and gathering data now being conducted together with technologies, especially AI tools. I see a big potential in online discussions becoming another main source for research companies."
Irina: "I liked the conference, but I was surprised to see that a lot of research industries are still not aware of the power of social media monitoring and how they can benefit from analyzing social media data. But the conference was a success for YouScan because we met a lot of companies who became interested in our product, in particular in the monitoring of scalable topics such as healthcare, finding visual insights, and getting closer to customer behavior."
What is important to summarize is that there's a growing emphasis on new research methods and data sources (including social media) in the consumer insights industry. Brands also talk more and more about the need for faster and agile consumer research.
It was clear to me that YouScan is well-positioned to help brands and agencies to harness these newly-emerging trends, using our AI-powered text and image analytics for social media.