Online trends
Visual Insights
Super Bowl Social: Which SB LIV Commercials Scored the Touchdown on Social Media?
YouScan monitored Super Bowl 2020, which has become more than a sports fan event. It captures numerous marketing and advertising commercials, paving a way to a harsh competition for brands to be heard and featured. Using YouScan AI-powered social media listening and image recognition, we analyzed online conversations, hashtags, keywords, tags, ads and collected valuable insights. Read and learn which brands created a buzz and gained a spot on social media. Jot down, how they reached this social media success.
No longer limited to sports fans, excitement ahead of Super Bowl builds in marketing and advertising communities, as well as music lovers, who anticipate the theatrical half-time show.
This year's 54th Super Bowl was no exception to the mass excitement: the Feb. 2 event was chock-full of National Football League talent, expensive advertisement, clever marketing ploys, film trailers, a preview of the 2020 U.S. presidential race, a telecom battle for 5G and more.
Now that the discussions around Kansas City Chiefs' victory have settled, it's time to look at the next big Super Bowl conversation: ads.
Who scored the most marketing touchdowns at SB LIV? Which advertising campaigns were the talk of Twitter 一 for the good, the bad and the ugly reasons?
Let's break it down by numbers in our social media monitoring results.
Summary
Overall, from Jan. 27 to Feb. 7, Super Bowl 54 was mentioned 4.9 million times by 2.7 million unique authors on social media, with the majority of activity predictably falling on Sunday, Feb. 2.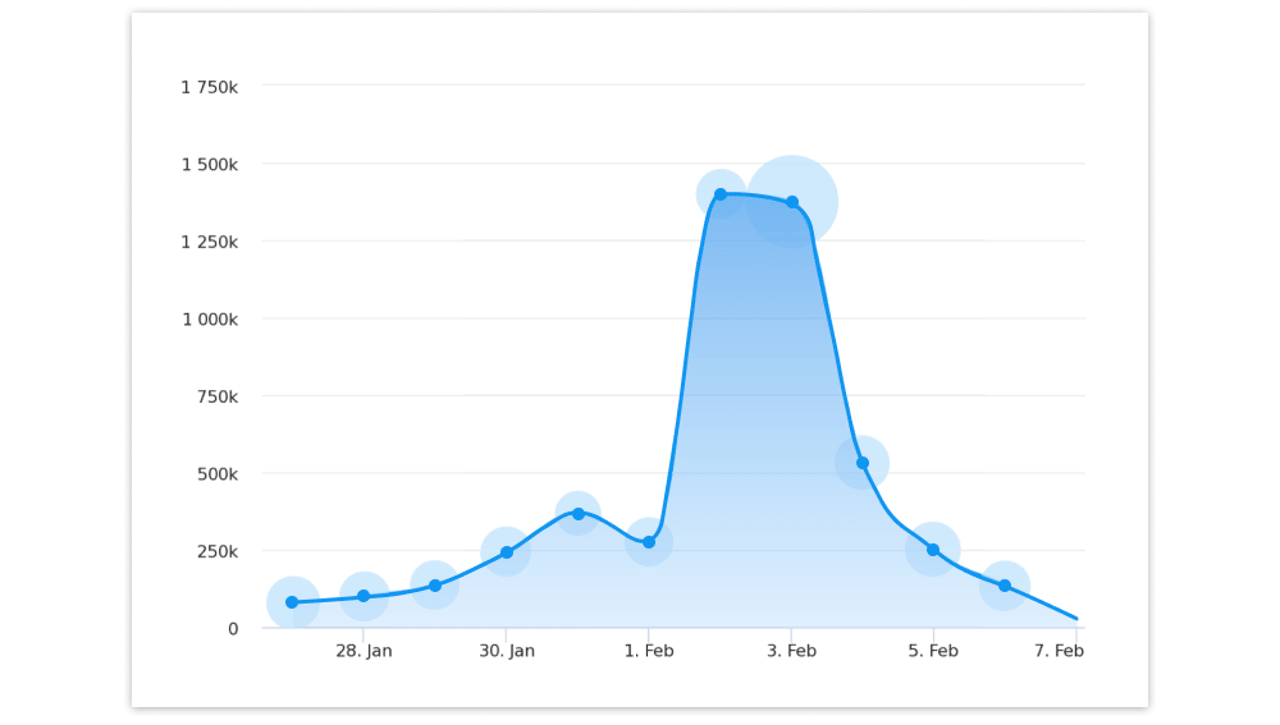 Trending topics 一 the "bubbles" on the graph above 一 discuss the rivaling teams, San Francisco 49s and Kansas City Chiefs, U.S. President Donald Trump, Shakira and Jennifer Lopez's halftime performance, and, of course, the much-anticipated ads.
We break down the social media discussions further below.
Catching footballs and feels
Tapping into the audience's emotions is one of the oldest tricks in an advertiser's book, and brands surely did not skip out on the sentiment in this year's commercials. Google, Olay, Secret, Budweiser and the NFL had viewers reaching for tissues.
I'm not crying, you're crying
Google's storytelling ad, Loretta, got many viewers weeping during ad breaks.
The ad received over 5 million views on the original tweet from the technology giant, with additional 31 million views and 85,000 engagements on YouTube. Mentions with "Google Loretta" had a spike on social media, with mainly positive sentiment.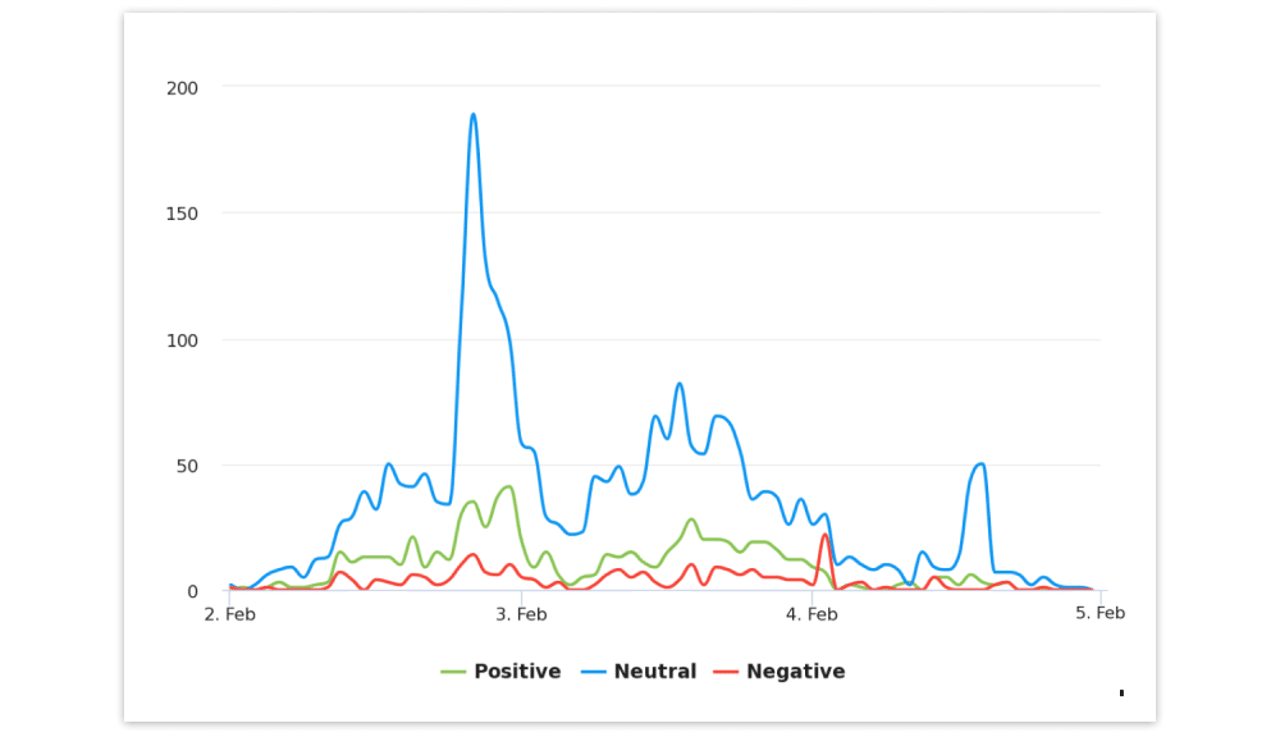 "Loretta" was also trending on Twitter in North America on Sunday and the following Monday.
Olay and Secret tapped into female empowerment with their ads.
Olay's #MakeSpaceForWomen hashtag is the only Super Bowl trend we found on YouScan that had more mentions from female users than male, interestingly.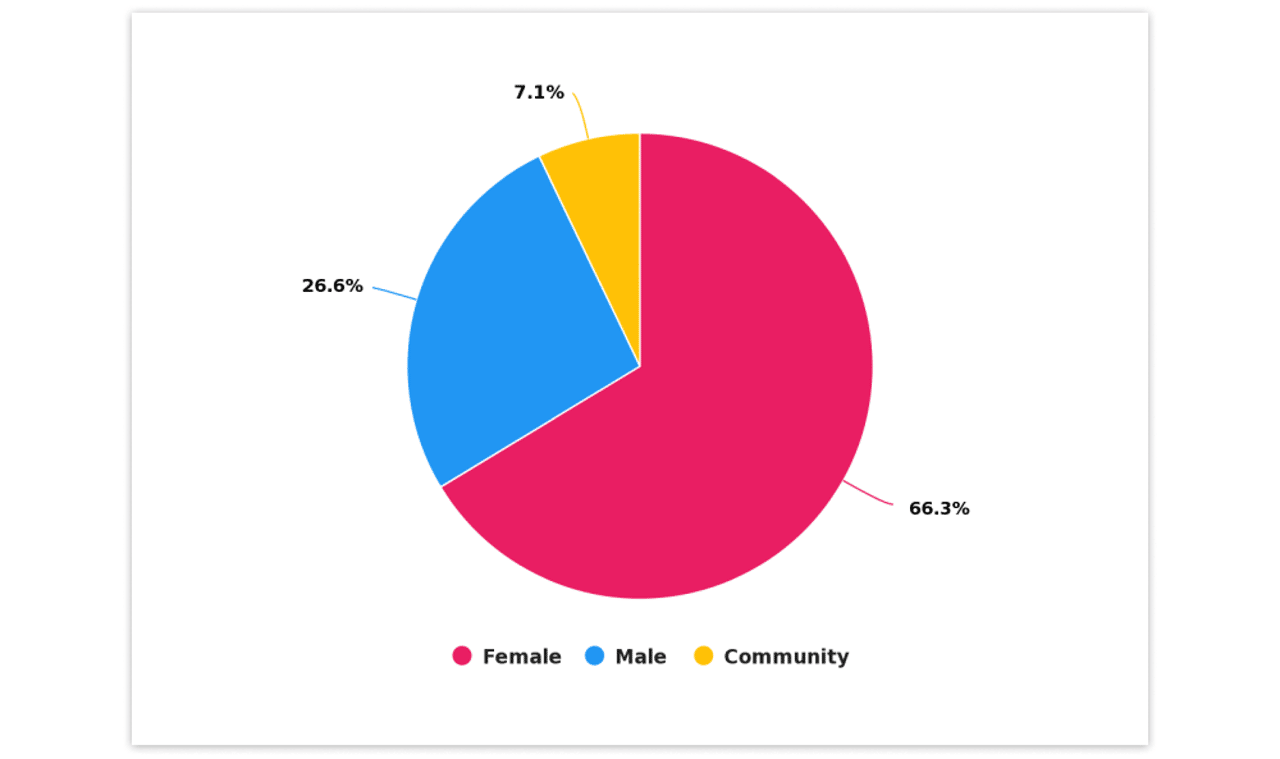 The ad and the associated #MakeSpaceForWomen hashtag campaign from the brand encouraged users to share the hashtag to raise money for Girls Who Code, a nonprofit helping girls develop computer science skills.
The brand's official account tweeted over 150 times on game day to encourage others to use the hashtag and update the fundraising progress.
The hashtag was among the few trending alongside the official Super Bowl keywords and tags on Twitter. The ad received 12 million views on YouTube to date.
Secret Deodorant also promoted female empowerment with their #KickInequality Super Bowl ad and associated hashtag campaign. The ad got 18 million views on YouTube.
Budweiser tapped into its signature Americana-centric theme with their Super Bowl ad, Typical American. The ad received more than 15 million views on YouTube and 19 million views on Twitter.
Additionally, the brand ran a sweepstakes to give away special Super Bowl-themed merchandise on Twitter.
To enter, users had to retweet call-out tweets and follow the brand's U.S.-based account, resulting in over 400 new followers on Super Bowl Sunday.
Additionally, Budweiser ran a responsible drinking campaign: The beer brand paired up with ride-sharing app Uber on game day, suggesting people take an Uber instead of driving after watching football.
NLF 100
The National Football League's opening segment, celebrating the league's 100th anniversary, was a strong kickoff for the evening.
The sentimental "Take it to the house, kid" spot, which transitioned from a celebrity-filled short film to real-time footage from the Hard Rock Stadium in Miami, left many social media users delighted.
Celebrities Galore!
Advertisers rolled out the red carpet for many big names in Hollywood for their Super Bowl spots - a move that surely cost the brands a pretty penny, but also paid off in social media engagement and brand recognition.
In an advertisement that was anything but boring, actor Bill Murray re-lived his beloved role of weatherman Phil Connors from the 1993 film, Groundhog Day, for a Jeep advertisement.
The spot pleased film buffs and the general public alike, since, in addition to featuring Murray, it acknowledged the rare occasion of the Super Bowl falling on Groundhog Day.
It was also a great win for Jeep, who built a very strong association with Bill Murray and the positive sentiment from the ad. As you can see in the graph below, there is a significant upstick in positive sentiment from Feb. 2 onward (Graph displays sentiment distribution from Jan. 7 to Feb. 7)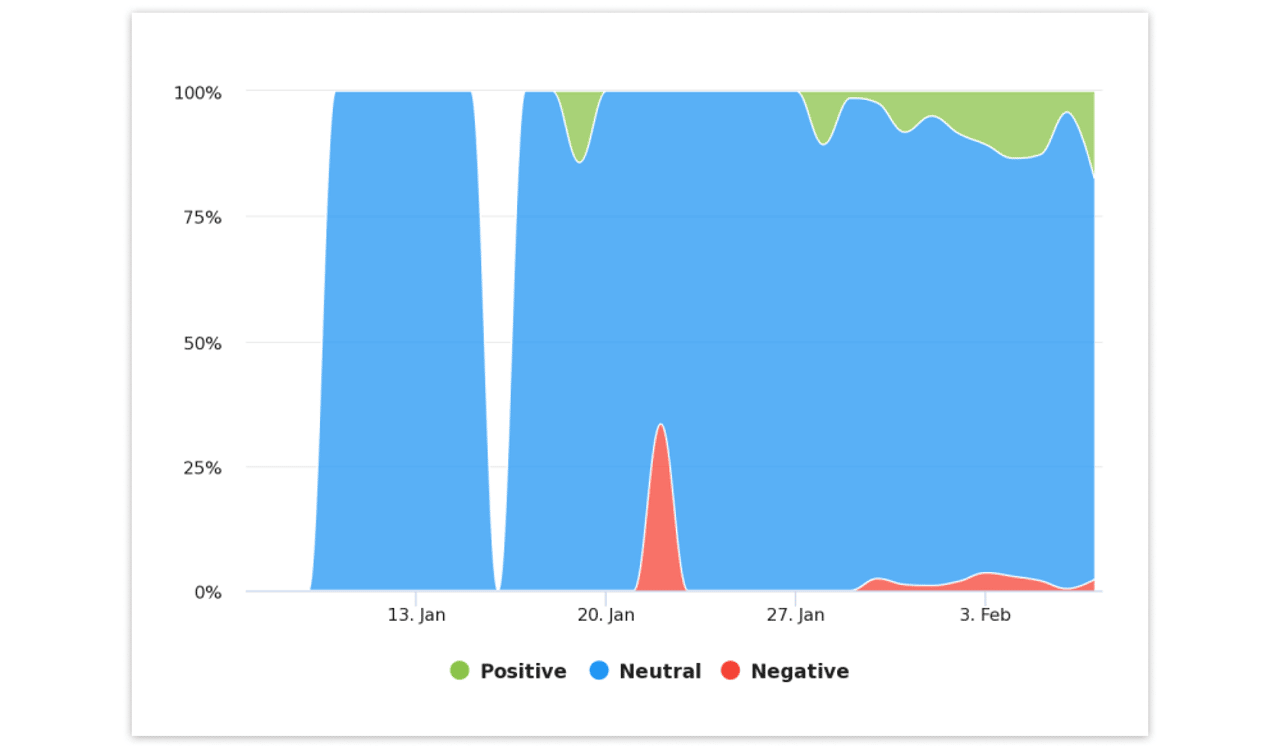 The commercial has gathered over 50 million views and 90,000 engagements on YouTube, and over 11 million views on Twitter. Lil Nas X of Old Town Road fame and actor Sam Elliott earned Doritos over 11 million views and more than 30,000 engagements on YouTube with their Western-inspired ad for the new Cool Ranch flavor.
Their viral #CoolRanchDance, featured in the ad, has become a hit on TikTok, GetSway and Instagram, with social media users everywhere emulating the moves.
Bud Light's spot #PostyStore, advertising its new seltzer product, featured rapper Post Malone and his internal dialogue. The ad has over 9.2 million views and 30,000 engagements on YouTube. Interestingly, earlier that week, Bud Light held a social media campaign that asked their followers to vote for one of two Post Malone features to decide which one will air during the commercial breaks.
The winning ad, while receiving nearly a thousand more retweets than the opponent, #PostyBar, got nearly 12,000 fewer views on the original Twitter thread.
Regardless, it was a win-win for the beer brand and the rapper, who boosted the views on all the Bud Light content by retweeting it on his account, which is followed by nearly six million people.
U.S. streaming service Hulu leveraged the popularity of star quarterback Tom Brady, who builds up to what sounds like a career conclusion announcement in his commercial… until it switched to a script about Hulu's services. The ad received 10 million views on YouTube and another six million on the brand's official Twitter, giving a few devoted football fans quite a scare:
Amazon's commercial featured TV personality Ellen DeGeneres in the company's ongoing campaign, #BeforeAlexa.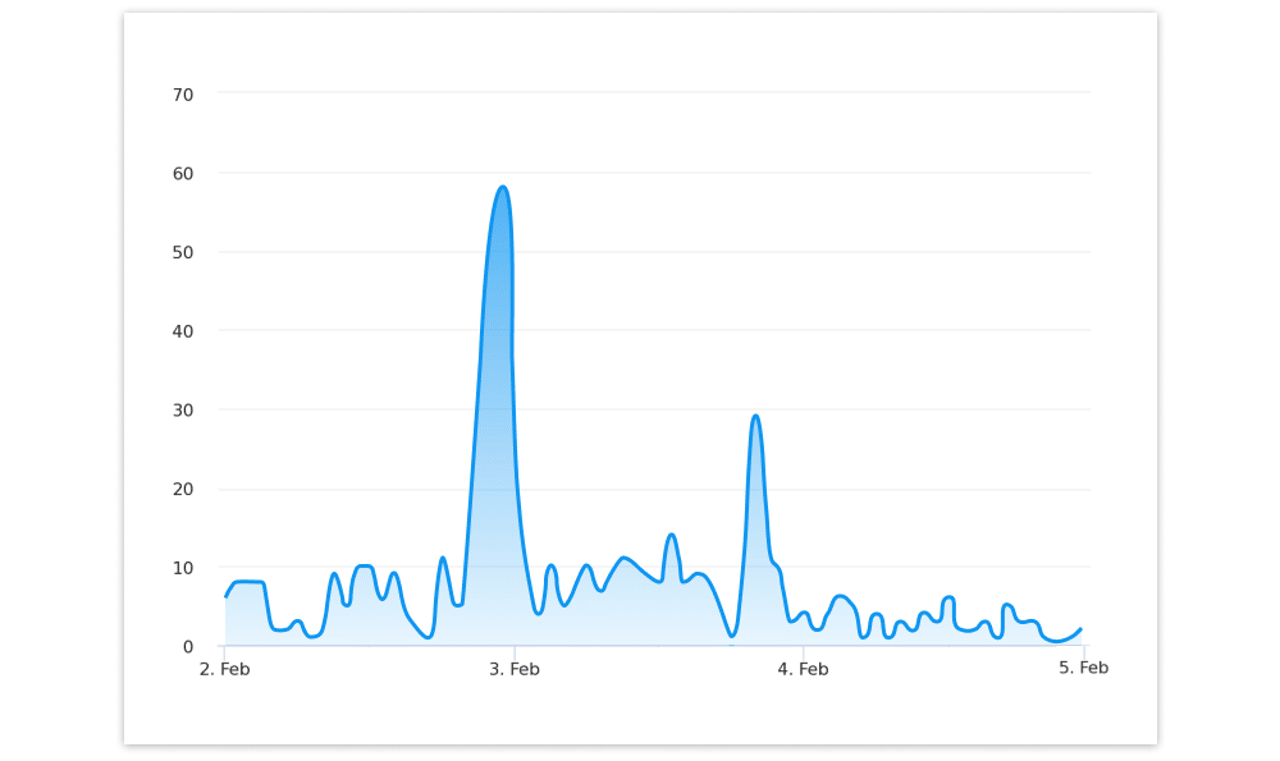 The hashtag and related social media content for the campaign began before the Super Bowl, with Amazon's Twitter account releasing short teaser videos starting Jan. 24.
On game day, DeGeneres tweeted a GIF from the spot, which garnered a lot of attention.
Conversation around #BeforeAlexa really took off on Super Bowl Sunday.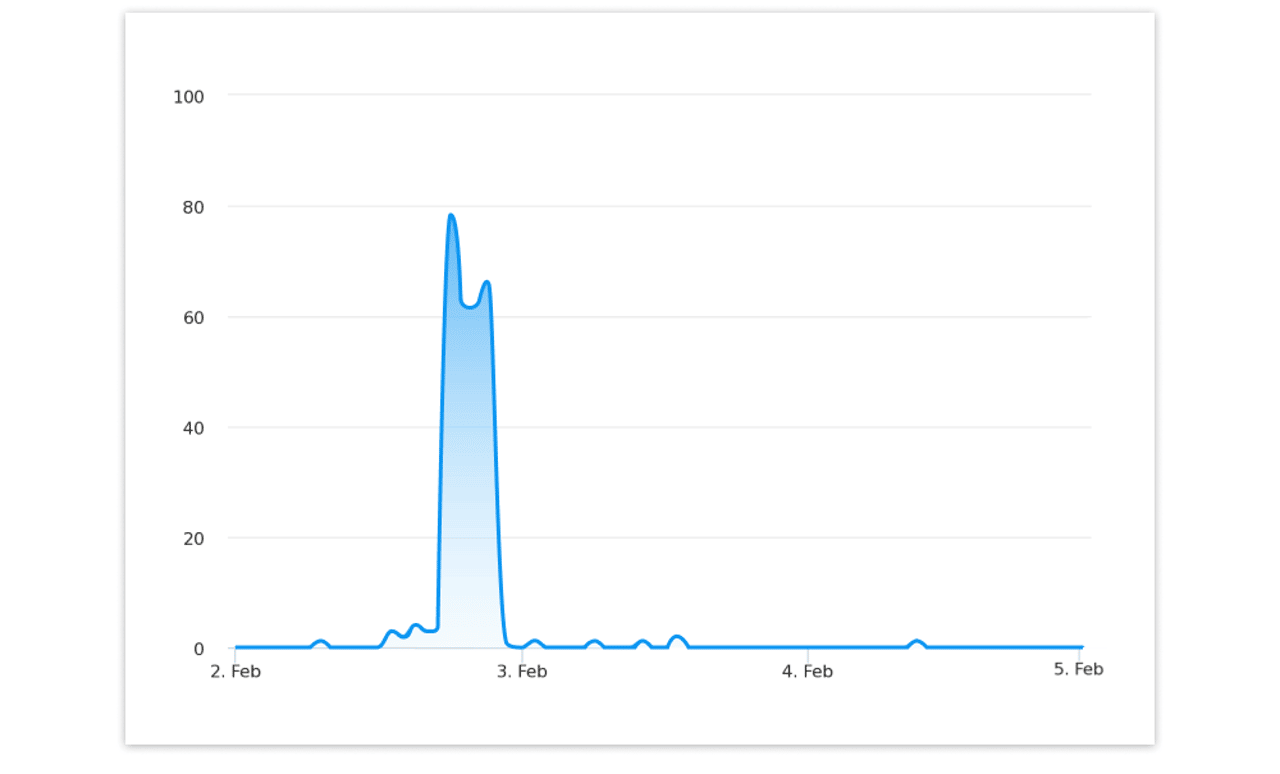 The full ad got 61 million views on YouTube and over 12,000 engagements.
Vying for your votes and 5G networks
Gee, what's with all the 5G?
Telecommunication companies in the U.S. are gearing up for the 5G network - and Super Bowl was a great opportunity to sell Americans on your services. This is why both T-Mobile and Verizon had campaigns in place to promote their 5G network access.
T-Mobile ran a giveaway of Samsung Galaxy smartphones during the entire game. The rules required users to follow the brand on Twitter, and tweet hashtags #5GThatWorks and #Contest during the game.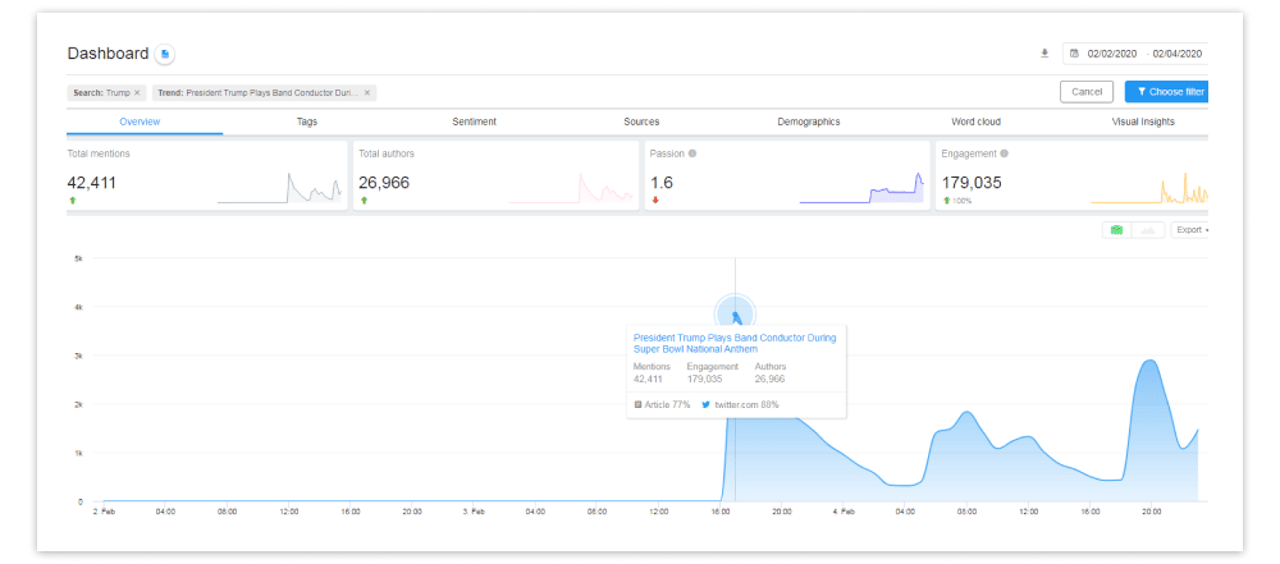 As a result, you can see a spike in mentions for these hashtags together throughout the game. TMobile's Twitter account gained over 13,000 new followers thanks to this campaign - and some major positive sentiment from the winners!
The company also had an ad featuring Blackish actor Anthony Anderson, which received 26 million views on YouTube and over 100,000 views on Twitter.
Verizon took a different approach, although their promotion of the 5G network has a similar hashtag to the other telecomm, #5GBuiltRight. Verizon's commercial encourages people to donate to first responders and volunteer in their community under the slogan of "One More Sunday."
While the numbers on Verizon's commercial don't rival its competitor, it received wide coverage for the fundraising efforts, as well as a new song by Pearl Jam that was featured in the ad.
The company also ran a retweet campaign for donations, which increased the reach of their messaging on Twitter.
Political football
Perhaps one of the most talked-about Super Bowl ads was not an ad at all: Donald Trump's 2020 presidential campaign spot was at the centre of many social media conversations on Super Bowl Sunday.
There were a number of conversations around the U.S. President during the Super Bowl: Trump's presidential campaign ad aired in the first ad break, causing quite a stir on social media, namely Twitter.
An online video of Trump playing what looks like an orchestra conductor during the national anthem at the opening ceremony also fuelled a few discussions.

The real underdogs ​
Finally, it's worth mentioning another trending hashtag that has become a tradition for those who don't buy into the football hype: Puppy Bowl.
On Feb. 2, #PuppyBowlXVI was trending in North America along with the Super Bowl-related topics.
While Animal Planet's annual event snagged a much smaller share-of-voice on social media than football - just a little over 10,000 mentions - the topic still saw a spike in discussions on Super Bowl Sunday.
Conclusion
Smart social media monitoring demonstrates that you don't always have to spend millions of dollars on a Super Bowl ad spots in order to have the highest social media reach.
As we saw in the results of our Super Bowl monitoring topic in YouScan, brands that earned the most followers, retweets, and a spot on social media platform trends were very strategic in their social media campaigns. Many brands complemented their Super Bowl commercial time with a giveaway or a fundraising hashtag campaign to bring their brand name into more people's feeds. Others used celebrity clout to reach audiences beyond sports fans.
YouScan is a real MVP when it comes to social media monitoring for your brand.