How can brands make a difference in customers' lives during a crisis?
In times of crisis and instability, brands should focus more on helping out and supporting people rather than selling and advertising. This article will reveal the crucial insights into why the current health crisis provides brands with a unique opportunity to create and build long-lasting relationships with customers. Now, more than ever, it's essential to listen to customers' online voices, boost social media presence, and revise the core values of the brand. It's time for expressing humanity and not advertising.
Brands should adapt their communication quickly to shifts in customer behavior
I recall when we were drinking coffee with colleagues, discussing SMM-strategy for the next quarter. Today, I'm having numerous video calls in Zoom, Skype, and WhatsApp, brainstorming which steps to take to support our customers during the sudden outbreak of COVID-19.
Now is the time when the brands start to recognize the full power and potential of social media intelligence. Social media is not only a place to share hot pictures taken in the Bahamas, but it also provides crucial digital infrastructure, helping out the government, hospitals, and brands to react, engage, and inform people all around the world.
Today, social media platforms are becoming irreplaceable to relieve the frustration and anxiety of lockdowns, social distancing, and self-isolation. We can see how brands attempt to find innovative ways to spread the message of social distancing.
According to Mark Zuckerberg, social activity on Facebook has increased by more than 50% the past month. Moreover, WhatsApp and Facebook Messenger usage have more than doubled since the start of the crisis. Similarly, Reddit claims that there is a 20–50% rise in people reading business, finance, news, education, and travel categories. People are gorging on social media information and are desperately looking for credible data. It's time for brands to show up and let people know that they are not alone amid the pandemic.
Create inspiring content to entertain your customers
People have been forced into social distancing at home, and now they have more time to consume social media. The first thing to do is to motivate people to stay home. Thus, celebrities, bloggers, and even politicians try to entertain the online public and encourage them to stay home.
The hashtag #Stayhome is probably the most popular COVID19-related hashtag on the internet, spurring people to stay at home. Instagram has even added a "stay home" sticker to add to your stories. According to the social media intelligence analytics, there were 21 594 000 mentions with the hashtag #Stayhome from the 23rd of May, 2020, till the 8th of April, 2020, in the US.
But what do these people face when staying at home? Some are writing about the challenges of self-isolation, boredom, depression, and fear. Thus, bloggers and celebrities are coming up with ideas to entertain the online public.
Some are organizing flash mobs where celebrities beg followers to stay home to stop the spread of coronavirus. They have launched social media campaigns, which include hashtags such as #stayhome, #IStayHomeFor, #StaytheFHome, and #stayhomesavelives, attempting to spread the word about minimizing physical contact.
David Beckman stays home for his kids.
I love the post from Arnold Schwarzenegger, who is probably the cutest among all the celebrities who stays home with his pony and donkey.
Sam Neil even laundered all his sneakers. Well, if you still don't know how to entertain yourself stuck inside the 4 walls, launder your shoes!
Some are sharing tips about how to survive "groundhog day" but stay beautiful and stylish. Look fancy wherever you are.
Mindy Kaling is showing off her gorgeous home outfit. Staying home is just another reason to look fabulous.
Enjoy social distancing with Elizabeth Banks. This super inspiring woman is sharing her home recipe of tequila and motivates you to stay calm and fashionable in your PJs.
No gym? No problem! Free workout and nutrition advice is available online
Some bloggers, nutritionists, and fitness trainers are sharing free advice on how not to gain weight during the crisis. Yes, this is a real challenge. Isolation triggers binging.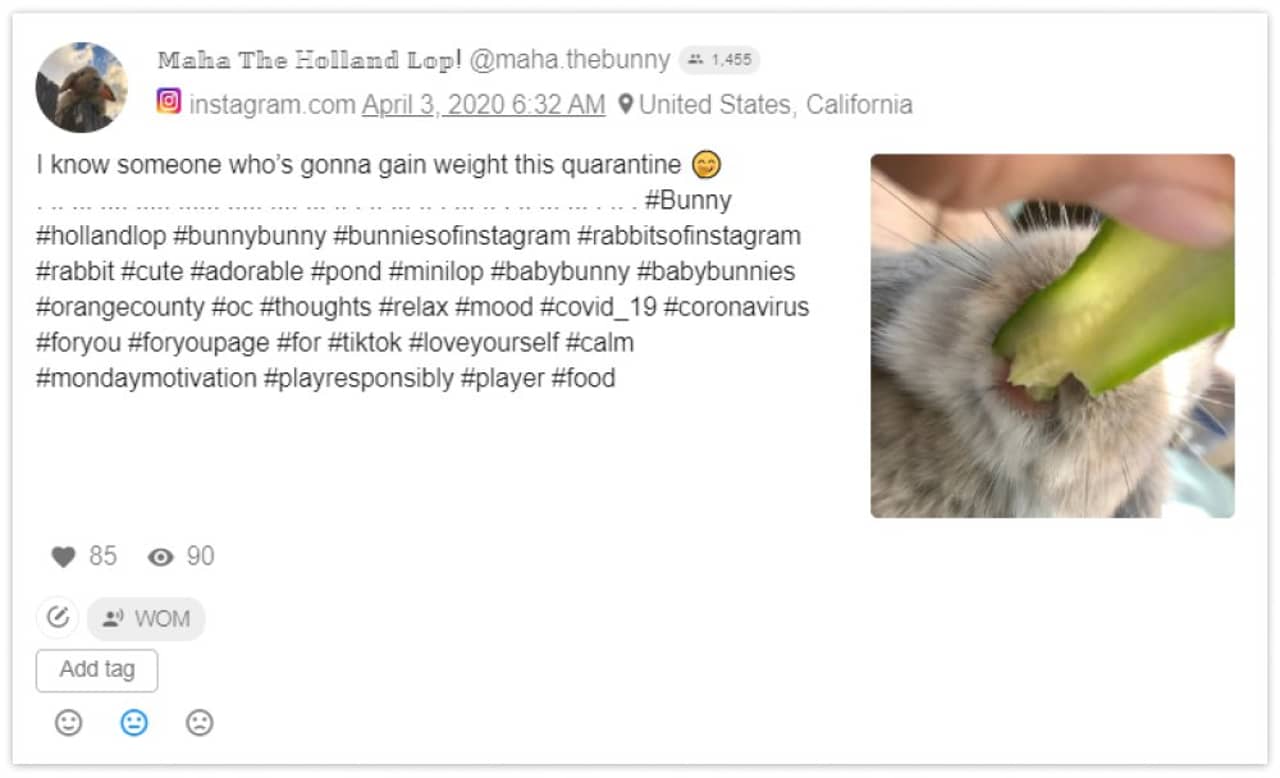 Arnold Schwarzenegger shared a workout he said anyone could do at home. Workout like a Terminator!
Planet Fitness is helping people to adapt to new challenges of quarantine by offering free daily virtual fitness classes on Planet Fitness' Facebook page from Monday through Friday.
CorePower Yoga is here for you with some free online classes. Just because the gym is closed doesn't mean you can't still work out.
Movies, books, courses - people need both to laugh and learn
Brands need to get creative during the coronavirus crisis - despite the temptation to pull all marketing, now is the time to help, support or entertain audiences during a difficult time.
Streaming is at its peak right now! The percentage of people binge viewing shows and sitcoms has increased by 65%, while movie watching is up 70% on HBO Now. Netflix has even created a virtual cinema called Netflix Party where you can watch movies with your friends. The Google Chrome extension Netflix Party lets groups stream and chat together amid COVID-19.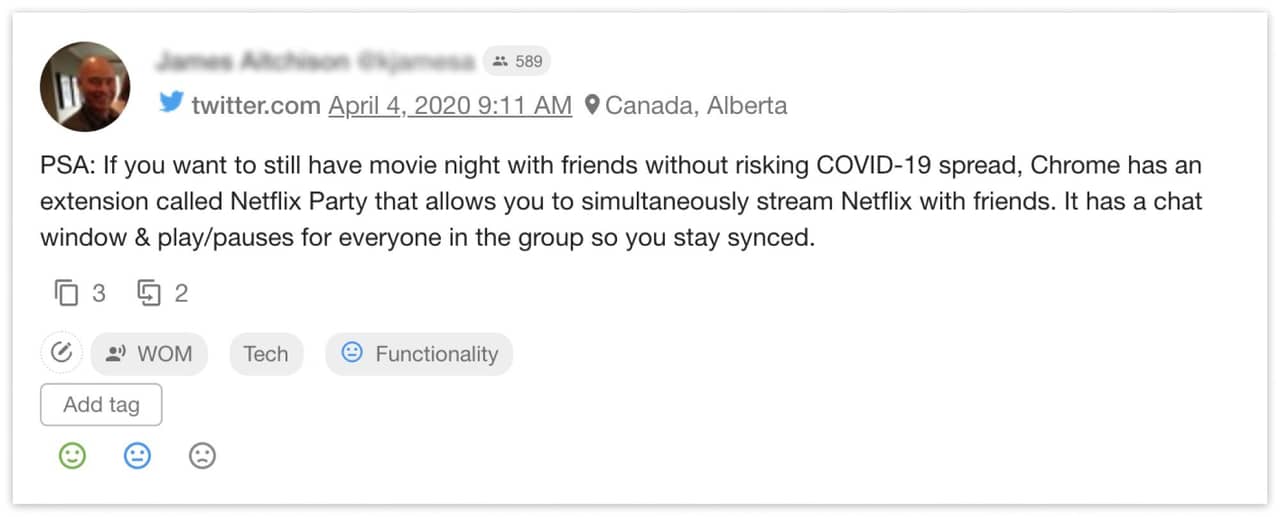 The adult entertainment industry is also doing its best to entertain people. Pornhub has just given people stuck in coronavirus lockdown one more way to pass their time.
Help people fuel their memory and boost their knowledge. Coursera is supporting students and those eager to learn by giving free access to online courses.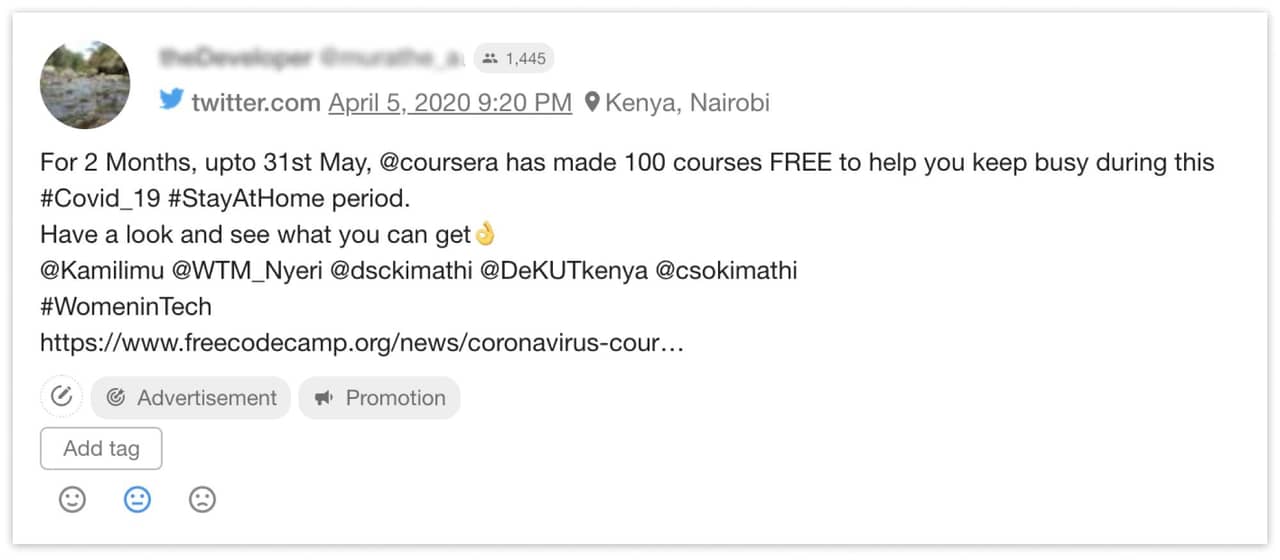 In times of stress and high anxiety, Headspace and Calm offer free meditations you can listen to anytime.

Provide the content and services that resonate with the audience
Today, people are facing remote work challenges. Technology, video conferencing, webcams and messaging services can all bring greater engagement, but what about self-organization and distractions? There is no more rigid framework of the 10am-7pm work schedule, and it's all about creating an atmosphere of connection and trust. Easy to say about but much more difficult to accomplish and stay focused when working in your bedroom or in a kitchen.
Kids, pets, noisy neighbors, and non-stop munching disturbs the working atmosphere. Create content to boost people's productivity and self-discipline. Help them to manage the remote work and provide the necessary equipment to imitate the office reality.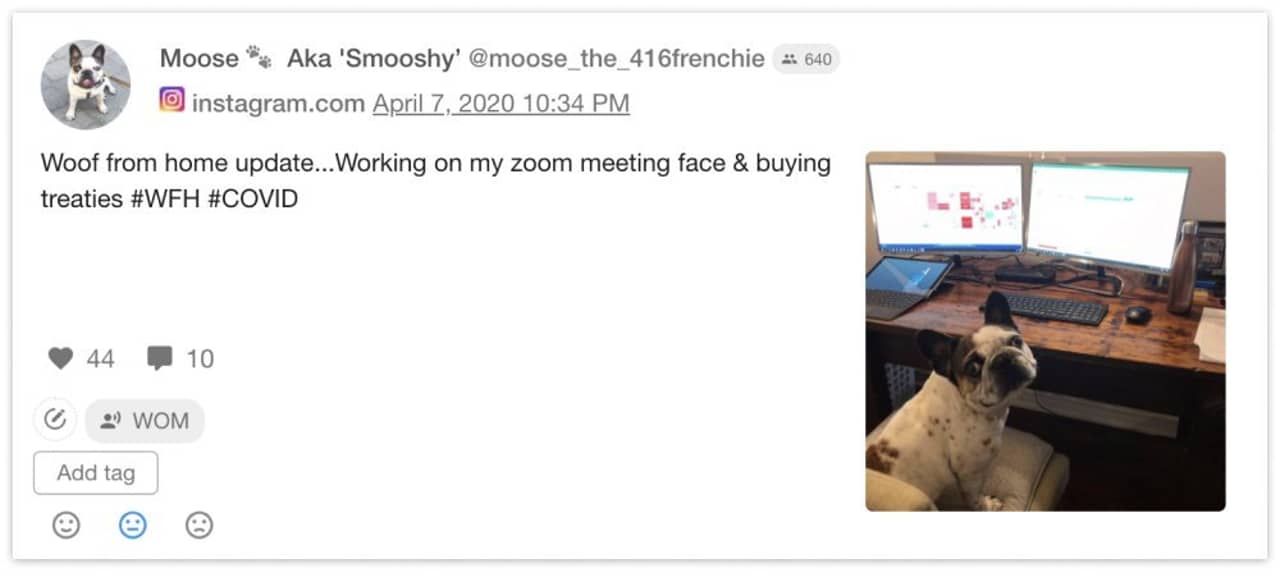 Zoom's popularity is skyrocketing and it is literally saving people who are working from home. To support people, it has lifted the 40-minute meeting limit on free Basic accounts.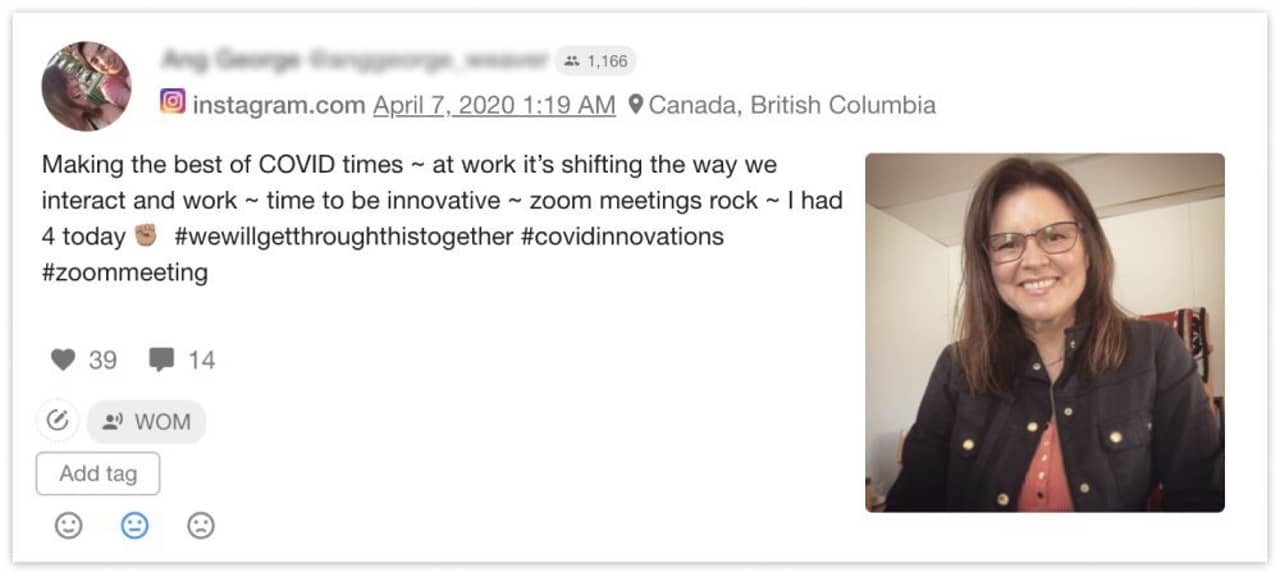 What can brands do? Give access to free webinars, articles or any content that can help people organize their workspace and boost concentration. Help them adapt the processes for virtual work. Also, provide people with equipment such as chairs and desks to prevent the back pain of working in bed.
CSI Ergonomics help people to create work environments that optimize employee health, safety, and productivity wherever they're working.
Webinars about organzing remote work are all around the internet space.
LinkedIn offers a number of free online courses and some of them are on how to work remotely.
Skillshare provides 5 simple tips to implement that will help with the transition to the remote work reminding your team when to eat and how to leevrage new collaboration technologies.
There is no efficient remote work without healthy fuel.
Even if people stay home, it doesn't mean they have time to cook. Thus, food delivery services are in high demand. Remote workers know that hunger gnaws when you stay at home. Restaurants keep offering delivery or takeout and in order to protect people from potential contamination, food delivery services are switching to 'no contact' dropoffs.
DoorDash, Just Eat, and Uber Eats provide app users with an opportunity to specify whether they want food deliveries to be left on the doorstep, rather than handed over physically by the delivery driver.
Manage online communication
Booking services, hotels, airplanes and travel agencies have been hit hardest by the pandemic with all the lockdown and travel bans. Thus, they try to navigate the social media landscape to avoid missing out on the customer online conversations, insights, concerns, and complaints.
Social media offers an opportunity to directly communicate with consumers, but it can often be misleading, especially when it concerns the pandemic. Now it's crucial to track how opinions on travel are changing and how that affects customer sentiment. Are they talking in a negative or positive way?
Social sentiment along with deep social listening help to uncover insights about specific travel issues. It also ensures that brand messages meet the expectations of customers. It's essential to understand not only the overall sentiment of the posts, but also to be able to react quickly in real-time.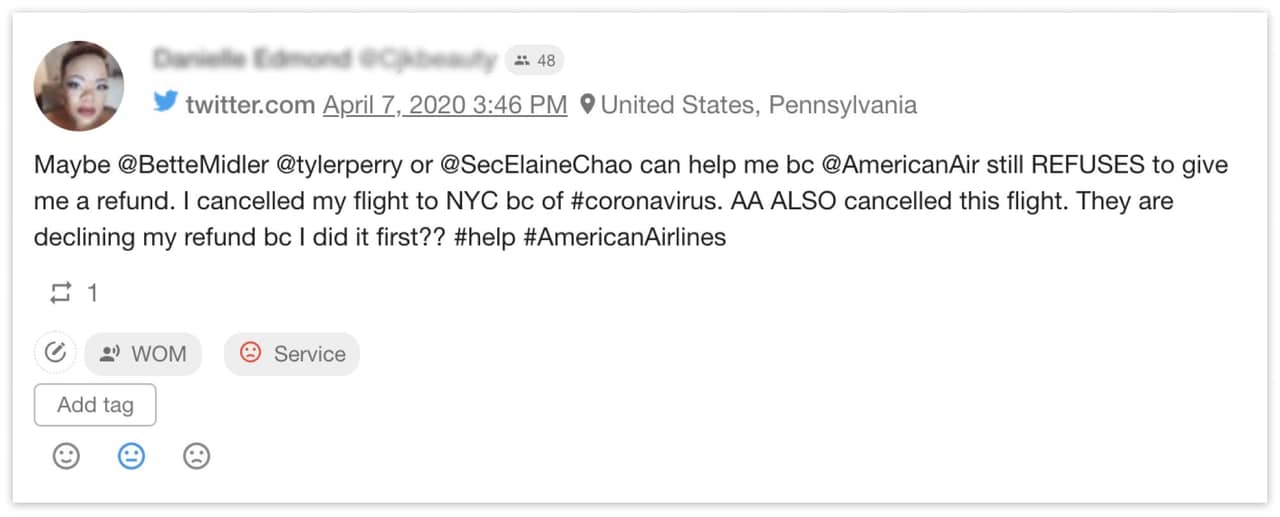 Social media intelligence is a powerful opportunity for brands to keep travelers updated through social media strategy empowered by analytic monitoring.
According to a spokesperson from United Airlines, social media communication is key for the airline during this period of upheaval. They are actively providing customers with the regular updates on their website, mobile app, social media channels, emails and internal channels.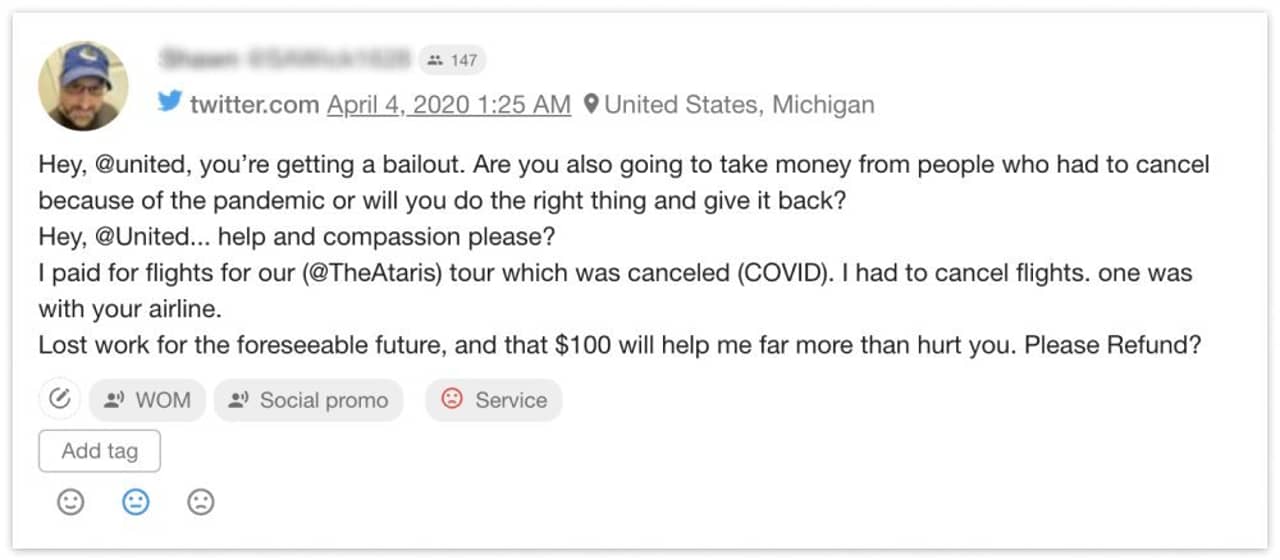 Airbnb is not lagging in providing support to people. 100k hosts are offering homes to medical personnel and first responders who are working for us all but do not want to return home to protect families.
Change the core values - from perfumes to hand sanitizers
People's values have changed, their behavior has also changed. Thus, it's time for brands to reconsider their mission and change the message of communication. Right now is not the time to be pushing products. People don't have extra income to spend on disposable things. It's not the time for new clothes or a new vacuum. It's time to support.
It's probably not the best to advertise fashion trends and the perfumes. Thus, Givenchy, Dior, and more LVMH brands launched the production of hand sanitizers to combat the spread of COVID-19. They're helping out the French government to stop the contamination and provide people with free masks and sanitizers.
Nike's stores are shut down, people don't care about buying sneakers. However, the brand is aware that people are concerned with staying fit. Thus, it has made the premium version of its Nike Training Club app, which offers virtual workouts, free to all U.S. consumers. It started promoting a new campaign telling people to "Play Inside and Play for the World."
Enhance your partnership with Influencers as Procter and Gamble did. P&G's campaign #DistanceDance has garnered more than 8 million TikTok views in a week. Ohio Governor Mike DeWine joined forces with Procter & Gamble CEO David Taylor, and the agency Grey to spread the word to Ohio citizens about the importance of staying at home to stop the spread of COVID-19. All of them partnered with TikTok and a 15-year-old influencer Charli D'Amelio.
Chipotle, a Mexican Grill chain, is uniting with Zoom to deliver positive vibes and entertain people during the lunch breaks with daily "Chipotle Together" sessions hosting celebrity guests and around 3,000 fans.
A design studio from the Saint Petersburg called the Shishki Collective set up an online bar originated from the #staythefuckhome movement. It's a virtual video-conferencing bar without borders where people from all over the world can meet, have a drink, and survive the loneliness of social distancing.
Final thoughts
Social distancing keeps many people apart stuck at home. Thus, there is a change in their behavioral trends. Consumers are looking for entertainment; they are spending more time on social media, watching more movies, and taking online courses. They're looking for ways to escape the anxiety and loneliness.
Social media intelligence allows brands to keep abreast of the latest customer behavior changes by listening to their online voices. It's time to postpone direct promotion and selling ads, change the tone of voice and express more empathy, solidarity, and commitment. Establish a connection on an emotional level by providing people with essential things during the crisis.
Create content that resonates with people's desires and expectations. The crisis will eventually be over, but people will remember those who supported them. The lessons of the disturbing present provide us with the opportunity to create a better future.
If you're not listening to your customer yet, time to try YouScan demo!