Product Digest - Q1
As the spring is in its full blossom, with winter colds behind, we're ready with a product digest. Our team worked painstakingly hard this quarter, rolling out several updates and launching new features. If you've missed a product update, scroll down to stay tuned with YouScan's upgrades.
Released OCR - Now we can read text on images
In February 2020, YouScan introduced an OCR in the wild - optical character recognition feature that allows brands to read keywords and brand names on images such as screenshots, selfies, newspapers, and all kinds of photos. It's another miracle of AI-powered algorithms that finds images containing a predefined search query text. It's a perfect supplement to our Visual Insights logo recognition tool.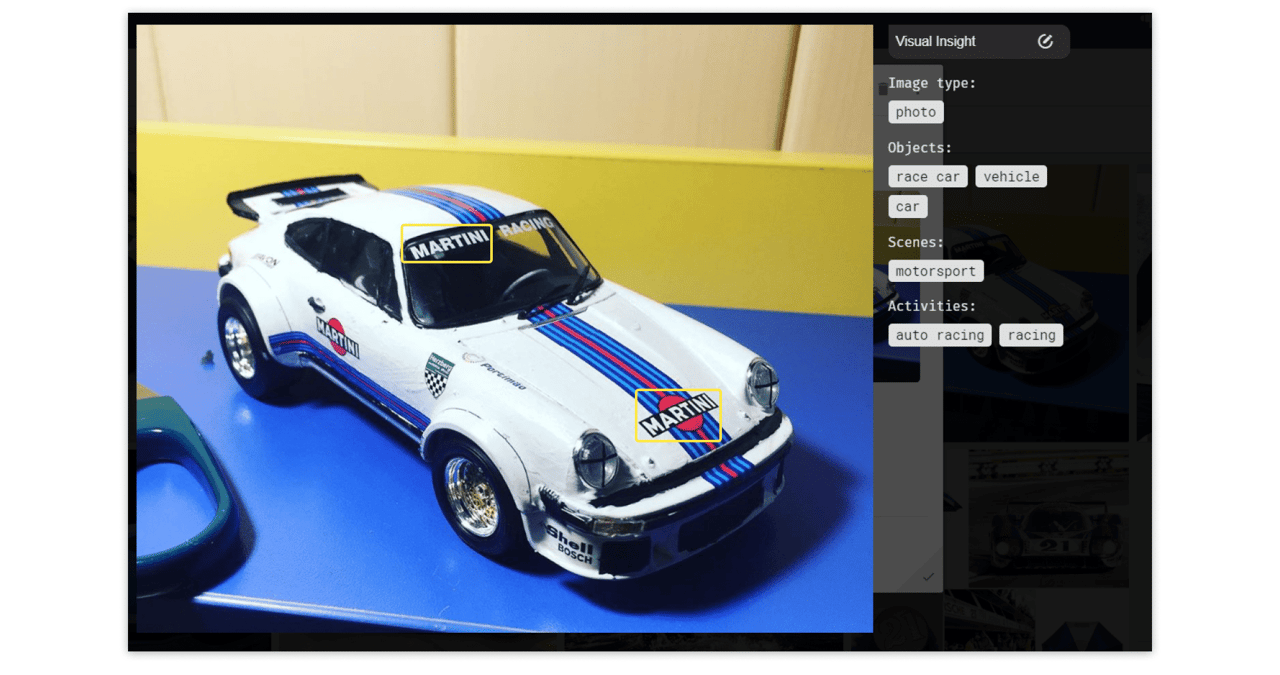 Added a fashionable dark theme
Did you notice that many popular applications such as Telegram, Chrome browser, YouTube, Android, and Apple's iOS rolled out their own versions of a dark mode? Why has it become a hype?

Over the last years, many popular apps and operating systems have released dark versions of their traditional white themes. The goal is to make digital products more accessible and user-friendly to those who are visually impaired, but right now, the dark layout seems to have other advantages as well.
There are at least 3 undeniable benefits of the dark theme:
Our users claim that the dark theme reduces eye strain.

It's energy-efficient and saves your battery. You can work longer on your notebook on a single charge.

It's just fashionable.
Added a new function in the calendar
As you know, when you used to work with mentions, you were able to select a specific date range to work with. But for the majority of our customers, it wasn't enough, they wanted to work with more specific time ranges: hours or even minutes. So now it is possible and you can receive more precise analytics.
Enhanced word-cloud features
We're striving to improve not only the technical features but also the design of the system to make it more attractive for our clients. We hope you'll like the new world-cloud design.
Now you can switch between Aina words and Frequent words. You are able to clearly choose if you want to see just the most frequent words or "Aina" words. Let us remind you that Aina's words can help you easily detect anomalies under specific filters such as specific dates, sources, regions, demographic groups, sentiments, etc... It will show not just the most frequent words such as your brand name and popular hashtags, but those particular words that are more frequent under the specific filter compared to the whole topic.
Here is an example of brand Nike filtered by the geo - the US and the English language.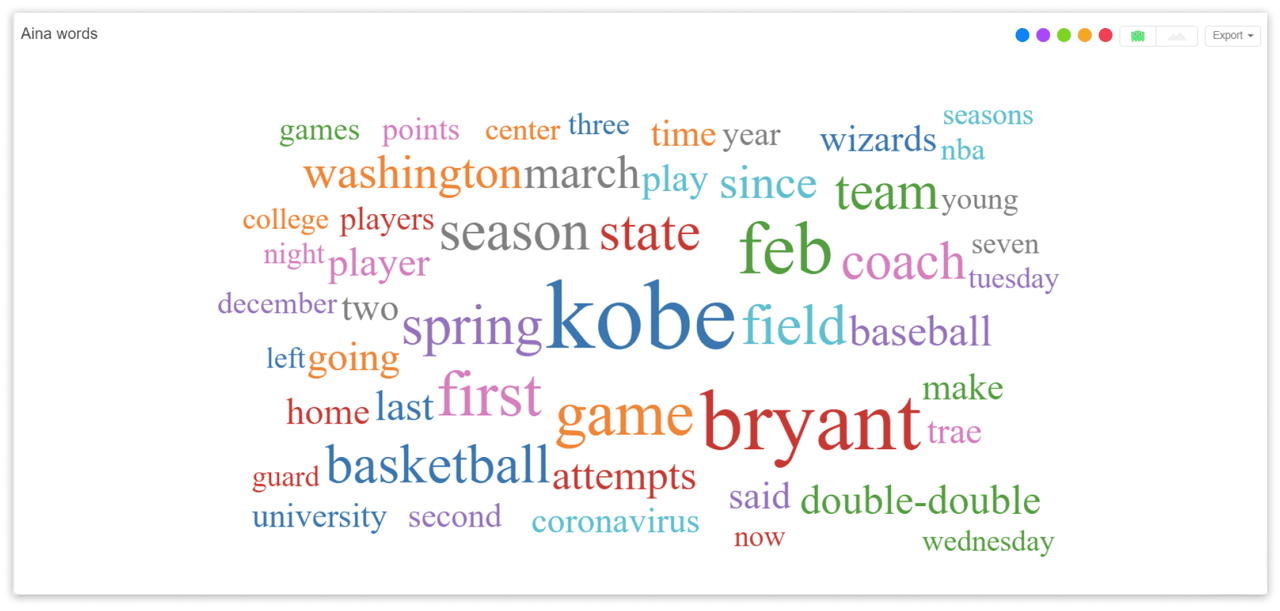 What is more, you can choose the color of the scheme, which is really useful if you want to insert this word cloud into your presentation to suit the colors of your brand.
Finally, one more feature our users asked for is that now you can export the word cloud into many formats, including csv. Csv could be useful if you want to use an external tool to build a word cloud in the specific design or if you want to clean up some words from there.
Give us feedback in real-time - a feedback loop
Now you have an opportunity to correct mistakes made by automatic algorithms by clicking on the edit label button and correct the specific filters such as WOM, specific subject, aspect, visual attributes, image type, and subtype.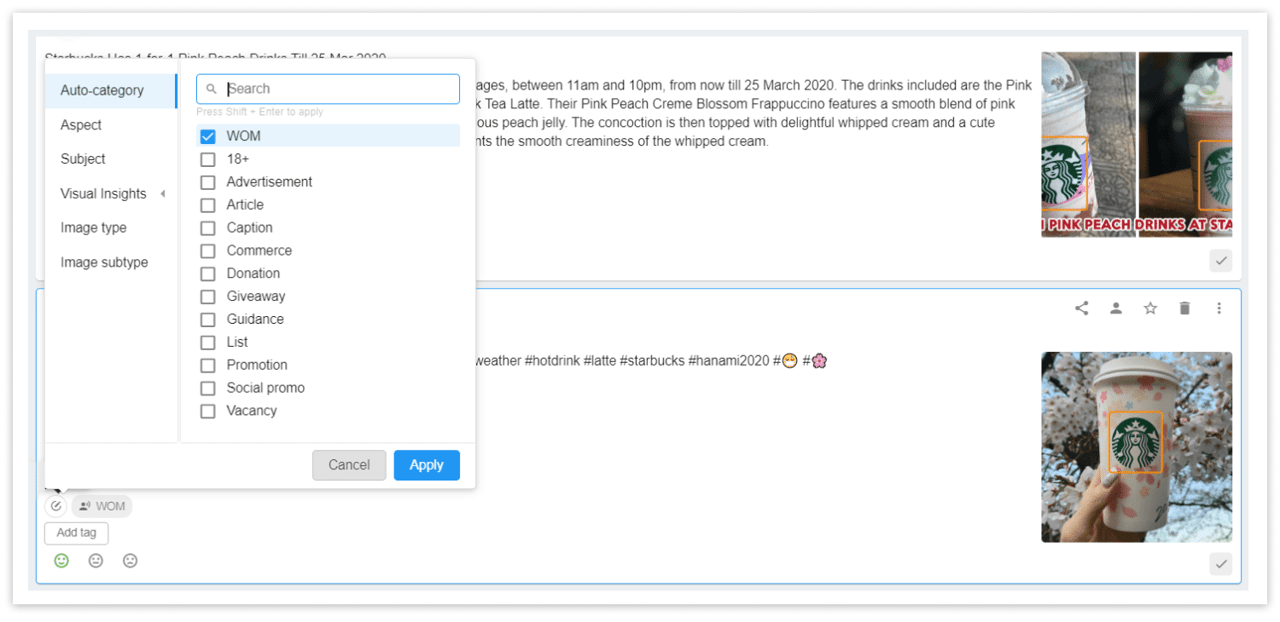 Your feedback will help our algorithms become smarter and provide more accurate data for you.
We replenished promo categories
We upgraded the classification of non-WOM posts to help you find mentions the most relevant for your particular inquiry much easier and faster.
Here is a refreshed list of auto-categories:
Giveaway

Social promo

Vacancy

Donation

Guidance (instead of "Recipes")
More languages to define sentiment
We extended the list of supported languages for automatic sentiment detection. At this moment, we support automatic sentiment detection for the following list of languages: Russian, Ukrainian, English, Spanish, Portuguese, German, French, and Kazakh.
As a special treat, we launched Aspect-based Sentiment Analysis
Now you'll know which aspects, characteristics, of your product are the most loved or the most disapproved: taste, price, service, quality, and other popular characteristics customers discuss.
The aspect-based sentiment analysis allows brands to automatically define the public's opinion, tag it with a particular characteristic, and allocate the aspect on a sentiment level.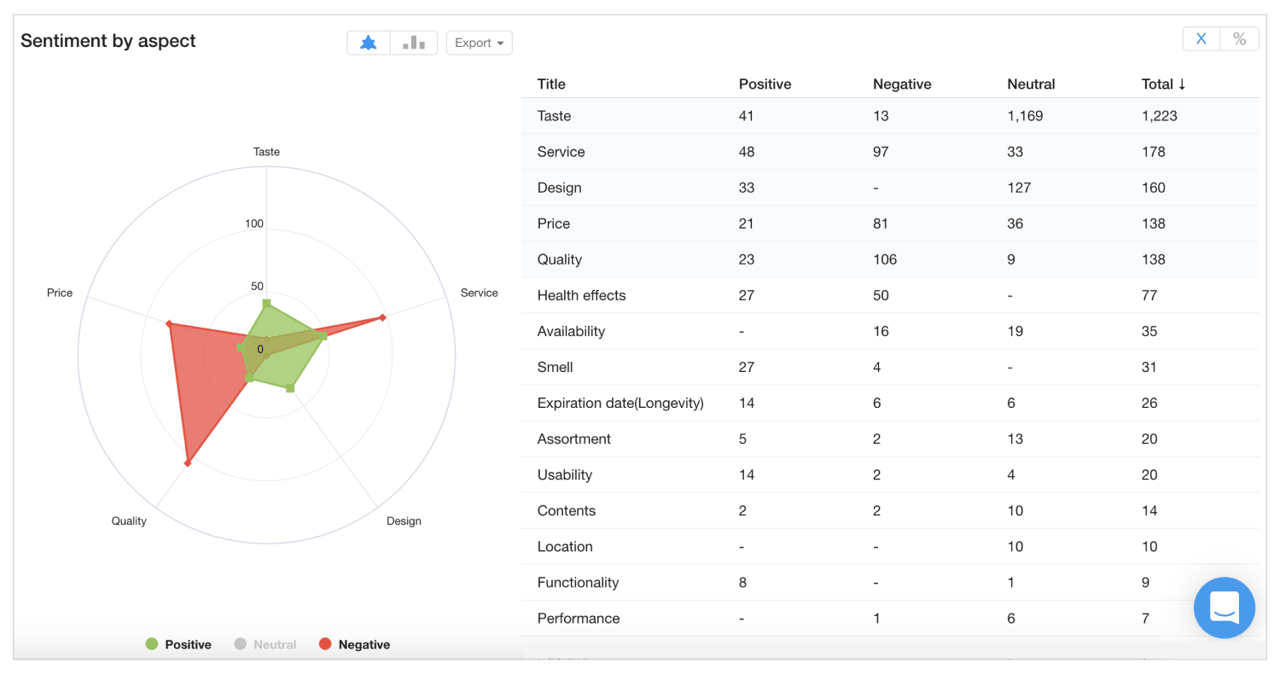 How does it help you? The aspect-based sentiment analysis:
Boosts the customer-centric experience

Analyzes the competitor's strengths and weaknesses

Prevents or deals with a potential crisis effectively

Saves time and organizes data
One person can analyze and categorize by aspects around 500 mentions per day. Meanwhile, the system can analyze millions of mentions in a day automatically tagging them with aspects.
It was a very productive quarter, stay tuned for more updates!
And you should not miss a chance to try all of the new features right away, so just request a demo!