Global food trends 2021: How our cooking habits have changed
Food and social media have a long history together. #Food has long been one of the top Instagram hashtags around the world for nearly a decade. Pictures of meals can be found on any account, be it a casual user with a small following of friends or an influencer with millions of subscribers. Thus, social media images offer valuable and easily accessible insights into current food trends. And with the right tools, you can learn not only about the type of cuisine depicted in the photo, but also innovations in cooking methods, venues, and much more. 
We have examined social media images of food from several regions, including the U.S., U.K., Mexico, France and United Arab Emirates. Using YouScan's sophisticated image recognition technology, we analyzed the contents of public social posts that were related to food and cooking. The algorithm, which examines objects, scenes, people and logos depicted in user photos, revealed a few common food trends for 2021 across all regions, as well as eating habits unique to each region.
Home-cooked, healthy meal options are trending around the world
Our research showed some curious trending foods that have emerged between late 2020 and early 2021, while much of the world was under restrictions related to the COVID-19 pandemic. One of the common trends across most regions was cooking at home: since the pandemic has limited people's ability and comfort to dine out at restaurants, many have used this as an opportunity to level up their cooking skills. This is demonstrated with photos of meal preparation in process, table settings inside people's homes, and an increased presence of meal and beverage kits.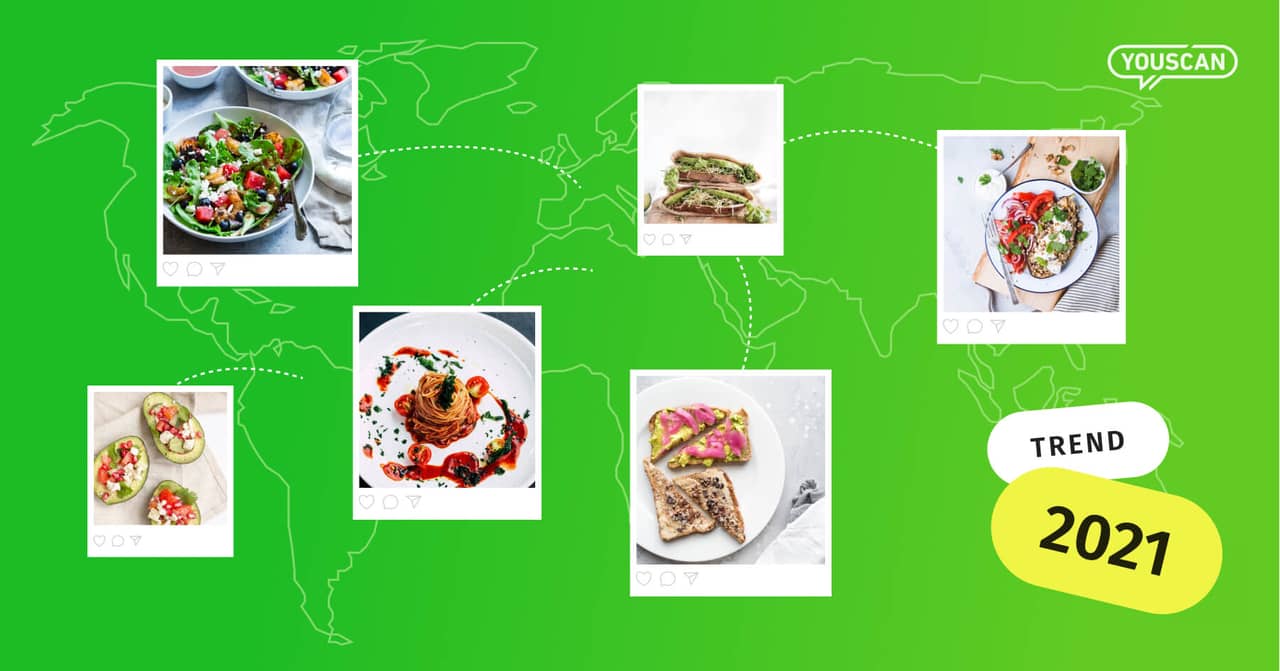 People also used regional health restrictions as a way to get outside more. Photos of meals enjoyed outdoors, cooked on a grill or a firepit, cropped up frequently in our research. Many of these meals were also home-cooked, but restaurant patios and verandas were prominently featured in photos as well. 
People have also been integrating healthier options into their menu: whether it's a switch to plant-based proteins or a meatless diet, dairy alternatives or experimenting with flour such as nut- or fruit-based flours for baking, home cooking also meant healthier dishes for people around the world. 
Last but not least, reduced opportunities for travel led to people travelling in their own kitchens by trying different cuisines. This was reflected in a resurgence of popularity of certain takeout restaurants, or an increased presence of unusual ingredients in people's home-cooking experiments. 
Now that we have reviewed the common trends across different regions, let's take a look at each region's food trends highlighted by social media images.
USA: Global modifications, plant-based food and the growth of home cooking
The cultural melting pot of the U.S. presents many opportunities to try new things without leaving your city or state. And that's what many American social media users did, especially as many states remained under varying degrees of lockdown orders.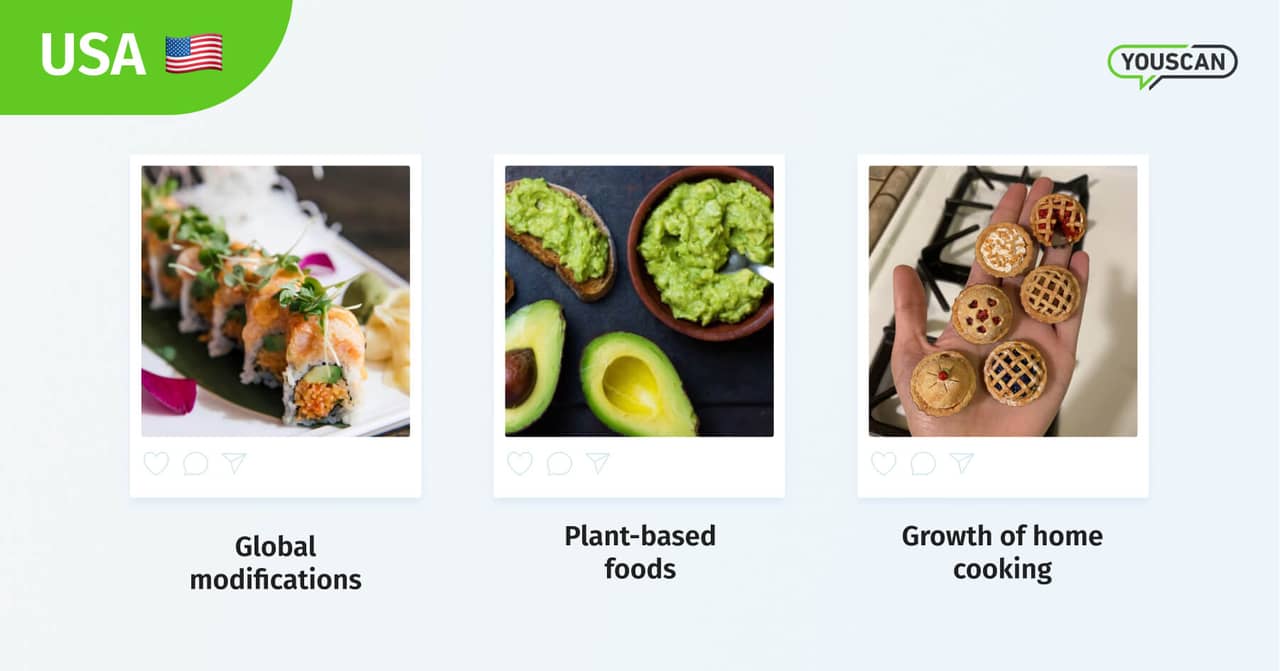 Japanese cuisine was the most popular in social images in the U.S. This trend emerged, partly, due to a shift toward healthier eating in the country; Japanese food, which includes a lot of seafood and vegetables, checks off multiple boxes for eaters who wish to keep a healthier diet.
Another trend observed by YouScan among social images shared in the U.S. is an abundance of plant-based food and meat alternatives. According to SPING, consumption of plant-based products increased by 29% in 2020, with a quarter of adults reporting a preference for plant-based protein and dairy alternatives. This was reflected in numerous images featuring leafy greens, fruits, and vegetables, as well as nuts and legumes.
Many of these culinary experiments were conducted in people's kitchens and backyards, as pandemic restrictions closed indoor dining in many states. And, of course, Americans love their BBQ and grilled meats, which were also prominent in users' social media images.
UK: Sourdough bread, vegetable flour, new forms of cocktails and grilling
The United Kingdom, which spent much of late 2020 and early 2021 under strict lockdowns, also showed an increase in home cooking and baking. This is where YouScan found the most social images of baking with sourdough culture. Sourdough baking, which involves long periods of waiting and leavening, exploded with popularity during the pandemic, even causing flour shortages in some parts of the world. Social media feeds in the U.K. were particularly full of sourdough content.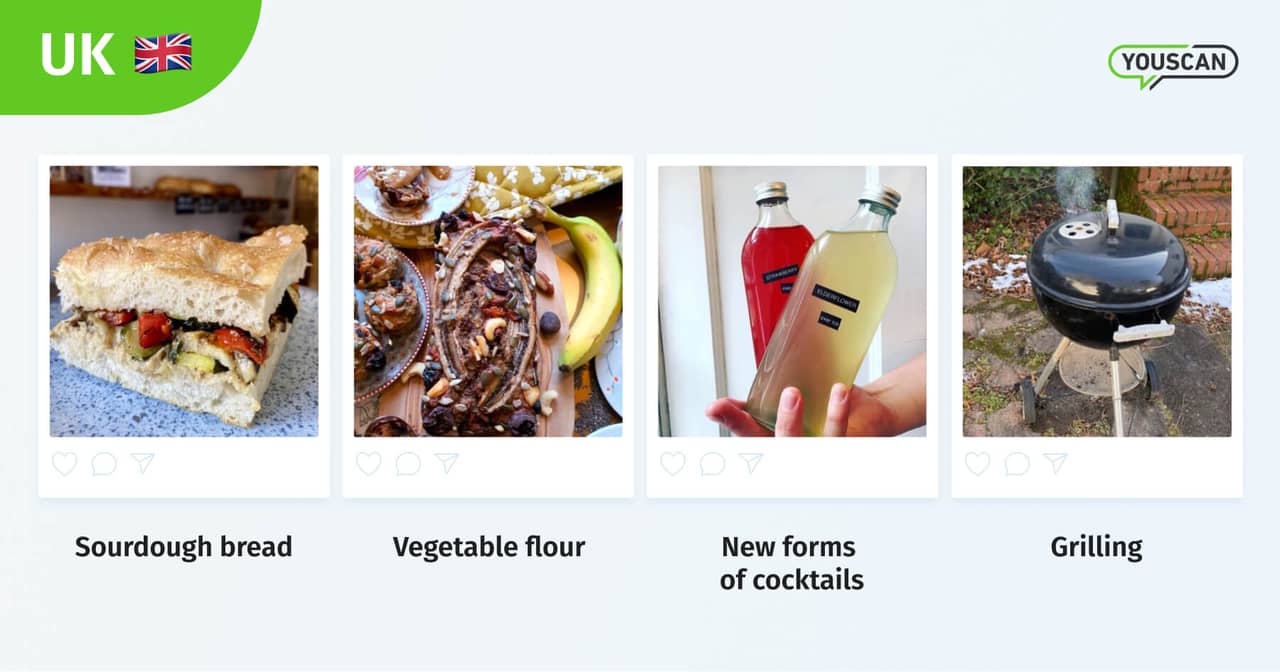 It wasn't limited to loaves, either: users also posted pictures of pizza or sandwiches they made with sourdough.
In addition to baking bread, U.K. social media users also experimented with different types of flour, such as banana and almond flour. People wrote about enjoying the idea of making flour from scratch, and how sustainable and environmentally friendly such practice is. 
This trend was also reinforced by people who promote healthy eating. Many vegetarian and vegan restaurants have started selling alternatives to traditional flour, and top food bloggers have shared their almond flour recipes on social networks.
Lack of ability to go out to pubs has led to creative solutions among the Brits: bars and restaurants started selling make-your-own-cocktail kits, which people happily ordered to complement their meals. These kits also happen to be quite photogenic, which has led to their frequent appearance on people's social feeds.
When cooking in one's own kitchen became tiresome, U.K. residents took their culinary adventures outside, using firepits, campfires and grills. YouScan collected many social photos of people enjoying dining outdoors while camping or hanging out in the backyard. 
Mexico: fast food, traditional cuisine and craft beer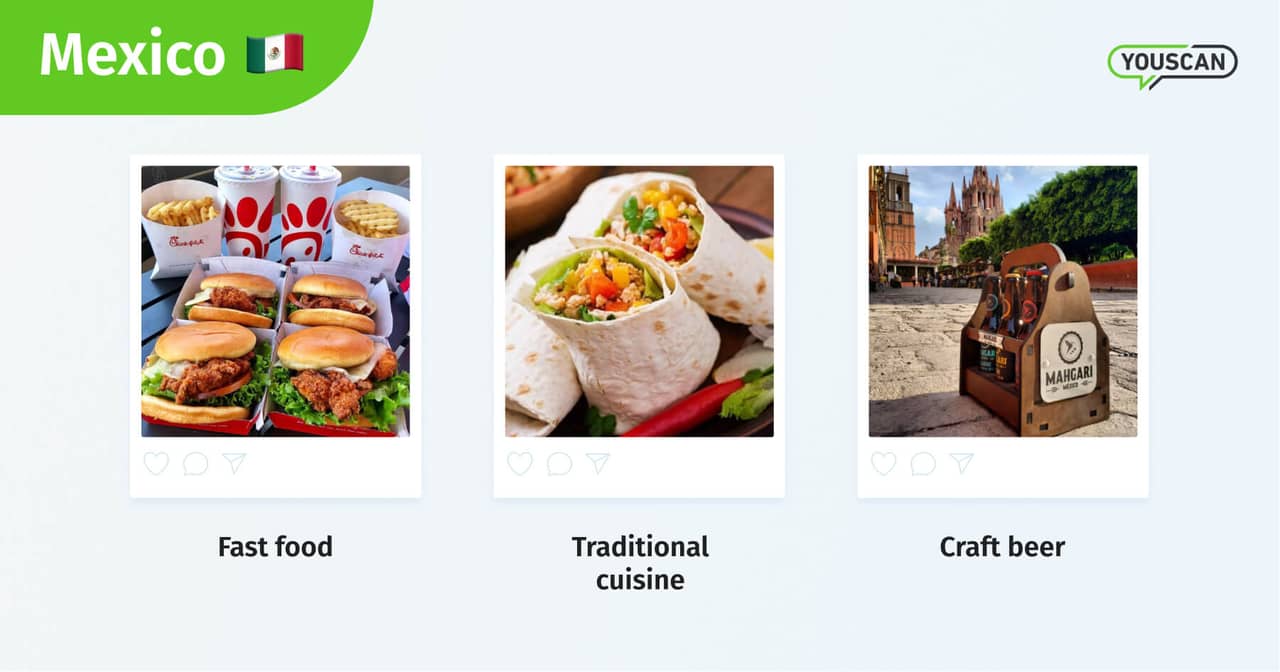 In Mexico, a lot of images shared on social media depicted fast food and snacks, as people went to cafes and ordered takeout. According to a Mordor Intelligence report, a rapid growth of the fast-food sector was recorded in the country in 2020. In social media images, this is demonstrated through an abundance of photos of international brands such as Chick-fil-A, as well as local fast food brands. 
While people in Mexico enjoyed trying takeout from different cuisines, their home-cooking featured mainly local food. A lot of food photos on social media collected during this period depicted traditional Mexican dishes, such as tacos, nachos, tamales, Rosca de Reyes, as well as shrimp dishes and various soups. Much of this content was tied to regional holidays and celebratory feasts. 
Photos of Mexican food were often accompanied by a beverage, like beer. In addition to big brand names such as Corona and Modelo, craft beer from smaller local breweries was prominent in social media photos from Mexico. 
France: healthy food, homemade bread, international cuisines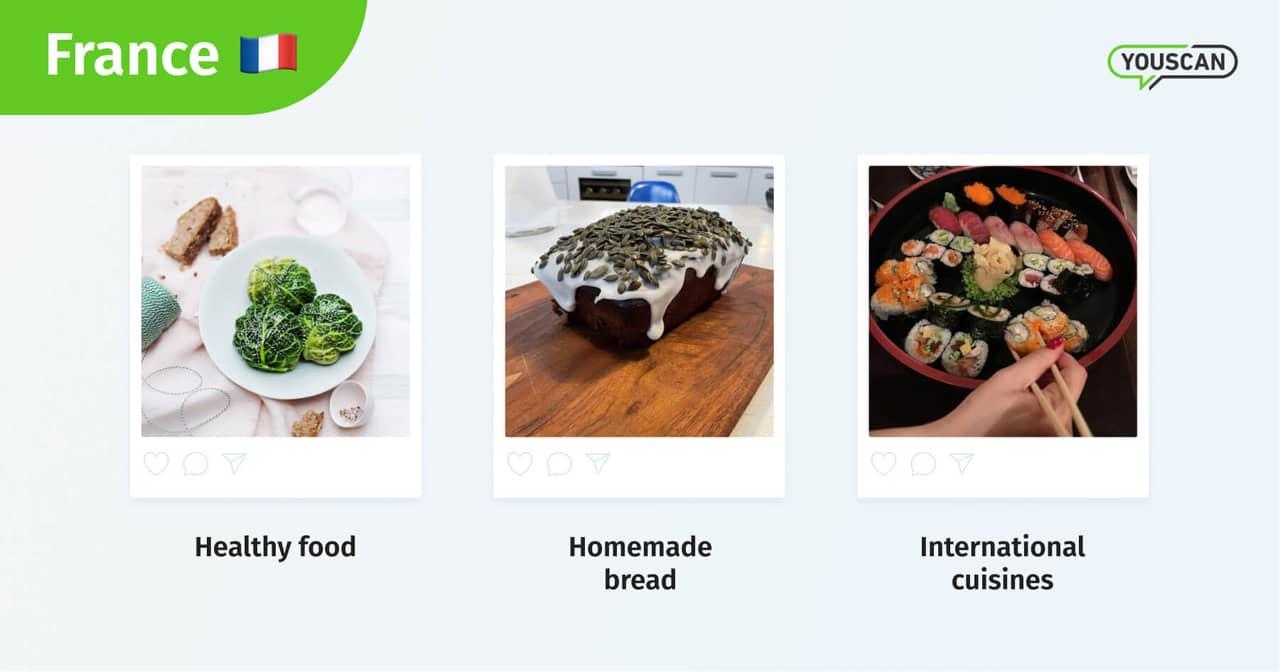 Social images in France, like in many other regions, also tell the story of healthier eating in recent months. Photos of good-looking food contain many vegetarian and vegan dishes. Social media users in France joke that they have rethought the concept of fast food, and want fast food to be associated with "quick good."
However, the obsession with healthy food doesn't get in the way of famous French baking: social feeds in the country are still filled with photos of croissants, baguettes and various pastries. In fact, baked goods were featured in 10% of the food images collected by YouScan's image recognition algorithms. Plus, similar to the U.K., lockdown months have provided ample opportunities for people to practice baking at home and show off new skills in the kitchen.
Social images also showed a trend of experimenting with various cuisines when dining out, especially seafood-heavy dishes. Sushi, shellfish, and seafood pasta were featured prominently in social images in France. Other dishes from Asian cuisines, like spring rolls and fried rice, were also popular. 
United Arab Emirates: Healthy food, home cooking and variety of cuisines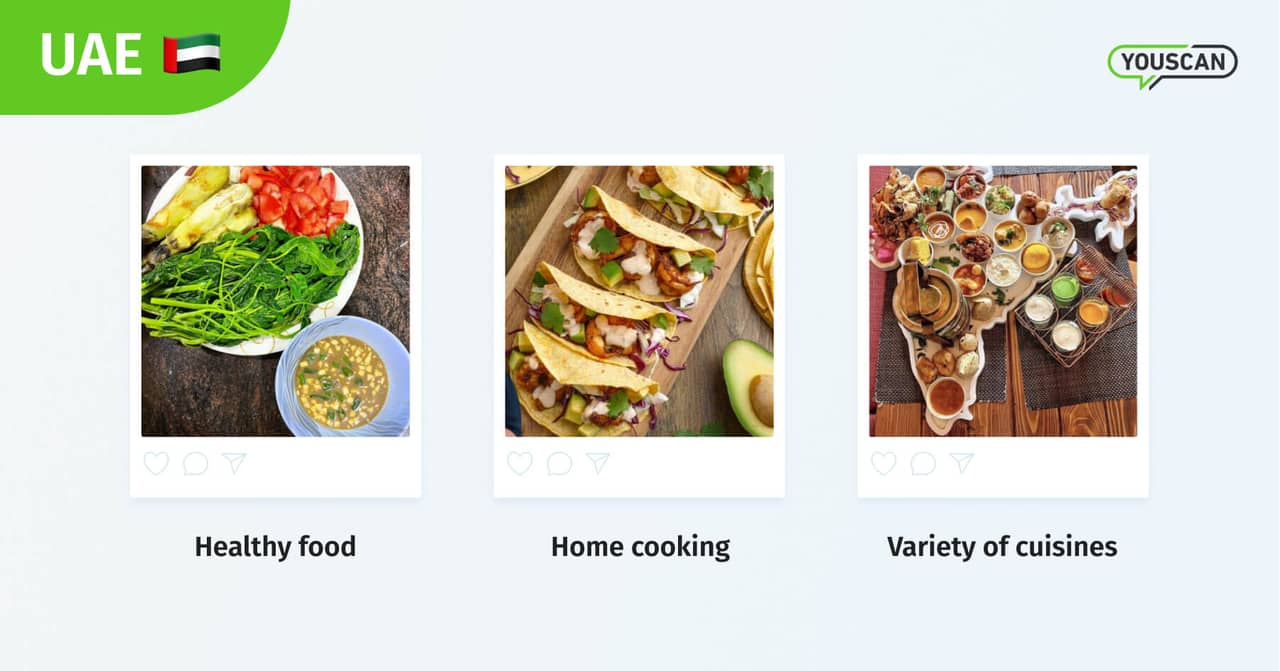 Abu Dhabi currently cultivates 42 types of fruits and vegetables, including organic ones. This preference for fresh produce is noticeable among social images from UAE: many of them feature fresh fruit and veggies, and accompany health-conscious recipes.
Social media users in UAE were also ready to experiment with cuisines from all over the world. Insights revealed that Indian cuisine was the most popular, with 44% admitting having tried Indian dishes for the first time in 2020. American cuisine followed (38.8%), with many social images featuring burgers and pizza. Chinese food came in third by popularity, with 34.6%, followed by Italian (27.4%).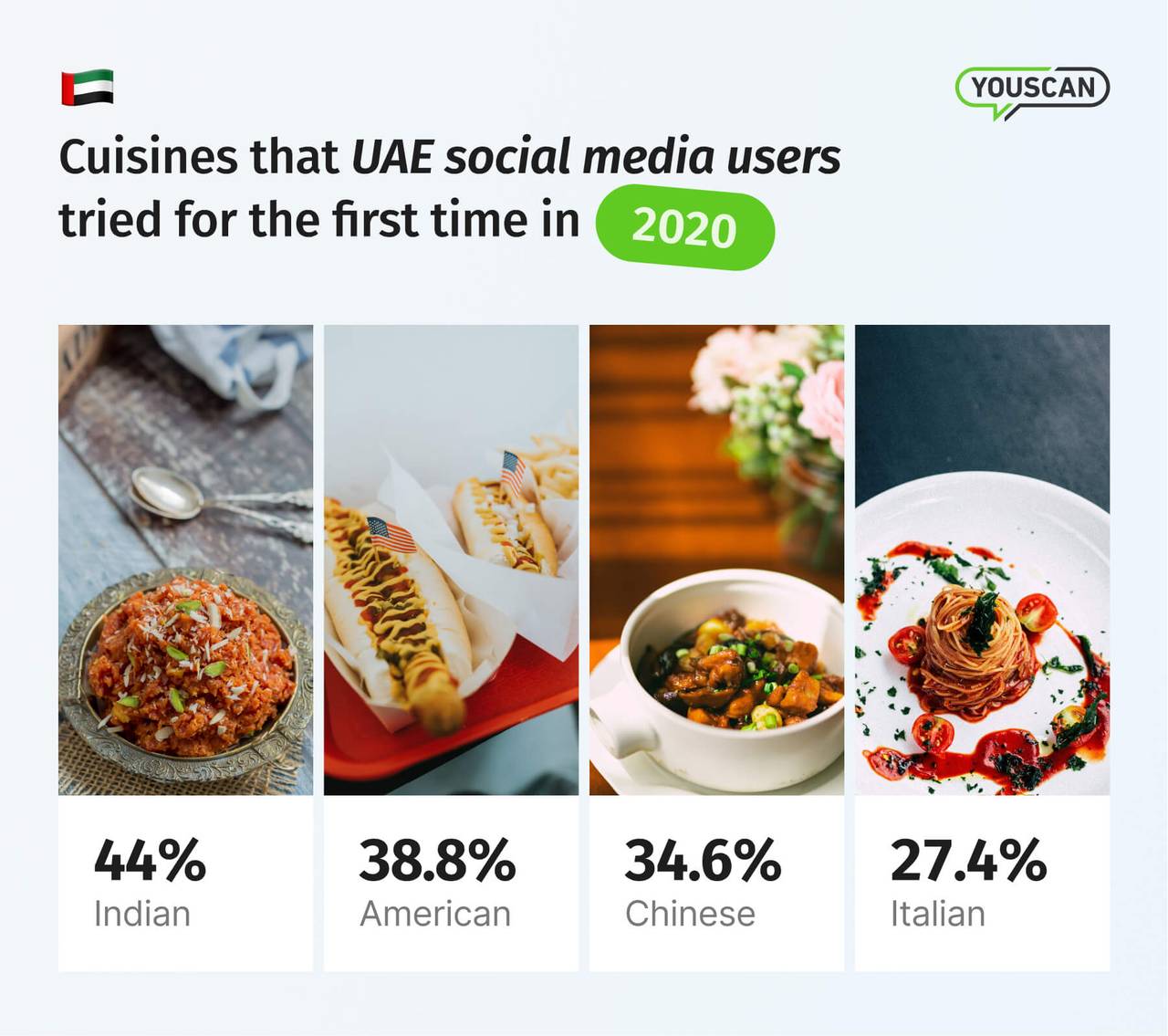 Pandemic-related travel restrictions didn't stop UAE residents in their pursuit of exotic foods. Many chose to take this opportunity to learn to cook dishes from other cuisines, such as Japanese or Mexican. Photos of home-cooked meals from this region feature a variety of different ethnic foods. 
In summary, some food for thought
Global food trends in recent months all point to a trajectory toward healthy, environmentally conscious eating habits. These trends are observed by analyzing social media images of food using a sophisticated image recognition algorithm, which can not only identify objects depicted in the photos, but also the settings, logos, color palettes, and much more. This image analysis reveals that people around the world are more open-minded and willing to experiment, whether it be new cuisines or new ingredients. Plus, there is a renewed interest in cooking and baking as a hobby, which is demonstrated with an increased popularity in home-cooked meals.