How to Find The Best Social Media Monitoring Service?
Step by step companies gather communities of followers around them, work hard on creating a reputable image and leveling up online business presence. However, the brand reputation is fragile and a viral post on social media can cause severe damage to the brand. Thus, companies across all industries experience the urgent need to keep thorough monitoring of social media activity.
Word of mouth (WOM) on social media is one of the most crucial factors influencing the way a brand is presented in the customers' minds. If considered under the magnifying glass of social monitoring tools, it can give invaluable insights into how a brand should behave to achieve skyrocketing business success and strong customer loyalty.
To make a "word" about a company sound more pleasant and even praising, forward-thinking businesses hold social media monitoring. This data-driven approach to the brand's social media presence nourishes overall marketing analytics. It empowers business strategists to prevent a brand image from cracks in the digital space, expanding far beyond social networks.
Intelligent social media monitoring has become a necessary disruption for brand growth happening under conditions of fulminant circulation of information online. Here we will take an immersive dive into its specifics and outline the top 10 social media monitoring services.
What is Social Media Monitoring?
Instead of shooting in the darkness with random posts and tags, many marketers apply an intelligent approach to social channels. Social media monitoring implicates gathering and analyzing data around the online conversations of a target audience, its behavior, and communication with a brand on social networks.
In the tight embrace with artificial intelligence, emerging social monitoring software enables companies to keep abreast of industry trends and extract invaluable insights about KPIs, such as user engagement and content performance.
To deploy initiatives in brand health management, you should make social network monitoring part of your marketing routine. It carries unrecognized and unresolved issues to a surface so that you can curate a brand timely and avoid repeatable negative consequences.
The Magic of MarTech: How Social Media Monitoring Tools Empower Brands
Would you like to be always aware of the brand's health on social media? It would be helpful if you had an overarching media monitoring program in your toolset. Your business should explore it to shape a better vision of the SMM strategy.
The market offers plenty of MarTech solutions that provide functionality for listening, collecting, and analyzing content that is related to the field, in which your business operates. Generally, online social media monitoring tools allow your business to track:
brand mentions
relevant hashtags
customer sentiment
competitor mentions
competitor's posts
audience insights
crucial trends that are dominating the market.
Social network monitoring tools enable marketing experts to produce highly-personalized content for specific users, demographics, countries. They also help research information on social trends, identify thought leaders, respond to brand mentions, and keep more control of a brand reputation.
Here you can see an overview of Top 10 Social Media Monitoring Tools 2020.
1. YouScan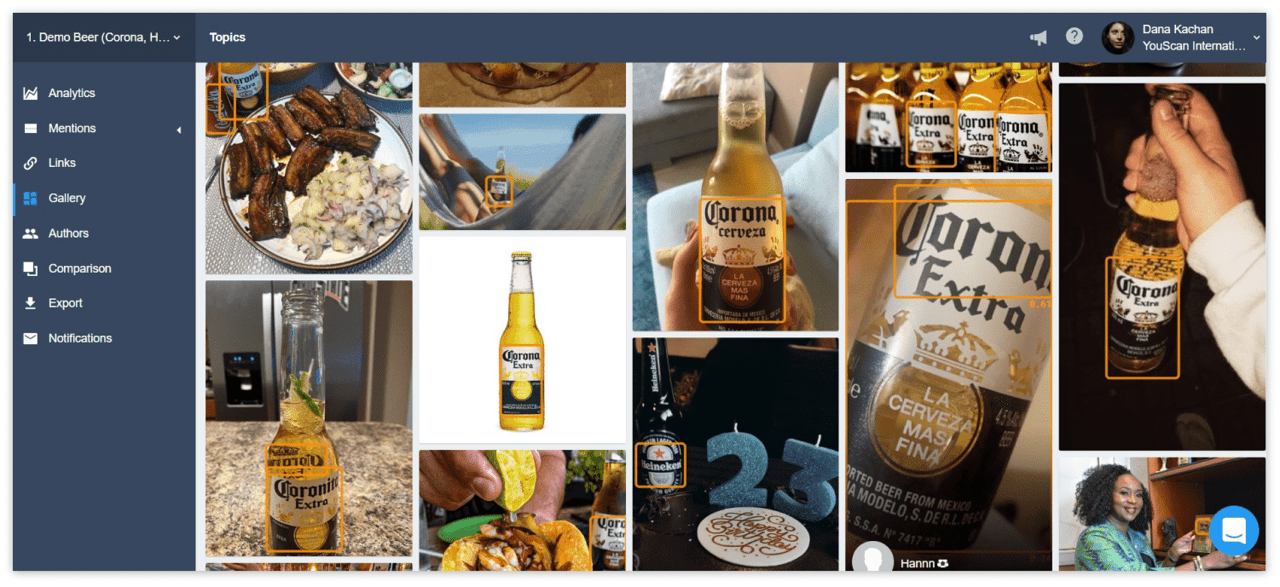 YouScan is an emerging social media intelligence tool that empowers you to track brand performance, analyze text and visual constituents, research the audience's reactions, and define customer sentiment. With YouScan, you can monitor brand mentions, discover the user's conversations about a company, identify new promotional channels, assess the performance of marketing initiatives, and calculate ROI.
Now, brand reputation management becomes easier since this AI-driven social network monitoring service offers you invaluable audience, competitor, and contextual insights that help businesses make well-informed decisions. You can improve customer support by timely responding to the user's most critical posts and comments, receiving notifications to your corporate CRM systems.
YouScan's most considerable advantage lies in Visual Insights powered by Artificial Intelligence and Machine Learning. Logo recognition, object, and scene detection open up new opportunities for social network analytics. Investigating millions of pictures across all social platforms, YouScan helps marketers understand the target audience better and manage a brand more efficiently.
Based on AI and ML technologies, YouScan tools like "Word Cloud", OCR, and "Link analysis" detect top trends and let you spend more time deploying these trends instead of looking for them.
2. Hootsuite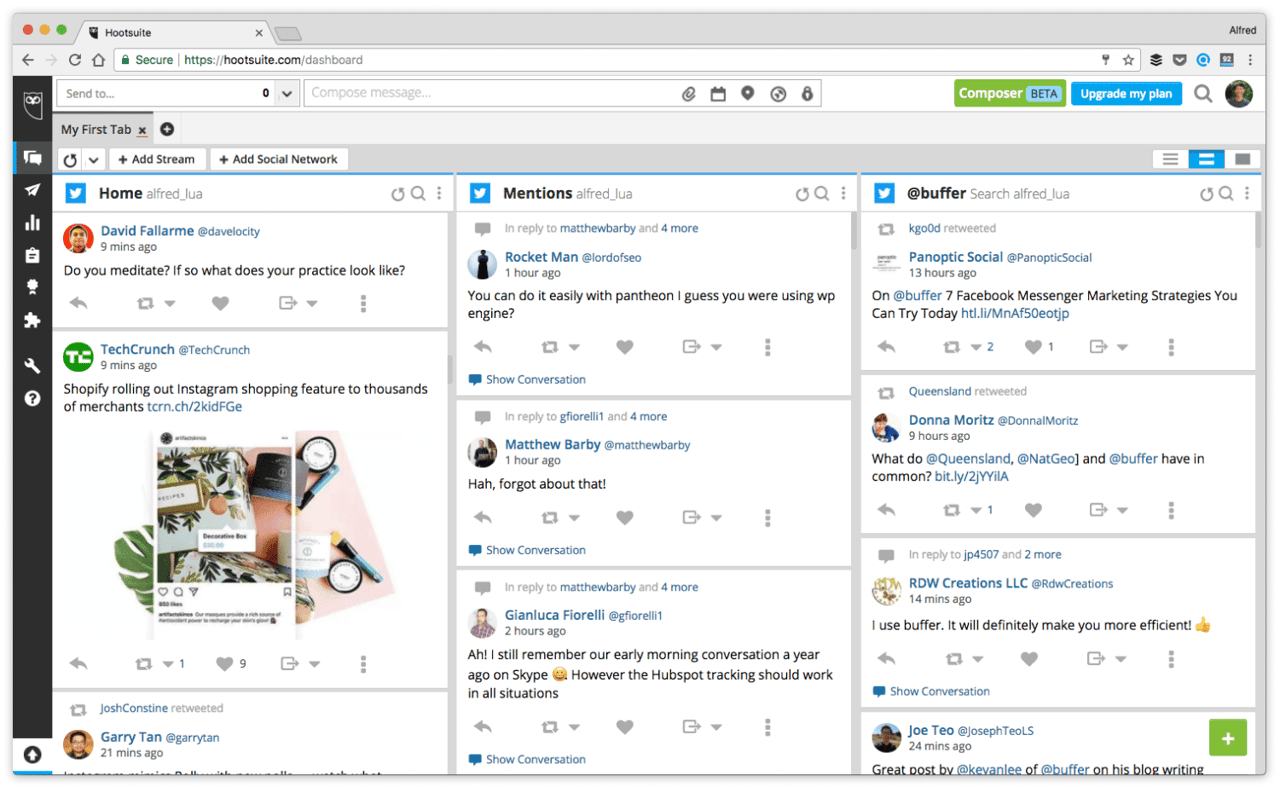 Hootsuite is one of the best social media monitoring software. On its dashboard, you can create search streams and discover consumers' discussions about your products or services on social media. Its search and tracking algorithms are based on requested keywords, hashtags, geolocations, and even particular users.
Hootsuite is famous for its team management feature, which is especially beneficial when there is more than one person managing business profiles on social networks. This software works with over a hundred apps and works with many social platforms, such as Twitter, LinkedIn, Facebook, Instagram, and other places on the web.
In Hootsuite, you can also build a customizable and intuitive data & analytics report that includes more than 200 metrics. It gives you a complete picture of your brand's influence across different social media channels. There is an option to track team performance. In other words, you can monitor how much time your teammates need to resolve some issues on social media, answer the customer's questions in comments, and respond to brand mentions.
3. Mention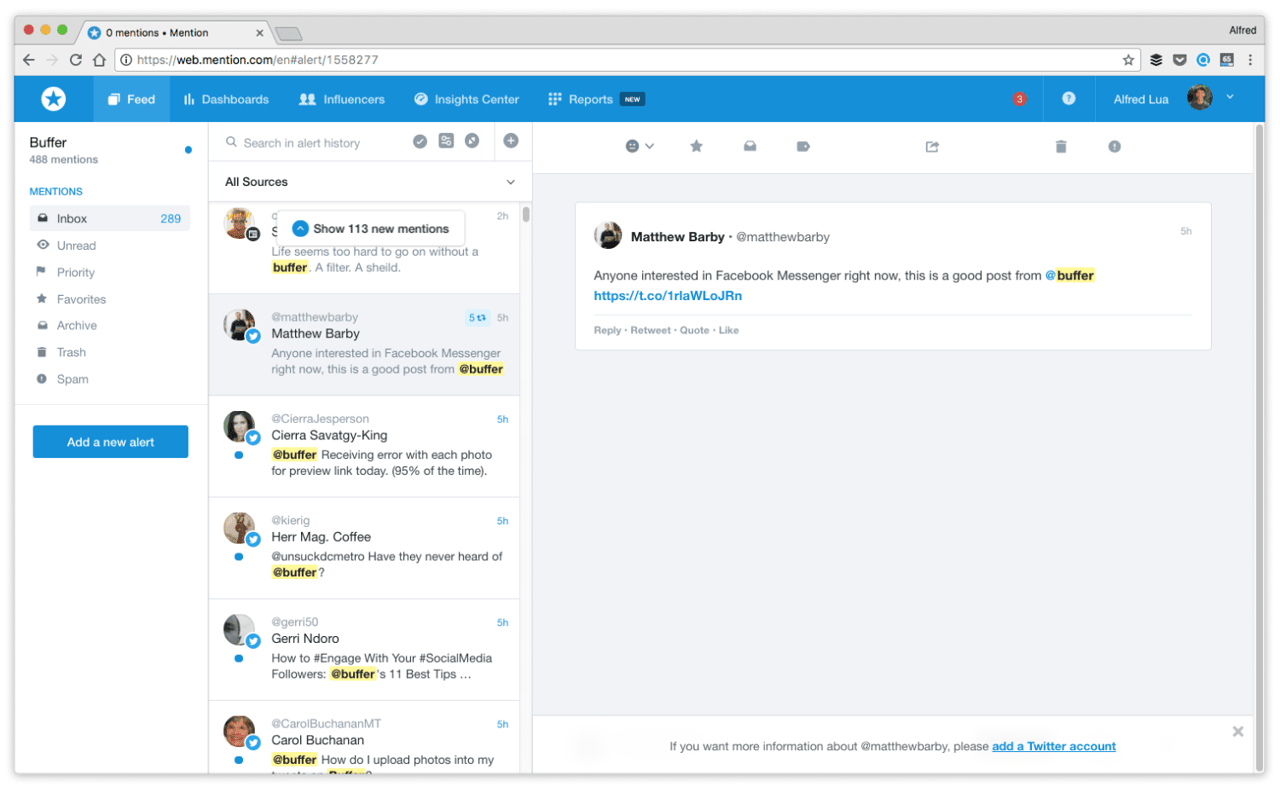 Mention is a great app to monitor social media usage. It updates you with the latest brand mentions analyzing millions of sources in real-time and in 42 languages. Its distinctive feature is tracking the company mentions even on the web resources, such as Yelp, Booking.co, Tripadvisor, and Amazon.
Mention empowers businesses to keep an accurate tracking of the digital space, monitor what customers are talking about them online, and effectively manage social networks. This tool delivers in-depth brand intelligence adjusted for business objectives.
It provides a well-organized dashboard with the essential brand performance KPIs and helps you listen to what a target audience says about your competitors. Mention lets you clearly understand your company's advantages and how to market your product or services better. This social monitoring system works with the three most popular networks, Facebook, Twitter, and Instagram.
4. Reddit Keyword Monitor Pro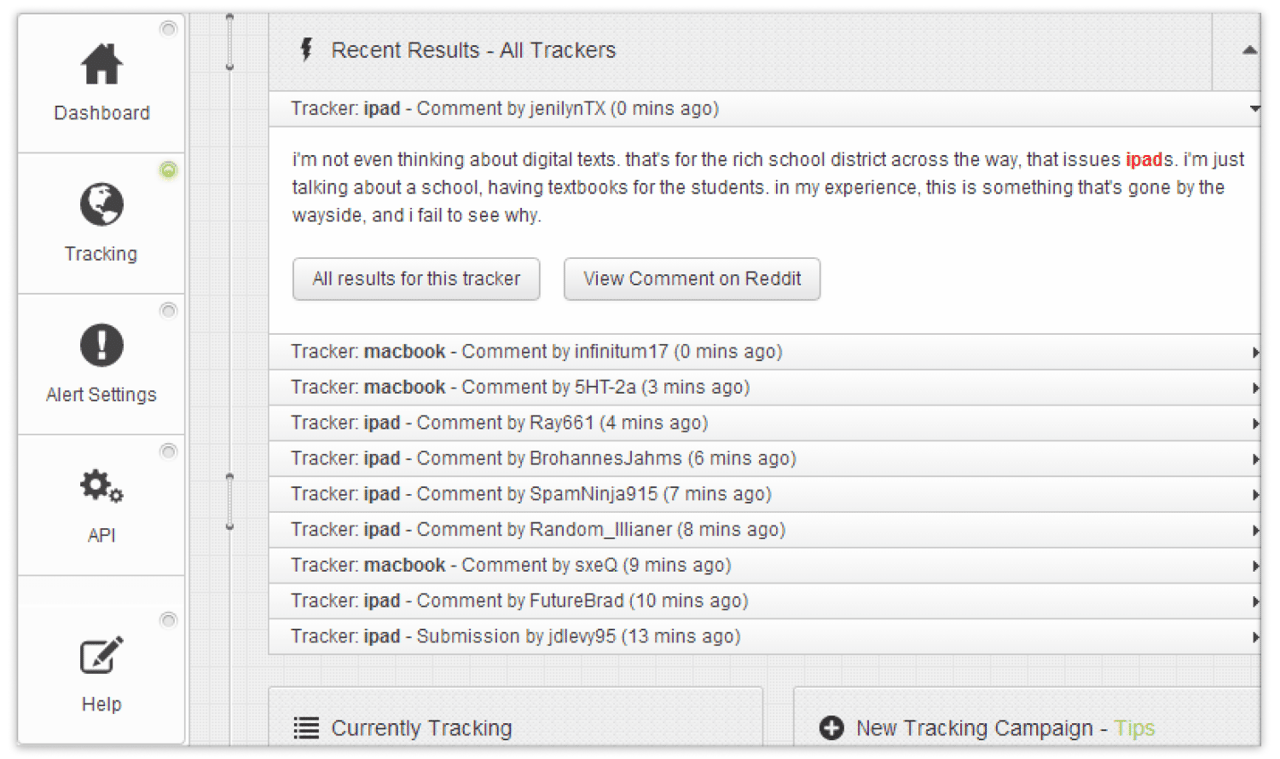 Reddit Keyword Monitor Pro is one of the best social media monitoring platforms that finds out and analyzes target users' conversations about your business, industry, or competitive brands in topical communities on Reddit. According to many sources, Reddit welcomes 330 million users every month. It is one of the largest social networking websites that should not be underestimated by businesses.
With Reddit Keyword Monitor Pro, you can observe around 3,000 comments and 250 submissions for a particular word or keyphrase left on Reddit every minute. This tool scans them and delivers results optimized for your requests so that you can react to them at no time.
This tool sends you immediate emails or text messages with alerts about new mentions. It also has a dashboard with extensive features and statistics on your monitoring campaigns.
5. TweetReach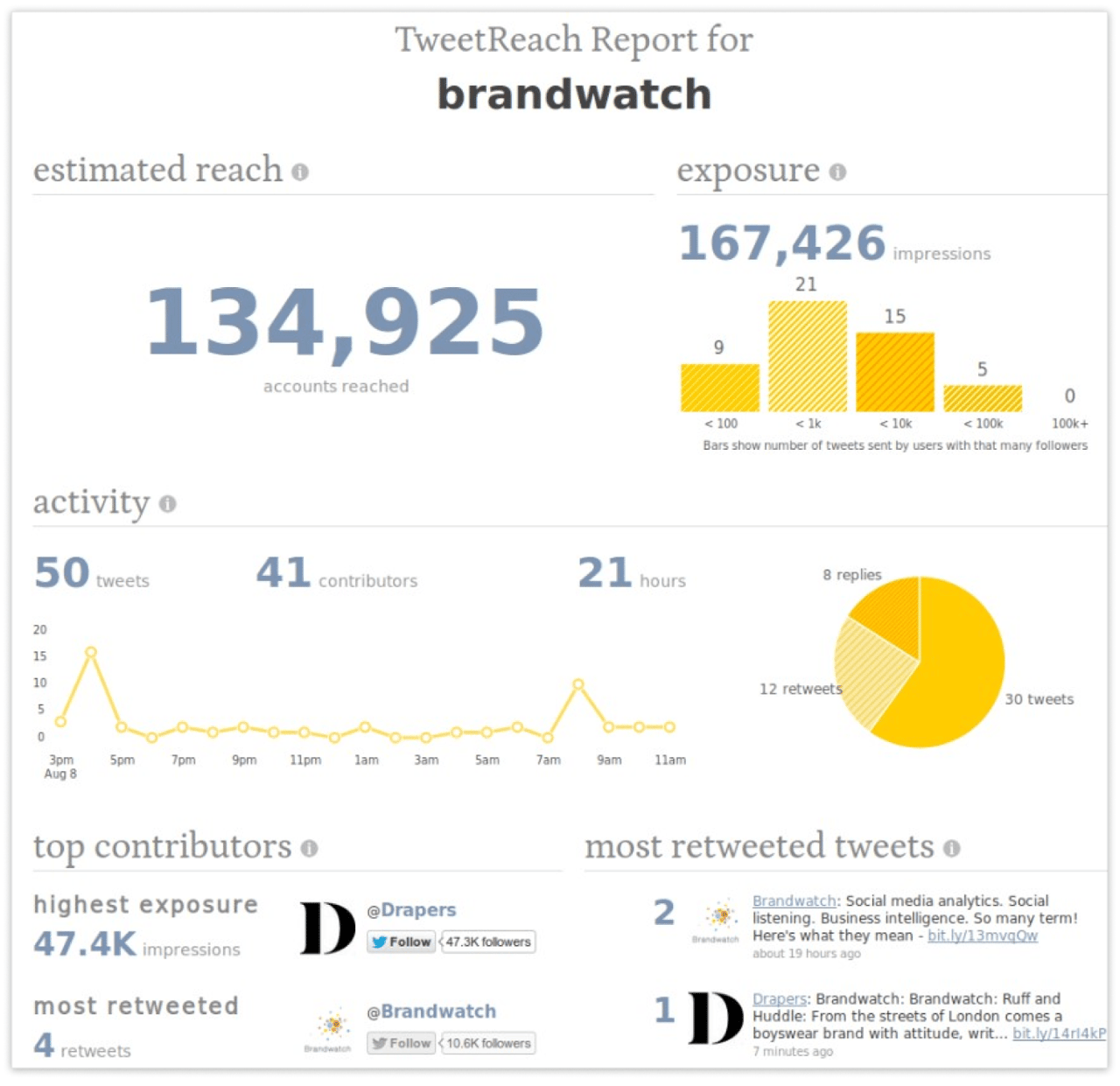 TweetReach is an excellent open-source social media monitoring tool. Being armed with it, you can track the performance of your tweets, as well as get insights about the actual influence and engagement. Now, monitoring opportunities of TweetReach expands far beyond Twitter, and you can research social posts on Instagram and Facebook.
This social network tracking platform helps you define the most impactful followers and target groups. It is a great tool for influencer marketing because it allows you quickly and easily find the most famous thought leaders on social media, connect to them, and collaborate to raise the popularity of your company.
With TweetReach in your toolset, you can access comprehensive performance and engagement analytics of the posts on the requested topics. Data is visualized in easy-to-read charts and convenient reports.
In TweetReach, you can monitor discussions that are sparkling around various topics and specific hashtags in a full-text keyword search. The system allows conducting sentiment analysis for every hashtag or keyword used on Twitter and Instagram.
6. Google Alerts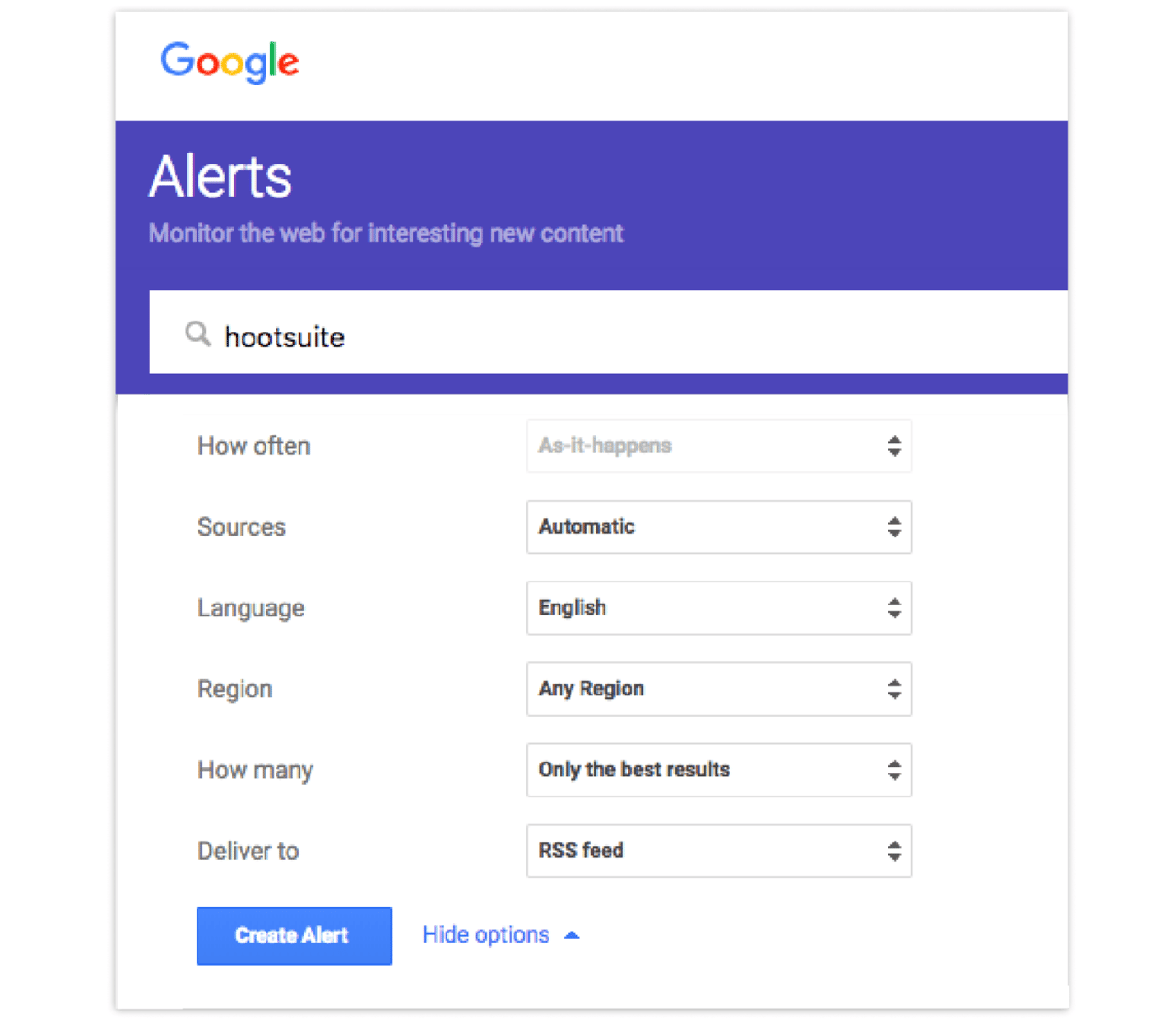 Google Alerts is a content monitoring service powered by Google. It allows digital media monitoring and tracking brand mentions or conversations on related topics. You can spy on competitor's tactics and practices by setting up competitor monitoring in Google Alerts.
All you need is only to log into your Google account, find a Google Alerts app, and enter a keyword or keyphrase in the search box. After you do it, you will receive an email alert whenever a search engine detects results that suit your requests.
It helps brands stay continually updated with the latest discussions related to a brand on the web as well as to be informed when a brand name has appeared in the article or website.
7. TweetDeck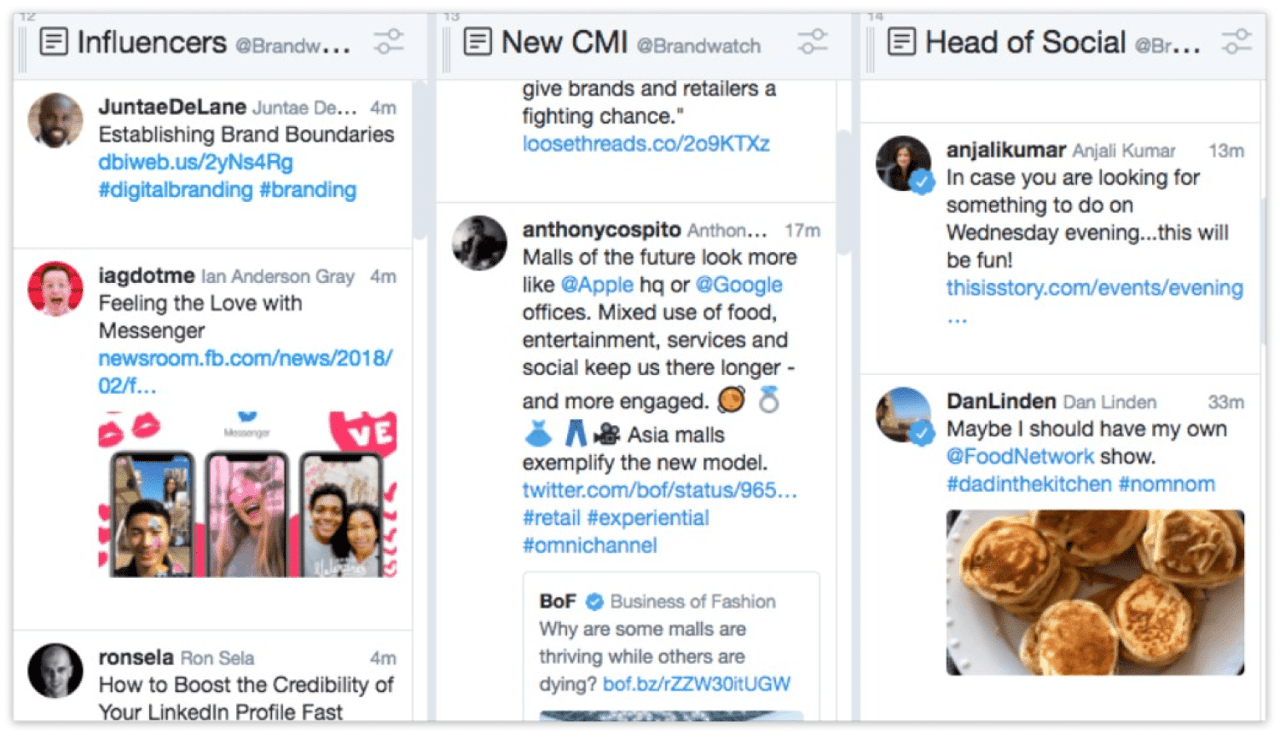 TweetDeck is one of the most popular social media monitoring apps, which people and businesses use to manage multiple accounts on Twitter. It is a free web-based application provided by Twitter that is created to improve organization and functionality between several user's profiles.
It is an excellent platform for scheduling tweets, creating Tweet collections, tracking the user's interactions, and planning content. TweetDeck allows keyword monitoring, tracking hashtags, company mentions, and direct messages.
This tool suggests viewing several Twitter accounts in multiple timelines in one user-friendly dashboard. It significantly simplifies the management of numerous profiles and informs you of what is happening to your business on Twitter.
8. HubSpot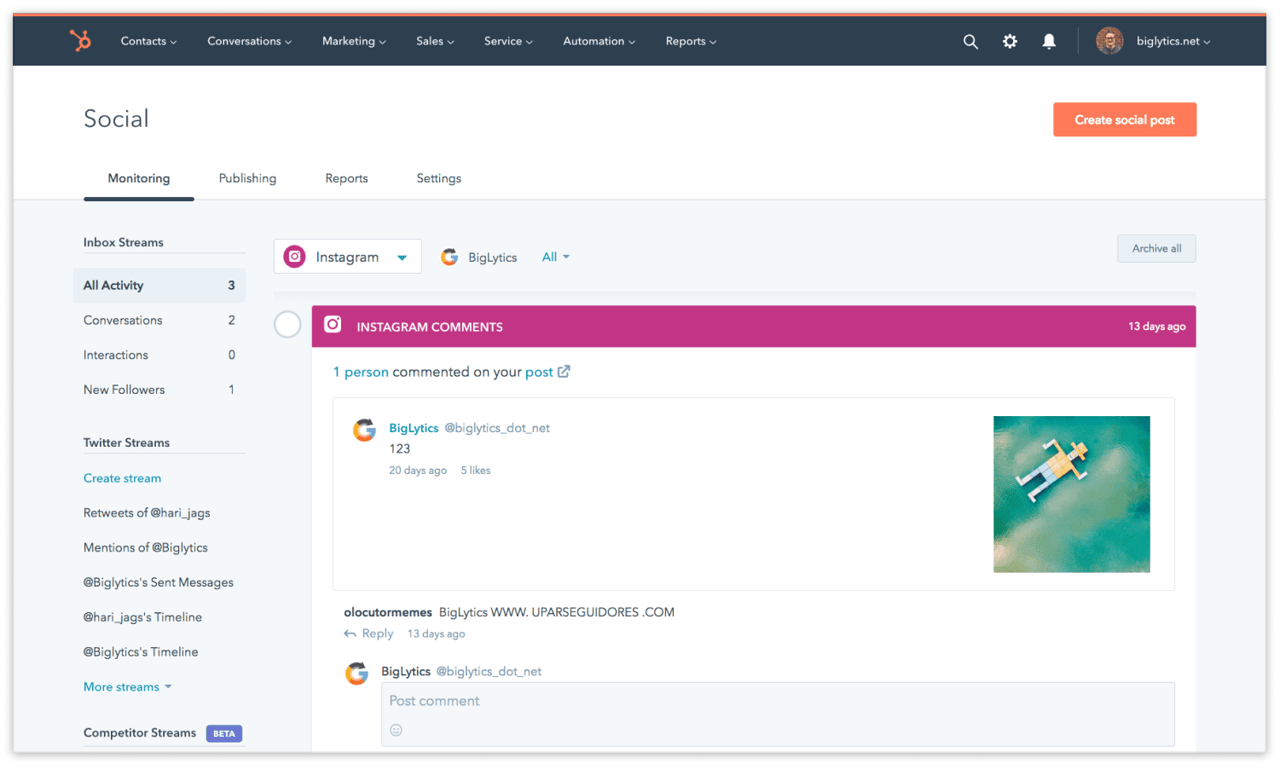 HubSpot is a marketing automation tool that helps manage email campaigns, search engine optimization, and lead generation. It is also one of the most famous companies that specialize in monitoring social media.
It enables you to expand your marketing opportunities by publishing, tracking and reporting on brand success on social media in a single platform. Now, there is no need to share all your content manually in each separate social network. HubSpot allows simultaneous sharing an article across multiple social channels right when it is published on a blog.
Since HubSpot combines different fields of marketing (social media, email marketing, influencer marketing, etc.). It lets you thoroughly investigate your leads and buyers, get a more extensive understanding of their needs and wants, and use this information to optimize marketing for preciser targeting and better results.
9. Brandwatch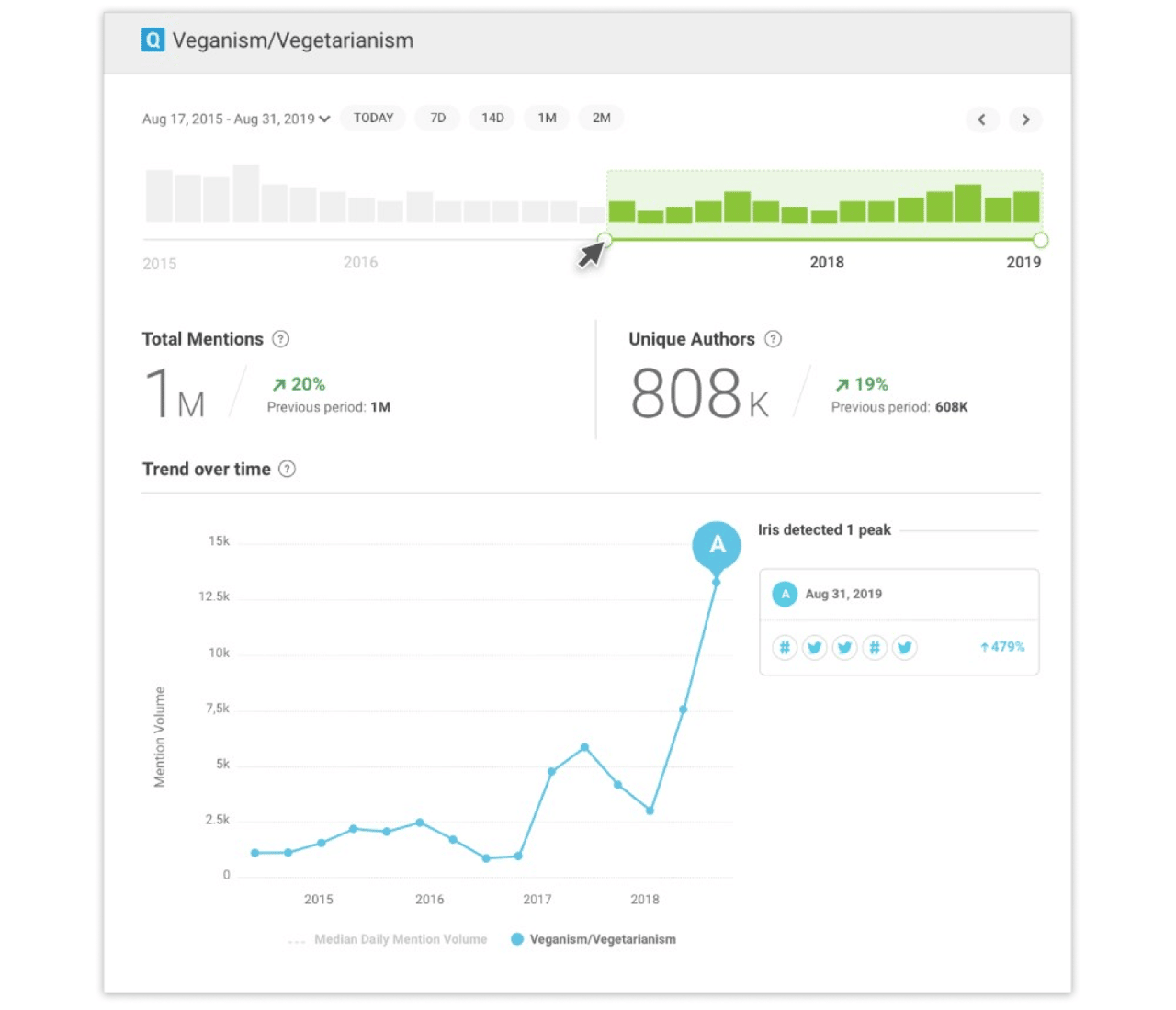 Brandwatch is one of the top social media monitoring services with a vast range of features. It helps you stay updated with brand name mentions on news sites, social networks, and blogs, according to your requests that may include certain topics, key phrases, and words.
This social media intelligence tool allows your company to hear the voices of millions of customers and leads on almost all social channels, timely respond to them, and take the right actions at the right moment to improve customer experience.
Brandwatch helps to conduct customer research by granting you access to the largest library of user conversations in over 100 million sources and more than 1.3 trillion posts.
In Brandwatch, you can build a dashboard with plentiful views and add important analytical elements, such as sentiment analysis, emotions, and demographic information. It provides invaluable insights about a company, competitors, and the best practices for your niche - everything is visualized in one user-friendly platform.
10. Tailwind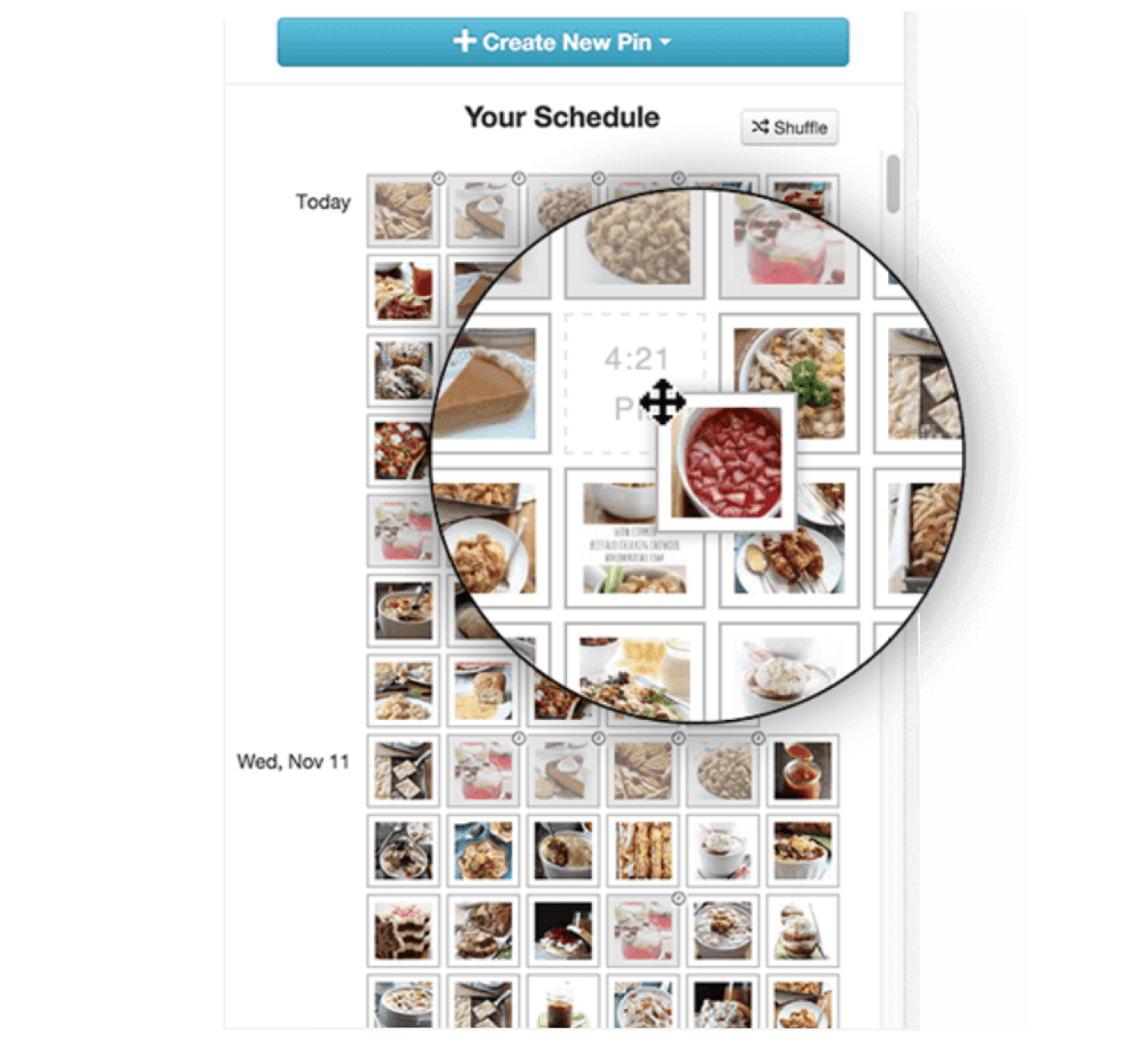 Tailwind has been developed to conduct brand monitoring on Pinterest and Instagram. This marketing tool has plenty of useful features, including analytics, tracking, scheduling your content, and conducting competitor research.
It suggests businesses to stop guessing which hashtags to use in posts, what time is the best to post, and what users to target but research all this data, using social media analytics provided by Tailwind.
Furthermore, this tool uncovers information about the latest niche-specific trends. It is a useful platform for brand mention monitoring that empowers you to explore how people interact with your brand and competitors on Pinterest.
In Tailwind, you can investigate search queries, which people use when sharing brand-related posts and seeking for your content. It will help you make the right decision for your digital marketing strategy.
Find The Best Social Media Monitoring Service for Your Business Objectives
Social media is a limitless source of valuable insights about customer needs. It helps optimize overall marketing for better results. The key to business success is continuous communication with customers and listening to their honest and helpful feedback on social networks that motivate brands to become better.
Media monitoring tools help to keep track of it and update with what a target audience thinks of a company and its competitors. They enable companies to stay in touch with their customers timely responding to comments and messages. On the other hand, social monitoring platforms provide useful information about factors that influence audience engagement and guide in practices that boost online business presence.
In this article, we have outlined the top 10 most popular social media monitoring platforms. All of them are different in subtle and reach different business objectives. Every brand or marketing agency requires an individual approach and tools for social media listening and monitoring for business applications. We hope that this list will help you make the right decision and find a tool that suits your business best.