The most important social media marketing metrics to track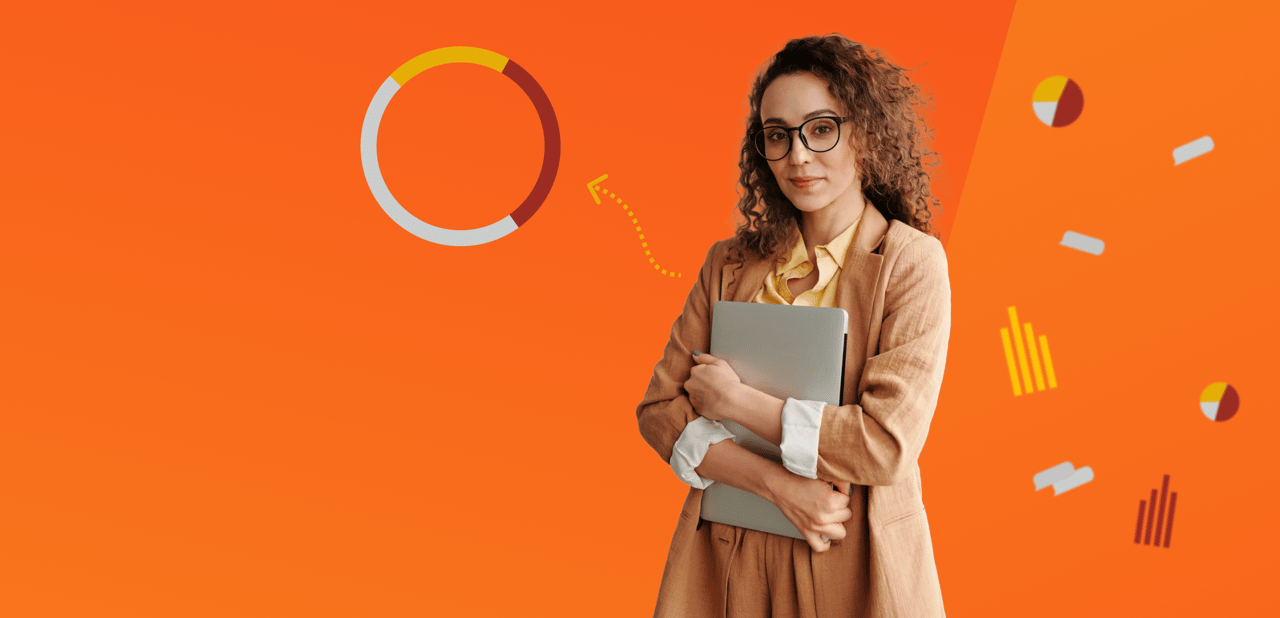 For every marketing goal, you need a metric that helps to gauge whether or not your strategy is hitting the mark. On top of that, new metrics seem to be created on a weekly basis. What should marketers track? This article will cover the core social media measurements to help every business set the right goals and analyze the results.
The impact of social media on the daily lives of billions of people is growing everywhere in the world. For marketers, it means they can reach their audience effectively on different platforms. Social media metrics clearly define what your customers want, what they like about your brand, and more. 
Which social media metrics matter most?
A few years ago, marketers were focused on getting as many followers as possible. Then they started to concentrate on improving engagement. In fact, neither the number of followers nor the level of engagement of your business account provide the full picture of brand recognition and brand perception on social media.
More data and metrics can be tracked with social media listening tools.  
Share of Voice 
One of the most essential social media indicators is SoV (Share of Voice). Basically, it helps to understand how popular your brand is in comparison with all your competitors. Let's try to look into the Share of Voice of two famous chip manufacturers – Lay's and Pringles. 
According to Statista research, Lay's is more prevalent in the USA. The result of the study shows that the brand makes almost three times more money in this country than Pringles.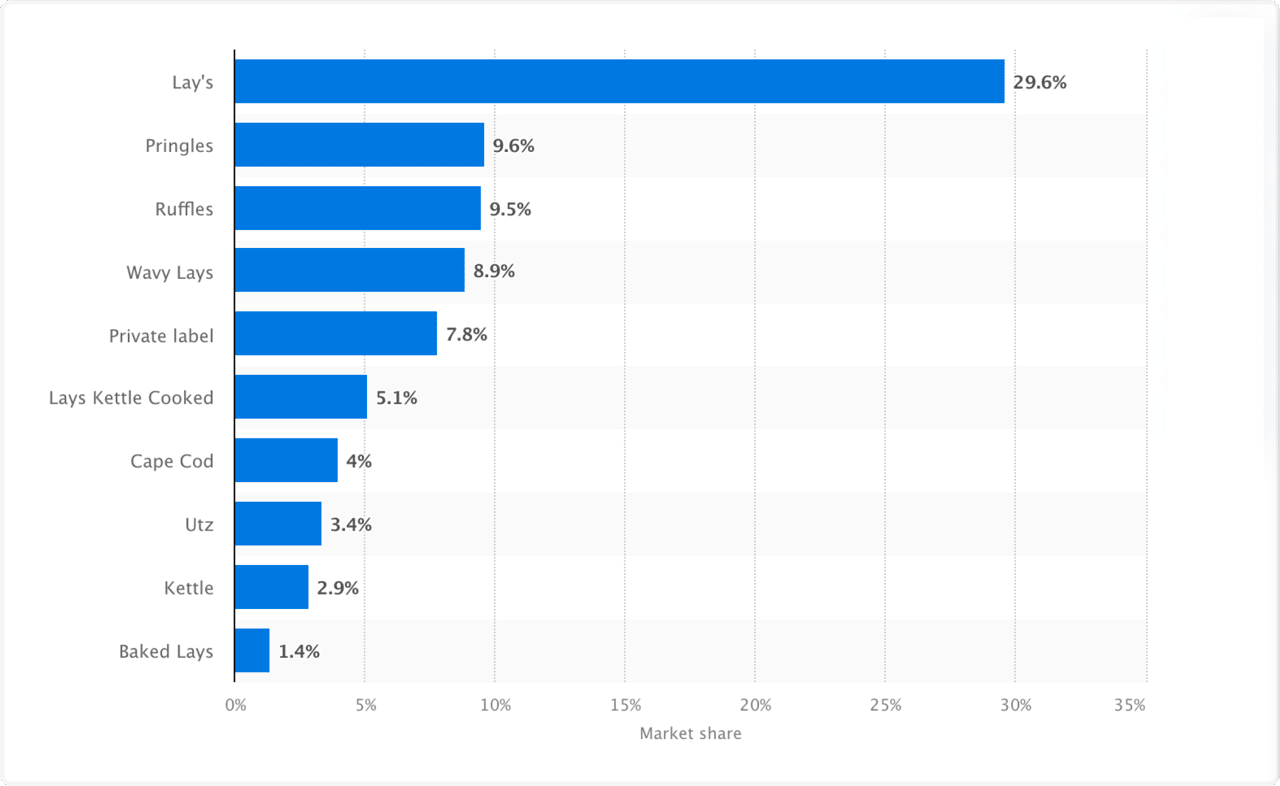 With this data, marketers can assume that users discuss Lay's more often on social media than Pringles. But this assumption is wrong. More than 85% of mentions in the USA and Great Britain are related to Pringles.

It means that the presence of Lay's on social media is not enough. If a consumer makes a choice of potato chips based on brand awareness on social networks, he would rather choose Pringles as he sees it more often. Another problem is that Lay's can lose its popularity among young audiences, since these customers mostly get information from social networks. 
WOM-mentions
Your brand can get thousands of mentions on social media, but the question is: how many of them are genuine views of real users? To find out the answer, you should add the amount of WOM (World of Mouth) mentions to the  main social media metrics you track. 
Usually, social media monitoring tools collect all brand mentions on social media, including promo posts, advertisements, giveaways, and more. At the same time, only the honest opinions of users are helpful for brands. That's why it is crucial to separate genuine views of customers from marketing posts. The amount of WOM-mentions shows what the active users are really like when discussing the brand. Very often, this metric can surprise marketers. 
For instance, Sephora, the cosmetics giant, gets 30% fewer WOM-mentions than commercial posts, promo, and adverts.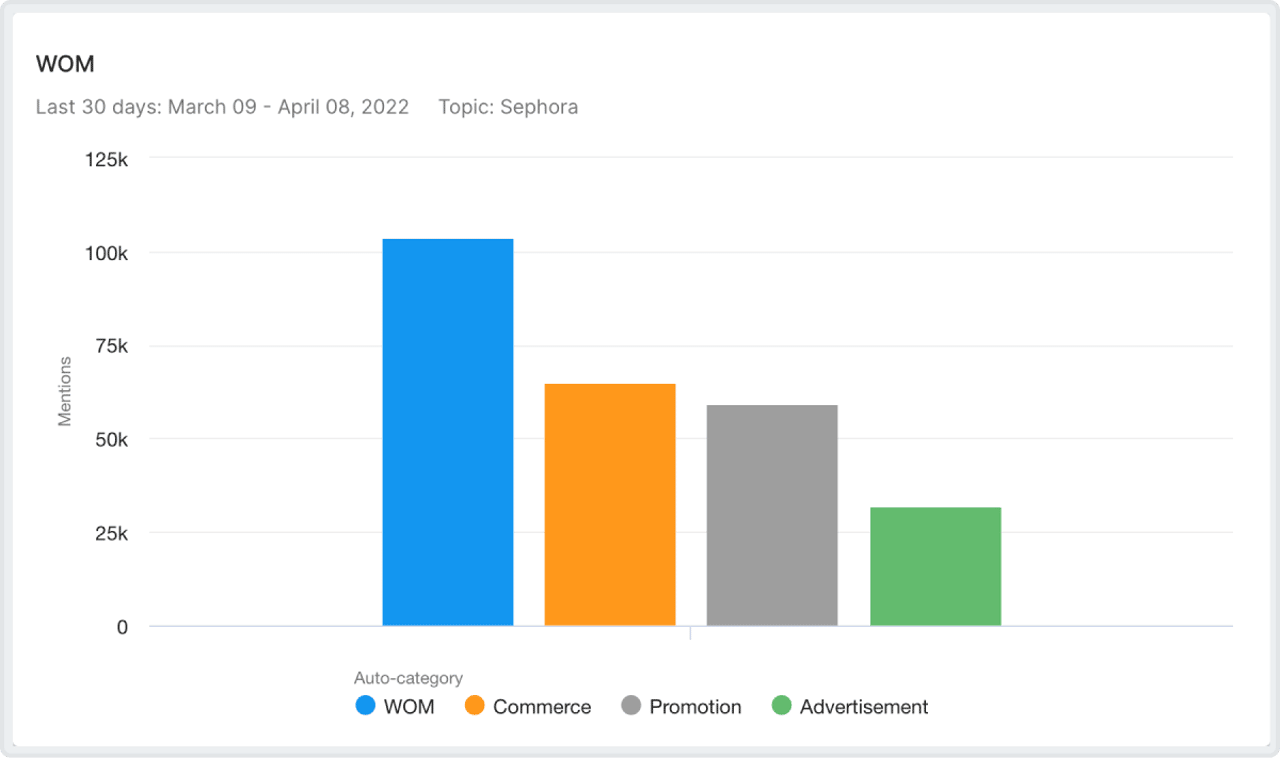 It's also essential to track the dynamics of WOM-mentions. This step helps to analyze the growing and falling interest of the audience, as well as spikes in negative mentions.

Social media channels distribution
Every industry has a preferred social media outlet for its target audience. Beauty and fashion fans used to develop their presence on Instagram and TikTok. Users who like to discuss big FMCG brands prefer YouTube and Twitter. Reviews on mass-market products are mostly published on marketplaces, etc. 
For brands, it's vital to create and develop their community on a platform that is already popular among its audience, even if their customers make a very unusual choice.
The distribution of the social media audience of two fashion brands – Balenciaga and Bottega Veneta – is depicted in the graph below. Surprisingly, the highest amount of English mentions Bottega Veneta gets from Telegram – the messenger app which is popular mainly in Eastern Europe.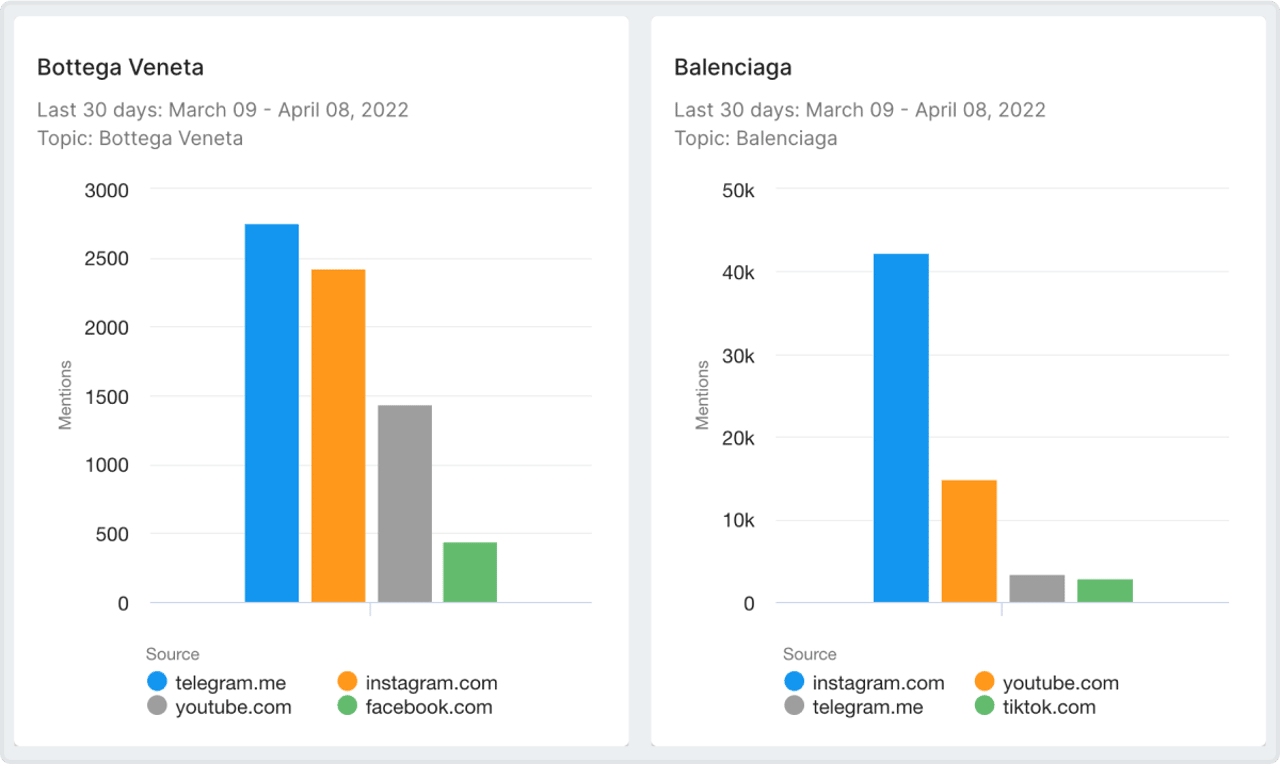 How to measure social media marketing performance and improve?
By reporting social media metrics, you not only analyze the progress of your work, but also get access to an endless amount of insights that make your marketing efforts more effective. Several steps can bring your social media performance to the next level. 
Motivate your audience to leave good reviews. 
You can encourage your clients to leave a review about your service or product after they have a positive customer experience with your brand. You can also offer small discounts, promo codes, or even launch a loyalty program for those clients who love your product and are ready to tell the whole world about it.
Also, it is essential to be grateful to those customers who leave positive reviews on their own initiative. The least you can do is say thank you in the comments. If you have a big marketing budget, you can reward really creative feedback from your clients by sending them a gift.  
Launch creative marketing campaigns.
When it's necessary to increase brand visibility, nothing can compare with collaborations with influencers, famous actors, or other opinion leaders. Social media listening aids in determining who is popular among your target audience and identifying possible bloggers or celebrities for future collaborations. This will increase the Share of Voice of the brand. 
Use UGC for more positive feedback. 
What should marketers do when users generate content with their brand and publish it on their social media accounts? The most effective method is to share it on a brand's business page. Both sides will benefit from it: users will get more reach, and the brand will receive lots of positive feedback for free. Sharing UGC on official brand channels motivates true fans of the product to share even more content, and encourages subscribers who weren't planning to create any content with this brand to share their own experience with it.
Social media measurement helps marketers track the results of their efforts and analyze what works best for their brand. Using only the social media key metrics, you will never feel overwhelmed with enormous volumes of data and will get unlimited access to consumer insights. 
Want to analyze the social media performance of your brand? Request YouScan's free demo to get more valuable data and improve your brand strategy.