iPhone 12: Hopes, Jokes, and Disappointment Online
Apple presentations are always a big deal and they attract a ton of coverage, so we decided to monitor what people were saying on social media ahead of the most recent one. Social listening has allowed us to discover some of their expectations, reactions to leaks, disappointments and some bitter jokes after the event when iPhone 12 was not released.
All in all, we have collected almost half a million mentions of Apple within the first 2 weeks of September. Some of those posts were not related to the presentation, but a lot of them were about the excitement and eagerness to finally see the new iPhone, as well as "leaks" and predictions, like this post below that was seen over 333,000 times and got 2,000 likes.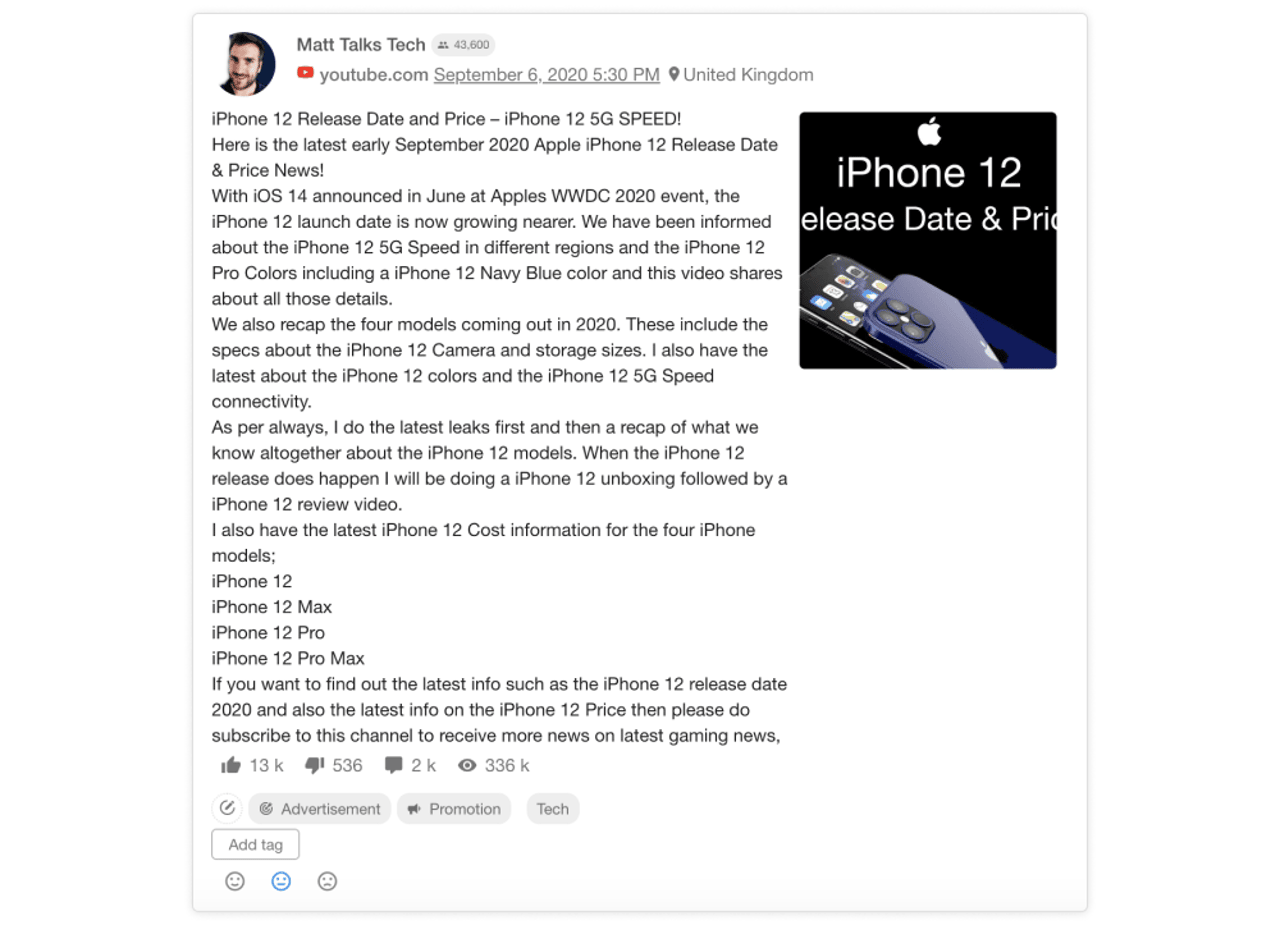 Early in September, The Legit Tim, a Youtuber with almost 2 million followers, pranked his TikTok followers and encouraged them to smash their old iPhones to get iPhone 12 from him instead. The outcome is unknown.
At some point, there was information that the new iPhone could cost $1500. A lot of people did not take the news well. There were numerous ideas for what people expected to get from the phone after paying so much money for its cheapest version. A tweet about iPhone 12 being able to correct lies into truth got 87,000 likes.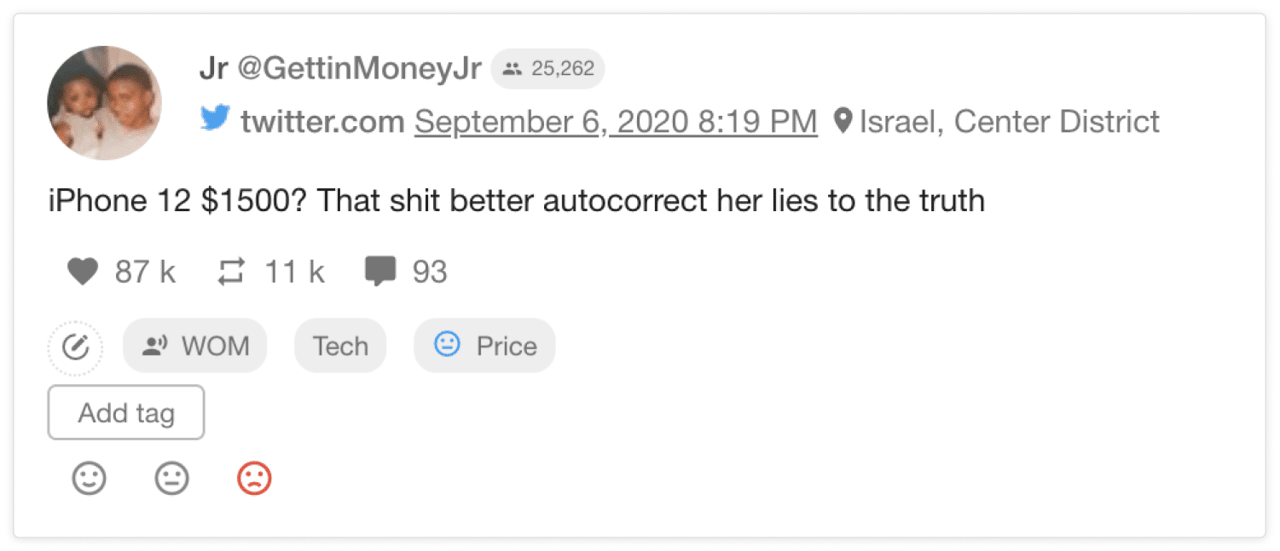 Despite an increasing number of reports that iPhone 12 probably would not be released on September 15, popular tech bloggers like Marques Brownlee kept on pushing the opposing narrative.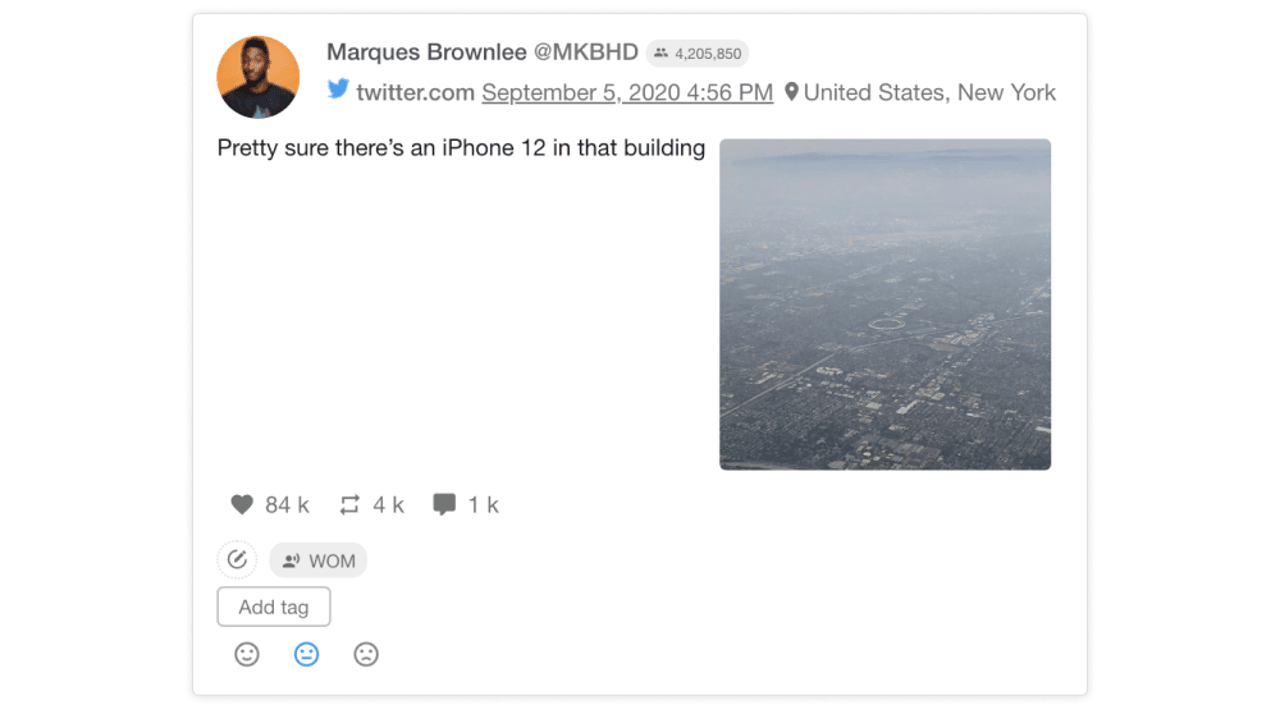 Just 3 days before the event, there was one of many "leakes" with a photo that was said to showcase the inner part of iPhone 12 Pro.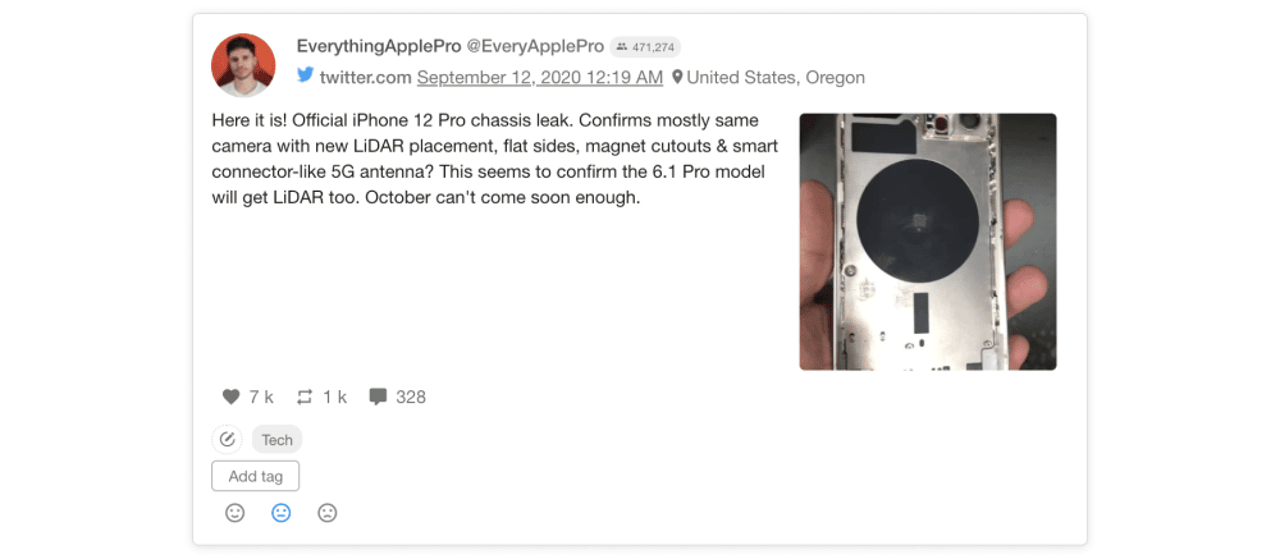 When the day of the presentation arrived, it was almost certain that iPhone 12 would not be released. However, some people remained hopeful. For example, this Twitter user suggested shaving off his eyebrows if the iPhone would actually be demonstrated. More than 28,000 people liked his idea. Luckily for him, it did not happen.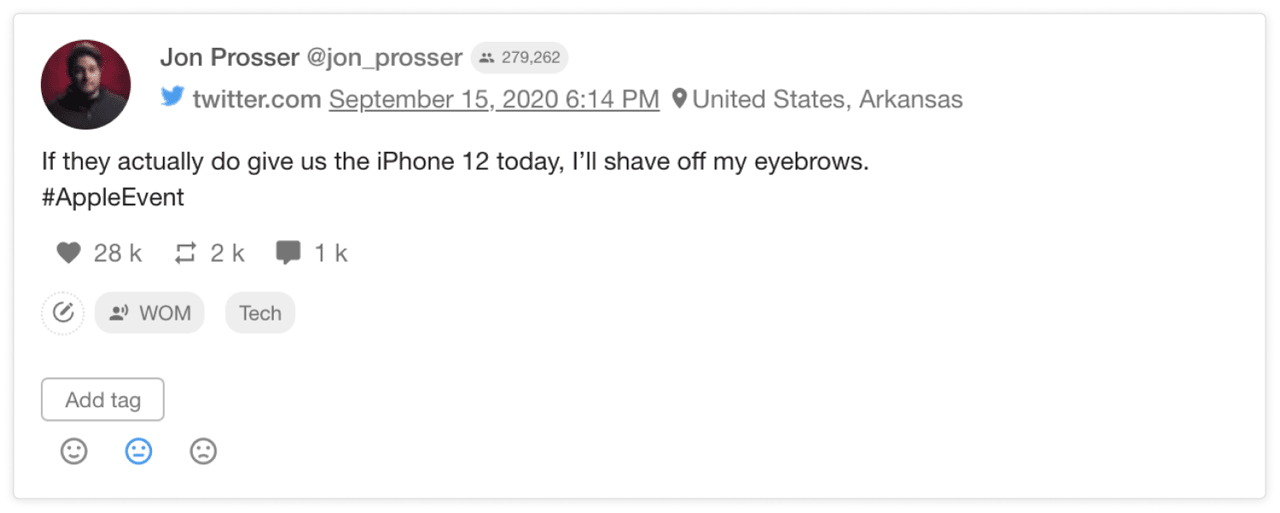 Kidney jokes are a separate humorous genre that always resurfaces before Apple`s presentations, and this time was not an exception. Naturally, after the presentation took place, the flow of disappointed posts filled the Internet, including a response to the aforementioned jokes about kidneys.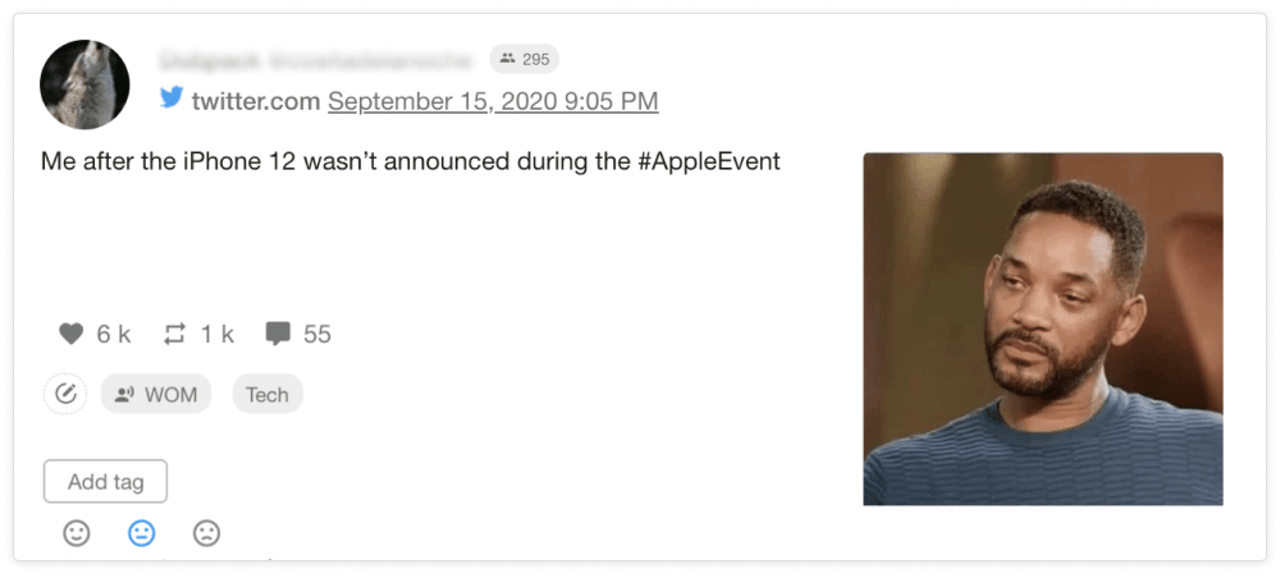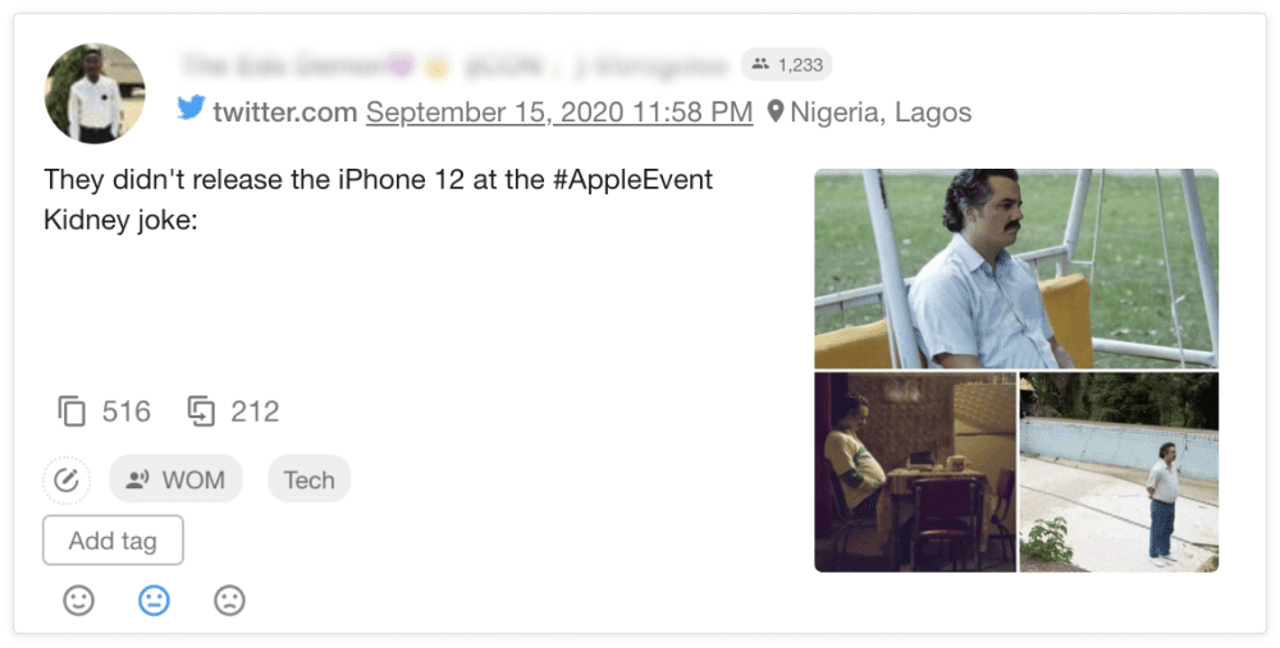 Surprisingly, not all people were upset about the absence of the new iPhone. Some were relieved about their old iPhones not getting slower which is something Apple consumers tend to complain about when new models come out.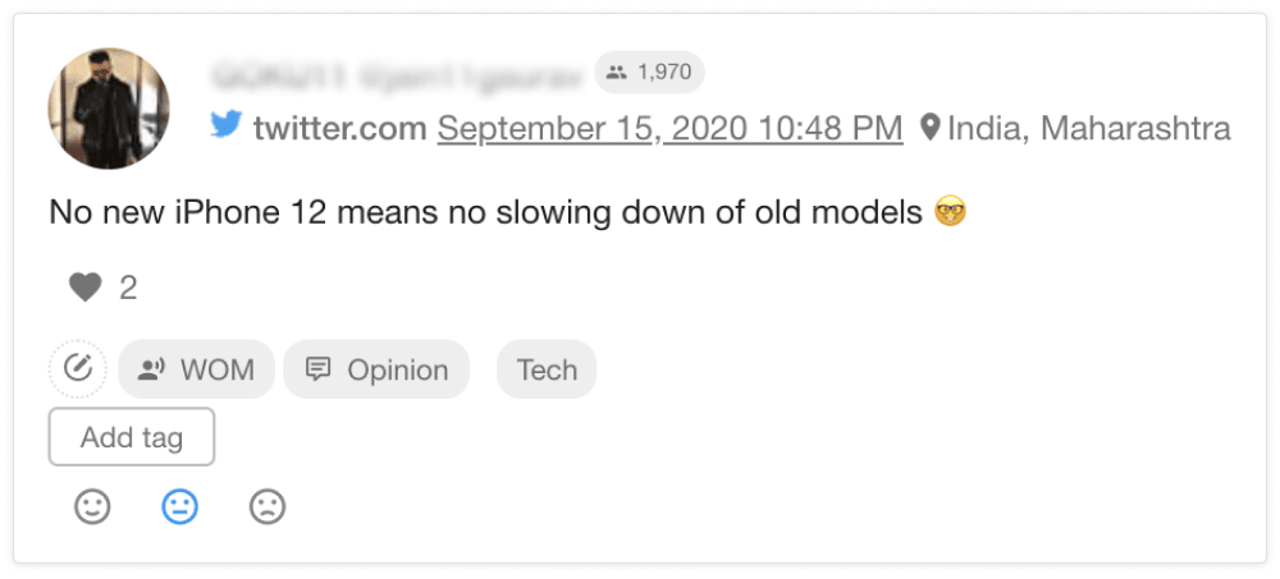 This is a brief overview of how the Internet dealt with the anticipation of iPhone 12 and the disappointment that came after the latest Apple event. We will make sure to provide an update when the long-awaited release finally takes place.
Would you like to find out what your consumers share about your brand online? Request our free demo and start monitoring your brand today.