How Toyota and Lexus use social media listening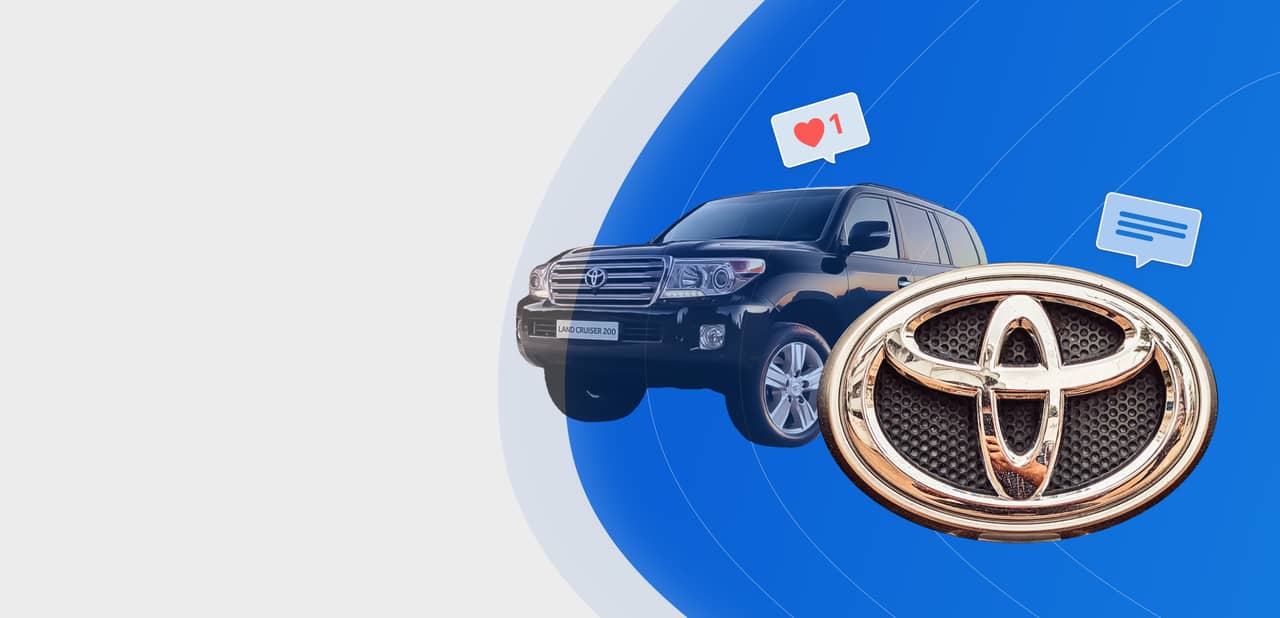 Everest Media is the largest marketing agency in Kazakhstan. The company works with global brands and provides a wide range of services from strategy development to social media management. Anton Shershnev, the Head of Everest Media, shared with us how social media analytics helps brands manage their reputation and to better understand their customers.
How did you start social media monitoring?
We manage the social media accounts of our client, Toyota, and at some stage, the brand's team asked us to monitor all mentions of the brand on social media. 
Toyota and Lexus (owned by Toyota) are market leaders in the number of car sales in Kazakhstan. The company often launches various promotions and introduces new car models. For instance, recently the brand presented an upgraded Land Cruiser 200. The manufacturer changed the design and improved the performance of the car, something that the company wanted to draw attention to in the news and among customers. After this, for a week, we analyzed what the brand's audience was saying about the presentation. For our client, it's very important to know about the feedback on their cars. 
Also, Toyota has a wide dealer chain, so they were also interested in monitoring feedback about their dealer centers.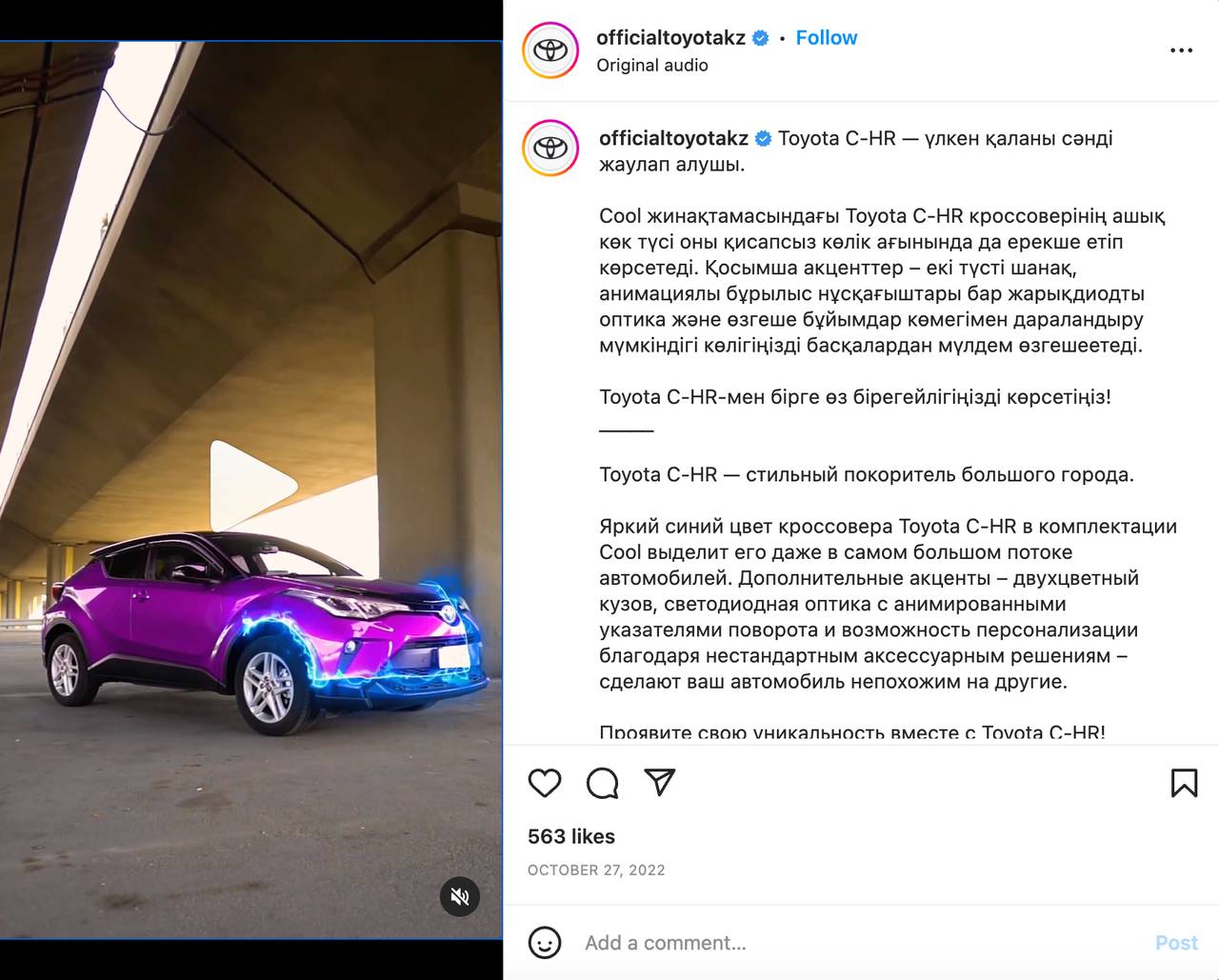 How does social media monitoring influence a company's strategy and future plans? 
Usually, the company first organizes promo events in the capital of the country. After that, we track social media feedback from the events and based on the performance, the Toyota  team decides if they want to hold  further events in other cities. If social media users share negative feedback about an event, the company may decide to reject some of the ideas for their future strategy. 
Why do social media users criticize Toyota? 
An interesting fact about our region is that people set buying a Toyota as a lifetime goal. 
It's like planting a tree or building a house. Buying a Toyota Camry means that you succeeded.
Since Toyota is one of the best-selling car brands in the market, the company collaborates with a wide dealer network. Customers often complain about distribution centers. 
For example, the dealer could charge a higher price than recommended by the official representative. Sometimes car enthusiasts complain about the lack of some models in certain regions. It motivates Toyota to negotiate with dealers and ask them to expand their model range. 
When we started working with Toyota, there were many negative mentions about the Toyota Camry made outside of Japan. Social media monitoring helped the company's management understand the root of the problem and build the right strategy to stabilize sales.
How did they manage to grow sales? 
We informed users of social networks that Toyota's standards are the same for its factories all over the world - whether the car is manufactured in Japan or any other country. We communicated to customers about the philosophy of Toyota and explained that there is no point in focusing on the quality of Japan-made cars since there was no difference between them compared to vehicles manufactured elsewhere.
We managed to change the informational background: this topic is no longer mentioned. The entire campaign took about two months, after which sales leveled up. And YouScan, as a tool, played an important role here.
Which channels did you use to spread information? 
We used mainly social media platforms. We released content every day without breaks for holidays or weekends. When this problem arose, we started to devote 30% of all posts to correcting the situation in the information field. Toyota accounts are an important channel of communication with customers. By the way, two years ago, Forbes recognized Toyota's Facebook page as the best business page in the country. 
What about Lexus? How often do social media users criticize it? 
Lexus has a very loyal audience and a different social media sentiment than Toyota. The brand is considered to be the golden standard in car manufacturing, a classic example of Japanese quality. If negative reviews appeared, they were related to the news. For instance, when a civil servant buys such an expensive car, social media users wonder how much of their taxes were spent on it. Price is one of the rare reasons for negative brand reviews.
What other problems have been solved thanks to social media monitoring? 
Basically, all of them were about responding to negative mentions. For instance, when the new Toyota Camry was brought to the market, somebody got the word out that this car was made of thin metal and that it had some other defects. As soon as we discovered a new negative trend in discussions using YouScan, we immediately made it clear in our posts that such statements were not entirely correct from a technical point of view. After we'd noticed this negative spike in mentions, we started to communicate the positive features of Toyota's New Global Architecture.
Another example? Once, an owner of a Toyota car got into a car accident and tried to accuse the manufacturer of being to blame for it. He even argued  for 
reparations to be paid by the brand. Of course, it wasn't the manufacturer's fault: the driver just lost control. In this case, the Toyota team analyzed all social media data in order to plan further communication and protect the brand's reputation. 
Do you use social media monitoring for competitor analyses? 
We track the activities of all auto brands represented in our market. Toyota's main competitors in our region are Hyundai and Kia. There is also Nissan and Mitsubishi, but they are not as well represented. Lexus also has its own competitors in the premium segment. Mercedes-Benz, Porsche, BMW, and Cadillac are among them. 
What exactly do you monitor regarding your competitors? 
We analyze their financial offers - loans and installments. Toyota is always looking for ways to make purchases as beneficial as other manufacturers' offers. 
We also monitor the activity of automobile brands on social networks: what content they make and what opinion leaders they collaborate with. If our client sees that, for instance, Cadillac is attracting a specific influencer, he will take k this into account and develop a campaign to promote their product with the help of other opinion leaders.
Have you tried to look for influencers using YouScan?
Our country is not that big in terms of population, so we know all the major influencers. With YouScan, we analyzed bloggers' content: what they wrote in a certain period of time and what was their information field. Based on this data, we proposed that our client consider a specific blogger for collaboration.
Do you have experience monitoring social media for brands outside of the automotive industry?
Yes, we have worked with a local bank and continue to work with TOIMART, a supermarket chain. We have been collaborating with TOIMART for almost four years now. They started to monitor social media in 2019 after our proposal. Before that, we made a test topic and demonstrated that the most frequent complaints are about supermarkets where customers find expired goods (a well-known problem in many other retail chains). The culinary departments in certain TOIMART stores got lots of complaints.
The client appreciated the benefits of monitoring, and we began to prepare such analytics regularly. It helped to discover a new layer of unexpected information. For example, a chain of stores had its own bakeries, and the management had always been proud of their quality. But it turned out that the pastries in one of the supermarkets were lying on the shelves for weeks and were never fresh. We managed to discover this thanks to YouScan. After we shared this data with our client, the management checked the "distinguished" store. The misunderstanding has been cleared up.
What key metrics do you use for social media analysis?
The reports we prepared for Toyota consist of the number of total mentions, WOM (Word of Mouth) mentions, sentiment, and mentions in the news. We shared this data with specific departments, and each of them assessed  whether they needed to prepare follow up actions  based on the information provided. 
Have you considered alternatives to our monitoring system?
We tried to monitor mentions through one well-known service, but then we started using YouScan and realized that your system is faster, more accurate, more precise and more straightforward. With the first service, I wasted lots of time on trying to get the right settings. 
Another advantage of YouScan is the support service. You can always ask for help and will get an answer to any question. Unfortunately, we did not get similar assistance from the other service.
Which YouScan feature is the most helpful for you?
Monitoring the number of mentions, sentiment analysis and the ability to track negative trends in discussions and respond to them. 
To summarise your experience in different projects, what do you see as the main value of social media monitoring?
Often brands use a monologue strategy. They seek to convey information but don't hear customers. YouScan is a tool that helps to establish a dialogue with the consumer and hear their needs in order to respond to them in time. We have built bridges between brands and their target audience. We let people know that companies are listening to them, not just selling their products. It is the most valuable thing about using social media listening.